Navigation
LakesnWoods.com
Home Page
Contact Us
Privacy
Minnesota History Shop

Visit The Minnesota History Shop
www.minnesotahistoryshop.com
Historic maps
Historic books
Historic framed art
Historic postcards
Clothing with historic images
And much more!!!


Bird Island Guide:
Photo Gallery
Location
Geography
Demographics
History
Government
Post Office
News
Weather
Street Map
Events
Attractions
Recreation
Lakes
Health Care
Schools
Churches
Media
Motels
Resorts
Campgrounds
Businesses
Aerial Photo
Topographic Map
© 2004-2023
Lakeweb1 Internet Services
All Rights Reserved
DCMA, Defamation, Copyright and Trademark Infingement Policy
WANTED!
Do you have photos, historical accounts or other items pertaining to the Bird Island area? Would you like to share this historical information with the world? LakesnWoods.com would like to publish your Bird Island photos (current or historical) or historical accounts on this website. Original materials can be returned and your privacy will be respected.

Bird Island Minnesota Community Guide
---
Location:
---
Population:
Bird Island (city)
1970
1980
1990
2000
2010
2000-2010 Change
Actual
Percent
Population
1,309
1,372
1,326
1,195
1,042
-153
-12.80
Land Area (sq. mile)
1.70
1.62
1.54
1.54
1.54
0
0.00
Density (persons per sq. mile)
770.00
846.91
861.04
773.63
676.62
-97.01
-12.54
Housing Units
448
566
552
530
547
+17
+3.21
Households
--
528
522
499
487
-12
-2.40
Persons Per Household
--
2.56
2.47
2.31
2.14
-0.17
-7.36
---
Geography:
Bird Island is a city on U.S. Route 212 in Renville County, Minnesota. According to the United States Census Bureau, the city has a total area of 1.53 square miles (3.96 km2), all of it land. The elevation is 1,089 ft (332 m). Bird Island is located 90 miles southwest of the Twin Cities.
From Wikipedia, the free encyclopedia.
---
Demographics:
As of the census of 2010, there were 1,042 people, 487 households, and 274 families residing in the city. The population density was 681.0 inhabitants per square mile (262.9/km2). There were 547 housing units at an average density of 357.5 per square mile (138.0/km2). The racial makeup of the city was 97.2% White, 0.4% African American, 0.2% Asian, 0.2% Pacific Islander, 1.2% from other races, and 0.9% from two or more races. Hispanic or Latino of any race were 3.2% of the population.
There were 487 households of which 21.6% had children under the age of 18 living with them, 44.8% were married couples living together, 8.0% had a female householder with no husband present, 3.5% had a male householder with no wife present, and 43.7% were non-families. 38.6% of all households were made up of individuals and 17.7% had someone living alone who was 65 years of age or older. The average household size was 2.11 and the average family size was 2.77.
The median age in the city was 48.4 years. 20.2% of residents were under the age of 18; 6.1% were between the ages of 18 and 24; 18.9% were from 25 to 44; 34.3% were from 45 to 64; and 20.5% were 65 years of age or older. The gender makeup of the city was 49.8% male and 50.2% female.
---
---
History:
BIRD ISLAND Township, settled in the spring of 1872, was organized October 21, 1876, and its city in sections 13, 14, 23, and 24 of the same name, platted in July 1878, was incorporated March 4, 1881, and was reincorporated on June 1, 1908, and separated from the township. The name was derived from a grove of large trees, including many of the hackberry, in section 15, about a mile west of the village and on the south side of the railway, surrounded by sloughs, like an island, whereby it was protected from prairie fires. This grove, named Bird Island for its plentiful wild birds, was a favorite camping place of Indians and trappers, and it supplied timber for the early settlers. The village developed when the Hastings and Dakota Railway came in 1878; the post office began in 1878.
Courtesy Minnesota Historical Society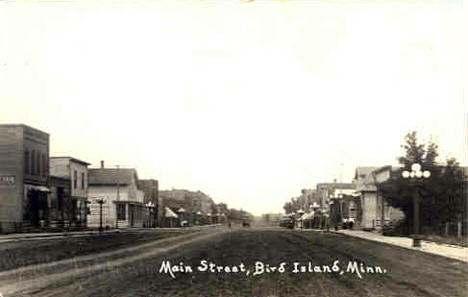 Main Street, Bird Island Minnesota, 1915
LakesnWoods.com Postcard and Postcard Image Collection
Visit The Bird Island Photo Gallery for more recent and historic area photos
---
Government:
Bird Island City Hall
660 Birch Avenue
PO Box 130
Bird Island, MN 55310
Phone: (320) 365-3371
Fax: (320) 365-4611


Regular Business Hours:
Monday - Friday 8:30 am - 5:00 pm
closed 12:00 pm - 1:00 pm

City Council Meetings:
2nd Monday of each month at 7:00 pm

Title
Term Ends
Name and Address
Phone
Mayor
12/31/2022
Julie Sander
700 S 12th Street
Bird Island, MN 55310
(320) 579-0308
(320) 365-4892
City Administrator
appointed
Deb Lingl
660 Birch Avenue
Bird Island, MN 55310
(320) 365-3371
Council Member
12/31/2022
Krista Schneider
260 S 6th Street
Bird Island, MN 55310
(320) 522-1309
Council Member
12/31/2022
Jeff Engelmann
431 Ash Avenue
Bird Island, MN 55310
(320) 522-0880
Council Member
12/31/2024
Neal G. Prokosch
150 12th Street N
Bird Island, MN 55310
(320) 579-0052
Council Member
12/31/2024
Bill Leach
471 Dogwood Avenue
Bird Island, MN 55310
(320) 579-0366
---
Post Office:
US Post Office
240 Main Street
Bird Island, MN 55310-1226
Phone: (320) 365-3800
Toll Free: (800) ASK-USPS

Regular Business Hours:
Week Days 8:00 am - 12:00 pm
1:00 pm - 4:00 pm
Saturday 11:00 am - 11:45 am





---
---
Utilities:
---
Major Employers:
---
---
News:
---
Weather:
---
Map: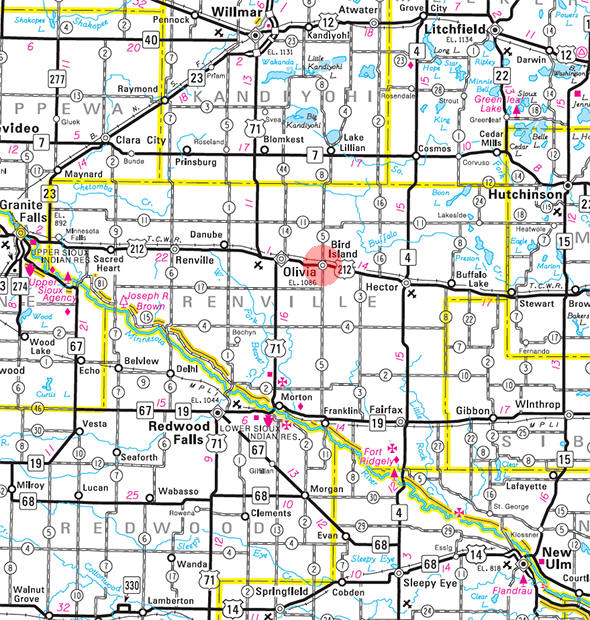 Minnesota State Highway Map of the Bird Island Minnesota area
---
Events:
---
---
Attractions:
---
Recreation:
---
Lakes:
Lake Name
Size
(acres)
Lake info
Lake Map
Rec Map
Topo Map

none
---
Health Care:
---
Schools:
Bird Island-Olivia-Lake Lillian School District
701 S 9th Street
Olivia, MN 56277
Phone: (320) 523-1031
Fax: (320) 523-2399

Grades: K-12
Students: 803

BOLD High School
701 S 9th Street
Olivia, MN 56277
Phone: (320) 523-1031
Fax: (320) 523-2399

Grades: 7-12
Students: 438

BOLD Elementary School
110 S 9th Street
Bird Island, MN 55310
Phone: (320) 365-3551
Fax: (320) 365-3515

Grades: K-6
Students: 365

St. Mary's Elementary School
140 S 10th Street
PO Box 500
Bird Island, MN 55310
Phone: (320) 365-3693
Web: www.stmarysschoolbirdisland.com

Grades: K-8
Students: 136
---
Churches:
Bird Island United Methodist Church
300 S 8th Street
Bird Island, MN 55310
Phone: (320) 523-2052

Pastor: Rev Byron Perrine
Sunday Worship: 9:00 am

Our Savior's Lutheran Church
510 Dogwood Avenue
Bird Island, MN 55310
Phone: (320) 365-3996

Pastor: n/a
Sunday Worship: n/a

St. Mary's Catholic Church
220 S 10th Street
Bird Island, MN 55310
Phone: (320) 365-3593
Web: www.stmarysschoolbirdisland.com

Pastor: Father George Schmit
Saturday Mass: 4:00 pm
Sunday Mass: 11:00 am
---
Media:
---
Motels:
Check for motel rates and availability on:
---
Resorts:
---
Campgrounds:
---
---
Businesses:
Alliance Pipeline LP
38884 870th Avenue
Bird Island, MN 55310
Phone: (320) 365-4094
Anderson Larson Hanson
145 Main Street
Bird Island, MN 55310
Phone: (320) 365-4868
Athmann's Inn
110 Main Street
Bird Island, MN 55310
Phone: (320) 365-9997
Web: www.athmannsinn.com

It has been our privilege to serve this area for almost half a century. We have a full menu that you can order anything from steaks to seafood, or soup to sandwiches. Our salad bar is available seven days a week after 5 p.m. If you like steak, you will want to try the "Porkies Special", our most popular item on the menu. We have a Sunday Noon special that features Chicken, Ham, and a 3rd entree served with mashed potatoes and gravy, vegetable, cole slaw, dinner roll, relishes, and dessert. If you are looking for a fast noon meal during the week we always offer 2 specials to choose from that are served with potatoes, vegetable, bread and dessert. Not that hungry, try our soup or chili with a sandwich, or a taco salad or chicken strip salad. We have 2 private rooms for your meetings or party. (Check out the restaurant photos). We offer prepared meals at night for any occasion such as groom suppers and class reunions. Looking for a place to have your wedding, check out the Island Ballroom. We have served as many as 700 people there. Need a caterer? We have done catering throughout the area for over 30 years. We appreciate the opportunity to serve you, and would be more than happy to help you with your special occasion.

Auto Value
620 Highway Avenue
Bird Island, MN 55310
Phone: (320) 365-3781
Bird Island Bean Co LLC
Highway 212 E
Bird Island, MN 55310
Phone: (320) 365-3070
Web: www.bibcllc.com

Bird Island Bean Company, Southern Minnesota's local provider of dry edible bean crop data, agronomy assistance, and grower services. Through our interactive web space and our customer-focused approach, we are committed to helping area edible bean farmers grow and succeed.

Bird Island Handi Stop
551 E Highway 212
Bird Island, MN 55310
Phone: (320) 365-4536
Bird Island Hawk Creek Mutual
351 E Highway 212
Bird Island, MN 55310
Phone: (320) 365-3546
Web: www.bihcm.com

Bird Island-Hawk Creek Mutual Insurance Company is a "Township Mutual" insurance company chartered under MN Statue 67A. We, along with our Package Partners, provide property & liability insurance coverage for farm & home. We provide a wide range of insurance coverage's to meet your needs, and have done so since 1892. Our Company mission is to provide service which will assist in the effective utilization of insurance resources and promote a financially sound, competitive farm mutual insurance company for the ultimate benefit of the policyholders.

Bird Island Police Department
735 Birch Avenue
Bird Island, MN 55310
Phone: (320) 365-4101
Bird Island Soil Service Center
511 Oak Avenue
Bird Island, MN 55310
Phone: (320) 365-3655
Bird Island State Bank
205 Main Street
Bird Island, MN 55310
Phone: (320) 365-4111
Web: www.birdislandbank.com

The State Bank of Bird Island has been sold to Frandsen Financial Corporation, Arden Hills, MN. as of December, 2010. Frandsen Financial Corporation operates more than 30 full-service community bank offices in Minnesota, Wisconsin and North Dakota. Frandsen banking offices near Bird Island are located in Hector and Fairfax. We will continue to operate as the "State Bank of Bird Island" until mid 2012. You may continue to use your current supply of checks during this time. With additional resources now available, the staff at the State Bank of Bird Island looks forward to greater ways to serve your financial needs in the future.

Bird Island Union
750 Ash Avenue
Bird Island, MN 55310
Phone: (320) 365-3266
Bird Island Village Library
260 Main Street
Bird Island, MN 55310
Phone: (320) 365-4640
Bird Village
81232 405th Street
Bird Island, MN 55310
Phone: (320) 365-4079
Bold K Through 6 School
110 S 9th Street
Bird Island, MN 55310
Phone: (320) 365-3551
Broaster
745 Highway Avenue
Bird Island, MN 55310
Phone: (320) 365-4590
Christensen Family LLC
37405 740th Avenue
Bird Island, MN 55310
Phone: (320) 365-3829
Collision Correction Center
730 Highway Avenue
Bird Island, MN 55310
Phone: (320) 365-4276
Dirks-Blem Funeral Home
640 Dogwood Avenue
Bird Island, MN 55310
Phone: (320) 365-4813
Web: www.dirksblem.com

Dirks-Blem Funeral Service offers many styles of services to honor the memory of your loved one. Funerals should be meaningful, reflect the individual, and celebrate the life they led. Personalized funerals are more involved, giving people a chance to remember what made that individual so unique.

Electric Motor Company
451 Highway Avenue
Bird Island, MN 55310
Phone: (320) 365-4800
Elmwood Estates
1120 Elm Avenue
Bird Island, MN 55310
Phone: (320) 365-3203
Erickson Brother Construction
631 Sunrise Avenue
Bird Island, MN 55310
Phone: (320) 365-3356
Ewers Electric
141 S 8th Street
Bird Island, MN 55310
Phone: (320) 365-4198
Farmer's Elevator-Bird Island
215 Main Street
Bird Island, MN 55310
Phone: (320) 365-4012
Finish Line Seed Inc
76374 380th Street
Bird Island, MN 55310
Phone: (320) 365-3674
Four Star Cleaning
77753 370th Street
Bird Island, MN 55310
Phone: (320) 365-4389
Gathering Friends
101 Main Street
Bird Island, MN 55310
Phone: (320) 365-4670
George Paur Insurance
351 E Highway 212
Bird Island, MN 55310
Phone: (320) 365-3546
Web: www.gpagencyinc.com

Since 1969 George Paur Agency, Inc. has been committed to more than a policy at a good price. Obtaining the best coverage at the best available price is our ultimate goal, which is why we choose to maintain status as an Independent Insurance Agent. Being an Independent Insurance Agent assures you the best possible product at the best price. Unlike insurance companies that are locked into one provider, we have the ability to research various products, compare and contrast them based on your needs. We work closely with the Auto-Owners Insurance Company, Grinnell Mutual Reinsurance Company, Bird Island-Hawk Creek Mutual Insurance Company, Continental Western Group, North Star Mutual Insurance Companies, RAM Mutual, Western National Insurance Company, Progressive Insurance Companies, Rain & Hail Insurance Services & Blue Cross & Blue Shield of Minnesota.

George Plass Sales & Service
Highway 212 E
Bird Island, MN 55310
Phone: (320) 365-4701
Glesener's Inc
160 Main Street
Bird Island, MN 55310
Phone: (320) 365-3823
Guy's & Doll's Hair Fashions
244 Main Street
Bird Island, MN 55310
Phone: (320) 365-3101
Hardware Hank Beckler's
245 Main Street
Bird Island, MN 55310
Phone: (320) 365-3310
Health Enhancement-Bird Island
210 Highway Avenue
Bird Island, MN 55310
Phone: (320) 365-4635
Henslin Auctions, Inc.
100 Main Street
Bird Island, MN 55310
Phone: (320) 365-4120
Web: www.henslinauctions.com
Investment Centers of America
145 Main Street
Bird Island, MN 55310
Phone: (320) 365-4099
Island Ballroom
Highway Avenue
Bird Island, MN 55310
Phone: (320) 365-3525
Web: www.athmannsinn.com
J & D Livestock
38594 870th Avenue
Bird Island, MN 55310
Phone: (320) 365-4228
JK's Service Center
761 Highway Avenue
Bird Island, MN 55310
Phone: (320) 365-4774
JR Equipment Inc
1211 Highway Avenue
Bird Island, MN 55310
Phone: (320) 365-3389
Julia's Gifts
130 Main Street
Bird Island, MN 55310
Phone: (320) 365-3443
Jungers Brothers
78672 380th Street
Bird Island, MN 55310
Phone: (320) 365-4721
Karen's Creative Quilting
175 Main Street
Bird Island, MN 55310
Phone: (320) 365-4191
Keith L Scott Agency
620 Highway Avenue
Bird Island, MN 55310
Phone: (320) 365-3400
Kibble Equipment, Inc.
241 Highway Avenue
Bird Island, MN 55310
Phone: (320) 365-3445
Web: www.kibbleeq.com

Knowledgeable and experienced, the staff at Kibble Equipment is ready to help you make the best decisions for your operation. Stop in today and visit with the folks at Kibble Equipment. We look forward to seeing you!

L & L Appliance Sales
451 Highway Avenue
Bird Island, MN 55310
Phone: (320) 365-4220
Learning Funhouse
199 Main Street
Bird Island, MN 55310
Phone: (320) 365-3600
Web: www.learningfunhouse.org

Stop and visit anytime • Homey Atmosphere • Hours are catered to family needs • Reasonable Rates • Fenced in on-site playground facilities for safety • Age specific rooms with qualified teachers • Nutritious breakfast, lunch & snack • Accept all County Childcare Assistance Programs

M & W Auto Clinic
212 E Byrd Is
Bird Island, MN 55310
Phone: (320) 365-4733
Main Street Spa
151 S 2nd Street
Bird Island, MN 55310
Phone: (320) 365-4186
Market Wise Ag
37554 County Road 4
Bird Island, MN 55310
Phone: (320) 365-3744
Maynard's of Bird Island
125 Main Street
Bird Island, MN 55310
Phone: (320) 365-3200
Mid-State Painting
37830 County Road 11
Bird Island, MN 55310
Phone: (320) 579-0849
Mikes Gifts & More
241 Dogwood Avenue
Bird Island, MN 55310
Phone: (320) 365-4802
Pete Schmoll Repair
1111 Highway Avenue
Bird Island, MN 55310
Phone: (320) 365-4859
PT Mac Inc
76679 County Road 5
Bird Island, MN 55310
Phone: (888) 838-2452
Web: www.tarpaulinsmn.com



PT Mac Inc of Bird Island, MN offers sales and service of quality tarpaulins. We render service that is fast, friendly, and reliable. We also have truck and trailer repair services.

Quad R Farms
88621 430th Street
Bird Island, MN 55310
Phone: (320) 365-4783
Renville County Fairgrounds
Bird Island, MN 55310
Phone: (320) 365-3242
Rosemary's Hair Fashions Salon
321 S 11th Street
Bird Island, MN 55310
Phone: (320) 365-3638
Rumors
740 Ash Avenue
Bird Island, MN 55310
Phone: (320) 365-3863
Rural American Fitness LLC
104 Main Street
Bird Island, MN 55310
Phone: (320) 365-4073
Web: www.ruralamericanfitness.com

Our mission is to offer high-quality fitness for adults and youth in our rural community. The center offers year-round classes along with top-of-the-line cardio equipment, weight machines, free-weights and personalized or sport-specific training programs. Whether you are a beginner or a seasoned athlete, Rural American Fitness is a perfect fit for you! Included in your membership is full use of our locker rooms, lockers, showers and amenities!

Rural Computer Consultants
211 S 10th Street
Bird Island, MN 55310
Phone: (320) 365-4027
Web: www.rccbi.com

Rural Computer Consultants, Inc. (RCC) is an established provider of software, computer equipment, and services to Fuel Distributers and Mutual Insurance Companies globally. RCC was established in 1979 in a rural community in Bird Island, MN. RCC has grown from Brian and Kevin Sheehan in a one-room office in 1979 to a 43 person team oriented departmentalized staff, servicing customers internationally.

S J Jacobs & Sons
461 S 9th Street
Bird Island, MN 55310
Phone: (320) 365-4222
Saunders Mertens Schmitz PA
145 Main Street
Bird Island, MN 55310
Phone: (320) 365-4620
Web: www.smscpafirm.com

Saunders Mertens Schmitz, PA is a comprehensive small business consulting and accounting firm providing audits, tax, succession and estate planning for individuals and small businesses in Renville County and the surrounding areas. From its beginning in 1978 as an income tax and bookkeeping service in Bird Island, it has grown to a three partner seven member firm providing a wide variety of services to the growing businesses of Renville County.

Sheehan's LP Gas Service Inc
106 Main Street
Bird Island, MN 55310
Phone: (320) 365-4400
Web: www.sheehansgas.com

Servicing your Propane Energy needs since 1952! While our company has grown, the values have remained constant by serving our customers with quality products, technical expertise, and personal service

Southern Minnesota Sugar Co-Op
85700 County Road 5
Bird Island, MN 55310
Phone: (320) 365-3079
Web: www.smbsc.com

The Southern Minnesota Beet Sugar Cooperative factory is built on one square mile of land 1-1/2 miles east of Renville in south-central Minnesota. The facility was originally designed to process 6,500 tons of sugar beets per day and 11,250 cwt sugar per day, although recent modifications have allowed for greater production. One day records set in 2004 were 16,033 tons sliced and 30,570 cwt sugar produced. We currently slice about 2.6 million tons of sugar beets yearly. Sugar beets are produced on 119,259 acres by 587 shareholders in 17 counties covering an area 110 miles long (north to south) and 100 miles wide (east to west).

Superior Home Exteriors
918 S 4th Street
Bird Island, MN 55310
Phone: (320) 523-0014
Web: www.birdislandgutters.com

At Superior Home Exteriors, our experts install and repair your Bird Island gutters with impeccable craftsmanship. We take pride in our affordability and superior customer services. We serve the areas from Bird Island and Redwood Falls to Park Rapids and Fargo. If you are upgrading or replacing your gutters, a qualified Bird Island Gutter Company will help you make informed choices about the changes you need. Most people don't think about their gutters until a problem occurs. If repairs to leaky or broken gutters are needed quickly, we often try to patch the problem and this could lead to repairs that may not fix the problem at all.

Terry's Handyman Service
1060 Highway Avenue
Bird Island, MN 55310
Phone: (320) 365-4307
Tim Orth Memorial Foundation
80850 400th Street
Bird Island, MN 55310
Phone: (320) 365-4419
Trisha's Pelican Pub
140 Main Street
Bird Island, MN 55310
Phone: (320) 365-3091
US Post Office
240 Main Street
Bird Island, MN 55310-1226
Phone: (320) 365-3800
Toll Free: (800) ASK-USPS
Web: www.usps.com
Village Bottle Shoppe
145 Main Street
Bird Island, MN 55310
Phone: (320) 365-4252
Weis Oil
80296 County Road 5
Bird Island, MN 55310
Phone: (320) 365-4019
---
---
Aerial Photo:
---
Topographic Map: [click map to enlarge, zoom in or zoom out]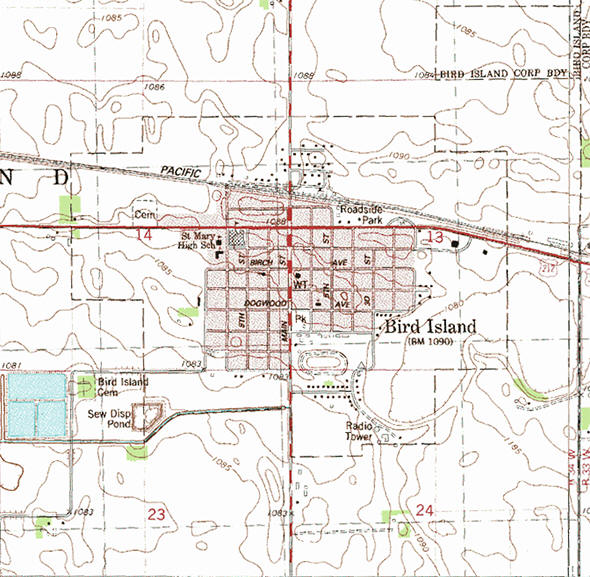 Topographic map is courtesy of the Minnesota DNR - click map to zoom or enlarge