Navigation
LakesnWoods.com
Home Page
Contact Us
Privacy
Minnesota History Shop

Visit The Minnesota History Shop
www.minnesotahistoryshop.com
Historic maps
Historic books
Historic framed art
Historic postcards
Clothing with historic images
And much more!!!


Brewster Guide:
Photo Gallery
Location
Geography
Demographics
History
Government
Post Office
News
Weather
Street Map
Events
Attractions
Recreation
Lakes
Health Care
Schools
Churches
Media
Motels
Resorts
Campgrounds
Businesses
Aerial Photo
Topographic Map
© 2004-2023
Lakeweb1 Internet Services
All Rights Reserved
DCMA, Defamation, Copyright and Trademark Infingement Policy
WANTED!
Do you have photos, historical accounts or other items pertaining to the Brewster area? Would you like to share this historical information with the world? LakesnWoods.com would like to publish your Brewster photos (current or historical) or historical accounts on this website. Original materials can be returned and your privacy will be respected.

Brewster Minnesota Community Guide
---
Location:
---
Population:
Brewster (city)
1970
1980
1990
2000
2010
2000-2010 Change
Actual
Percent
Population
563
559
532
502
473
-29
-5.78
Land Area (sq. mile)
1.10
1.29
1.19
1.20
1.20
0
0.00
Density (persons per sq. mile)
511.82
433.33
447.06
417.90
394.17
-23.73
-5.68
Housing Units
187
218
219
218
218
0
0.00
Households
--
206
205
204
207
+3
+1.47
Persons Per Household
--
2.71
2.60
2.46
2.29
-0.17
-6.91
---
Geography:
Brewster is a city in Nobles County, Minnesota. Minnesota State Highway 60 serves as a main route in the community. According to the United States Census Bureau, the city has a total area of 1.36 square miles (3.52 km2), all of it land. The elevation is 1,490 ft (454 m).
From Wikipedia, the free encyclopedia.
---
Demographics:
As of the census of 2010, there were 473 people, 207 households, and 130 families residing in the city. The population density was 347.8 inhabitants per square mile (134.3/km2). There were 218 housing units at an average density of 160.3 per square mile (61.9/km2). The racial makeup of the city was 95.3% White, 0.2% African American, 1.3% Native American, 2.7% from other races, and 0.4% from two or more races. Hispanic or Latino of any race were 5.3% of the population.
There were 207 households of which 30.4% had children under the age of 18 living with them, 47.3% were married couples living together, 9.2% had a female householder with no husband present, 6.3% had a male householder with no wife present, and 37.2% were non-families. 34.8% of all households were made up of individuals and 16.9% had someone living alone who was 65 years of age or older. The average household size was 2.29 and the average family size was 2.95.
The median age in the city was 39.5 years. 27.3% of residents were under the age of 18; 5.7% were between the ages of 18 and 24; 24.3% were from 25 to 44; 28% were from 45 to 64; and 14.8% were 65 years of age or older. The gender makeup of the city was 49.9% male and 50.1% female.
---
---
History:
Founding of Brewster: The town of Brewster was in established in the spring of 1872, but was known for many years as Hersey. It was the first town established in Nobles County by the St. Paul and Sioux City Railroad, and was named after General Samuel F. Hersey, a lumber baron from Maine, and one of the railroad's directors. The first resident was W. R. Bennett, who came to take charge of the railroad station. T. J. Smith put up the first store which was run by A. J. Timlin for many years. Mr. A. O. Conde established a lumber yard and a grain business, Martin Heiser opened a second store, a hotel was opened by a Mr. Humphrey, and John Iverson established a blacksmith shop. All of this occurred in 1872, the same year that A. J. Timlin became postmaster.
Source of Name: In 1880, the St. Paul and Sioux City Railroad was purchased by the Chicago, St. Paul, Minneapolis and Omaha Railway, or the Omaha Road, and there was already a station named Hersey on the latter road's track in Wisconsin. In order to avoid confusion, the name of Hersey was changed, briefly to Nobles County Station. Soon thereafter, the name Brewster was settled upon. There is some confusion regarding the choice of name. E. F. Drake, president of the St. Paul and Sioux City Railroad once stated that the name "was changed to Brewster after a director of the Omaha Road." But a brochure later put out by the Omaha Road stated that "the present name was given in honor of Brewster, a town in Barnstable County, Massachusetts, which was named in honor of Elder William Brewster, one of the first settlers of Plymouth Colony."
Incorporation: By the fall of 1898, it was found that 180 people lived in the community of Brewster. Thus it was decided that the time had come for incorporation. An election was held on December 14, 1898, and out of the 28 ballots cast, only one was opposed to idea of municipal government. On January 9, 1899, Leon Morris assumed duties as the first president of Brewster Village.
From Wikipedia, the free encyclopedia.
BREWSTER, a city in sections 23-26 of Hersey Township, platted April 22, 1872, was called Hersey until August 1880, being then renamed either for the village and township of Brewster in Barnstable County, Mass., or, according to Elias F. Drake, then president of the St. Paul and Sioux City Railroad, was named for a director of the Chicago, St. Paul, Minneapolis and Omaha Railroad. The city was incorporated as a village on December 19, 1898; the post office began as Hersey in section 25, 1872-86, then changed to Brewster, although the Chicago, St. Paul, Minneapolis and Omaha Railroad station was already known as Brewster by 1880. Peter Geyerman became postmaster in 1886 at his general store, The Big Store.
Courtesy Minnesota Historical Society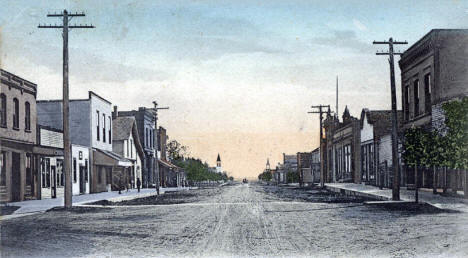 Main Street, Brewster Minnesota, 1909
LakesnWoods.com Postcard and Postcard Image Collection - click to enlarge
Visit The Brewster Photo Gallery for more recent and historic area photos
---
Government:
Brewster City Hall
246 10th Street
PO Box 55
Brewster, MN 56119
Phone: (507) 842-5936


Regular Business Hours:
Monday - Friday 8:00 am - 4:30 pm

City Council Meetings:
1st Wednesday of each month at 7:00 pm

Title
Term Ends
Name and Address
Phone:
Mayor
12/31/2022
Randy Schmitz
19984 Wass Avenue
Brewster, MN 56119
(507) 360-7334
Clerk
appointed
James Naumann
PO Box 55
Brewster, MN 56119
(507) 842-5936
Council Member
12/31/2022
Mike D. Bourquin
521 10th Street
Brewster, MN 56119
(507) 842-5977
Council Member
12/31/2022
Andy Bedbury
322 9th Street
Brewster, MN 56119
(763) 300-1763
Council Member
12/31/2024
Radley Hennings
634 3rd Avenue - PO Box 231
Brewster, MN 56119
(507) 842-5571
Council Member
12/31/2024
Edward Busch
501 10th Street - PO Box 294
Brewster, MN 56119
(507) 842-5631
---
Post Office:
US Post Office
1005 2nd Avenue
Brewster, MN 56119-1004
Phone: (507) 842-5906
Toll Free: (800) ASK-USPS

Regular Business Hours:
Week Days 8:00 am - 12:00 pm
Saturday 8:00 am - 9:00 am
---
Utilities:
---
Major Employers:
Employer
Products/Services
Employees
not available
---
---
News:
---
Weather:
---
Map: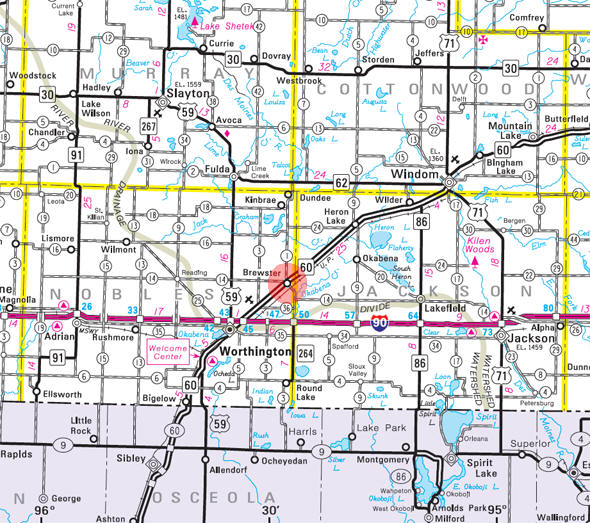 Minnesota State Highway Map of the Brewster Minnesota area
---
Events:
---
---
Attractions:
---
Recreation:
---
Lakes:
Lake Name
Size
(acres)
Lake info
Lake Map
Rec Map
Topo Map

none
---
Health Care:
---
Schools:
Round Lake Brewster School District
445 Harrison Street
Round Lake, Minnesota 56167
Phone: (507) 945-8123
Web: www.rlb.mntm.org

Grades: K-12
Students:

Round Lake High School
445 Harrison Street
Round Lake, Minnesota 56167
Phone: (507) 945-8123

Grades: 7-12
Students:

Brewster Elementary School
915 4th Avenue
Brewster, MN 56119
Phone: (507) 842-5951

Grades: K-6
Students:
---
Churches:
Sacred Heart Church
516 10th Street
Brewster, Minnesota 56119
Phone: (507) 842-5545

Pastor:
Sunday Worship:
---
Media:
---
Motels:
Check for motel rates and availability on:
---
Resorts:
---
Campgrounds:
---
---
Businesses:
American Legion
Brewster, MN 56119
Phone: (507) 842-5965
Brewster City Hall
906 3rd Avenue
Brewster, MN 56119
Phone: (507) 842-5936
Brewster Heating & Cooling
1216 3rd Avenue
Brewster, MN 56119
Phone: (507) 842-5353
Brunk Brothers
86549 320th Avenue
Brewster, MN 56119
Phone: (507) 842-5244
Curves
39574 160th Street
Brewster, MN 56119
Phone: (507) 836-6833
Web: www.curves.com

A Curves 30 minute fitness center is a woman's gym that provides a total body workout. With both aerobic exercise for weight loss and strength training for toned muscles, a Curves workout provides an exercise plan that can burn up to 500 calories in just 30 minutes. Curves clubs also offer a nutrition program and diet solution that provides permanent results without permanent dieting. Curves provides a complete solution for women to reach their weight loss, fitness, and health goals. Curves is the largest fitness and health club franchise in the world dedicated to providing affordable, one-stop exercise and nutritional information for women.

Dennis Mcnab Farming & Truck
23710 State Highway 60
Brewster, MN 56119
Phone: (507) 376-6554
Ebeling Gilts Inc
31278 860th Street
Brewster, MN 56119
Phone: (507) 842-5513
Ground Water Management Inc
13805 Wass Avenue
Brewster, MN 56119
Phone: (507) 468-2222
Haberman Farm Supply Inc
81531 320th Avenue
Brewster, MN 56119
Phone: (507) 842-5565
Hein Appraisal Company
14680 Sundberg Avenue
Brewster, MN 56119
Phone: (507) 468-2758
Henning Brothers
33886 800th Street
Brewster, MN 56119
Phone: (507) 842-5250
Koopman Racing
21580 State Highway 60
Brewster, MN 56119-2017
Phone: (507) 842-5510
Web: www.koopmanracing.com

Koopman Racing got started by loading up the kids and heading to our local track! Eventually we started to carry a few spare parts and the rest is history! We have been at this for over 10 years now and raced 100s of local races and also races as far away as Louisiana and Oklahoma. Additionally, we attend many swap meets during the off season. We're look forward to seeing you at the track!

Kunerth Seed Center
34858 150th Street
Brewster, MN 56119
Phone: (507) 425-2353
Mike Bourquin Construction
PO Box 114
Brewster, MN 56119
Phone: (507) 842-5977
Minnesota Soybean Processors
PO Box 100
Brewster, MN 56119-0100
Phone: (507) 842-6677
Web: www.mnsoy.com

Minnesota Soybean Processors is a 2350+ membership cooperative that owns and operates a soybean crush facility and bio-diesel operation in Brewster, Minnesota. The MnSP mission is to provide the maximum value-added return to our investors by combining the latest soybean processing technologies with proven management. The Brewster facility started processing beans in our crushing facility in 2003 with the addition of the Bio-diesel refining facility in 2005. The process all starts with the farmer. Our farmers strive to deliver beans that are high in oil and protein content.

New Vision Co-Op
931 1st Avenue
Brewster, MN 56119
Phone: (507) 842-5944
Redrock Holding
303 10th Street
Brewster, MN 56119
Phone: (507) 842-5665
Reitmeier Masonry
811 4th Avenue
Brewster, MN 56119
Phone: (507) 360-8358
Rolling Hills Bank & Trust
224 10th Street
Brewster, MN 56119
Phone: (507) 842-5933
Silver Bucket Bar Inc
104 3rd Avenue
Brewster, MN 56119
Phone: (507) 842-5609
Smith Dental Lab
205 8th Street
Brewster, MN 56119
Phone: (507) 842-5228
Storeroom Mini Storage
Frontier Road
Brewster, MN 56119
Phone: (507) 842-5433
Tolo Enterprises
17403 Ulrich Avenue
Brewster, MN 56119
Phone: (507) 842-5222
Vahalla Painting LLC
21580 State Highway 60
Brewster, MN 56119
Phone: (507) 842-5510
---
---
Aerial Photo:
---
Topographic Map: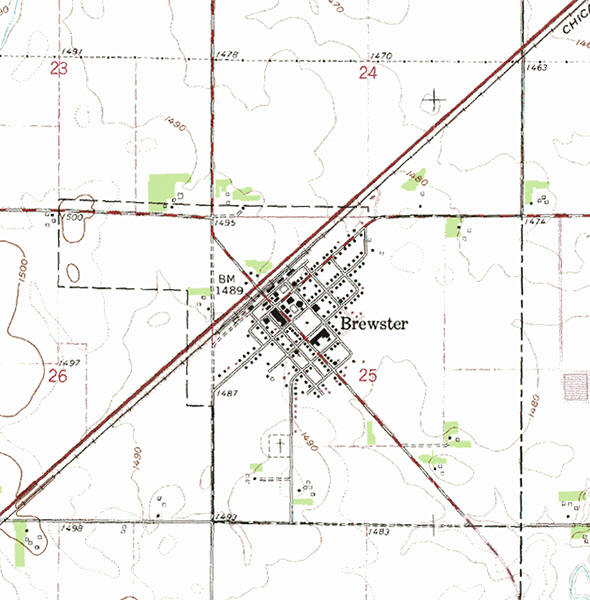 Topographic map is courtesy of the Minnesota DNR - click map to zoom or enlarge