Navigation
LakesnWoods.com
Home Page
Contact Us
Privacy
Minnesota History Shop

Visit The Minnesota History Shop
www.minnesotahistoryshop.com
Historic maps
Historic books
Historic framed art
Historic postcards
Clothing with historic images
And much more!!!


Browns Valley Guide:
Photo Gallery
Location
Geography
Demographics
History
Government
Post Office
News
Weather
Street Map
Events
Attractions
Recreation
Lakes
Health Care
Schools
Churches
Media
Motels
Resorts
Campgrounds
Businesses
Aerial Photo
Topographic Map
© 2004-2022
Lakeweb1 Internet Services
All Rights Reserved
DCMA, Defamation, Copyright and Trademark Infingement Policy
WANTED!
Do you have photos, historical accounts or other items pertaining to the Browns Valley area? Would you like to share this historical information with the world? LakesnWoods.com would like to publish your Browns Valley photos (current or historical) or historical accounts on this website. Original materials can be returned and your privacy will be respected.


(design available on over 100 different items!)

Browns Valley Minnesota Community Guide
---
Location:
---
Population:
Browns Valley (city)
1970
1980
1990
2000
2010
2000-2010 Change
Actual
Percent
Population
906
887
804
690
589
-101
-14.64
Land Area (sq. mile)
0.80
0.68
0.78
0.79
0.79
0
0.00
Density (persons per sq. mile)
1,132.50
1,304.41
1,030.77
878.51
745.57
-132.84
-15.12
Housing Units
342
374
363
317
288
-29
-9.15
Households
--
355
326
285
247
-38
-13.33
Persons Per Household
--
2.33
2.28
2.29
2.38
+0.09
+3.93
---
Geography:
Browns Valley is a city in Traverse County, Minnesota, United States, adjacent to the South Dakota border. Minnesota Highways 27 and 28 are two of the main routes in the community. Browns Valley lies along the Little Minnesota River between the northern end of Big Stone Lake and the southern end of Lake Traverse, which is separated from the Little Minnesota River by a low and narrow continental divide that skirts the northern edge of town. The city, both lakes, and the river lie in the Traverse Gap, the bed of ancient Glacial River Warren, the outlet to Glacial Lake Agassiz which, when drained, became the valley of the Red River of the North. According to the United States Census Bureau, the city has a total area of 0.79 square miles (2.05 km2), all of it land. The elevation is 988 feet (301 m).
From Wikipedia, the free encyclopedia.
---
Demographics:
As of the census of 2010, there were 589 people, 247 households, and 141 families residing in the city. The population density was 745.6 inhabitants per square mile (287.9/km2). There were 288 housing units at an average density of 364.6 per square mile (140.8/km2). The racial makeup of the city was 75.2% White, 21.4% Native American, 0.5% Asian, 0.5% from other races, and 2.4% from two or more races. Hispanic or Latino of any race were 2.7% of the population.
There were 247 households of which 23.5% had children under the age of 18 living with them, 38.5% were married couples living together, 13.0% had a female householder with no husband present, 5.7% had a male householder with no wife present, and 42.9% were non-families. 40.5% of all households were made up of individuals and 24.3% had someone living alone who was 65 years of age or older. The average household size was 2.23 and the average family size was 2.97.
The median age in the city was 48.3 years. 22.2% of residents were under the age of 18; 5.4% were between the ages of 18 and 24; 18.7% were from 25 to 44; 23.7% were from 45 to 64; and 30.1% were 65 years of age or older. The gender makeup of the city was 46.0% male and 54.0% female.
---
---
History:
BROWNS VALLEY, in sections 32 and 33 of Folsom Township, a city founded in 1866-67 by Joseph R. Brown, platted in 1878, was the first village in the county and the first county seat, being succeeded by Wheaton in 1886. The settlement and post office, established in 1867, were at first called Lake Traverse but were renamed Browns Valley after the death of the founder in 1870. Biographic notes of him are presented in the chapter on Brown County, which also was named in his honor. His son, Samuel J. Brown, who during 50 years was a resident of this village, was its first postmaster, 1867-78. A vivid sketch of Joseph Renshaw Brown was given in the pamphlet history of this county by J. O. Barrett in 1881. The city was incorporated as a village on February 23, 1881; it had a station of the Great Northern Railway.
Courtesy Minnesota Historical Society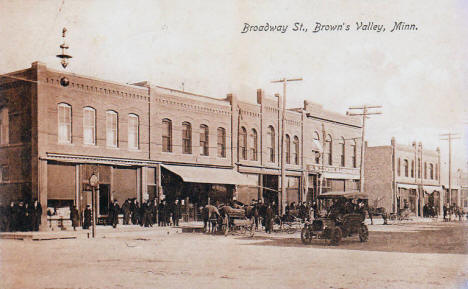 Broadway Street, Browns Valley Minnesota, 1909
LakesnWoods.com Postcard and Postcard Image Collection - click to enlarge
Visit The Browns Valley Photo Gallery for more recent and historic area photos
---
Government:
Browns Valley City Hall
19 Third Street S
PO Box 334
Browns Valley, MN 56219
Phone: (320) 695-2110
Fax: (320) 695-2127

Regular Business Hours:
Tuesday - Thursday 8:30 am - 5:00 pm

City Council Meetings:
2nd and 4th Monday of the month at 5:30 pm


Title
Term Ends
Name and Address
Phone
Mayor
12/31/2022
Mike Heck
402 Jefferson Street S
Browns Valley, MN 56219
(320) 695-2844
(605) 237-0757
Clerk/Treasurer
appointed
Jodi Hook
PO Box 334
Browns Valley, MN 56219
(320) 695-2110
Council Member
12/31/2022
Kenneth A. Westbrock
511 Jefferson Street S
Browns Valley, MN 56219
(605) 237-8390
Council Member
12/31/2022
Ken Warren
104 Washington Street S
Browns Valley, MN 56219
(320) 695-2654
Council Member
12/31/2024
Neil G. Madison
579 Washington Street S
Browns Valley, MN 56219
(320) 760-4385
(320) 695-2344
Council Member
12/31/2024
Tony Miller
421 3rd Street N
Browns Valley, MN 56219
(605)881-7321
---
Post Office:
US Post Office
314 W Broadway
Browns Valley, MN 56219-5000
Phone: (320) 695-2620
Toll Free: (800) ASK-USPS

Regular Business Hours:
Week Days 7:30 am - 1:30 pm
Saturday 9:45 am - 10:30 am
---
Utilities:
---
Major Employers:
---
---
News:
---
Weather:
---
Map: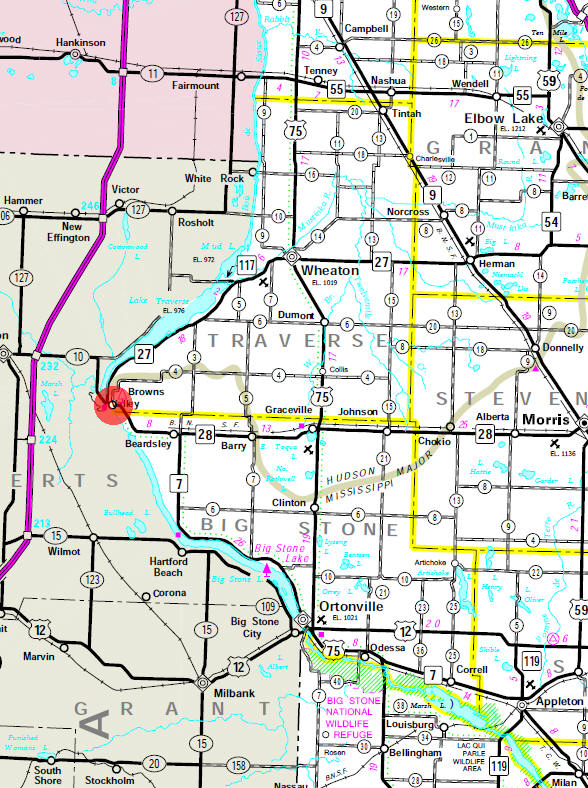 Minnesota State Highway Map of the Browns Valley Minnesota area
---
Events:
---
---
Attractions:
Browns Valley Man

On October 9, 1933, Wm. H. Jensen discovered the partially fossilized skeleton of a man buried in a gravel pit on the Plateau Addition of Browns Valley. With the help of Wm. L. Paul, photographs were taken of the grave and the strata above it. After investigating the site and examining the bones, it was determined the age of the grave to be between 8000 and 12000 years and the skeleton to be one of the three oldest ever found in the United States. The skeleton is no longer available for viewing, however the family of Wm. Jensen has dedicated a plaque to the Browns Valley Historical Society to commemorate Mr. Jensen's work in the archaeological field. The plaque is now being displayed in the Sam Brown Museum.

Continental Divide

The water flow is dependent upon which watershed the water is in. Depending on the lie of the continental divides, Minnesota waters flow either to Hudson Bay, the Gulf of Mexico or the Atlantic Ocean. Browns Valley, although only about 984 feet above sea level and situated in a deep valley, is nevertheless on the Continental Divide. Lake Traverse drains north into the Red River and on into Hudson Bay while Lake Big Stone flows south by way of the Minnesota and Mississippi Rivers and on to the Gulf of Mexico. Theoretically a raindrop could split on Browns Valley's main street and half of it flow north and half south. There have been times during floods when the two lakes have temporarily joined.

Minnesota River Valley Scenic Byway

Located along the meandering Minnesota River, the Minnesota River Valley National Scenic Byway is a destination in itself. Close your eyes and imagine becoming an explorer for a day. Relax in the tranquility of Big Bluestem prairie grasses. Watch for Dakota skipper butterflies among purple cornflowers. Scan the expansive blue sky for bald eagles or wait quietly at the river's edge to catch a glimpse of a deer at sunset.

Sam Brown's Cabin

The Log Cabin was originally built in 1863 near Fort Wadsworth, which is now knowns as Fort Sisseton. In 1866 major Joseph Brown purchased the house and moved it to Browns Valley. The Cabin was used as a trading post, a post office, family home, stage stop and hotel. In 1986, Sam Brown's Memorial Park was added to the National Register of Historic Places. Today the Cabin is opened as a museum from Memorial Day to Labor Day, weekends only, 1:00-6:00pm.
---
Recreation:
---
Lakes:
---
Health Care:
Valley Clinic
404 W Broadway
Browns Valley, MN 56219
Phone: (320) 695-2526
Web: www.cdphospital.com/cdpclinic

The Brown's Valley Clinic is staffed Monday & Wednesday-Friday 9:00 am to 5:00 pm and Tuesday mornings 9:00 am to Noon.
---
Schools:
---
Churches:
St. Anthony's Church
122 2nd Street S
Browns Valley, MN 56219
Phone: (320) 695-2622

Pastor: Father Joe Vandeberg
Sunday Mass: 10:30am

United Methodist & Presbyterian Church
418 Ash Street SE
Browns Valley, MN 56219
Phone: (320) 695-2516

Pastor: n/a
Sunday Worship: n/a

Zion Lutheran Church
106 1st Street S
Browns Valley, MN 56219
Phone: (320) 695-2598

Pastor: n/a
Sunday Worship: n/a
---
Media:
Valley News
4984 State Highway 27
Browns Valley, MN 56219
Phone: (320) 695-2300

Weekly newspaper with a circulation of 774 published on Tuesdays
---
Motels:
Check for motel rates and availability on:
---
Resorts:
Circle K Resort
11854 Lake Road
Browns Valley, MN 56219
Phone: (605) 694-2676
Wing N Fin Traverse Lodge
5473 Wing and Fin Drive
Browns Valley, MN 56219
Phone: (320) 695-2450
Web: www.wingnfintraverse.com

At Wing N Fin Resort we offer first class accommodations year round for all of your outdoor activity needs in western Minnesota. Owners Todd and Ellen Johnson have dedicated their lives to offering their customers a modern, clean and diverse lodging establishment on the shores of Lake Traverse. This is what Todd refers to as "One Of the best kept, secluded secrets in Minnesota". Being the 12th largest lake out of 10,000 that Minnesota has to offer and being less than 3 ˝ hours away from the Twin Cities, Wing N Fin Resort can meet and exceed all of your outdoor vacation needs.
---
Campgrounds:
---
---
Businesses:
Abundant Light Skylights
PO Box 53
Browns Valley, MN 56219
Phone: (320) 305-1515
American Legion - William Krensing Post 58
Browns Valley, MN 56219
Phone: (320) 695-2361
Ben's Service & Bait
524 W Broadway
Browns Valley, MN 56219
Phone: (320) 695-2175
Beumer Repair Service
46926 128th Street
Browns Valley, MN 56219
Phone: (605) 694-2691
BJ's Family Restaurant
414 W Broadway
Browns Valley, MN 56219
Phone: (320) 695-2350
Border States Cooperative
23 4th Street N
Browns Valley, MN 56219
Phone: (320) 695-2576
Web: www.bscoop.com
Browns Valley Ambulance
19 Third Street S
Browns Valley, MN 56219
Phone: (320) 695-2110
Browns Valley Auto Salvage
5060 County Road 4
Browns Valley, MN 56219
Phone: (320) 695-2107
Web: www.brownsvalleysalvage.com

We offer a wide selection of makes and models: Foreign and domestic, Auto and Truck. We also have a large selection of new and aftermarket parts. We specialize in glass and windshield replacement and engine and transmission installment. Browns Valley Auto Salvage has been serving the area for over 50 years! We have a 30-60 day warranty!

Browns Valley City Hall
19 Third Street S
PO Box 334
Browns Valley, MN 56219
Phone: (320) 695-2110
Web: www.brownsvalleymn.com
Browns Valley Clinic
106 4th Street S
Browns Valley, MN 56219
Phone: (320) 695-2105
Browns Valley Community Elevator
204 2nd Avenue N
Browns Valley, MN 56219
Phone: (320) 695-2327
Browns Valley Fire Department
Browns Valley, MN 56219
Phone: n/a
Browns Valley Health Center
114 Jefferson Street S
Browns Valley, MN 56219
Phone: (320) 695-2600
Web: www.sfhs.org

Nursing home care has changed greatly in recent years and the Browns Valley Health Center is deeply committed to meeting the challenge of today's demands. As a small facility, staff are able to provide more personal care in our remarkable neighborhood environment. At the Browns Valley Health Center, we strive to enhance each individual's life with professional and caring services, and to help each resident achieve his or her highest potential.

Browns Valley Liquor Store
334 E Broadway
Browns Valley, MN 56219
Phone: (320) 695-2380
Browns Valley Nursing Home
114 Jefferson Street S
Browns Valley, MN 56219
Phone: (320) 695-2165
Browns Valley Police Department
21 3rd Street S
Browns Valley, MN 56219
Phone: (320) 695-2411
Browns Valley Public Library
15 3rd Street S
PO Box 307
Browns Valley, MN 56219
Phone: (320) 695-2318
Web: www.viking.lib.mn.us
Browns Valley School
118 Church Street
Browns Valley, MN 56219
Phone: (320) 695-2296
Browns Valley Seniors Center
308 West Broadway
Browns Valley, MN 56219
Phone: (320) 695-2605
Butch's Place
306 West Broadway
Browns Valley, MN 56219
Phone: (320) 695-2226
Buyah's Night Club
328 W Broadway
Browns Valley, MN 56219
Phone: (320) 695-2505
BW Incorporated
316 W Broadway
Browns Valley, MN 56219
Phone: (320) 695-2899
Web: www.bwincorporated.com

For more information on our products and services, please see any of the following websites. Contact information is located on each site if you wish to email or call us. We have been in business for more than 21 years providing high quality products and service to satisfied customers. "To our team, customer service is not a marketing buzz word, it is a tradition and a way of life." - BW Inc.

Cenex Convenience Store
521 W Broadway
Browns Valley, MN 56219
Phone: (320) 695-2452
Circle K Resort
11854 Lake Road
Browns Valley, MN 56219
Phone: (605) 694-2676
Connie's Cut & Curl
5058 Saint Anthony Drive
Browns Valley, MN 56219
Phone: (320) 695-2137
Creative Safe Results
PO Box 150
Browns Valley, MN 56219
Phone: (320) 695-2899
Dave Reed Fish Company
5357 County Road 2
Browns Valley, MN 56219
Phone: (320) 695-2474
Dorothy Fiala Reflexology
307 Blaine Avenue N
Browns Valley, MN 56219
Phone: (320) 695-2584
Despiegler Brothers
46483 Eastman Road
Browns Valley, MN 56219
Phone: (605) 694-2650
Dyer Cleo Insurance Agency
511 West Broadway
Browns Valley, MN 56219
Phone: (605) 694-2250
Eastman Trucking
46957 117th Street
Browns Valley, MN 56219-4059
Phone: (605) 694-2680
Gettman's Auto Supply
23 4th Street S
Browns Valley, MN 56219
Phone: (320) 695-2544
Glenda Keye Johnson Sales
47024 130th Street
Browns Valley, MN 56219
Phone: (320) 694-2696
Web: www.gkjpromo.com
Goodhart Brothers Shop
601 W Broadway
Browns Valley, MN 56219
Phone: (320) 695-2200
Greg Cheney Fire Extinguishers
106 Blaine Avenue NE
Browns Valley, MN 56219
Phone: (320) 304-2816
Hansen Accounting & Tax Service
409 Oak Street SE
PO Box 207
Browns Valley, MN 56219
Phone: (320) 695-2316
Hansen Pole Buildings
46891 Chambers Road
Browns Valley, MN 56219
Phone:(605) 694-2805
Web: www.hansenpolebuildings.com

Experience the convenience and ease of a Hansen steel building package – offering storage buildings, metal carports, metal garage kits, pole barns and pole barn kits customized for your needs. Our pole building packages are designed to fit your specific plans, wishes and dreams. With the help of a building designer you select the options and we put together quality components - at the best possible price. HansenPoleBuildings.com will answer all of your metal building questions and allow you to plan a layout that will stay in your budget. We are committed to providing you only the highest quality steel buildings with first rate customer service. If you're in the market for your own steel building, we've got what you need at competitive prices with technical support available seven days a week.

Hansen Pole Bldg Productions
12167 Lake Road
Browns Valley, MN 56219
Phone:(605) 694-2618
Hansen Service & Repair
202 2nd Avenue NW
Browns Valley, MN 56219
Phone: (320) 695-2491
Hardware Hank
16 3rd Street N
Browns Valley, MN 56219
Phone: (320) 695-2351
Hein Floral and Taxidermy
12621 467th Avenue
Browns Valley, MN 56219
Phone: (320) 694-2719
Hoffman Electric
206 1st Avenue SE
Browns Valley, MN 56219
Phone: (320) 695-2461
Jeff Backer Auto
124 4th Street S
Browns Valley, MN 56219
Phone: (320) 695-2147
Jim Burg Storage Sheds
121 2nd Street S
Browns Valley, MN 56219
Phone: (320) 695-2227
K & D Carpet Cleaning
4989 State Highway 28
Browns Valley, MN 56219
Phone: (320) 695-2163
Lake Traverse District Center
11691 Lake Road
Browns Valley, MN 56219
Phone: (605) 694-2874
Larson Funeral Home
222 Ash Street S
Browns Valley, MN 56219
Phone: (320) 695-2283
Web: www.larsonfuneral.com

At Larson Funeral Homes, we believe it is your right and our first priority to provide the very best in caring and professional service to every family that we serve. Our goal is to help each family honor the life of their loved one with a service offering dignity, integrity, and respect…allowing family and friends to come together the remember, to honor, to support each other and to celebrate a life that has lived.

Liebe Drug
332 W Broadway
Browns Valley, MN 56219
Phone: (320) 695-2331
Web: www.liebedrug.com

Located in both Minnesota and South Dakota, Liebe Drug has been servicing its communities for over 40 years. Specializing in providing services for those with complex medication needs, Liebe Drug locations are staffed with highly trained full time pharmacists, technicians, and pharmacy staff. In addition, all of our locations provide the convenience of local courier home-delivery, and delivery by US Mail. Liebe Drug has always understood the need of our clients to adhere to their medication therapy.

Maynard's Food Center
409 W Broadway
Browns Valley, MN 56219
Phone: (320) 695-2252
Me Clean Laundromat
Browns Valley, MN 56219
Phone: n/a
Mike's Alignment & Brake
115 4th Avenue N
Browns Valley, MN 56219
Phone: (320) 695-2372
Miller Fish Company
320 Jackson Street
Browns Valley, MN 56219
Phone: (320) 695-2376
Minn-Dak Mechanical
Broadway & Park
Browns Valley, MN 56219
Phone: (320) 695-2322
Open Seasons Art Gallery
329 W Broadway
Browns Valley, MN 56219
Phone: (320) 695-2570
Park Region Telephone
13 4th Street S
Browns Valley, MN 56219
Phone: (320) 695-2111
Web: www.parkregion.com

We are working hard to provide you with the latest communications technology available. Our services include a variety of local, long distance, internet, television and wireless plans and packages." We invite you to browse our web site to learn more or call us anytime with your telecommunications questions.

Pistorius Brothers Farms
11212 468th Avenue
Browns Valley, MN 56219-4055
Phone: (605) 694-2744
R & R Fish
18 Main Street
Browns Valley, MN 56219
Phone: (320) 695-2206
Rachels Beauty Nook
786 W Broadway
Browns Valley, MN 56219
Phone: (320) 695-2425
Rainbow Rider Public Transit
249 Poplar Avenue
Lowry, Minnesota 56349
Toll Free: 800 (450) 7770
Web: www.rainbowriderbus.com

Rainbow Rider is the public transit system serving the West Central Minnesota counties of Douglas, Grant, Pope, Stevens, Todd, and Traverse with handicapped accessible buses as well as a Volunteer Driver Program. It is available to all people in the six county area with no income or age restrictions and no forms to fill out. Our service is funded by passenger fares, service contracts, state and federal taxes, sales of advertising space, donations, and is governed by the Rainbow Rider Transit Board.

Ray Andrews Construction
Browns Valley, MN 56219
Phone: (320) 695-2143
Reed Fish Company
506 E Broadway
Browns Valley, MN 56219
Phone: (320) 695-2413
Rite Way Vending
1 Day County
Browns Valley, MN 56219
Phone: (605) 694-2815
Riverside Lodging
4989 State Highway 28
Browns Valley, MN 56219
Phone: (320) 695-2163
Sam Brown Log Cabin
West Broadway
Browns Valley, MN 56219
Phone: (320) 695-2608
Serocki Excavating Inc
318 Washington Street S
Browns Valley, MN 56219
Phone: (320) 695-2589
St. Anthony's Church
122 2nd Street S
Browns Valley, MN 56219
Phone: (320) 695-2622

Pastor: Father Joe Vandeberg
Sunday Mass: 10:30am

Swift & Company
5154 State Highway 28
Browns Valley, MN 56219
Phone : (320) 695-2234
Synergy Advantage
201 West Broadway Street
Browns Valley, MN 56219
Phone: (320) 695-2000
Traverse Cafe
305 W Broadway
Browns Valley, MN 56219
Phone: (320) 695-2777
Tropical Tanning and Fitness
318 E Broadway
Browns Valley, MN 56219
Phone: (320) 695-2850
Twin Valley Tire Inc
112 4th Street
Browns Valley, MN 56219
Phone: (320) 695-2551
Union State Bank
325 W Broadway
Browns Valley, MN 56219
Phone: (320) 695-2101
United Methodist & Presbyterian Church
418 Ash Street SE
Browns Valley, MN 56219
Phone: (320) 695-2516
US Post Office
314 W Broadway
Browns Valley, MN 56219-5000
Phone: (320) 695-2620
Toll Free: (800) ASK-USPS
Web: www.usps.com
Valley Clinic
404 W Broadway
Browns Valley, MN 56219
Phone: (320) 695-2526
Web: www.cdphospital.com/cdpclinic

The Brown's Valley Clinic is staffed Monday & Wednesday-Friday 9:00 am to 5:00 pm and Tuesday mornings 9:00 am to Noon.

Valley Grain Trucking
County Road 2
PO Box 299
Browns Valley, MN 56219
Phone: (605) 694-2800
Valley News
4984 State Highway 27
Browns Valley, MN 56219
Phone: (320) 695-2300
Valley Soft Water Service
3rd Street & Broadway
Browns Valley, MN 56219
Phone: (605) 694-2309
Valley Telephone Company
13 4th Street S
Browns Valley, MN 56219
Phone: (320) 695-2112
Valley Veterinarian Clinic
24 4th Street S
Browns Valley, MN 56219
Phone: (320) 695-2513
Valley Vista Apartments
317 2nd Street N # 102
Browns Valley, MN 56219
Phone: (320) 695-2556
Walls Investment Group
5651 Rosies Drive
Browns Valley, MN 56219
Phone: (320) 695-2216
Wing N Fin Traverse Lodge
5473 Wing and Fin Drive
Browns Valley, MN 56219
Phone: (320) 695-2450
Web: www.wingnfintraverse.com

At Wing N Fin Resort we offer first class accommodations year round for all of your outdoor activity needs in western Minnesota. Owners Todd and Ellen Johnson have dedicated their lives to offering their customers a modern, clean and diverse lodging establishment on the shores of Lake Traverse. This is what Todd refers to as "One Of the best kept, secluded secrets in Minnesota". Being the 12th largest lake out of 10,000 that Minnesota has to offer and being less than 3 ˝ hours away from the Twin Cities, Wing N Fin Resort can meet and exceed all of your outdoor vacation needs.

Zabel Insurance
325 W Broadway
Browns Valley, MN 56219
Phone: (320) 695-2101
---
---
Aerial Photo:
---
Topographic Map: [click map to enlarge, zoom in or zoom out]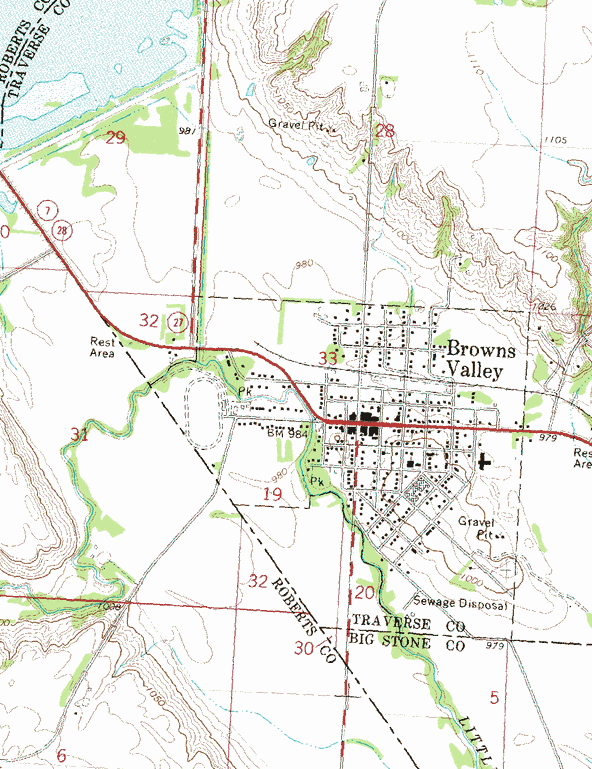 Topographic map is courtesy of the Minnesota DNR - click map to zoom or enlarge