Navigation
LakesnWoods.com
Home Page
Contact Us
Privacy
Minnesota History Shop

Visit The Minnesota History Shop
www.minnesotahistoryshop.com
Historic maps
Historic books
Historic framed art
Historic postcards
Clothing with historic images
And much more!!!


Brownsdale Guide:
Photo Gallery
Location
Geography
Demographics
History
Government
Post Office
News
Weather
Street Map
Events
Attractions
Recreation
Lakes
Health Care
Schools
Churches
Media
Motels
Resorts
Campgrounds
Businesses
Aerial Photo
Topographic Map
© 2004-2023
Lakeweb1 Internet Services
All Rights Reserved
DCMA, Defamation, Copyright and Trademark Infingement Policy
WANTED!
Do you have photos, historical accounts or other items pertaining to the Brownsdale area? Would you like to share this historical information with the world? LakesnWoods.com would like to publish your Brownsdale photos (current or historical) or historical accounts on this website. Original materials can be returned and your privacy will be respected.


(design available on over 100 different items!)

Brownsdale Minnesota Community Guide
---
Location:
---
Population:
Brownsdale (city)
1970
1980
1990
2000
2010
1990-2000 Change
Actual
Percent
Population
625
691
695
718
676
-42
-5.85
Land Area (sq. mile)
0.40
0.43
0.45
0.46
0.46
0
0.00
Density (persons per sq. mile)
1,562.50
1,606.98
1,544.44
1,574.39
1,469.57
-104.82
-6-66
Housing Units
221
277
286
312
315
+3
+0.96
Households
--
271
274
290
286
-4
-1.38
Persons Per Household
--
2.55
2.51
2.48
2.36
-0.12
-4.84
---
Geography:
Brownsdale is a city in Red Rock Township, Mower County, Minnesota. According to the United States Census Bureau, the city has a total area of 0.47 square miles (1.22 km2), all of it land. The elevation is 1,283 ft (391 m) above sea level.
From Wikipedia, the free encyclopedia.
---
Demographics:
As of the census of 2010, there were 676 people, 286 households, and 190 families residing in the city. The population density was 1,438.3 inhabitants per square mile (555.3/km2). There were 315 housing units at an average density of 670.2 per square mile (258.8/km2). The racial makeup of the city was 98.1% White, 0.1% African American, 1.3% from other races, and 0.4% from two or more races. Hispanic or Latino of any race were 5.5% of the population.
There were 286 households of which 30.1% had children under the age of 18 living with them, 48.6% were married couples living together, 13.3% had a female householder with no husband present, 4.5% had a male householder with no wife present, and 33.6% were non-families. 25.2% of all households were made up of individuals and 14.7% had someone living alone who was 65 years of age or older. The average household size was 2.36 and the average family size was 2.83.
The median age in the city was 41.4 years. 24.6% of residents were under the age of 18; 5% were between the ages of 18 and 24; 24.1% were from 25 to 44; 28.5% were from 45 to 64; and 17.8% were 65 years of age or older. The gender makeup of the city was 46.7% male and 53.3% female.
---
---
History:
The first Settlers came to Brownsdale in the spring of 1855. They were 3 Norwegian families, they then sold their claims and moved west. In the summer of 1855, J.L. Johnson took a calim in section 4 west of the original three settlers. He built a sod shanty near a lare red rock. Red Rock Township was named for this red rock.
The village of Brownsdale was legally established July 7, 1856.
The first store in Brownsdale was opened by John L. Johnson. The Brownsdale Post Office was established in the fall of 1856, with John L. Johnson as postmaster. The office was kept in his store, mail was received once a week, and the mail was brought from Austin on horseback.
The first boot and shoe stroe was built for Thomas Alfred in 1857, and the railroad came through in 1870.
The first church built in Brownsdale was the Baptist Church in 1870. That church is still on the same lot. A small Christian Church was built in 1876 and the Methodist Church was finished in 1891. The English Lutheran Church of Our Savior Church was moved here in October 1937. The Catholic Church, Lady of Loretto, began building in 1947 and finished ini 1949.
The first school house in Brownsdale was built in 1856. The building burned down in 1858, but was immediately rebuilt. The second school burned down in 1871 and was replaced at once with a two story, tow room school. In the fall of 1896 the third school burned down. That winter school was held in 2 empty stores on Main Street. In 1897 a two story, four room school was built. In 1953 a new modern school was built. In 1998 the school was remodeled and a media center was added.
Courtesy City of Brownsdale
BROWNSDALE, a city in sections 9 and 10 of Red Rock Township, was platted in the summer of 1856 by Andrew D. and Hosmer A. Brown and was incorporated on February 16, 1876. Andrew D. Brown was born in North Stonington, Conn., in 1818; came to Minnesota in 1856, settling here, and engaged in lumber business and milling; died in Minneapolis in May 1911. Hosmer A. Brown was born in North Stonington, Conn., September 30, 1830; came to this state in 1855, settling on the site of Brownsdale as a farmer and carpenter; was a representative in the legislature in 1870 and 1877.
Courtesy Minnesota Historical Society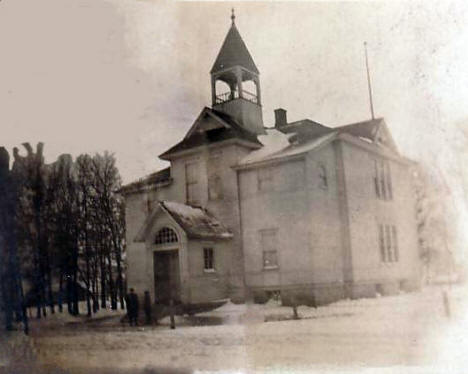 Brownsdale School, Brownsdale Minnesota, 1909
LakesnWoods.com Postcard and Postcard Image Collection - click to enlarge
Visit The Brownsdale Photo Gallery for more recent and historic area photos
---
Government:
Brownsdale City Hall
103 E Main Street
PO Box 336
Brownsdale, MN 55918
Phone: (507) 567-2177
Fax: (507) 567-2250

Regular Business Hours:
Monday: 11:00 am - 6:30 pm
Tuesday and Wednesday: 9:00 am - 4:30 pm
Thursday: 7:30 am - 3:00 pm
Friday: 8:30 am - 12:30 pm

City Council Meetings:
1st Monday of each month at 7:00 pm


Title
Term Ends
Name and Address
Phone
Mayor
12/31/2022
Jeff Foster
103 Shania Street
Brownsdale, MN 55918
(507) 438-2083
Clerk/Treasurer
appointed
Adria Vargas
103 E Main Street
Brownsdale, MN 55918

(507) 567-2177

Council Member
12/31/2022
Jessica Bakken
105 SW Pleasant Street
Brownsdale, MN 55918

(507) 460-8029

Council Member
12/31/2022
Debra Schuette
512 NE Grove Street
Brownsdale, MN 55918

(507) 567-9997

Council Member
12/31/2024
Raughn E. Oakland
302 Oak Street NE
Brownsdale, MN 55918

(507) 567-2698

Council Member
12/31/2024
Rick L. Smith
105 Johnson Street SE
Brownsdale, MN 55918

(507) 696-9581
---
Post Office:
US Post Office
118 S Mill Street
Brownsdale, MN 55918-9019
Phone: (507) 567-2580
Toll Free: (800) ASK-USPS

Regular Business Hours:
Week Days 8:00 am - 12:00 pm
12:30 pm - 2:30 pm
Saturday 8:30 am - 10:30 am
---
---
Utilities:
---
Major Employers:
---
---
News:
---
Weather:
---
Map: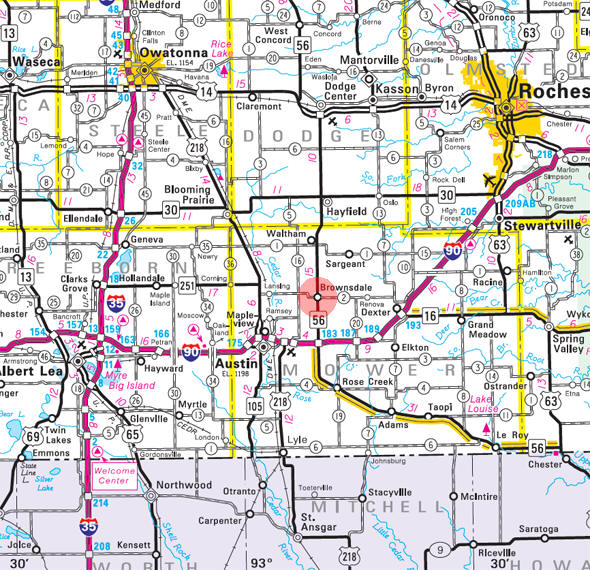 Minnesota State Highway Map of the Brownsdale Minnesota area
---
Events:
---
---
Attractions:
---
Recreation:
---
Lakes:
Lake Name
Size
(acres)
Lake info
Lake Map
Rec Map
Topo Map

none
---
Health Care:
---
Schools:
---
Churches:
Brownsdale United Methodist Church
100 Pleasant Street E
Brownsdale, MN 55918
Phone: (507) 567-2316

Pastor: n/a
Sunday Worship: n/a

First Baptist Church
206 W Main Street
Brownsdale, MN 55918
Phone: (507) 567-2369

Pastor: n/a
Sunday Worship: n/a

Our Lady of Loretto Catholic Church
404 W Main Street
Brownsdale, MN 55918
Phone: (507) 567-2323

Pastor: n/a
Sunday Mass: 8:30 am

Our Savior Lutheran Church - LCMS
411 W Main Street
Brownsdale, MN 55918
Phone: (507) 567-2329
Web: www.lutheransonline.com

Pastor: Rev Jeffery J. Sage
Sunday Worship: 9:00 am
---
Media:
---
Motels:
Check for motel rates and availability on:
---
Resorts:
---
Campgrounds:
---
---
Businesses:
Akkerman Manufacturing Inc
58256 266th Street
Brownsdale, MN 55918
Phone: (507) 567-2262
Web: www.akkerman.com

In 1973, Akkerman Inc. in Brownsdale, MN began providing tunnel boring machines to meet the needs of the trenchless market. Today Akkerman Inc. sells and leases new and used microtunneling, pipejacking, guided boring and earth pressure balance equipment. Akkerman not only manufactures quality trenchless equipment, they have built a reputation for superior reliability and responsive service.

Brownsdale Auto Body
103 W Main Street
Brownsdale, MN 55918
Phone: (507) 567-2626
Brownsdale Fire Department
402 S Mill Street
Brownsdale, MN 55918
Phone: (507) 567-2616
Brownsdale Public Library
103 E Main Street
Brownsdale, MN 55918
Phone: (507) 567-9951

Computer & Internet Access, DVD's, VHS's Wide selection of large printed materials Community Resource Area

Brownsdale Village Clerk
103 E Main Street
Brownsdale, MN 55918
Phone: (507) 567-2177
Countrywide Carriers Inc
61429 265th Street
Brownsdale, MN 55918
Phone: (507) 567-2765
Web: www.countrywidecarriers.com

Countrywide Carriers Inc. operates a fleet of late model equipment in the lower 48 states. Our focus is primarily freight moving in and out of the MN, IA and WI area. We operate a fleet of heated 53' air ride dry vans. They are equipped with logistic type load securement, rear swing doors and produce vents. Our drivers are trained in loading, handling, and securing your freight.

Czaplewski Funeral Homes
302 SE Market Street
Brownsdale, MN 55918
Phone: (507) 567-2500
Web: www.czaplewskifuneralhomes.com

The Czaplewski Family Funeral Homes has a long and proud commitment of providing dignified and caring service to families in Dodge and Mower Counties and the surrounding communities. It is our hope that the information on our website is helpful to you. If you should have any other questions or concerns, or if we can be of assistance in any other way, please do not hesitate to contact the funeral home.

Dexter Auto Sales
62776 265th Street
Brownsdale, MN 55918
Phone: (507) 567-2754
Web: www.dexterautosales.com

Dexter Auto Sales Located Midway between Brownsdale and Dexter MN on Mower County 2. Take a drive in the country and come visit us!! Be sure to call if you don't see what you need in the winter months as many vehicles will be in a building out of the weather. Just check our used vehicles and give us a call. We will be happy to get a vehicle ready for you to inspect. Here at Dexter Auto Sales we offer a range of used vehicles for sale. Our goal is to get our customers in a quality used car. On site service facilities allow us to give our vehicles a good inspection, make necessary repairs and clean vehicles thoroughly.

First American Insurance Service
108 S Mill Street
Brownsdale, MN 55918
Phone: (507) 567-2279
Web: www.firstamericanmn.com

First American Insurance Services, Inc. has been serving greater Minnesota area customers for over thirty years. During that time, many faces have come and gone, but one thing has remained constant - our dedication to our customers. At First American Insurance Services we make doing business easy. Because we represent many fine companies, we are able to provide comprehensive coverage, along with professional services at a competitive price. Our three convenient locations are staffed with dedicated, experienced agents. Whether you need to insure your home, auto, business or farm, we have a plan for you.

First Farmers & Merchants Bank
106 W Main Street
Brownsdale, MN 55918
Phone: (507) 567-2219
Web: www.ffmbank.com

We strive to be recognized as the financial institution of choice in all of the communities we serve. We will continue to be a premier community bank focusing on agricultural and small business lending. We will maintain a strong, positive team-oriented work environment and be recognized as a great place to work. We will continually strive to meet our customers' needs through the prudent expansion of our products and services and through responsible, profitable growth.

Godbout Construction & Excavating
401 Pleasant Street
Brownsdale MN 55918
Phone: (507) 567-2318

Black dirt, licensed septic systems. Insured/Bonded

Greenway Co-Op
102 N Main Street
Brownsdale, MN 55918
Phone: (507) 567-2142
Web: www.greenway.coop

Your local Greenway convenience stores are known for fast, friendly, and helpful service and for selling high quality Cenex fuels. It's the commitment Greenway made to Minnesota communities over 75 years ago. And it's still how we do business today… providing dependable, American-refined fuels with a personal touch. At Greenway you'll find quality Cenex fuels and the in-store items you need. Plus personalized, helpful service that lets our energy come through.

IB Industries, Inc
27199 State Highway
Brownsdale, MN 55918
Phone: (507) 567-2701
Web: www.ibidata.com

The Ryan Group and IBI Data team combines extensive foodservice industry expertise to create a unique marketing services and database company. We have successfully executed over 14,000 go-to-market programs and promotions for some of the top foodservice, retail, bakery, vending and c-store manufacturers to successfully drive and sell volume in all segments. Our strategy for success is key — systematically measuring our clients' return on investment.

Jacobson Saw Supply & Co
110 S Mill Street
Brownsdale, MN 55918
Phone: (507) 567-2790
Josie's Day Care
27241 State Highway 56
Brownsdale, MN 55918
Phone: (507) 567-2735
Keg Steakhouse & Bar
124 S Mill Street
Brownsdale, MN 55918
Phone: (507) 567-2665
Kester Prop Service
303 W Main Street
Brownsdale, MN 55918
Phone: (507) 567-2017
Web: www.kesterprop.com

Kester Prop Service in Brownsdale, MN offers full service boat, prop and impeller repair. We are a locally owned and operated business that has been serving Austin, Albert Lea, Southern Minnesota, and Northern Iowa for over 20 years. We also provide rebuilt props.

Lantry Cafe
107 S Mill Street
Brownsdale, MN 55918
Phone: (507)
Mark's Drains-Plumbing-Excavating
401 SE Pleasant Street
Brownsdale, MN 55918
Phone: (507) 438-2548
Mower County Farm Bureau
100 N Mill Street
Brownsdale, MN 55918
Phone: (507) 567-2296
Northern Country Co-Op
502 S Mill Street
Brownsdale, MN 55918
Phone: (507) 567-2234
Web: www.ncountrycoop.com

NORTHERN COUNTRY COOPERATIVE is a full service cooperative serving it's farmers since 1908. Northern Country Coop's primary business is buying and selling grain; grain storage and drying; sales and services of seed, fertilizer and chemicals; feed manufacturing (Northern Country Feeds, LLC); lumber sales; and several other services. Northern Country Coop has twelve locations serving Northern Iowa and Southern Minnesota. The locations include: Stacyville and Toeterville in Iowa; Adams, Alden, Brownsdale, Conger, Emmons, Lansing, LeRoy, Lyle, Oakland, and Rose Creek in Minnesota.

Olson & Sons Auto Service
203 S Mill Street
Brownsdale, MN 55918
Phone: (507) 567-2061
Risius Motor Sales
410 E Main Street
Brownsdale, MN 55918
Phone: (507) 567-2483
Rohler Rink
316 SE Market Street
Brownsdale, MN 55918
Phone: (507) 567-2133
Web: www.rohlerrink.com

The Rohler Rink is the largest roller rink in the Midwestern United States! Our rink is an amazing Two Hundred and Sixteen feet long and Fifty feet wide! That's over two-thirds of a football field. Plus our rink isn't circular or oval in shape, so you don't spend all your time turning! Our rink was built back in 1960 and we've remained true to the motiff of that age. Just imagine kids like from the movie Grease skating to the sounds of The Beatles or The Beach Boys and you'll get the right idea.

Swenson Ag Service
410 E Main Street
Brownsdale, MN 55918
Phone: (507) 567-2228
Triple J Disposal
202 Railway
Brownsdale, MN 55918
Phone: (507) 567-9953
US Post Office
118 S Mill Street
Brownsdale, MN 55918-9019
Phone: (507) 567-2580
Toll Free: (800) ASK-USPS
Web: www.usps.com
Westside Liquor
435 E Main Street
Brownsdale, MN 55918
Phone: (320) 393-4513
---
---
Aerial Photo:
---
Topographic Map: [click map to enlarge, zoom in or zoom out]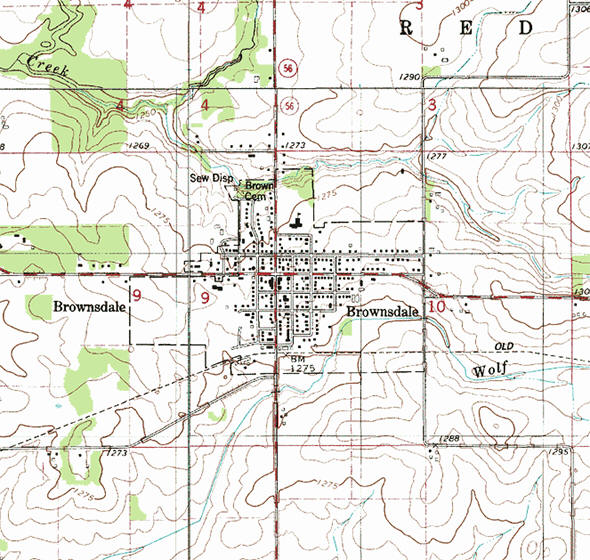 Topographic map is courtesy of the Minnesota DNR - click map to zoom or enlarge