Navigation
LakesnWoods.com
Home Page
Contact Us
Privacy
Minnesota History Shop

Visit The Minnesota History Shop
www.minnesotahistoryshop.com
Historic maps
Historic books
Historic framed art
Historic postcards
Clothing with historic images
And much more!!!


Clitherall Guide:
Photo Gallery
Location
Geography
Demographics
History
Government
Post Office
News
Weather
Street Map
Events
Attractions
Recreation
Lakes
Health Care
Schools
Churches
Media
Motels
Resorts
Campgrounds
Businesses
Aerial Photo
Topographic Map
© 2004-2023
Lakeweb1 Internet Services
All Rights Reserved
DCMA, Defamation, Copyright and Trademark Infingement Policy
WANTED!
Do you have photos, historical accounts or other items pertaining to the Clitherall area? Would you like to share this historical information with the world? LakesnWoods.com would like to publish your Clitherall photos (current or historical) or historical accounts on this website. Original materials can be returned and your privacy will be respected.

Clitherall Minnesota Community Guide
---
Location:
---
Population:
Clitherall (city)
1970
1980
1990
2000
2010
2000-2010 Change
Actual
Percent
Population
131
121
109
118
112
-6
-5.08
Land Area (sq. mile)
0.20
0.16
0.18
0.20
0.20
0
0.00
Density (persons per sq. mile)
655.00
756.25
605.56
586.23
560.00
-26.23
-4.48
Housing Units
60
67
65
62
64
+2
+3.23
Households
--
53
47
51
52
+1
+1.96
Persons Per Household
--
2.28
2.32
2.31
2.15
+0.16
-6.92
---
Geography:
Clitherall is a city in Otter Tail County, Minnesota. Minnesota State Highway 210 serves as a main route in the community. According to the United States Census Bureau, the city has a total area of 0.20 square miles (0.52 km2), all of it land. The elevation is 1,348 ft (411 m) above sea level.
From Wikipedia, the free encyclopedia.
---
Demographics:
As of the census of 2010, there were 112 people, 52 households, and 30 families residing in the city. The population density was 560.0 inhabitants per square mile (216.2/km2). There were 64 housing units at an average density of 320.0 per square mile (123.6/km2). The racial makeup of the city was 98.2% White, 0.9% African American, and 0.9% from two or more races.
There were 52 households of which 25.0% had children under the age of 18 living with them, 40.4% were married couples living together, 9.6% had a female householder with no husband present, 7.7% had a male householder with no wife present, and 42.3% were non-families. 36.5% of all households were made up of individuals and 15.4% had someone living alone who was 65 years of age or older. The average household size was 2.04 and the average family size was 2.60.
The median age in the city was 50.5 years. 20.5% of residents were under the age of 18; 4.6% were between the ages of 18 and 24; 19.8% were from 25 to 44; 28.6% were from 45 to 64; and 26.8% were 65 years of age or older. The gender makeup of the city was 50.0% male and 50.0% female.
---
---
History:
The first and, in many ways, one of the most interesting settlements made in Otter Tail County was that known as the Mormon settlement, near Clitherall lake, in what was later included in Clitherall township. This settlement was made in 1865 by a little band of Mormons from Iowa. The violent breaking up of Brigham Young's church at Nauvoo, Illinois, had scattered the adher­ents of that faith in search for a more safe and pleasant abiding place. The greater part of the band journeyed toward the far west, making temporary stops in Iowa and other parts of the country, in search of a desirable habi­tation. It was in May 1865, when a little band of this wandering tribe, composed of seven families, left the main body and turned their faces toward the Northwest. They had heard of the beautiful prairies and fertile lands of Minnesota and they determined to find a location and found a colony in this state.
The township took its name from the lake of that name, and the lake took its name from Major George B. Clitherall, who was a register of the United States land office at Ottertail City from 1858 to 1861.
Courtesy Otter Tail County
CLITHERALL, a village in section 6 of Nidaros Township, settled in 1865, platted in October 1881, and incorporated October 6, 1898, was named like the lake for George B. Clitherall. The village had a station on the Northern Pacific Railroad, and the post office began in 1868.
Courtesy Minnesota Historical Society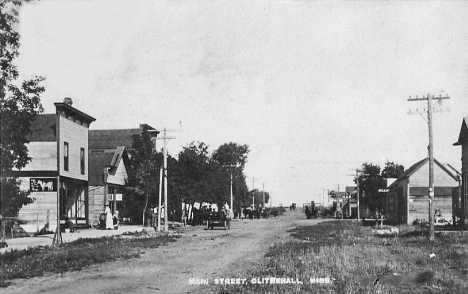 Main Street, Clitherall Minnesota, 1912
LakesnWoods.com Postcard and Postcard Image Collection- click image to enlarge
Visit The Clitherall Photo Gallery for more recent and historic area photos
---
Government:
Clitherall City Hall
102 N Oak Street
PO Box 80
Clitherall, MN 56524
Phone: (218) 864-5348
Fax: (218) 864-5161

Regular Business Hours:
unknown

City Council Meetings:
3rd Tuesday of the month at 7:00 pm


Title
Term Ends
Name and Address
Phone
Mayor
12/31/2020
Kerry Van Santen
200 W Main Street
Clitherall, MN 56524
(218) 282-0119
Clerk
appointed
Kathy Staples
102 N Oak Street
Clitherall, MN 56524
(218) 864-5161
Treasurer
appointed
Eric Gaustad
102 N Oak Street
Clitherall, MN 56524
(218) 864-5161
Council Member
12/31/2022
Alan Hagedorn
300 E Central Avenue
Clitherall, MN 56524
(320) 815-7161
Council Member
12/31/2022
Thomas Seidel
107 W Main Street
Clitherall, MN 56524
(218) 282-0491
Council Member
12/31/2024
Patty Hanson
308 E Central Avenue
Clitherall, MN 56524
(218) 371-6569
Council Member
12/31/2024
Gloria Dahl
208 W Main Street
Clitherall, MN 56524
(651) 402-3126
---
Post Office:
US Post Office
104 S Oak Street
Clitherall, MN 56524-9998
Phone: (218) 864-8720
Toll Free: (800) ASK-USPS

Regular Business Hours:
Week Days 7:30 am - 11:30 am
Saturday 8:15 am - 9:15 am
---
---
Utilities:
---
Major Employers:
Employer
Products/Services
Employees

n/a
---
---
News:
---
Weather:
---
Map: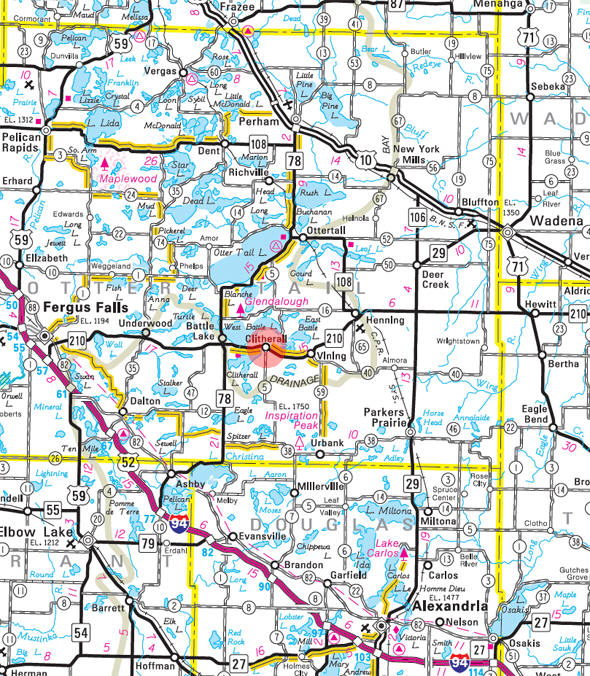 Minnesota State Highway Map of the Clitherall Minnesota area
---
Events:
---
---
Attractions:
---
Recreation:
---
Lakes:
Lake Name
Size
(acres)
Lake info
Lake Map
Rec Map
Topo Map
Beauty Shore
179
Belmont
285
Clitherall
2,539
Crane
367
East Battle
1,985
Emma
234
Hancock
182
Mason
430
Peterson
37
Stuart
747
West Battle
5,565
---
Health Care:
---
Schools:
---
Churches:
Lakes Community Church
201 Main Street
Clitherall, MN 56524
Phone: (218) 639-4618
Nidaros Lutheran Church
18844 Nidaros Church Drive
Clitherall, MN 56524
Phone: (218) 864-5357
---
Media:
---
Motels:
Check for motel rates and availability on:
---
Resorts:
Mallard Bay Lodge
21244 Greenhead Drive
Clitherall, MN 56524
Phone: (218) 864-5803
Oak Park Resort
21179 Clitherall Lane
Clitherall, MN 56524
Phone: (218) 864-5066
Old Town Resort
20669 Old Town Trail
Clitherall, MN 56524
Phone: (218) 864-8173
Toll Free: (800) 545-4062
Web: www.oldtownresort.net

At Old Town you can enjoy swimming, fishing and just plain relaxing without going anywhere. We have an excellent fish cleaning house and sell gas and bait down at the shore. Our small store and office offers soda pop, candy and ice cream along with other snacks. Wireless Internet and an endless cup of coffee are also available in the store.

Scenic Point Resort
39896 195th Street
Clitherall, MN 56524
Phone: (218) 864-5748
Web: www.scenicpointresort.com

Of the 1,049 lakes in Otter Tail County, the very first settlers chose the shores of Clitherall Lake to call home. From that time on Clitherall Lake has caught the joy and imagination of many outdoor enthusiasts. Every year, guests return to "Scenic Point" to recount fond memories of good times and good fishing of years gone by.
---
Campgrounds:
---
---
Businesses:
Beads & More
40854 Belmont Lake Drive
Clitherall, MN 56524
Phone: (218) 346-4881
Bonnie & Clyde's
Main Street
Clitherall, MN 56524
Phone: n/a
Brookside Inc
17544 440th Avenue
Clitherall, MN 56524
Phone: (218) 769-4441
Cingar Appliance
208 E Main Avenue
Clitherall, MN 56524
Phone: (218) 864-8885
Clitherall City Office
102 N Oak Street
Clitherall, MN 56524
Phone: (218) 864-5161
Koep's Clitherall Corner
21136 County Highway 5
Clitherall, MN 56524
Phone: (218) 864-8731
Lakes Community Church
201 Main Street
Clitherall, MN 56524
Phone: n/a
Mallard Bay Lodge
21244 Greenhead Drive
Clitherall, MN 56524
Phone: (218) 864-5803
Meredith Photography
11978 Harvest Avenue
Clitherall, MN 56524
Phone: (218) 267-5016
Nidaros Lutheran Church
18844 Nidaros Church Drive
Clitherall, MN 56524
Phone: (218) 864-5357
Oak Park Resort
21179 Clitherall Lane
Clitherall, MN 56524
Phone: (218) 864-5066
Old Town Resort
20669 Old Town Trail
Clitherall, MN 56524
Phone: (218) 864-8173
Toll Free: (800) 545-4062
Web: www.oldtownresort.net

At Old Town you can enjoy swimming, fishing and just plain relaxing without going anywhere. We have an excellent fish cleaning house and sell gas and bait down at the shore. Our small store and office offers soda pop, candy and ice cream along with other snacks. Wireless Internet and an endless cup of coffee are also available in the store.

Peak Supper Club
43517 County Highway 38
Clitherall, MN 56524-9565
Phone: (866) 403-1291
Web: www.thepeaksupperclub.com

Treat your taste buds delicious meals at The Peak Supper Club. Our restaurant offers a great selection of food, from barbecue ribs to fresh seafood, plus all of our dinner meals come with our homemade soup and a salad bar. With more than 10 years of experience, we pride ourselves on the quality of our meals and our family-friendly atmosphere.

Scenic Point Resort
39896 195th Street
Clitherall, MN 56524
Phone: (218) 864-5748
Web: www.scenicpointresort.com

Of the 1,049 lakes in Otter Tail County, the very first settlers chose the shores of Clitherall Lake to call home. From that time on Clitherall Lake has caught the joy and imagination of many outdoor enthusiasts. Every year, guests return to "Scenic Point" to recount fond memories of good times and good fishing of years gone by.

Silver Sage Guest Ranch
15381 410th Avenue
Clitherall, MN 56524
Phone: (218) 864-8007
Web: www.silversagemn.com

Silver Sage Ranch is a private ranch with well trained horses. One of the finest horse riding experiences in Minnesota! We offer day camps, week camps, family camps, Boy Scout and Girl Scout Camps, horseback riding, trail rides, well-maintained camp grounds for camping and more.

Sportsman's Bar
106 Main Street
Clitherall, MN 56524
Phone: (218) 864-1000
Urbank Live Bait Inc
42394 Spitzer Lake Road
Clitherall, MN 56524
Phone: (218) 267-5501
US Post Office
104 S Oak Street
Clitherall, MN 56524-9998
Phone: (218) 864-8720
Toll Free: (800) ASK-USPS
Web: www.usps.com
Walberg Construction Landscape
19729 Nidaros Church Drive
Clitherall, MN 56524
Phone: (218) 769-4133
---
---
Aerial Photo:
---
Topographic Map: [click map to enlarge, zoom in or zoom out]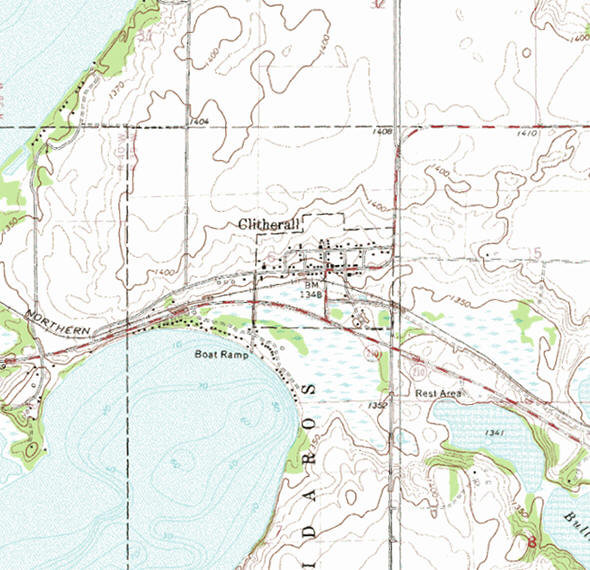 Topographic map is courtesy of the Minnesota DNR - click map to zoom or enlarge