Navigation
LakesnWoods.com
Home Page
Contact Us
Privacy
Minnesota History Shop

Visit The Minnesota History Shop
www.minnesotahistoryshop.com
Historic maps
Historic books
Historic framed art
Historic postcards
Clothing with historic images
And much more!!!


Crane Lake Guide:
Photo Gallery
Location
Geography
Demographics
History
Government
Post Office
News
Weather
Street Map
Events
Attractions
Recreation
Lakes
Health Care
Schools
Churches
Media
Motels
Resorts
Campgrounds
Businesses
Aerial Photo
Topographic Map
© 2004-2023
Lakeweb1 Internet Services
All Rights Reserved
DCMA, Defamation, Copyright and Trademark Infingement Policy
WANTED!
Do you have photos, historical accounts or other items pertaining to the Crane Lake area? Would you like to share this historical information with the world? LakesnWoods.com would like to publish your Crane Lake photos (current or historical) or historical accounts on this website. Original materials can be returned and your privacy will be respected.


(design available on over 100 different items!)

Crane Lake Minnesota Community Guide
---
Location:
Because of its unique location near the Canadian border, this end-of-the-road community serves as an important access to the Crane Lake chain of lakes. Access to Crane Lake is via County Highway 23. Orr, which is the closest full-service community to Crane Lake, is 30 miles away. Crane Lake students travel to Orr to attend school. The nearest medical facility is 50 miles away in Cook.

Location and abundant access to recreational areas establishes the community of Crane Lake as a popular short-term vacation destination. Many people visit and use the local lodging facilities for a few days to a few weeks at a time. Thousands of visitors also use the community as a point of departure for trips into the adjacent recreational areas of the Boundary Water Canoe Area Wilderness, Quetico Provincial Park and Voyageurs National Park. While most of the visitors come during the summer months, there is a growing demand in winter because of the popularity of outdoor winter sports.

Courtesy Crane Lake Township
---
Population:
Crane Lake (township)
1970
1980
1990
2000
2010
2000-2010 Change
Actual
Percent
Population
--
--
--
--
82
--
--
Land Area (sq. mile)
--
--
--
--
n/a
--
--
Density (persons per sq. mile)
--
--
--
--
n/a
--
--
Housing Units
--
--
--
--
217
--
--
Households
--
--
--
--
38
--
--
Persons Per Household
--
--
--
--
2.16
--
--
---
Geography:
Crane Lake Township is a small township in St. Louis County, Minnesota, United States. The township was organized on June 18, 2002. The community is located on County Road 24 and is the southern entry to Voyageurs National Park. Crane Lake is also a western entry to the Boundary Waters Canoe Area Wilderness and an entry into Canada.
From Wikipedia, the free encyclopedia.
---
Demographics:
not available as Crane Lake Township did not exist in 2010, the year of the last census.
---
---
History:
CRANE LAKE, a village in section 24 of T. 67N, R. 17W; its post office was established in 1922.
Courtesy Minnesota Historical Society
---
Government:
Town of Crane Lake
PO Box 402
Crane Lake, MN 55725
Phone: (218) 993-2600
Fax: (218) 993-1303


Title
Term Ends
Name and Address
Phone:
Clerk
12/31/2024
Jo Ann Pohlman
7476 Bayside Drive
Crane Lake, MN 55725
(218) 248-0616
Treasurer
12/31/2022
Traci Bak
7389 Crane Lake Road
Crane Lake, MN 55725
(218) 993-2295
Supervisor/Chair
12/31/2024
Jerry Pohlman
7483 Nelson Road
Crane Lake, MN 55725
(218) 993-2295
Supervisor
12/31/2024
Kara Knutson
7541 Bowser Court
Crane Lake, MN 55725
(612) 701-9873
Supervisor
12/31/2022
Katheryn "Katie" Congdon
7363 Handberg Road
Crane Lake, MN 55725
(218) 410-5015
---
Post Office:
US Post Office
7511 Gold Coast Road
Crane Lake, MN 55725-8010
Phone: (218) 993-2277
Toll Free: (800) ASK-USPS

Regular Business Hours:
Week Days 9:00 am - 1:00 pm
Saturday 9:30am - 12:00 pm
---
---
Utilities:
---
Major Employers:
Employer
Products/Services
Employees

n/a
---
---
News:
---
Weather:
---
Map: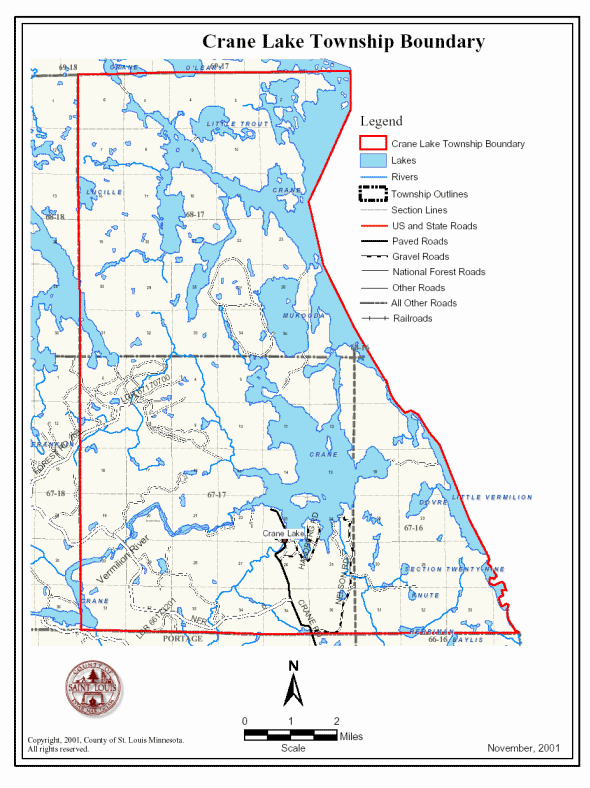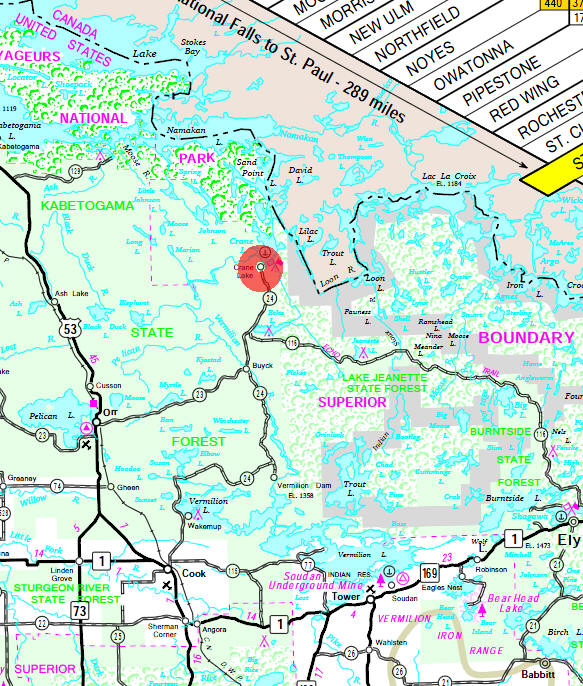 ---
Events:
---
---
Attractions:
---
Recreation:
---
Lakes:
---
Health Care:
---
Schools:
---
Churches:
---
Media:
---
Motels:
Check for motel rates and availability on:
---
Resorts:
---
Campgrounds:
---
---
Businesses:
Anderson Canoe Outfitters
7255 Crane Lake Road
Crane Lake, MN 55725
Phone: (218) 993-2287
Bear Island Enterprises
415 Bear Island
Crane Lake, MN 55725
Phone: (218) 993-2445
Campbells Cabins & Air Svc
7540 Gold Coast Road
Crane Lake, MN 55725
Phone: (218) 993-2361
Crain Construction Inc
7393 Handberg Road
Crane Lake, MN 55725
Phone: (218) 993-2249
Crane Lake Tourism Bureau
7238 Handberg Road
Crane Lake, MN 55725
Phone: (218) 993-2901
Toll Free: (800) 362-7405
Web: www.visitcranelake.com
Crane Lake Voyageurs Club
7238 Handberg Road
Crane Lake, MN 55725
Phone: (218) 993-2263
Gateway Resort-Outfitters
7614 Gold Coast Road
Crane Lake, MN 55725
Phone: (218) 993-2415
Handberg Marine & Marina
7123 Handberg Road
Crane Lake, MN 55725
Phone: (218) 993-2214
Nelson's Resort
7632 Nelson Road
Crane Lake, MN 55725
Phone: (218) 993-2295
Northwoods Bait
220 S Highway 53
Crane Lake, MN 55725
Phone: (218) 666-2639
Pine Point Lodge
7533 Gold Coast Road
Crane Lake, MN 55725
Phone: (218) 993-2311
Pine Ridge Motel
7258 Crane Lake Road
Crane Lake, MN 55725
Phone: (218) 993-2265
Scott's Peaceful Valley Resort
7559 Gold Coast Road
Crane Lake, MN 55725
Phone: (218) 993-2330
Scott's Resort Seaplane Base
7546 Gold Coast Road
Crane Lake, MN 55725
Phone: (218) 993-2341
Sherrick's Wilderness Resort
Crane Lake, MN 55725
Phone: (218) 374-3531
US Customs Service
7544 Gold Coast Road
Crane Lake, MN 55725
Phone: (218) 993-2321
US Post Office
PO Box 9998
Crane Lake, MN 55725
Phone: (218) 993-2277
Voyagaire Lodge
7576 Gold Coast Road
Crane Lake, MN 55725
Phone: (218) 993-2333
Voyager Trail Society Inc
7238 Handberg Road
Crane Lake, MN 55725
Phone: (218) 993-2913
Voyageurs Landing Resort
7510 Gold Coast Road
Crane Lake, MN 55725
Phone: (218) 993-2401
Waters Edge RV Park
7516 Bayside Drive
Crane Lake, MN 55725
Phone: (218) 993-2389
---
---
Aerial Photo:
---
Topographic Map: [click map to enlarge, zoom in or zoom out]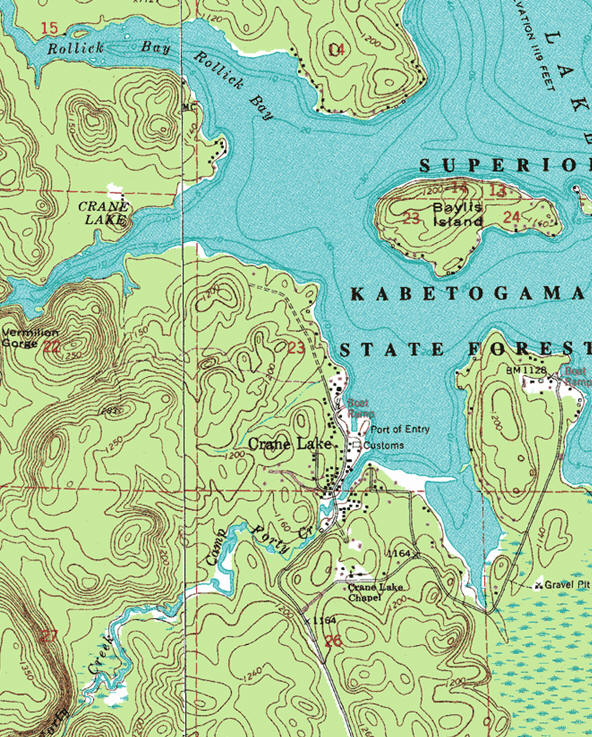 Topographic map is courtesy of the Minnesota DNR - click map to zoom or enlarge