Navigation
LakesnWoods.com
Home Page
Contact Us
Privacy
Minnesota History Shop

Visit The Minnesota History Shop
www.minnesotahistoryshop.com
Historic maps
Historic books
Historic framed art
Historic postcards
Clothing with historic images
And much more!!!


Emmons Guide:
Photo Gallery
Location
Geography
Demographics
History
Government
Post Office
News
Weather
Street Map
Events
Attractions
Recreation
Lakes
Health Care
Schools
Churches
Media
Motels
Resorts
Campgrounds
Businesses
Aerial Photo
Topographic Map
© 2004-2022
Lakeweb1 Internet Services
All Rights Reserved
DCMA, Defamation, Copyright and Trademark Infingement Policy
WANTED!
Do you have photos, historical accounts or other items pertaining to the Emmons area? Would you like to share this historical information with the world? LakesnWoods.com would like to publish your Emmons photos (current or historical) or historical accounts on this website. Original materials can be returned and your privacy will be respected.

Emmons Minnesota Community Guide
---
Location:
---
Population:
Emmons (city)
1970
1980
1990
2000
2010
2000-2010 Change
Actual
Percent
Population
412
465
439
432
391
-41
-9.49
Land Area (sq. mile)
0.70
0.81
0.80
0.80
0.80
0
0.00
Density (persons per sq. mile)
588.57
574.07
548.75
538.63
488.75
-49.88
-9.49
Housing Units
151
194
184
191
190
-1
-0.52
Households
--
182
176
178
174
-4
-2.28
Persons Per Household
--
2.55
2.49
2.43
2.25
-0.18
-0.07
---
Geography:
Emmons is a city in Freeborn County, Minnesota. US Highway 69 and County Road 4 are major routes in the community. According to the United States Census Bureau, the city has a total area of 0.80 square miles (2.07 km2), of which 0.79 square miles (2.05 km2) is land and 0.01 square miles (0.03 km2) is water. The elevation is 1,289 ft (393 m).
From Wikipedia, the free encyclopedia.
---
Demographics:
As of the census of 2010, there were 391 people, 174 households, and 119 families residing in the city. The population density was 494.9 inhabitants per square mile (191.1/km2). There were 190 housing units at an average density of 240.5 per square mile (92.9/km2). The racial makeup of the city was 96.4% White, 0.3% Native American, 0.8% from other races, and 2.6% from two or more races. Hispanic or Latino of any race were 4.6% of the population.
There were 174 households of which 29.9% had children under the age of 18 living with them, 52.3% were married couples living together, 12.1% had a female householder with no husband present, 4.0% had a male householder with no wife present, and 31.6% were non-families. 28.7% of all households were made up of individuals and 10.9% had someone living alone who was 65 years of age or older. The average household size was 2.25 and the average family size was 2.67.
The median age in the city was 43.4 years. 23.5% of residents were under the age of 18; 5.8% were between the ages of 18 and 24; 22.3% were from 25 to 44; 28.8% were from 45 to 64; and 19.4% were 65 years of age or older. The gender makeup of the city was 46.3% male and 53.7% female.
---
---
History:
EMMONS, a city in Nunda Township, sections 32 and 33, on the state line, was incorporated February 27, 1899. Here Henry G. Emmons settled in 1856, and "in 1880 his sons started a store on the present site of the village." He was born in Norway, October 16, 1828; came to the United States in 1850, settling at first in Wisconsin; was postmaster of the State Line post office fifteen years and also of the Emmons post office, which began in 1899; was a representative in the legislature, 1877-78; died in this village, October 2, 1909. The village had a station of the Minneapolis and St. Louis Railroad.
Courtesy Minnesota Historical Society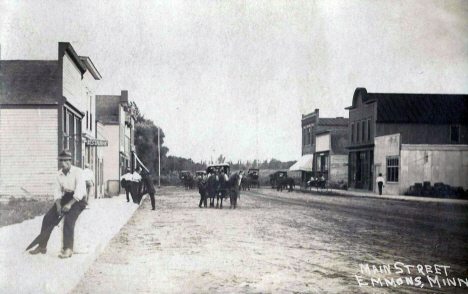 Main Street, Emmons Minnesota, 1910
LakesnWoods.com Postcard and Postcard Image Collection - click to enlarge

Visit The Emmons Photo Gallery for more recent and historic area photos
---
Government:
Emmons City Hall
219 Main Street
PO Box 46
Emmons, MN 56029
Phone: (507) 297-5707

Regular Business Hours:
Monday - Friday 8:15 am - 12:00 pm

City Council meeting:
2nd Monday of the month at 7:00 pm


Title
Term Ends
Name and Address
Phone
Mayor
12/31/2022
Paul Henschel
209 High Street
Emmons, MN 56029
(507) 383-1477
Clerk/Treasurer
appointed
Barbara Sveen
PO Box 46
Emmons, MN 56029
(507) 297-5764
(507) 297-5707
Council Member
12/31/2022
Eleanor M. Bauman
449 Pearl Street
Emmons, MN 56029
(507) 297-5523
Council Member
12/31/2022
Neal Honsey
725 Knoll Road
Emmons, MN 56029
(507) 297-5983
Council Member
12/31/2024
Imogene Opdahl
836 Main Street
Emmons, MN 56029
(507) 297-5774
Council Member
12/31/2024
Richard Davenport
257 State Street E
Emmons, MN 56029
(507) 297-5362
---
Post Office:
US Post Office
149 Main Street
Emmons, MN 56029-4400
Phone: (507) 297-5431
Toll Free: (800) ASK-USPS

Regular Business Hours:
Week Days 8:00 am - 12:00 pm
Saturday 8:30 am - 9:30 am
---
---
Utilities:
---
Major Employers:
Employer
Products/Services
Employees

n/a
---
---
News:
---
Weather:
---
Map: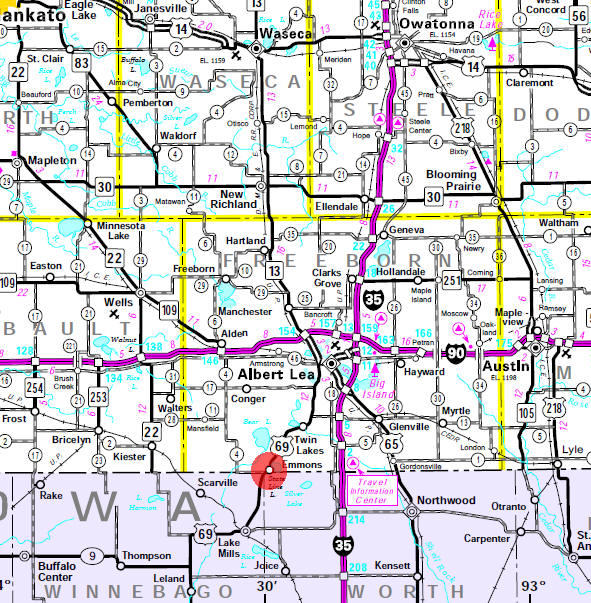 Minnesota State Highway Map of the Emmons Minnesota area
---
Events:
---
---
Attractions:
---
Recreation:
---
Lakes:
---
Health Care:
---
Schools:
---
Churches:
Asbury United Methodist Church
107 Main Street
Emmons, MN 56029
Phone: (641) 592-1106

Pastor:
Sunday Worship:

Emmons Lutheran Church
490 Pearl Street
Emmons, MN 56029
Phone: (507) 297-5471

Pastor:
Sunday Worship:
---
Media:
---
Motels:
Check for motel rates and availability on:
---
Resorts:
---
Campgrounds:
---
---
Businesses:
American Legion
121 Main Street
Emmons, MN 56029
Phone: (507) 297-5600
American Resources Ltd
602 Main Street
Emmons, MN 56029
Phone: (641) 592-1212
Beautyworks
203 Main Street
Emmons, MN 56029
Phone: (641) 592-6060
Bernau & Sons Inc
11371 640th Avenue
Emmons, MN 56029
Phone: (507) 297-5539
Bosacker, Scott M DDS
206 Main Street
Emmons, MN 56029
Phone: (641) 592-1100
C & J Welding & Repair
250 Highway 69 S
Emmons, MN 56029
Phone: (507) 297-5545
Casey's General Store
101 Lake Street E
Emmons, MN 56029
Phone: (641) 592-0909
Computer Services
114 Arrowhead Road
Emmons, MN 56029
Phone: (507) 297-5227
Web: www.comp-serv.com
Creative Designs
182 Ridge Street
Emmons, MN 56029
Phone: (507) 297-5964
Curves
220 Main Street
Emmons, MN 56029
Phone: (641) 592-2000
D J Sales & Service-Frigidaire
213 Main Street
Emmons, MN 56029
Phone: (641) 592-2211
Dakiko Enterprises
468 High Street
Emmons, MN 56029
Phone: (507) 297-5135
Dean's Barber Shop
207 Main Street
Emmons, MN 56029
Phone: (641) 592-5722
Don's Motor Mart
401 Main Street
Emmons, MN 56029
Phone: (641) 592-9966
Don's Piccadilly
401 Main Street
Emmons, MN 56029
Phone: (641) 592-8866
Emmons City Clerk's Office
219 Main Street
Emmons, MN 56029
Phone: (507) 297-5707
Emmons Community Library
479 Main Street
Emmons, MN 56029
Phone: (507) 297-5700
Emmons Fire Department
221 Main Street
Emmons, MN 56029
Phone: (507) 297-5720
Emmons Lutheran Church
490 Pearl Street
Emmons, MN 56029
Phone: (507) 297-5471
Emmons Stateline Liquor
126 State Street
Emmons, MN 56029
Phone: (507) 297-5199
Grand Cafe
201 Main Street
Emmons, MN 56029
Phone: (641) 592-8080
Hair Inc
213 Main Street
Emmons, MN 56029
Phone: (641) 592-4700
Helland Insurance & Real Estate
224 Main Street
Emmons, MN 56029
Phone: (641) 592-5300
Honsey Refrigeration
10912 690th Avenue
Emmons, MN 56029
Phone: (507) 297-5710
Howard's Drainage
14140 US Highway 69
Emmons, MN, 56029
Phone: (507) 852-3285
Johnson, Keith A DDS
206 Main Street
Emmons, MN 56029
Phone: (641) 592-2200
Kindland Systems Corporation
200 N 1st Avenue W
Emmons, MN 56029
Phone: (641) 592-0844
Lair's 66
222 Main Street
Emmons, MN 56029
Phone: (507) 297-5860
Lake Mills Boy Scouts
203 1/2 S Washington
Emmons, MN 56029
Phone: (641) 592-1044
Larson Contracting Inc
508 Main Street
Emmons, MN 56029
Phone: (641) 592-5800
Luther Opdahl Trucking
130 State Street
Emmons, MN 56029
Phone: (507) 297-5804
Mama's Grille
155 Main Street
Emmons, MN 56029
Phone: (507) 297-5589
Mona's Styles
137 Main Street
Emmons, MN 56029
Phone: (507) 297-5683
Nelson Motor Company
602 Main Street
Emmons, MN 56029
Phone: (641) 592-1211
New Image Beauty Salon
131 Main Street
Emmons, MN 56029
Phone: (507) 297-5562
Norsemen Trucking Inc
106 Main Street
Emmons, MN 56029
Phone: (641) 592-5060
Northern Country Co-Op
248 State Street
Emmons, MN 56029
Phone: (507) 297-5412
Web: www.ncountrycoop.com

NORTHERN COUNTRY COOPERATIVE is a full service cooperative serving it's farmers since 1908. Northern Country Coop's primary business is buying and selling grain; grain storage and drying; sales and services of seed, fertilizer and chemicals; feed manufacturing (Northern Country Feeds, LLC); lumber sales; and several other services. Northern Country Coop has twelve locations serving Northern Iowa and Southern Minnesota. The locations include: Stacyville and Toeterville in Iowa; Adams, Alden, Brownsdale, Conger, Emmons, Lansing, LeRoy, Lyle, Oakland, and Rose Creek in Minnesota.

Overtime DJ Service
208 Lake Street E
Emmons, MN 56029
Phone: (641) 592-2089
Pheasant Links
124 Arrowhead Road
Emmons, MN 56029
Phone: (507) 297-5800
Web: www.pheasantlinks.com

Our founders envisioned an outdoor haven where a select number of sports enthusiasts could hunt for waterfowl and upland birds, shoot sporting clays and play golf on a challenging course - all in one location. After careful consideration, 440-acres of pristine, natural woodlands in southern Minnesota were selected. Abundant with verdant marshlands and lush landscapes, this site is also home to a private lodge.

Pit Stop Printing
111 Main Street
Emmons, MN 56029
Phone: (641) 592-2520
RJ's Specialties
732 Knoll Road
Emmons, MN 56029
Phone: (507) 297-5668
Security Bank Minnesota
201 Main Street
Emmons, MN 56029
Phone: (507) 297-5461
Web: www.securitybankmn.com

Security Bank Minnesota is a locally owned full-service bank that has been providing deposit and loan products and services since 1906. Security Bank Minnesota is here to serve you with 2 convenient Minnesota locations in Albert Lea and Emmons. The commitment to community banking has been Security Bank Minnesota's vision since 1906, and is strongly focused on customer service, community involvement and high quality financial products.

Stateline Sporting Goods
228 Concord Street
Emmons, MN 56029
Phone: (507) 297-5808
Sveen's Plumbing & Well Repair
10874 690th Avenue
Emmons, MN 56029
Phone: (507) 297-5764
Twedt Financial Service Inc
402 Main Street
Emmons, MN 56029
Phone: (641) 592-5200
US Post Office
149 Main Street
Emmons, MN 56029-4400
Phone: (507) 297-5431
Toll Free: (800) ASK-USPS
Web: www.usps.com
---
---
Aerial Photo:
---
Topographic Map: [click map to enlarge, zoom in or zoom out]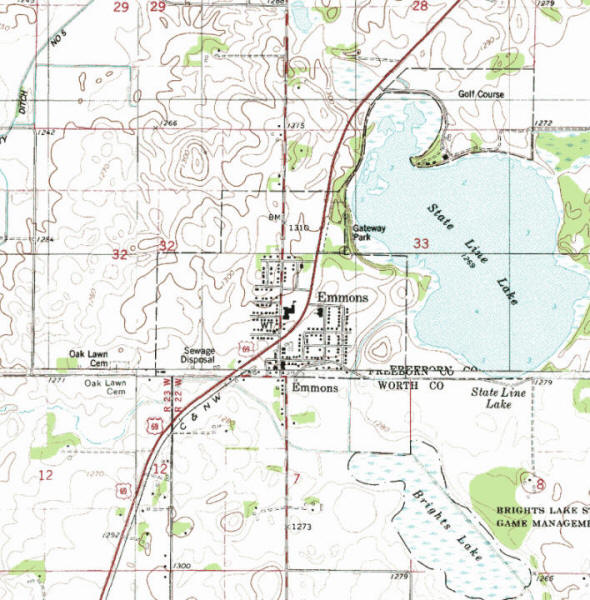 Topographic map is courtesy of the Minnesota DNR - click map to zoom or enlarge