Navigation

LakesnWoods.com
Home Page
Contact Us
Privacy
Minnesota History Shop


Visit The Minnesota History Shop
www.minnesotahistoryshop.com
Historic maps
Historic books
Historic framed art
Historic postcards
Clothing with historic images
And much more!!!



Freeborn Guide:
Photo Gallery
Location
Geography
Demographics
History
Government
Post Office
News
Weather
Street Map
Events
Attractions
Recreation
Lakes
Health Care
Schools
Churches
Media
Motels
Resorts
Campgrounds
Businesses
Aerial Photo
Topographic Map

© 2004-2023
Lakeweb1 Internet Services
All Rights Reserved

DCMA, Defamation, Copyright and Trademark Infingement Policy

WANTED!

Do you have photos, historical accounts or other items pertaining to the Freeborn area? Would you like to share this historical information with the world? LakesnWoods.com would like to publish your Freeborn photos (current or historical) or historical accounts on this website. Original materials can be returned and your privacy will be respected.

--

Freeborn Minnesota Community Guide
---
Location:
---
Population:
Freeborn (city)
1970
1980
1990
2000
2010
2000-2010 Change
Actual
Percent
Population
296
323
301
305
297
-8
-2.62
Land Area (sq. mile)
5.30
0.25
0.16
0.18
0.18
0
0.00
Density (persons per sq. mile)
55.85
1,292.00
1,881.25
1,706.17
1,650.00
-56.17
-3.29
Housing Units
106
124
133
136
130
-6
-4.41
Households
--
118
121
131
120
-11
-8.40
Persons Per Household
--
2.74
2.49
2.33
2.48
+0.15
+6.43
---
Geography:
Freeborn is a city in Freeborn County, Minnesota. According to the United States Census Bureau, the city has a total area of 0.18 square miles (0.47 km2), all of it land. County Roads 6, 10 and 29 are main routes in the community. The elevation is 1,234 ft (376 m).
From Wikipedia, the free encyclopedia.
---
Demographics:
As of the census of 2010, there were 297 people, 120 households, and 84 families residing in the city. The population density was 1,650.0 inhabitants per square mile (637.1/km2). There were 130 housing units at an average density of 722.2 per square mile (278.8/km2). The racial makeup of the city was 98.3% White, 0.3% from other races, and 1.3% from two or more races. Hispanic or Latino of any race were 3.7% of the population.
There were 120 households of which 35.8% had children under the age of 18 living with them, 54.2% were married couples living together, 10.8% had a female householder with no husband present, 5.0% had a male householder with no wife present, and 30.0% were non-families. 25.0% of all households were made up of individuals and 9.2% had someone living alone who was 65 years of age or older. The average household size was 2.48 and the average family size was 2.95.
The median age in the city was 38.9 years. 25.3% of residents were under the age of 18; 7.7% were between the ages of 18 and 24; 23.6% were from 25 to 44; 28% were from 45 to 64; and 15.5% were 65 years of age or older. The gender makeup of the city was 50.8% male and 49.2% female.
---
---
History:
In June of 1857, a man by the name of E.S. Dunn claimed a spot of land that was level, and even in some places marshy, located on the north shore of a lake, and which would prove later to be surrounded by some of the most productive farming lands in the nation. From this spot of land was built up a village, and as one of the first villages in the county—situated in the northwest corner—this place was gifted to Squire Dunn, the son of E.S. Dunn, and eventually developed into the city of Freeborn. Now yet a quiet, still town on a quiet, still lake, Freeborn boasts over 150 years of community prosperity.

Freeborn earned its name from the man William Freeborn, one of the pioneers of Goodhue County, and a prestigious member of the territorial legislature in the early years of the Midwest. As Freeborn was then one of the early villages of what was named Freeborn County in his honor, the town was also called Freeborn. It is the only "Freeborn" in all of the United States.

In these first few years, Freeborn saw the formation of a first school, a first church, post office, and hotel. In 1857, Freeborn established the post office and L.T. Scott was the postmaster. The first school, not even a one-room school house yet—that was to come, was held in the home of E.S. Dunn in 1858, and then in other various private homes for the next couple of years. It wasn't until then that a twelve-food square building was erected and lasted as school house for three more years; until, again, a larger building could be made.

The first church was not constructed until 1867. It was built by a Baptist congregation about two blocks north of the lake. In 1880 this church moved to its present location and was sold to the Congregationalist denomination. 1867 saw also the construction of the first flour mill in all of Freeborn County. It was built on the north bank of the lake, a third of a mile west of the village that is now Freeborn, and soon a second was added. These firsts for Freeborn brought with them hotels, like the first one built by Mr. Chase between the two flour mills, more settlers, and a sense of success. From here on out Freeborn would grow, see new businesses come and change, and develop that small town love that lingers today in the community.

In the early 1900s there was another boom in growth. In 1907 a one-story, four room schoolhouse was built and used until 1922 when the present-day building replaced it. The bank building was erected across the street from a grocery store. (This bank would be robbed twice. Once on March 26, 1938, and again on November 3, 2003—sixty-five years later! In both instances the robber was caught and the money recovered.) And, also in 1907 the first train came through Freeborn at a speed of eight miles per hour. A telephone exchange was started in 1908 that travelled through five different homes, and then eventually reached 150 telephones in the 1950s. Perhaps at first glance this history seems slow, meandering through huge passages of time. Perhaps the greater history of the world seems to pass it by. But these small businesses, changing hands and places, propelled Freeborn into the town it is today.

In the early 1960s, Kenny Bishop built a café, north of the legion hall; it would later be sold through several hands until it was owned by Curt & Shirley Miller in 1985. This was a popular gathering spot for residents, and many still have memories of times spent there, friendships made, lives forged. In 1951 the American Legion was formed. Freeborn became Birth Place of the F.F.A. Corn Drive for Camp Courage in 1953. In 1982 the town received its ambulance license and the fire hall housed the first ambulance. The first city council, consisting of Irvin Hinkley, George Christensen, Gerry Jacobsen, Robert Miller, Jr., Ben Gilmore, and Lowell Wood convened. And Freeborn landed itself in the present-day, where stands buildings of the past and businesses of the future. The lake and the town retain the quietness and prosperity of the first pioneers, farmers, settlers.
Courtesy City of Freeborn
FREEBORN Township was first settled in July 1856 and was organized May 11, 1858. Its village, in sections 34 and 35, platted in June 1857, and the lake beside which it lies were named like the county in honor of William Freeborn, whence also the township received this name. The village was incorporated on August 12, 1858, then was in an unincorporated status until reincorporated on March 27, 1949. Its post office was first named Freeborn city, 1857-58, at postmaster Ludwig T. Carlson's home; when Lafayette T. Scott built his hotel in 1858, the post office was moved there, and Scott became postmaster.
Courtesy Minnesota Historical Society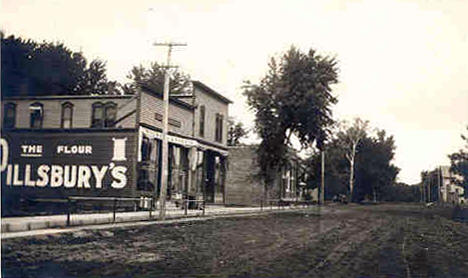 Street scene, Freeborn Minnesota, 1912
LakesnWoods.com Postcard and Postcard Image Collection
Visit The Freeborn Photo Gallery for more recent and historic area photos
---
Government:
Freeborn City Hall
402 Park Street
PO Box 151
Freeborn, MN 56032
Phone: (507) 863-2014
Fax: (507) 863-2521

Regular Business Hours:
Monday 8:00 am - 12:00 pm;
Thursday 1:00 pm - 5:00 pm

City Council Meeting:
3rd Wednesday of the month, call for time


Title
Term Ends
Name and Address
Phone
Mayor
12/31/2022
Edward Mosser
305 State Street - PO Box 27
Freeborn, MN 56032
(507) 869-2432
Clerk/Treasurer
appointed
Nicole LaFrance
402 Park Street - PO Box 151
Freeborn, MN 56032
(507) 863-2014
Council Member
12/31/2022
Arik Matson
PO Box 139
Freeborn, MN 56032
(507) 383-4980
Council Member
12/31/2022
Dale Hedensten
PO Box 44
Freeborn, MN 56032
(507) 402-0679
Council Member
12/31/2024
Pat Stenzel
504 4th Avenue - PO Box 122
Freeborn, MN 56032
(507) 383-8156
Council Member
12/31/2024
James Beach
301 Main Street - PO Box 121
Freeborn, MN 56032
(507) 863-2432
---
Post Office:
US Post Office
206 4th Avenue
Freeborn, MN 56032-4400
Phone: (507) 863-2334
Toll Free: (800) ASK-USPS

Regular Business Hours:
Week Days 8:00 am - 12:00 pm
Saturday 8:00 am - 9:00 am
---
---
Utilities:
---
Major Employers:
Employer
Products/Services
Employees

n/a
---
---
News:
---
Weather:
---
Map: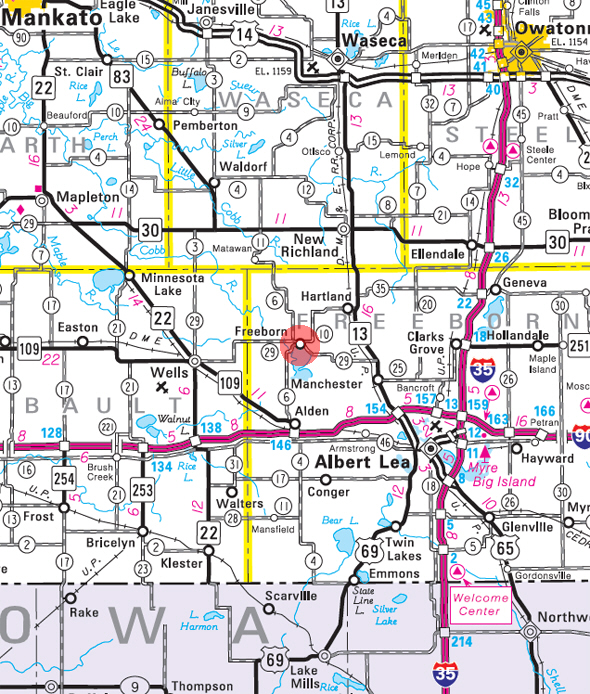 Minnesota State Highway Map of the Freeborn Minnesota area
---
Events:
---
---
Attractions:
---
Recreation:
---
Lakes:
---
Health Care:
---
Schools:
---
Churches:
Congregational Church - UCC
408 Main Street
Freeborn, MN 56032
Phone: (507) 863-2496

Pastor: Cherle Daniel
Sunday Worship: 11:00 am
---
Media:
---
Motels:
Check for motel rates and availability on:
---
Resorts:
---
Campgrounds:
---
---
Businesses:
American Legion
202 5th Avenue
Freeborn, MN 56032
Phone: (507) 863-2130
City Shop
408 Park Street
Freeborn, MN 56032
Phone: (507) 863-2574
Congregational Church UCC
408 Main Street
Freeborn, MN 56032
Phone: (507) 863-2496
Craig's Taxidermy Studio
212 5th Avenue
Freeborn, MN 56032
Phone: (507) 863-2202
Farmers State Bank
214 5th Avenue
Freeborn, MN 56032
Phone: (507) 863-2371
Web: www.farmersstatebankmn.com

Since 1912, Farmers State Bank has been a leader in the success of the local community. Locally owned and operated, we offer the best products and friendly, reliable service in the area. With our online website you can find banking locations, operation hours and have the convenience of Internet Banking from your home or office 24 hours a day, 7 days a week.

Freeborn City Hall
402 Park Street
Freeborn, MN 56032
Phone: (507) 863-2204
Freeborn Fire & Ambulance
402 Park Street
Freeborn, MN 56032
Phone: n/a
Freeborn Grocery
Freeborn, MN 56032
Phone: n/a
Freeborn's Pride Builders Inc
210 Lakeshore Drive
PO Box 195
Freeborn, MN 56032
Phone: (507) 863-2299
Web: www.freebornspridebuilders.com

Pride Builders will be a leader in construction and erection of complete commercial and agricultural building projects. Pride Builders will support this leading role by using reliable products and supplies, offering complete design and following through with prompt, friendly, knowledgeable service; all of which offer the greatest value to its customers.

Klip N' Kurl
203 Main Street
Freeborn, MN 56032
Phone: (507) 863-2226
Lakeside Motor Sports
310 Park Street
Freeborn, MN 56032
Phone: (507) 863-2302
Rich Honstad Siding & Windows
310 Park Street
Freeborn, MN 56032
Phone: (507) 863-2100
Web: www.honstad.com

Rich Honstad Siding, Windows and Construction has been in business and using the same professional installation team for over 25 years. We offer a large variety of top of the line siding and window products, as well as custom decks, roofing and complete home remodeling. Our services are available within a 90 mile radius of our head office in Freeborn, MN.

TB3's
408 Park Street
Freeborn, MN 56032
Phone: (507) 863-2111
Web: www.tb3s.com
US Post Office
206 4th Avenue
Freeborn, MN 56032-4400
Phone: (507) 863-2334
Toll Free: (800) ASK-USPS
Web: www.usps.com
Wayne's Repair
1010 Park Street
Freeborn, MN 56032
Phone: (507) 863-2181
---
---
Aerial Photo:
---
Topographic Map: [click map to enlarge, zoom in or zoom out]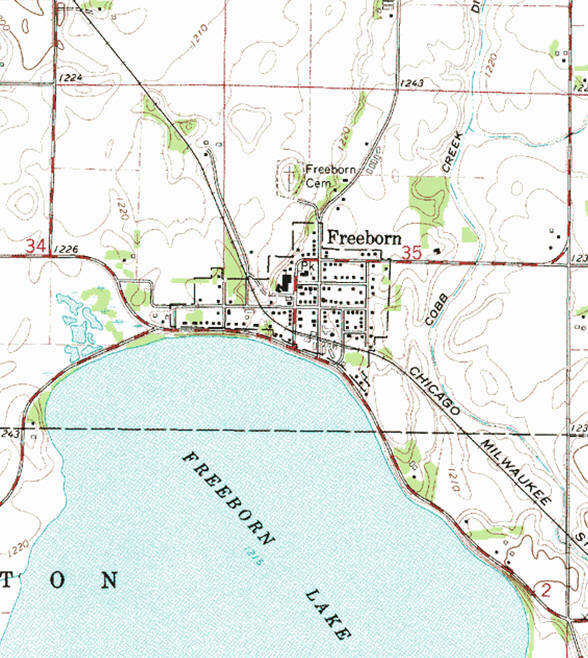 Topographic map is courtesy of the Minnesota DNR - click map to zoom or enlarge