Navigation
LakesnWoods.com
Home Page
Contact Us
Privacy
Minnesota History Shop

Visit The Minnesota History Shop
www.minnesotahistoryshop.com
Historic maps
Historic books
Historic framed art
Historic postcards
Clothing with historic images
And much more!!!


Grygla Guide:
Photo Gallery
Location
Geography
Demographics
History
Government
Post Office
News
Weather
Street Map
Events
Attractions
Recreation
Lakes
Health Care
Schools
Churches
Media
Motels
Resorts
Campgrounds
Businesses
Aerial Photo
Topographic Map
© 2004-2023
Lakeweb1 Internet Services
All Rights Reserved
DCMA, Defamation, Copyright and Trademark Infingement Policy
WANTED!
Do you have photos, historical accounts or other items pertaining to the Grygla area? Would you like to share this historical information with the world? LakesnWoods.com would like to publish your Grygla photos (current or historical) or historical accounts on this website. Original materials can be returned and your privacy will be respected.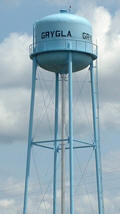 (design available on over 100 different items!)

Grygla Minnesota Community Guide
---
Location:
The community of Grygla, founded in the late 1890s by homesteading pioneers, is located in Northwestern Minnesota on the Eastern edge of Marshall County within an hours drive from employment opportunities in Thief River Falls, Warroad, and Roseau. Grygla offers a high quality of rural lifestyle in a clean, small town atmosphere.

Grygla is proud to have a neat and clean city. There is a strong work ethic here and a great deal of community pride. Grygla has a progressive city government which is continually seeking to attract business and industry.

Courtesy City of Grygla
---
Population:
Grygla (city)
1970
1980
1990
2000
2010
2000-2010 Change
Actual
Percent
Population
211
216
220
228
221
-7
-3.07
Land Area (sq. mile)
0.20
0.35
0.27
0.63
0.63
0
0.00
Density (persons per sq. mile)
1,055.00
617.14
814.81
363.80
350.79
-13.01
-3.58
Housing Units
94
103
115
128
131
+3
+2.34
Households
--
88
102
115
110
-5
-4.35
Persons Per Household
--
2.45
2.16
1.98
2.01
+0.03
+1.52
---
Geography:
Grygla is a city in Valley Township of Marshall County, Minnesota. State Highway 89 and County Road 54 are two of the main routes in the community. State Highway 1 and State Highway 219 are nearby. According to the United States Census Bureau, the city has a total area of 0.57 square miles (1.48 km2), all of it land. The elevation is 1,178 ft (359 m) above sea level.
From Wikipedia, the free encyclopedia.
---
Demographics:
As of the census of 2010, there were 221 people, 110 households, and 64 families residing in the city. The population density was 387.7 inhabitants per square mile (149.7/km2). There were 131 housing units at an average density of 229.8 per square mile (88.7/km2). The racial makeup of the city was 99.1% White, 0.5% Native American, and 0.5% from two or more races.
There were 110 households of which 25.5% had children under the age of 18 living with them, 39.1% were married couples living together, 17.3% had a female householder with no husband present, 1.8% had a male householder with no wife present, and 41.8% were non-families. 37.3% of all households were made up of individuals and 20% had someone living alone who was 65 years of age or older. The average household size was 2.01 and the average family size was 2.64.
The median age in the city was 45.5 years. 20.4% of residents were under the age of 18; 7.1% were between the ages of 18 and 24; 22.2% were from 25 to 44; 28.9% were from 45 to 64; and 21.3% were 65 years of age or older. The gender makeup of the city was 46.6% male and 53.4% female.
---
---
History:
GRYGLA, a city in section 26 of Valley Township, was incorporated as a village on February 7, 1917. It was first settled by Arne Fladeland, who opened his store there in 1898; when a post office was requested that same year, a number of names were proposed. The city, founded in 1902, was named for Frank Grygla, better known as the "Father of the Polish National Alliance," of which he was president for ten years; his father was a count in one of the ancient and noble families of Poland.
Courtesy Minnesota Historical Society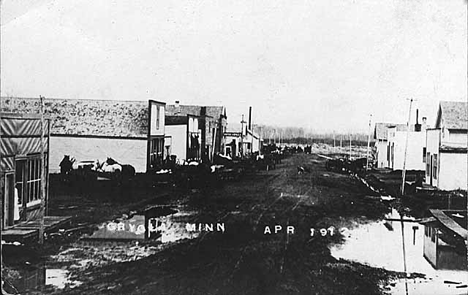 Main Street, Grygla Minnesota, 1912
LakesnWoods.com Postcard and Postcard Image Collection - click to enlarge

Visit The Grygla Photo Gallery for more recent and historic area photos

---
Government:
Grygla City Hall
219 W Beltrami Street
PO Box 76
Grygla, MN 56727
Phone: (218) 294-6292
Fax: (218) 294-6019

City Office Hours
Tuesday - Thursday 10:00 am - 3:00 pm

City Council Meetings:
2nd Monday of the month at 7:00 pm

Title
Term Ends
Name and Address
Phone
Mayor
12/31/2022
Richard Mosher
311 Fladland Avenue S
Grygla, MN 56727
(218) 689-1461
(218) 294-6292
Clerk/Treasurer
appointed
Rose Aune
219 W Beltrami Street
Grygla, MN 56727
(218) 294-6292
(218) 689-0416
Council Member
12/31/2022
Lindsey Oslund
306 W Woodrow Street
Grygla, MN 56727
(218) 242-5671
Council Member
12/31/2022
Gavin Nordby
319 S Fladland Avenue
Grygla, MN 56727
(218) 689-3163
Council Member
12/31/2024
Devin Ruud
314 W Woodrow Street
Grygla, MN 56727
(218) 689-0679
Council Member
12/31/2024
Karla Byklum
222 Main Avenue S
Grygla, MN 56727
(218) 689-9656
---
Post Office:
US Post Office
107 S Main Avenue
Grygla, MN 56727-9998
Phone: (218) 294-6141
Toll Free: (800) ASK-USPS

Regular Business Hours:
Week Days 8:00 am - 11:30 am
12:00 pm - 2:30 pm
Saturday 9:00 am - 9:45 am
---
---
Utilities:
---
Major Employers:
Employer
Products/Services
Employees
n/a
---
---
News:
---
Weather:
---
Map: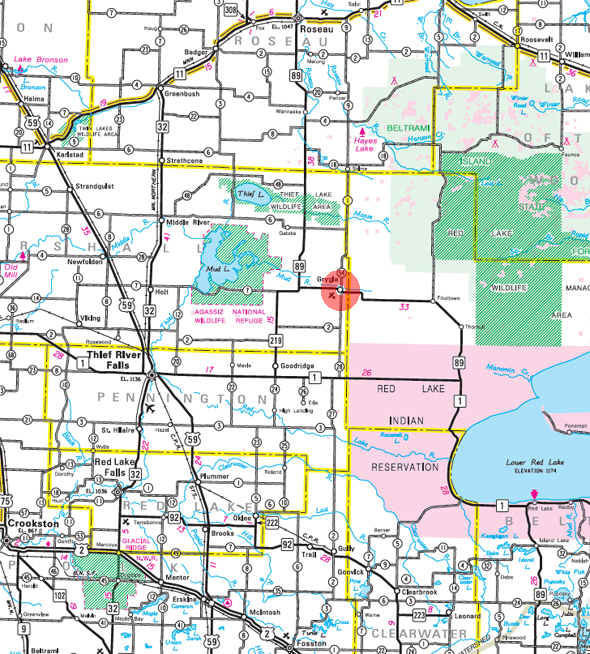 Minnesota State Highway Map of the Grygla Minnesota area
---
Events:
---
---
Attractions:
---
Recreation:
---
Lakes:
Lake Name
Size
(acres)
Lake info
Lake Map
Rec Map
Topo Map

none in the immediate area
---
Health Care:
---
Schools:
---
Churches:
Community Bible Church
302 S Main Avenue
Grygla, MN 56727
Phone: (218) 294-6760

Pastor: n/a
Sunday Worship: 9:00 am

Grace Lutheran Parish
114 S Main Avenue
Grygla, MN 56727
Phone: (218) 294-6120

Pastor: Mary Ronning Gilthvedt
Sunday Worship: 9:00 am

Liberty Chapel
116 W Woodrow Street
Grygla, MN 56727
Phone: (218) 294-6332

Pastor: Rev. Virgil Rasmussen
Sunday Worship: n/a

Our Savior's Lutheran Church
37408 Hamre Road NW
Grygla, MN 56727
Phone: (218) 294-6498

Pastor: Mary Ronning Gilthvedt
Sunday Worship: 10:30 am

St. Clement Catholic Church
130 N Marshall Avenue
Grygla, MN 56727
Phone: (218) 294-6302

Pastor: Fr. John Kleinwachter
Sunday Mass: 11:00 am
---
Media:
Grygla Eagle
127 N Main Avenue
Grygla, MN 56727
Phone: (218) 294-6220

Weekly newspaper published on Wednesdays with a circulation of 672.
---
Motels:
Check for motel rates and availability on:
---
Resorts:
---
Campgrounds:
Grygla Campground
Grygla, MN 56727

The Grygla Campground has 6 lots with water, sewer, electric hookups & outdoor restrooms with showers, picnic shelter, and playground, (cable & phone available upon request). Run by the City of Grygla.
---
---
Businesses:
Advanced Composites
43231 Hamre Road NW
Grygla, MN 56727
Phone: (218) 294-6675
American Legion Post
Grygla, MN 56727
Phone: (218) 294-6122
American State Bank
102 S Main Avenue
Grygla, MN 56727
Phone: (218) 294-6111
Web: www.asbgrygla.com

Since 1991, the bank and insurance agency have continued to grow by adding products and services to serve the needs of our valued customers. We pride ourselves on being an independent bank, keeping the needs of our community in mind and making all decisions locally. We strive to provide personal, confidential service in an honest, forthright manner. We are proud to have served the area for over 30 years and are honored by our customers to be chosen as their financial services provider.

Armor Exteriors
30075 State Highway 89 NE
Grygla, MN 56727
Phone: (218) 294-6597
Bearpaw Guide Service
72223 Highway 89 NW
PO Box 161
Grygla, MN 56727
Phone: (218) 294-6613
Web: www.bearpawguiding.com

At BearPaw Guiding, we offer guided black bear hunts for the avid bow, rifle or black powder hunter; novice to the most experienced. We are a licensed Minnesota black bear hunting guide service located in the heart of black bear country

CHS Inc
29598 State Highway 89 NE
Grygla, MN 56727
Phone: (218) 294-6192
Community Bible Church
302 S Main Avenue
Grygla, MN 56727
Phone: (218) 294-6760

Pastor: n/a
Sunday Worship: 9:00 am

Connie Hagen Counseling
430 Klein Circle Drive
Grygla, MN 56727
Phone: (218) 294-6650
Diamond's of Grygla
105 N Main Avenue
Grygla, MN 56727
Phone: (218) 294-6359
Emmett McDonagh Construction
37145 400th Avenue NE
Grygla, MN 56727
Phone: (218) 294-6181
Farmers Union Oil Company
106 E State Street
Grygla, MN 56727
Phone: (218) 294-6117
Farmers Union Oil Company
202 N Main Street
Grygla, MN 56727
Phone: (218) 294-6153
Fourtown Grygla Sportsmans Club
15925 120th Av NW
Thief River Falls, MN 56701
Phone: n/a
Web: www.fourtownsportsmans.com

Organized in the 1960s as a snowmobile club, the Fourtown Grygla Sportsmans Club,has emerged into one of the most active sportsmens clubs in Northwest Minnesota. Today the club has 63 family memberships with an additional 55 individual memberships from the surrounding area. The club was developed and now maintains approximately 240 miles of Grant-In-Aid Snowmobile Trails. The club has also just completed a project proposal to acquire, build and maintain 182 miles of a ATV Trail System in Beltrami County in the Grygla Fourtown area.

Fourtown Store & Tavern
63063 Fourtown Road NW
Grygla, MN 56727
Phone: (218) 294-6460

Fifty miles from a stoplight, nestled on the edge of the Beltrami Island State Forest, Fourtown is an oasis in the wilderness. Visitors enjoy hundreds of miles of pristine snowmobile and fourwheeler trails and some of the best hunting in Minnesota. Everyone's favorite bar, grill, convenience store, and gas station up in God's Country! Come out for a beer and cheeseburger, while enjoying some of the most pristine, untouched wilderness in Minnesota.

Grace Lutheran Parish
114 S Main Avenue
Grygla, MN 56727
Phone: (218) 294-6120

Pastor: Mary Ronning Gilthvedt
Sunday Worship: 9:00 am

Grain Bin Cafe & Gift Shop
119 E State Street
Grygla, MN 56727
Phone: (218) 294-6306
Grygla City Hall
219 W Beltrami Street
PO Box 76
Grygla, MN 56727
Phone: (218) 294-6292
Fax: (218) 294-6019
Web: www.grygla.govoffice2.com
Grygla City Shop
119 6th Avenue
Grygla, MN 56727
Phone: (218) 294-6728
Grygla Co-Op
102 S Main Avenue
Grygla, MN 56727
Phone: (218) 294-6232
Grygla Community Center
127 N Main Avenue
Grygla, MN 56727
Phone: (218) 294-6200
Grygla Eagle
127 N Main Avenue
Grygla, MN 56727
Phone: (218) 294-6220
Grygla Elementary & High School
114 N Fladeland Avenue
Grygla, MN 56727
Phone: (218) 294-6155
Web: www.grygla.k12.mn.us
Grygla Elevator
Highway 89 NW
Grygla, MN 56727
Phone: (218) 294-6192
Grygla Grocery
Main Street
Grygla, MN 56727
Phone: (218) 294-6226
The Harrison Company
29717 370th Avenue NW
Grygla, MN 56727
Phone: (218) 294-6294
Web: www.theharrisonco.com

The Harrison Company sells farm and recreational land in Northwestern Minnesota. We also participate with Cabela's Trophy Properties to find that special property that sportsmen want.

Holthusen Construction Inc
62497 Highway 89 NW
Grygla, MN 56727
Phone: (218) 294-6446
Liberty Chapel
116 W Woodrow Street
Grygla, MN 56727
Phone: (218) 294-6332

Pastor: Rev. Virgil Rasmussen
Sunday Worship: n/a

Machinewell Inc
115 State Street
Grygla, MN 56727
Phone: (218) 294-6101
Web: www.machinewell.com

Machinewell, Inc.'s mission is to be our customers preferred supplier of machined and/or welded parts, components and assemblies by providing Just-In-Time delivery with high quality product in order to develop long-term, beneficial relationships. Machinewell, Inc. looks forward to your partnership in the future!

May Corporation
103 W Esplee Street
Grygla, MN 56727
Phone: (218) 294-6700
Minnesota State of Forestry
239 E Park Drive
Grygla, MN 56727
Phone: (218) 294-6115
Motel 89
231 E State Street
Grygla, MN 56727
Phone: (218) 294-6158
Our Savior's Lutheran Church
37408 Hamre Road NW
Grygla, MN 56727
Phone: (218) 294-6498

Pastor: Mary Ronning Gilthvedt
Sunday Worship: 10:30 am

P & H Farms
75568 Snowbird Lane NW
Grygla, MN 56727
Phone: (218) 294-6477
Pine Grove Cottage
Jack Pine Road
Grygla, MN 56727
Phone: (218) 294-6598
Ron Waling Construction
42126 Benville Road NW
Grygla, MN 56727
Phone: (218) 294-6534
Rundell Electric
40014 293rd Street NE
Grygla, MN 56727
Phone: (218) 294-6177
Saurdiff & Sons Trucking
230 E Park Drive
Grygla, MN 56727
Phone: (218) 294-6533
Sparby Farms
34731 330th Street NE
Grygla, MN 56727
Phone: (218) 459-3370
St. Clement Catholic Church
130 N Marshall Avenue
Grygla, MN 56727
Phone: (218) 294-6302

Pastor: Fr. John Kleinwachter
Sunday Mass: 11:00 am

Stanley Farm Trucking
27327 400th Avenue NE
Grygla, MN 56727
Phone: (218) 294-6300
Sue's Beauty & Gift Shop
203 W State Street
Grygla, MN 56727
Phone: (218) 294-6434
Tool Design Concepts
29490 330th Avenue NE
Grygla, MN 56727
Phone: (218) 294-6189
US Post Office
107 S Main Avenue
Grygla, MN 56727-9998
Phone: (218) 294-6141
Toll Free: (800) ASK-USPS
Web: www.usps.com
USDA Rural Development
Grygla, MN 56727
Phone: (218) 294-6194
Yohawn's Bar & Grill
411 W State Street
Grygla, MN 56727
Phone: (218) 294-6197
---
---
Aerial Photo:
---
Topographic Map: [click map to enlarge, zoom in or zoom out]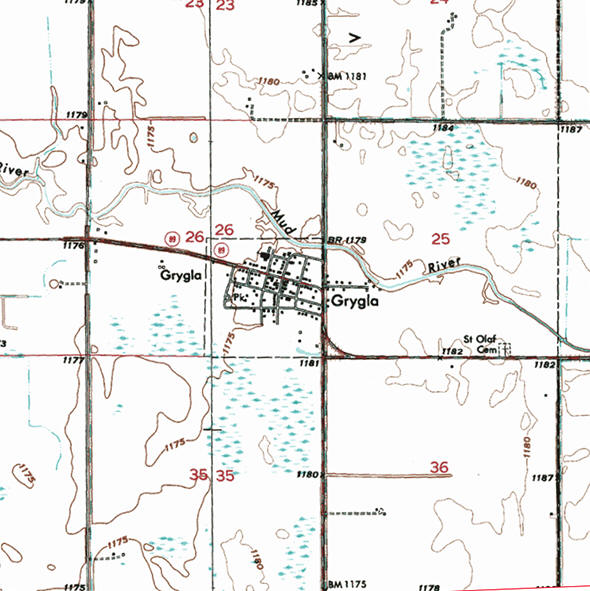 Topographic map is courtesy of the Minnesota DNR - click map to zoom or enlarge