Navigation
LakesnWoods.com
Home Page
Contact Us
Privacy
Minnesota History Shop

Visit The Minnesota History Shop
www.minnesotahistoryshop.com
Historic maps
Historic books
Historic framed art
Historic postcards
Clothing with historic images
And much more!!!


Hermantown Guide:
Photo Gallery
Location
Geography
Demographics
History
Government
Post Office
News
Street Map
Events
Attractions
Recreation
Lakes
Health Care
Schools
Churches
Media
Motels
Resorts
Campgrounds
Businesses
Aerial Photo
Topographic Map
© 2004-2023
Lakeweb1 Internet Services
All Rights Reserved
DCMA, Defamation, Copyright and Trademark Infingement Policy
WANTED!
Do you have photos, historical accounts or other items pertaining to the Hermantown area? Would you like to share this historical information with the world? LakesnWoods.com would like to publish your Hermantown photos (current or historical) or historical accounts on this website. Original materials can be returned and your privacy will be respected.

Hermantown Minnesota Community Guide
---
Location:
---
Population:
Hermantown (city)
1970
1980
1990
2000
2010
2000-2010 Change
Actual
Percent
Population
6,737
6,759
6,761
7,448
9,414
+1,966
+26.40
Land Area (sq. mile)
35.50
34.33
34.34
34.33
34.33
0
0.00
Density (persons per sq. mile)
189.77
196.88
196.88
216.93
274.22
+57.29
+26.41
Housing Units
1,735
2,164
2,270
2,822
3,544
+722
+25.58
Households
--
2,057
2,192
2,726
3,355
+629
+23.07
Persons Per Household
--
3.06
2.77
2.67
2.81
+0.14
+5.24
---
Geography:
Hermantown is a city in Saint Louis County, Minnesota. A suburb of Duluth, Minnesota, it has been the only city in the county to report population growth as much of the area's residential and commercial expansion occurs there. Hermantown is located near the tip of Lake Superior.
The eastern part of Hermantown has an appearance typical of a lower-density bedroom community, with large, leafy lots and occasional subdivisions. The car-oriented "Miller Hill area", or Miller Trunk Corridor of Duluth, has sprawled well past the city boundary line into this part of Hermantown. The western part of Hermantown is dominated by a more rural landscape, reminiscent of the past agricultural focus of the city. Hermantown's motto is "The City of Quality Living
According to the United States Census Bureau, the city has a total area of 34.37 square miles (89.02 km2); 34.35 square miles (88.97 km2) is land and 0.02 square miles (0.05 km2) is water. The elevation is 1,362 feet (415 m).
From Wikipedia, the free encyclopedia.
---
Demographics:
As of the census of 2010, there were 9,414 people, 3,355 households, and 2,351 families residing in the city. The population density was 274.1 inhabitants per square mile (105.8/km2). There were 3,544 housing units at an average density of 103.2 per square mile (39.8/km2). The racial makeup of the city was 93.1% White, 2.4% African American, 1.2% Native American, 1.2% Asian, 0.5% from other races, and 1.6% from two or more races. Hispanic or Latino of any race were 2.2% of the population.
There were 3,355 households of which 33.1% had children under the age of 18 living with them, 58.4% were married couples living together, 7.5% had a female householder with no husband present, 4.2% had a male householder with no wife present, and 29.9% were non-families. 23.5% of all households were made up of individuals and 12.5% had someone living alone who was 65 years of age or older. The average household size was 2.55 and the average family size was 3.01.
The median age in the city was 40.1 years. 22.6% of residents were under the age of 18; 8.2% were between the ages of 18 and 24; 26.5% were from 25 to 44; 28.9% were from 45 to 64; and 13.9% were 65 years of age or older. The gender makeup of the city was 54.0% male and 46.0% female.
---
---
History:
The first inhabitants of the area were Native Americans. They lived in the area often referred to in early Duluth references as "the land up over the hill."
In 1867, August Kohlts and his friend, Lambert "Pat" Acker, filed for homesteads in Section 18, Township 50 North, Range 15 West. Both families had emigrated from Prussia. Acker arrived about age five with his parents and siblings around 1835 and settled in Erie County, New York. He married Emelie Louisa Wilke on January 12, 1850. Kohlts and his wife, Emilie, immigrated in the spring of 1860. The Kohlts and Ackers resided in the town of Tonawanda on the Niagara River for some years with many other Germans who settled in the area. Citizenship was granted to Kohlts on March 20, 1868. Soon afterward, the Kohlts and Acker families set out from Buffalo, New York, heading west via the Great Lakes for the Hancock, Michigan area of the Keweenaw Peninsula and its copper mines.
Perhaps lured by the availability of free land under the Homestead Act, the Kohlts family left for Minnesota. The federal census of June 1, 1870 records their presence in the Second Ward of the newly formed city of Duluth, Minnesota, while the Acker family arrived in Duluth in 1871. By January 1872 August Kohlts had established an 82-acre site in the wilderness outside Duluth. He and Acker were the first settlers in the area now known as Hermantown.
In the years that followed, Kohlts and Acker alternated between working in the young town of Duluth and clearing land at their rural homesteads on what is now Five Corners Road in Hermantown. They traveled between Duluth and their homesteads on a Native American trail that would later become Piedmont Avenue and the Hermantown Road.
Hermantown's population would get a boost from a new wave of homesteaders just before World War II. During the hard times of the Great Depression, the federal government built nearly a hundred "subsistence homestead" projects designed to move people trapped in poverty in the cities, to new homes in rural or suburban locations. One of the two Minnesota projects was assigned to Hermantown.
The Jackson Project was completed in 1937. It is one of Hermantown's more interesting features, and is the proliferation of "Jackson Homes" on certain roadways. These single-family dwellings were built during the Great Depression as subsistence homesteads. Many today retain their original brick appearance, albeit with additions. Each of the 84 homesteads had a brick veneer farmhouse; half also had a garage-barn combination. Each had five or 10 acres (40,000 m2) of land, and the family also received a pig, a cow, and 35 chickens. The idea was that the family would be able to raise its own food and use the profits from selling any surplus to work off its debt to the government. The units were sold to homesteaders on very liberal terms: the average price for the home and property was $2,687.40 plus interest.
The Jackson Project was one of the later projects built, which was a benefit because the quality of housing improved. Plumbing and electricity were now required in all homes. The homesteaders gave a whole new profile to what was then Herman Township. Now with 84 homes and families concentrated in one part of the community, the Project marked the start of a transition from rural to suburban for Hermantown.
Hermantown was incorporated as a city on December 31, 1975.
From Wikipedia, the free encyclopedia.
HERMANTOWN, a city in sections 9, 10, 15, and 16 of Herman Township, was incorporated as a city on December 13, 1975.
HERMAN Township (T. 50N, R. 15W) was named by German settlers in honor of the early German hero, who was born in the year 17 B.C. and died in A.D. 21, renowned for his defeating the Roman troops in Germany. The township was absorbed by the city of Hermantown.
Courtesy Minnesota Historical Society
---
Government:
City of Hermantown
5105 Maple Grove Road
Hermantown, MN 55811
Phone: (218) 729-3600
Fax: (218) 729-3620

Regular Business Hours:
Monday - Friday 8:00 am - 4:30 pm

City Council Meetings:
1st and 3rd Monday of each month at 6:30 pm

Title
Terms Ends
Name
Phone
Mayor
12/31/2022
Wayne Boucher
4263 LaVaque Road
Hermantown, MN 55811
(218) 729-3675
(218) 590-9932
City Administrator
appointed
John Mulder
5105 Maple Grove Road
Hermantown, MN 55810

(218) 729-3600

City Clerk
appointed
Debbie Lund
5105 Maple Grove Road
Hermantown, MN 55810

(218) 729-3600

Council Member
12/31/2022

Natalie Peterson
4029 Stebner Road
Hermantown, MN 55810



(218) 729-3682
(218) 349-4833
Council Member
12/31/2022
Gloria Nelson
3932 Old Midway Road
Hermantown, MN 55811
(218) 391-7333
Council Member
12/31/2024
Grant Hauschild
4918 Whitetail Drive
Hermantown, MN 55811
(701) 388-3174
Council Member
12/31/2024

John Geissler

5141 Country Road

Hermantown, MN 55810



(218) 729-3681
(218) 393-1475
---
Post Office:
Served by the Proctor Post Office
---
---
Utilities:
---
Major Employers:
---
---
News:
---
Weather:
---
Map: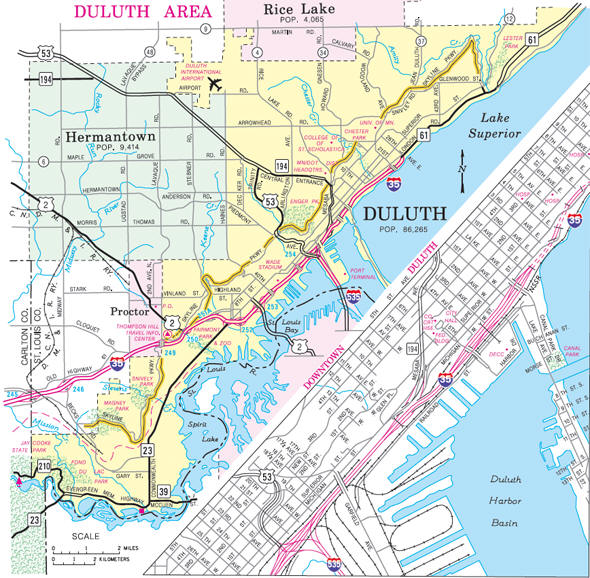 Minnesota State Highway Map of the Duluth and Hermantown Minnesota area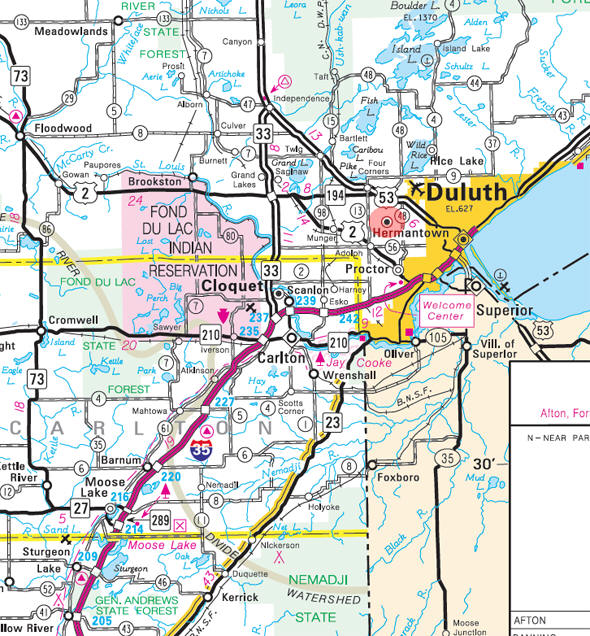 Minnesota State Highway Map of the Hermantown Minnesota area
---
Events:
---
---
Attractions:
---
Recreation:
---
Lakes:
Lake Name
Size
(acres)
Lake info
Lake Map
Rec Map
Topo Map
---
Health Care:
---
Schools:
---
Churches:
Faith Baptist Church
5693 Maple Grove Road
Hermantown, MN 55811
Phone: (218) 729-9470

Pastor: Brian Wiita
Sunday Worship: 10:00 am

Gethsemane Covenant Church
4779 Ugstad Road
Hermantown, MN 55811
Phone: (218) 729-6534

Pastor: Mike Hardesty
Sunday Worship: 10:30 am

Grace Lutheran Church
5454 Miller Trunk Highway
Hermantown, MN 55811
Phone: (218) 729-9054

Pastor: Phil Berge
Sunday Worship: 9:00 am

Hermantown Community Church
4880 Maple Grove Road
Hermantown, MN 55811
Phone: (218) 729-8797
Fax: (218) 729-6610


Pastor: Thor Sorenson
Sunday Worship: 10:00 am

Peace in Christ Lutheran Church - LCMS
5007 Maple Grove Road
Hermantown, MN 55811
Phone: (218) 729-9473

Pastor: Rev. Timothy J. Ludwig
Sunday Worship: 8:00 am and 10:45 am

St. Raphael Catholic Church
5779 Seville Road
Hermantown, MN 55811
Phone: (218) 729-7537

Pastor: Father James Bissonette
Sunday Mass: 10:30 am

Salem Lutheran Church - ELCA
4715 Hermantown Road
Hermantown, MN 55811
Phone: (218) 727-1357

Pastor: Rollie Bockbrader
Sunday Worship: 9:00 am

Trinity Episcopal Church
4903 Maple Grove Road
Hermantown, MN 55811
Phone: (218) 729-7957

Pastor: n/a
Sunday Worship: n/a
---
Media:
---
Motels:
---
Resorts:
---
Campgrounds:
---
---
Businesses:

The Hermantown Business Directory is Coming Soon!

---
---
Aerial Photo:
---
Topographic Map: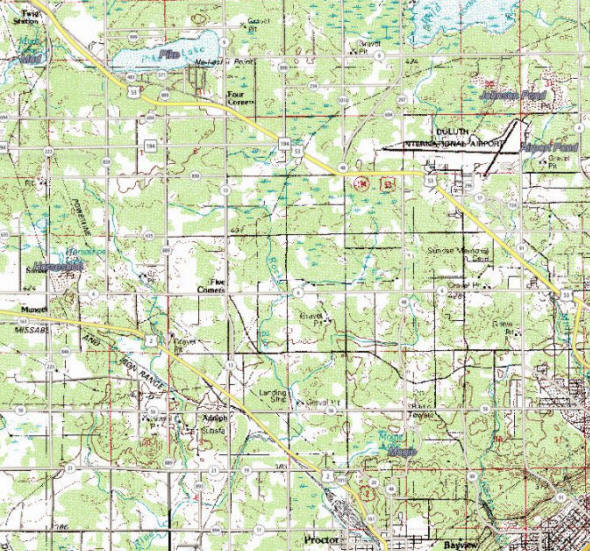 ---