Navigation
LakesnWoods.com
Home Page
Contact Us
Privacy
Minnesota History Shop

Visit The Minnesota History Shop
www.minnesotahistoryshop.com
Historic maps
Historic books
Historic framed art
Historic postcards
Clothing with historic images
And much more!!!


Hills Guide:
Photo Gallery
Location
Geography
Demographics
History
Government
Post Office
News
Weather
Street Map
Events
Attractions
Recreation
Lakes
Health Care
Schools
Churches
Media
Motels
Resorts
Campgrounds
Businesses
Aerial Photo
Topographic Map
© 2004-2023
Lakeweb1 Internet Services
All Rights Reserved
DCMA, Defamation, Copyright and Trademark Infingement Policy
WANTED!
Do you have photos, historical accounts or other items pertaining to the Hills area? Would you like to share this historical information with the world? LakesnWoods.com would like to publish your Hills photos (current or historical) or historical accounts on this website. Original materials can be returned and your privacy will be respected.

Hills Minnesota Community Guide
---
Location:
---
Population:
Hills (city)
1970
1980
1990
2000
2010
2000-2010 Change
Actual
Percent
Population
571
598
607
565
686
+121
+21.42
Land Area (sq. mile)
0.20
0.58
0.55
0.49
0.49
0
0.00
Density (persons per sq. mile)
2,855.00
1,031.03
1,103.64
1,160.65
1,400.00
+239.44
+20.63
Housing Units
186
224
224
244
286
+42
+17.21
Households
--
206
215
230
263
+33
+14.35
Persons Per Household
--
2.66
2.58
2.23
2.61
+0.38
+17.04
---
Geography:
Hills is a city in Rock County, Minnesota. Located approximately four miles (6 km) from the South Dakota border and two miles (3 km) from the Iowa border, it is the southwestern-most city in Minnesota. According to the United States Census Bureau, the city has a total area of 0.54 square miles (1.40 km2); 0.53 square miles (1.37 km2) is land and 0.01 square miles (0.03 km2) is water. The elevation is 1,486 ft (453 m) above sea level.
From Wikipedia, the free encyclopedia.
---
Demographics:
As of the census of 2010, there were 686 people, 263 households, and 171 families residing in the city. The population density was 1,294.3 inhabitants per square mile (499.7/km2). There were 286 housing units at an average density of 539.6 per square mile (208.3/km2). The racial makeup of the city was 98.0% White, 0.4% African American, 0.1% Asian, 0.1% Pacific Islander, 0.3% from other races, and 1.0% from two or more races. Hispanic or Latino of any race were 1.0% of the population.
There were 263 households of which 32.3% had children under the age of 18 living with them, 54.0% were married couples living together, 6.5% had a female householder with no husband present, 4.6% had a male householder with no wife present, and 35.0% were non-families. 29.7% of all households were made up of individuals and 17.5% had someone living alone who was 65 years of age or older. The average household size was 2.43 and the average family size was 2.95.
The median age in the city was 41.5 years. 24.5% of residents were under the age of 18; 5.8% were between the ages of 18 and 24; 22.7% were from 25 to 44; 21.7% were from 45 to 64; and 25.4% were 65 years of age or older. The gender makeup of the city was 48.0% male and 52.0% female.
---
---
History:
HILLS, a city in Martin Township, section 28, platted in November 1889 and incorporated November 15, 1904, was at first called Anderson, in honor of Goodman Anderson, a resident there, but was renamed March 1, 1890, for Frederick C. Hills, who then was president of the Sioux City and Northern Railway. The city was located at the intersection of the Illinois Central and the Sioux City and Northern railroads. The post office was established in 1890, when postmaster Jacob N. Jacobson and his partner moved their store from Bruce, Jacobson having served as a postmaster there. Southwest of the village is the historic Old Iron Post erected in 1870, which marks the point of meeting for Minnesota, South Dakota, and Iowa.
Courtesy Minnesota Historical Society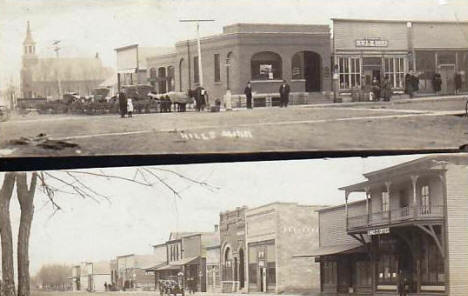 Street scenes, Hills Minnesota, 1911
LakesnWoods.com Postcard and Postcard Image Collection- click image to enlarge

Visit The Hills Photo Gallery for more recent and historic area photos
---
Government:
Hills City Hall
301 S Main Avenue
PO Box 172
Hills, MN 56138
Phone: (507) 962-3290
Fax: (507) 962-3269

Regular Business Hours:
Monday - Friday 9:00 am - 12:00 pm

City Council Meetings:
2nd Tuesday of the month, call for time



Title
Term Ends
Name and Address
Phone
Mayor
12/31/2022
Keith Elbers
512 S Elizabeth Avenue
Hills, MN 56138
(507) 962-3433
Clerk/Treasurer
appointed
Connie Wiertzema
PO Box 172
Hills, MN 56138
(507) 962-3290
Council Member
12/31/2022
Vickie Busswitz
605 S Josephine Avenue
Hills, MN 56138
(605) 254-3922
Council Member
12/31/2022
Alan Leenderts
510 E 2nd Street - PO Box 574
Hills, MN 56138
(605) 201-1580
(507) 962-3318
Council Member
12/31/2024
Ross Metzger
500 Rebecca Avenue
Hills, MN 56138
(605) 413-8071
Council Member
12/31/2024
Brian Sandbulte
105 N Church Avenue
Hills, MN 56138
(507) 962-3515
---
Post Office:
US Post Office
205 S Main Avenue
Hills, MN 56138-1094
Phone: (507) 962-3253
Toll Free: (800) ASK-USPS

Regular Business Hours:
Week Days 10:00 am - 2:00 pm
Saturday 11:15 am - 12:15 pm
---
Utilities:
---
Major Employers:
Employer
Products/Services
Employees
n/a
---
---
News:
---
Weather:
---
Map: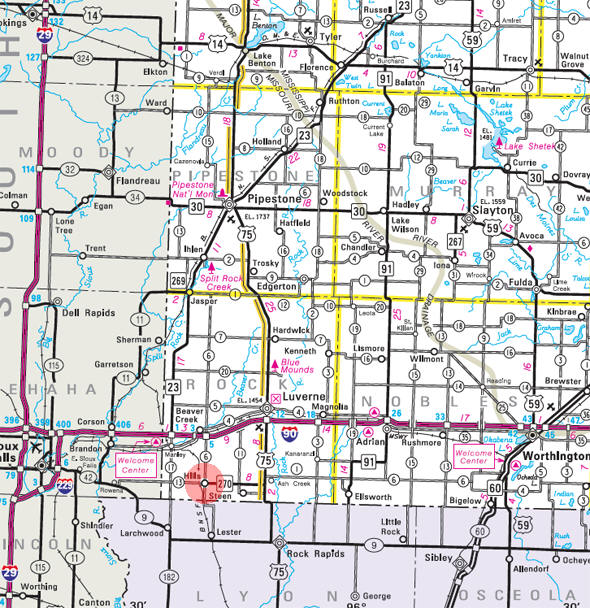 Minnesota State Highway Map of the Hills Minnesota area
---
Events:
---
---
Attractions:
---
Recreation:
---
Lakes:
Lake Name
Size
(acres)
Lake info
Lake Map
Rec Map
Topo Map
none in the immediate area
---
Health Care:
---
Schools:
Hills-Beaver Creek Schools
Independent School District #671
301 N Summit Avenue
PO Box 547
Hills, MN 56138
Phone: (507) 962-3240
Fax: (507) 962-3238



The Hills-Beaver Creek School district is located in the southwest corner of the state of Minnesota. We are the only school district in Minnesota that borders both Iowa and South Dakota. The District is approximately 20 miles east of Sioux Falls, SD. The School District is approximately 117 square miles, and made up of the communities of Hills, Beaver Creek, and Steen. The student population is approximately 360 students in Kindergarten through grade 12.

Hills Beaver Creek High School
301 N Summit Avenue
PO Box 547
Hills, MN 56138
Phone:(507) 962-3240
Fax: (507) 962-3238

Grades: 7-12
Students: 149

Hills Beaver Creek Elementary School
404 S 4th Street
PO Box 49
Beaver Creek, MN 56116
Phone: (507) 673-2541
Fax: (507) 673-2550

Grades: PK-6
Students: 226

Hills Christian School
PO Box 53
Hills, MN 56138
Phone: (507) 962-3297
Web: www.hillschristianschool.org

Grades:
Students:
---
Churches:
---
Media:
---
Motels:
Check for motel rates and availability on:
---
Resorts:
---
Campgrounds:
---
---
Businesses:
Around the Clock Fitness and Tanning
224 S Main Avenue
Hills, MN 56138
Phone: (507) 962-3377
Aukes Farm
421 20th Avenue
Hills, MN 56138
Phone: (507) 962-3374
Bass Construction
224 S Main Avenue
Hills, MN 56138
Phone: (507) 962-3195
Blue Chip Book Binding
231 S Main Street
Hills, MN 56138
Phone: (507) 962-3213
Bly's Mechanic and Welding Shop
210 E 1st Street
Hills, MN 56138
Phone: (507) 962-3220
Cabinet Works Inc.
421 41st Street
Hills, MN 56138
Phone: (507) 962-3105
Chapman Refrigeration and Electric
709 County Road 6
Hills, MN 56138
Phone: (507) 962-3392
Conger Trucking
513 E 3rd Street
Hills, MN 56138
Phone: (507) 962-3462
Dave's Repair
640 51st Street
Hills, MN 56138
Phone: (507) 962-3631
DeBoer Construction
305 S Central Avenue
Hills, MN 56138
Phone: (507) 962-3236
Elbers Auction Service
211 S Main Avenue
Hills, MN 56138
Phone: (507) 962-3433
Web: www.elbersauction.com

Is there an auction in your future? Check with the professionals at Elbers Auction Service to see if what we have to offer is right for you. With over 20 years of experience we know what it takes to make your auction a success. From the smallest household to the largest land and farm equipment auctions, we handle auctions of all types. Call today for a no obligation quotation. Our competitive rates and professional service, can't be beat!

Erwin's Service and Towing
210 W 1st Street
Hills, MN 56138
Phone: (507) 962-3256
Exchange State Bank
116 County Road 6
Hills, MN 56138
Phone: (507) 962-3250
Web: www.exchangestatebankmn.com

The Exchange State Bank (ESB) is an locally owned and locally managed bank with offices in Hills, Ellsworth, Hardwick & Luverne Minnesota. ESB has been in existence since 1908 and it offers a wide variety of convenient products and services to it's Customers including ATM's, Telephone Banking, Debit Cards and of course Online Banking. If you are looking for a bank that is convenient with quick responsive customer service and dedication to the communities then ESB is your bank.

Fred L Elbert Farm
319 41st Street
Hills, MN 56138
Phone: (507) 962-3381
Hansel Plumbing
310 W 1st Street
Hills, MN 56138
Phone: (507) 962-3600
Hidden Hills Cafe
214 S Main Avenue
Hills, MN 56138
Phone: (507) 962-3498
Hill Group Home
224 S Main Avenue
Hills, MN 56138
Phone: (507) 962-3195
Hills Brothers
331 31st Street
Hills, MN 56138
Phone: (507) 962-3611
Hills Home Center
PO Box 195
Hills, MN 56138
Phone: (507) 962-3195
Hills Locker Service
204 S Main Street
Hills, MN 56138
Phone: (507) 962-3251
Hills Telephone Company
219 S Main Avenue
Hills, MN 56138
Phone: (507) 962-3271
Jurren's Funeral Home
402 E 1st Street
Hills, MN 56138
Phone: (507) 962-3322
Web: www.jurrensfuneralhome.com

Please let us know if we can be of service to you. Professional, dignified care of your loved one and family is very important to us. It is a privilege to help you honor the life of your loved one.

Kelly's Roadhouse Bar
PO Box 221
Hills, MN 56138
Phone: (507) 962-3573
LDH Construction
401 S Main Avenue
Hills, MN 56138
Phone: (507) 962-3325
M & M Knoblock Inc.
270 31st Street
Hills, MN 56138
Phone: (507) 962-3772
Makin Waves
105 W 3rd Strret
Hills, MN 56138
Phone: (507) 962-3226
Metzger and Sons Trucking
300 S Church Avenue
Hills, MN 56138
Phone: (507) 962-3107
New Vision Co-op
521 41st Street
Hills, MN 56138
Phone: (507) 962-3243
New Vision Co-op
312 W 3rd Street
Hills, MN 56138
Phone: (507) 962-3222
Northern Hills Farm
518 51st Street
Hills, MN 56138
Phone: (507) 962-3782
Nuf Pork Inc.
725 51st Street
Hills, MN 56138
Phone: (507) 673-2205
Page Synthetics
208 S Josephine Avenue
Hills, MN 56138
Phone: (605) 359-6482
Peet's Feed
400 E 7th Street
Hills, MN 56138
Phone: (507) 962-3124
Performance and Vintage Auto Sales
183 31st Street
Hills, MN 56138
Phone: (507) 962-3380
Scott's Automatic
225 S Main Avenue
Hills, MN 56138
Phone: (507) 962-3286
SSP Auto Salon
211 S Main Avenue
Hills, MN 56138
Phone: (507) 962-3144
Sundem Oil
101 W 1st Street
PO Box 171
Hills, MN 56138
Phone: (507) 962-3210
Tuff Memorial Home
505 E 4th Street
Hills, MN 56138
Phone: (507) 962-3276
Tuff Village
301 County Road 6
Hills, MN 56138
Phone: (507) 962-3500
US Post Office
205 S Main Avenue
Hills, MN 56138-1094
Phone: (507) 962-3253
Toll Free: (800) ASK-USPS
Web: www.usps.com
Valocity Studios
512 E 4th Street
Hills, MN 56138
Phone: (507) 962-3308
Web: www.valocitystudios.com
Van Wyhe Farms
659 21st Street
Hills, MN 56138
Phone: (507) 962-3372
Verhey Concrete
709 S Josephine
Hills, MN 56138
Phone: (507) 962-3595
Viste Manor
500 E 4th Street
Hills, MN 56138
Phone: (507) 962-3511
Wally's Nursery and Landscaping
281 50th Avenue
Hills, MN 56138
Phone: (507) 962-3267
Walnut Grove Ltd
368 40th Avenue
Hills, MN 56138
Phone: (507) 962-3744
Wenzel Repair
207 E 2nd Street
Hills, MN 56138
Phone: (507) 478-4487
Whitetail Farms
238 30th Avenue
Hills, MN 56138
Phone: (507) 962-3174
---
---
Aerial Photo:
---
Topographic Map: [click map to enlarge, zoom in or zoom out]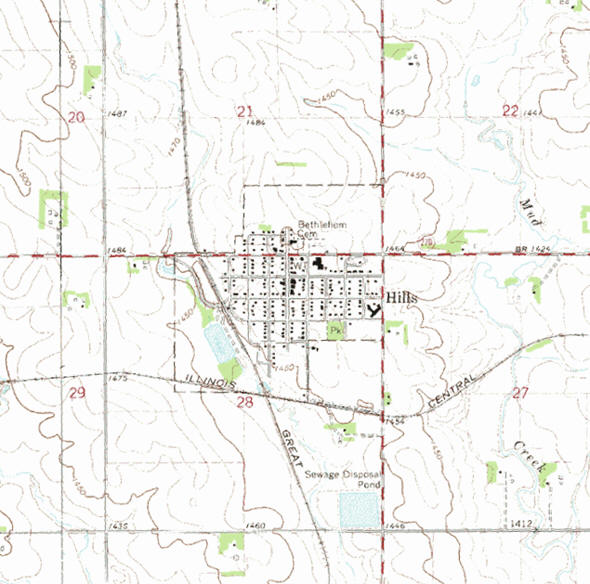 Topographic map is courtesy of the Minnesota DNR - click map to zoom or enlarge