Navigation
LakesnWoods.com
Home Page
Contact Us
Privacy
Minnesota History Shop

Visit The Minnesota History Shop
www.minnesotahistoryshop.com
Historic maps
Historic books
Historic framed art
Historic postcards
Clothing with historic images
And much more!!!


Hollandale Guide:
Photo Gallery
Location
Geography
Demographics
History
Government
Post Office
News
Weather
Street Map
Events
Attractions
Recreation
Lakes
Health Care
Schools
Churches
Media
Motels
Resorts
Campgrounds
Businesses
Aerial Photo
Topographic Map
© 2004-2023
Lakeweb1 Internet Services
All Rights Reserved
DCMA, Defamation, Copyright and Trademark Infingement Policy
WANTED!
Do you have photos, historical accounts or other items pertaining to the Hollandale area? Would you like to share this historical information with the world? LakesnWoods.com would like to publish your Hollandale photos (current or historical) or historical accounts on this website. Original materials can be returned and your privacy will be respected.


(design available on over 100 different items!)

Hollandale Minnesota Community Guide
---
Location:
---
Population:
Hollandale (city)
1970
1980
1990
2000
2010
2000-2010 Change
Actual
Percent
Population
287
290
289
292
303
+11
+3.77
Land Area (sq. mile)
0.40
0.40
0.43
0.43
0.44
+0.01
+2.33
Density (persons per sq. mile)
717.50
725.00
672.09
676.97
688.64
+11.67
+1.72
Housing Units
109
127
134
137
146
+9
+6.57
Households
--
119
129
131
128
-3
-2.29
Persons Per Household
--
2.44
2.24
2.23
2.37
+0.14
+6.28
---
Geography:
Hollandale is a city in Freeborn County, Minnesota. State Highway 251 is a main route in the community. According to the United States Census Bureau, the city has a total area of 0.44 square miles (1.14 km2), all of it land. The elevation is 1,207 ft (368 m) above sea level.
From Wikipedia, the free encyclopedia.
---
Demographics:
As of the census of 2010, there were 303 people, 128 households, and 81 families residing in the city. The population density was 688.6 inhabitants per square mile (265.9/km2). There were 146 housing units at an average density of 331.8 per square mile (128.1/km2). The racial makeup of the city was 96.4% White, 2.6% from other races, and 1.0% from two or more races. Hispanic or Latino of any race were 9.6% of the population.
There were 128 households of which 31.3% had children under the age of 18 living with them, 46.9% were married couples living together, 7.8% had a female householder with no husband present, 8.6% had a male householder with no wife present, and 36.7% were non-families. 30.5% of all households were made up of individuals and 17.9% had someone living alone who was 65 years of age or older. The average household size was 2.37 and the average family size was 2.91.
The median age in the city was 38.8 years. 26.7% of residents were under the age of 18; 9.4% were between the ages of 18 and 24; 21.5% were from 25 to 44; 25.4% were from 45 to 64; and 17.2% were 65 years of age or older. The gender makeup of the city was 53.1% male and 46.9% female.
---
---
History:
HOLLANDALE, a city in Geneva and Riceland Townships, was developed in 1918 by George H. Payne of Payne Investment Company on 15,000 acres of drained swampland. Beginning in 1924, 400 farm families, many of Dutch descent, quickly settled the area. Its post office began in 1923. Maple Island, a tract of 120 acres covered with trees, two miles east of Hollandale, became a subdivision where many farmers settled; its station of the Chicago, Rock Island and Pacific Railroad was first known as Maple Island.
Courtesy Minnesota Historical Society
---
Government:
Hollandale City Hall
PO Box 220
Hollandale, MN 56045
Phone: (507) 889-4001

Regular Business Hours:
not available

City Council Meeting:
2nd Thursday of the month at 6:30 pm


Title
Term Ends
Name and Address

Phone

Mayor
12/31/2022
Irene Jones
113 Park Avenue W - PO Box 76
Hollandale, MN 56045
(507) 438-8493
(507) 383-9445
Clerk/Treasurer
appointed
Brad Edwards
PO Box 220
Hollandale, MN 56045
(507) 889-4001
Council Member
12/31/2022
Darwin Bos
207 Devries Avenue S - PO Box 71
Hollandale, MN 56045
(507) 889-9141
Council Member
12/31/2022
Jeff Weberg
202 Amsterdam Avenue E - PO Box 36
Hollandale, MN 56045
(507) 291-0476
Council Member
12/31/2024
Rodney Zimmerman
306 Central Avenue S
Hollandale, MN 56045
(507) 383-5876
Council Member
12/31/2024
Deb Majeske
105 Central Avenue N
Hollandale, MN 56045
(507) 254-0138
(507) 889-4001
---
Post Office:
US Post Office
108 Park Avenue W
Hollandale, MN 56045-4423
Phone: (507) 889-6501
Toll Free: (800) ASK-USPS

Regular Business Hours:
Week Days 8:00 am - 12:00 pm
Saturday 9:00 am - 10:00 am
---
---
Utilities:
---
Major Employers:
Employer
Products/Services
Employees
n/a
---
---
News:
---
Weather:
---
Map: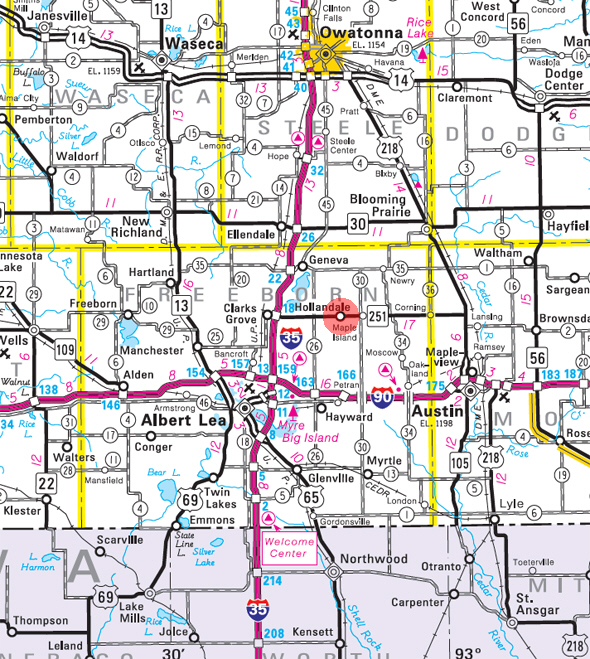 Minnesota State Highway Map of the Hollandale Minnesota area
---
Events:
---
---
Attractions:
---
Recreation:
---
Lakes:
---
Health Care:
---
Schools:
---
Churches:
Conservative Congregational Church
101 Amsterdam Avenue W
Hollandale, MN 56045
Phone: (507) 889-4111
Hollandale Christian Church
102 Amsterdam Avenue E
Hollandale, MN 56045
Phone: (507) 889-8791
Hollandale Reformed Church
101 Park Avenue E
Hollandale, MN 56045
Phone: (507) 889-3511
---
Media:
---
Motels:
Check for motel rates and availability on:
---
Resorts:
---
Campgrounds:
---
---
Businesses:
A G Power Enterprises Inc
101 Zuyder Zee Avenue S
Hollandale, MN 56045
Phone: (507) 889-4221
Albert Lea Fire & Safety Co
82329 290th Street
Hollandale, MN 56045
Phone: (507) 373-3664
Back Porch Pickins
26795 820th Avenue
Hollandale, MN 56045
Phone: (507) 256-8060
Buley Insurance
109 Park Avenue W
Hollandale, MN 56045
Phone: (507) 889-4321
Conservative Congregational Church
101 Amsterdam Avenue W
Hollandale, MN 56045
Phone: (507) 889-4111
Darlene's Beauty Shop
201 Park Avenue E
Hollandale, MN 56045
Phone: (507) 889-3371
De Vries Implement
86956 State Highway
Hollandale, MN 56045
Phone: (507) 889-8801
Denherder Bros
107 Hague Avenue S
Hollandale, MN 56045
Phone: (507) 889-3521
Denherder Trucking
81653 295th Street
Hollandale, MN 56045
Phone: (507) 889-9201
Hollandale Christian Church
102 Amsterdam Avenue E
Hollandale, MN 56045
Phone: (507) 889-8791
Hollandale Christian School
203 Central Avenue S
Hollandale, MN 56045
Phone: (507) 889-3321
Hollandale City Shop
PO Box 220
Hollandale, MN 56045
Phone: (507) 889-3050
Hollandale Reformed Church
101 Park Avenue E
Hollandale, MN 56045
Phone: (507) 889-3511
Hollandale Three In One
101 Park Avenue W
Hollandale, MN 56045
Phone: (507) 889-3253
Hollandale Village Hall
102 Park Avenue E
Hollandale, MN 56045
Phone: (507) 889-4001
Hollendale Parsonage
107 Park Avenue E
Hollandale, MN 56045
Phone: (507) 889-4016
Mr Machinery Inc
300 Central Avenue N
Hollandale, MN 56045
Phone: (507) 889-4003
New York Life
108 Hague Avenue N
Hollandale, MN 56045
Phone: (507) 889-3088
North American Mat Company
304 Central Avenue N
Hollandale, MN 56045
Phone: (507) 889-2088
Old Time Cafe
Hollandale, MN 56045
Phone: (507) 889-2066
Produce State Bank
109 Park Avenue W
Hollandale, MN 56045
Phone: (507) 889-4311
R & M Farms
84744 State Highway
Hollandale, MN 56045
Phone: (507) 889-4367
Rob's Gourmet Greens
29148 800th Avenue
Hollandale, MN 56045
Phone: (507) 889-3302
S & V Automotive
106 Park Avenue E
Hollandale, MN 56045
Phone: (507) 889-6411
Thompson Oil Company
108 Central Avenue S
Hollandale, MN 56045
Phone: (507) 889-3891
US Post Office
108 Park Avenue W
Hollandale, MN 56045
Phone: (507) 889-6501
Van Wilgen Farm Drainage
28218 870th Avenue
Hollandale, MN 56045
Phone: (507) 889-8071
Vinnie's Customs
28143 N Island Circle
Hollandale, MN 56045
Phone: (507) 521-0966
Ward Airport - MN61
Highway 251
Hollandale, MN 56045
Phone: (507) 889-3121
Weberg Construction
202 Amsterdam Avenue E
Hollandale, MN 56045
Phone: (507) 889-6641
---
---
Aerial Photo:
---
Topographic Map: [click map to enlarge, zoom in or zoom out]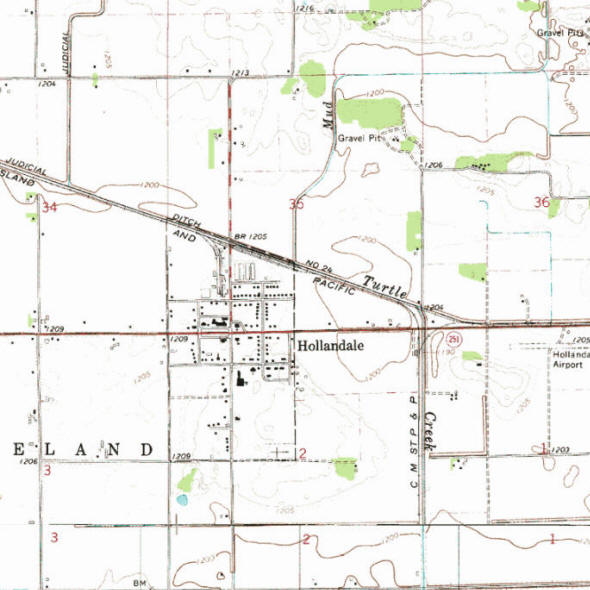 Topographic map is courtesy of the Minnesota DNR - click map to zoom or enlarge