Navigation
LakesnWoods.com
Home Page
Contact Us
Privacy
Minnesota History Shop

Visit The Minnesota History Shop
www.minnesotahistoryshop.com
Historic maps
Historic books
Historic framed art
Historic postcards
Clothing with historic images
And much more!!!

Hutchinson Guide:
Photo Gallery
Location
Geography
Demographics
History
Government
Post Office
News
Weather
Street Map
Events
Attractions
Recreation
Lakes
Health Care
Schools
Churches
Media
Motels
Resorts
Campgrounds
Businesses
Aerial Photo
Topographic Map
© 2004-2023
Lakeweb1 Internet Services
All Rights Reserved
DCMA, Defamation, Copyright and Trademark Infingement Policy
WANTED!
Do you have photos, historical accounts or other items pertaining to the Hutchinson area? Would you like to share this historical information with the world? LakesnWoods.com would like to publish your Hutchinson photos (current or historical) or historical accounts on this website. Original materials can be returned and your privacy will be respected.

Hutchinson Minnesota Community Guide
---
Location:
---
Population:
Hutchinson (city)
1970
1980
1990
2000
2010
2000-2010 Change
Actual
Percent
Population
8,031
9,244
11,523
13,080
14,178
+1,098
+8.39
Land Area (sq. mile)
2.40
5.38
5.40
7.42
8.60
+1.18
+15.90
Density (persons per sq. mile)
3,346
1,718
2,133
1,763
1,649
-114.4
-6.49
Housing Units
2,703
3,672
4,764
5,667
6,393
+726
+12.81
Households
--
3,496
4,483
5,333
5,950
+617
+11.57
Persons Per Household
--
2.60
2.53
2.41
2.34
-0.07
-2.90
---
Geography:
Hutchinson is the largest city in McLeod County, Minnesota, and is located along the South Fork of the Crow River. Minnesota State Highways 7, 15, and 22 are three of the main routes in the city. According to the United States Census Bureau, the city has a total area of 9.02 square miles (23.36 km2), of which 8.60 square miles (22.27 km2) is land and 0.42 square miles (1.09 km2) is water. The elevation is 1,060 ft (323 m) above sea level.
From Wikipedia, the free encyclopedia.
---
Demographics:
As of the census of 2010, there were 14,178 people, 5,950 households, and 3,642 families residing in the city. The population density was 1,648.6 inhabitants per square mile (636.5/km2). There were 6,393 housing units at an average density of 743.4 per square mile (287.0/km2). The racial makeup of the city was 95.4% White, 0.9% African American, 0.3% Native American, 1.1% Asian, 0.1% Pacific Islander, 0.9% from other races, and 1.3% from two or more races. Hispanic or Latino of any race were 3.8% of the population.
There were 5,950 households of which 31.0% had children under the age of 18 living with them, 47.4% were married couples living together, 9.5% had a female householder with no husband present, 4.4% had a male householder with no wife present, and 38.8% were non-families. 32.9% of all households were made up of individuals and 13.3% had someone living alone who was 65 years of age or older. The average household size was 2.34 and the average family size was 2.99.
The median age in the city was 36.9 years. 25.6% of residents were under the age of 18; 8.4% were between the ages of 18 and 24; 26.1% were from 25 to 44; 24.5% were from 45 to 64; and 15.5% were 65 years of age or older. The gender makeup of the city was 48.8% male and 51.2% female.
---
---
History:
The Hutchinson Family Singers (John, Asa, and Judson Hutchinson) are credited with founding the town in November 1855. A post office has been in operation in Hutchinson since 1856. The city was incorporated in 1904.
In 1942 muralist Elsa Jemne completed an egg tempera on plaster mural, titled The Hutchinson Singers, in the town's post office. Federally commissioned murals were produced from 1934 to 1943 in the United States through the Section of Painting and Sculpture, later called the Section of Fine Arts, of the Treasury Department. The program created public art for numerous buildings constructed during the Great Depression as part of President Franklin D. Roosevelt's Public Works Administration's program to provide employment and improve infrastructure.
Hutchinson was once served by three railroads. The Electric Short Line (commonly known as the Luce Line) provided freight and interurban service between Minneapolis and Gluek via Hutchinson. During the mid-20th century, there was extensive restructuring in the railroad industry, as automobiles had caused a decline in passenger traffic, and trucking had cut into freight movement.
The Electric Short Line was purchased by the Minneapolis & St. Louis in 1956, which was in turn purchased by the Chicago & North Western in 1960. The tracks west of Hutchinson were abandoned in 1967, and the tracks between Hutchinson and Plymouth were abandoned in 1972. The Milwaukee Road had a branch line to Hutchinson from Glencoe, which was abandoned in 1956. The Great Northern Railway also had a branch line, which went from Wayzata to Hutchinson. This was taken over by Burlington Northern in 1970. In 1985 Burlington Northern petitioned to abandon its line to Hutchinson, but Dakota Rail took over operations that same year. Dakota Rail struggled to turn a profit and sought to abandon the line in 2000. The tracks were officially abandoned in 2001. Hutchinson's Great Northern Depot has been preserved.
From Wikipedia, the free encyclopedia.
Hutchinson (Images of America)
Founded in 1855, when Minnesota was still a territory, Hutchinson is named for a New Hampshire family of minstrels and social activists who sang for emancipation, women's rights, temperance, and other causes of their day. In its early years, the town survived a Dakota War and a grasshopper plague to evolve into a thriving community. Documenting this evolution through six chapters are period photographs--the vast majority from the collections of the McLeod County Historical Society. Images of America: Hutchinson chronicles the town's beginnings, then presents a city tour across time, with a primary focus on Main Street. It illustrates public services and the livelihoods of local citizens, and it reveals a lifestyle that was, and is, enriched by an array of diversions, many centered on the Crow River, surrounding lakes, and an extensive park system. Concluding photographs, spanning the arts, serve as a reminder of the legacy of the founders.
Buy This Book Now!
HUTCHINSON Township took the name of its village, founded November 19, 1855, by the brothers Asa, Judson, and John Hutchinson, with others. These brothers were members of the famous family of many singers, born in Milford, N.H., who gave concerts of popular and patriotic songs throughout the United States after 1841 until the close of the Civil War. Asa Burnham Hutchinson, youngest of the brothers founding Hutchinson, where he afterward lived, was born March 14, 1823, and died at his home there November 25, 1884. Adoniram Judson Joseph Hutchinson, commemorated by the name of Judson Lake, now drained, about a mile north of this city, was born March 14, 1817, and died in Lynn, Mass., January 10, 1859. John Wallace Hutchinson, born January 4, 1821, resided many years in Lynn, Mass., and was author of the Story of the Hutchinsons (2 vols., 495 and 416 pp.), published in 1896.
Hutchinson, in Hutchinson and Hassan Valley Townships, was incorporated as a village February 9, 1881, and as a city in 1904; the post office began in 1856. The station in section 6 of Hassan Valley Township served several rail lines. The city has the second oldest park system in the United States.
Courtesy Minnesota Historical Society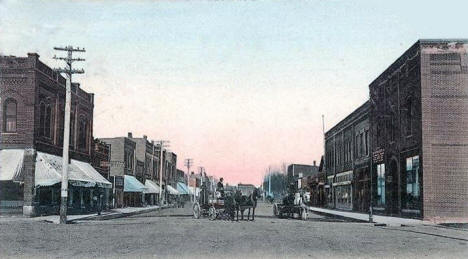 View of Main Street, Hutchinson Minnesota, 1907
LakesnWoods.com Postcard and Postcard Image Collection - click to enlarge

Visit The Hutchinson Photo Gallery for more recent and historic area photos
---
Government:
Hutchinson City Hall
111 Hassan Street SE
Hutchinson MN 55350
Phone: (320) 587-5151
Fax: (320) 234-4240


Regular Business Hours:
Monday - Friday 8:00 am - 4:00 pm.

City Council Meetings:
2nd and 4th Tuesday of the month at 5:30 pm

Title
Term Ends
Name and Address
Phone:
Mayor
12/31/2022
Gary T Forcier
175 Arch Street SE
Hutchinson MN 55350
(320) 583-8717
City Administrator
appointed
Matt Jaunich
111 Hassan Street SE
Hutchinson MN 55350
(320) 234-5650
Council Member
12/31/2022
Mary Christensen
528 Juul Road SW
Hutchinson MN 55350
(320) 296-3389
Council Member
12/31/2022
Dave Sebesta
225 Dale Street SW
Hutchinson MN 55350
(320) 583-2964
Council Member
12/31/2024
Brandon Begnaud
817 2nd Avenue SW
Hutchinson MN 55350
(651) 214-1344
Council Member
12/31/2024
Chad C. Czmowski
716 Franklin Street SE
Hutchinson MN 55350
(952) 237-3587
---
Post Office:
US Post Office
245 Main Street S
Hutchinson, MN 55350-2579
Phone: (320) 587-2497
Toll Free: (800) ASK-USPS
Fax: (320) 587-1086

Regular Business Hours:
Week Days 9:00 am - 4:45 pm
Saturday 9:30 am - 11:30 am
---
Utilities:
---
Major Employers:
---
---
News:
---
Weather:
---
Map: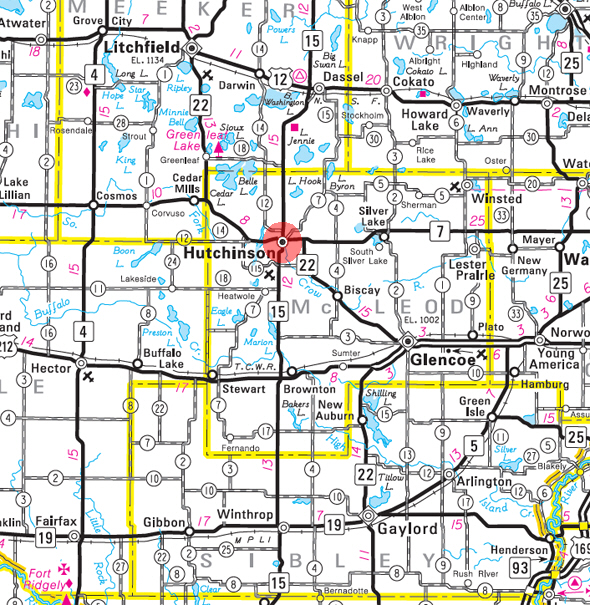 Minnesota State Highway Map of the Hutchinson Minnesota area
---
Events:
Hutchinson Arts & Crafts Festival

2nd weekend in September

The Hutchinson Arts & Crafts Festival is located in Library Square Park in Downtown Hutchinson, MN. Each year there is a large selection of artists, crafters, and thousands of new and returning shoppers. This successful event has been attracting vendors and shoppers from all over the Midwest for over 40 years. Admission and parking are free.


Hutchinson Jaycee Water Carnival

2nd week in June

Started in 1942, Water Carnival has evolved into a multi-event celebration of a beautiful, history rich community that is constantly growing. From the Medallion Hunt and Run by the River to the Miss Hutchinson Pageant and Grande Day Parade, there is something for everyone. The Hutchinson Jaycee Water Carnival is held each year on Father's Day weekend.


---
---
Attractions:
Crow River Winery and Vineyard
14848 Highway 7 E
Hutchinson MN 55350
Phone: (320) 587-2922



There's always something to do at Crow River Winery! Our events calendar is packed with festivals, live music, comedy, parties and more. Just interested in the wine? Our staff will guide you through the wine tasting experience with our hand-crafted wine varieties. Join us at our next event, unwind at our spacious tasting bar, or enjoy conversation with friends in one of our private tasting rooms. Select from our award-winning wines for a gift or restock your cellar.




Hutchinson Theatre Company
15 Franklin Avenue SW
Hutchinson MN 55350
Phone: (320) 587-7278



This thriving organization is delivering high-quality community theater productions to Hutchinson, Minnesota and the surrounding area. Since 2003, the Hutchinson Theatre Company has produced three shows per year in spring, summer, and fall. We are dedicated to bringing people of different ages and backgrounds from Hutchinson and the surrounding area together to create high-quality community theater.




---
Recreation:
Luce Line Trail



This paved trail weaves its way through historic Hutchinson. Along the way one will encounter a Wildlife shelter as well as many of the town parks. The trail stretches 63 miles from the western metro suburb of Plymouth to the small town of Cosmos in west-central Minnesota. The trail runs on a former railroad line and is available for Biking, Hiking, Running, Jogging, Walking, Dog Walking, Snowmobiling (west of Stubbs Bay Road), Cross Country Skiing (east of Stubbs Bay Road), and Snowshoeing (east of Stubbs Bay Road).




---
Lakes:
Lake Name
Size
(acres)
Lake info
Lake Map
Rec Map
Topo Map
French
42
Hook
330
Otter
642
Pierce
38
Stahl's
141
---
Health Care:
Hutchinson Health
1095 Highway 15 S
Hutchinson, MN 55350
Phone: (320) 587-5000



In partnership with HealthPartners, Hutchinson Health includes primary and specialty care clinics, emergency services, and specialty programs. Hutchinson Health includes an Intensive Care Unit, featuring eICU technology, as well as a facility-wide clinical monitoring system. Along with a full-range of advanced diagnostic imaging services featuring multi-slice CT scanning, 3D and 2D digital mammography, X-ray, ultrasound, ACR Lung Cancer Screening Center, and MRI. We have over 30 full time physicians and 35 specialty care providers and 650 staff ready to make a difference in your life.




---
Schools:
---
Churches:
Bethlehem United Methodist Church
665 Miller Avenue SW
Hutchinson MN 55350
Phone: (320) 587-3312

Pastor: Paul Woolverton, Jr.
Sunday Worship: 9:00 am and 10:30 am


Christ the King Lutheran Church
1040 S Grade Road
Hutchinson MN 55350
Phone: (320) 587-2776

Pastor: Mark J. Richardson
Sunday Worship: 8:15 am and 10:45 am


Crosspoint Church
1215 Roberts Road SW
Hutchinson MN 55350
Phone: (320) 587-2668

Pastor: Rick Stapleton
Sunday Worship: 10:30 am


Faith Lutheran Church - LCMC
335 Main Street S
Hutchinson MN 55350
Phone: (320) 587-2093

Pastor: Scott Grorud
Sunday Worship: 8:00 am and 10:10 am


Grace Lutheran Church - WELS
430 5th Avenue SW
Hutchinson MN 55350
Phone: (320) 587-3051

Pastor: n/a
Sunday Worship: 9:00 am


Hunters Ridge Community Church
850 School Road SW
Hutchinson MN 55350
Phone: (320) 587-8374

Pastor: Rev. Howard Anderson
Sunday Worship: 10:00 am


Hutchinson Seventh Day Adventist Church
820 Main Street N
Hutchinson MN 55350
Phone: (320) 587-6054

Pastor: Michael Jones
Saturday Worship: 10:50 am


Immanuel Evangelical Lutheran Church - WELS
20882 Walden Avenue
Hutchinson MN 55350
Phone: (320) 587-4857

Pastor: Eugene DeVries
Sunday Worship: 10:00 am


New Journey United Church of Christ
31 4th Avenue SW
Hutchinson MN 55350
Phone: (320) 587-2125

Pastor: Jill Warne
Sunday Worship: 10:00 am


Oak Heights Covenant Church
1398 S Grade Road
Hutchinson MN 55350
Phone: (320) 587-8483

Pastor: Todd Harris
Sunday Worship: 10:10 am


Peace Lutheran Church
400 Franklin Street S
Hutchinson MN 55350
Phone: (320) 587-3031

Pastor: John Pasche
Sunday Worship: 8:00 am, 9:15 am and 10:30 am


River of Hope Lutheran Church - ELCA
16 Washington Avenue W
Hutchinson MN 55350
Phone: (320) 587-4414

Pastor: Laura Aase
Sunday Worship: 10:30 am


Riverside Church
20924 Highway 7 W
Hutchinson MN 55350
Phone: (320) 587-2074

Pastor: Arnold Allison
Sunday Worship: 8:30 am and 10:30 am


St. Anastasia Catholic Church
460 Lake Street SW
Hutchinson MN 55350
Phone: (320) 587-6507

Pastor: Fr. Paul Wolf
Sunday Mass:bb7:30 am, 11:00 am and 7:30 pm


Vineyard United Methodist Church
1395 S Grade Road SW
Hutchinson MN 55350
Phone: (320) 587-2200

Pastor: Jim Hein
Sunday Worship: 9:30 am


---
Media:
Hutchinson Leader
36 Washington Avenue W
Hutchinson MN 55350
Phone: (320) 587-5000
Fax: (320) 587-6104



Biweekly newspaper published on Tuesdays and Thursdays with a circulation of 4,341




KDUZ/KARP Radio
20132 State Highway 15 N
Hutchinson MN 55350
Phone: (320) 587-2140
Fax: (320) 587-5158


---
Motels:
7-Hi Motel
700 State Highway 7 E
Hutchinson MN 55350
Phone: (320) 587-2088



The pet-friendly 7-Hi Budget Motel accommodates guests in a downtown area of Hutchinson. The hotel is provided with 20 quiet rooms. Free WiFi throughout the property is available. Located next to lakes and parks, the hotel also can offer an easy access to McLeod County Veterans Memorial Park, set 1100 meters away. Just a 50-minute drive from Sunrise Nature Park. Cafés, restaurants and wineries are close by. Some rooms offer central heating, a laptop-compatible safe and a telephone. Rooms of the hotel have carpeted floors and bathrooms with a bathtub and a shower.




Amercinn
1115 State Highway 7 E
Hutchinson MN 55350
Phone: (320) 587-5155



Stay with us at AmericInn Lodge & Suites Hutchinson, conveniently located on Highway 7 just minutes from downtown Hutchinson. Our hotel provides easy access to many of the area's attractions, including Crow River Winery and McLeod County Museum. Local businesses such as Hutchinson Technology, Warrior Manufacturing, and the Hutchinson 3M plant are only minutes away.




Cobblestone Hotel and Suites
416 Prospect Street NE
Hutchinson MN 55350
Phone: (320) 587-7777



At the Cobblestone Hotel & Suites in Hutchinson, Minnesota, you will feel at home with Microwaves, Refrigerators, Luxury Linens, Wolfgang Puck Coffee and Flat-Panel Televisions in every guest room. We offer our guests, the amenities and services they need with 24-Hour Wolfgang Puck Coffee Service, complimentary Hot Breakfast Buffet, Guest Laundry, 24-Hour onsite Convenience Store, Fitness Center, High Speed Wireless Internet Access, and so much more!




Days Inn
1000 State Highway 7 W
Hutchinson MN 55350
Phone: (320) 587-6030

We are ideally located near McLeod County Fairgrounds and 3M corporate headquarters, along Highway 7 and neighboring beautiful Otter Lake and Campbell Lake. We offer an indoor pool, free parking, free WiFi, and free continental breakfast daily. Comfortable guest accommodations include a cable TV in every room. Also enjoy a work desk and free local calls.


Economy Inn
200 State Highway 7
Hutchinson MN 55350
Phone: (320) 587-2129


King Motel
1255 State Highway 7 W
Hutchinson MN 55350
Phone: (320) 587-4737



King Motel 24 units HBO Color Cable TV DD Phones Guest control heat and AC Non Smoking Rooms All Major Credit Cards accepted. Queen Beds Or Two Double Beds. Plugs-Ins. Over Looking The Crow River. Internet service available. Affordable, clean comfortable rooms! Nightly and weekly rates, group rates. Micro, fridge, wifi, cable TV, maid services




Shamrock Motel
1200 State Highway 15
Hutchinson MN 55350
Phone: (320) 587-9299



Enjoy your stay in clean comfortable rooms designed to help you relax while on your travels. Each room at the Shamrock Inn of Hutchinson is cleaned daily. Solid concrete construction provides you with superior privacy, you will not be bothered by the chatter of conversations or television shows being viewed by your neighbors. Free WIFI You are Connected! We provide you with access to our guest WIFI network at no additional charge. Access our wireless guest network to surf the web, work online or make phone calls using your laptop, smart phone or other wireless capable devices. Conveniently Located Conveniently located within walking distance of the Hutchinson Mall, Target, Walmart and a variety of popular restaurants.




Check for motel rates and availability on:
---
Resorts:
---
Campgrounds:
---
---
Businesses:

The Hutchinson Business Directory is Coming Soon!

---
---
Aerial Photo:
---
Topographic Map: [click map to enlarge, zoom in or zoom out]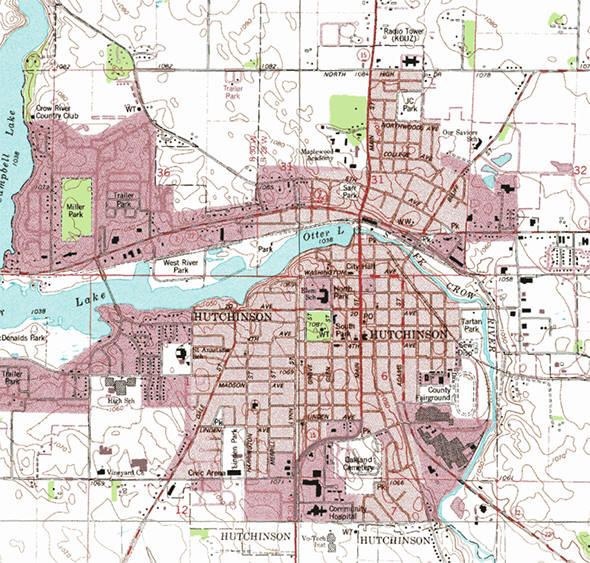 Topographic map is courtesy of the Minnesota DNR - click map to zoom or enlarge