Navigation
LakesnWoods.com
Home Page
Contact Us
Privacy
Minnesota History Shop

Visit The Minnesota History Shop
www.minnesotahistoryshop.com
Historic maps
Historic books
Historic framed art
Historic postcards
Clothing with historic images
And much more!!!


Kinbrae Guide:
Photo Gallery
Location
Geography
Demographics
History
Government
Post Office
News
Weather
Street Map
Events
Attractions
Recreation
Lakes
Health Care
Schools
Churches
Media
Motels
Resorts
Campgrounds
Businesses
Aerial Photo
Topographic Map
© 2004-2023
Lakeweb1 Internet Services
All Rights Reserved
DCMA, Defamation, Copyright and Trademark Infingement Policy
WANTED!
Do you have photos, historical accounts or other items pertaining to the Kinbrae area? Would you like to share this historical information with the world? LakesnWoods.com would like to publish your Kinbrae photos (current or historical) or historical accounts on this website. Original materials can be returned and your privacy will be respected.

Kinbrae Minnesota Community Guide
---
Location:
---
Population:
Kinbrae (city)
1970
1980
1990
2000
2010
2000-2010 Change
Actual
Percent
Population
37
40
18
21
12
-9
-42.86
Land Area (sq. mile)
1.00
0.96
0.86
0.83
0.87
+0.04
+4.60
Density (persons per sq. mile)
37.00
41.67
20.93
25.38
13.79
-11.59
-45.65
Housing Units
20
12
15
14
11
-3
-21.43
Households
--
11
8
10
6
-4
-40.00
Persons Per Household
--
3.64
2.25
2.10
2.00
-0.10
-4.76
---
Geography:
Kinbrae is a city in Nobles County, Minnesota. The town is located in the far northeastern corner of Nobles County. Kinbrae lies one mile east of Jackson County, and one mile south of Murrary County. According to the United States Census Bureau, the city has a total area of 1.01 square miles (2.62 km˛), of which, 0.87 square miles (2.25 km˛) of it is land and 0.14 square miles (0.36 km˛) of it is water. The elevation is 1,467 ft (447 m) above sea level.
From Wikipedia, the free encyclopedia.
---
Demographics:
As of the census of 2010, there were 12 people, 6 households, and 3 families residing in the city. The population density was 13.8 inhabitants per square mile (5.3 /km2). There were 11 housing units at an average density of 12.6 per square mile (4.9 /km2). The racial makeup of the city was 100.0% White.
There were 6 households of which 50.0% were married couples living together and 50.0% were non-families. 0.0% of all households were made up of individuals. The average household size was 2.00 and the average family size was 2.00.
The median age in the city was 55 years. 0.0% of residents were under the age of 18; 16.7% were between the ages of 18 and 24; 0.0% were from 25 to 44; 66.8% were from 45 to 64; and 16.7% were 65 years of age or older. The gender makeup of the city was 50.0% male and 50.0% female.
---
---
History:
Site selections: In the year 1879, the Southern Minnesota Railroad began building a route from Heron Lake, to Fulda. A rail station was proposed for the Graham Lakes region, and the site selected was briefly named Airlie in honor of David Ogilvy, the 10th Earl of Airlie. The Earl was president of the Dundee Improvement company, a Scottish company formed for the purpose of founding a town in southwest Minnesota. In September and October 1879, Oglivy's company built a steam elevator with a capacity of 16,000 bushels, a hotel, and a general store building in Airlie. The Dundee Improvement company played no role in founding the nearby town of Dundee. In fact, the towns of Kinbrae (Airlie) and Dundee, though separated by a mere 1/2 mile, were rivals, built along the roads of competing rail lines.
Change of name: When the site was surveyed in December 1879, Airlie was formally rechristened DeForest. A depot and a post office were both constructed in 1880 even though the census showed a mere 19 residents. The depot was known as DeForest Station, but the post office was known as Airlie until January 1882 when the name was formally changed to DeForest. The steam elevator was wiped out by fire on April 20, 1883, and this spelled the end of the Dundee Improvement Company's involvement. As a historical footnote, David Ogilvy's granddaughter Clementine Hozier was married to Winston Churchill from 1908 until his death in 1965.
Kinbrae: In August 1883, DeForest Station, the townsite, and the post office were renamed Kinbrae. Little is known about the name Kinbrae, other than that it is Scottish. Ownership of Kinbrae passed into the hands of Hanson & Graeger, a Chicago land-colonization firm, but the company showed little interest in development of the new town. The townsite was then sold to W. N. Bickley and W. E. Fletcher in 1895, who made great efforts "to boom the town," or to attract businesses and residents. By 1896, Kinbrae boasted two general stores, a hardware store, a lumber yard, two elevators, a blacksmith shop, a hotel, a bank, a creamery, two churches (Methodist and Presbyterian), and a school.
Incorporation: The town was incorporated on February 17, 1896, and the first village president was a Mr. L. F. Miller. The census of 1900 gave Kinbrae a population of 137. Kinbrae's post office was discontinued in the year 1971, and by the year 2000, the town had a mere 21 residents. Population estimates from 2007 put the number of residents at 17. Kinbrae citizens briefly considered disincorporation in the year 2010, but elected to remain a municipality however small.
From Wikipedia, the free encyclopedia.
KINBRAE, a city in section 11 in Graham Lakes Township, founded in 1879 by the Dundee Land Company of Scotland, was at first called Airlie for the Earl of Airlie, who was president of the land company; when the townsite was platted, it was changed to De Forest but received the present Scottish name in August 1883. It was incorporated February 17, 1896. The petition for a post office was as Airlie, 1879-82, was changed to De Forest, 1882-83, and then Kinbrae in 1883 on request of the Chicago, Milwaukee and St. Paul Railroad; the post office discontinued in 1971. An earlier post office named Creswell was established in 1873 in section 34 of Belfast Township, Murray County, and was transferred to Graham Lakes Township in 1876, combining with Airlie in 1879.
Courtesy Minnesota Historical Society
---
Government:
Kinbrae City Hall
38433 120th Street
Dundee, MN 56131
Phone: (507) 360-6965

Regular Business Hours:
unknown

City Council Meetings:
1st Saturday of each month, call for time


Title
Term Ends
Name and Address
Phone:
Mayor
12/31/2022
Nick Carlson
11621 Tripp Road
Dundee, MN 56131
(507) 217-5668
Clerk
12/31/2024
Roxanne Malcolm
11579 Voss Avenue
Dundee, MN 56131
(507) 360-6965
(507) 350-4598
Treasurer
12/31/2024
Bonnie Grunewald
38433 120th Street
Dundee, MN 56131
(507) 468-2212
Council Member
12/31/2022
David Jaz
11536 Voss Avenue
Dundee, MN 56131
(507) 468-2704
Council Member
12/31/2024
Randy Gruenwald
11715 Tripp Road
Dundee, MN 56131
(507) 468-2225
Council Member
12/31/2024
Troy Malcolm
11579 Voss Avenue
Dundee, MN 56131
(507) 372-4841
---
Post Office: Kinbrae is served by the Fulda Minnesota Post Office:
US Post Office
109 N Baltimore Avenue
Fulda, MN 56131-9545
Phone: (507) 425-2107
Toll Free: (800) ASK-USPS

Regular Business Hours:
Week Days 8:30 am - 11:30 am
12:30 pm - 4:15 pm
Saturday 9:00 am - 10:00 am
---
---
Utilities:
---
Major Employers:
| | | |
| --- | --- | --- |
| Employer | Products/Services | Employees |
| Kinbrae Supper Club | Full-Service Restaurants | 10 |
---
---
News:
---
Weather:
---
Map: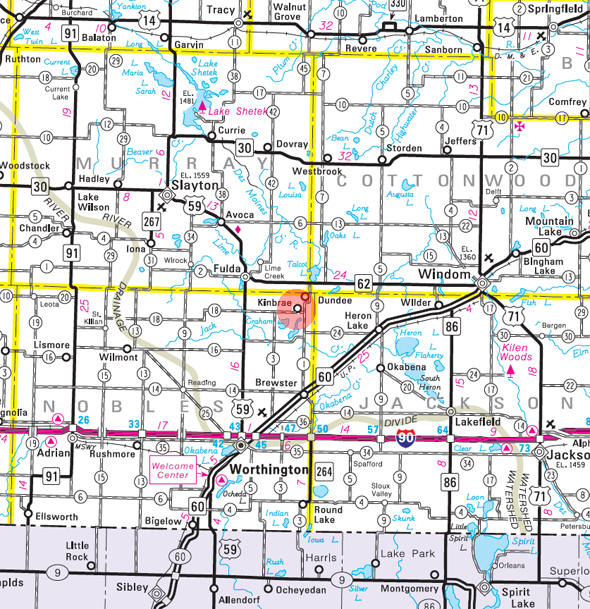 Minnesota State Highway Map of the Kinbrae Minnesota area
---
Events:
---
Attractions:
---
Recreation:
---
Lakes:
---
Health Care:
---
Schools:
---
Churches:
---
Media:
---
Motels:
Check for motel rates and availability on:
---
Resorts:
---
Campgrounds:
---
---
Businesses:
---
---
Aerial Photo:
---
Topographic Map: [click map to enlarge, zoom in or zoom out]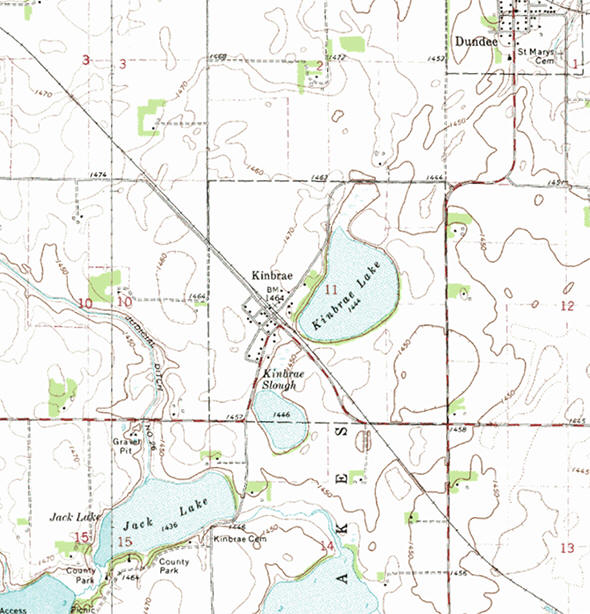 Topographic map is courtesy of the Minnesota DNR - click map to zoom or enlarge