Navigation
LakesnWoods.com
Home Page
Contact Us
Privacy
Minnesota History Shop

Visit The Minnesota History Shop
www.minnesotahistoryshop.com
Historic maps
Historic books
Historic framed art
Historic postcards
Clothing with historic images
And much more!!!


Lafayette Guide:
Photo Gallery
Location
Geography
Demographics
History
Government
Post Office
News
Weather
Street Map
Events
Attractions
Recreation
Lakes
Health Care
Schools
Churches
Media
Motels
Resorts
Campgrounds
Businesses
Aerial Photo
Topographic Map
© 2004-2023
Lakeweb1 Internet Services
All Rights Reserved
DCMA, Defamation, Copyright and Trademark Infingement Policy
WANTED!
Do you have photos, historical accounts or other items pertaining to the Lafayette area? Would you like to share this historical information with the world? LakesnWoods.com would like to publish your Lafayette photos (current or historical) or historical accounts on this website. Original materials can be returned and your privacy will be respected.

Lafayette Minnesota Community Guide
---
Location:
---
Population:
Lafayette (city)
1970
1980
1990
2000
2010
2000-2010 Change
Actual
Percent
Population
498
507
462
529
504
-25
-4.73
Land Area (sq. mile)
1.20
1.02
1.15
1.15
1.15
0
0.00
Density (persons per sq. mile)
415.00
497.06
401.74
458.37
438.26
-20.11
-4.73
Housing Units
175
200
198
206
244
+38
+18.45
Households
--
188
181
202
218
+16
+7.92
Persons Per Household
--
2.51
2.33
2.43
2.31
-0.12
-4.94
---
Geography:
Lafayette is a city in Nicollet County, Minnesota. Minnesota State Highway 15 serves as a main route in the community. According to the United States Census Bureau, the city has a total area of 1.15 square miles (2.98 km2), all of it land. The South Branch Rush River starts near Lafayette. The elevation is 1,010 ft (308 m) above sea level.
From Wikipedia, the free encyclopedia.
---
Demographics:
As of the census of 2010, there were 504 people, 218 households, and 131 families residing in the city. The population density was 438.3 inhabitants per square mile (169.2/km2). There were 244 housing units at an average density of 212.2 per square mile (81.9/km2). The racial makeup of the city was 97.8% White, 0.2% Native American, 0.2% Asian, 1.2% from other races, and 0.6% from two or more races. Hispanic or Latino of any race were 2.4% of the population.
There were 218 households of which 33.0% had children under the age of 18 living with them, 47.2% were married couples living together, 4.6% had a female householder with no husband present, 8.3% had a male householder with no wife present, and 39.9% were non-families. 36.2% of all households were made up of individuals and 20.6% had someone living alone who was 65 years of age or older. The average household size was 2.31 and the average family size was 2.95.
The median age in the city was 36.9 years. 27% of residents were under the age of 18; 6.2% were between the ages of 18 and 24; 25.6% were from 25 to 44; 26.3% were from 45 to 64; and 14.7% were 65 years of age or older. The gender makeup of the city was 49.4% male and 50.6% female.
---
---
History:
LAFAYETTE Township, settled in 1853 and organized May 11, 1858, was named, like townships and villages or cities of 20 other states of the Union, with counties of six states, in honor of the Marquis de Lafayette (1757-1834) of France, who came to America and greatly aided Washington in the Revolutionary War and later was an eminent French statesman and general. The city of this name, in sections 1, 2, and 11, was platted on August 22, 1896, and incorporated as a village May 11, 1900. John Bush and his family came in 1854 and kept a "stopping place" for travelers, where the first post office was located in 1858, discontinuing in 1870. The village became a trading center when the Minneapolis and St. Louis Railroad was built through in October 1895, and the post office was reestablished in 1897.
Courtesy Minnesota Historical Society
---
Government:
Lafayette City Hall
700 9th Street
PO Box 375
Lafayette, MN 56054
Phone: (507) 228-8241
Fax: (507) 702-7220

Regular Business Hours:
Monday - Friday 7:00 am - 4:00 pm
closed 12:00 pm - 1:00 pm

City Council Meetings:
2nd Monday of the month at 7:00 pm



Title
Term Ends
Name and Address

Phone

Mayor
12/31/2022
Sandra Peterson
620 Esther Street - PO Box 94
Lafayette, MN 56054
(507) 276-4583
Clerk/Treasurer
appointed
Sandy Burger
700 9th Street
Lafayette, MN 56054
(507) 228-8241
Council Member
12/31/2020
Tom Polich
940 Pioneer Avenue
Lafayette, MN 56054
(507) 766-1874
Council Member
12/31/2020
David Reed
591 11th Street
Lafayette, MN 56054
(507) 228-8264
Council Member
12/31/2024
Curt Tauber
660 10th Street
Lafayette, MN 56054
(507) 276-7803
Council Member
12/31/2024
Scott Portner
671 5th Street
Lafayette, MN 56054
(507) 380-7463
---
Post Office:
US Post Office
790 Main Avenue
Lafayette, MN 56054-4401
Phone: (507) 228-8252
Toll Free: (800) ASK-USPS

Regular Business Hours:
Week Days 8:00 am - 12:00 pm
Saturday 8:30 am - 9:30 am
---
---
Utilities:
---
Major Employers:
Employer
Products/Services
Employees

n/a
---
---
News:
---
Weather:
---
Map: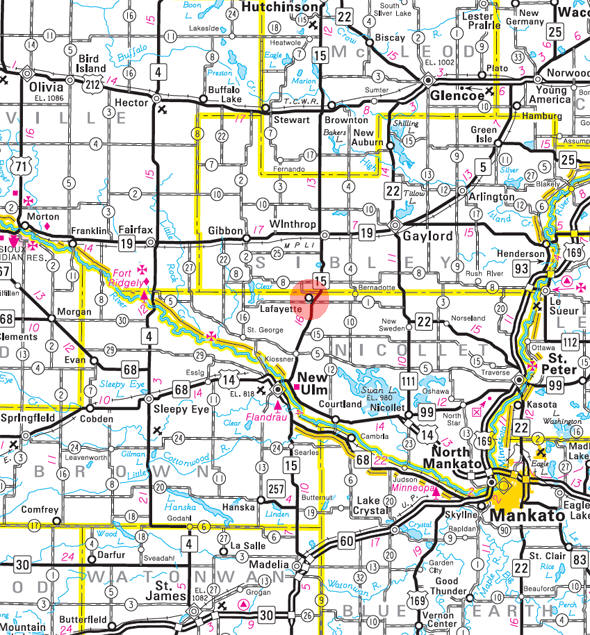 Minnesota State Highway Map of the Lafayette Minnesota area
---
Events:
---
---
Attractions:
---
Recreation:
---
Lakes:
Lake Name
Size
(acres)
Lake info
Lake Map
Rec Map
Topo Map
none in the immediate area
---
Health Care:
---
Schools:
---
Churches:
Bernadotte Lutheran Church
34122 515th Avenue
Lafayette, MN 56054
Phone: (507) 228-8380
First Lutheran Church
1020 Lafayette Avenue
Lafayette, MN 56054
Phone: (507) 228-8906
St. Gregory's Catholic Church
400 6th Street
Lafayette, MN 56054
Phone: (507) 228-8213
---
Media:
Lafayette Nicollet Ledger
750 Main Avenue
Lafayette, MN 56054
Phone: (507) 228-8985
---
Motels:
Check for motel rates and availability on:
---
Resorts:
---
Campgrounds:
---
---
Businesses:
Ben Stadick Farm
36143 605th Avenue
Lafayette, MN 56054
Phone: (507) 228-8340
Bianchi Welding
60198 370th Street
Lafayette, MN 56054
Phone: (507) 228-8905
Bob's Auto Glass
56471 330th Street
Lafayette, MN 56054
Phone: (507) 228-8760
Citizens Bank
701 Main Avenue
Lafayette, MN 56054
Phone: (507) 228-8283
CM Corn Stoves LLC
37265 541st Avenue
Lafayette, MN 56054
Phone: (507) 228-8180
Community Insurance Agency
761 Main Avenue
Lafayette, MN 56054
Phone: (507) 228-8201
Dave's Place
700 Main Avenue
Lafayette, MN 56054
Phone: (507) 228-8910
Farmers Cooperative
840 Pioneer Avenue
Lafayette, MN 56054
Phone: (507) 228-8344
Isaacson Sales and Service
71 9th Street
Lafayette, MN 56054
Phone: (507) 228-8270
Isenberg Electric
791 Main Avenue
Lafayette, MN 56054
Phone: (507) 228-8901
Jay's Cleaning Service
391 Lafayette Avenue
Lafayette, MN 56054
Phone: (507) 317-3399
Kris's Klippers Family Hair
471 7th Street
Lafayette, MN 56054
Phone: (507) 228-8005
Lafayette City Hall
700 9th Street
PO Box 375
Lafayette, MN 56054
Phone: (507) 228-8241
Fax: (507) 702-7220

Regular Business Hours:
Monday - Friday 7:00 am - 4:00 pm
closed 12:00 pm - 1:00 pm

City Council Meetings:
2nd Monday of the month at 7:00 pm


Lafayette Community Center
540 7th Street
Lafayette, MN 56054
Phone: (507) 228-8064
Lafayette Elevator
540 Sky View Avenue
Lafayette, MN 56054
Phone: (507) 228-8221
Lafayette Excavating
411 8th Street
Lafayette, MN 56054
Phone: (507) 228-8902
Lafayette Fire Department
800 Main Avenue
Lafayette, MN 56054
Phone: (507) 228-8015
Lafayette Lift Trucks
54588 340th Street
Lafayette, MN 56054
Phone: (507) 228-8777
Lafayette Lumber Company
831 Main Avenue
Lafayette, MN 56054
Phone: (507) 228-8227
Lafayette Nicollet Ledger
750 Main Avenue
Lafayette, MN 56054
Phone: (507) 228-8985
Langhorst Pork
36671 511th Avenue
Lafayette, MN 56054
Phone: (507) 246-4012
Larmar Homes LLC
57815 330th Street
Lafayette, MN 56054
Phone: (507) 228-8352
Ledger Publishing
750 Main Avenue
Lafayette, MN 56054
Phone: (507) 228-8779
Lenny's Repair
37866 587th Avenue
Lafayette, MN 56054
Phone: (507) 359-7889
Nature's Pantry
58258 366th Street
Lafayette, MN 56054
Phone: (507) 217-3116
Platz Finishing LLC
32427 State Highway 15
Lafayette, MN 56054
Phone: (507) 647-2470
Priced Right Medical
751 Main Avenue
Lafayette, MN 56054
Phone: (507) 228-8100
Sjostrom Farms
50527 350th Street
Lafayette, MN 56054
Phone: (507) 228-8768
Steamboat Pork
57780 382nd Street
Lafayette, MN 56054
Phone: (507) 359-3396
Tauber Plumbing and Heating LLC
660 10th Street
Lafayette, MN 56054
Phone: (507) 276-7803
United Farmers Co-op
840 Pioneer Avenue
Lafayette, MN 56054
Phone: (507) 228-8224
Uptown Service
491 7th Street
Lafayette, MN 56054
Phone: (507) 228-8567
US Post Office
790 Main Avenue
Lafayette, MN 56054-4401
Phone: (507) 228-8252
Toll Free: (800) ASK-USPS


---
---
Aerial Photo:
---
Topographic Map: [click map to enlarge, zoom in or zoom out]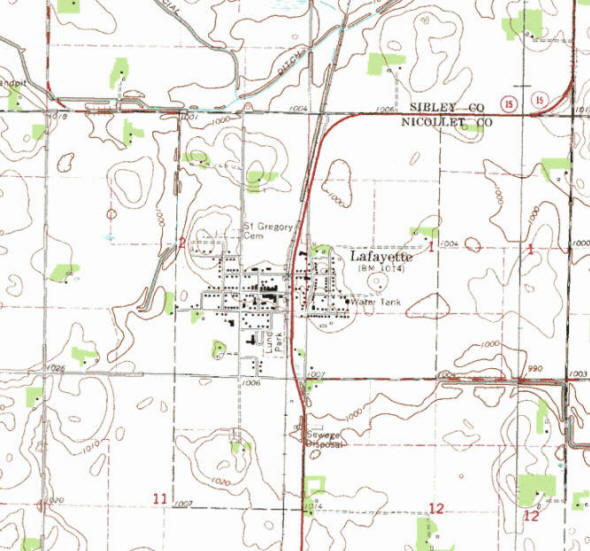 Topographic map is courtesy of the Minnesota DNR - click map to zoom or enlarge