Navigation
LakesnWoods.com
Home Page
Contact Us
Privacy
Minnesota History Shop

Visit The Minnesota History Shop
www.minnesotahistoryshop.com
Historic maps
Historic books
Historic framed art
Historic postcards
Clothing with historic images
And much more!!!


Lake Lillian Guide:
Photo Gallery
Location
Geography
Demographics
History
Government
Post Office
News
Weather
Street Map
Events
Attractions
Recreation
Lakes
Health Care
Schools
Churches
Media
Motels
Resorts
Campgrounds
Businesses
Aerial Photo
Topographic Map
© 2004-2023
Lakeweb1 Internet Services
All Rights Reserved
DCMA, Defamation, Copyright and Trademark Infingement Policy
WANTED!
Do you have photos, historical accounts or other items pertaining to the Lake Lillian area? Would you like to share this historical information with the world? LakesnWoods.com would like to publish your Lake Lillian photos (current or historical) or historical accounts on this website. Original materials can be returned and your privacy will be respected.

Lake Lillian Minnesota Community Guide
---
Location:
East on Highway 7, close to the southeast corner of the county, approximately 17 miles from Willmar, is the town of Lake Lillian. With a special small-town charm and welcoming residents, Lake Lillian has rightfully earned the title of being ďA Friendly Town.Ē On top of the quiet and affordable living conditions, Lake Lillianís main city park is equipped with a playground for all ages, picnic shelter, horseshoe pits, softball diamond and plenty of room to run or relax and enjoy the outdoors. Once youíve worked up an appetite, donít miss out on The Food Garageóthe localsí favorite place to eat out!
The entire community stays very active through many different social outlets. Lake Lillian offers library programs, senior citizen activities, church groups, civic organizations, community celebrations and more. The town itself is close to lakes and outdoor recreational opportunities, including Big Kandiyohi Lake County Park East and Big Kandiyohi Lake County Park West. Itís also within easy driving distance of bigger cities, including Willmar, Hutchinson and both campuses of Ridgewater College.
Courtesy Kandiyohi County Economic Devlopment Commission
---
Population:
Lake Lillian (city)
1970
1980
1990
2000
2010
2000-2010 Change
Actual
Percent
Population
316
329
229
257
238
-19
-7.39
Land Area (sq. mile)
0.50
0.52
0.46
0.46
0.46
0
0.00
Density (persons per sq. mile)
632.0
632.7
497.8
559.0
517.4
-41.60
-7.44
Housing Units
119
143
115
135
136
1
+0.74
Households
--
133
103
124
121
-3
-2.42
Persons Per Household
--
2.47
2.22
2.07
1.97
-0.10
-4.83
---
Geography:
Lake Lillian is a city in Kandiyohi County, Minnesota. Minnesota State Highway 7 serves as a main route in the community. According to the United States Census Bureau, the city has a total area of 0.46 square miles (1.19 km≤), all of it land. The elevation is 1,112 ft (339 m) above sea level.
From Wikipedia, the free encyclopedia.
---
Demographics:
As of the census of 2010, there were 238 people, 121 households, and 61 families residing in the city. The population density was 517.4 inhabitants per square mile (199.8 /km2). There were 136 housing units at an average density of 295.7 per square mile (114.2 /km2). The racial makeup of the city was 98.3% White, 0.4% African American, 0.4% Asian, and 0.8% from two or more races. Hispanic or Latino of any race were 2.1% of the population.
There were 121 households of which 19.0% had children under the age of 18 living with them, 38.8% were married couples living together, 8.3% had a female householder with no husband present, 3.3% had a male householder with no wife present, and 49.6% were non-families. 43.8% of all households were made up of individuals and 23.1% had someone living alone who was 65 years of age or older. The average household size was 1.96 and the average family size was 2.72.
The median age in the city was 46.6 years. 18.9% of residents were under the age of 18; 10.1% were between the ages of 18 and 24; 17.5% were from 25 to 44; 28.2% were from 45 to 64; and 25.2% were 65 years of age or older. The gender makeup of the city was 52.1% male and 47.9% female.
---
---
History:
LAKE LILLIAN Township was organized January 23, 1872. The lake was named in honor of the wife of artist and author, Edwin Whitefield, who accompanied the first exploring party to the Kandiyohi Lakes in the summer of 1856. The city on the border of Lake Lillian and East Lake Lillian Townships was established as the first village on the Luce Line (Minnesota Western Railroad) in section 18 of East Lake Lillian Township; it was incorporated as a village February 15, 1926, and separated from the township on March 23; its post office operated 1868-1906 and since 1923.
Courtesy Minnesota Historical Society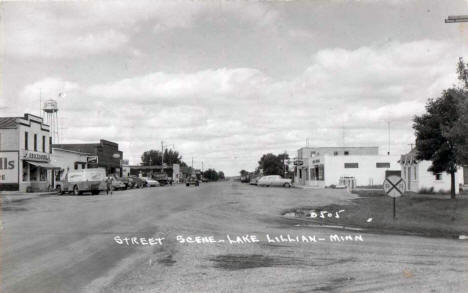 Street scene, Lake Lillian Minnesota, 1950s
LakesnWoods.com Postcard and Postcard Image Collection - click to enlarge

Visit The Lake Lillian Photo Gallery for more recent and historic area photos
---
Government:
Lake Lillian City Hall
531 Lakeview Street
PO Box 7
Lake Lillian, MN 56253
Phone: (320) 905-1737

Regular Business Hours:
Tuesday and Thursday 12:00 pm - 4:00 pm

City Council Meetings
1st Tuesday of each month at 7:00 pm in the Meeting Room of the Fire Hall located at 531 Lakeview Street

Title
Term Ends
Name and Address
Phone:
Mayor
12/31/2022

Wendy K. Lund
210 Lakeview Street
Lake Lillian, MN 56253

(320) 368-2609
(320) 664-4597
Clerk/Treasurer
appointed
John Douville
531 Lakeview Street
Lake Lillian, MN 56253
(320) 905-1737
Council Member
12/31/2022

Michael Sagness
140 Woodlawn Avenue
Lake Lillian, MN 56253

(320) 664-4227
Council Member
12/31/2022

Kristine Kaiser
330 1st Street W
Lake Lillian, MN 56253

(320) 220-1414
Council Member
12/31/2024

Cristal King
170 Park Avenue
Lake Lillian, MN 56253

(320) 220-3591
Council Member
12/31/2024
Lowell Petterson
450 W 1st Street
Lake Lillian, MN 56253
(320) 441-8848
(320) 664-4420
---
Post Office:
US Post Office
454 Lakeview Street
Lake Lillian, MN 56253-9525
Phone: (320) 664-4890
Toll Free: (800) ASK-USPS

Regular Business Hours:
Week Days 7:15 am - 1:15 pm
Saturday Closed
---
---
Utilities:
---
Major Employers:
Employer
Products/Services
Employees

n/a
---
---
News:
---
Weather:
---
Map: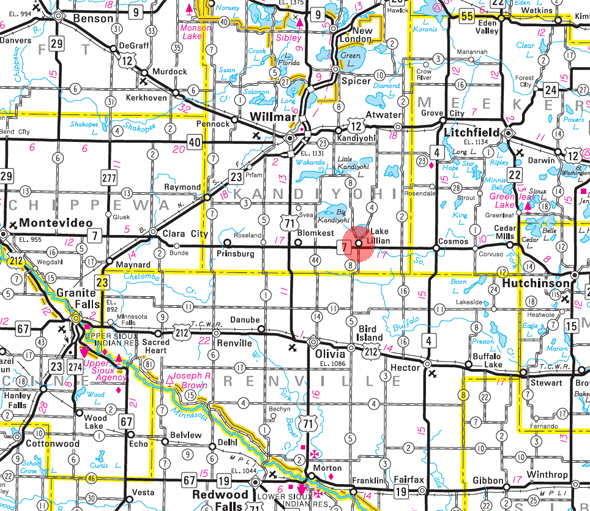 Minnesota State Highway Map of the Lake Lillian Minnesota area
---
Events:
---
---
Attractions:
---
Recreation:
Kandiyohi County Park
14391 45th Street SE
Lake Lillian, MN 56253
Phone: (320) 664-4707
---
Lakes:
---
Health Care:
---
Schools:
---
Churches:
First Lutheran Church
841 Lakeview Street S
Lake Lillian, MN 56253
Phone: (320) 664-4200

Pastor: n/a
Sunday Worship: n/a

Saint Thomas More Catholic Church
781 2nd Street E
Lake Lillian, MN 56253
Phone: (320) 664-4810
Web: www.ourlivingwater.org

Pastor: Fr. Steven Verhelst
Sunday Mass: 9:15 am

United Lutheran Church
811 Lakeview Street S
PO Box 96
Lake Lillian, MN 56253
Phone: (320) 664-7008

Pastor: Art Wiese
Sunday Worship: 10:30 am
---
Media:
---
Motels:
Check for motel rates and availability on:
---
Resorts:
---
Campgrounds:
---
---
Businesses:
Central Minnesota Senior Care
270 W Milky Way Avenue
Lake Lillian, MN 56253
Phone: (320) 664-4755
Citizens Alliance Bank
451 Lakeview Street
Lake Lillian, MN 56253
Phone: (320) 664-4111
Double A Farms
23651 165th Street SE
Lake Lillian, MN 56253
Phone: (320) 877-7501
Drex Mart
661 Lakeview Street
Lake Lillian, MN 56253
Phone: (320) 664-4100
First State Real Estate Agency
450 Lakeview Street
Lake Lillian, MN 56253
Phone: (320) 664-4444
Flan Turkey Farm
18610 98th Street SE
Lake Lillian, MN 56253
Phone: (320) 664-4221
Hanson Silo Company
11587 County Road 8 SE
Lake Lillian, MN 56253
Phone: (320) 664-4171
Johnson Farms
18511 45th Street SE
Lake Lillian, MN 56253
Phone: (320) 995-6574
K-M Funeral Home
Main Street
Lake Lillian, MN 56253
Phone: (320) 664-4722
Kandi-Lake Excavating and Septic
6120 126th Avenue SE
Lake Lillian, MN 56253
Phone: (320) 995-6546
Lake Lillian Chiropractic PLLC
530 Lakeview Street
Lake Lillian, MN 56253
Phone: (320) 522-3607
Lake Lillian City Office
531 Lakeview Street
Lake Lillian, MN 56253
Phone: (320) 664-4440
Lake Lillian Fire Department
531 Lakeview Street
Lake Lillian, MN 56253
Phone: (320) 664-4440
Max Systems LLC
23533 45th Street SE
Lake Lillian, MN 56253
Phone: (320) 979-5121
Mid-State Painting
23081 45th Street SE
Lake Lillian, MN 56253
Phone: (320) 579-0849
Milo Goldschmidt Farms
17003 90th Street SE
Lake Lillian, MN 56253
Phone: (320) 664-4495
Petterson Electric Hardware
491 Lakeview Street
Lake Lillian, MN 56253
Phone: (320) 664-4420
Tracks USA
10340 67th Avenue SE
Lake Lillian, MN 56253
Phone: (320) 382-6128
US Post Office
454 Lakeview Street
Lake Lillian, MN 56253-9525
Phone: (320) 664-4890
Toll Free: (800) ASK-USPS

Regular Business Hours:
Week Days 7:15 am - 1:15 pm
Saturday Closed

Westside Storage
13156 Big Kandi Drive
Lake Lillian, MN 56253
Phone: (320) 214-7520
Youngkrantz Farms
7505 225th Avenue SE
Lake Lillian, MN 56253
Phone: (320) 664-4500
---
---
Aerial Photo:
---
Topographic Map: [click map to enlarge, zoom in or zoom out]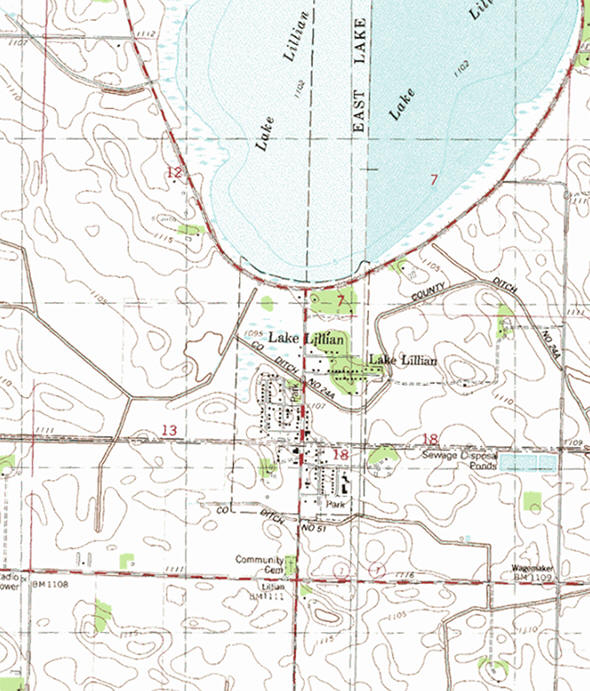 Topographic map is courtesy of the Minnesota DNR - click map to zoom or enlarge