Navigation
LakesnWoods.com
Home Page
Contact Us
Privacy
Minnesota History Shop

Visit The Minnesota History Shop
www.minnesotahistoryshop.com
Historic maps
Historic books
Historic framed art
Historic postcards
Clothing with historic images
And much more!!!


Madelia Guide:
Photo Gallery
Location
Geography
Demographics
History
Government
Post Office
News
Weather
Street Map
Events
Attractions
Recreation
Lakes
Health Care
Schools
Churches
Media
Motels
Resorts
Campgrounds
Businesses
Aerial Photo
Topographic Map
© 2004-2023
Lakeweb1 Internet Services
All Rights Reserved
DCMA, Defamation, Copyright and Trademark Infingement Policy
WANTED!
Do you have photos, historical accounts or other items pertaining to the Madelia area? Would you like to share this historical information with the world? LakesnWoods.com would like to publish your Madelia photos (current or historical) or historical accounts on this website. Original materials can be returned and your privacy will be respected.


(design available on over 100 different items!)

Madelia Minnesota Community Guide
---
Location:
---
Population:
Madelia (city)
1970
1980
1990
2000
2010
2000-2010 Change
Actual
Percent
Population
2,316
2,130
2,237
2,340
2,308
-32
-1.37
Land Area (sq. mile)
1.10
1.24
1.25
1.25
1.47
+0.22
+17.60
Density (persons per sq. mile)
2,105.5
1,717.7
1,789.6
1,876.4
1,501.1
-375.3
-20.00
Housing Units
777
892
923
1,000
1,004
+4
+0.04
Households
--
841
863
911
900
-11
-1.21
Persons Per Household
--
2.43
2.47
2.47
2.56
+0.09
+3.64
---
Geography:
Madelia is a city in Watonwan County, Minnesota, along the Watonwan River. Minnesota State Highways 15 and 60 are two of the main routes in the city. According to the United States Census Bureau, the city has a total area of 1.47 square miles (3.2 km²). None of it is covered by water. The elevation is 1,024 ft (312 m) above sea level.
From Wikipedia, the free encyclopedia.
---
Demographics:

As of the census of 2010, there were 2,308 people, 900 households, and 572 families residing in the city. The population density was 1,570.1 inhabitants per square mile (606.2 /km2). There were 1,004 housing units at an average density of 683.0 per square mile (263.7 /km2). The racial makeup of the city was 84.0% White, 1.7% African American, 0.1% Native American, 0.3% Asian, 12.4% from other races, and 1.4% from two or more races. Hispanic or Latino of any race were 26.8% of the population.

There were 900 households of which 33.1% had children under the age of 18 living with them, 45.6% were married couples living together, 11.2% had a female householder with no husband present, 6.8% had a male householder with no wife present, and 36.4% were non-families. 30.9% of all households were made up of individuals and 15.2% had someone living alone who was 65 years of age or older. The average household size was 2.47 and the average family size was 3.06.

The median age in the city was 37.6 years. 26% of residents were under the age of 18; 8.2% were between the ages of 18 and 24; 23.6% were from 25 to 44; 23.7% were from 45 to 64; and 18.5% were 65 years of age or older. The gender makeup of the city was 48.7% male and 51.3% female.
---
---
History:

Madelia, "Pride of the Prairie" was established September 10, 1857. It was originally named Wapaca, however, within a year the name was changed to Madelia in memory of the deceased daughter of one of the founding fathers, Philander Hartshorn.

The history of the area is preserved by historical markers at Fort Cox, Fort Slocum, Fort Hill, and the Ashippum Post Office. Fort Cox was constructed in 1862 during the Sioux Indian uprising. Just west of Madelia is a historical marker erected where the Younger brothers, members of the Jesse James gang, were captured shortly after the Northfield bank robbery.

The Watonwan County Historical Center is located in Madelia and contains a cabin and a covered wagon dating back to 1857, as well as artifacts, books, papers, and pictures that tell the history of the early pioneers in this area.

Another historical landmark of Madelia is the Warren Truss Bridge, believed to be the oldest of this type of bridge in the state.

Courtesy City of Madelia

MADELIA Township, organized in 1858, before this county was established, took the name of its city in sections 22, 27, and 28, platted on September 10, 1857, and incorporated as a village on March 8, 1873; it was reincorporated on February 10, 1911, at which time it separated from the township. The name was chosen in honor of the daughter of Gen. Madeline Hartshorn, one of the townsite proprietors. It is "an elision and reconstruction of the name Madeline." The post office was established in Brown County as Wacapa, 1857; its name was changed, and it was transferred to Watonwan County in 1860. This village was the first county seat, from 1860 until it was succeeded by St. James in 1878.

Courtesy Minnesota Historical Society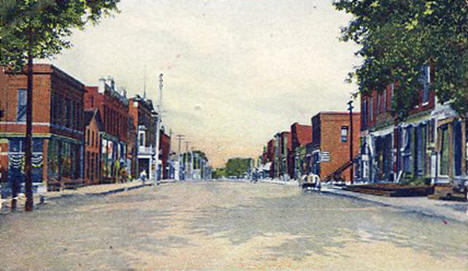 Main Street looking west, Madelia Minnesota, 1908
LakesnWoods.com Postcard and Postcard Image Collection

Visit The Madelia Gallery for more current and history Madelia photos
---
Government:
Madelia City Hall

116 W Main Street

Title
Term Ends
Name
Phone
Mayor
12/31/2022
Michael F Grote
35 Cox Avenue NW
Madelia, MN 56062
(507) 317-8552
City Administrator
appointed
Christine Fischer
116 W Main Street
Madelia, MN 56062
(507) 642-3245
Council Member
12/31/2022
Cody D Eager
204 W Main Street
Madelia, MN 56062
(507) 317-9692
Council Member
12/31/2022
Dave Whitney
116 Benzel Avenue NW
Madelia, MN 56062
(507) 317-5869
Council Member
12/31/2024
Larry Schickling
912 2nd Street SW
Madelia, MN 56062
(507) 317-2861
(507) 642-8814
Council Member
12/31/2024
Andy Gappa
13 3rd Street SE
Madelia, MN 56062
(507) 317-6215
---
Post Office:
US Post Office
23 Center Avenue N
Madelia, MN 56062-1427
Phone: (507) 642-3325
Toll Free: (800) ASK-USPS
Fax: (507) 642-8716

Regular Business Hours:
Week Days 8:00 am - 4:30 pm
Saturday 8:30 am - 10:00 am
---
Utilities:
---
Major Employers:
---
---
News:
---
Weather:
---
Map: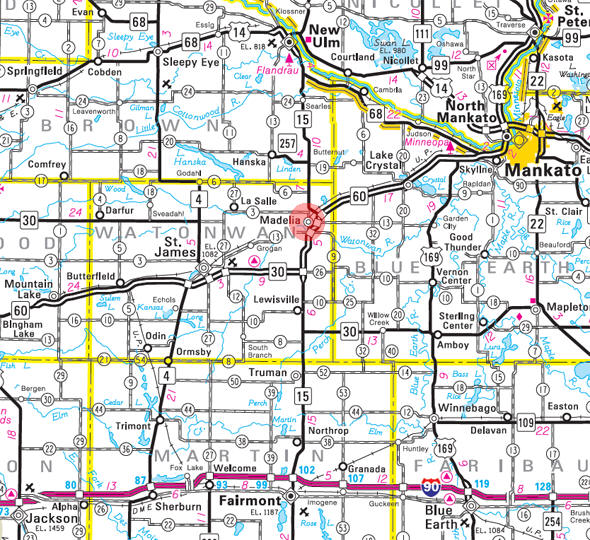 Minnesota State Highway Map of the Madelia Minnesota area
---
Events:
---
---
Attractions:
---
Recreation:
---
Lakes:
Lake Name
Size
(acres)
Lake info
Lake Map
Rec Map
Topo Map
---
Health Care:
Madelia Community Hospital & Clinic
121 Drew Avenue SE
Madelia, MN 56062
Phone: (507) 642-5200
Web: www.mchospital.org

Madelia Community Hospital and Clinic is not only a Madelia community hospital with a certified level 4 trauma center/emergency room, but also a clinic with a growing family practice.

---
Schools:
---
Churches:
Church of Christ
514 1st Street SE
Madelia, MN 56062
Phone: (507) 642-3459

Pastor:
Sunday Worship: 8:50 am

Faith Lutheran Church - ELCA
306 Abbott Avenue SW
Madelia, MN 56062
Phone: (507) 642-8500

Pastor:
Sunday Worship:

First Baptist Church
504 4th Street SW
Madelia, MN 56062
Phone: (507) 642-3375

Pastor:
Sunday Worship: 10:30 am

First Presbyterian Church
114 E Main Street
Madelia, MN 56062
Phone: (507) 642-8105

Pastor: Rev. Penny Johnson
Sunday Worship: 10:45 am

Iglesia Misionera Pente-costes Alfa y Omega
428 1st Street NE
Madelia, MN 56062
Phone: (507) 642-3471

Pastor:
Saturday Worship: 4:00 pm

St. Mary's Catholic Church
19 Crosby Avenue NE
Madelia, MN 56062
Phone: (507) 642-3375

Pastor:
Sunday Mass: 8:00 am

Salem Lutheran Church - LCMS
109 3rd Street SE
Madelia, MN 56062
Phone: (507) 642-8414

Pastor:
Sunday Worship: 8:45 am
Spanish Worship: 11:00 am

Trinity Lutheran Church - ELCA
106 Center Avenue N
Madelia, MN 56062
Phone: (507) 642-8301

Pastor:
Sunday Worship: 9:00 am

---
Media:
---
Motels:
Madelia Hotel & Suites
620 Haynes Avenue NE
Madelia, MN 56062
Phone: (507) 642-2004
Web: www.madeliahotel.com

Check for motel rates and availability on:
---
Resorts:
---
Campgrounds:
Watona Park Campground
Benzel Avenue South
Madelia MN 56062
Phone: (507) 642-3245

Full hookup or rustic camping sites, on the golf course, within one block of the outdoor pool with waterslide and diving boards, and on the scenic Watonwan River

---
---
Businesses:
Ag Center
127 3rd Street SE
Madelia, MN 56062
Phone: (507) 435-4599


Alliance Bank
20 W Main Street
PO Box 189
Madelia, MN 56062
Phone: (507) 642-3236
Fax: (507) 642-8859
Web: www.alliancebanks.com

A family owned community bank bringing together experience, expertise and personalized service to meet your Private, Commercial, Agricultural, and Personal Banking needs. From basic checking and savings products to business loans, personal loans, sophisticated cash management and online banking services, Alliance Bank is ready to help you or your business succeed. With Alliance Bank you get the best of both worlds – big bank expertise delivered with community bank service. While large banks continue to merge and acquire many small to mid-size banks, privately held Alliance Bank is committed to remaining independent and providing personal interaction and timely decision making.

Amberfield Place Apartments
227 Drew Avenue SE
Madelia, MN 56062
Phone: (507) 642-8701
Fax: (800) 866-1873
Web: www.amberfieldplace.com

You need to see why so many have said, "AmberField Place is the PERFECT place to call home!" With our enthusiastic office staff, we can find the right apartment for you! AmberField Place offers multi-family, senior 55+ and independent Senior Plus house options. Our affordable market-rate apartments designed to meet your needs are located in 13 communities in Southern Minnesota. The 1 br~1 br+ Den ~ 2 br and 3 bedroom apartments designed with high ceilings and large windows give a spacious, roomy feeling. Imagine sitting in your private screened porch on a warm summer evening, enjoying your home.

American Family Insurance
21 W Main Street
Madelia, MN 56062
Phone: (507) 642-3719
Fax: (507) 642-3740
Web: insurance-agency.amfam.com/MN/brian-mccabe



As your American Family Insurance agent, I believe there's more to insurance than the policy itself. It's about providing dependable protection and service. That's why earning your trust is my policy.



American Legion Post #19
36 1st Street NW
Madelia, MN 56062
Phone: (507) 642-8106

Anytime Fitness
3 W Main Street
Madelia, MN 56062
Phone: (507) 642-2400
Web: www.anytimefitness.com/gyms/1865/madelia-mn-56062



Anytime Fitness of Madelia, MN, is the fitness center that fits your on-the-go lifestyle. At our Madelia, MN, health club, you can exercise any time using your own security-access key! That's 24 hours a day, 7 days a week, 365 days a year. Talk about no more excuses!



Apple Tree Dental
115 Drew Avenue SE
Madelia, MN 56062
Phone: (507) 642-8742
Fax: (507) 642-2926
Web: www.appletreedental.org/dental_care/madelia



Located in the lower level of the Madelia Health Center, Apple Tree Dental provides comprehensive care to people living in southern Minnesota. We offer a wide variety of affordable dental services including exams, x-rays, check-ups, restorations, crowns, bridges, extractions, and dentures or denture relines and repairs. Our clinic serves children, adults, families, and seniors.



Arduser Seeds
14129 473rd Avenue
Madelia, MN 56062
Phone: (507) 642-3743
Web: www.arduserseeds.com

B M Builders
19 Eager Avenue NE
Madelia, MN 56062
Phone: (507) 642-3433
Fax: (507) 642-8092

Bergeman Construction
406 Drew Avenue NE
Madelia, MN 56062
Phone: (507) 642-2374
Web: www.bergemanconstructioninc.com



We have been turning dreams into reality since 1996. From windows, siding or roofing to building a custom home, we've done it all. We take pride in our work and strive to make your building or remodeling project a pleasant experience.



Bill's Electric Inc.
223 Benzel Avenue NW
Madelia, MN 56062
Phone: (507) 642-8731

Blue Cross and Blue Shield of Minnesota
19 Center Avenue N
Madelia, MN 56062
Phone: (507) 642-3334
Web: www.bluecrossmn.com

Boice Hodges Agency
29 W Main Street
Madelia, MN 56062
Phone: (507) 642-3335

Casey's General Store
604 E Main Street
Madelia, MN 56062
Phone: (507) 642-8156
Web: www.caseys.com



Casey's customers have come to know that inside each store they will find dedicated, helpful, and well-trained employees, exceptional prepared food items, and a clean environment in which to shop.



Chris Kelly Trucking
27995 780th Avenue
Madelia, MN 56062
Phone: (507) 995-8611

Christensen Communications
104 W Main Street
Madelia, MN 56062
Phone: (507) 642-5555
Fax: (507) 642-5500
Web: www.chriscomco.net



Christensen Communications Company is the LEC (Local Exchange Carrier) in Madelia, MN and the surrounding area. The Company celebrated its 110th Anniversary in 2013. The corporate name was changed to Christensen Communications Company, to reflect having spread services beyond the Madelia area.



Crystal Valley Co-op
317 4th Street NE
PO Box 267
Madelia, MN 56062
Phone: (507) 642-3276
Web: www.crystalvalley.coop



Crystal Valley Cooperative is a full service cooperative serving the agronomy, energy, feed, and grain customer. We have eight locations serving Blue Earth, Brown, LeSueur, Nicollet, Watonwan, and Waseca counties in south-central Minnesota



Crystal Valley Co-op
83737 290th Street
Madelia, MN 56062
Phone: (507) 439-6385
Web: www.crystalvalley.coop



Crystal Valley Cooperative is a full service cooperative serving the agronomy, energy, feed, and grain customer. We have eight locations serving Blue Earth, Brown, LeSueur, Nicollet, Watonwan, and Waseca counties in south-central Minnesota



Culligan Water Conditioning
103 W Main Street
Madelia, MN 56062
Phone: (507) 642-3510
Fax: 9507) 642-3310
Web: madelia.culliganman.com



Your local Culligan Man is the expert on water conditions in Madelia and can recommend the best water treatment solutions for your home.



Dave's Auto Body
410 Drew Avenue NE
Madelia, MN 56062
Phone: (507) 642-8160

Davis Sales and Service
3 4th Street NW
Madelia, MN 56062
Phone: (507) 642-3563

Dill Street Press
104 W Main Street
Madelia, MN 56062
Phone: (507) 642-3228
Fax: (507) 642-5500
Web: http://www.dillstreetpress.com



Everett Christensen has spent more than 45 years analyzing and evaluating the development of interpersonal relationships. First as a personnel specialist; then as a college recruiter; then as an instructor in supervisory development; then as a Human Resources Director; then as Senior Vice President of a major financial institution; then as a consultant in management; then as a university professor in a Graduate School of Management; and finally, as the owner of several businesses.



Dollar General
515 E Main Street
Madelia, MN 56062
Phone: (507) 642-8661
Web: www.dollargeneral.com



Dollar General is an American discount retailer based in Goodlettsville, TN. Dollar General has a net worth of over $4 Billion and revenues of over $13 Billion. The company was founded in 1939 and now operates over 9,500 stores across the United States.



Dream River Lawn Service
28 W Main Street
Madelia, MN 56062
Phone: (507) 642-8809

Duane Anderson Plumbing and Heating
25 1st Street NW
Madelia, MN 56062
Phone: (507) 642-3415

Eide Bailly LLP
222 6th Street SE
Madelia, MN 56062
Phone: (507) 642-3737
Web: www.eidebailly.com



Eide Bailly LLP is a regional certified public accounting and business advisory firm headquartered in Fargo, North Dakota. The firm was founded in 1917 and provides core services of audit & assurance and tax, as well as our expanded services, including accounting services, cost segregation, employee benefits, enterprise risk management, financial services, forensic & valuation, health care reform, international services, risk advisory services, technology consulting, transaction services, and wealth management.



El Progresso Market
11 W Main Street
Madelia, MN 56062
Phone: (507) 642-3067

Enterprise Thrift Shoppe
6 E Main Street
Madelia, MN 56062
Phone: (507) 642-3660
Web: www.enterprisethriftshoppe.com



Enterprise Thrift Shoppe is a thrift store/work site for persons with disabilities. All proceeds from Enterprise Thrift Shoppe are used to maintain the highest quality of service that we offer to persons with disabilities.



Expressway
201 W Main Street
Madelia, MN 56062
Phone: (507) 642-8002

Farrish Johnson Law Office
110 W Main Street
PO Box 268
Madelia, MN 56062
Phone: (507) 642-3141
Fax: (507) 642-3694
Web: www.farrishlaw.com



Farrish Johnson is distinguished as one of the leading civil litigation and business law firms in Minnesota. Founded in 1893, Farrish Johnson is the 10th oldest law firm in Minnesota. Farrish Johnson's dedicated and experienced Minnesota attorneys and support staff provide quality legal services with high ethical standards and professional reliability.



Feder Mechanical
18 Drew Avenue
PO Box 249
Madelia, MN 56062
Phone: (507) 642-3522
Fax: (507) 642-3431
Web: www.federmechanical.net



Whether you have a leaky pipe or an air conditioner that isn't beating the latest heat wave, you can depend on us for quality repairs done quickly with a solution that is designed to last.



Forstner Fire Apparatus
326 Benzel Avenue NW
Madelia, MN 56062
Phone: (507) 642-3404
Web: www.forstnerfireapp.com



FORSTNER FIRE APPARATUS, INC. Floyd Forstner bought Forstner Fire Apparatus, Inc., from his father, Henry Forstner, and his uncle, Theodore Forstner, who started the company in "1940". Henry and Theodore were volunteers on the Madelia Fire Department and when the town needed a new fire truck, they had some definite ideas about what they wanted. The town didn't have a lot of money, so… they built it themselves. Thus was the birth of the first piece of Forstner Fire Apparatus!



Gappa Electric Inc.
308 Drew Avenue NE
Madelia, MN 56062
Phone: (507) 642-3382

Gopher Concrete Products
1010 2nd Street SW
Madelia, MN 56062
Phone: (507) 642-3207
Fax: (507) 642-8878
Web: www.gopherconcrete.net

Guyer Graphics
221 Center Avenue S
Madelia, MN 56062
Phone: (507) 206-9112
Web: www.guyergraphics.com



Guyer Graphics was created not because we wanted to be just another random screen printing shop, but with a desire to create quality printing that could be considered a work of art rather than a t-shirt. We felt that what you wear should say something about who you are. There are many unique people that desire many unique types of apparel and Guyer Graphics was created in that image.



Halverson Construction
21 5th Street SE
Madelia, MN 56062
Phone: (507) 642-8900



Residential building contractor. We can build your new home or remodel a bathroom and everything in between. We can build new, remodels, additions, roofing, siding, windows, decks. We focus on residential construction, but also can take care of your agricultural or light commercial needs. Call for a estimate today .



Hartshorn Manor
23 Benzel Avenue NW
Madelia, MN 56062
Phone: (507) 642-3416
Web: www.smrrental.com/property/Hartshorn_Manor

Hope and Faith Floral and Gifts
23 W Main Street
Madelia, MN 56062
Phone: (507) 642-8967
Web: www.hopeandfaithfloral.com



For Over 100 Combined Years, Hope and Faith Floral Has Served Our Hometowns For All Of Life's Celebrations & Moments! Like Us For Special Ideas!



House of Print
322 Benzel Avenue SW
Madelia, MN 56062
Phone: (507) 642-3297
Web: www.4hop.com



We are proud to build solid customer and vendor relationships and partnerships. Our mission is to deliver the highest quality product that consistently meets or exceeds our customer's expectations! Quality products, competitive prices, and unmatched customer service ensure you the highest possible value!



Insurance Services Plus
4 E Main Street
Madelia, MN 56062
Phone: (507) 642-2801
Web: www.ispmn.com



Breathe a little easier knowing that you're prepared for the worst with all-inclusive insurance coverage from Insurance Services Plus. Our friendly agents are dedicated to helping you choose insurance plans that are right for you. From low-cost auto insurance to specialized farm insurance, our insurance agency provides you with thorough coverage at affordable rates.




J Beal Homes Real Estate
Madelia, MN 56062
Phone: (507) 642-8998
Web: www.jbealhomes.com



The JBeal Real Estate Group is a premier real estate firm located in Mankato, MN, servicing Mankato and the surrounding communities in Southern Minnesota. Since our beginning in 2002, we've grown to a dozen agents and have had the pleasure of working with thousands of clients. With a strong belief in family, we are a hard-working, service-oriented, close-knit team who feel that together, we can accomplish more.



Johnson Backhoe Service
214 5th Street SE
Madelia, MN 56062
Phone: (507) 642-3883

Kay's Upholstery
29 W Main Street
Madelia, MN 56062
Phone: (507) 642-3286

Kelsey Osborne LLC
8 W Main Street
Madelia, MN 56062
Phone: (507) 642-2800
Fax: (507) 642-2899
Web: www.kocpas.net



Kelsey Osborne, LLC offers a full suite of small business accounting services to southern MInnesota communities. We are a local firm, committed to building long-term relationships that are cultivated through individual attention and quality services. We offer a secure online platform to serve the needs of today's busy client—providing unmatched convenience with 24-hour access to your financial information. Regardless of the day, hour or location, you can get a full snapshot of your financial condition with a few clicks of a mouse. It's that easy.



Klink's Woodworking and Construction
80022 Elm Creek Road
Madelia, MN 56062
Phone: (507) 642-3914



Providing custom woodworking for the kitchen and bath since 2000. Besides custom woodworking, we also do small remodeling projects, service garage doors and other handyman work.



Klinkner's Heritage Restorations
29043 825th Avenue
Madelia, MN 56062
Phone: (507) 642-8984

Kober and Sons Nursery
80505 Elm Creek Road
Madelia, MN 56062
Phone: (507) 642-8380

La Plaza Fiesta
15 W Main Street
Madelia, MN 56062
Phone: (507) 642-8624
Web: www.plazamorena.com



We are a family friendly restaurant that offers traditional Mexican food, tex mex, & many American choices as well!



Lori's Beauty Salon
223 Joy Avenue SW
Madelia, MN 56062
Phone: (507) 642-8100

Luther Memorial Home
221 6th Street SW
Madelia, MN 56062
Phone: (507) 642-3271
Web: www.luthermemorialhome.org



Luther Memorial Home is a skilled nursing facility in Madelia, Minnesota, providing high quality care for those in Madelia and the surrounding area while they recover and heal.



M & S Feed Mill
321 Center Avenue N
Madelia, MN 56062
Phone: (507) 642-8300

Madelia Ambulance Service
116 W Main Street
Madelia, MN 56062
Phone: (507) 642-3245

Madelia Area Chamber of Commerce
127 W Main Street
Madelia, MN 56062
Phone: (507) 642-8822
Fax: (507) 642-8832
Web: www.visitmadelia.com

Madelia Bus Service
247 Old Highway 60 SE
Madelia, MN 56062
Phone: (507) 642-8426

Madelia Chiropractic
24 Center Avenue N
Madelia, MN 56062
Phone: (507) 642-3545



We will...Do whatever its takes to meet the needs of our patients and exceed their expectations.



Madelia City Hall
116 W Main Street
Madelia, MN 56062
Phone: (507) 642-3245
Web: www.madeliamn.com

Madelia Community Hospital and Clinic
121 Drew Avenue SE
Madelia, MN 56062
Phone: (507) 642-5200 (Clinic)
Phone: (507) 642-3255 (Hospital)
Web: www.mchospital.org



Madelia Community Hospitial and Clinic is not only a Madelia community hospital with a certified level 4 trauma center/emergency room, but also a clinic with a growing family practice.



Madelia Enterprise
21 Center Avenue N
Madelia, MN 56062
Phone: (507) 642-3911
Web: www.madeliaenterprise.com



Madelia Enterprise is a DT&H program designed to meet the specific needs of adults with developmental disabilities.



Madelia Ford
601 E Main Street
Madelia, MN 56062
Phone: (507) 642-3268
Fax: (507) 642-3269
Web: www.madeliaford.com



Madelia Ford has been serving Madelia, Minnesota and the surrounding area since 1945. Our name is known for excellent service and honest pricing on all new Ford vehicles as well as rock bottom prices on all of our pre-owned vehicles.



Madelia Golf Course
519 Christensen Drive
Madelia, MN 56062
Phone: (507) 642-3608
Web: www.madeliamn.com/Golf.php



This challenging 9 hole, par 36 course is located in Madelia, MN along the picturesque Watonwan River. Facilities include a clubhouse, pro shop, cart rentals and driving range.



Madelia Hotel and Suites
620 Haynes Avenue NE
Madelia, MN 56062
Phone: (507) 642-2004
Web: madeliahotel.yolasite.com



Spacious Guest Rooms: Fireplace and Whirlpool Suites, King Singles, and Queen Doubles Recreation Area with Pool and Whirlpool In-Room Coffee Makers, Refrigerators, Microwaves, Hair Dryers, Iron and Ironing Boards Cable TV and Local Calls Free High Speed Internet Access in Every Room



Madelia Insurance Center
26 W Main Street
Madelia, MN 56062
Phone: (507) 642-3216
Web: www.madeliainsurance.com



The Madelia Insurance Center, LLC is a family owned business and the product of two previously established local insurance agencies. The Madelia Insurance Center services clients in the throughout the state of Minnesota, as well as Arizona. The qualified staff of the Madelia Insurance Center includes, Paul Sheldon, Allie Kiecker and Erin Stearns.



Madelia Lanes
416 1st Street SE
Madelia, MN 56062
Phone: (507) 642-3322

Madelia Lumber Company
24 Center Avenue N
Madelia, MN 56062
Phone: (507) 642-3201
Fax: (507) 642-3206
Web: www.madelialumber.com



With all of the tools and products you need, we can help you build it yourself. Or if you're looking for someone to get the job done right and best suit your project needs, we can help you. Our Project Professionals can help you complete your project.



Madelia Mini Storage
311 Benzel Avenue NW
PO Box 94
Madelia, MN 56062
Phone: (507) 642-8700

Madelia Municipal Light and Power
24 Abbot Avenue SW
Madelia, MN 56062
Phone: (507) 642-8803


Madelia Municipal Liquor Store
116 W Main Street
Madelia, MN 56062
Phone: (507) 642-3165
Web: www.madeliamn.com/LiquorStore.php

Madelia Optemetric Inc.
115 Drew Avenue SE
PO Box 190
Madelia, MN 56062
Phone: (507) 642-3853
Fax: (507) 642-3854
Web: www.madeliaeyes.com



Madelia Optometric provides full-scope, primary care optometry. Some of our many services include: Comprehensive Vision and Eye Health Examinations Complete Contact Lens Fitting and Care Low Vision Examinations and Equipment Treatment of Eye Disease Foreign Body Removal Infant and Pediatric Eye Examinations Diabetic Eye Examinations Surgical Co-Management We also have a complete optical shop with frames in a wide variety of styles and prices.



Madelia Sanitation
216 Buck Avenue SE
Madelia, MN 56062
Phone: (507) 642-8817

Madelia Theater
117 W Main Street
Madelia, MN 56062
Phone: (507) 642-3333
Web: www.madeliatheater.com



Current hit movies, state of the art movie screen and surround sound system...at old fashioned prices! Tickets are only $5 Popcorn is $2, $3 or $4 Pop is $2 and $3 All candy is $2 Show Times: Friday at 7pm, Saturday at 8 PM Sunday at 7 pm



Madelia Times-Messenger
112 W Main Street
Madelia, MN 56062
Phone: (507) 642-3636
Web: www.prairiepublishingmn.com

Madelia-Lake Crystal Mutual Insurance
111 W Main Street
Madelia, MN 56062
Phone: (507) 642-3618
Fax: (507) 642-3349
Web: www.madelialakecrystalmutual.com



Madelia Lake Crysta offers home, farm, auto, liability, personal umbrella, business owners, commercial insurance, and more.



Maloney Enterprises
80790 Hammond Highway
Madelia, MN 56062
Phone: (507) 642-8287
Web: www.maloneyenterprises.com



Maloney Enterprises is a friendly family owned business located on our farm sight on Watonwan County Road 13 (also known as the Hammond Hwy) less than 2 miles west of Madelia in Southern Minnesota. We started as Ron's Electric Motor & Repair of Madelia, but soon exploded into much more. In 1983 Arlen Maloney bought a used golf car from an electric motor customer, repaired it and sold it. Another company born! Since those humble beginnings, we have sold and serviced hundreds and hundreds of gas and electric golf carts, making new friends along the way. We sell used EZGo and Yamaha golf carts, SERVICING WHAT WE SELL.



Midwest Machining
218 Benzel Avenue NW
Madelia, MN 56062
Phone: (507) 642-8797
Fax: (507) 642-8799
Web: www.midwestmachininginc.com



Midwest Machining Inc. is equipped to provide a wide range of complex precision machining services. We are a full service, manufacturer who can provide complete design and precision machining of virtually any material.



Motel Bird Cage
615 Benzel Avenue SW
Madelia, MN 56062
Phone: (507) 642-3291

NAPA Auto Parts - Madelia Auto Parts
208 Drew Avenue SE
Madelia, MN 56062
Phone: (507) 642-8911
Web: www.napaonline.com/mn/madelia



More than 85 years ago, the National Automotive Parts Association was founded to meet America's growing need for an effective auto parts distribution system. NAPA has been the industry leader ever since and an invaluable partner in the flow of parts from manufacturers to NAPA AUTO PARTS Stores.



Noah's Ark Daycare
223 1st Street NE
Madelia, MN 56062
Phone: (507) 642-3626

Noble RV
84601 Olson Drive
Madelia, MN 56062
Phone: (507) 642-8588
Web: www.noblerv.com



We sell both new and pre-owned units including, fifth wheels, travel trailers, toy haulers, fish houses, pop-ups, and extended stay trailers.



Northside Auto Repair
226 Benzel Avenue NW
Madelia, MN 56062
Phone: (507) 642-8670

Peaceful Prairie
19461 473rd Avenue
Madelia, MN 56062
Phone: (507) 642-2812


Pest Pro Inc.
210 Buck Avenue NE
Madelia, MN 56062
Phone: (507) 642-3007

Pioneer Bank
34 W Main Street
Madelia, MN 56062
Phone: (507) 642-3251
Fax: (507) 642-8560
Web: www.bankwithpioneer.com



Pioneer Bank is more than just any old bank; we're dedicated to being the leading financial institution for the communities we serve. From Elmore to Lewisville, Madelia, Mankato, Mapleton, North Mankato, St. James, and a loan production office in Lake Crystal we're going above and beyond to offer a better banking experience.



Preferred Printing Company
107 W Main Street
Madelia, MN 56062
Phone: (507) 642-3600
Fax: (507) 642-3550
Web: www.madeliappc.com



Small printing company with big capabilities.



Quick Shine Car Wash
615 Haynes Avenue NE
Madelia, MN 56062
Phone: (507) 642-3993

Reed Gethmann PA
13 W Main Street
Madelia, MN 56062
Phone: (507) 642-3124

REM Heartland
226 Drew Avenue SE
Madelia, MN 56062
Phone: (507) 642-3153
Web: www.remminnesota.com



The Mankato, MN Regional office of REM Heartland, Inc. serves people in Blue Earth and Nicollet counties, as well as other counties through host county concurrence arrangements. We serve individuals in a variety of service settings: Community Supportive Living homes (24/7care), ICF/MR sites, Respite and with In Home Hourly Supports. Individualized programs are offered serving individuals living with brain injury, intellectual developmental disability (including autism spectrum disorder), physical disabilities and mental health issues.



Roger's BP Service
610 Haynes Avenue N
Madelia, MN 56062
Phone: (507) 642-2923

Ron's Electric Motor Repair
80790 Hammond Highway
Madelia, MN 56062
Phone: (507) 642-3543


| | | | | | | |
| --- | --- | --- | --- | --- | --- | --- |
| | | | | | | |

Shellee's Greenhouse
609 W Main Street
Madelia, MN 56062
Phone: (507) 642-8719
Web: www.shelleesgreenhouse.com



Open mid April to June, annuals and perennials, vegetable plants and seeds, and garden accessories. Come to the farm to visit our BARN for all your gardening needs!



Sign Connection
80790 Hammond Highway
Madelia, MN 56062
Phone: (507) 642-3434

SII Investments
19 N Center Avenue
Madelia, MN 56062
Phone: (507) 642-3334

Slurpee's Auto Sales and Backhoe Service
84500 285th Lane
Madelia, MN 56062
Phone: (507) 642-3933

Sturm Funeral Home
303 E Main Street
Madelia, MN 56062
Phone: (507) 642-3214

Subway Restaurant
610 Haynes Avenue NE
Madelia, MN 56062
Phone: (507) 642-2887

Sunde Olson Kircher and Zender
19 Center Avenue N
Madelia, MN 56062
Phone: (507) 642-3156

Sunshine Foods
7 E Main Street
Madelia, MN 56062
Phone: (507) 642-3264

Sweet Indeed
6 W Main Street
Madelia, MN 56062
Phone: (507) 642-2253

Tony Downs Foods
418 Benzel Avenue SW
Madelia, MN 56062
Phone: (507) 642-3203

Total Health Massage
20 1st Street SW
Madelia, MN 56062
Phone: (507) 642-4939

Tressa Veona Salon
17 W Main Street
Madelia, MN 56062
Phone: (507) 642-2355

Triangle Cafe
620 Benzel Avenue SW
Madelia, MN 56062
Phone: (507) 642-3295

True Value Hardware
2 W Main Street
Madelia, MN 56062
Phone: (507) 642-3315

Unit Step Form Company
1010 2nd Street SW
Madelia, MN 56062
Phone: (507) 642-3181

US Post Office
23 Center Avenue N
Madelia, MN 56062
Phone: (507) 642-3325

Vee Lock and Key
317 Benzel Avenue NW
Madelia, MN 56062
Phone: (507) 642-8700

Veteran Enterprises Ltd.
10 W Main Street
Madelia, MN 56062
Phone: (507) 642-1892

Veterans of Foreign Wars
34 1st Street NW
Madelia, MN 56062
Phone: (507) 642-3511

Wanzek Pharmacy
622 1st Street SW
Madelia, MN 56062
Phone: (507) 642-3218

Watonwan County Historical Center
423 Dill Avenue SW
Madelia, MN 56062
Phone: (507) 642-3247

Watonwan County Libraries
23 1st Street NW
Madelia, MN 56062
Phone: (507) 642-3511

---
---
Aerial Photo:
---
Topographic Map: [click map to enlarge, zoom in or zoom out]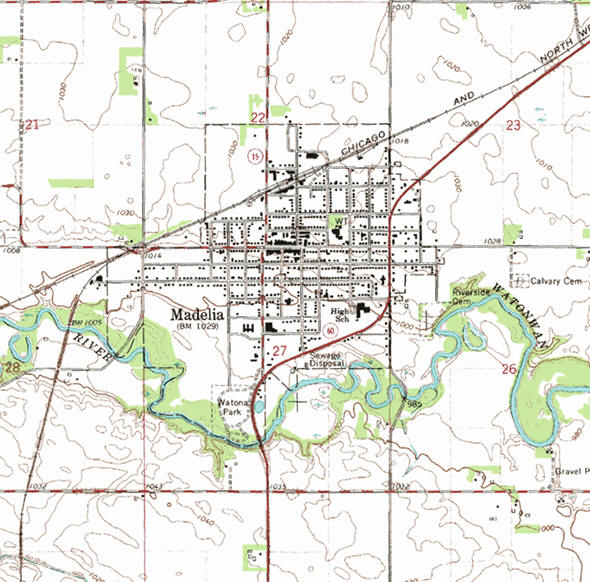 Topographic map is courtesy of the Minnesota DNR - click map to zoom or enlarge