Navigation
LakesnWoods.com
Home Page
Contact Us
Privacy
Minnesota History Shop

Visit The Minnesota History Shop
www.minnesotahistoryshop.com
Historic maps
Historic books
Historic framed art
Historic postcards
Clothing with historic images
And much more!!!


Mantorville Guide:
Photo Gallery
Location
Geography
Demographics
History
Government
Post Office
News
Weather
Street Map
Events
Attractions
Recreation
Lakes
Health Care
Schools
Churches
Media
Motels
Resorts
Campgrounds
Businesses
Aerial Photo
Topographic Map
© 2004-2023
Lakeweb1 Internet Services
All Rights Reserved
DCMA, Defamation, Copyright and Trademark Infingement Policy
WANTED!
Do you have photos, historical accounts or other items pertaining to the Mantorville area? Would you like to share this historical information with the world? LakesnWoods.com would like to publish your Mantorville photos (current or historical) or historical accounts on this website. Original materials can be returned and your privacy will be respected.


(design available on over 100 different items!)

Mantorville Minnesota Community Guide
---
Location:
---
Population:
Mantorville (city)
1970
1980
1990
2000
2010
2000-2010 Change
Actual
Percent
Population
479
705
874
1,054
1,197
+145
+13.57
Land Area (sq. mile)
0.40
1.51
1.45
1.42
1.42
0
0.00
Density (persons per sq. mile)
1,197.5
466.9
602.8
741.3
843.0
+101.7
+13.57
Housing Units
165
267
320
378
451
+73
+19.31
Households
--
247
313
371
430
+59
+15.90
Persons Per Household
--
2.85
2.79
2.84
2.78
-0.06
-2.16
---
Geography:
Mantorville is a city in Dodge County, Minnesota located along the South Branch of the Middle Fork of the Zumbro River. It is the county seat of Dodge County. Minnesota State Highway 57 serves as a main arterial route in the city. According to the United States Census Bureau, the city has a total area of 1.45 square miles (3.76 km2), of which 1.42 square miles (3.68 km2) is land and 0.03 square miles (0.08 km2) is water. The elevation is 1,178 ft (359 m) above sea level.
From Wikipedia, the free encyclopedia.
---
Demographics:
As of the census of 2010, there were 1,197 people, 430 households, and 331 families residing in the city. The population density was 843.0 inhabitants per square mile (325.5/km2). There were 451 housing units at an average density of 317.6 per square mile (122.6/km2). The racial makeup of the city was 97.6% White, 0.2% African American, 0.4% Native American, 0.1% Asian, 0.8% from other races, and 0.9% from two or more races. Hispanic or Latino people of any race were 2.8% of the population.
There were 430 households of which 41.4% had children under the age of 18 living with them, 65.8% were married couples living together, 8.1% had a female householder with no husband present, 3.0% had a male householder with no wife present, and 23.0% were non-families. 18.6% of all households were made up of individuals and 6.3% had someone living alone who was 65 years of age or older. The average household size was 2.78 and the average family size was 3.18.
The median age in the city was 37.8 years. 29.1% of residents were under the age of 18; 6.3% were between the ages of 18 and 24; 26.4% were from 25 to 44; 27.2% were from 45 to 64; and 10.9% were 65 years of age or older. The gender makeup of the city was 50.6% male and 49.4% female.
---
---
History:
MANTORVILLE Township was first settled in April 1854, was incorporated under legislative acts of 1854 and 1857, and was organized under the state government, May 11, 1858. The village was platted March 26, 1856, by Peter Mantor, H. A. Pratt, and others, and in 1857 it was designated by a vote of the county to be the county seat. This name was adopted in honor of three brothers, Peter, Riley, and Frank Mantor, who came here in 1853 and 1854 from Linesville, Crawford County, Pa. Peter Mantor, the oldest of these brothers and the leader in founding this town, was born in Albany County, N.Y., December 15, 1815; settled on the site of the village of Mantorville, April 19, 1854, and built a sawmill and gristmill there; was a representative in the legislature, 1859-60; was captain of Company C, Second Minnesota Regiment, 1861; removed to Bismarck, N.Dak. in 1874, where he was register of the U.S. land office until 1880; died in Mantorville, September 23, 1888. The oldest settlement in the county, Mantorville was incorporated on May 19, 1857, and again on September 8, 1924, separating from the township on February 10, 1926; the post office was established in 1855; it had a station of the Chicago and Northwestern Railway.
Courtesy Minnesota Historical Society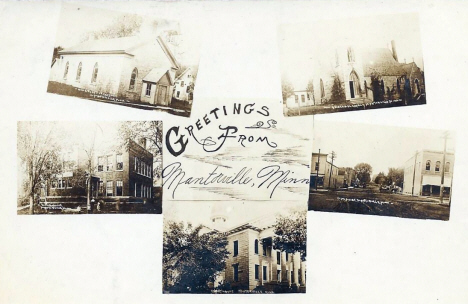 Multiple scenes, Mantorville Minnesota, 1907
LakesnWoods.com Postcard and Postcard Image Collection- click image to enlarge

Visit The Mantorville Photo Gallery for more recent and historic area photos
---
Government:
Mantorville City Hall
21 5th Street E
PO Box 188
Mantorville, MN 55955
Phone: (507) 635-5170
Fax: (507) 635-5300

Regular Business Hours:
Monday - Friday 8:00 am to 4:30 pm

City Council Meetings:
2nd and 4th Monday

Title
Term Ends
Name and Address
Phone
Mayor
12/31/2024
Chuck Bradford
420 Bergmann Drive
Mantorville, MN 55955
(507) 635-5551
(507) 381-7774
Clerk/Treasurer
appointed
Camille Reber
21 5th Street E
Mantorville, MN 55955
(507) 635-5170
Council Member
12/31/2022
Don Hofstad
1002 Chestnut Street
Mantorville, MN 55955
(507) 635-3131
Council Member
12/31/2022
Bill Kinney
607 Golfview Court
Mantorville, MN 55955
(507) 635-3197
Council Member
12/31/2022
Kent Keller
501 Jefferson Street
Mantorville, MN 55955
(507) 635-5496
Council Member
12/31/2024
Lyle Hoaglund
508 Clay Street
Mantorville, MN 55955
(507) 251-0482
---
Post Office:
US Post Office
21 5th Street W
Mantorville, MN 55955-8091
Phone: (507) 635-5805
Toll Free: (800) ASK-USPS

Regular Business Hours:
Week Days 9:15 am - 12:15 pm
12:45 pm - 3:45 pm
Saturday 8:15 am - 10:30 am
---
---
Utilities:
---
Major Employers:
---
---
News:
---
Weather:
---
Map: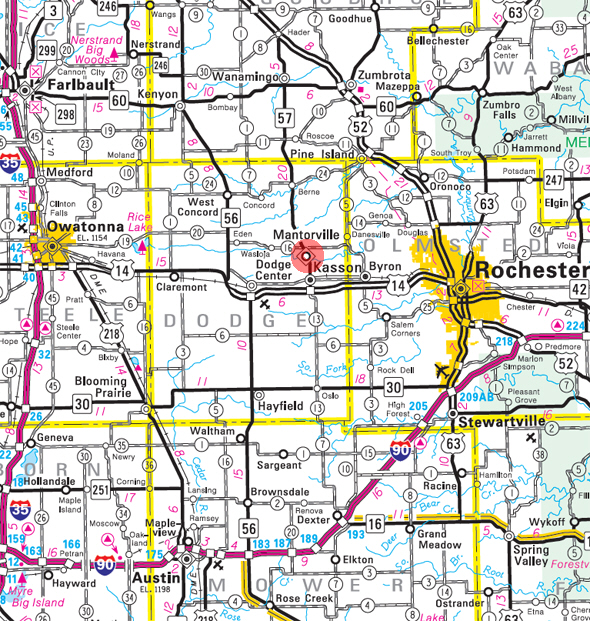 Minnesota State Highway Map of the Mantorville Minnesota area
---
Events:
Marigold Days



Second weekend in September. It all began with the humble marigold, a hearty and colorful little flower native to the Americas. Initially begun as a flower show to promote the planting of marigolds throughout the Mantorville community, with early sponsorship from Marigold Dairies, Rochester, Minnesota, this event has grown to be on one the regionís best known and most attended annual festivals. Marigold Days offers something for everyone! Antique & Flea Market, Flower Show, Quilt Show, Car Show, Bingo, Melodramas performed by the Mantorville Theater Company, Lots of Really Good Food, Live Music both days, Street Dances, Fireworks, 5K Run, Baseball Tournament and a Grande Parade.
---
---
Attractions:
---
Recreation:
---
Lakes:
Lake Name
Size
(acres)
Lake info
Lake Map
Rec Map
Topo Map
none in the immediate area
---
Health Care:
---
Schools:
---
Churches:
First Congregational Church
515 Walnut Street
Mantorville, MN 55955
Phone: (507) 635-3011

Pastor: Brian Egelston
Sunday Service: 10:00 am


---
Media:
---
Motels:
Check for motel rates and availability on:
---
Resorts:
---
Campgrounds:
---
---
Businesses:
A To V Landscaping
24782 618th Street
Mantorville, MN 55955
Phone: (507) 634-4533
Aero Strategies Unlimited
521 Eagle Court
Mantorville, MN 55955
Phone: (507) 635-5976
Agency Resources
60810 227th Avenue
Mantorville, MN 55955
Phone: (507) 635-5550
Bernard Landscaping
25950 615th Street
Mantorville, MN 55955
Phone: (507) 635-5520
Bob's Final Assembly
61782 260th Avenue
Mantorville, MN 55955
Phone: (507) 635-5178
Borgeze Manufacturing Inc
58289 280th Avenue
Mantorville, MN 55955
Phone: (507) 635-3733
Bradford Design
420 Bergman Drive
Mantorville, MN 55955
Phone: (507) 635-5551
Bridgeport Family Law
61689 252nd Avenue
Mantorville, MN 55955
Phone: (507) 635-3443
Bruce Electric
1076 West Street
Mantorville, MN 55955
Phone: (507) 635-5592
Buckwalter
27614 575th Street
Mantorville, MN 55955
Phone: (507) 635-5490
Casey's General Store
320 N Main Street
Mantorville, MN 55955
Phone: (507) 635-5626
Chestnut Apartments
408 Chestnut Street
Mantorville, MN 55955
Phone: (507) 634-6441
Chocolate Shoppe
420 N Main Street
Mantorville, MN 55955
Phone: (507) 635-5814
Citizens State Bank
402 N Main Street
Mantorville, MN 55955
Phone: (507) 635-2481
Comet Heating & Air Conditioning
26613 608th Street
Mantorville, MN 55955
Phone: (507) 635-5690
County Seat Coffeehouse
1 5th Street W
Mantorville, MN 55955
Phone: (507) 635-5507
Dan Hansen Construction
61243 252nd Avenue
Mantorville, MN 55955
Phone: (507) 421-7374
Dodge County Historical Society Library
615 N Main Street
Mantorville, MN 55955
Phone: (507) 635-5508
Dodge County Courthouse
22 6th Street E # 12
Mantorville, MN 55955
Phone: (507) 635-6260
Donald L Huntington Plumbing
505 N Main Street
Mantorville, MN 55955
Phone: (507) 635-5414
Double B Farms
58128 245th Avenue
Mantorville, MN 55955
Phone: (507) 635-5793
Durst Bros
56541 245th Avenue
Mantorville, MN 55955
Phone: (507) 635-5838
Embroidery Hutch
61106 265th Avenue
Mantorville, MN 55955
Phone: (507) 635-5537
Federated Insurance Company
60198 272nd Avenue
Mantorville, MN 55955
Phone: (507) 634-7404
Full Moon Tackle Company
816 Walnut Street
Mantorville, MN 55955
Phone: (507) 635-5342
H R Management On Demand
60779 231st Avenue
Mantorville, MN 55955
Phone: (507) 635-5595
Hubbell House
502 N Main Street
Mantorville, MN 55955
Phone: (507) 635-2331
Hunter Studio
61537 State Highway
Mantorville, MN 55955
Phone: (507) 635-2761
Ideal Carpet & Flooring LLC
23123 600th Street
Mantorville, MN 55955
Phone: (507) 635-5359
Jays Hotrod Upholstery
721 West Street
Mantorville, MN 55955
Phone: (507) 635-5295
Keller Technologies Inc
501 Jefferson Street
Mantorville, MN 55955
Phone: (507) 635-5917
Koebele Construction
51752 251st Avenue
Mantorville, MN 55955
Phone: (507) 634-7906
L & L Vending
23706 600th Street
Mantorville, MN 55955
Phone: (507) 635-5944
Labella Hair Salon
26487 600th Street
Mantorville, MN 55955
Phone: (507) 635-2112
Langan Travel
611 East Street
Mantorville, MN 55955
Phone: (507) 634-7900
Leth Electric Inc
26767 575th Street
Mantorville, MN 55955
Phone: (507) 635-5516
Leth's Sewer & Septic Service
26275 590th Street
Mantorville, MN 55955
Phone: (507) 635-5590
Louks Construction Company
708 East Street
Mantorville, MN 55955
Phone: (507) 635-2191
Mantorville City Hall
21 5th Street E
Mantorville, MN 55955
Phone: (507) 635-5440
Mantorville Farms
60779 231st Avenue
Mantorville, MN 55955
Phone: (507) 635-5597
Mantorville Police Department
22 6th Street E
Mantorville, MN 55955
Not Available
Mantorville Radiator Service
101 Blanch Street
Mantorville, MN 55955
Phone: (507) 635-5168
Mantorville Restoration House
540 N Main Street
Mantorville, MN 55955
Phone: (507) 635-5140
Mantorville Saloon
501 N Main Street
Mantorville, MN 55955
Phone: (507) 635-5557
Mantorville Senior Citizen Center
601 Clay Street
Mantorville, MN 55955
Phone: (507) 635-5808
Mantorville Square Antiques
416 N Main Street
Mantorville, MN 55955
Phone: (507) 635-5554
Mantorville Township Office
60126 240th Avenue
Mantorville, MN 55955
Phone: (507) 635-5003
Mantorville Waste Treatment
406 Blanch Street
Mantorville, MN 55955
Phone: (507) 635-5119
Mantorville Welcome Center
407 N Main Street
Mantorville, MN 55955
Phone: (507) 635-4636
Memorabilia
9 5th Street W
Mantorville, MN 55955
Phone: (507) 635-5419
Northern Lights Daylilies
61889 252nd Avenue
Mantorville, MN 55955
Phone: (507) 635-5623
Old School Cafe
515 Clay Street
Mantorville, MN 55955
Phone: (507) 635-3663
Olive Bros Excavation LLC
61437 235th Avenue
Mantorville, MN 55955
Phone: (507) 635-5108
Originals By C & D
61923 252nd Avenue
Mantorville, MN 55955
Phone: (507) 635-5519
Photos By Dan
16 Riverview Road
Mantorville, MN 55955
Phone: (507) 635-5065
Picnic Table Rental
610 Golf Court
Mantorville, MN 55955
Phone: (507) 273-9996
Pony Express Ballroom
421 Clay Street
Mantorville, MN 55955
Phone: (507) 635-5922
Preferred Heating & Cooling
20 Zumbro Ridge Drive
Mantorville, MN 55955
Phone: (507) 635-5948
Pro Tint
701 6th Street W
Mantorville, MN 55955
Phone: (507) 634-4017
R C Properties
PO Box 143
Mantorville, MN 55955
Phone: (507) 635-5621
Reed's Taxidermy
61618 260th Avenue
Mantorville, MN 55955
Phone: (507) 635-5837
Ron Befort Dehorning Service
919 Walnut Street
Mantorville, MN 55955
Phone: (507) 635-3074
Safeway Agency Inc
320 N Main Street
Mantorville, MN 55955
Phone: (507) 635-5949
Safeway Agency Inc
511 Clay Street
Mantorville, MN 55955
Phone: (507) 635-5949
Stucky, Sara J DC
61534 233rd Avenue
Mantorville, MN 55955
Phone: (507) 635-5596
Stussy Construction Inc
61906 240th Avenue
Mantorville, MN 55955
Phone: (507) 635-2421
T & S Roofing & Construction
25003 590th Street
Mantorville, MN 55955
Phone: (507) 634-6433
Team 1 Financial LLC
61827 251st Avenue
Mantorville, MN 55955
Phone: (507) 635-5171
TSI Repair & Tire
58289 280th Avenue
Mantorville, MN 55955
Phone: (507) 635-3001
US Post Office
21 5th Street W
Mantorville, MN 55955
Phone: (507) 635-5805
Veterans Services
22 6th Street E # 121
Mantorville, MN 55955
Phone: (507) 635-6274
Zumbro Valley Golf Course
25202 615th Street
Mantorville, MN 55955
Phone: (507) 635-2821
---
---
Aerial Photo:
---
Topographic Map: [click map to enlarge, zoom in or zoom out]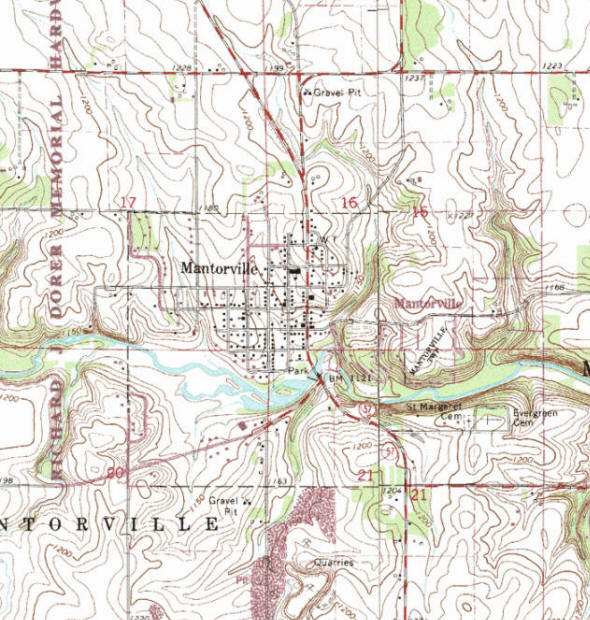 Topographic map is courtesy of the Minnesota DNR - click map to zoom or enlarge