Navigation
LakesnWoods.com
Home Page
Contact Us
Privacy
Minnesota History Shop

Visit The Minnesota History Shop
www.minnesotahistoryshop.com
Historic maps
Historic books
Historic framed art
Historic postcards
Clothing with historic images
And much more!!!


Mayer Guide:
Photo Gallery
Location
Geography
Demographics
History
Government
Post Office
News
Weather
Street Map
Events
Attractions
Recreation
Lakes
Health Care
Schools
Churches
Media
Motels
Resorts
Campgrounds
Businesses
Aerial Photo
Topographic Map
© 2004-2023
Lakeweb1 Internet Services
All Rights Reserved
DCMA, Defamation, Copyright and Trademark Infingement Policy
WANTED!
Do you have photos, historical accounts or other items pertaining to the Mayer area? Would you like to share this historical information with the world? LakesnWoods.com would like to publish your Mayer photos (current or historical) or historical accounts on this website. Original materials can be returned and your privacy will be respected.

Mayer Minnesota Community Guide
---
Location:
---
Population:
Mayer (city)
1970
1980
1990
2000
2010
2000-2010 Change
Actual
Percent
Population
325
388
471
554
1,749
+1,195
+215.70
Land Area (sq. mile)
0.10
0.21
0.38
0.97
1.39
+0.42
+43.30
Density (persons per sq. mile)
3,250.0
1,847.6
1,239.5
571.9
1,258.3
+686.4
+120.02
Housing Units
109
143
169
205
619
+414
+201.95
Households
--
142
166
199
589
+390
+195.98
Persons Per Household
--
2.73
2.84
2.78
2.96
+0.18
+6.47
---
Geography:
Mayer is a city in Carver County, Minnesota, along the South Fork of the Crow River. State Highway 25 serves as a main route in the community. State Highway 7 is in close proximity to the city. According to the United States Census Bureau, the city has a total area of 1.42 square miles (3.68 km2), of which, 1.39 square miles (3.60 km2) is land and 0.03 square miles (0.08 km2) is water. The elevation is 961 ft (293 m) above sea level.
From Wikipedia, the free encyclopedia.
---
Demographics:
As of the census of 2010, there were 1,749 people, 589 households, and 471 families living in the city. The population density was 1,258.3 inhabitants per square mile (485.8/km2). There were 619 housing units at an average density of 445.3 per square mile (171.9/km2). The racial makeup of the city was 95.2% White, 1.1% African American, 0.1% Native American, 1.7% Asian, 0.3% from other races, and 1.5% from two or more races. Hispanic or Latino of any race were 1.3% of the population.
There were 589 households of which 50.4% had children under the age of 18 living with them, 70.8% were married couples living together, 4.6% had a female householder with no husband present, 4.6% had a male householder with no wife present, and 20.0% were non-families. 13.9% of all households were made up of individuals and 3.5% had someone living alone who was 65 years of age or older. The average household size was 2.96 and the average family size was 3.30.
The median age in the city was 30.4 years. 32.9% of residents were under the age of 18; 4.9% were between the ages of 18 and 24; 39.2% were from 25 to 44; 17.1% were from 45 to 64; and 5.8% were 65 years of age or older. The gender makeup of the city was 52.0% male and 48.0% female.
---
---
History:
MAYER, a city on the line between Camden and Waconia Townships, was named by officers of the Great Northern Railway company. It was incorporated as a village on August 28, 1900; the post office was at Helvetia before being transferred here in 1888. The community had several sawmills and flour mills, a sorghum mill, and a creamery. A station of the Great Northern Railway was in section 1 of Camden Township.
Courtesy Minnesota Historical Society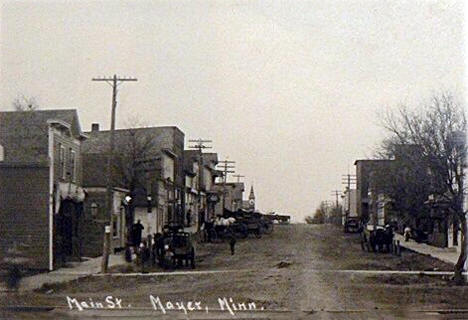 Main Street, Mayer Minnesota, 1910s
LakesnWoods.com Postcard and Postcard Image Collection

Visit The Mayer Photo Gallery for more area photos
---
Government:
Mayer City Hall
413 Bluejay Avenue
Mayer, MN 55360
Phone: (952) 657-1502
Fax: (952) 657-1203

Business Hours:
Monday- Friday 8:00 am to 4:30 pm

City Council Meetings:
2nd and 4th Mondays of the month at 6:30 pm

Title
Term Ends
Name and Address
Phone
Mayor
12/31/2022
Mike Dodge
2064 Old Schoolhouse Road
Mayer, MN 55360


(612) 215-2639
(952) 657-2336
City Administrator
appointed
Margaret McCallum
413 Bluejay Avenue
Mayer, MN 55360
(952) 657-1502
Council Member
12/31/2022
Erick Boder
1344 Evergreen Place
Mayer, Minnesota 55360
(952) 657-2729
Council Member
12/31/2022

Nikki McNeilly
601 Ridge Road
Mayer, MN 55360

(952) 657-2784
Council Member
12/31/2024
Chad Heldt
220 4th Street NE - PO Box 44
Mayer, MN 55360


(952) 393-1323
Council Member
12/31/2024
Larry Millender
1701 Redhawk Way
Mayer, MN 55360


(952) 964-5808
---
Post Office:
US Post Office
117 Ash Avenue N
Mayer, MN 55360-9692
Phone: (952) 657-2417
Toll Free: (800) ASK-USPS

Regular Business Hours:
Week Days 7:15 am - 11:15 am
2:00 pm - 4:00 pm
Saturday 8:45 am - 9:45 am
---
---
Utilities:
---
Major Employers:
Employer
Products/Services
Employees
not available
---
---
News:
---
Weather:
---
Map: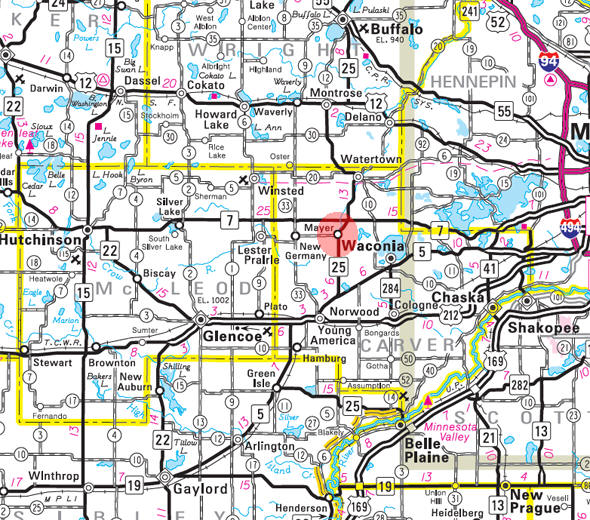 Minnesota State Highway Map of the Mayer Minnesota area
---
Events:
---
---
Attractions:
---
Recreation:
Dakota Rail Regional Trail
Mayer, MN

This paved trail offers a spectacular view of Lake Minnetonka and follows the route of the former Dakota Rail Corridor through St. Bonifacius, Minnetrista, Mound, Spring Park, Minnetonka Beach, Orono and Wayzata. In Carver County an additional 12.5 miles of paved trail extends west of St. Bonifacius to Mayer.


Old Schoolhouse Park
413 Bluejay Avenue
Mayer, MN



Old Schoolhouse is located adjacent to City Hall at 413 Bluejay Avenue. This community park is the largest existing park in Mayer consisting of approximately 16 acres. The park provides for a variety of active recreational amenities. The park complex currently includes four ball fields and a community gymnasium. The park is also the site of a municipal well, a small public works facility and off-street parking. The park was established in 2002 and was formerly the site of Watertown-Mayer Elementary School. Old Schoolhouse Park facilities are used for community recreation and league ball. The community gymnasium is available for volleyball and basketball.




---
Lakes:
---
Health Care:
---
Schools:
---
Churches:
---
Media:
Mayer Herald Journal
120 6th Street North
Winsted, MN 55395
Phone: (320) 485-2535


Sun Patriot Newspapers
8 South Elm Street
PO Box 5
Waconia, MN 55387
Phone: (952) 442-4414
Fax: (952) 442-1272



Serving Waconia, Watertown, Mayer, Norwood Young America, and Cologne




---
Motels:
Check for motel rates and availability on:
---
Resorts:
---
Campgrounds:
---
---
Businesses:
A-1 Wildlife Control
7185 Union Avenue
Mayer, MN 55360
Phone: (612) 240-3629



A1 Wildlife Control specializes in the removal of bats and bat proofing. We service both residential and commercial properties in Minnesota. A1 Wildlife Control also provides inspections of the bat involvement of your residence or commercial property to establish what is needed and give an estimate of the costs. The best way to remove bats is permanent exclusion. Entry points are located and one way exclusion devices will be installed. At the same time, we inspect the rest of your home to insure it is tight and that the bats cannot relocate from one hole to another.




Agave Mexican Restaurant
421 Ash Avenue North
Mayer, MN 55360
Phone: (763) 401-6655


Allied Construction
7775 Tacoma Avenue
Mayer, MN 55360
Phone: (952) 657-1053



Allied Construction is a family owned & operated construction company, specializing in storm damage, serving the Minnesota Metro area. General Construction, Roofing, Siding, Gutters, Windows, Storm Damage, Interior and Exterior Repair/Remodeling




AME Electric Inc.
1260 Meadow Parkway
Mayer, MN 55360
Phone: (612) 751-5291



AME Electric, Inc. is a licensed electrical contractor in Mayer, MN serving residential and commercial customers throughout Hutchinson, Minneapolis, and surrounding areas. Owner and operator Adam Maetzold established AME Electric in July 2009. He is a master electrician and has over 17 years of experience. Whether you need new electrical installations, repairs or maintenance services, our team of certified electricians does it all.




Artistic Visions Cabinetry
620 Shimmcor Street
Mayer, MN 55360
Phone: (952) 657-1600



Because we are old-fashioned craftsmen, we pay special attention to details, thereby creating exceptional cabinets. Quality features include: solid-wood, dovetailed drawers, special attention to tight joinery, excellent sanding, and quality materials and wood selection. Our craftsmanship gives you a superb product for your money.




Ashery Lane Farm
5480 Tacoma Avenue
Mayer, MN 55360
Phone: (612) 238-4444



Ashery Lane Farm is a newly developed event center located along the East Fork of the Crow River in Hollywood Township, 20 minutes West of Lake Minnetonka. What originated as a family run apple orchard and vineyard has now grown into a premier location for weddings and special events. Ashery Lane is perfect for hosting your intimate gathering to large, extraordinary special event.




Bob's Repair
6180 Highway 25
Mayer, MN 55360
Phone: (952) 657-2271



Conveniently located on Highway 25 in Mayer, Bob's Repair has been a trusted community business for more than two decades. Owned by Robert Carlson, a trusted and respected automotive repair expert in the Mayer area for over 30 years, Robert still works on vehicles almost every day. Bob's Repair can handle all your mechanical, maintenance and repair needs.




Botanize Inc.
319 Shimmcor Street
Mayer, MN 55360
Phone: (952) 471-7110



Botanize, Inc. was established in January 1990. This landscape company was founded on the belief of quality, first and foremost. Today, this remains our solid vision. Each member of this team is hired based on experience, knowledge, positive attitude, and self motivation. Foremen are skilled leaders and experienced in a broad array of landscape and hardscape applications.




Bradley's Collision
871 Shimmcor Street
Mayer, MN 55360
Phone: (952) 657-2600


Burns Excavating Inc.
3470 County Road 21
Mayer, MN 55360
Phone: (952) 955-3112



Offers general grading, excavation, site preparation, road consstruction, septic system installation, and wetland mitigation




Casey's General Store
313 Shimmcor Street
Mayer, MN 55360
Phone: (952) 657-2253


Collision Specialties
108 Ash Avenue N
Mayer, MN 55360
Phone: (952) 657-1100


Cortrust Bank
101 Ash Avenue N
Mayer, MN 55360
Phone: (952) 657-2500



Stop by our Mayer branch for all of your day-to-day banking needs. Our friendly staff is ready to assist you and offer helpful financial advice. Plus, we have a convenient drive-up window for those on-the-go, and a 24-hour ATM.




Country Kennels
13910 74th Street
Mayer, MN 55360
Phone: (952) 657-2575

We have been boarding dogs for over 25 years and have dogs of our own. We are located on 15 beautiful country acres. The kennel has indoor/outdoor runs, is heated in winter and has AC in summer months. Call for more details!


Elux Marine
478 Shimmcor Street
Mayer, MN 55360
Phone: (952) 657-2586



Trouble-free: ELUX's electric drive makes operating and maintaining a boat easy. There's no gas to fill, no oil to change, no ignition to fail and no engine to winterize. Emissions-free: ELUX's lithium battery pack means there's no exhaust to smell and no emissions in the air or water. Gone are the days of gas spills and oil slicks. Noise-free: Electric boating means quiet boating. Passengers on the ELUX can enjoy the sounds of nature, listening to music or quiet conversation without having to shout over a gasoline-powered engine.




Esser Automotive
5930 County Road 23
Mayer, MN 55360
Phone: (612) 810-7405



We specialize in general automotive repair including: Oil changes Tune up Tire rotations Tires Brakes A/c work Front end work Diagnostics Cooling systems Winterization Used car check over Towing service is also available




Frank's Painting
533 Ridge Road
Mayer, MN 55360
Phone: (612) 554-1219



Frank's Painting always does the job right the 1st time so that the beautiful paint job lasts longer. We spend hours doing proper prep and caulking so it will look good years from now.




Galloping Cabinets LLC
16155 County Road 122
Mayer, MN 55360
Phone: (952) 955-3626



Galloping Cabinets is our family owned custom cabinet shop located in Mayer, Minnesota. Since our conception in 1998, we have been devoted to treating our customers like family, and bringing them the highest quality of work. Although we primarily conduct business in the metro area of Minnesota, our ideal of pleasing the customer has brought us all over the country - even across seas to Ireland! From small kitchen remodels to luxury homes, we are here for your custom cabinet needs.




Genesis Virtual Academy
305 5th Street NE
Mayer, MN 55360
Phone: (612) 567-6482



Genesis Virtual Academy is a Christian online learning program of Mayer Lutheran High School serving Christian schools and homeschool students. Genesis Virtual Academy believes tomorrow needs Christian leaders who have a strong academic background, a passion for learning, and a desire to pursue significance.




Great Plains Mini Storage
505 Shimmcor Street
Mayer, MN 55360
Phone: (952) 657-1019



Our customers enjoy easy access from Mayer, Waconia, Watertown, Young America and the western Twin Cities Metro. Being conveniently just outside the metro allows us to keep our costs low compared to inner city storage and pass those low prices on to you. We have many sizes of ministorage ranging from 5x10 which holds roughly 1 to 2 rooms worth of belongings to 10x40 units which can protect and store the contents of a 2 to 3 bedroom house.




Heldt's Bar
221 Ash Avenue N
Mayer, MN 55360
Phone: (952) 657-1601


Hollywood Auto
15575 Highway 7
Mayer, MN 55360
Phone: (952) 657-2353



Hollywood Auto has been serving loyal customers in the area since 1962. Recently under new ownership, more services and amenities have been added to the shop. At Hollywood Auto, you can expect fast and friendly service at a great price. Stop by and let us know how we can help you today.




K9 Corner Grooming Salon
121 Ash Avenue N
Mayer, MN 55360
Phone: (952) 657-2228


Knucklehead's Bar and Grill
109 Ash Avenue N
Mayer, MN 55360
Phone: (952) 657-1144



Great place for people to come and sit on the Patio in the summer and enjoy good food with good conversation. Just an all around fun place to have a good time with friends/family.




Kutzke Construction
7075 Union Avenue
Mayer, MN 55360
Phone: (952) 657-2176


Maetzold Homes Inc.
5750 Highway 25
Mayer, MN 55360
Phone: (952) 657-2139



Maetzold Homes Inc. provides high-quality construction services including custom home building, remodeling, commercial construction and renovation, roofing, siding, additions, storm damage repair and ice dam removal in the southwest metro area. Our remodeling services include finishing basements, decks, porches, windows, doors and sheds.




Mayer Laundromat
200 Ash Avenue N
Mayer, MN 55360
Phone: (952) 657-1193

Mayer Laundromat is a self serve, coin operated facility that is open from 8:00 AM and closes at 9:00 pm everyday 365 days a year.


Mayer Lumber Company
201 Ash Avenue S
Mayer, MN 55360
Phone: (952) 657-2291



Mayer Lumber offers a complete line of building materials, hardware, plumbing, electrical, lawn and garden – including landscape materials. Our rental department offers many different tools and equipment as well as tables and chairs. Our complete paint department features quality Valspar & Cabot products with free color matching.




Mayer Mobil Mart
308 Ash Avenue N
Mayer, MN 55360
Phone: (952) 657-2197



Gas, Diesel, Car Wash, & Convenience Store




Mount Olivet Rolling Acres
325 Ridge Road
Mayer, MN 55360
Phone: (952) 657-2273



Mount Olivet Rolling Acres has a rich 50 year history of being a top provider of exceptional services to individuals with intellectual and other disabilities.




Oh Landscapes
14730 Highway 7
Mayer, MN 55360
Phone: (952) 657-2765



By selecting Oh' LANDSCAPES , you gain 25 years of experience in the landscaping and retaining wall business. Our commitment to quality craftsmanship and exceptional customer service are just two of the reasons that Oh'Landscapes is the Twin Cities Metro area's leading builder of boulder retaining walls.




Permanent Coating Solutions
15255 County Road 30
Mayer, MN 55360
Phone: (612) 508-3151



Permanent Coating Solutions, Rhino Linings of Mayer, is a locally owned provider of protective and spray on coatings. We offer high performance industrial coatings of all types. Our services include concrete floor coatings, vehicle protection coatings, including spray on bed liners, as well as industrial protective coatings for a variety of industrial and commercial materials. We also offer custom designed garage and storage cabinets to fit any storage need you may have.




Scott's Pattern Company
301 Ash Avenue N
Mayer, MN 55360
Phone: (952) 657-2105


R & V Auto Service
217 7th Street
Mayer, MN 55360
Phone: (952) 657-2119



R&V Service has been offering auto repair in Mayer since 1961. R&V Service is trusted for towing in the Carver County area by Carver County Sheriff's Office, Minnesota State Patrol, as well as local repair shops. R&V offers services and towing for all of those around, including but not limited to McLeod County, Hennepin County, as well as Wright County.




Security Bank and Trust
317 Ash Avenue N
Mayer, MN 55360
Phone: (952) 657-2309



Growing, together. Member FDIC. Equal Housing Lender. 13 Minnesota Locations to serve your financial needs. Our success is made possible by the quality of our personal and business relationships. The products and services we offer are more effective by the relationships we build. We are committed to supporting the communities we serve and are dedicated to help meet their individual and business needs.




Snap Fitness
255 Ash Avenue N
Mayer, MN 55360
Phone: (952) 373-4084



For a fast, convenient and affordable fitness workout, choose Snap Fitness - the clean, comfortable close-to-home gym with everything you need to get results. Join a gym today and get started on a fitness plan to help you get fit, feel great and be well: Industry's best fitness equipment, including cardio, strength training equipment and more Access to convenient 24 hour gym locations worldwide No long-term binding fitness club contracts, no hassles No waiting lines for fitness equipment or crowded parking lots




US Post Office
117 Ash Avenue N
Mayer, MN 55360-9692
Phone: (952) 657-2417
Toll Free: (800) ASK-USPS

Regular Business Hours:
Week Days 7:15 am - 11:15 am
2:00 pm - 4:00 pm
Saturday 8:45 am - 9:45 am

Watertown Sheet Metal Inc.
14730 Highway 7
Mayer, MN 55360
Phone: (952) 657-2517


ZTS Productions
201 West Ridge Road
Mayer, MN 55360
Phone: (952) 687-1509



ZTS Productions is capable of -Video Slideshows (Graduations, Weddings, Etc.) -Video Productions/Editing -Photography -Senior Portraits




---
---
Aerial Photo:
---
Topographic Map: [click map to enlarge, zoom in or zoom out]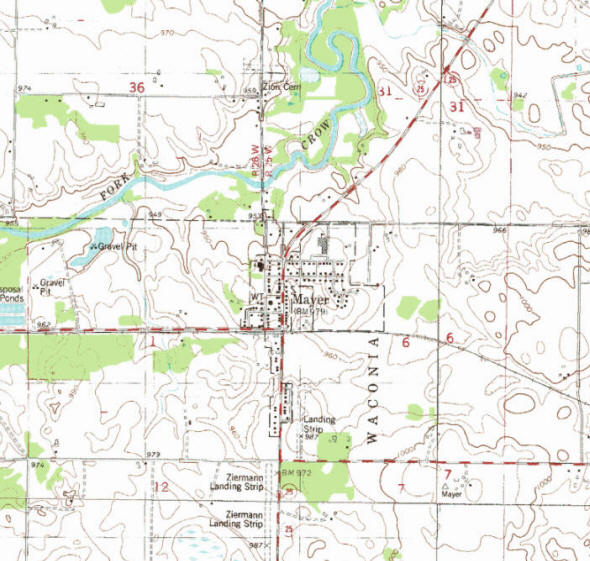 Topographic map is courtesy of the Minnesota DNR - click map to zoom or enlarge