Navigation
LakesnWoods.com
Home Page
Contact Us
Privacy
Minnesota History Shop

Visit The Minnesota History Shop
www.minnesotahistoryshop.com
Historic maps
Historic books
Historic framed art
Historic postcards
Clothing with historic images
And much more!!!


Mentor Guide:
Photo Gallery
Location
Geography
Demographics
History
Government
Post Office
News
Weather
Street Map
Events
Attractions
Recreation
Lakes
Health Care
Schools
Churches
Media
Motels
Resorts
Campgrounds
Businesses
Aerial Photo
Topographic Map
© 2004-2023
Lakeweb1 Internet Services
All Rights Reserved
DCMA, Defamation, Copyright and Trademark Infingement Policy
WANTED!
Do you have photos, historical accounts or other items pertaining to the Mentor area? Would you like to share this historical information with the world? LakesnWoods.com would like to publish your Mentor photos (current or historical) or historical accounts on this website. Original materials can be returned and your privacy will be respected.

Mentor Minnesota Community Guide
---
Location:
---
Population:
Mentor (city)
1970
1980
1990
2000
2010
2000-2010 Change
Actual
Percent
Population
236
219
94
150
153
+3
+2.00
Land Area (sq. mile)
2.00
1.89
1.89
1.89
1.87
-0.02
-1.06
Density (persons per sq. mile)
118.0
115.9
49.7
79.3
81.8
-2.5
-3.15
Housing Units
99
100
51
102
95
-7
-6.86
Households
--
90
42
82
79
-3
-3.66
Persons Per Household
--
2.43
2.24
1.83
1.94
+0.11
+6.01
---
Geography:
Mentor is a city in Polk County, Minnesota. US Highway 2 and Polk County Roads 12 and 45 are main routes in the community. According to the United States Census Bureau, the city has a total area of 1.87 square miles (4.84 km2), all of it land. The elevation is 1,168 ft (356 m) above sea level.
From Wikipedia, the free encyclopedia.
---
Demographics:
As of the census of 2010, there were 153 people, 79 households, and 39 families residing in the city. The population density was 81.8 inhabitants per square mile (31.6/km2). There were 95 housing units at an average density of 50.8 per square mile (19.6/km2). The racial makeup of the city was 96.7% White, 1.3% Native American, and 2.0% from two or more races. Hispanic or Latino of any race were 2.0% of the population.
There were 79 households of which 17.7% had children under the age of 18 living with them, 34.2% were married couples living together, 10.1% had a female householder with no husband present, 5.1% had a male householder with no wife present, and 50.6% were non-families. 43.0% of all households were made up of individuals and 21.5% had someone living alone who was 65 years of age or older. The average household size was 1.94 and the average family size was 2.59.
The median age in the city was 50.8 years. 15% of residents were under the age of 18; 8.5% were between the ages of 18 and 24; 16.4% were from 25 to 44; 37.3% were from 45 to 64; and 22.9% were 65 years of age or older. The gender makeup of the city was 52.3% male and 47.7% female.
---
---
History:
MENTOR, a city in sections 22, 26, and 27 of Grove Park Township, was named for the village of Mentor in northeastern Ohio, where President Garfield purchased a farm, which was his country home during his last three years. The village was established in 1882, platted on September 21, 1892, and incorporated as a village on January 11, 1902. It had a Great Northern Railway station; the post office was established in 1882, George H. Tripp, postmaster.
Courtesy Minnesota Historical Society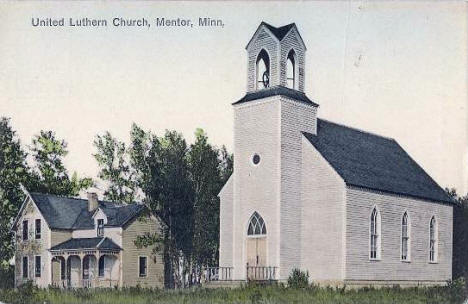 United Lutheran Church, Mentor Minnesota, 1910s
LakesnWoods.com Postcard and Postcard Image Collection- click image to enlarge

Visit The Mentor Photo Gallery for more recent and historic area photos
---
Government:
Mentor City Hall
PO Box 162
Mentor, MN 56736
Phone: (218) 637-2911
Fax: (218) 637-2278

Regular Business Hours:
Monday - Wednesday 8:30 am - 3:00 pm
Thursday 8:30 am - 10:30 am

City Council Meetings:
3rd Wednesday of the month at 5:00 pm


Title
Term Ends
Name and Address
Phone

Mayor
12/31/2022
Lonnie Morberg
602 Stephens Street
Mentor, MN 56736
(218) 686-6382

Clerk/Treasurer
appointed
Lisa Schaumburg
PO Box 162
Mentor, MN 56736
(218) 637-2911

Council Member
12/31/2022
Ruby Finn
112 1st Street S
Mentor, MN 56736
(218) 637-3466

Council Member
12/31/2022
Becky Olson Wilkinson
609 2nd Street N
Mentor, MN 56736
(218) 277-0453

Council Member
12/31/2024
Tony Schulz
107 3rd Street N
Mentor, MN 56736
(218) 280-4219

Council Member
12/31/2024
name not available
address not available
Mentor, MN 56736
not available
---
Post Office:
US Post Office
204 Garfield Avenue N
Mentor, MN 56736-9998
Phone: (218) 637-3585
Toll Free: (800) ASK-USPS

Regular Business Hours:
Week Days 8:00 am - 12:00 pm
Saturday 7:30 am - 9:45 am
---
---
Utilities:
---
Major Employers:
Employer
Products/Services
Employees
n/a
---
---
News:
---
Weather:
---
Map: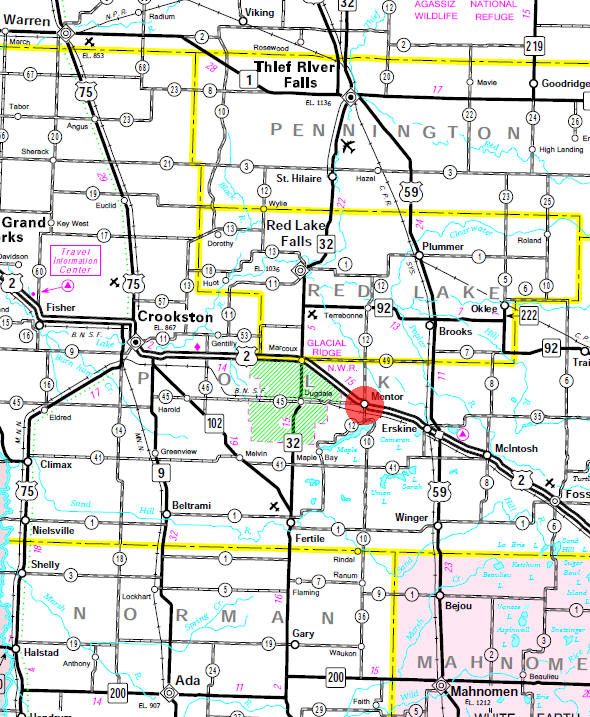 Minnesota State Highway Map of the Mentor Minnesota area
---
Events:
---
---
Attractions:
---
Recreation:
---
Lakes:
Lake Name
Size
(acres)
Lake info
Lake Map
Rec Map
Topo Map
---
Health Care:
---
Schools:
---
Churches:
Faith Lutheran Church
105 Harrison Avenue N
Mentor, MN 56736
Phone: (218) 637-8263
St. Lawrence Catholic Church
16180 336th Street SE
Mentor, MN 56736
Phone: (218) 637-8178
---
Media:
---
Motels:
Check for motel rates and availability on:
---
Resorts:
Breezy Point Resort
14863 Maple Inn Road SE
Mentor, MN 56736
Phone: (218) 637-3146
Lakeview Resort & Restaurant
16233 340th Street SE
Mentor, MN 56736
Phone: (218) 637-6237
Oak Cove Resort & Marine
15598 Oak Cove Resort Road SE
Mentor, MN 56736
Phone: (218) 637-2124
Ulland's Resort
33335 173rd Avenue SE
Mentor, MN 56736
Phone: (218) 637-3252
---
Campgrounds:
---
---
Businesses:
Advanced Manufacturing Company
601 1st Street N
Mentor, MN 56736
Phone: (218) 637-3000
Aerial Lift Specialties
620 County 12 S
Mentor, MN 56736
Phone: (218) 637-6300
Amundson Stump Removal
604 S Lincoln Avenue
Mentor, MN 56736
Phone: (218) 574-2564
Anderson Commodities Inc
52 Lincoln Avenue N # 100
Mentor, MN 56736
Phone: (218) 637-2700
Anderson Seed Co Inc
16774 300th Street SE
Mentor, MN 56736
Phone: (218) 637-8204
Bacon's Dray
35777 125th Avenue SE
Mentor, MN 56736
Phone: (218) 574-2664
Benoy's Garage
14863 Maple Inn Road SE
Mentor, MN 56736
Phone: (218) 637-3765
Bob Ramberg Backhoe Service
35924 Shady Bend Road SE
Mentor, MN 56736
Phone: (218) 574-2554
Breezy Point Resort
14863 Maple Inn Road SE
Mentor, MN 56736
Phone: (218) 637-3146
Carole's Upholstery
17494 320th Street SE
Mentor, MN 56736
Phone: (218) 637-3165
Cormican Inc
Mentor, MN 56736
Phone: (218) 637-6627
D & B Construction & Landscaping
201 County 45 N
Mentor, MN 56736
Phone: (218) 637-6141
D & D Commodities
34140 Green Valley Road SE
Mentor, MN 56736
Phone: (218) 637-2315
Dairy Queen
38 County 12 N
Mentor, MN 56736
Phone: (218) 637-2215
Faith Lutheran Church
105 Harrison Avenue N
Mentor, MN 56736
Phone: (218) 637-8263
Gene's Super Stop & Marine
31 County Road 12 N
Mentor, MN 56736
Phone: (218) 637-2050
Gene's Super Stop & Marine
Highway 2 E
Mentor, MN 56736
Phone: (218) 637-2050
Greater Minnesota Management
210 Garfield Avenue
Mentor, MN 56736
Phone: (218) 637-6093
Greenberg Realty
12445 Maple Lake Drive SE
Mentor, MN 56736
Phone: (218) 574-2100
Inn At Maple Crossing
14709 Maple Inn Road SE
Mentor, MN 56736
Phone: (218) 637-6600
Jacobson Transport
33371 173rd Avenue SE
Mentor, MN 56736
Phone: (218) 637-2034
John Swanson Office
13218 Elmer Hanson Drive SE
Mentor, MN 56736
Phone: (218) 574-2624
Johnson Construction Co
12602 Fisher Street SE
Mentor, MN 56736
Phone: (218) 574-2512
Lakeview Resort & Restaurant
16233 340th Street SE
Mentor, MN 56736
Phone: (218) 637-6237
Maple Lake Pavilion
15545 Sandy Beach Rd SE
Mentor, MN 56736
Phone: (218) 637-2491
McFarlin Appraisal Service
12842 Maple Street SE
Mentor, MN 56736
Phone: (218) 574-2961
McGlynn Fence
16211 255th Street SE
Mentor, MN 56736
Phone: (218) 698-4420
Mentor Cafe
212 Garfield Avenue N
Mentor, MN 56736
Phone: (218) 637-6150
Mentor City Clerk
Mentor, MN 56736
Phone: (218) 637-2911
Mentor City Fire Department
202 Lincoln Avenue N
Mentor, MN 56736
Phone: (218) 637-3235
Mentor Convenience Store
32 County 12 N
Mentor, MN 56736
Phone: (218) 637-3377
Mentor Fire Fighters
202 Lincoln Avenue N
Mentor, MN 56736
Phone: (218) 637-2243
Mentor Fire Fighters
52 Lincoln Avenue N
Mentor, MN 56736
Phone: (218) 637-2243
Mentor Housing & Redevelopment
205 Garfield Avenue N
Mentor, MN 56736
Phone: (218) 637-2431
Mentor Liquor Store
201 Garfield Avenue N
Mentor, MN 56736
Phone: (218) 637-6912
Nature Conservancy
31077 State Highway 32 S
Mentor, MN 56736
Phone: (218) 637-2146
Oak Cove Resort & Marine
15598 Oak Cove Resort Road SE
Mentor, MN 56736
Phone: (218) 637-2124
Paquin Farms Inc
302 1st Street S
Mentor, MN 56736
Phone: (218) 637-3455
Polk County Park
13977 350th Street SE
Mentor, MN 56736
Phone: (218) 574-2254
Proulx Telephone Cable Splicing
34295 140th Avenue SE
Mentor, MN 56736
Phone: (218) 637-6215
Rhombus House of Pizza
110 N Garfield Avenue
Mentor, MN 56736
Phone: (218) 637-2198
Saga Well Drilling
202 Lincoln Avenue N
Mentor, MN 56736
Phone: (218) 637-2980
Sisters of Street Benedict
15725 Sandy Beach Rd SE
Mentor, MN 56736
Phone: (218) 637-6517
Solar Gas
16545 US Highway 2 SE
Mentor, MN 56736
Phone: (218) 637-2255
St. Lawrence Catholic Church
16180 336th Street SE
Mentor, MN 56736
Phone: (218) 637-8178
Summerfield Place
Mentor, MN 56736
Phone: (218) 637-6094
Susan's Beauty Salon
504 County Road 45 N
Mentor, MN 56736
Phone: (218) 637-8173
Toupin's Grocery
206 Garfield Avenue N
Mentor, MN 56736
Phone: (218) 637-3715
Trinity Lutheran Camp Site
15577 N Trinity Point Road SE
Mentor, MN 56736
Phone: (218) 687-4380
Ulland's Resort
33335 173rd Avenue SE
Mentor, MN 56736
Phone: (218) 637-3252
Unity Bank
209 Garfield Avenue
Mentor, MN 56736
Phone: (218) 637-2971
Unity Insurance & Investments
209 Garfield Avenue
Mentor, MN 56736
Phone: (218) 637-2971
US Post Office
204 Garfield Avenue N
Mentor, MN 56736
Phone: (218) 637-3585
---
---
Aerial Photo:
---
Topographic Map: [click map to enlarge, zoom in or zoom out]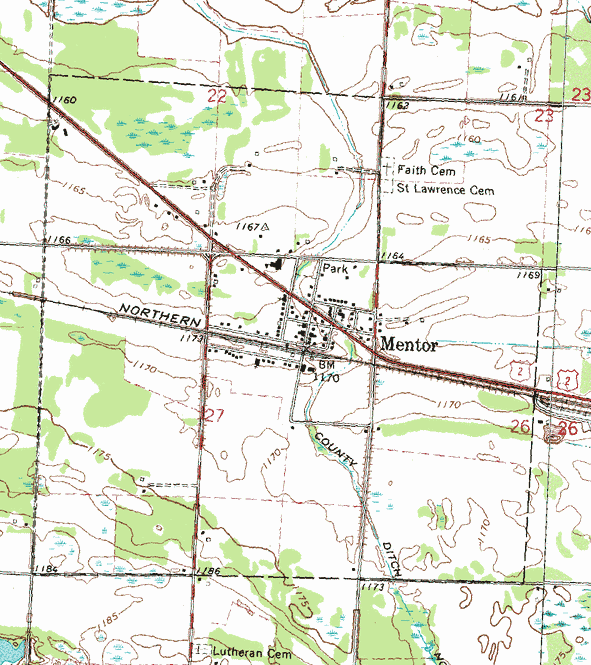 Topographic map is courtesy of the Minnesota DNR - click map to zoom or enlarge