Navigation
LakesnWoods.com
Home Page
Contact Us
Privacy
Minnesota History Shop

Visit The Minnesota History Shop
www.minnesotahistoryshop.com
Historic maps
Historic books
Historic framed art
Historic postcards
Clothing with historic images
And much more!!!


Milan Guide:
Photo Gallery
Location
Geography
Demographics
History
Government
Post Office
News
Weather
Street Map
Events
Attractions
Recreation
Lakes
Health Care
Schools
Churches
Media
Motels
Resorts
Campgrounds
Businesses
Aerial Photo
Topographic Map
© 2004-2023
Lakeweb1 Internet Services
All Rights Reserved
DCMA, Defamation, Copyright and Trademark Infingement Policy
WANTED!
Do you have photos, historical accounts or other items pertaining to the Milan area? Would you like to share this historical information with the world? LakesnWoods.com would like to publish your Milan photos (current or historical) or historical accounts on this website. Original materials can be returned and your privacy will be respected.

Milan Minnesota Community Guide
---
Location:
Founded by Norwegian immigrants in 1879, Milan has retained the flavor of a small ethnic village that is proud of its heritage. The community is peaceful and values its progressive diversity. A flourishing arts and cultural community has established the Arv Hus Museum and the Milan Village Arts School. Milan is also home to many highly esteemed artists. Agriculture plays a large role in the community using the latest technology for large grain farming, small niche vegetable farming and everything in between. Come, visit our friendly community . You'll be glad you stopped!

Courtesy City of Milan
---
Population:
Milan (city)
1970
1980
1990
2000
2010
1990-2000 Change
Actual
Percent
Population
427
417
353
326
369
+43
+13.19
Land Area (sq. mile)
1.30
0.89
0.98
0.98
1.23
+0.25
+25.51
Density (persons per sq. mile)
328.5
468.5
360.2
333.0
302.5
+30.5
+9.16
Housing Units
190
205
192
176
178
+2
+1.14
Households
--
186
170
150
150
0
0.00
Persons Per Household
--
2.24
2.08
2.17
2.46
+0.29
+13.36
---
Geography:
Milan is a city in Chippewa County, Minnesota. U.S. Route 59 and Minnesota State Highway 7 (co-signed); and Minnesota State Highway 40 are two of the main routes in the community. According to the United States Census Bureau, the city has a total area of 1.23 square miles (3.19 km˛), of which 1.22 square miles (3.16 km˛) is land .and 0.01 square miles (0.03 km˛) is water. The elevation is 1,030 ft (314 m) above sea level.
From Wikipedia, the free encyclopedia.
---
Demographics:
As of the census of 2010, there were 369 people, 150 households, and 90 families residing in the city. The population density was 302.5 inhabitants per square mile (116.8/km2). There were 178 housing units at an average density of 145.9 per square mile (56.3/km2). The racial makeup of the city was 72.1% White, 1.1% Native American, 1.1% Asian, 20.6% Pacific Islander, 3.0% from other races, and 2.2% from two or more races. Hispanic or Latino of any race were 4.3% of the population.
There were 150 households of which 29.3% had children under the age of 18 living with them, 47.3% were married couples living together, 8.0% had a female householder with no husband present, 4.7% had a male householder with no wife present, and 40.0% were non-families. 34.0% of all households were made up of individuals and 13.3% had someone living alone who was 65 years of age or older. The average household size was 2.46 and the average family size was 3.22.
The median age in the city was 37.5 years. 24.1% of residents were under the age of 18; 9.7% were between the ages of 18 and 24; 22.2% were from 25 to 44; 25.5% were from 45 to 64; and 18.4% were 65 years of age or older. The gender makeup of the city was 53.1% male and 46.9% female.
---
---
History:
MILAN, a city in Kragero Township, was settled in 1870, was laid out as a village in 1880 by the Chicago, Milwaukee and St. Paul Railroad, was platted December 1, 1880, and was incorporated February 23, 1893. This name of the great city in northern Italy is borne also by villages in twelve other states of our Union. Thorbjorn Anderson provided postal service beginning in 1879 at his Anderson Department Store, which was sold to A. Anderson, who enlarged it, claiming it to be the largest between Minneapolis and Aberdeen, S.Dak.; in 1891 Thorbjorn Anderson established the bank.
Courtesy Minnesota Historical Society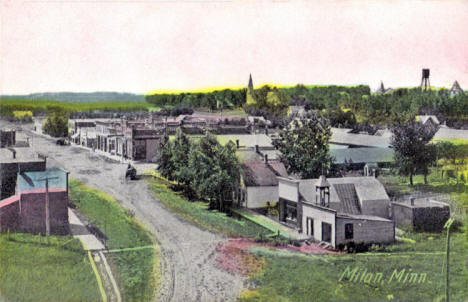 General view, Milan Minnesota, 1900s
LakesnWoods.com Postcard and Postcard Image Collection- click image to enlarge

Visit The Milan Photo Gallery for more recent and historic area photos
---
Government:
Milan City Hall
PO Box 162
Milan, MN 56262
Phone: (320) 734-4411
Fax: (320) 734-4415


Regular Business Hours:
Monday - Friday, 9:00 am - 4:00 pm

City Council Meetings:
1st Tuesday of the month at 7:00 pm

Title
Term Ends
Name and Address
Phone
Mayor
12/31/2022
Ronald Anderson
201 2nd Street N
Milan, MN 56262
(320) 736-4418
Clerk/Treasurer
appointed
Veronica Blommel
PO Box 162
Milan, MN 56262
(320) 734-4411
Council Member
12/31/2022
James Anderson
122 Lac qui Parle Avenue
Milan, MN 56262
(320) 734-4726
Council Member
12/31/2022
Bruce Dalrymple
113 N 1st Street
Milan, MN 56262
(320) 734-4930
Council Member
12/31/2024
Heidi Hanson
101 Milwaukee Avenue
Milan, MN 56262
(320) 734-4804
Council Member
12/31/2024
Jeff Higgins
202 2nd Street
Milan, MN 56262
(320) 734-4649
---
Post Office:
US Post Office
222 Main Street
Milan, MN 56262-2416
Phone: (320) 734-4662
Toll Free: (800) ASK-USPS

Regular Business Hours:
Week Days 7:15 am - 11:15 am
Saturday 7:15 am - 9:15 am
---
Utilities:
---
Major Employers:
---
---
News:
---
Weather:
---
Map: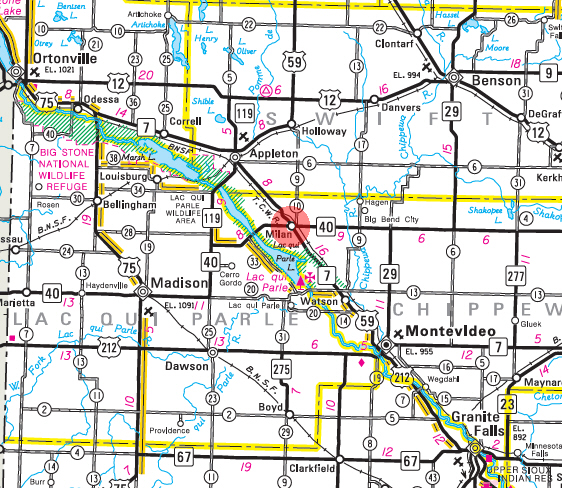 Minnesota State Highway Map of the Milan Minnesota area
---
Events:
---
---
Attractions:
Arv Hus Museum
Main Street
PO Box 18
Milan, MN 56262
Phone: (320) 734-4868



Heritage House features the work of world famous Norwegian rosemalers, a mural by Augsburg artist Phillip Thompson and other local history and culture displays. Group tours available.
---
Recreation:
---
Lakes:
Lake Name
Size
(acres)
Lake info
Lake Map
Rec Map
Topo Map
Lac qui Parle Lake
---
Health Care:
Milan Clinic
237 N 2nd Street
Milan, MN 56262
Phone: (320) 734-4632
Web: www.montevideomedical.com



The Chippewa County-Montevideo Hospital is a unified medical services provider located in Montevideo, Minnesota. Our contemporary facilities are well equipped and staffed by dedicated professionals who focus on our mission to provide a lifetime of quality personalized care. We are a growing medical center providing a broad range of Surgical and Medical services including: Primary Care, General Surgery, Orthopedics, Podiatry, Obstetrics/Gynecology, Allergy, Audiology, Ophthalmology, Urology, ENT, Dermatology, Oncology, Cardiology, Nephrology, Neurological care, and Behavioral Health.
---
Schools:
---
Churches:
---
Media:
---
Motels:
Check for motel rates and availability on:
---
Resorts:
---
Campgrounds:
Milan Beach Resort
18095 State Highway 40 NW
Milan, MN 56262
Phone: (320) 734-4400



Milan Beach Resort is a family-owned restaurant and campground on the shores of Lac qui Parle. A Milan area tradition, specializing in fishing supplies and bait shop and great conversation. Camping, RV, boat rental available. Milan Beach Resort interior.jpg Hunting and fishing licenses are available for sale.




---
---
Businesses:
American Legion Post 359
101 Lincoln Avenue
PO Box 166
Milan, MN 56262
Phone: (320) 734-4600



Serving alcoholic drinks, pizza, and sandwiches. Complete with pool table, darts, jute box and Pull Tabs. The "south" side of the building is availble for rent and often has events such as the popular steak frys and fish frys during hunting season. Call 734-4600 for information on renting the space.




Apple Valley Pork
13070 Chip Swift Street NW
Milan, MN 56262
Phone: (320) 734-7675
Bergen's Prairie Market
234 N 2nd Street
Milan, MN 56262
Phone: (320) 734-4429



Bergen's Prairie Market Open Monday - Friday 8:00 am to 7:00 pm, Saturday 8:00 am to 5:00 pm. Full line of groceries, fresh meat & produce, organic foods, snacks, pop, Nordic foods. Local foods available including eggs, meat and produce. Friendly customer service!

Easy Bean Farm
5075 100th Avenue NW
Milan, MN 56262
Phone: (320) 734-
Web: www.easybeanfarm.com



Easy Bean Farm is owned and managed by me, Michael Jacobs, my wife Malena Arner Handeen, our daughter Hazel, and our son Arlo. I began managing this farm in the fall of 1996 after working as a furniture maker in St. Paul. Our first two seasons we sold our produce mainly through farmers' markets and then moved on to selling our produce to restaurants, food co-ops, and through our C.S.A.

Fragodt Auction and Real Estate
94 Washington Avenue
Milan, MN 56262
Phone: (320) 734-4408
Web: www.fragodtauctions.com



Fragodt Auction & Real Estate specializes in auction marketing of all types of farmland and real estate. We employ the most advanced marketing methods in the industry. Selling land or property is one of the largest financial transactions most people will ever make. Our mission is to provide unparalleled service, uncompromising ethics, and the utmost integrity and professionalism.

Glacial Plains Co-op
105 Elevator Road
Milan, MN 56262
Phone: (320) 734-4435
Web: www.glacialplains.com



Glacial Plains business philosophy is to concentrate on our local trade area. We will strive to become more competitive and offer the highest levels of service all the while maintaining profitability so that we can continue to return cash to our owners. It's your cooperative that looks to return the money from profits that result from you entrusting us with your business and it's the one thing that you won't get back from many of our competitors.

Hilden Digging
411 N 4th Street
Milan, MN 56262
Phone: (320) 760-4172
John's Machine and Diesel Repair
226 N 2nd Street
Milan, MN 56262
Phone: (320) 734-4441
Web: www.vetterengines.com



Founded in 1974 by John Vetter, John's Machine & Diesel Repair specializes in automotive and agricultural/industrial engine machine work, custom engine building, custom machining and automotive parts. We are a full "in-house" machine shop that can handle anything from a 1 cylinder Kohler to a V12 Caterpillar engine.

Kranz Construction
11070 Cip Swift Street NW
Milan, MN 56262
Phone: (320) 734-4658
Milan Beach Resort
18095 State Highway 40 NW
Milan, MN 56262
Phone: (320) 734-4400



Milan Beach Resort is a family-owned restaurant and campground on the shores of Lac qui Parle. A Milan area tradition, specializing in fishing supplies and bait shop and great conversation. Camping, RV, boat rental available. Milan Beach Resort interior.jpg Hunting and fishing licenses are available for sale.




Milan Blacksmith Shop
220 N 2nd Street
Milan, MN 56262
Phone: (320) 734-4951
Milan City Hall
PO Box 162
Milan, MN 56262
Phone: (320) 734-4411
Fax: (320) 734-4415
Web:

www.milan.govoffice.com

Milan Clinic
237 N 2nd Street
Milan, MN 56262
Phone: (320) 734-4632
Web: www.montevideomedical.com



The Chippewa County-Montevideo Hospital is a unified medical services provider located in Montevideo, Minnesota. Our contemporary facilities are well equipped and staffed by dedicated professionals who focus on our mission to provide a lifetime of quality personalized care. We are a growing medical center providing a broad range of Surgical and Medical services including: Primary Care, General Surgery, Orthopedics, Podiatry, Obstetrics/Gynecology, Allergy, Audiology, Ophthalmology, Urology, ENT, Dermatology, Oncology, Cardiology, Nephrology, Neurological care, and Behavioral Health.

Milan Fire Hall
PO Box 162
Milan, MN 56262
Phone: (320) 734-4411
Fax: (320) 734-4415
Web:

www.milan.govoffice.com

Milan Public Library
235 N 2nd Street
Milan, MN 56262
Phone: (320) 734-44792
Web: www.milan.lib.mn.us
Milan Village Arts School
97 Washington Avenue
Milan, MN 56262
Phone: (320) 734-4807
Web: www.milanvillageartsschool.org



The Mission of the Milan Village Arts School is to engage people in the practice of traditional, contemporary and folk arts, fostering prosperity, community and culture in our region.

Prairie Sun Bank
240 N 2nd Street
Milan, MN 56262
Phone: (320) 734-4444
Web: www.bankwithpsb.com
Twin River Technology
242 N 2nd Street
Milan, MN 56262
Phone: (320) 734-4490
US Post Office
222 N 2nd Street
Milan, MN 56262-2416
Phone: (320) 734-4662
Toll Free: (800) ASK-USPS
Web:

www.usps.com
---
---
Aerial Photo:
---
Topographic Map: [click map to enlarge, zoom in or zoom out]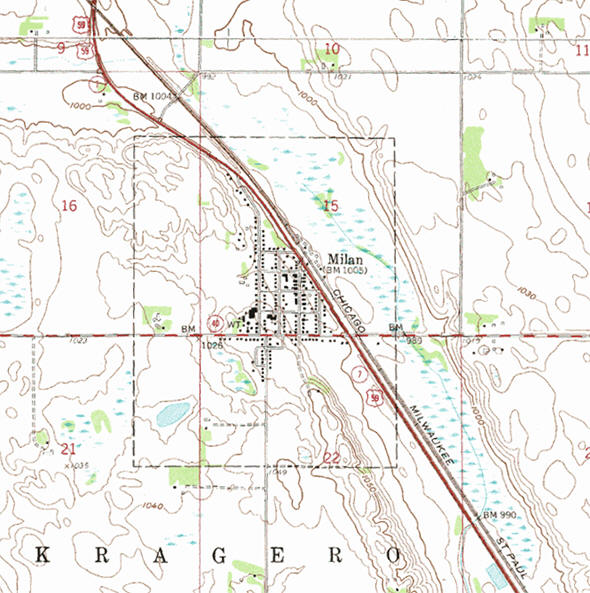 Topographic map is courtesy of the Minnesota DNR - click map to zoom or enlarge