Navigation
LakesnWoods.com
Home Page
Contact Us
Privacy
Minnesota History Shop

Visit The Minnesota History Shop
www.minnesotahistoryshop.com
Historic maps
Historic books
Historic framed art
Historic postcards
Clothing with historic images
And much more!!!


Minnesota Lake Guide:
Photo Gallery
Location
Geography
Demographics
History
Government
Post Office
News
Weather
Street Map
Events
Attractions
Recreation
Lakes
Health Care
Schools
Churches
Media
Motels
Resorts
Campgrounds
Businesses
Aerial Photo
Topographic Map
© 2004-2023
Lakeweb1 Internet Services
All Rights Reserved
DCMA, Defamation, Copyright and Trademark Infingement Policy
WANTED!
Do you have photos, historical accounts or other items pertaining to the Minnesota Lake area? Would you like to share this historical information with the world? LakesnWoods.com would like to publish your Minnesota Lake photos (current or historical) or historical accounts on this website. Original materials can be returned and your privacy will be respected.

Minnesota Lake Minnesota Community Guide
---
Location:
---
Population:
Minnesota Lake (city)
1970
1980
1990
2000
2010
2000-2010 Change
Actual
Percent
Population
711
744
681
681
687
+6
+0.88
Land Area (sq. mile)
0.00
1.58
1.56
1.56
1.66
+0.10
+6.41
Density (persons per sq. mile)
--
470.89
436.54
435.91
413.86
-22.05
-5.06
Housing Units
246
322
306
316
331
+15
+4.75
Households
--
301
281
297
295
-2
-0.67
Persons Per Household
--
2.47
2.42
2.29
2.33
+0.04
+1.72
---
Geography:
Minnesota Lake is a city in Blue Earth and Faribault counties in the U.S. state of Minnesota. The bulk of the city is in Faribault County; only a small part extends into Blue Earth County. Minnesota State Highway 22 serves as a main route in the community. According to the United States Census Bureau, the city has a total area of 2.17 square miles (5.62 km²), of which, 1.66 square miles (4.30 km²) of it is land and 0.51 square miles (1.32 km²) of it (23.67%) is water. The elevation is 1,043 ft (318 m) above sea level.
From Wikipedia, the free encyclopedia.
---
Demographics:
As of the census of 2010, there were 687 people, 295 households, and 192 families residing in the city. The population density was 413.9 inhabitants per square mile (159.8 /km2). There were 331 housing units at an average density of 199.4 per square mile (77.0 /km2). The racial makeup of the city was 98.8% White, 0.4% African American, 0.6% from other races, and 0.1% from two or more races. Hispanic or Latino of any race were 2.9% of the population.
There were 295 households of which 27.8% had children under the age of 18 living with them, 49.8% were married couples living together, 10.2% had a female householder with no husband present, 5.1% had a male householder with no wife present, and 34.9% were non-families. 28.8% of all households were made up of individuals and 14.6% had someone living alone who was 65 years of age or older. The average household size was 2.33 and the average family size was 2.84.
The median age in the city was 41.1 years. 22.6% of residents were under the age of 18; 7.4% were between the ages of 18 and 24; 25.2% were from 25 to 44; 28.2% were from 45 to 64; and 16.6% were 65 years of age or older. The gender makeup of the city was 48.0% male and 52.0% female.
---
---
History:
The city of Minnesota Lake, which extends into Danville Township, Blue Earth County, was platted in October 1866 and was incorporated February 14, 1876; it separated from the townships on August 6, 1911. The post office was first called Franklintown and operated in Blue Earth County beginning in 1857; it changed to Minnesota Lake in 1858. The village had a station of the Chicago, Milwaukee, St. Paul and Pacific Railroad.
Courtesy Minnesota Historical Society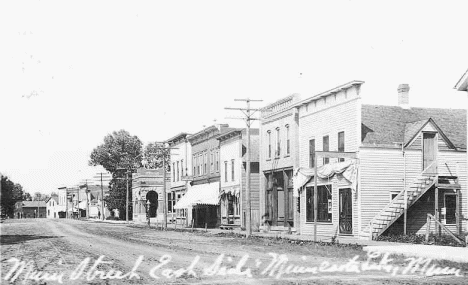 East side of Main Street, Minnesota Lake Minnesota, 1913
LakesnWoods.com Postcard and Postcard Image Collection - click to enlarge

Visit The Minnesota Lake Photo Gallery for more recent and historic area photos

---
Government:
Minnesota Lake City Hall
103 Main Street N
PO Box 98
Minnesota Lake, MN 56068
Phone: (507) 462-3277
Fax: (507) 462-3438

Regular Business Hours:
Monday - Friday 9:00 am - 5:00 pm

City Council Meetings:
2nd Wednesday of each month at 6:00 pm

Title
Term Ends
Name and Address
Phone
Mayor
12/31/2022
Jeffery D. Ramsley
10 Minnesota Avenue E
Minnesota Lake, MN 56068
(507) 995-2921
(507) 462-3230
Clerk/Treasurer
appointed
Dawn Whitehead
103 Main Street N
Minnesota Lake, MN 56068
(507) 462-3277
Council Member
12/31/2022
Joan M Proehl
208 Ehrich Street
Minnesota Lake, MN 56068
(507) 462-3459
Council Member
12/31/2022
Richard Staloch
214 Ehrich Street
Minnesota Lake, MN 56068
(507) 462-3273
Council Member
12/31/2024
Edith (Edie) More
429 4th Avenue
Minnesota Lake, MN 56068
(507) 380-7766
(507) 462-3469
Council Member
12/31/2024
Lonnie A Stenzel
215 Higbie Avenue E
Minnesota Lake, MN 56068
(507) 381-0462
---
Post Office:
US Post Office
115 Main Street N
Minnesota Lake, MN 56068
Phone: (507) 462-3382
Toll Free: (800) ASK-USPS

Regular Business Hours:
Week Days 8:30 am - 12:00 pm
Saturday 8:15 am - 8:45 am




---
---
Utilities:
---
Major Employers:
Employer
Products/Services
Employees

n/a
---
---
News:
---
Weather:
---
Map: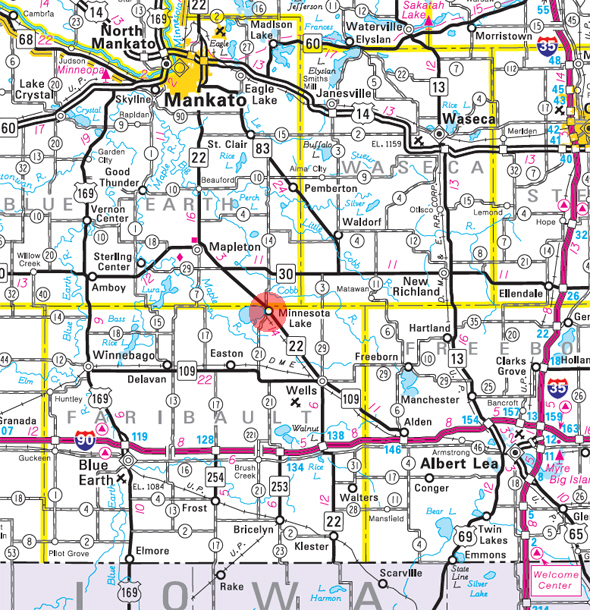 Minnesota State Highway Map of the Minnesota Lake Minnesota area
---
Events:
Festag Days

2nd weekend in July



Community festival featuring a livestock show, tractor pull, parade, live entertainment and much more!




---
Attractions:
Kremer House Library and Museum
317 Main Street N
Minnesota Lake, MN 56068
Phone: (507) 462-3420
Web: www.minnesotalake.com



Originally the home of Peter and Millie Kremer, the structure was built in 1902. Minnesota Lake's library and museum are now housed in the building on the north end of Main Street. The first floor of the Kremer House is now home to the Minnesota Lake Library, open from 2-5 p.m. Mondays and Tuesdays. The upstairs serves as a history center where researchers may find files on families from the Minnesota Lake area.




---
Recreation:
---
Lakes:
---
Health Care:
---
Schools:
---
Churches:
Peace United Church of Christ
16 Park Street S
Minnesota Lake, MN 56068
Phone: (507) 462-3634

Pastor: n/a
Sunday Worship: 9:00 am


St. John the Baptist Catholic Church
100 Park Street N
PO Box 158
Minnesota Lake, MN 56068
Phone: (507) 462-3636
Web: www.olmcstcstjb.org

Pastor: Fr. Matt Fasnacht
Saturday Mass: 5:00 pm
Sunday Mass: 10:00 am


St. John Lutheran Church - LCMS
11593 626th Avenue
Minnesota Lake, MN 56068
Phone: (507) 462-3404

Pastor: Michael Mathews
Sunday Worship: 10:15 am


St. Paul's United Church of Christ
54577 230th Street
Minnesota Lake, MN 56068
Phone: (507) 462-3886

Pastor: n/a
Sunday Worship: 10:30 am


---
Media:
Minnesota Lake Tribune
227 N Main Street
PO Box 214
Minnesota Lake, MN 56068
Phone: (507) 462-3321



Weekly newspaper published on Thursdays with a circulation of 646




---
Motels:
Check for motel rates and availability on:
---
Resorts:
---
Campgrounds:
---
---
Businesses:
American Legion Post 287
14 Main Street N
Minnesota Lake, MN 56068
Phone: (507) 462-3629


B & D Flyers Airport
23595 510th Avenue
Minnesota Lake, MN 56068
Phone: (507) 462-3635


Bevcomm
208 Main Street N
Minnesota Lake, MN 56068
Phone: (507) 462-3444
Web: www.bevcomm.net



BEVCOMM is a family owned telecommunications company focused on providing the latest in voice, video and data communications in rural communities throughout southern Minnesota. Originally founded in 1895, and today employing nearly 100 people, BEVCOMM is one of the largest locally owned telecommunications companies in Minnesota.




Bill's Hardware
223 Main Street N
Minnesota Lake, MN 56068
Phone: (507) 462-3535




C & P Upholstering
306 State Highway 22
Minnesota Lake, MN 56068
Phone: (507) 462-3751


CFS Coop
715 State Highway 22
Minnesota Lake, MN 56068
Phone: (507) 462-3315
Web: www.cfscoop.com



Formed by the union of strong, successful ag-focused cooperatives with rich traditions and deep roots in the communities we serve, CFS turns progress into powerful solutions for our customers.




Citizens Community Federal Bank
104 Main Street N
PO Box 128
Minnesota Lake, MN 56068
Phone: (507) 462-3311
Web: www.ccf.us

With branch locations in Wisconsin, Minnesota, and Michigan, there is a CCFBank near you with convenient lobby and drive-through hours. We look forward to seeing you!


County Line Grain
23595 510th Avenue
Minnesota Lake, MN 56068
Phone: (507) 462-3511
Web: www.mapletonelevator.com


Degree of Honor Protective
303 Dove Street
Minnesota Lake, MN 56068
Phone: (507) 462-3574


Food and Fuel
867 State Highway 22
Minnesota Lake, MN 56068
Phone: (507) 462-3488


Great Escape Bar and Grill
320 Main Street N
Minnesota Lake, MN 56068
Phone: (507) 462-3500


Gregor Tiling
23990 State Highway 22
Minnesota Lake, MN 56068
Phone: (507) 462-3299


Harris Masonry
403 State Highway 22
Minnesota Lake, MN 56068
Phone: (507) 462-3860


Herbers Insurance
115 5th Avenue
Minnesota Lake, MN 56068
Phone: (507) 462-3718


J & B Shop Supplies
219 Ehrich Street
Minnesota Lake, MN 56068
Phone: (507) 462-3501


Kasey's Country Cuts
300 Main Street N
Minnesota Lake, MN 56068
Phone: (507) 462-3514



I have been grooming since 1997, professionally since 2007. I love my job! I can do any kind of cut you'd like. Check out my pictures to see.




Kibble Equipment
61022 103rd Street
Minnesota Lake, MN 56068
Phone: (507) 462-3828
Web: www.kibbleeq.com

Kibble Equipment is a family-owned business and has been serving our farming communities for over 35 years. We work with operations big and small, and take pride in the work we do. With Kibble Equipment you can count on top-notch service and support, combined knowledge of highly trained people and a solutions-based approach.


Kremer House Library and Museum
317 Main Street N
Minnesota Lake, MN 56068
Phone: (507) 462-3420
Web: www.minnesotalake.com



Originally the home of Peter and Millie Kremer, the structure was built in 1902. Minnesota Lake's library and museum are now housed in the building on the north end of Main Street. The first floor of the Kremer House is now home to the Minnesota Lake Library, open from 2-5 p.m. Mondays and Tuesdays. The upstairs serves as a history center where researchers may find files on families from the Minnesota Lake area.




LKD Trucking
16 3rd Avenue
Minnesota Lake, MN 56068
Phone: (507) 462-3419


Midland Towing and Recovery
53816 250th Street
Minnesota Lake, MN 56068
Phone: (507) 462-3854



Busted, Rusted, or in the ditch... Midland Towing is here to help




Minks Insurance Agency
109 Main Street N
Minnesota Lake, MN 56068
Phone: (507) 462-3361
Web: www.minksagency.com

We are a general insurance agency with the capability to write any line of insurance for you. Our specialty is with farms. We also provide auto, home, life, health, long-term care, renters, commercial, liabilty, and umbrella policies, and more!



Minnesota Lake Ambulance
103 Main Street N
Minnesota Lake, MN 56068
Phone: (507) 462-3769



We are an all volunteer EMS squad proudly serving Minnesota Lake, MN and the surrounding community.




Minnesota Lake Tribune
227 N Main Street
PO Box 214
Minnesota Lake, MN 56068
Phone: (507) 462-3321


Nordaas American Homes
10091 State Highway 22
Minnesota Lake, MN 56068
Phone: (507) 462-3331
Web: www.nordaashomes.com



Nordaas has been designing and building custom homes in the upper Midwest since 1949. We have earned a reputation for aesthetic design, high quality construction and superior customer service. Nordaas takes pride in our custom designs, innovation and craftsmanship when building your home. The team at Nordaas is continually evolving to accommodate new ideas, new challenges, and we aim to stay ahead of the trends and technology. We truly appreciate and take a sense of ownership when working with our customers to build their dream home. We would love the chance to work with you.




Old Mill Bar and Grill
301 Main Street N
Minnesota Lake, MN 56068
Phone: (507) 462-9909

On and Off Sale Liquor Full Menu with M-F Noon Specials Entertainment every other weekend and for special events. Free use of back room for parties or meetings


Park Street Guitar Lessons
11 Park Street S
Minnesota Lake, MN 56068
Phone: (507) 341-4140
Web: www.ryanlano.com



Park Street Guitar Lessons is the area's most effective guitar lesson program. Guitar lessons are taught by Ryan Lano. Join hundreds of satisfied students and discover music, the language of the world.




Schoneck Composites
10238 614th Avenue
Minnesota Lake, MN 56068
Phone: (507) 462-3142
Web: www.schoneckcomposites.com



Schoneck Composites was started in June of 2005 by brothers Dan and Derek Schoneck. Being in the racing business we saw a need for a speedier service for the Mustang crowd. Due the fact that most companies do all makes of cars. They are usually many weeks if not sometimes months out on delivery time on parts. So we made it our goal to produce quality hand laid light weight Fiberglass and Carbon Fiber Mustang parts, ready to ship in 10-15 business days from time of order.




Town and Country Service
10198 614th Avenue
Minnesota Lake, MN 56068
Phone: (507) 462-3229




US Post Office
115 Main Street N
Minnesota Lake, MN 56068
Phone: (507) 462-3382
Web: www.usps.com


---
---
Aerial Photo:
---
Topographic Map: [click map to enlarge, zoom in or zoom out]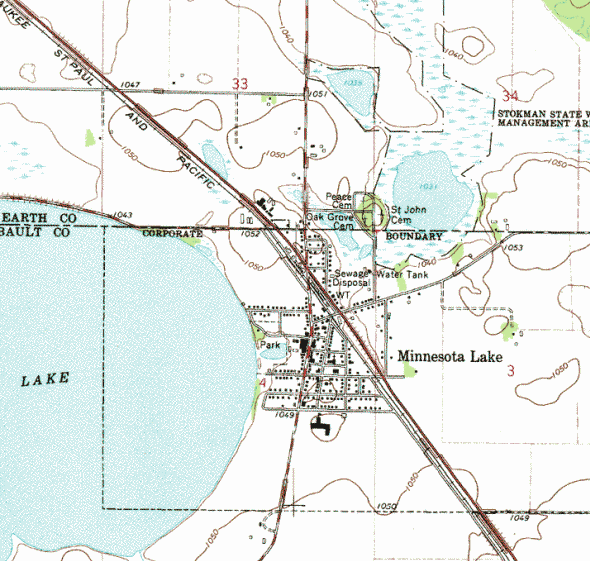 Topographic map is courtesy of the Minnesota DNR - click map to zoom or enlarge