Navigation
LakesnWoods.com
Home Page
Contact Us
Privacy
Minnesota History Shop

Visit The Minnesota History Shop
www.minnesotahistoryshop.com
Historic maps
Historic books
Historic framed art
Historic postcards
Clothing with historic images
And much more!!!


Montrose Guide:
Photo Gallery
Location
Geography
Demographics
History
Government
Post Office
News
Weather
Street Map
Events
Attractions
Recreation
Lakes
Health Care
Schools
Churches
Media
Motels
Resorts
Campgrounds
Businesses
Aerial Photo
Topographic Map
© 2004-2023
Lakeweb1 Internet Services
All Rights Reserved
DCMA, Defamation, Copyright and Trademark Infingement Policy
WANTED!
Do you have photos, historical accounts or other items pertaining to the Montrose area? Would you like to share this historical information with the world? LakesnWoods.com would like to publish your Montrose photos (current or historical) or historical accounts on this website. Original materials can be returned and your privacy will be respected.

Montrose Minnesota Community Guide
---
Location:
---
Population:
Montrose (city)
1970
1980
1990
2000
2010
2000-2010 Change
Actual
Percent
Population
379
762
1,008
1,143
2,847
+1,704
+149.08
Land Area (sq. mile)
0.60
0.54
0.59
0.96
3.20
+2.24
+233.33
Density (persons per sq. mile)
631.7
1,411.1
1,708.5
1,190.4
889.7
-300.7
-25.26
Housing Units
129
278
400
467
1,116
+649
+138.97
Households
--
251
367
454
1,043
+589
+129.74
Persons Per Household
--
3.04
2.75
2.52
2.73
+0.21
+8.33
---
Geography:
Montrose is a city in Wright County, Minnesota. U.S. Route 12 and Minnesota State Highway 25 are two of the main routes in the community. According to the United States Census Bureau, the city has a total area of 3.21 square miles (8.31 km2); 3.20 square miles (8.29 km2) is land and 0.01 square miles (0.03 km2) is water. The elevation is 994 ft (303 m) above sea level.
From Wikipedia, the free encyclopedia.
---
Demographics:
As of the census of 2010, there were 2,847 people, 1,043 households, and 734 families residing in the city. The population density was 889.7 inhabitants per square mile (343.5/km2). There were 1,116 housing units at an average density of 348.8 per square mile (134.7/km2). The racial makeup of the city was 95.2% White, 0.6% African American, 0.2% Native American, 0.9% Asian, 1.2% from other races, and 1.9% from two or more races. Hispanic or Latino of any race were 3.0% of the population.
There were 1,043 households of which 46.1% had children under the age of 18 living with them, 54.6% were married couples living together, 9.2% had a female householder with no husband present, 6.6% had a male householder with no wife present, and 29.6% were non-families. 22.1% of all households were made up of individuals and 4.8% had someone living alone who was 65 years of age or older. The average household size was 2.73 and the average family size was 3.23.
The median age in the city was 29.5 years. 31.9% of residents were under the age of 18; 7% were between the ages of 18 and 24; 40.2% were from 25 to 44; 15.4% were from 45 to 64; and 5.4% were 65 years of age or older. The gender makeup of the city was 50.2% male and 49.8% female.
---
---
History:
MONTROSE, a city on the border of Marysville and Woodland Townships, was platted in 1878 in sections 35 and 36 of Marysville Township and was incorporated as a village on February 17, 1881, being named, like villages in 15 other states, from a royal burgh and seaport of Scotland. The city was platted for owners J. F. Miller, T. S. Gunn, and J. N. Haven, partners, who built a grain house and general store; its post office began in 1862; it had a station of the Great Northern Railway.
Courtesy Minnesota Historical Society
---
Government:
Montrose City Hall
311 Buffalo Avenue S
PO Box 25
Montrose, MN 55363
Phone: (763) 575-7422
Fax: (763) 675-3032

Regular Business Hours:
Monday - Thursday 7:00 am - 4:30 pm
Friday 7:00 am - 11:00 am

City Council Meetings:
2nd Monday of the month at 7:00 pm


Title
Term Ends
Name and Address
Phone
Mayor
12/31/2022
Kirby Moynagh
114 Crystal Court
Montrose, MN 55363
(612) 382-1785
City Administrator
appointed
Jessica Bonniwell
311 Buffalo Avenue S
Montrose, MN 55363
(763) 575-7425
City Clerk/Treasurer
appointed
Wendy Manson
311 Buffalo Avenue S
Montrose, MN 55363
(763) 575-7435
Council Member
12/31/2022
Tom Marszalek
909 Wyatt Circle
Montrose, MN 55363
(509) 434-9591
Council Member
12/31/2022
David Paradeise
address not available
Montrose, MN 55363
not available
Council Member
12/31/2024
Sam Solarz
925 Breckenridge Lane
Montrose, MN 55363
(952) 564-1186
Council Member
12/31/2024
Nicole Andreoff
303 Mindy Lane
Montrose, MN 55363
(763) 639-9946
---
Post Office:
US Post Office
360 Center Avenue S
Montrose, MN 55363
Phone: (763)
Toll Free: (800) ASK-USPS

Regular Business Hours:
Week Days 9:00 am - 12:00 pm
1:00 pm - 4:30 pm
Saturday 9:00 am - 10:00 am
---
---
Utilities:
---
Major Employers:
---
---
News:
---
Weather:
---
Map: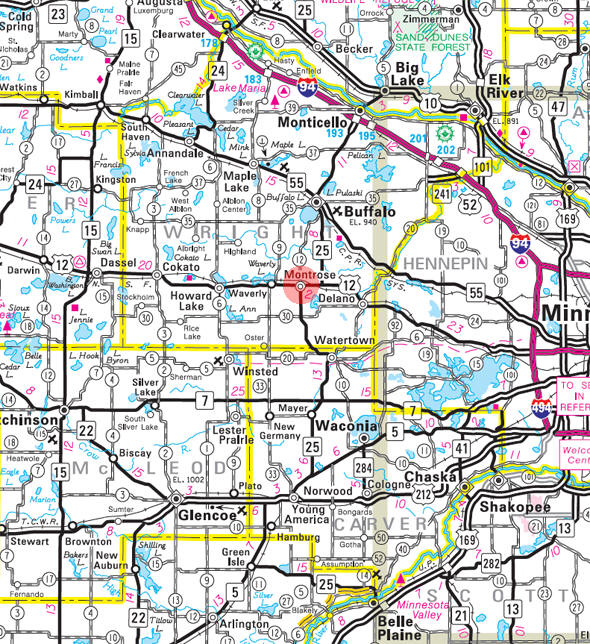 Minnesota State Highway Map of the Montrose Minnesota area
---
Events:
---
---
Attractions:
---
Recreation:
---
Lakes:
---
Health Care:
---
Schools:
Buffalo Hanover Montrose Schools
Independent School District #877
214 1st Avenue NE
Buffalo, MN 55313
Phone: (763) 682-8700
Fax: (763) 682-8785



BHM Schools unites the communities of Buffalo, Hanover, Montrose, and surrounding townships. Ten schools serve 5,700 students, whose test scores at every grade level significantly outpace state averages.

Grades: PK-12
Students: 5,700

Buffalo High School
877 Bison Blvd
Buffalo, MN 55313
Phone: (763) 682-8100
Fax: (763) 682-8118

Grades: 9-12
Students: 1,860

Buffalo Community Middle School
1300 Hwy 25 N
Buffalo, MN 55313
Phone: (763) 682-8200
Fax: (763) 682-8209

Grades: 6-8
Students: 1,351

Montrose Elementary School
100 2nd Street S
Montrose, MN 55363
Phone: (763) 682-8345
Fax: (763) 682-8391

Grades: K-5
Students: 357
---
Churches:
House of Grace Lutheran Church - ELCA
371 Center Avenue
PO Box 65
Montrose, MN 55363
Phone: (763) 528-1784

Pastor: Cathy Jones
Sunday Service: 11:00 am


Montrose United Methodist Church
230 Center Avenue
PO Box 13
Montrose, MN 55363
Phone: (763) 675-3571

Pastor: Rev. Paul Baker
Sunday Service: 10:30 am


St. Paul's Evangelical Lutheran Church - WELS
310 Buffalo Avenue S
PO Box 306
Montrose, MN 55363
Phone: (763) 675-3201

Pastor: Robert Hellmann
Sunday Service: 9:00 am


---
Media:
---
Motels:
Check for motel rates and availability on:
---
Resorts:
---
Campgrounds:
---
---
Businesses:
Andy's Dairy Delivery
10857 Dempsey Avenue SW
Montrose, MN 55363
Phone: (952) 270-7099



This is Andy's Dairy Delivery. Andy delivers milk and other dairy along with juices, breads, meats, etc




Carlson Wholesale Greenhouse
1531 40th Street SW
Montrose, MN 55363
Phone: (763) 675-5196


Carpentry Contractors Company
100 Zephyr Avenue S
Montrose, MN 55363
Phone: (763) 658-4000



Carpentry Contractors Company, or CCC as it is known today, was founded in 1980 by Scott Gertjejansen. Scott's roots and principals were built and forged with the high-end Custom builder during the early to late 80's. Early on Scott's mentor and father, Roland Gertjejansen, a professor in Forest Products at the University of Minnesota, taught him firsthand wood frame construction and instilled in him material resource management, a commitment to excellence, the importance of deadlines and the value of treating people with respect.




Casey's General Store
175 Nelson Boulevard
Montrose, MN 55363
Phone: (763) 675-3737



With a majority of our stores located in small towns across the Midwest and Southern regions, Casey's values are rooted in a sense of belonging to these communities.




Citizens State Bank
145 Nelson Blvd
Montrose, MN 55363
Phone: (763) 675-8148



We care about our customers. You are the reason we are here! We care about the community and we demonstrate our commitment with our actions and our resources. We care about our staff and we strive to be an excellent employer, setting high standards for service excellence and appreciating good work and dedicated service. We care about our shareholders, and we focus on creating shareholder value with quality assets and profitable operations.




Class Act Outdoor Furnace
1263 72nd Street SE
Montrose, MN 55363
Phone: (763) 972-6255



CLASS-ACT OUTDOOR FURNACE is your one stop source for all Central Boiler products and supplies, including the "Classic" outdoor wood furnaces, The new EDGE and E-Classic outdoor wood furnace, the Maxim model outdoor wood pellet furnaces. We offer full service installation and service after the sale. We also have financing options available to you. Need parts and supplies? We offer daily, fast, affordable, discretionary shipping.




Classique Painting LLC
4255 Amery Avenue S
Montrose, MN 55363
Phone: (763) 438-2948

Classique Painting, LLC is a fully insured, locally owned painting company with more than 25 years of experience. Established in 1985, owner Ron Eggen has provided painting services to homes and businesses throughout the Twin Cities metro area. We strive to provide the highest quality workmanship, top of the line products, and professional, experienced personnel.


Commercial Collectors Inc.
145 Nelson Boulevard
Montrose, MN 55363
Phone: (763) 453-7400



Time is money. We've all heard this before, but it is true. The longer accounts sit unpaid the less likely they are to produce revenue for your company. We can help. Our experienced, integrity-driven team of professionals is effective in getting you paid faster.




Craft Pattern and Mold
60 3rd Street South
Montrose, MN 55363
Phone: (763) 675-3169



Craft Pattern & Mold has been delivering cost effective, precision prototype parts and tooling to customers for over 30 years and we would welcome the opportunity to show what we can do for you. We offer quick turn, customized prototyping of metal and plastic parts using a variety of industrial grade materials and robust manufacturing processes.




Crag Enterprises LLC
350 Nelson Boulevard
Montrose, MN 55363
Phone: (763) 241-7650



Mini storage units




Dollar General
631 Nelson Boulevard
Montrose, MN 55363
Phone: (612) 284-4620



We've got what you need, and we've added a bit more! Check out our expanded food selection featuring items like KIND® bars, oatmeal and trail mix. When you shop with us you'll feel good about the food you're bringing home to your family.




Emery's Truck & Trailer Repair
601 Nelson Blvd
Montrose, MN 55363
Phone: (612) 616-0031



EMERY'S TRUCK AND TRAILER Was built to help our Tractor Trailer Owners/Operators keep their trucks on the road with exceptional service, in a timely manner and at a reasonable rate.




Fitzsimmons Company
310 Emerson Avenue S
Montrose, MN 55363
Phone: (763) 675-3733



Fitzsimmons Service Company, Inc. is a licensed and bonded freight shipping and trucking company running freight hauling business from Montrose, Minnesota




Hickman's Repair
4037 County Road 12 S
Montrose, MN 55363
Phone: (763) 675-3974



We are a family run business that supports and give back to our community. General automotive repair.




Honeymade
613 Fairmont Avenue N
Montrose, MN 55363
Phone: (763) 666-4411



We are a creator of all natural products specializing in meeting the personal needs of our customers by providing skin solutions for of all skin types, including people with allergies.




Hunter Custom Homes
1566 35th Street SW
Montrose, MN 55363
Phone: (763) 658-4698


Hurley Appliance Repair
335 42nd Street SW
Montrose, MN 55363
Phone: (763) 675-5263



Hurley Appliance Repair is dedicated to providing exceptional customer service. As is true for all small businesses, word of mouth advertising is crucial to growing the business. That means her most valuable asset is her reputation as a dependable, friendly, honest and knowledgeable service technician.




Jacque B's Kitchen and Cocktails
211 Buffalo Avenue N
Montrose, MN 55363
Phone: (763) 675-3695

Restaurant - Bar - Patio - Catering - Banquets - Parties - Meetings - Hog Roasts

We are a destination where guests can gather with their friends and family to enjoy great-tasting American cuisine in a friendly and fun atmosphere.


Joe Mauk Siding
7631 State Highway 25 SW
Montrose, MN 55363
Phone: (612) 242-2989


Lakes Area Realty
505 Nelson Boulevard
Montrose, MN 55363
Phone: (763) 675-3181



Lakes Area Realty is not about being the biggest. Just the best. We pride ourselves in our market expertise, absolute professionalism, innovative ideas, collaborative culture and a strong sense of community. We know real estate is about people. That's why everything we do is based on how it benefits you, our client. Thank you for choosing Lakes Area Realty




Lee Nails
330 Nelson Boulevard
Montrose, MN 55363
Phone: (763) 675-5000



Located in Montrose, Minnesota, on Highway 12, next by CASEY'S gas station and about 100 feet from REDS rest. We are professional nail service in town. We do Acrylic Nails & UV Gel. Color Acrylic Powders. Pink & White. Manicure & Pedicure. Nail designs.




Lino's Mexican Grill
330 Nelson Boulevard
Montrose, MN 55363
Phone: (763) 675-8226



Small Mexican Restaurant in Montrose, MN. Family environment and very friendly staff. Dine-in or Take-out, you will be amazed!




Marketon's Body Shop Inc.
409 Nelson Boulevard
Montrose, MN 55363
Phone: (763) 675-3371


Mcgowan Chiropractic
210 82nd Street SE
Montrose, MN 55363
Phone: (763) 972-2404


Mevco Mailing Equipment
10678 Clementa Avenue SW
Montrose, MN 55363
Phone: (952) 955-1448


Milhausen's Auto & Truck Repair
411 Nelson Boulevard
Montrose, MN 55363
Phone: (763) 675-8121



We're committed to providing you with the highest level of service, so you'll always choose us for your maintenance and repair needs. For most people, auto maintenance and repair is not fun or convenient. So, we want make the process as easy and enjoyable as possible for you. We genuinely care about your car and your experience, and it shows. Our first-time customers continually become our long term customers time and time again, choosing us for all their auto needs. We may not be related, but you'll feel like we're family.




Mill Pond
200 S Zephyr Avenue
Montrose, MN 55363
Phone: (763) 675-3307



The Mill Pond is not only a great place to find unique garden art, hand-crafted iron work and landscaping materials – it's a destination spot! Bring the family and browse our 4.5 acres of landscape vignettes all around the property. You'll see custom iron work, retaining walls, water features, Koi-filled ponds, and more.




Minnesota German Autowerks
135 Nelson Boulevard
Montrose, MN 55363
Phone: (763) 675-3724



VW and Audi Automotive Service and Sales




Montrose City Hall
311 Buffalo Avenue S
PO Box 25
Montrose, MN 55363
Phone: (763) 575-7422
Fax: (763) 675-3032

Regular Business Hours:
Monday - Thursday 7:00 am - 4:30 pm
Friday 7:00 am - 11:00 am


Montrose Family Chiropractic Clinic
145 Nelson Boulevard
Montrose, MN 55363
Phone: (763) 675-3121



Could a family-oriented chiropractor help you? How do you find a chiropractor willing to explain everything in advance? What's the best way to choose a chiropractor in the Montrose-area? This information-packed chiropractic website is just one way we make our newest chiropractic patient feel right at home.




Montrose Fire Department
260 2nd Street S
Montrose, MN 55363
Phone: (763) 575-7422



The Montrose Fire Department was established in 1881 from members of the community seeing a need for a Fire Department and rescue services. The Fire Department was reorganized in 1930. The original members were made up of the community and still are today. Currently the Montrose Fire Department serves an approximate area of 45 square miles and an approximate population of 6,000 people in the City of Montrose and portions of Franklin, Marysville and Woodland Townships.




Montrose Mobile Manor
400 Center Avenue S
Montrose, MN 55363
Phone: (763) 675-3140


Morris Financial
145 Nelson Boulevard
Montrose, MN 55363
Phone: (763) 675-3000


O'Brothers Wine and Spirits
125 Nelson Boulevard
Montrose, MN 55363
Phone: (763) 675-3050



Unlike the big-box liquor stores, O'Brothers Wine & Spirits offers you a friendly and familiar face in your local community. Get to know us, and we'll get to know you. Stop in the next time you're in the area. Our unique Beer Cave is a huge walk-in beer cooler. Brrr! We stock it full of your favorites along with a great selection of Minnesota's finest handcrafted beers. On a hot day it can't be beat.




Pyramid Brick and Stone
370 US Highway 12 SW
Montrose, MN 55363
Phone: (952) 220-5232



Pyramid Brick and Stone has expert brick, stone and concrete masons with an eye for detail and a mind for unique and custom designs that will add beauty and value to your home. PBS was established in 2007 with traditions carried over from generations of experience and expertise. With our knowledge and your ideas we will work with you to create the designs you're looking for.




RC Grading and Excavating
434 US Highway 12 SE
Montrose, MN 55363
Phone: (763) 675-1724



RC Grading & Excavating has been in business since 1999. We are a production-oriented, full service provider of excavating services to primarily residential home builders of projects around the Twin Cities and Metro Area. RC Grading serves governmental units, general contractors, developers, and custom home builders.




Scott's Glass and Mirror Service
401 Nelson Boulevard
Montrose, MN 55363
Phone: (763) 675-3883



Since 1987, Scott's Glass and Mirror has been serving the metro of Minnesota and surrounding areas as a full service residential glass and commercial glass shop. Locally owned and operated, Scott Swanson built his reputation on dependable service and high quality work.




Stones Edge Landscaping Inc.
1935 55th Street SW
Montrose, MN 55363
Phone: (612) 685-2338



Hello, I'm Tom Helmbrecht, the founder of Stones Edge Landscaping, Inc. in Montrose, MN. We serve the entire metro area of Minneapolis & St. Paul and all of the surrounding counties. I started landscaping back in 1995, because I enjoy bringing out the hidden potential in every homeowners yard. In 2003 I established Stones Edge Landscaping, Inc., to ensure my future as a landscaping contractor and grow my business with each satisfied customer. It's a pleasure to work with people who take pride in the appearance of their homes and their yards.




Synergy Electric
4275 Meridian Avenue S
Montrose, MN 55363
Phone: (763) 675-7214


Ugly Bar
260 Nelson Boulevard
Montrose, MN 55363
Phone: (763) 675-3219


---
---
Aerial Photo:
---
Topographic Map: [click map to enlarge, zoom in or zoom out]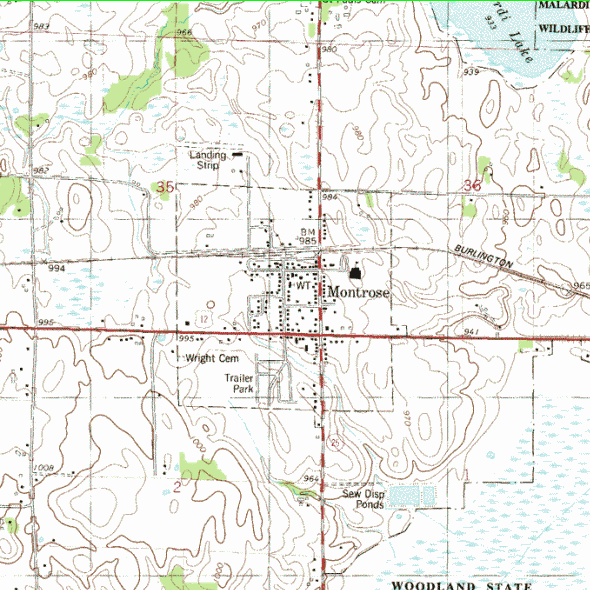 Topographic map is courtesy of the Minnesota DNR - click map to zoom or enlarge