Navigation
LakesnWoods.com
Home Page
Contact Us
Privacy
Minnesota Gift Guide

Nebish Guide:
Photo Gallery
Location
Geography
Demographics
History
Government
Post Office
News
Weather
Street Map
Events
Attractions
Recreation
Lakes
Health Care
Schools
Churches
Media
Motels
Resorts
Campgrounds
Businesses
Aerial Photo
Topographic Map
© 2004-2023
Lakeweb1 Internet Services
All Rights Reserved
DCMA, Defamation, Copyright and Trademark Infingement Policy
WANTED!
Do you have photos, historical accounts or other items pertaining to the Nebish area? Would you like to share this historical information with the world? LakesnWoods.com would like to publish your Nebish photos (current or historical) or historical accounts on this website. Original materials can be returned and your privacy will be respected.


(design available on over 100 different items!)


(design available on over 100 different items!)

Nebish Minnesota Community Guide
---
Location:
---
Population:
Nebish (township)
1970
1980
1990
2000
2010
2000-2010 Change
Actual
Percent
Population
272
292
301
318
290
-28
-8.81
Land Area (sq. mile)
35.90
36.09
34.32
34.30
34.30
0
0.00
Density (persons per sq. mile)
7.58
8.09
8.77
9.27
8.45
-0.82
-8.81
Housing Units
76
98
127
127
146
+19
+14.96
Households
--
86
102
110
120
+10
+9.09
Persons Per Household
--
3.40
2.95
2.89
2.42
-0.47
-16.26
---
Geography:
Nebish Township is a township in Beltrami County, Minnesota. According to the United States Census Bureau, the township has a total area of 35.9 square miles (93.0 km˛), of which 34.3 square miles (88.8 km˛) is land and 1.6 square miles (4.1 km˛) (4.46%) is water. The elevation is 1,375 ft (419 m) above sea level.

From Wikipedia, the free encyclopedia.
---
Demographics:

As of the census of 2000, there were 318 people, 110 households, and 88 families residing in the township. The population density was 9.3 people per square mile (3.6/km˛). There were 127 housing units at an average density of 3.7/sq mi (1.4/km˛). The racial makeup of the township was 98.43% White, 0.31% Native American, and 1.26% from two or more races. Hispanic or Latino of any race were 0.63% of the population.

There were 110 households out of which 44.5% had children under the age of 18 living with them, 60.9% were married couples living together, 10.9% had a female householder with no husband present, and 19.1% were non-families. 15.5% of all households were made up of individuals and 6.4% had someone living alone who was 65 years of age or older. The average household size was 2.89 and the average family size was 3.17.

In the township the population was spread out with 31.8% under the age of 18, 6.9% from 18 to 24, 28.6% from 25 to 44, 18.2% from 45 to 64, and 14.5% who were 65 years of age or older. The median age was 36 years. For every 100 females there were 107.8 males. For every 100 females age 18 and over, there were 97.3 males.

The median income for a household in the township was $40,833, and the median income for a family was $39,500. Males had a median income of $37,045 versus $19,375 for females. The per capita income for the township was $13,204. About 12.8% of families and 15.0% of the population were below the poverty line, including 8.7% of those under age 18 and 8.5% of those age 65 or over.
---
---
History:

NEBISH Township and its lake of this name are from the Ojibwe word anibish, tea, the much relished drink alike of the white settlers and the Indians. The village in section 35 was established in 1898 on the northeast shore of Nebish Lake by Haaversen and Richards, lumbermen who contracted to log for the Crookston Lumber Company; when a spur railroad line was built to Whitefish Lake, a new town was created called Whitefish Junction; in 1905 that line was extended to Bemidji, and in 1913, the site was platted and became the new Nebish. The post office operated 1898-1959 and as a rural branch until 1963; a station of the Minneapolis, Red Lake and Manitoba Railroad was in section 27.

Courtesy Minnesota Historical Society

NEBISH. Nebish is seven miles north of Buena Vista on Beltrami County 15, at its junction with County 32. Old Nebish, as the first town came to be called, began on the shores of Lake Nebish. It got its post office in 1898, and stage service was established between Nebish and Buena Vista. Nebish was the first southern terminus of the Red Lake Railway, the logging road that ran from Nebish to Redby on Red Lake.

In 1905. It was 3/4 of a mile northwest of the present Nebish and south to the lake. C.W.Highshoe, who came to Nebish about 1920, wrote, "I was going to write a story about Old Nebish once, but when I got at it there was nothing to write; it was just a logging camp." Highshoe explains why Nebish moved:
In 1905. the railroad was extended from Nebish into Bemidji. The town moved up to the corner where it is now about 1912.

I will tell you just what happened. Wilbur Nebish had a land company . . . . the land company said they would give five acres for a graveyard if they would move the townsite to where it is now, and of course, they did.

Information on Old Nebish from C.W.Highshoe, "Old Nebish," North Country (1979), pp.86-88. © Hilda R.Rachuy 1979.
Old Nebish developed into a town after it moved to its present location in 1912. In 1905. the railroad had been extended from Nebish into Bemidji. The new Nebish became a prosperous town, an agricultural center, the destination of many hard-working immigrants. Nebish began to decline after The Minneapolis, Red Lake, and Manitoba Railway( the official title) closed its operation and its tracks were removed in 1939.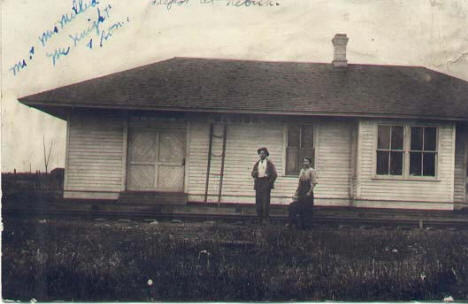 The new depot built at Nebish
Florence Edwards Gillman Collection - Courtesy Ronald Gillman

Visit The Nebish Photo Gallery for more recent and historic area photos
---
Government:
Nebish Township
Puposky, MN 56667
Phone: not available


Title
Term Ends
Name and Address
Phone
Clerk
12/31/2022
Sandy Radke
28753 Irvine Avenue NE
Puposky, MN 56667
(218) 243-2694
Treasurer
12/31/2021
Janice Sande
24369 Polaris Road NW
Puposky, MN 56667
(218) 243-2347

Supervisor

12/31/2022
Karl Gustafson
27798 Irvine Avenue NE
Puposky MN 56667
(218) 243-3294
Supervisor
12/31/2020
Todd Mistic
28427 Irvine Avenue NE
Puposky, MN 56667
(218) 243-2346
Supervisor
12/31/2021
Stephen Wavrin
26002 Pleasent Valley Road NW
Puposky MN 56667
(218) 368-6700
---
Post Office: Nebish had a Post Office from 1898 to 1959 and is now served primarily by the Puposky Post Office:
US Post Office
1139 Durand Drive NW
Puposky, MN 56667-6956
Phone: (218) 243-2513
Toll Free: (800) ASK-USPS

Regular Business Hours:
Week Days 11:00 am - 1:00 pm
Saturday 9:00 am - 1:00 pm
---
---
Utilities:
---
Major Employers:
Employer
Products/Services
Employees

n/a
---
News:

---
Weather:
---
Map: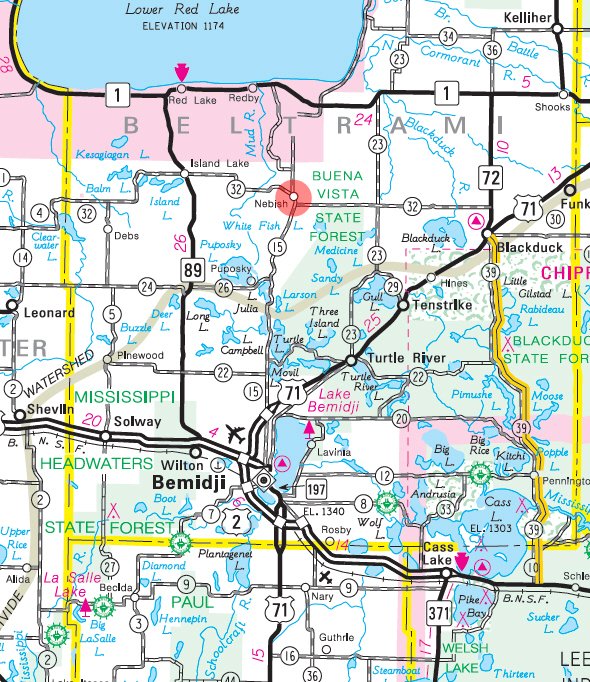 Minnesota State Highway Map of the Nebish Minnesota area
---
Events:
---
---
Attractions:
---
Recreation:
---
Lakes:
Lake Name
Size
(acres)
Lake info
Lake Map
Rec Map
Topo Map
Bass
103
Dark
76
George
n/a
n/a
Hagali
89
Jackson
128
Marcus
n/a
n/a
n/a
n/a
Nebish
n/a
n/a
n/a
Pollywog
n/a
n/a
n/a
Rice
n/a
n/a
Silver
72
Smyth
n/a
n/a
n/a
White Fish
n/a
n/a
---
Health Care:
---
Schools:
---
Churches:
---
Media:
---
Motels:
---
Resorts:
---
Campgrounds:
---
---
Businesses:
Gillman's Liquor
29047 Irvine Avenue NE
Puposky, MN 56667
Phone: (218) 243-2365
Mistic Berry Farm
28611 Irvine Avenue NE
Puposky Minnesota
Phone: (218) 243-2587
Web: www.misticberryfarm.com

We are the 3rd generation to be on this family farm. Its' farming history includes milk cows, hogs, beef cattle and now specialty crops. We have been growing strawberries since 1989 and we had visions of adding a restaurant which we were able to do in 1995. We have a full service restaurant that is open along with our berry picking hours of 7 a.m. to 2 p.m. Monday through Saturday and Sunday 9 a.m. to noon, providing a variety of breakfast and lunch items for both eating in or take-out. We also offer fresh on the farm made in our own kitchen in small batches strawberry and raspberry jams, pumpkin butter, and jalapeno jelly.
---
---
Aerial Photo:

---
Topographic Map: [click map to enlarge, zoom in or zoom out]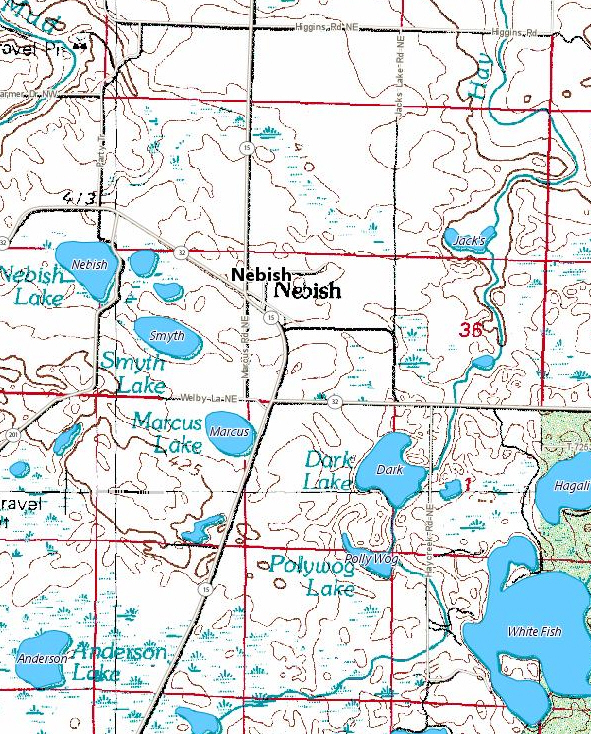 Topographic map is courtesy of the Minnesota DNR -

click map

to zoom or enlarge
---