Navigation
LakesnWoods.com
Home Page
Contact Us
Privacy
Minnesota History Shop

Visit The Minnesota History Shop
www.minnesotahistoryshop.com
Historic maps
Historic books
Historic framed art
Historic postcards
Clothing with historic images
And much more!!!


Odin Guide:
Photo Gallery
Location
Geography
Demographics
History
Government
Post Office
News
Weather
Street Map
Events
Attractions
Recreation
Lakes
Health Care
Schools
Churches
Media
Motels
Resorts
Campgrounds
Businesses
Aerial Photo
Topographic Map
© 2004-2023
Lakeweb1 Internet Services
All Rights Reserved
DCMA, Defamation, Copyright and Trademark Infingement Policy
WANTED!
Do you have photos, historical accounts or other items pertaining to the Odin area? Would you like to share this historical information with the world? LakesnWoods.com would like to publish your Odin photos (current or historical) or historical accounts on this website. Original materials can be returned and your privacy will be respected.

Odin Minnesota Community Guide
---
Location:
---
Population:
Odin (city)
1970
1980
1990
2000
2010
2000-2010 Change
Actual
Percent
Population
166
134
102
125
106
-19
-15.20
Land Area (sq. mile)
0.60
0.42
0.36
0.36
0.36
0
0.00
Density (persons per sq. mile)
276.7
319.1
283.3
344.6
294.4
-50.16
-15.20
Housing Units
63
61
50
66
64
-2
-3.03
Households
--
59
48
62
55
-7
-11.29
Persons Per Household
--
2.27
2.13
2.02
1.93
-0.09
-4.56
---
Geography:
Odin is a city in Watonwan County, Minnesota, along the South Fork of the Watonwan River. According to the United States Census Bureau, the city has a total area of 0.37 square miles (0.96 km≤), all of it land. The elevation is 1,211 ft (369 m) above sea level.
From Wikipedia, the free encyclopedia.
---
Demographics:
As of the census of 2010, there were 106 people, 55 households, and 27 families residing in the city. The population density was 286.5 inhabitants per square mile (110.6 /km2). There were 64 housing units at an average density of 173.0 per square mile (66.8 /km2). The racial makeup of the city was 96.2% White and 3.8% Asian. Hispanic or Latino of any race were 2.8% of the population.
There were 55 households of which 21.8% had children under the age of 18 living with them, 43.6% were married couples living together, 1.8% had a female householder with no husband present, 3.6% had a male householder with no wife present, and 50.9% were non-families. 49.1% of all households were made up of individuals and 29.1% had someone living alone who was 65 years of age or older. The average household size was 1.93 and the average family size was 2.81.
The median age in the city was 47 years. 22.6% of residents were under the age of 18; 3.8% were between the ages of 18 and 24; 21.7% were from 25 to 44; 21.6% were from 45 to 64; and 30.2% were 65 years of age or older. The gender makeup of the city was 50.9% male and 49.1% female.
---
---
History:
ODIN Township, settled in 1868, organized in January 1872, and its city in Odin and Long Lake Townships, platted by Western Town Lot Company on March 29, 1899, incorporated on July 17, 1902, and separated from the township on March 10, 1903, bear the name of one of the chief gods in the ancient Norse mythology, called Woden by the Anglo-Saxons, for whom Wednesday (Woden's Day) was named. "He is the source of wisdom, and the patron of culture and of heroes." The post office, established in 1880, was first located two miles west of the present site and then one mile north, moving to the village in 1899; it was first known as Aasten's Town.
Courtesy Minnesota Historical Society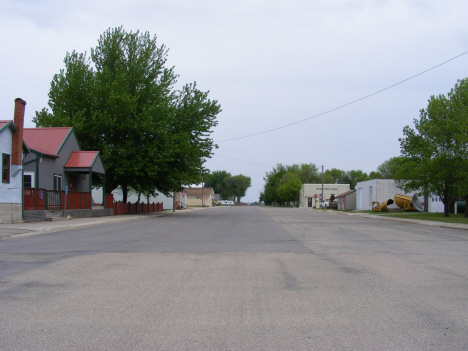 Street scene, Odin Minnesota, 2014
LakesnWoods.com photo - click image to enlarge

Visit The Odin Photo Gallery for more recent and historic area photos
---
Government:
Odin City Hall

PO Box 54

Title
Term Ends
Name and Address
Phone
Mayor
12/31/2022
Brandon Dougherty
205 E Plum Street
Odin, MN 56160
(507) 381-8660
City Clerk
appointed
Anita Sydorowicz
PO Box 54
Odin, MN 56160
(507) 736-2171

Treasurer
appointed
Barb Anderson
PO Box 54
Odin, MN 56160
(507) 736-2171
(507) 736-2391
Council Member
12/31/2022
George A. Hanson
205 1st Street S
Odin, MN 56160
(507) 736-2234
Council Member
12/31/2022
name not available
address not available
Odin, MN 56160
not available
Council Member
12/31/2024
Troy Kluver
209 N County Road 19
Odin, MN 56160
(507) 327-5011
(507) 736-8902
Council Member
12/31/2024
Susan Kluver
209 N County Road 19
Odin, MN 56160
(507) 327-5011
(507) 736-8902
---
Post Office:
US Post Office
105 N 1st Street
Odin, MN 56160-3029
Phone: (507) 736-2701
Toll Free: (800) ASK-USPS

Regular Business Hours:
Week Days 8:00 am - 10:00 am
Saturday 8:30 am - 9:30 pm




---
---
Utilities:
---
Major Employers:
Employer
Products/Services
Employees

n/a
---
---
News:
---
Weather:
---
Map: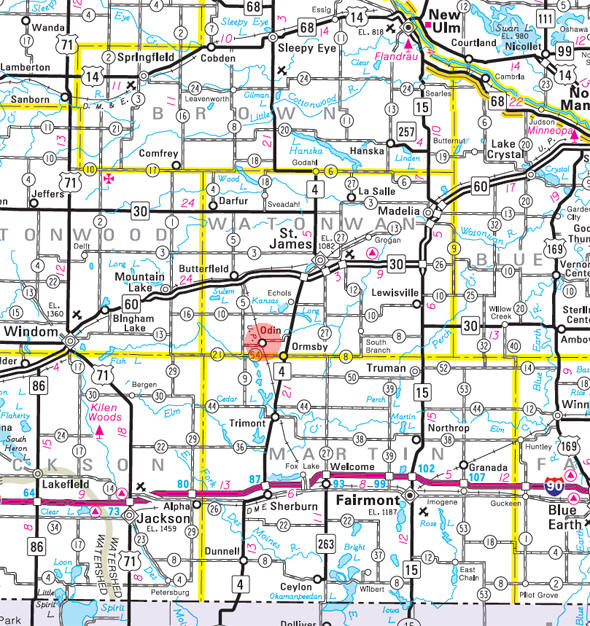 Minnesota State Highway Map of the Odin Minnesota area
---
Events:
---
Attractions:
---
Recreation:
---
Lakes:
Lake Name
Size
(acres)
Lake info
Lake Map
Rec Map
Topo Map
---
Health Care:
---
Schools:
---
Churches:
---
Media:
---
Motels:
Check for motel rates and availability on:
---
Resorts:
---
Campgrounds:
---
---
Businesses:
Carlson Farms
43726 620th Avenue
Odin, MN 56160
Phone: (507) 736-2751
Country Clipper
105 N 3rd Street
Odin, MN 56160
Phone: (507) 736-8701
Dale Ziegler Heating & Air Conditioning
2153 10th Avenue
Odin, MN 56160
Phone: (507) 840-1178
Johnson Sales
100 Main Street
Odin, MN 56160
Phone: (507) 736-2761
Kimball Korner Tavern
90323 600th Avenue
Odin, MN 56160
Phone: (507) 639-6816
Leverson's
100 Main Street
Odin, MN 56160
Phone: (507) 736-2761
Odin Craft Mill
109 N 1st Street
Odin, MN 56160
Phone: (507) 736-8235
Web: www.odincraftmill.com



Over 150 Quality Crafters and Artisans from six states combine to make the Odin Craft Mill a destination for shoppers. Five weekends each year thousands of visitors shop for handcrafted gifts and one-of-a-kind items. Some of the items are displayed in an authentic 1923 feed mill. Walk through the vintage grinding and mixing rooms with original equipment.

Odin Grocery and Cafe
105 1st Street
Odin, MN 56160
Phone: (507) 736-2031
Odin State Bank
101 E Main Street
Odin, MN 56160
Phone: (507) 736-2691
Web: www.odinstatebank.com
R D Harder Insurance Agency
101 E Main Street
Odin, MN 56160
Phone: (507) 736-2691
Randy's Tractor Repair
2452 70th Avenue
Odin, MN 56160
Phone: (507) 736-8007
US Post Office
105 N 1st Street
Odin, MN 56160-3029
Phone: (507) 736-2701
Toll Free: (800) ASK-USPS
Web: www.usps.com
---
---
Aerial Photo:
---
Topographic Map: [click map to enlarge, zoom in or zoom out]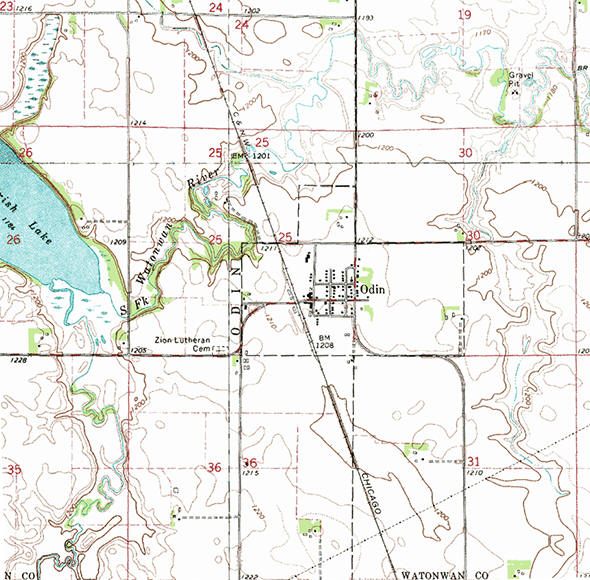 Topographic map is courtesy of the Minnesota DNR - click map to zoom or enlarge