Navigation
LakesnWoods.com
Home Page
Contact Us
Privacy
Minnesota History Shop

Visit The Minnesota History Shop
www.minnesotahistoryshop.com
Historic maps
Historic books
Historic framed art
Historic postcards
Clothing with historic images
And much more!!!

Olivia Guide:
Photo Gallery
Location
Geography
Demographics
History
Government
Post Office
News
Weather
Street Map
Events
Attractions
Recreation
Lakes
Health Care
Schools
Churches
Media
Motels
Resorts
Campgrounds
Businesses
Aerial Photo
Topographic Map
© 2004-2023
Lakeweb1 Internet Services
All Rights Reserved
DCMA, Defamation, Copyright and Trademark Infingement Policy
WANTED!
Do you have photos, historical accounts or other items pertaining to the Olivia area? Would you like to share this historical information with the world? LakesnWoods.com would like to publish your Olivia photos (current or historical) or historical accounts on this website. Original materials can be returned and your privacy will be respected.

Olivia Minnesota Gallery
---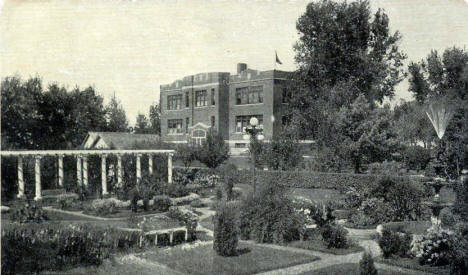 St. Aloysius Church Park, Olivia Minnesota, 1908
LakesnWoods.com Postcard and Postcard Image Collection - click to enlarge
---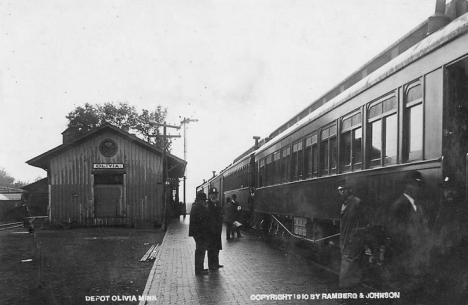 Depot, Olivia Minnesota, 1910
LakesnWoods.com Postcard and Postcard Image Collection - click to enlarge
---
Steam Railroads of
Northern Iowa and Southern Minnesota
Steam railroading became an integral part of the communities in northern Iowa and southern Minnesota in the late 1800s. The railroad provided hundreds of jobs and the ability to transport both goods and passengers across the Midwest. The Chicago & North Western Railway, the Chicago Great Western Railroad, the Minneapolis & St. Louis Railway, the Chicago, Rock Island, & Pacific Railroad, and the Chicago, Milwaukee, St. Paul & Pacific Railroad (called the Milwaukee Road by employees) served five principal gateways, which included Chicago, Illinois; Minneapolis-St. Paul, Minnesota; Omaha, Nebraska; and Kansas City and St. Louis, Missouri. Operating steam engines required tremendous manpower, and by the 1920s, some steam passenger trains were replaced by more efficient motor cars, fueled by oil-powered engines. Steam engines could no longer compete with the reduced operating costs, smaller crew requirements, and time savings provided by diesel, which ultimately led to the fall of steam in 1955.
Buy This Book Now!
---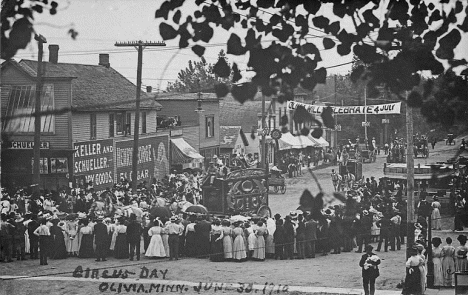 Circus, Olivia Minnesota, 1910
LakesnWoods.com Postcard and Postcard Image Collection - click to enlarge
---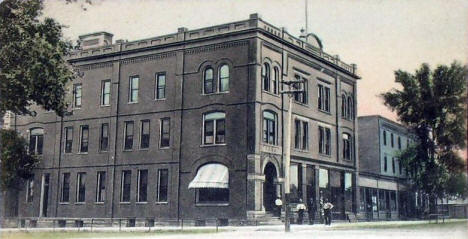 Heins Block and Grand Central Hotel, Olivia Minnesota, 1910s
LakesnWoods.com Postcard and Postcard Image Collection - click to enlarge
---
---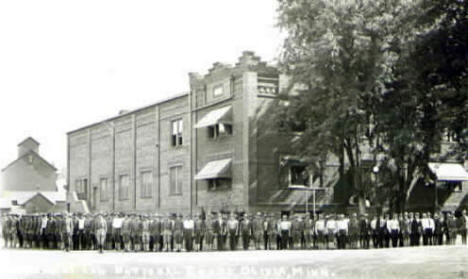 New Armory, Olivia Minnesota, 1917
LakesnWoods.com Postcard and Postcard Image Collection - click to enlarge
---
---
---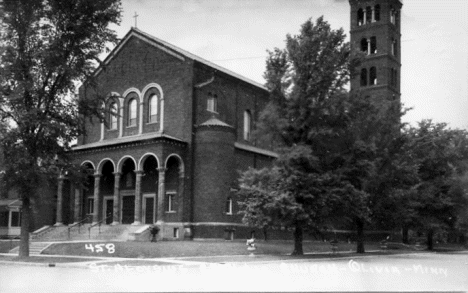 St. Aloysius Catholic Church, Olivia Minnesota, 1940s
LakesnWoods.com Postcard and Postcard Image Collection - click to enlarge
---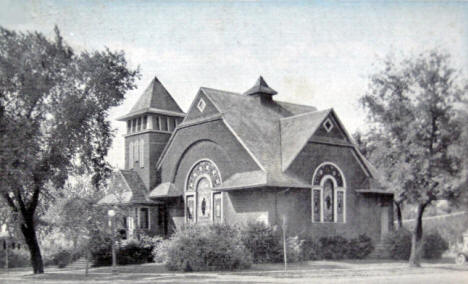 Methodist Church, Olivia Minnesota, 1940s
LakesnWoods.com Postcard and Postcard Image Collection - click to enlarge
---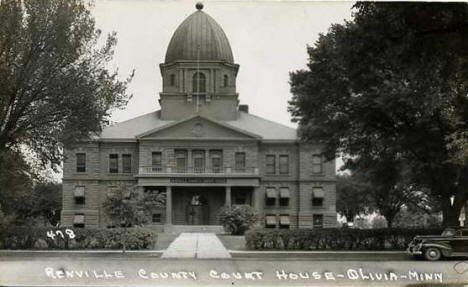 Renville County Courthouse, Olivia Minnesota, 1940s
LakesnWoods.com Postcard and Postcard Image Collection - click to enlarge
---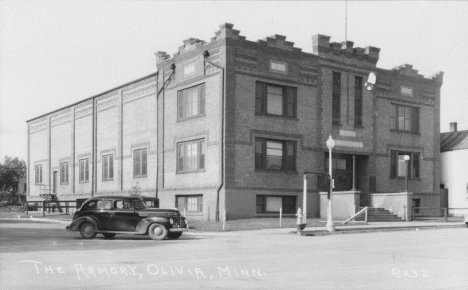 Armory, Olivia Minnesota, 1940s
LakesnWoods.com Postcard and Postcard Image Collection - click to enlarge
---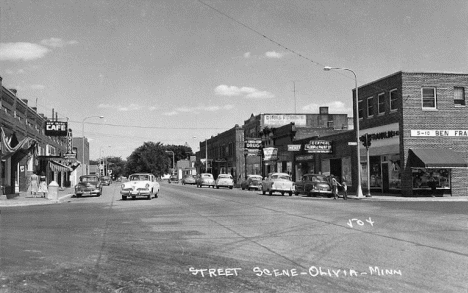 Street scene, Olivia Minnesota, 1950s
LakesnWoods.com Postcard and Postcard Image Collection - click to enlarge
---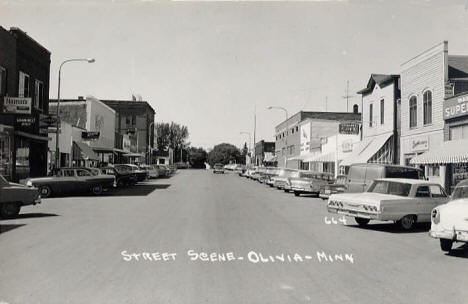 Street scene, Olivia Minnesota, 1960s
LakesnWoods.com Postcard and Postcard Image Collection - click to enlarge
---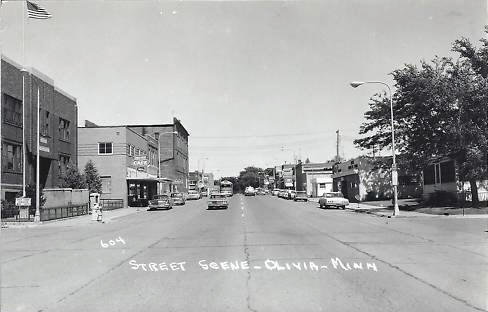 Street scene, Olivia Minnesota, 1960s
LakesnWoods.com Postcard and Postcard Image Collection
---
---
---
---
---
---
---
---
---
---
---
---
---
---