Navigation
LakesnWoods.com
Home Page
Contact Us
Privacy
Minnesota History Shop

Visit The Minnesota History Shop
www.minnesotahistoryshop.com
Historic maps
Historic books
Historic framed art
Historic postcards
Clothing with historic images
And much more!!!


Plato Guide:
Photo Gallery
Location
Geography
Demographics
History
Government
Post Office
News
Weather
Street Map
Events
Attractions
Recreation
Lakes
Health Care
Schools
Churches
Media
Motels
Resorts
Campgrounds
Businesses
Aerial Photo
Topographic Map
© 2004-2023
Lakeweb1 Internet Services
All Rights Reserved
DCMA, Defamation, Copyright and Trademark Infingement Policy
WANTED!
Do you have photos, historical accounts or other items pertaining to the Plato area? Would you like to share this historical information with the world? LakesnWoods.com would like to publish your Plato photos (current or historical) or historical accounts on this website. Original materials can be returned and your privacy will be respected.

Plato Minnesota Community Guide
---
Location:
---
Population:
Plato (city)
1970
1980
1990
2000
2010
2000-2010 Change
Actual
Percent
Population
303
390
355
336
320
-16
-4.76
Land Area (sq. mile)
0.70
0.44
0.34
0.34
0.34
0
0.00
Density (persons per sq. mile)
432.9
886.4
1,044.1
985.0
941.2
-43.82
-4.76
Housing Units
102
132
134
145
146
+1
+0.69
Households
--
128
132
144
139
-5
-3.47
Persons Per Household
--
2.87
2.53
2.33
2.30
-0.03
-1.29
---
Geography:
Plato is a city in McLeod County, Minnesota. U.S. Route 212 serves as a main route in the community. According to the United States Census Bureau, the city has a total area of 0.36 square miles (0.93 km²), all of it land. The elevation is 997 ft (304 m) above sea level.
From Wikipedia, the free encyclopedia.
---
Demographics:
At the 2010 census, there were 320 people, 139 households and 97 families residing in the city. The population density was 914.3 inhabitants per square mile (353.0 /km2). There were 146 housing units at an average density of 417.1 per square mile (161.0 /km2). The racial makeup of the city was 98.1% White, 0.3% Native American, 0.6% Asian, and 0.9% from other races. Hispanic or Latino of any race were 0.9% of the population.
There were 139 households of which 23.0% had children under the age of 18 living with them, 61.9% were married couples living together, 4.3% had a female householder with no husband present, 3.6% had a male householder with no wife present, and 30.2% were non-families. 23.7% of all households were made up of individuals and 8.7% had someone living alone who was 65 years of age or older. The average household size was 2.30 and the average family size was 2.72.
The median age was 44.6 years. 18.7% of residents were under the age of 18; 3.7% were between the ages of 18 and 24; 28.2% were from 25 to 44; 31.6% were from 45 to 64; and 17.8% were 65 years of age or older. The population was 50.6% male and 49.4% female.
---
---
History:
PLATO, a city in sections 11 and 14, Helen Township, bears the name of a renowned Greek philosopher (d. 347 B.C.), who was a disciple of Socrates and the teacher of Aristotle. This is also the name of small villages in New York, Illinois, Kentucky, and Missouri. The city was incorporated as a village January 1, 1889; its post office, established in 1858, was located on the north end of Kennison Lake, and when the Chicago, Milwaukee, St. Paul and Pacific Railroad came through the township, the village moved to be near it.
Courtesy Minnesota Historical Society
---
Government:
Plato City Hall
112 2nd Avenue NE
PO Box 7
Plato, MN 55370
Phone: (320) 238-2432
Fax: (320) 238-2542

Regular Business Hours:
Tuesday 9:00 am - 12:00 pm
Thursday 4:00 pm - 7:00 pm

City Council Meetings:
2nd Monday of the month at 7:00 pm


Title
Term Ends
Name and Address
Phone
Mayor
12/31/2022
Tracy Montgomery
101 1st Avenue SW
Plato, MN 55370
(952) 220-9014
City Clerk
appointed
Gerri Scott
112 2nd Avenue NE - PO Box 7
Plato, MN 55370
(320) 238-2432
Council Member
12/31/2022
Vee Ann Wood
8 McLeod Avenue N - PO Box 6
Plato, MN 55370
(320) 238-2217
Council Member
12/31/2020
Neil Engelmann
604 1st Street NE - PO Box 232
Plato, MN 55370
(763) 242-5894
Council Member
12/31/2024
Dennis Oltmann
212 1st Avenue NE - PO Box 95
Plato, MN 55370
(320) 212-5135
Council Member
12/31/2024
Stacy Sohns
104 2nd Street
Plato, MN 55370
(320) 238-2260
---
Post Office:
US Post Office
16 2nd Avenue NE
Plato, MN 55370-5448
Phone: (320) 238-2223
Toll Free: (800) ASK-USPS

Regular Business Hours:
Week Days 12:00 pm - 4:00 pm
Saturday 10:30 am - 11:45 am
---
---
Utilities:
---
Major Employers:
| | | |
| --- | --- | --- |
| Employer | Products/Services | Employees |
| Plato Woodwork | Building Material & Supplies Dealers | 120 |
---
---
News:
---
Weather:
---
Map: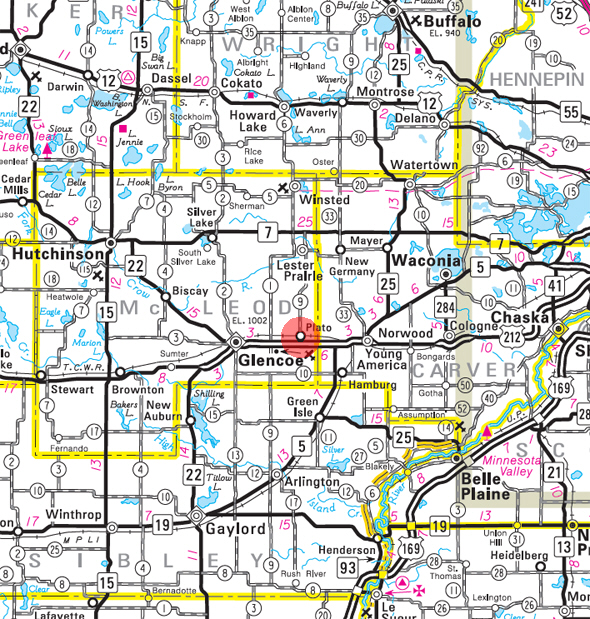 Minnesota State Highway Map of the Plato Minnesota area
---
Events:
---
Attractions:
---
Recreation:
---
Lakes:
Lake Name
Size
(acres)
Lake info
Lake Map
Rec Map
Topo Map
none in the immediate area
---
Health Care:
---
Schools:
Glencoe-Silver Lake School District
Independent School District #2859
1621 16th Street E
Glencoe, MN 55336
Phone: (320) 864-2498
Fax: (320) 864-6320



We have two elementary schools, one middle school, and a high school on two campuses. Three of our schools (one elementary, the middle school, and the high school) are located in Glencoe, and one elementary, "Lakeside" is located in Silver Lake.

Grades: PK-12
Students: 1,771

Glencoe-Silver Lake Senior High School
1825 16th Street E
Glencoe, MN 55336
Phone: (320) 864-2401
Fax: (320) 864-6475

Grades: 9-12
Students: 579

Glencoe-Silver Lake Junior High School
1825 16th Street E
Glencoe, MN 55336
Phone: (320) 864-2401
Fax: (320) 864-2475

Grades: 7-8
Students: 284

Lakeside Elementary School
229 Lake Avenue S
Silver Lake, MN 55336
Phone: (320) 864-2500
Fax: (320) 327-3122

Grades: 3-6
Students: 491

Lincoln Elementary School
1621 16th Street E
Glencoe, MN 55336
Phone: (320) 864-2677
Fax: (320) 864-2682

Grades: PK-2
Students: 417
---
Churches:
Lighthouse Assembly of God
10478 Bell Avenue
Plato, MN 55370
Phone: (320) 238-2877

Pastor: Steve and Nancy Block
Sunday Worship: 10:00 am


St. John's Lutheran Church - LCMS
216 McLeod Avenue N
Plato, MN 55370
Phone: (320) 238-2338

Pastor: Tyson Mastin
Sunday Worship: 9:00 am


St. Paul's Church - UCC
308 1st Street NE
Plato, MN 55370
Phone: (320) 238-2206

Pastor: Brian Brosz
Sunday Worship: 10:00 am


---
Media:
---
Motels:
Check for motel rates and availability on:
---
Resorts:
---
Campgrounds:
---
---
Businesses:
Ag Specialists
121 1st Avenue SW
Plato, MN 55370
Phone: (320) 238-2188

Big Gain feed, grain, seed, chemicals, fertilizer, custom application, and storage rentals.


Bill's Repair
9871 Acorn Avenue
Plato, MN 55370
Phone: (320) 238-2120


Crown Industries
135 McLeod Avenue S
Plato, MN 55370
Phone: (320) 238-2616

Crown Industries continues to manufacture hydraulic powered single piece (tip up door, one piece door, or hydraulic overhead doors), aircraft bi-folding, cable lift bi-fold, and custom design doors for architectural, glass covered, aircraft hangars, helicopter hangers, marine storage, farm sheds / Ag buildings, residential and commercial applications.


Dammann Sales LLC
3374 80th Street
Plato, MN 55370
Phone: (320) 864-3004


Engelmann Dairy Inc.
11664 County Road 9
Plato, MN 55370
Phone: (320) 238-2333


Franke's Conklin Service
305 1st Street NE
Plato, MN 55370
Phone: (320) 238-2370

Turf and agronomics, animal products, building products, consumer products, family care products, lubrication products. Conklin Dealers Needed! Lifetime Career in marketing, management, and applying "Green" products made in America.


Kahnke Brothers Tree Farm
10603 Boone Road
Plato, MN 55370
Phone: (320) 238-2572

Kahnke Brothers Tree Farm is a 116-acre Minnesota nursery that specializes in trees, shrubs and perennials. This nursery is owned and operated by Kahnke Brothers, Inc.; a trusted landscape and irrigation contractor. Kahnke Brothers Tree Farm is located between Plato, MN and Glencoe, MN on the north side of highway 212. You can see our nursery clearly from the highway, so be careful not to go in the ditch as we distract you with a rainbow tapestry of trees, shrubs and perennials!


King Pin Pub
132 Main Street E
Plato, MN 55370
Phone: (320) 238-2151

Short Order Food, Cocktails, Bowling, and Pull Tabs


Lulu's Lounge
116 Main Street E
Plato, MN 55370
Phone: (320) 238-3111

On/Off Sale Bar serving Heggie's pizza and other snacks.


Mighty's Liquor
312 4th Avenue SE
Plato, MN 55370
Phone: (320) 238-2335


Pinske Edge
119 Main Street
Plato, MN 55370
Phone: (320) 238-2196

No matter how skilled you are or how expensive your materials, you can't get good results on solid surface using tools made for woodworking. That's what Tom Pinske discovered, in his own shop and in talking to dozens of professional fabricators who struggled to get the quality results they were used to. "It's the tools." Tom said, and set out to find some that would work specifically for solid surface material. And here they are...


Plato Community Hall
120 1st Avenue NE
Plato, MN 55370
Phone: (320) 238-2432



It has tables and chairs for 400 people. The building is 2 levels and includes a dance floor and bar; there is air conditioning. See the City Office for additional information.




Plato Convenience Store - Cenex
312 4th Avenue
Plato, MN 55370
Phone: (320) 238-2442


Plato Custom Concepts
119 Main Street
PO Box 68
Plato, MN 55370
Phone: (320) 238-2196

At Plato Custom Concepts, we specialize in creating unique and very functional kitchens. As our client, you will be guided through the complex world of finishes, interior options, countertop materials, hood designs and many other important details that are the value of your well-designed kitchen. With over 100 years experience we can assure you that your kitchen will be the perfect expression of your individuality and lifestyle.


Plato Fire Hall
112 2nd Street SE
Plato, MN 55370
Phone: (320) 238-2541


Plato Pines-n-tiques
9676 Babcock Avenue S
Plato, MN 55370
Phone: (320) 238-2579

Plato Pines-n-tiques is a wonderful shop housed in an old restored barn 35 miles west of the Twin Cities just off Highway 212 at Plato, MN. Eighteen years ago the owners, Saundra and Howard Schaitberger, restored an 85+ year-old barn with a new roof, doors, windows, cement, electricity, heat and air conditioning, plus many other upgrades! In 2014 the barn, milk house, tool shed and original summer kitchen will be 104 years old! Next they invited dealers and consigners from all corners of MN to come and fill the 5,000 square feet with collectibles, antiques and now VINTAGE and UP-CYCLED merchandise gathered from all around the country. The endeavor has been extremely successful!


Plato Woodwork Inc.
200 3rd Street SW
PO Box 98
Plato, MN 55370
Phone: (320) 238-2193

Since 1893 Plato Woodwork has earned its reputation as one of America's preeminent fine custom cabinetry manufacturers. In a world where details make the masterpiece, Plato has proven to be the master of detail for every room in your home. The Art of Transformation™ happens every time Plato cabinetry is used to turn a homeowner's dream into reality. With a vision for beauty and a passion for excellence, Plato is the intelligent choice in fine custom cabinetry.


Security Bank and Trust
8 3rd Street SW
Plato, MN 55370
Phone: (320) 238-2208

On May 30, 2014, Security Bank & Trust Co. and Security Bank Waconia merged as Security Bank & Trust Co. As a combined bank, we now have 12 locations to service you. The goal of this merger is to create a stronger community bank – offering a broad range of deposit, loan, and investment services. We value your business and remain steadfast in our commitment to providing quality customer service and support for the communities where we live and work. Thank you for placing your trust in us as your financial institution. We look forward to serving you for many years to come.


SJS Proformance Inc.
8276 Acorn Avenue
Plato, MN 55370
Phone: (320) 238-1000



For over 12 years we have been providing excellent automotive repair with great customer service. We have the knowledge and skill to tackle any auto repair or maintenance service. ASE Certified Techs with over 50 years experience. We utilize state-of-the-art diagnostic equipment. You receive an in-depth analysis of your vehicle's systems, so you can understand your car's needs and keep it running great for years




Thalmann Seeds Inc.
2275 80th Street
Plato, MN 55370
Phone: (320) 238-2185



Conditioning, packaging, and shipping of seed and occasional food quality grains. Seed products: corn, soybeans, oats, wheat, barley, alfalfa, forage/pasture mixes, and lawn seed from name brands such as Kruger, LG, MPS, Mycogen, and Stine. Quality and Experience that you can trust. A family business for over 135 years.




US Post Office
16 2nd Avenue NE
Plato, MN 55370-5448
Phone: (320) 238-2223
Toll Free: (800) ASK-USPS

Regular Business Hours:
Week Days 12:00 pm - 4:00 pm
Saturday 10:30 am - 11:45 am
---
---
Aerial Photo:
---
Topographic Map: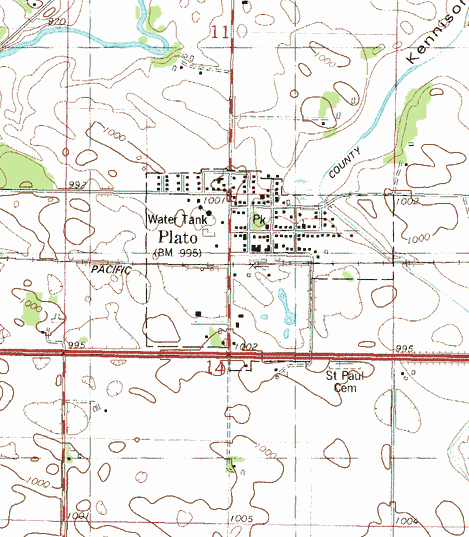 Topographic map is courtesy of the Minnesota DNR - click map to zoom or enlarge