Navigation
LakesnWoods.com
Home Page
Contact Us
Privacy
Minnesota Gift Guide

Ponemah Guide:
Photo Gallery
Location
Geography
Demographics
History
Government
Post Office
News
Weather
Street Map
Events
Attractions
Recreation
Lakes
Health Care
Schools
Churches
Media
Motels
Resorts
Campgrounds
Businesses
Aerial Photo
Topographic Map
© 2004-2023
Lakeweb1 Internet Services
All Rights Reserved
DCMA, Defamation, Copyright and Trademark Infingement Policy
WANTED!
Do you have photos, historical accounts or other items pertaining to the Ponemah area? Would you like to share this historical information with the world? LakesnWoods.com would like to publish your Ponemah photos (current or historical) or historical accounts on this website. Original materials can be returned and your privacy will be respected.

Ponemah Minnesota Community Guide
---
Location:
---
Population:
Lower Red Lake Unorganized Territory
1970
1980
1990
2000
2010
2000-2010 Change
Actual
Percent
Population
2,675
2,855
3,621
5,057
5,790
+733
+14.49
Land Area (sq. mile)
137.30
140.13
141.17
141.16
141.16
0
0.00
Density (persons per sq. mile)
19.48
20.37
25.65
35.82
41.02
+5.20
+14.49
Housing Units
576
720
1,016
1,378
1,780
+402
+29.17
Households
--
686
929
1,323
1,715
+392
+29.63
Persons Per Household
--
4.15
3.85
3.79
3.33
-0.46
-12.14
---
Geography:
Ponemah is a census-designated place (CDP) within the Lower Red Lake unorganized territory in Beltrami County, Minnesota According to the U.S. Census, the CDP has a total area of 19.6 square miles (50.8 km˛), all land. The elevation is 1,198 ft (365 m) above sea level.
From Wikipedia, the free encyclopedia.
---
Demographics:

---
---
History:
PONEMAH, a village on the north shore of the southern half of Red Lake, having a U.S. government school for the Ojibwe children, bears a name used by Henry W. Longfellow in The Song of Hiawatha. Minnehaha in dying, and afterward Hiawatha, depart
To the Islands of the Blessed,
To the Kingdom of Ponemah,
To the Land of the Hereafter.
Courtesy Minnesota Historical Society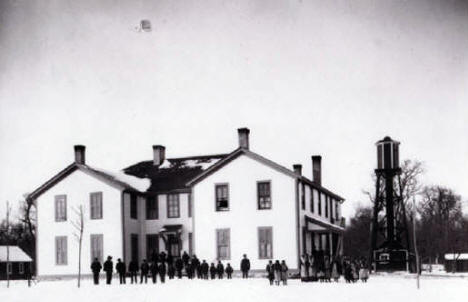 Indian boarding school, Ponemah Minnesota, 1901
Courtesy Beltrami County Historical Society
---
Government:

The tribal government has full sovereignty over the reservation, subject only to the federal government. Red Lake, because of its unique status is often referred to as a "closed" reservation. Because the land is held in common, few non-members live at Red Lake. The Tribe has the right to limit who can visit or live on the reservation. The Red Lake Nation is exempt from Public Law 280; consequently the state courts or government has no jurisdiction at Red Lake. Laws are made by the Tribal Council and enforced by the Tribal Council and Federal Courts.

In 1918 the Red Lake General Council Constitution was established. In 1958 a revised Constitution and By-laws was adopted by the members of Red Lake Nation, followed by the first secret ballot election of Tribal Government in 1959.

An eleven member Tribal Council, three officers elected at large and eight council members, two from each of the four communities, governs the Red Lake Band. Seven Hereditary Chiefs, descendents from those who negotiated the 1889 Land Agreement, serve for life in an advisory capacity to the Tribal Council. In 1997, the Tribe began administering its own programs under a Self-Governance Contract with the BIA. Red Lake is not a member of the Minnesota Chippewa Tribe (MCT).
Red Lake Nation Government Center
15484 Migizi Drive
Red Lake, MN 56671
Phone: (218) 679-3341
Web: www.redlakenation.org
Title
Term Ends
Name and Address
Phone

Chairman

n/a
Darrell G. Seki, Sr.
n/a
Secretary
n/a
Samuel R. Strong .
n/a
Treasurer
n/a
Annette Johnson
n/a
District Representative - Little Rock
n/a
Michelle Barrett-Cobenais .
n/a
District Representative - Little Rock
n/a
Adrian Beaulieu
n/a
District Representative - Ponemah
n/a
Glenda Martin
n/a
District Representative - Ponemah
n/a
Gary Nelson
n/a
District Representative - Red Lake
n/a
Robert "Bob" Smith
n/a
District Representative - Red Lake
n/a
Donald Good, Sr.
n/a
District Representative - Redby
n/a
Allen D. Pemberton
n/a
District Representative - Redby
n/a
Julius "Toady" Thunder
n/a
---
Post Office:
US Post Office
150 County Road 15
Ponemah, MN 56666
Phone: (218) 554-7374
Toll Free: (800) ASK-USPS

Regular Business Hours:
Week Days 10:00 am - 2:00 pm
Saturday 10:00 am - 12:00 pm
---
---
Utilities:
---
Major Employers:
Employer
Products/Services
Employees

n/a
---
---
News:
---
Weather:
---
Map: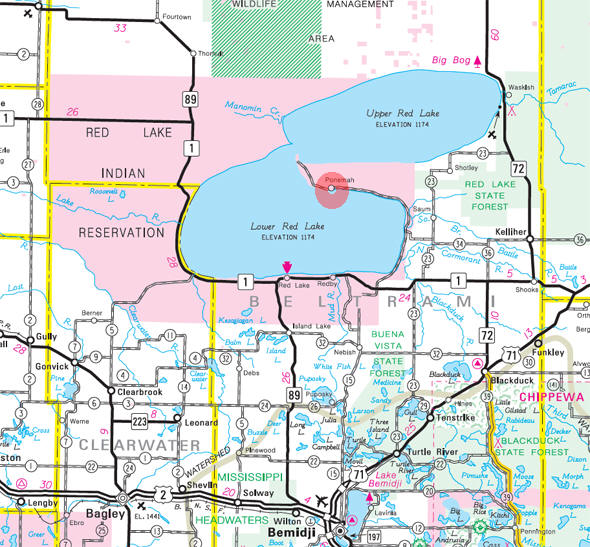 Minnesota State Highway Map of the Ponemah Minnesota area
---
Events:
---
---
Attractions:
---
Recreation:
---
Lakes:
Lake Name
Size
(acres)
Lake info
Lake Map
Rec Map
Topo Map
Lower Red
n/a
n/a
n/a
Upper Red
119,295
n/a
---
Health Care:
Ponemah Clinic
PO Box 114
Ponemah, MN 56666
Phone: (218) 554-7333
---
Schools:
Red Lake Nation College
23750 State Highway 1 E
Red Lake, MN 56671
Phone: (218) 679-2860
Red Lake School District
Independent School District #38
23990 State Highway 1 E
PO Box 499
Red Lake, MN 56671
Phone: (218) 679-3353
Fax: (218) 679-2321
Web: www.Red Lake.k12.mn.us

Grades: K-12
Students: n/a
Red Lake High School
23990 Highway 1 E
Red Lake, MN 56671
Phone: (218) 679-3733

Grades: 7-12
Students: n/a
Red Lake Middle School
23990 Highway 1 E
Red Lake, MN 56671
Phone: (218) 679-2700

Grades: 6-8
Students: n/a
Red Lake Elementary School
24900 Elementary Street
Red Lake, MN 56671
Phone: (218) 679-3329

Grades: 1-5
Students: n/a
Ponemah Elementary School
25039 Abinoojiin Drive
Ponemah, MN 5666
Phone: (218) 679-2375

Grades: K-8
Students: n/a
---
Churches:
---
Media:
---
Motels:
---
Resorts:
---
Campgrounds:
---
---
Businesses:
Ponemah Ambulance Service
25087 Abinoojeenh Drive
Ponemah, MN 56666
Phone: (218) 554-7334
Ponemah Clinic
PO Box 114
Ponemah, MN 56666
Phone: (218) 554-7333
Ponemah Elderly Nutrition
300 Central Street
Ponemah, MN 56666
Phone: (218) 554-7492
Ponemah Fire Department
PO Box 156
Ponemah, MN 56666
Phone: (218) 554-7377
Ponemah Head Start Program
County Road 18
Ponemah, MN 56666
Phone: (218) 554-7331
Ponemah Trading Post
19210 Lake Drive
Ponemah, MN 56666
Phone: (218) 554-7303
Ponemah WIC Clinic
General Delivery
Ponemah, MN 56666
Phone: (218) 554-7501
Red Lake Tribal Council
Ponemah, MN 56666
Phone: (218) 554-7585
Substance Abuse Prevention Program
PO Box 318
Ponemah, MN 56666
Phone: (218) 554-7425
US Post Office
PO Box 9998
Ponemah, MN 56666
Phone: (218) 554-7374
---
---
Aerial Photo:
---
Topographic Map: [click map to enlarge, zoom in or zoom out]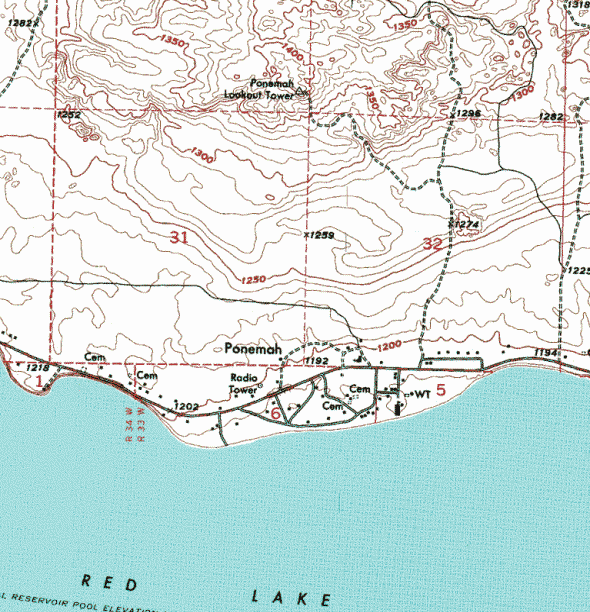 Topographic map is courtesy of the Minnesota DNR -
click map
to zoom or enlarge