Navigation
LakesnWoods.com
Home Page
Contact Us
Privacy
Minnesota Gift Guide

Redby Guide:
Photo Gallery
Location
Geography
Demographics
History
Government
Post Office
News
Weather
Street Map
Events
Attractions
Recreation
Lakes
Health Care
Schools
Churches
Media
Motels
Resorts
Campgrounds
Businesses
Aerial Photo
Topographic Map
© 2004-2023
Lakeweb1 Internet Services
All Rights Reserved
DCMA, Defamation, Copyright and Trademark Infingement Policy
WANTED!
Do you have photos, historical accounts or other items pertaining to the Redby area? Would you like to share this historical information with the world? LakesnWoods.com would like to publish your Redby photos (current or historical) or historical accounts on this website. Original materials can be returned and your privacy will be respected.

Redby Minnesota Community Guide
---
Location:
---
Population:
Lower Red Lake Unorganized Territory
1970
1980
1990
2000
2010
2000-2010 Change
Actual
Percent
Population
2,675
2,855
3,621
5,057
5,790
+733
+14.49
Land Area (sq. mile)
137.30
140.13
141.17
141.16
141.16
0
0.00
Density (persons per sq. mile)
19.48
20.37
25.65
35.82
41.02
+5.20
+14.49
Housing Units
576
720
1,016
1,378
1,780
+402
+29.17
Households
--
686
929
1,323
1,715
+392
+29.63
Persons Per Household
--
4.15
3.85
3.79
3.33
-0.46
-12.14
---
Geography:
Redby is a census-designated place (CDP) within the Lower Red Lake unorganized territory in Beltrami County, Minnesota. According to the United States Census Bureau, the CDP has a total area of 12.1 square miles (31.5 km˛), of which, 11.7 square miles (30.2 km˛) of it is land and 0.5 square miles (1.2 km˛) of it (3.95%) is water. The elevation is 1,217 ft (371 m) above sea level.
From Wikipedia, the free encyclopedia.
---
Demographics:

---
---
History:
REDBY, an unincorporated village located on the south shore of Red Lake, on the Red Lake Reservation in T. 151N, R. 33W, section 20, received its name from the lake; its post office was established in 1907. It is the only community within the reservation that has taxable land under private ownership; industries include the Red Lake Indian Mills and the Red Lake Fisheries Association. The North West Fur Company had a trading post at the site.
Courtesy Minnesota Historical Society
Red Lake Develops Early Among County Communities
John G. Morrison, Jr. knew the Ojibwe people well. Residing on reservations for all but a few months of his life, he became an expert on both the government and the people influencing Indian life in northern Minnesota. John attended boarding school on the White Earth Reservation as a young man, and continued his education at the Carlisle Indian School in Pennsylvania in 1892. A few months later he returned to Minnesota, working in the Beaulieu, Ponsford, and Red Lake areas.
In 1896, he accepted a job with the U.S. Government's Indian Service, and for the next few years taught in federal reservation schools from Wisconsin to Washington. On October 1, 1900, he was transferred to Cross Lake on the northern shore of lower Red Lake, to start a school with his wife, Edith MacArthur Morrison. He also served as postmaster in the community of Ponemah.
In 1907, John left teaching to operate his father's general store in Red Lake and to become the Red Lake postmaster, Twelve years later he again changed careers, returning to White Earth to serve as a field man for the U.S. Government in managing Indian affairs. He continued working for his people in various federal capacities until 1940, when he retired with his wife to Redby.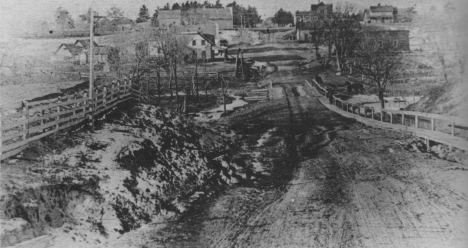 The view of early Red Lake looking west. Morrison and Gravelle's Chippewa Trading Store is on the right on the road north to the pow-wow grounds. The bridge is over Mill Creek, named after an early sawmill. The Morrison Hotel is seen north and slightly east of the Chippewa Store. Photo Courtesy of North Central Minnesota Historical Center
John C. Morrison, Jr. Remembers...
As I remember Red Lake in 1888 it was a sprawling, long, narrow village along the lake, much as it is today. William R. Spears had a store there, which he had started in 1879 according to a sign on the front of it. He had started in his trading activities following the Indians around with a wagon when they were digging senaca root. He was a single man and spent his winters in a shack in Red Lake. When I first met him, he was right near Warren's stopping place where the Indians were digging the root. So many Indians were at work that he had root stored in a tent which he called "Snake Root City." Spear's original store was made of two logs long with staggered joints. It was about 400 feet from the Main street, just north on the road that runs down to the pow-wow grounds. Old Chief Moosedung had a little store downhill from Spears, on a side hill. The old American Fur Company store was right on the brown of the hill and Spears was in back of it.
It seems to me that Allan Jourdain had a little stock of goods in the American Fur Co. building. William Sayers, his brother-in-law, was clerking for him. He also owned the mail route and had the contract from White Earth to Red Lake, which he hired an Indian carrier to handle by packing on his back. One of the carriers was Nayzatkwigaowh, meaning man who stands alone. When he gave it up, Allan's brother, Peter Jourdain, carried the mail, generally with a little pony team. The Red Lake Post Office, the first in Beltrami County [established 1875], was at the Agency.
The Agency was in the same general location it is now and was headed by an overseer, Mr. Reed. I think there were five or six employees. There was no hospital there at that time but there was a doctor, possibly Dr. Laird. A small green schoolhouse was operated by the federal government. There was just one teacher who was called superintendent. The Agency blacksmith, carpenter, teamster, doctor and school employees probably brought the total number to ten people working for the government. There were, in addition, seven policemen. I believe they rotated a day apiece with a man always on duty.
There were no roads to speak of —just trails and mudholes.
The Indians in Red Lake raised a lot of vegetables at that time: corn, squash and potatoes. In the trader's store we used to buy corn. Seneca roots in the summertime and fur in the wintertime were used by the Indians for barter.
In 1888 the Catholics had a mission at the site of the cemetery which Father Aloysius visited from time to time, and late that fall Father Thomas Borgerding and some sisters arrived in Red Lake to maintain the mission on a full-time basis and start a school.
When I came back to Red Lake to work in 1893 things were picking up There were two main stores. I clerked for William Spears about two years. At that time Red Lake was the only town in Beltrami County area when you could buy a reasonable supply of groceries and other necessities of life. The county had not been organized and Red Lake was the only town in the county at that time. In 1893 it was largely a jumping-off place for homesteaders, steamboats and other settlers moving in. The lands settled on were largely those which had been ceded by the Indians of the Red Lake Reservation.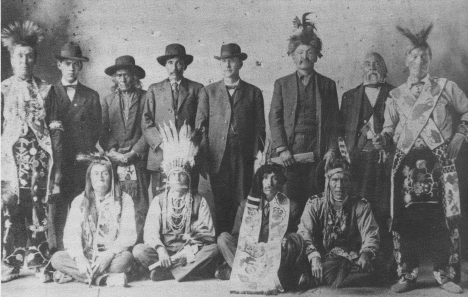 One of the last official Red Lake Indian delegations to Washington, D.C., in 1909 to discuss treaties. Shown above left to right are (front row) George Highlanding, Everwind, John English, Chief Nodin of Ponemah; back row, left to right, Joe Mason, P.H. Beauleau, Kingbird. Basil Lawrence, Attorney John Gibbons of Bemidji, Alex Jourdain, Babeegeshig, Ehmeewequanobe. Photo Courtesy of Beltrami County Historical Society
John B. Fairbanks had a little store in Red Lake and Tom Gurneau ran a little stopping place, a little log building with garret rooms for people who were forced to stay there overnight.
Steamboats had been running on Red Lake for probably two or three years when I came up here in 1893 to work. Captain Pete Eberhardt had a boat on Red Lake which he called The Viking. He made regular trips, depending upon the wind. If the wind was blowing from the west, the water was too low and he couldn't get into the lake. It was too shallow at the bar. This boat was probably 60-70 feet long. There was enough water in the Red Lake River to float it all the way down to Thief River Falls. Later on, another boat came on the lake. It was run by Herman Cook. Then the Alice Meehan came on, a passenger boat. Olaf Hanson ran a boat thatwouldn't go out on the lake but followed along the shore. He called it the Christina. And then there were quite a few towboats: the Martin Lally, the Michael Kelly, the Old Mudhen and the Jim Meehan. The Margarite, Chippewa, Beltrami and J.P. Kinney came on later. The lake was quite a highway. Quite a few boats towed logs across every day.
About 1893 and 1894 they were doing extensive logging up here. Bill Lennon came. C.A. Smith had a lot of holdings here and the walking boss was Fred Kribs — Fred and Al Kribs. The timber estimator was Jimmie Mullen. There was quite a bit of work being done on the lake. In the wintertime freighters from Terrebonne and Brooks and where Oklee is now hauled their beef and pork and eggs to us for the camps.
Red Lake was becoming busy with trading and supplying camps in the winter and driving and towing in the summer. Times were improving.
From "In Our Own Backyard" by Carol Russell
© 1979, North Central Minnesota Historical Center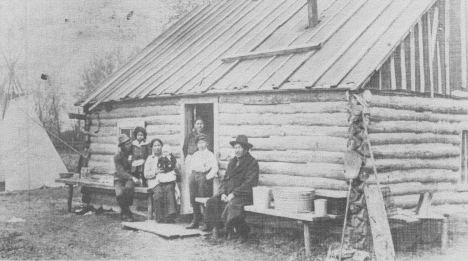 An Indian family at Red Lake is pictured above. The wigwam, left, is a recreation tent.
Photo Courtesy of North Central Minnesota Historical Center
---
Government:

The tribal government has full sovereignty over the reservation, subject only to the federal government. Red Lake, because of its unique status is often referred to as a "closed" reservation. Because the land is held in common, few non-members live at Red Lake. The Tribe has the right to limit who can visit or live on the reservation. The Red Lake Nation is exempt from Public Law 280; consequently the state courts or government has no jurisdiction at Red Lake. Laws are made by the Tribal Council and enforced by the Tribal Council and Federal Courts.


In 1918 the Red Lake General Council Constitution was established. In 1958 a revised Constitution and By-laws was adopted by the members of Red Lake Nation, followed by the first secret ballot election of Tribal Government in 1959.

An eleven member Tribal Council, three officers elected at large and eight council members, two from each of the four communities, governs the Red Lake Band. Seven Hereditary Chiefs, descendents from those who negotiated the 1889 Land Agreement, serve for life in an advisory capacity to the Tribal Council. In 1997, the Tribe began administering its own programs under a Self-Governance Contract with the BIA. Red Lake is not a member of the Minnesota Chippewa Tribe (MCT).
Red Lake Nation Government Center
15484 Migizi Drive
Red Lake, MN 56671
Phone: (218) 679-3341
Web: www.redlakenation.org
Title
Term Ends
Name and Address
Phone

Chairman

n/a
Darrell G. Seki, Sr.
n/a
Secretary
n/a
Samuel R. Strong .
n/a
Treasurer
n/a
Annette Johnson
n/a
District Representative - Little Rock
n/a
Michelle Barrett-Cobenais .
n/a
District Representative - Little Rock
n/a
Adrian Beaulieu
n/a
District Representative - Ponemah
n/a
Glenda Martin
n/a
District Representative - Ponemah
n/a
Gary Nelson
n/a
District Representative - Red Lake
n/a
Robert "Bob" Smith
n/a
District Representative - Red Lake
n/a
Donald Good, Sr.
n/a
District Representative - Redby
n/a
Allen D. Pemberton
n/a
District Representative - Redby
n/a
Julius "Toady" Thunder
n/a
---
Post Office:
US Post Office
101 3rd Street
Redby, MN 56670-2000
Phone: (218) 679-2124
Toll Free: (800) ASK-USPS

Regular Business Hours:
Week Days 9:00 am - 1:00 pm
2:00 pm - 4:00 pm
Saturday 9:00 am - 11:00 am
---
---
Utilities:
---
Major Employers:
Employer
Products/Services
Employees

n/a
---
---
News:
---
Weather:
---
Map: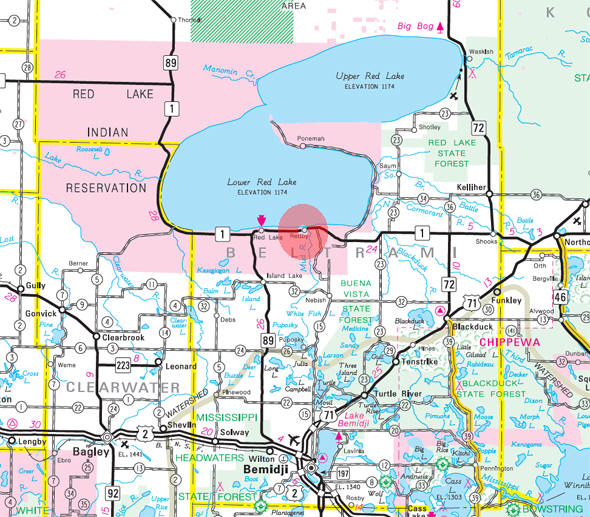 Minnesota State Highway Map of the Redby Minnesota area
---
Events:
---
---
Attractions:
---
Recreation:
---
Lakes:
Lake Name
Size
(acres)
Lake info
Lake Map
Rec Map
Topo Map
Lower Red
n/a
n/a
n/a
---
Health Care:
---
Schools:
Red Lake Nation College
23750 State Highway 1 E
Red Lake, MN 56671
Phone: (218) 679-2860
Red Lake School District
Independent School District #38
23990 State Highway 1 E
PO Box 499
Red Lake, MN 56671
Phone: (218) 679-3353
Fax: (218) 679-2321
Web: www.Red Lake.k12.mn.us

Grades: K-12
Students: n/a
Red Lake High School
23990 Highway 1 E
Red Lake, MN 56671
Phone: (218) 679-3733

Grades: 7-12
Students: n/a
Red Lake Middle School
23990 Highway 1 E
Red Lake, MN 56671
Phone: (218) 679-2700

Grades: 6-8
Students: n/a
Red Lake Elementary School
24900 Elementary Street
Red Lake, MN 56671
Phone: (218) 679-3329

Grades: 1-5
Students: n/a
Ponemah Elementary School
25039 Abinoojiin Drive
Ponemah, MN 56666
Phone: (218) 679-2375

Grades: K-8
Students: n/a
---
Churches:
---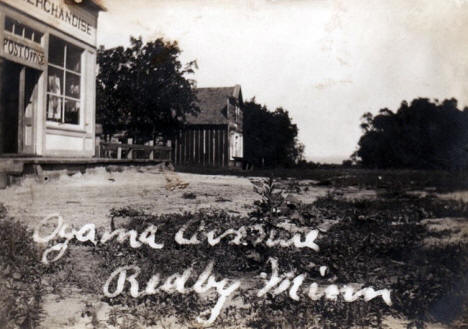 Ogama Avenue, Redby Minnesota, 1909
LakesnWoods.com Postcard and Postcard Image Collection - click to enlarge
---
Media:
---
Motels:
---
Resorts:
---
Campgrounds:
---
---
Businesses:
New Beginnings Child Care Program
State Highway 1
PO Box 416
Redby MN, 56670
Phone: (218) 679-3326
Web: www.mntrecc.net



The New Beginnings Child Care Program is a department within the Whitefeather/Moe Training, Education & Technology Center under the Red Lake Reservation Tribal Government. The New Beginnings Child Care Program is funded through the Child Care Development Block Grant and is part of Public Law 102-477 along with five (5) other programs.

Red Lake Nation Fishery
19050 State Highway 1
Redby MN, 56670
Phone: (218) 679-3513
Web: www.redlakewalleye.com



Fresh Walleye, Perch and more are caught daily, year round, exclusively on Red Lake, the center of Tribal Life. All fish sold here are wild-caught by hand, by Red Lake Tribal Members. All proceeds come right back to the reservation and benefit its economic growth.

Red Lake Propane
19638 1st Street
Redby MN, 56670
Phone: (218) 679-4418
Redby Community Center
State Highway 1 E
Redby MN, 56670
Phone: (218) 679-5924
Redby One Stop
19307 State Highway 1 E
Redby MN, 56670
Phone: (218) 679-3655
Redby Store
19320 State Highway 1 E
Redby MN, 56670
Phone: (218) 679-3511
US Post Office
101 3rd Street
Redby, MN 56670-2000
Phone: (218) 679-2124
Toll Free: (800) ASK-USPS
Web:

www.usps.com
---
---
Aerial Photo:
---
Topographic Map: [click map to enlarge, zoom in or zoom out]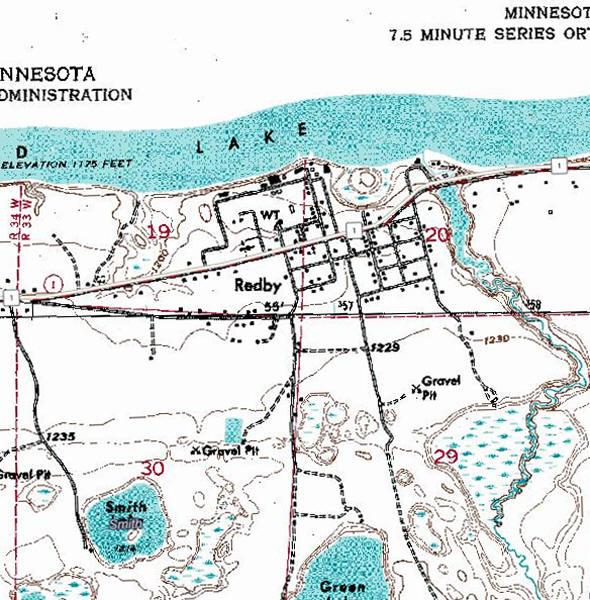 Topographic map is courtesy of the Minnesota DNR -
click map
to zoom or enlarge
---