Navigation
LakesnWoods.com
Home Page
Contact Us
Privacy
Minnesota History Shop

Visit The Minnesota History Shop
www.minnesotahistoryshop.com
Historic maps
Historic books
Historic framed art
Historic postcards
Clothing with historic images
And much more!!!


Renville Guide:
Photo Gallery
Location
Geography
Demographics
History
Government
Post Office
News
Weather
Street Map
Events
Attractions
Recreation
Lakes
Health Care
Schools
Churches
Media
Motels
Resorts
Campgrounds
Businesses
Aerial Photo
Topographic Map
© 2004-2023
Lakeweb1 Internet Services
All Rights Reserved
DCMA, Defamation, Copyright and Trademark Infingement Policy
WANTED!
Do you have photos, historical accounts or other items pertaining to the Renville area? Would you like to share this historical information with the world? LakesnWoods.com would like to publish your Renville photos (current or historical) or historical accounts on this website. Original materials can be returned and your privacy will be respected.

Renville Minnesota Community Guide
---
Location:
---
Population:
Renville (city)
1970
1980
1990
2000
2010
2000-2010 Change
Actual
Percent
Population
1,252
1,493
1,315
1,323
1,287
-36
-2.72
Land Area (sq. mile)
1.40
1.39
1.37
1.39
1.39
0
0.00
Density (persons per sq. mile)
894.29
1,074.10
959.85
948.86
925.90
-22.96
-2.42
Housing Units
488
603
570
544
606
+58
+10.66
Households
--
571
532
508
538
+30
+5.91
Persons Per Household
--
2.49
2.33
2.44
2.39
-0.05
-2.05
---
Geography:
Renville is a city in Renville County, Minnesota. U.S. Route 212 and County Highway 6 are two of the main routes in the city. According to the United States Census Bureau, the city has a total area of 1.39 square miles (3.60 km2), all of it land. The elevation is 1,073 ft (327 m) above sea level.
From Wikipedia, the free encyclopedia.
---
Demographics:
As of the census of 2010, there were 1,287 people, 538 households, and 316 families residing in the city. The population density was 925.9 inhabitants per square mile (357.5/km2). There were 606 housing units at an average density of 436.0 per square mile (168.3/km2). The racial makeup of the city was 96.8% White, 0.1% African American, 0.2% Native American, 0.3% Asian, 1.9% from other races, and 0.7% from two or more races. Hispanic or Latino of any race were 18.2% of the population.
There were 538 households of which 27.9% had children under the age of 18 living with them, 46.1% were married couples living together, 8.6% had a female householder with no husband present, 4.1% had a male householder with no wife present, and 41.3% were non-families. 37.5% of all households were made up of individuals and 23.8% had someone living alone who was 65 years of age or older. The average household size was 2.31 and the average family size was 3.05.
The median age in the city was 41.6 years. 24.9% of residents were under the age of 18; 7% were between the ages of 18 and 24; 21.7% were from 25 to 44; 22.6% were from 45 to 64; and 23.9% were 65 years of age or older. The gender makeup of the city was 49.0% male and 51.0% female.
---
---
History:
The city and county of Renville were named for Joseph Renville, a man of French and Dakota descent who had extensive knowledge of the wilderness and served as a guide for many expeditions. Renville founded Fort Renville and served as a captain during the War of 1812. He was a courier, interpreter, and founder of the Columbia Fur Company. He earned respect that cut across the racial and ethnic boundaries of that era.
The city of Renville was platted in 1878, when the railroad reached the area. It was incorporated in 1906. It has grown from a population of 250 in 1900 to about 1,200 residents today.
It is situated near the Minnesota River Valley in a fertile agricultural area known for its high productivity. Renville's economy, past and present, is based largely upon agribusiness. Renville serves as an agricultural service and distribution center for the surrounding area, and the city boasts the world's largest sugar beet processing plant.
From Wikipedia, the free encyclopedia.
RENVILLE, a city in sections 5 and 8 of Emmet Township, platted in September 1878, and incorporated February 19, 1881, was named in honor of Joseph Renville, like this county. A post office with this name was established first in section 23 of Camp Township, operating 1862-63 and again 1873-80, before changing its name to Camp; a second post office was established at the present site as Renville Station, 1878-86, in reference to its Hastings and Dakota Railway station; it became Renville in 1886.
Courtesy Minnesota Historical Society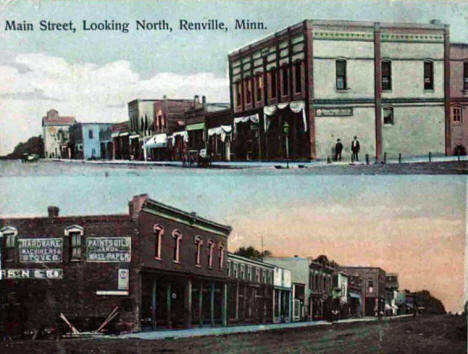 Main Street looking north, Renville Minnesota, 1908
LakesnWoods.com Postcard and Postcard Image Collection- click image to enlarge

Visit The Renville Photo Gallery for more recent and historic area photos
---
Government:
Renville City Hall
221 N Main Street
PO Box 371
Renville MN 56284
Phone: (320) 329-8366
Fax: (320) 329-8367

Regular Business Hours:
Monday - Friday 8:00 am - 4:00 pm

City Council Meetings:
2nd and 4th Monday of each month at 7:00 pm


Title
Term Ends
Name and Address
Phone
Mayor
12/31/2024
Janette Wertish
123 Elm Avenue SW
Renville MN 56284
(320) 329-3351
Clerk/Treasurer
appointed
Shane Wohlman
PO Box 371
Renville MN 56284
(320) 329-8366
Council Member
12/31/2022
Alma Gasca
120 Park Avenue
Renville MN 56284
(320) 522-2390
Council Member
12/31/2022
Dave Grund
215 SE 2nd Street
Renville MN 56284
(320) 522-1271
Council Member
12/31/2022
Pete Peterson
PO Box 516
Renville MN 56284
(320) 905-1379
Council Member
12/31/2024
David Van Hove
226 E Park Avenue
Renville MN 56284
(320) 522-2810
Council Member
12/31/2024
Adam Zaske
208 3rd Street SE
Renville MN 56284
(320) 329-3313
---
Post Office:
US Post Office
334 N Main Street
Renville, MN 56284-5000
Phone: (320) 329-3166
Toll Free: (800) ASK-USPS

Regular Business Hours:
Week Days 8:30 am - 12:15 pm
1:30 pm - 4:00 pm
Saturday 8:30 am - 9:30 am




---
---
Utilities:
---
Major Employers:
---
---
News:
---
Weather:
---
Map: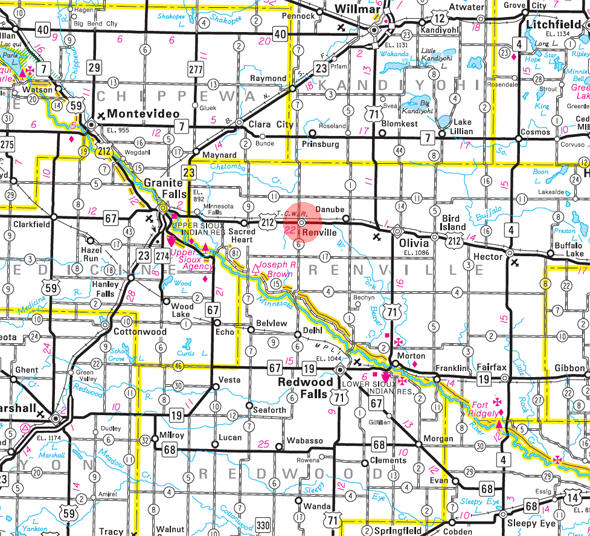 Minnesota State Highway Map of the Renville Minnesota area
---
Events:
Sugar Beet Days

1st weekend in June


---
---
Attractions:
---
Recreation:
---
Lakes:
Lake Name
Size
(acres)
Lake info
Lake Map
Rec Map
Topo Map
none in the immediate area
---
Health Care:
---
Schools:
---
Churches:
Emden Christian Reformed Church
512 Emerson Avenue NW
Renville, MN 56284
Phone: (320) 329-3932

Pastor: David Zigterman
Sunday Service: 10:00 am


Ebeneezer Presbyterian Church
86581 County Road 6
Renville, MN 56284
Phone: (320) 329-3643

Pastor: n/a
Sunday Service: 10:00 am


First Lutheran Church - ELCA
316 SW 3rd Street
Renville, MN 56284
Phone: (320) 329-3954

Pastor: Jane Crawford
Sunday Service: 10:15 am


Holy Redeemer Catholic Church
106 3rd Street SE
Renville, MN 56284
Phone: (320) 329-3884

Pastor: Father Joseph Steinbeisser
Sunday Mass: 10:30 am


St. John's Lutheran Church - WELS
209 Bryant Avenue NE
Renville, MN 56284
Phone: (320) 329-3826

Pastor: Rick Tuttle
Sunday Service: 10:00 am


St. Matthew Lutheran Church - WELS
address unavailable
Renville, MN 56284
Phone: (320) 329-2280

Pastor: Mike Kuschel
Sunday Service: 8:00 am


United Methodist Church
123 N Main Street
Renville, MN 56284
Phone: (320) 329-8331

Pastor: Keith Mercer
Sunday Service: 10:45 am


---
Media:
---
Motels:
Check for motel rates and availability on:
---
Resorts:
---
Campgrounds:
---
---
Businesses:
A to Z Insurance Center
338 N Main Street
Renville, MN 56284
Phone: (320) 329-3313
A+ Insurance Agency
106 5th Street SE
Renville, MN 56284
Phone: (320) 329-3267
Aegis Therapies
205 SE Elm Street
Renville, MN 56284
Phone: (320) 329-3703
AEI LLC
209 N Main Street
Renville, MN 56284
Phone: (320) 329-4340
American Family Insurance
404 S Main Street
Renville, MN 56284
Phone: (320) 329-3841
Automated Environments LLC
209 N Main Street
Renville, MN 56284
Phone: (320) 329-4340
Bart's Place
313 N Main Street
Renville, MN 56284
Phone: (320) 329-8145
Big River Pizza
280 5th Street SE
Renville, MN 56284
Phone: (651) 683-2186
Bridal Aisle Wedding Consignment
308 5th Street SE
Renville, MN 56284
Phone: (763) 657-0621
Casey's General Store
325 Park Avenue SE
Renville, MN 56284
Phone: (320) 329-3179
Cenex
118 Dupont Avenue
Renville, MN 56284
Phone: (320) 329-8351
Christensen Family Farms
25154 840th Avenue
Renville, MN 56284
Phone: (320) 329-8415
Christiansen Farm
78526 220th Street
Renville, MN 56284
Phone: (320) 329-3462
Co-op Country Farmers Elevator
340 Dupont Avenue
Renville, MN 56284
Phone: (320) 329-8377
Community Electric Company
222 N Main Street
Renville, MN 56284
Phone: (320) 329-8317
Community Soft Water Service
435 S Main Street
Renville, MN 56284
Phone: (320) 329-3661
Cool Hand Trucking
89525 County Road 6
Renville, MN 56284
Phone: (320) 329-8803
Coop Country
24635 US Highway 212
Renville, MN 56284
Phone: (320) 329-3550
Country Rose Floral and Gifts
400 N Main Street
Renville, MN 56284
Phone: (320) 329-3666
Dave Maurice Agency
404 N Main Street
Renville, MN 56284
Phone: (320) 329-3841
Dirks Blem Funeral Home
427 S Main Street
Renville, MN 56284
Phone: (320) 329-3555
Dollar General
516 Park Avenue SE
Renville, MN 56284
Phone: (320) 329-3126
E & C Graphics
23602 County Road 11
Renville, MN 56284
Phone: (320) 329-3566
East Ridge Court
219 SE Elm Street
Renville, MN 56284
Phone: (320) 329-3901
Edgewood Acres
74382 County Road 6
Renville, MN 56284
Phone: (320) 212-7171
F & M Bank
412 N Main Street
Renville, MN 56284
Phone: (320) 329-8301
First Security Bank
106 5th Street SE
Renville, MN 56284
Phone: (320) 329-8373
Golden Oval Eggs LLC
1800 Park Avenue E
Renville, MN 56284
Phone: (320) 329-8182
H & L Motors
120 NW Dupont
Renville, MN 56284
Phone: (320) 329-8328
Hinderks Chiropractic PA
317 N Main Street
Renville, MN 56284
Phone: (320) 329-8185
Historic Renville Preservation
202 N Main Street
Renville, MN 56284
Phone: (320) 329-3545
K & M Manufacturing
308 2nd Street NW
Renville, MN 56284
Phone: (320) 329-3301
Lang's Automotive Center
203 Park Avenue
Renville, MN 56284
Phone: (320) 329-3300
Larkin Tree Care and Landscaping
79563 County Road 6
Renville, MN 56284
Phone: (320) 329-3855
Main Street Bar and Grill
345 S Main Street
Renville, MN 56284
Phone: (320) 329-3290
Marcus Well Drilling Inc.
103 S Main Street
Renville, MN 56284
Phone: (320) 329-3562
Maynard's of Renville
304 N Main Street
Renville, MN 56284
Phone: (320) 329-8384
Meadows on Main
611 S Main Street
Renville, MN 56284
Phone: (320) 329-3834
Midwest Dental
107 Dupont Avenue NW
Renville, MN 56284
Phone: (320) 329-8321
Olivia Hardware and Rental
22747 135th Street SW
Renville, MN 56284
Phone: (320) 523-1011
RC Hospital and Clinics
420 S Main Street
Renville, MN 56284
Phone: (320) 329-8395
Rembrandt
1800 Park Avenue E
Renville, MN 56284
Phone: (320) 329-8182
Renvilla Nursing Home
205 SE Elm Street
Renville, MN 56284
Phone: (320) 329-8381
Renville Convenience Store
712 E Park Avenue
Renville, MN 56284
Phone: (320) 329-3411
Renville County Register
110 NW Dupont
Renville, MN 56284
Phone: (320) 329-3324
Renville Police Department
113 Dupont Avenue
Renville, MN 56284
Phone: (320) 329-3419
Renville Public Library
221 S Main Street
Renville, MN 56284
Phone: (320) 329-8193
Renville Sales Inc.
21026 US Highway 212
Renville, MN 56284
Phone: (320) 329-3469
Renville Water Works
401 NW 3rd Street
Renville, MN 56284
Phone: (320) 329-4304
Riverside Flooring
41532 County Road 6
Renville, MN 56284
Phone: (320) 641-5615
Schroeder Trucking
501 Emerson Avenue NW
Renville, MN 56284
Phone: (320) 894-6182
Southern Minnesota Beet Sugar Co-op
83550 County Road 21
Renville, MN 56284
Phone: (320) 329-8305
Steve's Heating and Air Conditioning
211 E Park Avenue
Renville, MN 56284
Phone: (320) 329-3663
Terry Roschild Construction
523 2nd Street NE
Renville, MN 56284
Phone: (320) 329-3880
Thrift White Pharmacy
303 S Main Street
Renville, MN 56284
Phone: (320) 329-8308
Tran Systems Corporation
83901 County Road 21
Renville, MN 56284
Phone: (320) 329-3436
United Mills
340 Dupont Avenue NE
Renville, MN 56284
Phone: (320) 329-3141
Wertish Auto and Truck Repair
83267 County Road 6
Renville, MN 56284
Phone: (320) 329-4344
Wrenwood Home
602 Colfax Avenue NE
Renville, MN 56284
Phone: (320) 329-4240
---
---
Aerial Photo:
---
Topographic Map: [click map to enlarge, zoom in or zoom out]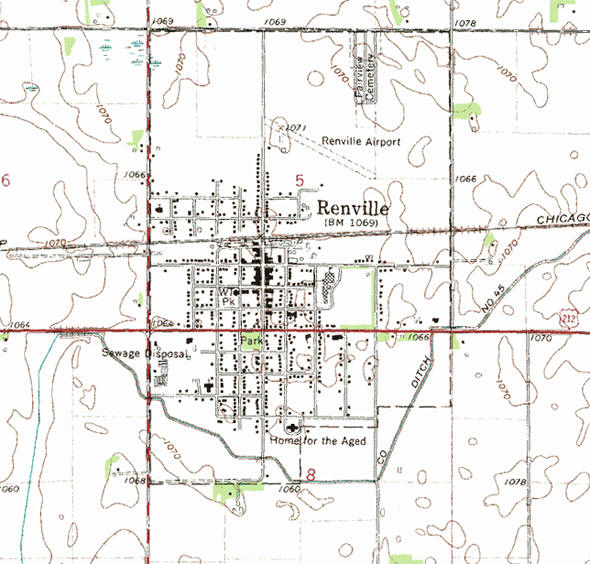 Topographic map is courtesy of the Minnesota DNR - click map to zoom or enlarge