Navigation
LakesnWoods.com
Home Page
Contact Us
Privacy
Minnesota History Shop

Visit The Minnesota History Shop
www.minnesotahistoryshop.com
Historic maps
Historic books
Historic framed art
Historic postcards
Clothing with historic images
And much more!!!


Round Lake Guide:
Photo Gallery
Location
Geography
Demographics
History
Government
Post Office
News
Weather
Street Map
Events
Attractions
Recreation
Lakes
Health Care
Schools
Churches
Media
Motels
Resorts
Campgrounds
Businesses
Aerial Photo
Topographic Map
© 2004-2023
Lakeweb1 Internet Services
All Rights Reserved
DCMA, Defamation, Copyright and Trademark Infingement Policy
WANTED!
Do you have photos, historical accounts or other items pertaining to the Round Lake area? Would you like to share this historical information with the world? LakesnWoods.com would like to publish your Round Lake photos (current or historical) or historical accounts on this website. Original materials can be returned and your privacy will be respected.

Round Lake Minnesota Community Guide
---
Location:
---
Population:
Round Lake (city)
1970
1980
1990
2000
2010
2000-2010 Change
Actual
Percent
Population
506
480
463
424
376
-48
-11.32
Land Area (sq. mile)
1.10
1.08
1.04
1.04
1.04
0
0.00
Density (persons per sq. mile)
460.0
444.4
445.2
408.8
361.5
-47.26
-11.32
Housing Units
181
202
222
214
210
-4
-1.87
Households
--
191
208
191
184
-7
-3.66
Persons Per Household
--
2.51
2.23
2.22
2.04
-0.18
-8.11
---
Geography:
Round Lake is a city in Nobles County, Minnesota. A lake, also called Round Lake, is just outside the city to the northeast. According to the United States Census Bureau, the city has a total area of 1.04 square miles (2.69 km2), of which, 1.03 square miles (2.67 km2) is land and 0.01 square miles (0.03 km2) is water. The elevation is 1,555 ft (474 m) above sea level.
From Wikipedia, the free encyclopedia.
---
Demographics:
As of the census of 2010, there were 376 people, 184 households, and 110 families residing in the city. The population density was 365.0 inhabitants per square mile (140.9/km2). There were 210 housing units at an average density of 203.9 per square mile (78.7/km2). The racial makeup of the city was 99.5% White, 0.3% African American, and 0.3% from other races. Hispanic or Latino of any race were 3.2% of the population.
There were 184 households of which 22.8% had children under the age of 18 living with them, 46.2% were married couples living together, 8.7% had a female householder with no husband present, 4.9% had a male householder with no wife present, and 40.2% were non-families. 39.1% of all households were made up of individuals and 14.6% had someone living alone who was 65 years of age or older. The average household size was 2.04 and the average family size was 2.63.
The median age in the city was 46 years. 18.1% of residents were under the age of 18; 4.5% were between the ages of 18 and 24; 26.1% were from 25 to 44; 33.3% were from 45 to 64; and 18.1% were 65 years of age or older. The gender makeup of the city was 50.0% male and 50.0% female.
---
---
History:
ROUND LAKE, a city in sections 13, 14, 23, and 24 of Indian Lake Township, founded in 1882, was named for the adjoining Round Lake in Jackson County, on request of O. H. Roche, who owned a ranch of nearly 2,000 acres surrounding that lake. An alternative version of the naming is that when the Round Lake post office in Round Lake Township, Jackson County, was discontinued in July 1884, residents of Indian Lake requested the name of the village be changed to Round Lake, the post office following in January of 1885. The village was developed by the railroad and was platted in December 1882 and again in 1889 because no sites were sold under the original platting except for two railroad buildings; it was incorporated on October 14, 1892. The post office was established as Indian Lake in 1883, with Edgar Adelbert Tripp as postmaster.
Courtesy Minnesota Historical Society
---
Government:
Round Lake City Hall
98 Main Street
PO Box 72
Round Lake, MN 56167
Phone: (507) 945-8127
Fax: (507) 945-0039

Regular Business Hours:
Monday - Friday 7:00 am - 4:00 pm
closed 12:00 pm - 1:00 pm

City Council Meetings:
2nd Wednesday of the month at 6:15 pm


Title
Term Ends
Name and Address
Phone
Mayor
12/31/2022
Timothy E. Kennedy
500 Margaret Street
Round Lake, MN 56167
(507) 360-0700
Clerk/Treasurer
appointed
Elaine Walker
98 Main Street - PO Box 72
Round Lake, MN 56167
(507) 945-8127
Council Member
12/31/2022
Walon Lee "Wally" Habben
206 2nd Avenue
Round Lake, MN 56167
(507) 360-4004
Council Member
12/31/2022
Jennifer L. Rehnelt
173 3rd Avenue
Round Lake, MN 56167
(507) 945-0023
Council Member
12/31/2024
Randy Rowe
177 2nd Avenue
Round Lake, MN 56167
(507) 360-7644
Council Member
12/31/2024
Paul Cunningham
310 Margaret Street
Round Lake, MN 56167
(507) 329-5412
---
Post Office:
US Post Office
137 Main Street
Round Lake, MN 56167-9712
Phone: (507) 945-8201
Toll Free: (800) ASK-USPS

Regular Business Hours:
Week Days 8:00 am - 12:00 pm
Saturday 8:15 am - 9:15 am
---
---
Utilities:
---
Major Employers:
Employer
Products/Services
Employees
not available
---
---
News:
---
Weather:
---
Map: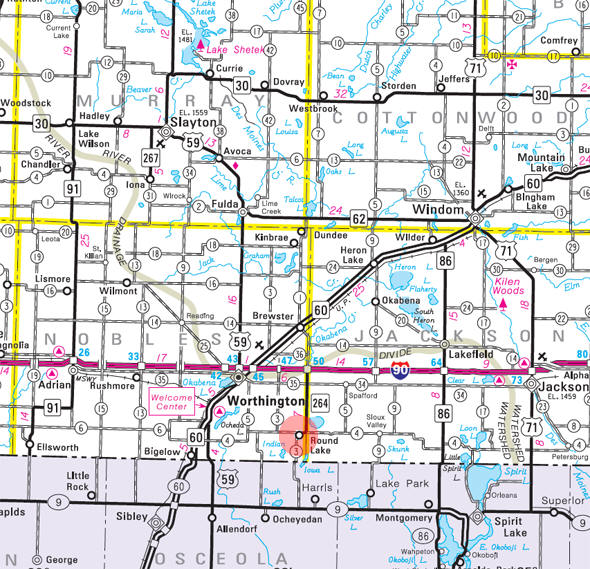 Minnesota State Highway Map of the Round Lake Minnesota area
---
Events:
---
---
Attractions:
---
Recreation:
---
Lakes:
---
Health Care:
---
Schools:
---
Churches:
Bethel Lutheran Church
501 Main Street
Round Lake, MN 56167
Phone: (507) 945-8102
Presbyterian Church
301 Rohrer Street
Round Lake, MN 56167
Phone: (507) 945-8286
---
Media:
---
Motels:
Check for motel rates and availability on:
---
Resorts:
---
Campgrounds:
Eastside Acres Campground
32825 740th Street
Round Lake, MN 56167
Phone: (507) 945-8900
---
---
Businesses:
Agco Corporation
3 6th Avenue S
Round Lake, MN 56167
Phone: (507) 945-0011
American Legion Post 461
409 2nd Avenue
Round Lake, MN 56167
Phone: (507) 945-
Eastside Acres Campground
32825 740th Street
Round Lake, MN 56167
Phone: (507) 945-8900
Ellenbecker Communications
30120 State Highway 264
Round Lake, MN 56167
Phone: (507) 945-0100
Farmers Cooperative Association
125 Rohrer Street
Round Lake, MN 56167
Phone: (507) 945-8153
Happy Dogs Country Clips
33538 740th Street
Round Lake, MN 56167
Phone: (507) 360-0520
Head Over Heels Hair Studio
145 Main Street
Round Lake, MN 56167
Phone: (507) 945-0051
Heath's Auto
525 Amy Street
Round Lake, MN 56167
Phone: (507) 945-8177
Little Tykes
310 Margaret Street
Round Lake, MN 56167
Phone: (507) 945-8411
Round Lake City Hall
98 Main Street
PO Box 72
Round Lake, MN 56167
Phone: (507) 945-8127
Fax: (507) 945-0039

Regular Business Hours:
Monday - Friday 7:00 am - 4:00 pm
closed 12:00 pm - 1:00 pm

City Council Meetings:
2nd Wednesday of the month at 6:15 pm


Round Lake Fire Department
302 2nd Avenue
Round Lake, MN 56167
Phone: (507) 945-8128
Round Lake Pit Stop
201 Railroad Avenue
Round Lake, MN 56167
Phone: (507) 945-0112
Round Lake Senior Citizens Center
206 Main Street
Round Lake, MN 56167
Phone: (507) 945-8477
Round Lake Vineyards and Winery
30124 State Highway 264
Round Lake, MN 56167
Phone: (507) 945-1100
Sunset Grill
157 Main Street
Round Lake, MN 56167
Phone: (507) 945-0033
US Post Office
137 Main Street
Round Lake, MN 56167-9712
Phone: (507) 945-8201
Toll Free: (800) ASK-USPS

Regular Business Hours:
Week Days 8:00 am - 12:00 pm
Saturday 8:15 am - 9:15 am

Walker Custom Siding Inc.
190 1st Avenue
Round Lake, MN 56167
Phone: (507) 945-0173
Wintz Farms
28595 State Highway 264
Round Lake, MN 56167
Phone: (507) 945-8457
---
---
Aerial Photo:
---
Topographic Map: [click map to enlarge, zoom in or zoom out]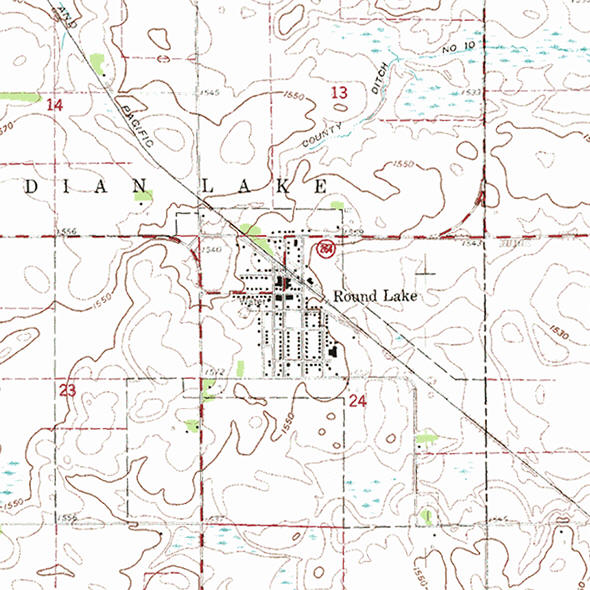 Topographic map is courtesy of the Minnesota DNR - click map to zoom or enlarge