Navigation
LakesnWoods.com
Home Page
Contact Us
Privacy
Minnesota History Shop

Visit The Minnesota History Shop
www.minnesotahistoryshop.com
Historic maps
Historic books
Historic framed art
Historic postcards
Clothing with historic images
And much more!!!

Rushford Guide:
Photo Gallery
Location
Geography
Demographics
History
Government
Post Office
News
Weather
Street Map
Events
Attractions
Recreation
Lakes
Health Care
Schools
Churches
Media
Motels
Resorts
Campgrounds
Businesses
Aerial Photo
Topographic Map
© 2004-2023
Lakeweb1 Internet Services
All Rights Reserved
DCMA, Defamation, Copyright and Trademark Infingement Policy
WANTED!
Do you have photos, historical accounts or other items pertaining to the Rushford area? Would you like to share this historical information with the world? LakesnWoods.com would like to publish your Rushford photos (current or historical) or historical accounts on this website. Original materials can be returned and your privacy will be respected.

Rushford Minnesota Community Guide
---
Location:
Rushford, Minnesota is a community of 2,350 residents in southeastern Minnesota near the Wisconsin and Iowa state lines. Founded in 1854 by East Coast adventurers who pole-boated up the Root River from the Mississippi at La Crosse, Wisconsin. Hearty immigrants bringing Norwegian, German, and Irish traditions, soon populated Rushford. The railroad made Rushford an early center of commerce, water and rail travel, manufacturing and agriculture. It has always been known for vision, industriousness and achievement.
When you arrive in Rushford on the Root River State Trail the first landmark you'll encounter is the original 1867 Railroad Depot. The Historic Depot, which is listed on the National Register of historic buildings, has been restored as a Visitors Center and is a popular spot for visitors. The Rushford Depot may never again have the prominence that historian Dr. Alden Droivold describes in the "History of Rushford", when young ladies timed their visits to the depot to the arrival of the trains to observe the newly arrived men. It is however a historic landmark for all who visit Rushford to enjoy. Stop in and step back into the wonderful history of early Rushford.
Rushford has many sites to see, and we're sure you'll enjoy your visit. You're always welcome in Rushford, Minnesota.
Courtesy City of Rushford
---
Population:
Rushford (city)
1970
1980
1990
2000
2010
2000-2010 Change
Actual
Percent
Population
1,318
1,478
1,485
1,696
1,731
+35
+2.12
Land Area (sq. mile)
1.50
1.57
1.61
1.72
1.72
0
0.00
Density (persons per sq. mile)
878.7
941.4
922.4
988.5
1,006.4
+17.90
+2.12
Housing Units
485
615
657
761
772
+9
+1.18
Households
--
588
628
704
706
+2
+0.28
Persons Per Household
--
2.40
2.36
2.26
2.45
+0.19
+8.41
---
Geography:
Rushford is a city in Fillmore County, Minnesota. Minnesota Highways 16, 30, and 43 are three of the main routes in the city. According to the United States Census Bureau, the city has a total area of 1.73 square miles (4.48 km²), of which, 1.71 square miles (4.43 km²) of it is land and 0.02 square miles (0.05 km²) of it is water. The elevation is 728 ft (222 m) above sea level.
From Wikipedia, the free encyclopedia.
---
Demographics:
---
---
History:
RUSHFORD, settled in July 1853, organized May 11, 1858, was named on Christmas Day, 1854, by unanimous vote of the pioneer settlers, taking the name from Rush Creek here tributary to the Root River. The men and women so voting numbered nine, these being all the settlers at that date. "Rush creek was so called on account of the tall rushes that grew along its banks, where cattle and ponies could obtain a subsistence all winter." The city of Rushford, sections 11-14, founded in 1854, was named at the same time with the township. It was incorporated as a city on March 3, 1868, and often was called "the Trail City, on account of the intersection of several Indian foot paths." It has had a post office since 1856 and had a station of the Chicago, Milwaukee, St. Paul and Pacific Railroad.
Courtesy Minnesota Historical Society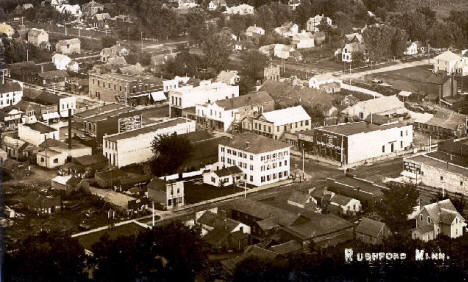 View of Rushford Minnesota, 1909
LakesnWoods.com Postcard and Postcard Image Collection - click to enlarge

Visit The Rushford Photo Gallery for more current and historic area images

---
Minnesota's Lost Towns Southern Edition

Includes Amherst Village, Big Springs, Bratsberg, Carimona, Cherry Grove, Choice, Clear Grit, Elliota, Etna, Fillmore Village and 12 more in Fillmore County!





Pack your bags and come along as we journey to over 125 lost towns in Southern Minnesota. Read how the Civil War, changes in transportation, county seat disputes and other historical happenings changed Minnesota's landscape. Learn how and why lost towns and communities were created, how they thrived and why they eventually faded into history. Visit the people and places of Southern Minnesota in this fourth edition of the Minnesota's Lost Towns series. Be sure to check out the other titles in the series: Northern, Central, and Northern II.

Buy This Book
---
Government:
Rushford City Hall
101 N Mill Street
PO Box 430
Rushford, MN 55971
Phone: (507) 864-2444
Fax: (507) 864-7003

Regular Business Hours:
Monday - Friday 8:00 am - 4:30 pm

Council Meetings are held the 2nd and 4th Monday of the month. All meetings are held at City Hall, 101 N Mill Street and begin at 6:30 pm.

Title
Term Ends
Name and Address
Phone
Mayor
12/31/2021
Terri Benson
601 Hanover Court
Rushford, MN 55971
(507) 429-0949
City Administrator
appointed
Tony Chladek
101 N Mill Street
Rushford, MN 55971
(507) 864-2667
Clerk/Treasurer
appointed
Katherine Zacher
101 N Mill Street
Rushford, MN 55971
(507) 864-7028
Council Member
12/31/2021
Sally Ryman
206 Watt Street
Rushford, MN 55971
(612) 419-4707
Council Member
12/31/2021
Andrew J Linder
104 N Maple Street - PO Box 43
Rushford, MN 55971
(507) 429-3294
Council Member
12/31/2023
Jim O'Donnell
209 E Park Street
Rushford, MN 55971
(507) 864-2932
(507) 459-4142
Council Member
12/31/2023
Leigh Volkman
PO Box 235
Rushford, MN 55971
(507) 429-9342
---
Post Office:
US Post Office
501 S Mill Street
Rushford, MN 55971-8841
Phone: (507) 864-7169
Toll Free: (800) ASK-USPS

Regular Business Hours:
Week Days 9:00 am - 12:30 pm
1:30 pm - 4:00 pm
Saturday 10:00 am - 11:45 am
---
Utilities:
---
Major Employers:
---
---
News:

---
Weather:
---
Map: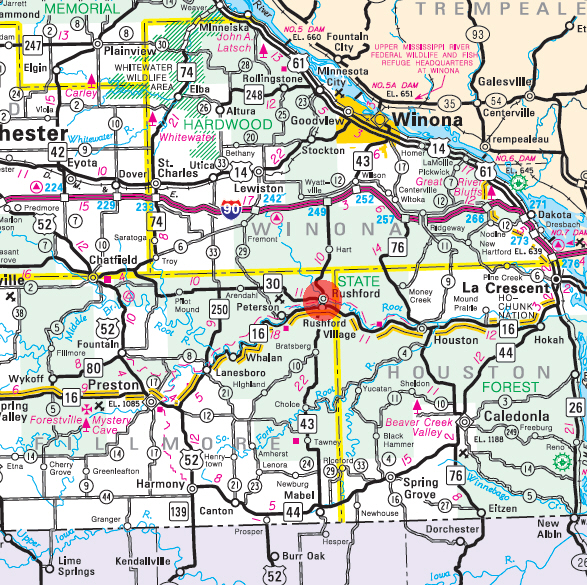 Minnesota State Highway Map of the Rushford Minnesota area
---
Events:
---
---
Attractions:
---
Recreation:
---
Lakes:
---
Health Care:
---
Schools:
---
Churches:
---
Media:
---
Bed & Breakfasts:
---
Motels:
Loken's Rushford Inn
201 State Highway 16
Rushford, MN 55971
Phone: (507) 864-2222
Web: www.rushfordinn.com



The newly constructed Loken's Rushford Inn is located in the heart of Southeast Minnesota's Bluff Country A Loken Family labor of love, our inn was opened in June of 2014. With the encouragement of a very supportive community and the city of Rushford, we built the inn to provide long needed additional hospitality service for Rushford. It stands as a symbol of resurrection from the flood of 2007. The Lokens and the citizens of Rushford never ever gave up. We are pleased to make Loken's Rushford Inn available for your enjoyment
Check for motel rates and availability on:
---
Resorts:
---
Campgrounds:
---
---
Businesses:
---
---
Aerial Photo:
---
Topographic Map: [click map to enlarge, zoom in or zoom out]