Navigation
LakesnWoods.com
Home Page
Contact Us
Privacy
Minnesota History Shop

Visit The Minnesota History Shop
www.minnesotahistoryshop.com
Historic maps
Historic books
Historic framed art
Historic postcards
Clothing with historic images
And much more!!!


Rushmore Guide:
Photo Gallery
Location
Geography
Demographics
History
Government
Post Office
News
Weather
Street Map
Events
Attractions
Recreation
Lakes
Health Care
Schools
Churches
Media
Motels
Resorts
Campgrounds
Businesses
Aerial Photo
Topographic Map
© 2004-2023
Lakeweb1 Internet Services
All Rights Reserved
DCMA, Defamation, Copyright and Trademark Infingement Policy
WANTED!
Do you have photos, historical accounts or other items pertaining to the Rushmore area? Would you like to share this historical information with the world? LakesnWoods.com would like to publish your Rushmore photos (current or historical) or historical accounts on this website. Original materials can be returned and your privacy will be respected.

Rushmore Minnesota Community Guide
---
Location:
---
Population:
Rushmore (city)
1970
1980
1990
2000
2010
2000-2010 Change
Actual
Percent
Population
394
387
381
376
342
-34
-9.04
Land Area (sq. mile)
0.30
0.24
0.25
0.25
0.25
0
0.00
Density (persons per sq. mile)
1,313.3
1,612.5
1,524.0
1,484.9
1,368.0
-116.90
-9.04
Housing Units
152
166
174
173
173
0
0.00
Households
--
162
164
154
154
0
0.00
Persons Per Household
--
2.39
2.32
2.44
2.22
-0.22
-9.02
---
Geography:
Rushmore is a city in Nobles County, Minnesota. According to the United States Census Bureau, the city has a total area of 0.25 square miles (0.65 km˛), all of it land. The elevation is 1,660 ft (506 m) above sea level. Rushmore is located in section 19 of Dewald Township, Minnesota. It is situated on the Buffalo Ridge, a drainage divide between the Mississippi River and Missouri River systems.
From Wikipedia, the free encyclopedia.
---
Demographics:

As of the census of 2010, there were 342 people, 154 households, and 87 families residing in the city. The population density was 1,368.0 inhabitants per square mile (528.2/km2). There were 173 housing units at an average density of 692.0 per square mile (267.2/km2). The racial makeup of the city was 90.6% White, 0.9% African American, 3.8% Asian, 2.3% from other races, and 2.3% from two or more races. Hispanic or Latino of any race were 9.6% of the population.

There were 154 households of which 27.9% had children under the age of 18 living with them, 39.6% were married couples living together, 11.0% had a female householder with no husband present, 5.8% had a male householder with no wife present, and 43.5% were non-families. 37.7% of all households were made up of individuals and 22.7% had someone living alone who was 65 years of age or older. The average household size was 2.22 and the average family size was 2.83.

The median age in the city was 41.5 years. 22.8% of residents were under the age of 18; 8.2% were between the ages of 18 and 24; 22.6% were from 25 to 44; 29.6% were from 45 to 64; and 17% were 65 years of age or older. The gender makeup of the city was 54.1% male and 45.9% female.
---
---
History:
The founding of Rushmore: The city was named for S.M. Rushmore, an early pioneer. The town owes its existence to the construction of the Worthington and Sioux Falls Railway, and the desire of a New York capitalist to establish a land colonization scheme in southwestern Minnesota. When the Worthington and Sioux Falls Railway was initially surveyed, it was decided to construct a station house in section 19 of Dewald Township. The station house was Named Miller Station, in honor of ex-governor Stephen Miller, and for two years it had no inhabitants. In 1878, George I. Seney, a New York capitalist, secured control of large plots of railroad land in Dewald and Olney Townships. He immediately began the process of colonizing the lands, bringing out settlers from New York City and other eastern points. On May 27, 1878, a Mr. S. M. Rushmore arrived in Worthington along with his family, and immediately took a train for Miller Station. There he established a store to serve Mr. Seney's flood of colonists. A railroad depot was also constructed, and the town was surveyed and platted. In August 1878, the town was renamed Rushmore in honor of the pioneer shopkeeper, and the community grew rapidly. Indeed, a business directory from the fall of 1879 shows that Rushmore had a general store, a feed mill, an elevator, a hotel, a hardware store, a grocer, a lumber agent, a tinware dealer, a notion store, a jeweler, and two blacksmiths. The town also had a new church and a new school. On March 27, 1900, Rushmore, with a population of 204, was incorporated. Village government promptly began under President S. B. Bedford
From Wikipedia, the free encyclopedia.
RUSHMORE, a city in section 19 of Dewald Township, platted in July 1878, on the Sioux Falls branch of the Chicago, St. Paul, Minneapolis and Omaha Railroad, bears the name of its pioneer merchant, S. M. Rushmore. It was incorporated March 27, 1900. The city was first called Miller Station when the Worthington and Sioux Falls Railroad was completed in 1876 in honor of former Gov. Stephen Miller; when the post office was established in 1878, the name was changed to Rushmore.
Courtesy Minnesota Historical Society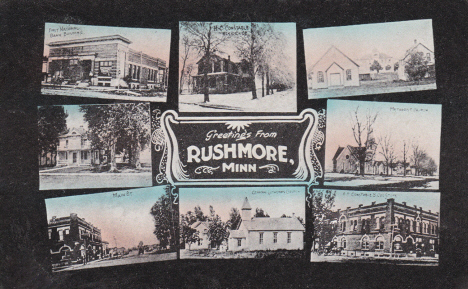 Greetings from Rushmore Minnesota, 1912
LakesnWoods.com Postcard and Postcard Image Collection - click to enlarge

Visit The Rushmore Photo Gallery for more historic and recent area photos
---
Government:
Rushmore City Hall
136 N Thompson Avenue
PO Box 227
Rushmore, MN 56168
Phone: (507) 478-4338
Fax: (507) 478-9903

Regular Business Hours:
Monday - Friday 8:00 am - 5:00 pm

City Council Meetings:
2nd Monday of each month at 7:00 pm


Title
Term Ends
Name and Address
Phone
Mayor
12/31/2022
Scott Biesemeier
401 1st Street
Rushmore, MN 56168
(507) 360-5719
Clerk/Treasurer
appointed
Coleen Gruis
136 N Thompson Avenue
Rushmore, MN 56168
(507) 478-4338
Council Member
12/31/2022
Nicole (Nikki) Reiter
412 South Street
Rushmore, MN 56168
(507) 916-9672
Council Member
12/31/2022
Ben DeVries
220 N Ludlow Avenue
Rushmore, MN 56168
(507) 329-3968
Council Member
12/31/2024
Mark Schutte
405 East Avenue N
Rushmore, MN 56168
(507) 360-0608
Council Member
12/31/2024
Nick Harberts
206 N Drake Avenue
Rushmore, MN 56168
(507) 360-1828
---
Post Office:
US Post Office
108 N Thompson Avenue
Rushmore, MN 56168-9500
Phone: (507) 478-4142
Toll Free: (800) ASK-USPS

Regular Business Hours:
Week Days 8:00 am - 12:00 pm
Saturday 7:30 am - 8:30 am




---
---
Utilities:
---
Major Employers:
| | | |
| --- | --- | --- |
| Employer | Products/Services | Employees |
| United Farmers Cooperative | Miscellaneous Nondurable Goods Merchant Wholesalers | 12 |
| Gary's Electric | Building Equipment Contractors | 8 |
| Daryl's Service | Automotive Repair & Maintenance | 5 |
| First State Bank Southwest | Depository Credit Intermediation | 4 |
---
---
News:
---
Weather:
---
Map: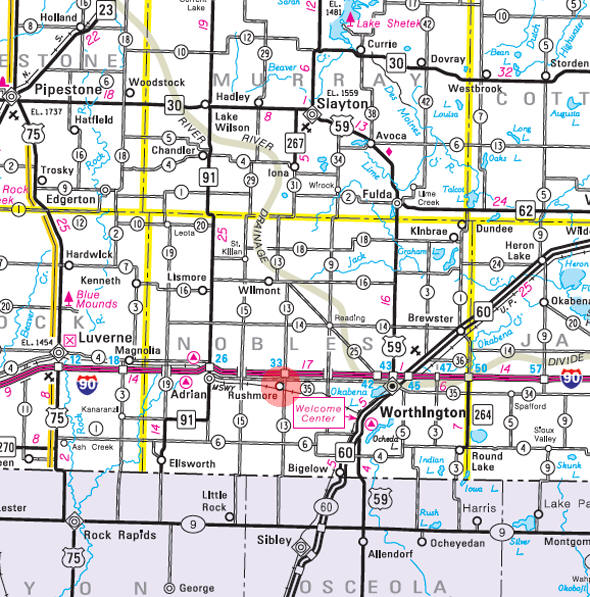 Minnesota State Highway Map of the Rushmore Minnesota area
---
Events:
---
Attractions:
---
Recreation:
---
Lakes:
Lake Name
Size
(acres)
Lake info
Lake Map
Rec Map
Topo Map
none in the immediate area
---
Health Care:
---
Schools:
---
Churches:
East Friesland Church of Christ
21975 County Road 35
Rushmore, MN 56168
Phone: (507) 478-4147

Pastor: Beryl Hicks
Sunday Worship: 9:30 am
First Presbyterian Church
116 N Bishop Avenue
Rushmore, MN 56168
Phone: (507) 478-4117

Pastor: n/a
Sunday Worship: 9:30 am
St. John Lutheran Church - LCMS
420 4th Street
Rushmore, MN 56168
Phone: (507) 478-4922

Pastor: Rev David Mc Donald
Sunday Worship: 10:30 am
---
Media:
---
Motels:
Check for motel rates and availability on:
---
Resorts:
---
Campgrounds:
---
---
Businesses:
AC Electric
2248 320th Street
Rushmore, MN 56168
Phone: (507) 478-4968
B & L Farms
19782 320th Street
Rushmore, MN 56168
Phone: (507) 394-2343
Bruce Brunk Farms
23068 220th Street
Rushmore, MN 56168
Phone: (507) 478-4229
CD Cafe
124 N Thompson Avenue
Rushmore, MN 56168
Phone: (507) 478-4912
Cooperative Energy Company
135 East Avenue S
Rushmore, MN 56168
Phone: (507) 478-4971
Web: www.coopenergyco.com



Cooperative Energy is your local partner for propane. Contact us today for contract information. We'll bring it where you need it – when you need it. On the highway or in the field, Cooperative Energy offers premium Cenex Diesel fuel to improve economy and protect your business investment. We offer maintenance, repair, and parts for everything in the field or on the road. Diesel engine repairs and in-the-field tire service are also available.

Cooperative Farmers Elevator
101 S Thompson Avenue
Rushmore, MN 56168
Phone: (507) 478-4166
Web: www.coopfe.com



CFE is a progressive, farmer-owned cooperative that services local farms and rural business owners in the areas of agronomy, feed, grain, lumber, and energy. CFE has locations in communities throughout northwest Iowa, southwest Minnesota, and southeast South Dakota with administrative offices in Rock Valley and Ocheyedan, IA.

Daryl's Service
107 1st Street
Rushmore, MN 56168
Phone: (507) 478-4114
Don's Plumbing and Heating
22637 260th Street
Rushmore, MN 56168
Phone: (507) 478-9940
First State Bank Southwest
103 N Thompson Avenue
Rushmore, MN 56168
Phone: (507) 478-4121
Web: www.firststatebanksw.com



At First State Bank Southwest, we are truly a community bank and are very proud of that fact. With ownership and directors residing in the area, we can make decisions very rapidly and can be flexible and sensitive to the needs of our customers. The First State Bank Southwest was chartered in 1903 and now has offices in six locations to help service our customers in southwest Minnesota.

Gary's Electric
121 East Avenue S
Rushmore, MN 56168
Phone: (507) 478-4289
Germaine Elsing Farms
30320 Jones Avenue
Rushmore, MN 56168
Phone: (507) 478-4388
I90 Seed Solutions
107 S Thompson Avenue
Rushmore, MN 56168
Phone: (507) 478-4152
Web: i-90seedsolutions.com



Together with our customers, the I-90 team is able to be MORE by being there with MORE information from MORE parts of the region; and we offer MORE insight from nearly 55 years of combined experience. MORE is our promise to go above and beyond and not only provide what our customers expect, but to bring MORE to our customer's operation. MORE is also our internal guidepost to never settle for good enough. We are not simply another seed dealership, we are so much MORE.

Intervet Inc.
27840 King Avenue
Rushmore, MN 56168
Phone: (507) 478-9964
LeRoy Prins Trucking
110 1st Street
Rushmore, MN 56168
Phone: (507) 478-4108



A family run trucking firm LeRoy has been in business since 1961. Right now there are three generations working here - LeRoy, Doug and Jeremy.

Marvin Alberts Farm
31222 Jones Avenue
Rushmore, MN 56168
Phone: (507) 478-4366
Merck Animal Health
27480 King Avenue
Rushmore, MN 56168
Phone: (507) 478-9964
Mowrey Meyer Tax Service
22256 270th Street
Rushmore, MN 56168
Phone: (507) 478-4524
PD's Bar
120 Thompson Avenue N
Rushmore, MN 56168
Phone: (507) 478-4204
Petersen Service
412 2nd Street
Rushmore, MN 56168
Phone: (507) 478-4102
R & T Equipment
22810 330th Street
Rushmore, MN 56168
Phone: (507) 394-2652
Rogers Wagley Inc.
19467 Hesselroth Avenue
Rushmore, MN 56168
Phone: (507) 360-4641
Web: www.rogerswagleyinc.com



Rogers Wagley Inc. prides itself in working with cooperatives, chemical and fertilizer companies, and many other ag businesses to offer a complete package for their project. So whether you are looking to expand or starting a new project, Rogers Wagley Inc. has competent, reliable personnel to help you through your project. We can put together a package to present to your board or owners to give them peace of mind as to the total project costs. We have many years experience in acquiring state permits. We are a master distributor for Design Tanks and can offer unmatchable prices. We also work with other companies to offer competitive prices on stainless steel and poly tanks.

Rushmore City Hall
136 N Thompson Avenue
Rushmore, MN 56168
Phone: (507) 478-4338
Scaap Sanitation
24777 220th Street
Rushmore, MN 56168
Phone: (507) 376-9218
Schutte Tiling Inc.
24942 Jones Avenue
Rushmore, MN 56168
Phone: (507) 478-4556
Southwest Insulation
33369 King Avenue
Rushmore, MN 56168
Phone: (507) 683-2236
Terry Deneui Repair
401 N Seney Avenue
Rushmore, MN 56168
Phone: (507) 478-4307
Thier Feedlots Inc.
23225 County Road 35
Rushmore, MN 56168
Phone: (507) 478-4137
United Co-op
101 S Thompson Avenue
Rushmore, MN 56168
Phone: (507) 478-4166
US Post Office
108 N Thompson Avenue
Rushmore, MN 56168-9500
Phone: (507) 478-4142
Toll Free: (800) ASK-USPS
Web:

www.usps.com



---
---
Aerial Photo:
---
Topographic Map: [click map to enlarge, zoom in or zoom out]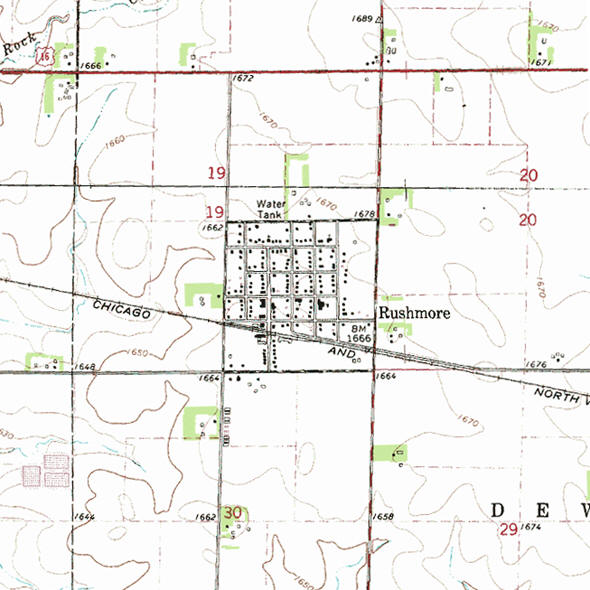 Topographic map is courtesy of the Minnesota DNR - click map to zoom or enlarge