Navigation
LakesnWoods.com
Home Page
Contact Us
Privacy
Minnesota History Shop

Visit The Minnesota History Shop
www.minnesotahistoryshop.com
Historic maps
Historic books
Historic framed art
Historic postcards
Clothing with historic images
And much more!!!


Sauk Rapids Guide:
Photo Gallery
Location
Geography
Demographics
History
Government
Post Office
News
Weather
Street Map
Events
Attractions
Recreation
Lakes
Health Care
Schools
Churches
Media
Motels
Resorts
Campgrounds
Businesses
Aerial Photo
Topographic Map
© 2004-2023
Lakeweb1 Internet Services
All Rights Reserved
DCMA, Defamation, Copyright and Trademark Infingement Policy
WANTED!
Do you have photos, historical accounts or other items pertaining to the Sauk Rapids area? Would you like to share this historical information with the world? LakesnWoods.com would like to publish your Sauk Rapids photos (current or historical) or historical accounts on this website. Original materials can be returned and your privacy will be respected.

Sauk Rapids Minnesota Community Guide
---
Location:
---
Population:
Sauk Rapids (city)
1970
1980
1990
2000
2010
2000-2010 Change
Actual
Percent
Population
5,051
5,793
7,825
10,213
12,773
+2,560
+25.07
Land Area (sq. mile)
0.00
2.84
3.21
4.57
4.57
0
0.00
Density (persons per sq. mile)
--
2,039.8
2,437.7
2,234.1
2,795.0
+560.87
+25.07
Housing Units
1,462
2,014
2,997
4,017
5,219
+1,002
+24.94
Households
--
1,943
2,875
3,921
4,960
+1,039
+26.50
Persons Per Household
--
2.88
2.64
2.53
2.58
+0.05
+1.98
---
Geography:
Sauk Rapids is a city in Benton County, Minnesota. It is located on a set of rapids on the Mississippi River near its confluence with the Sauk River. According to the United States Census Bureau, the city has a total area of 6.35 square miles (16.45 km˛), of which, 6.10 square miles (15.80 km˛) of it is land and 0.25 square miles (0.65 km˛) of it is water.
U.S. Route 10 and Minnesota State Highway 15 are two of the main routes in Sauk Rapids. Other nearby routes include Interstate 94, Minnesota State Highway 23, and County 75. Sauk Rapids is immediately north of the city of St. Cloud.
From Wikipedia, the free encyclopedia.
---
Demographics:
As of the census of 2010, there were 12,773 people, 4,960 households, and 3,222 families residing in the city. The population density was 2,093.9 inhabitants per square mile (808.5/km2). There were 5,219 housing units at an average density of 855.6 per square mile (330.3/km2). The racial makeup of the city was 94.9% White, 1.2% African American, 0.5% Native American, 1.2% Asian, 0.4% from other races, and 1.8% from two or more races. Hispanic or Latino of any race were 1.8% of the population.
There were 4,960 households of which 36.6% had children under the age of 18 living with them, 48.9% were married couples living together, 11.0% had a female householder with no husband present, 5.0% had a male householder with no wife present, and 35.0% were non-families. 26.8% of all households were made up of individuals and 9.2% had someone living alone who was 65 years of age or older. The average household size was 2.49 and the average family size was 3.03.
The median age in the city was 32.8 years. 25.9% of residents were under the age of 18; 9.8% were between the ages of 18 and 24; 31.2% were from 25 to 44; 22.4% were from 45 to 64; and 10.8% were 65 years of age or older. The gender makeup of the city was 48.8% male and 51.2% female.
---
---
History:
SAUK RAPIDS Township was organized in 1854, and the village was platted in that year but was not separately organized until 1881. The village was known as Washington in 1850 when J. C. Ramsey and Henry Jackson laid out a townsite at the foot of the Sauk Rapids; it had a station of the Northern Pacific and Great Northern Railroads in section 23, two flour mills, a cheese factory, a brewery, several hotels, a number of general and specialty stores, and two weekly newspapers. This village was the county seat from the organization of the county in 1850 until 1902, when the county offices were removed to Foley, as before noted. The village separated from the township in 1927. Sauk Rapids derived its name from the adjoining rapids of the Mississippi, called Grand Rapids by Zebulon Pike in 1805 and mapped by him as Big Falls, falling about 20 feet in the first mile below the mouth of the Sauk River, mapped by Pike as Sack River, which comes in from Stearns County.
Courtesy Minnesota Historical Society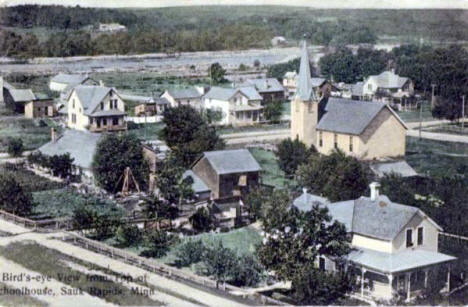 Birds Eye View of Sauk Rapids Minnesota, 1910
LakesnWoods.com Postcard and Postcard Image Collection - click to enlarge

Visit The Sauk Rapids Photo Gallery for more recent and historic area photos

---
Government:
Sauk Rapids City Hall
250 Summit Avenue N
Sauk Rapids, MN 56379
Phone: (320) 258-5300
Fax: (320) 258-5359

Regular Business Hours:
Monday - Friday 8:00 am - 4:30 pm

City Council Meetings:
2nd and 4th Monday of every month at 6:00 pm

Title
Term Ends
Name and Address
Phone
Mayor
12/31/2022
Kurt Hunstiger
1132 10th Avenue N
Sauk Rapids MN 56379
(320) 290-7110
Administrator
appointed
Ross Olson
115 2nd Avenue N
Sauk Rapids MN 56379
(320) 258-5302
Council Member
12/31/2022
Jason Ellering
1025 11th Avenue N
Sauk Rapids MN 56379
(320) 339-5493
Council Member
12/31/2022
Ellen Thronson
619 Broadway Avenue S
Sauk Rapids MN 56379
(320) 250-4133
Council Member
12/31/2024
Dottie Seamans
1021 7th Avenue N
Sauk Rapids MN 56379


(320) 761-1816
Council Member
12/31/2024
Nicholas Sauer
225 8th Avenue S
Sauk Rapids MN 56379
(320) 266-0711
---
Post Office:
US Post Office
1239 2nd Street N
Sauk Rapids, MN 56379
Phone: (320) 251-4865
Toll Free: (800) ASK-USPS

Regular Business Hours:
Week Days 8:30 am - 5:00 pm
Saturday 9:00 am - 11:00 am
---
Utilities:
---
Major Employers:
Employer
Products/Services
Employees
n/a
---
---
News:
---
Weather:
---
Map:

Minnesota State Highway Map of the Sauk Rapids Minnesota area
---
Events:
---
---
Attractions:
Benton County Historical Society and Museum
218 1st Street N
PO Box 426
Sauk Rapids, MN 56379
Phone: (320) 253-9614
Web: www.mnbentonhistory.org

A hands-on museum, depicting the story of the development of Benton County, through artifacts, pictures and printed materials. Open year round. Great resource for genealogy and historic events for the area. Open Monday through Friday, 10:00am to 4:00pm
---
Recreation:
Wapicada Golf Club
4498 15th Street NE
Sauk Rapids, MN 56379
Phone: (320) 251-7804
Web: www.wapicada.com



Beautiful 18 Hole course located 4 miles east of St. Cloud




---
Lakes:
Lake Name
Size
(acres)
Lake info
Lake Map
Rec Map
Topo Map

none in the immediate area
---
Health Care:
---
Schools:
Sauk Rapids Rice Public Schools
Independent School District #47
1833 Osauka Road
Sauk Rapids, MN 56379
Phone: (320) 253-4703
Web:

www.isd47.org



Grades: PK-12
Students: 4,148


Sauk Rapids High School
1835 Osauka Road
Sauk Rapids, MN 56379
Phone: (320) 253-4700
Fax: (320) 258-1717

Grades: 9-12
Students: 1,276


Sauk Rapids Rice Middle School
901 1st Street S
Sauk Rapids, MN 56379
Phone: (320) 654-9073
Fax: (320) 259-8909

Grades: 6-8
Students: 991


Mississippi Heights Elementary
1003 4th Street S
Sauk Rapids, MN 56379
Phone: (320) 252-0122
Fax: (320) 258-1399

Grades: K-5
Students: 890


Pleasantview Elementary School
1009 6th Avenue N
Sauk Rapids, MN 56379
Phone: (320) 253-0506
Fax: (320) 253-1444

Grades: PK-5
Students: 668


Rice Elementary School
200 3rd Avenue NE
Rice, MN 56367
Phone: (320) 393-2177
Fax: (320) 393-2140

Grades: PK-5
Students: 338


Petra Lutheran School
1049 1st Avenue N
Sauk Rapids, MN 56379
Phone: (320) 251-0158
Web: www.petraschool.org

Grades: K-8
Students: 18


---
Churches:
Annunciation Mayhew Lake Church
9965 Mayhew Lake Road NE
Sauk Rapids, MN 56379
Phone: (320) 252-1729
Web: www.annunciationmayhewlakechurch.org

Pastor: Rev. Tim Wenzel
Sunday Mass: 8:30 am

Countryside Seventh Day Adventist Church
1970 15th Street NE
Sauk Rapids, MN 56379
Phone: (320) 252-0325

Pastor: n/a
Saturday Worship: 9:45 am

Harvest Fellowship
400 2nd Avenue N
Sauk Rapids, MN 56379
Phone: (320) 529-8838
Fax: (320) 230-2771
Web: www.harvestmn.com

Pastor: Jason Neal
Sunday Worship: 9:00 am and 10:30 am

Living Waters Lutheran Church
1911 4th Avenue N
Sauk Rapids, MN 56379
Phone: (320) 255-1135
Web: www.lwlcmn.org

Pastor: Todd Mattson
Sunday Worship: 8:30 am and 10:30 am

Petra Evangelical Lutheran Church - WELS
1049 1st Avenue N
Sauk Rapids, MN 56379
Phone: (320) 252-0120
Web: www.petralutheran.com

Pastor: Bryan Prell
Sunday Worship: 8:00 am and 10:30

Riverside Church
1702 W Highview Drive
Sauk Rapids, MN 56379
Phone: (320) 252-2960
Web: www.myriversidechurch.com/saukrapids

Pastor: Tom Lundeen
Sunday Worship: 9:00 am and 10:45 am

Sacred Heart Church Parish
2875 10th Avenue NE
Sauk Rapids, MN 56379
Phone: (320) 251-8115
Web: www.sacredheartsaukrapids.org

Pastor: Fr. Ralph Zimmerman
Saturday Mass: 5:00 pm
Sunday Worship: 8:00 am and 10:00 am

St. John's Lutheran Church
6855 Golden Spike Road NE
Sauk Rapids, MN 56379
Phone: (320) 387-2433

Pastor: n/a
Sunday Worship: n/a

St. Patrick's Parish
7286 Duelm Road NE
Sauk Rapids, MN 56379
Phone: (320) 252-2069

Pastor: Fr. Elmer Torberg
Sunday Mass: 8:30 am

Trinity Lutheran Church - LCMS
2163 Mayhew Lake Road NE
Sauk Rapids, MN 56379
Phone: (320) 252-3670
Web:

www.trinitysr.org

Pastor: Rev. David Hinz
Sunday Worship: 8:00 am and 10:30 am
---
Media:
Newspapers

Sauk Rapids Herald
7 2nd Avenue S
Sauk Rapids, MN 56379
Phone: (320) 251-1971
Daily
St. Cloud Times
3000 7th Street N
PO Box 768
St. Cloud, MN 56302
Phone: (320) 255-8700
Fax: (320) 255-8775
Web: www.sctimes.com



Radio

540

Listen
WXYG-AM - "The Goat"
Tri County Broadcasting
1010 2nd Street N
PO Box 366
Sauk Rapids, MN 56379
Phone: (320) 252-6200
Fax: (320) 252-9367
Web: www.thegoatwxyg.com
Power: Day: 850 watts Night: 250 watts

Format: Album Rock
Networks: none


660
WBHR-AM - "660 The Bear"
Tri County Broadcasting
1010 2nd Street N
PO Box 366
Sauk Rapids, MN 56379
Phone: (320) 252-6200
Fax: (320) 252-9367
Web:

www.660wbhr.com


Power: Day: 10,000 watts Night: 500 watts

Format: Sports, Talk
Networks: ESPN Radio, Cubs


800
WVAL-AM - "Minnesota's Country Legend"
Tri County Broadcasting
1010 2nd Street S
PO Box 366
Sauk Rapids, MN 56379
Phone: (320) 252-6200
Fax: (320) 252-9367
Web:

www.800wval.com


Power: Day: 2,600 watts Night: 850 watts

Format: Classic Country
Networks: CBS


1010
WMIN-AM - "Uptown 1010"
Tri County Broadcasting
1010 2nd Street S
PO Box 366
Sauk Rapids, MN 56379
Phone: (320) 252-6200
Fax: (320) 252-9367
Web: www.uptown1010.com
Power: Day: 1,700 watts Night: 240 watts
1180

Listen
KYES-AM - "Catholic Talk"
Gabriel Media
1926 W Division Street
PO Box 7490
St. Cloud, MN 56301
Phone: (320) 257-9700
Fax: (320) 257-1624
Web: www.kyesradio.com
Power: Day: 50,000 watts Night: 5,000 watts

Format: Catholic
Networks: Relevant Radio


1240
WJON-AM - "Information Radio"
Townsquare Media, Inc.
640 SE Lincoln Avenue
St. Cloud, MN 56304
Phone: (320) 251-4422
Web:

www.wjon.com


Power: Day: 1,000 watts Night: 1,000 watts

Format: News/Talk
Networks: ABCi/MNN Vikings, Twins, Timberwolves


1390

Listen
KXSS-AM - "Granite City Sports"
Townsquare Media, Inc.
640 SE Lincoln Avenue
St. Cloud, MN 56304
Phone: (320) 251-4422
Fax: (320) 251-1855
Web:

www.1390thefan.com


Power: Day: 2,500 watts Night: 1,000 watts

Format: Sports
Networks: NBC Sports


1450
KNSI-AM - "NewsTalk 1450"
Leighton Enterprises, Inc.
619 W St. Germain Street
St. Cloud MN 56301-3640
Phone: (320) 251-1450
Fax: (320) 251-8952
Web: www.knsiradio.com
Power: Day: 1,000 watts Night: 1,000 watts
88.1
KVSC-FM - "Your Sound Alternative"
St. Cloud State University
720 Fourth Avenue S
27 Stewart Hall
Saint Cloud, MN 56301-4498
Phone: (320) 308-5872
Fax: (320) 308-5337
Web:

www.kvsc.org


Power: 16,500 watts

Format: Alternative, Jazz
Networks: n/a


88.1 HD1
KVSC-FM - "Your Sound Alternative"
"Your Sound Alternative"
88.1 HD2
KVEX-LP - "Radio X"
'90s Alternative
88.3 HD3
KVSC-FM
Talk and Sports
88.9
KNSR-FM - "MPR News"
American Public Media Group
PO Box 7011
Collegeville, MN 56321
Phone: (320) 363-7702
Fax: (320) 363-4948
Web:

minnesota.publicradio.orgr


Power: 100,000 watts

Format: News/Talk
Networks: NPR, MPR, BBC World Service


88.9 HD1
KNSR-FM - "MPR News"
News and Talk
88.9 HD2
KCMP-FM - "The Current"
Adult Alternative
89.5

Listen
K208DV (low power translator)
KHRI-FM - "Air 1 Radio"
1601 Belvedere Road
204 West Palm Beach, FL 33406
Phone: (503) 543-9700
Fax: (503) 543-9750
Web:

www.air1.com


Power: 62 watts

Format: Christian Rock
Networks: Air1 Network


90.1
KSJR-FM - "MPR Classical"
American Public Media Group
PO Box 7011
Collegeville, MN 56321
Phone: (320) 363-7702
Fax: (320) 363-4948
Web:

minnesota.publicradio.org


Power: 100,000 watts

Format: Classical NPR
Networks: MPR Classical network


90.1 HD1
KSJR-FM - "MPR Classical"
Classical
91.5
KCFB-FM - "The Word"
Minnesota Christian Broadcasters, Inc
PO Box 409
Pequot Lakes, MN 56472
Phone: (320) 252-4214
Fax: (320) 252-2027
Web: www.theword.mn
Power: 15,000 watts

Format: Christian
Networks: n/a


92.9

Listen
KKJM-FM - "Spirit 92.9"
Gabriel Media
1926 W Division Street
PO Box 7490
St. Cloud, MN 56301
Phone: (320) 257-1780
Fax: (320) 257-1624
Web:

www.spirit929.com


Power: 25,000 watts

Format:
Networks:


94.9
KMXK-FM - "Mix 94.9"
Townsquare Media, Inc.
640 SE Lincoln Avenue
St. Cloud, MN 56304
Phone: (320) 251-5695
Fax: (320) 251-1855
Web:

www.mix949.com


Power: 50,000 watts

Format: Hot Adult Contemporary
Networks: n/a


95.3
W237EU (low power translator)
WJON-AM - "Information Radio"
Townsquare Media, Inc.
640 SE Lincoln Avenue
St. Cloud, MN 56304
Phone: (320) 251-4422
Web:

www.wjon.com


Power: 250 watts

Format: News/Talk
Networks: ABCi/MNN Vikings, Twins, Timberwolves


95.7
W239CU (low power translator)
WBHR-AM - "660 The Bear"
Tri County Broadcasting
1010 2nd Street N
PO Box 366
Sauk Rapids, MN 56379
Phone: (320) 252-6200
Fax: (320) 252-9367
Web:

www.660wbhr.com


Power: 250 watts

Format: Sports, Talk
Networks: ESPN Radio, Cubs


96.1

Listen
WROJ-LP - "The Rock"
The RockFM Communications
PO Box 189
St. Cloud, MN 56302-0189
Phone: n/a
Web: www.therockfm.org
Power: 100 watts

Format: Christian Contemporary
Networks: n/a


96.7
KZRV-FM - "The River"
Townsquare Media, Inc.
640 SE Lincoln Avenue
St. Cloud, MN 56304
Phone: (320) 251-4422
Fax: (320) 251-1855
Web: www.river967.com
Power: 50,000 watts

Format: Classic Hits
Networks: n/a


97.5

Listen
KVEX-LP - "Radio X"
St. Cloud State University
720 Fourth Avenue S
27 Stewart Hall
Saint Cloud, MN 56301-4498
Phone: (320) 308-5872
Fax: (320) 308-5337
Web: www.975radiox.com
Power: 45 watts

Format: '90s Alternative
Networks: n/a


98.1
WWJO-FM - "Minnesota's New Country"
Townsquare Media, Inc.
640 SE Lincoln Avenue
St. Cloud, MN 56304
Phone: (320) 251-4422
Fax: (320) 251-1855
Web:

www.minnesotasnewcountry.com


Power: 97,000 watts

Format: Country
Networks: ABCe/MNN


98.9
KZPK-FM - "Wild Country 99"
Leighton Enterprises, Inc.
619 W St. Germain Street
St. Cloud MN 56301-3640
Phone: (320) 251-1450
Fax: (320) 251-8952
Web:

www.wildcountry99.com


Power: 24,000 watts

Format: Country
Networks: n/a


98.9 HD1
KZPK-FM - "Wild Country 99"

Country

98.9 HD2
KNSI-AM - "NewsTalk 1450"
News/Talk
98.9 HD3
"Z-Rock 103.3"
Classic Rock
99.3

Listen
K257GK (low power translator)
KNSI-AM - "NewsTalk 1450"
Leighton Enterprises, Inc.
619 W St. Germain Street
St. Cloud MN 56301-3640
Phone: (320) 251-1450
Fax: (320) 251-8952
Web: www.knsiradio.com
Power: Day: 250 watts
99.9
KCML-FM - "99.9 More FM"
Leighton Enterprises, Inc.
619 W St. Germain Street
St. Cloud MN 56301-3640
Phone: (320) 251-1450
Fax: (320) 251-8952
Web: www.999morefm.com
Power: 2,900 watts

Format: Adult Contemporary
Networks: n/a


101.1
W266DT (low power translator)
WMIN-AM - "Uptown 1010"
Tri County Broadcasting
1010 2nd Street S
PO Box 366
Sauk Rapids, MN 56379
Phone: (320) 252-6200
Fax: (320) 252-9367
Web: www.uptown1010.com
Power: 250 watts
101.7
WHMH-FM - "Rockin' 101"
Tri County Broadcasting
1010 2nd Street N
PO Box 366
Sauk Rapids, MN 56379
Phone: (320) 252-6200
Fax: (320) 252-9367
Web:

www.rockin101.com


Power: 40,000 watts

101.7 HD1
WHMH-FM - "Rockin' 101"
Hard Rock
101.7 HD2
WXYG-AM - "The Goat"
Album Rock
101.7 HD3
102.3
W272EG (low power translator)
WVAL-AM - "Minnesota's Country Legend"
Tri County Broadcasting
1010 2nd Street S
PO Box 366
Sauk Rapids, MN 56379
Phone: (320) 252-6200
Fax: (320) 252-9367
Web:

www.800wval.com


Power: 250 watts

Format: Classic Country
Networks: CBS


103.3

Listen
K277BS (low power translator)
KZPK-HD3 - "Z-Rock 103.3"
Leighton Enterprises, Inc.
619 W St. Germain Street
St. Cloud MN 56301-3640
Phone: (320) 251-1450
Fax: (320) 251-8952
Web: www.1033zrock.com
Power: 250 watts

Format: Hard Classic Rock
Networks: n/a


103.7
KLZZ-FM - "The Loon"
Townsquare Media, Inc.
640 SE Lincoln Avenue
St. Cloud, MN 56304
Phone: (320) 251-4422
Fax: (320) 251-1855
Web:

www.1037theloon.com


Power: 9,000 watts

Format: Classic Rock
Networks: n/a


104.7
KCLD-FM - "Today's Hit Music"
Leighton Enterprises, Inc.
619 W St. Germain Street
St. Cloud MN 56301-3640
Phone: (320) 251-1450
Fax: (320) 251-8952
Web:

www.1047kcld.com


Power: 100,000 watts

Format: Contemporary Hits
Networks: n/a


105.1
KZYS-LP
St. Cloud Area Somali Salvation Organization
525 2nd Avenue S
Waite Park, MN 56387
Phone: n/a
Web: n/a
Power: 45 watts

Format: Somali
Networks: n/a


105.5

Listen
KDDG-FM - "Bob Total Country"
Milestone Radio LLC
14443 Armstrong Blvd. NW
Ramsey, MN 56303
Phone: (763) 450-7777
Web: www.mybobcountry.com
Power: 6,000 watts

Format: Classic Country
Networks: n/a


105.5 HD1
KDDG-FM - "Bob Total Country"

Classic Country

105.5 HD2
KASM-AM - "Your Dependable Neighbor"
Farm/Country/Old Time
105.5 HD3
WQPM- AM - "The Big Q"
Oldies
106.5

Listen
W293CS (low power translator)
Tri County Broadcasting
1010 2nd Street N
PO Box 366
Sauk Rapids, MN 56379
Phone: (320) 252-6200
Fax: (320) 252-9367
Web: www.106point5.com
Power: 250 watts

Format: Alternative
Networks: n/a


107.3

Listen
W297BO (low power translator)
WXYG-AM - "The Goat"
Tri County Broadcasting
1010 2nd Street N
PO Box 366
Sauk Rapids, MN 56379
Phone: (320) 252-6200
Fax: (320) 252-9367
Web: www.thegoatwxyg.com
Power: Day: 250 watts

Format: Album Rock
Networks: none



Television

2.1
KTCA-TV - PBS
Twin Cities Public Television, Inc
172 E 4th Street
Saint Paul, MN 55101
Phone: (651) 222-1717
Web: www.tpt.org



2.2
KTCA-TV - MN Channel
Web: www.tpt.org


2.3
KTCA-TV - Life
Web: www.tpt.org


2.4
KTCA-TV - PBS Kids
Web: www.tpt.org/kids



PBS Kids is an American digital broadcast and online television network operated by the Public Broadcasting Service. The network features a broad mix of live-action and animated children's programs distributed to PBS by independent companies and select member stations, which are designed for improving the early literacy, math, and social-emotional skills of young children ages 2 to 11.




2.5
KTCA-TV - TPT Now
Web: www.tpt.org


4.1
WCCO-TV - CBS
90 S 11th Street
Minneapolis, MN 55403
Phone: (612) 339-4444
Toll Free: (800) 444-WCCO
Web:

www.wcco.com




4.2
WCCO-TV - StartTV
Web: www.starttv.com



Start TV is an American digital broadcast television network that is owned by Weigel Broadcasting. Primarily carried on the digital subchannels of its affiliated television station in most markets, it primarily airs classic television drama series from the 1980s through the 2000s, with a focus on dramas, police and legal procedurals geared toward female audiences.




5.1
KSTP-TV - ABC
Hubbard Broadcasting, Inc.
3415 University Avenue
St. Paul, MN 55114
Phone: (651) 646-5555
Fax: (651) 642-4409
Web:

www.kstp.com




5.2
KSTC-TV - Independent
Hubbard Broadcasting, Inc.
3415 University Avenue
St. Paul, MN 55114
Phone: (651) 646-5555
Fax: (651) 642-4409
Web: www.kstc45.com


5.3
KSTC-TV - MeTV
Web: www.metv.com



MeTV (an abbreviation for Memorable Entertainment Television) is an American broadcast television network that is owned by Weigel Broadcasting and distributed by Metro-Goldwyn-Mayer.[4] Marketed as "The Definitive Destination for Classic TV," the network airs a variety of classic television programs from the 1950s through the early 1990s, which are obtained primarily from the libraries of CBS Television Distribution and 20th Television.




5.4
KSTC-TV - Antenna TV
Web: www.antennatv.tv



Antenna TV is an American digital multicast television network that is owned by the Tribune Broadcasting subsidiary of Tribune Media. The network's programming consists of classic television series from the 1950s to the early 2000s, most of which are sourced from the content library of Sony Pictures Entertainment, along with a selection of series from Universal Studios, Metro-Goldwyn-Mayer and Carson Entertainment.




5.6
KSTC-TV - This TV
Web: www.thistv.com

This TV is an American digital broadcast television network that is owned by ThisTV, LLC, a joint venture between the Tribune Broadcasting subsidiary of Tribune Media, and the MGM Domestic Television Distribution subsidiary of Metro-Goldwyn-Mayer. The network maintains a large programming emphasis on films (those primarily sourced from the library of partial owner Metro-Goldwyn-Mayer), but also airs other limited general entertainment content in the form of classic television series and children's programming.


5.7
KSTP-TV - Heroes and Icons
Web: www.handitv.com



Heroes & Icons (H&I) is an American digital broadcast television network owned by Weigel Broadcasting. Primarily carried on the digital subchannels of its affiliated television station in most markets, it primarily airs classic television series from the 1950s through the 2000s, with a focus on westerns, crime dramas, sci-fi, and action-oriented programming geared toward male audiences.




9.1
WFTC-TV - Fox
11358 Viking Drive
Eden Prairie, MN 55347
Phone:

(952) 944-9999


Web: www.fox9.com



9.2
WFTC-TV - Fox+ (MyNetworkTV)


9.3
WFTC-TV - Movies!
Web: www.moviestvnetwork.com



Movies! is an American digital multicast television network that is owned as a joint venture between Weigel Broadcasting and the Fox Television Stations subsidiary of 21st Century Fox. The network's programming emphasizes feature films.




9.4
KMSP-TV - Buzzr
Web: www.buzzrplay.com



Buzzr is an American digital multicast television network that is owned by Fremantle North America, a unit of the Fremantle subsidiary of RTL Group. Buzzr subchannel is seen in 62 U.S. television markets. The network sources its programming from the extensive library of classic game shows owned by FremantleMedia, some of which were (and are) part of the Game Show Network's (GSN) programming lineup.




9.5
KMSP-TV - Light TV


Web:

www.lighttv.com





LIGHT TV is a new free broadcast network featuring family-friendly programming including movies, series and short form content. LIGHT TV is your destination for positive, wholesome entertainment.




9.9
KMSP-TV - Fox
11358 Viking Drive
Eden Prairie, MN 55347
Phone:

(952) 944-9999


Web: www.fox9.com


11.1
KARE-TV - NBC
8811 Olson Memorial Highway
Minneapolis, MN 55427
Phone:

(763) 546-1111


Web:

www.kare11.com

11.2
KARE-TV - WeatherNation
Web: www.weathernationtv.com

WeatherNation TV broadcasts local, regional, and national weather forecasts and weather-related news, including periodic coverage of severe and tropical weather events.


11.3
KARE-TV - Justice Network
Web: www.justicenetworktv.com



The Justice Network specializes in true crime, investigation and forensic science documentary programming aimed at adults – with a skew toward females – between the ages of 25 and 54.




11.4
KARE-TV - Quest
Web: www.questtv.com



Quest is a network that specializes in travel, historical, science, and adventure-focused documentary and reality series aimed at adults between the ages of 25 and 54.




23.1
WUCW-TV - CW
Sinclair Broadcast Group
1640 Como Avenue
St. Paul, MN 55108
Phone: (651) 646-2300
Fax: (651) 646-1220
Web: www.thecwtc.com


23.2
WUCW-TV - Comet
Web: www.comettv.com



Comet is an American digital broadcast television network that is owned by the Sinclair Television Group subsidiary of the Sinclair Broadcast Group and operated by the MGM Television division of Metro-Goldwyn-Mayer. The network focuses on science fiction with some supernatural, horror, adventure and fantasy series and films, sourced mainly from the Metro-Goldwyn-Mayer film and television library




23.3
WUCW-TV - Charge
Web: www.watchcharge.com



Charge! is an American digital broadcast television network that is owned by the Sinclair Television Group subsidiary of the Sinclair Broadcast Group and operated by the MGM Television division of Metro-Goldwyn-Mayer. The network features action- and adventure-based programming sourced primarily from the MGM television and film library.




23.4
WUCW-TV - TBD TV
Web: www.tbd.com



TBD (also referred to unofficially as TBD-TV) is an American digital broadcast television network that is owned by the Sinclair Television Group subsidiary of the Sinclair Broadcast Group. Targeting millennial audiences, the network focuses on internet-based series and other digital content (including showcases of user-generated music, animation and comedy videos, eSports, and compiled half-hour and hour-long episodes of short-form web series), along with some feature films.




41.1
KPXM-TV - Ion
22601 176th Street NW
Big Lake, MN 55309
Phone: (763) 263-8666
41.2
KPXM-TV - qubo
Web: www.qubo.com



Qubo consists of a 24-hour television network, alternately known as Qubo Channel (which is available as a digital multicast service on owned-and-operated stations and some affiliates of corporate sister Ion Television, and on some pay television providers), a video on demand service, and the branding of a weekly programming block on Ion Television under the name "Qubo Kids Corner".




41.3
KPXM-TV - Ion Life
Web: www.ionlife.com



Ion Life is an American digital broadcast television network that is owned by Ion Media Networks. The network primarily features lifestyle programming, consisting of shows pertaining to subjects such as health and wellness, cooking, home decor and travel, as well as theatrically released feature films.




41.4
KPXM-TV - Ion Shop


41.5
KPXM-TV - QVC


41.6
KPXM-TV - HSN


---
Motels:
Check for motel rates and availability on:
---
Resorts:
---
Campgrounds:
---
---
Businesses:
---
---
Aerial Photo: [click photo to enlarge, zoom in or zoom out]
---
Topographic Map: [click map to enlarge, zoom in or zoom out]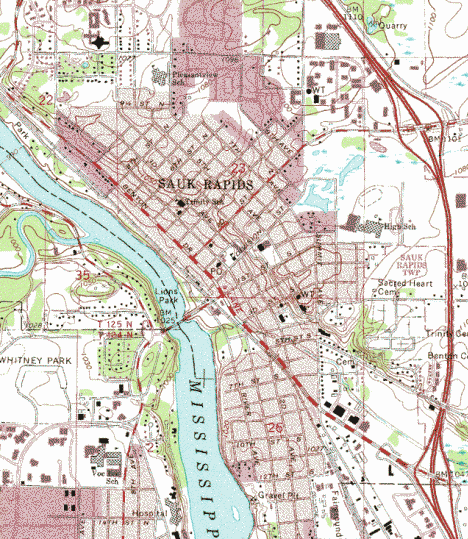 Topographic map is courtesy of the Minnesota DNR - click map to zoom or enlarge