Navigation
LakesnWoods.com
Home Page
Contact Us
Privacy
Minnesota History Shop

Visit The Minnesota History Shop
www.minnesotahistoryshop.com
Historic maps
Historic books
Historic framed art
Historic postcards
Clothing with historic images
And much more!!!


Silver Lake Guide:
Photo Gallery
Location
Geography
Demographics
History
Government
Post Office
News
Weather
Street Map
Events
Attractions
Recreation
Lakes
Health Care
Schools
Churches
Media
Motels
Resorts
Campgrounds
Businesses
Aerial Photo
Topographic Map
© 2004-2023
Lakeweb1 Internet Services
All Rights Reserved
DCMA, Defamation, Copyright and Trademark Infingement Policy
WANTED!
Do you have photos, historical accounts or other items pertaining to the Silver Lake area? Would you like to share this historical information with the world? LakesnWoods.com would like to publish your Silver Lake photos (current or historical) or historical accounts on this website. Original materials can be returned and your privacy will be respected.

Silver Lake Minnesota Community Guide
---
Location:
---
Population:
Silver Lake (city)
1970
1980
1990
2000
2010
2000-2010 Change
Actual
Percent
Population
694
698
764
761
837
+76
+9.99
Land Area (sq. mile)
0.30
0.31
0.31
0.35
0.35
0
0.00
Density (persons per sq. mile)
2,313.3
2,251.6
2,464.5
2,191.4
2,391.4
+200.03
+9.99
Housing Units
273
321
334
340
379
+39
+11.47
Households
--
287
322
330
352
+22
+6.67
Persons Per Household
--
2.43
2.37
2.31
2.38
+0.07
+3.03
---
Geography:
Silver Lake is a city in McLeod County, Minnesota. Minnesota State Highway 7 serves as a main route in the city. According to the United States Census Bureau, the city has a total area of 0.38 square miles (0.98 km2), all of it land. The elevation is 1,063 ft (324 m) above sea level.
From Wikipedia, the free encyclopedia.
---
Demographics:
As of the census of 2010, there were 837 people, 352 households, and 214 families residing in the city. The population density was 2,202.6 inhabitants per square mile (850.4 /km2). There were 379 housing units at an average density of 997.4 per square mile (385.1 /km2). The racial makeup of the city was 99.4% White, 0.2% Asian, and 0.4% from two or more races. Hispanic or Latino of any race were 1.4% of the population.
There were 352 households of which 31.0% had children under the age of 18 living with them, 48.0% were married couples living together, 7.1% had a female householder with no husband present, 5.7% had a male householder with no wife present, and 39.2% were non-families. 31.5% of all households were made up of individuals and 13.1% had someone living alone who was 65 years of age or older. The average household size was 2.38 and the average family size was 3.04.
The median age in the city was 35 years. 24.7% of residents were under the age of 18; 9.1% were between the ages of 18 and 24; 31.4% were from 25 to 44; 20.7% were from 45 to 64; and 14.1% were 65 years of age or older. The gender makeup of the city was 51.1% male and 48.9% female.
---
---
History:
SILVER LAKE, a city in sections 33 and 34 of Hale Township platted in 1881 and incorporated on December 23, 1889, is situated at the north side of Silver Lake. It was settled primarily by Czechs and Poles. Its post office was established as Fremont in Hennepin County in 1856 and transferred to McLeod County in 1859, continuing until 1861; a farm post office was established in 1867 as Silver Lake, and the site was called Fremont until the general store was built in 1881, at which time the townsite was laid out as Silver Lake; the farm post office moved a number of times; it had a station of the Minneapolis and St. Louis Railroad.
Courtesy Minnesota Historical Society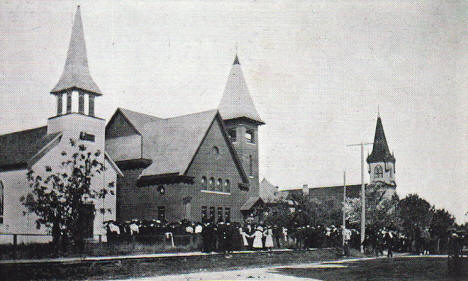 Church Row, Silver Lake Minnesota, 1930s
LakesnWoods.com Postcard and Postcard Image Collection - click to enlarge

Visit The Silver Lake Photo Gallery for more recent and historic area photos
---
Government:
Silver Lake City Hall
308 Main Street W
PO Box 347
Silver Lake MN 55381-0347
Phone: (320) 327-2412
Fax: (320) 327-2299

Regular Business Hours:
Monday - Friday 8:00 am - 4:00 pm

City Council Meetings:
1st Monday in Jan, April, July and Oct at 6:30 pm


Title
Term Ends
Name and Address
Phone
Mayor
12/31/2022
Bruce Bebo
217 Summit Avenue
Silver Lake, MN 55381
(320) 327-3157
City Clerk/Treasurer
appointed
Jon Jerabek
308 Main Street W - PO Box 347
Silver Lake MN 55381-0347


(320) 327-2412
Council Member
12/31/2022
Josh Winfrey
714 Highway 7
Silver Lake, MN 55381
(763) 742-2686
Council Member
12/31/2022
Chris Penaz
209 Grove Avenue N
Silver Lake, MN 55381
(320) 894-9432
Council Member
12/31/2024
Sandie Adams-Bruins
110 Century Lane
Silver Lake, MN 55381
(320) 469-4405
Council Member
12/31/2024
Michelle Schneider
223 Century Lane
Silver Lake, MN 55381
(320) 333-9002
---
Post Office/a>:
US Post Office
113 Main Street W
Silver Lake, MN 55381-6062
Phone: (320) 327-2155
Toll Free: (800) ASK-USPS

Regular Business Hours:
Week Days 8:30 am - 12:30 pm
2:00 pm - 4:30 pm
Saturday 8:30 am - 9:30 am




---
---
Utilities:
---
Major Employers:
---
---
News:
---
Weather:
---
Map: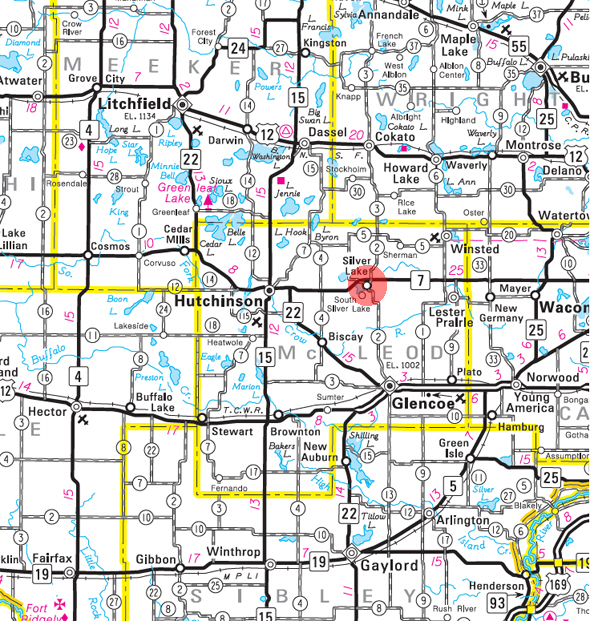 Minnesota State Highway Map of the Silver Lake Minnesota area
---
Events:
---
---
Attractions:
---
Recreation:
---
Lakes:
---
Health Care:
---
Schools:
Glencoe-Silver Lake School District
Independent School District #2859
1621 16th Street E
Glencoe, MN 55336
Phone: (320) 864-2498
Fax: (320) 864-6320



We have two elementary schools, one middle school, and a high school on two campuses. Three of our schools (one elementary, the middle school, and the high school) are located in Glencoe, and one elementary, "Lakeside" is located in Silver Lake.

Grades: PK-12
Students: 1,771

Glencoe-Silver Lake Senior High School
1825 16th Street E
Glencoe, MN 55336
Phone: (320) 864-2401
Fax: (320) 864-6475

Grades: 9-12
Students: 579

Glencoe-Silver Lake Junior High School
1825 16th Street E
Glencoe, MN 55336
Phone: (320) 864-2401
Fax: (320) 864-2475

Grades: 7-8
Students: 284

Lakeside Elementary School
229 Lake Avenue S
Silver Lake, MN 55336
Phone: (320) 864-2500
Fax: (320) 327-3122

Grades: 3-6
Students: 491

Lincoln Elementary School
1621 16th Street E
Glencoe, MN 55336
Phone: (320) 864-2677
Fax: (320) 864-2682

Grades: PK-2
Students: 417
---
Churches:
Faith Presbyterian Church
108 Main Street E
Silver Lake, MN 55381
Phone: (320) 327-2452
Grace Bible Church
300 Cleveland Street SW
Silver Lake, MN 55381
Phone: (320) 327-2266
Holy Family Church
720 Main Street W
Silver Lake, MN 55381
Phone: (320) 327-2261
---
Media:
---
Motels:
Check for motel rates and availability on:
---
Resorts:
---
Campgrounds:
---
---
Businesses:
American Legion
241 Main Street W
Silver Lake, MN 55381
Phone: (320) 327-2404
Anytime Auto Repair and Towing
19908 Falcon Avenue
Silver Lake, MN 55381
Phone: (320) 327-0125
Bebo GI Manufacturing Company
22506 Flower Road
Silver Lake, MN 55381
Phone: (320) 485-2526
C & C Roofing
20906 Flower Road
Silver Lake, MN 55381
Phone: (320) 327-3131
Cedar Crest Estates
1401 Main Street W
Silver Lake, MN 55381
Phone: (320) 327-6577
Corner Market
916 State Highway 7
Silver Lake, MN 55381
Phone: (320) 327-2500
Country Built Cabinets
12416 220th Street
Silver Lake, MN 55381
Phone: (320) 327-2584
CTM Construction
300 Main Street W
Silver Lake, MN 55381
Phone: (320) 327-2796
Custom Installations LLC
2006 Jubilee Drive
Silver Lake, MN 55381
Phone: (320) 327-2300
Dave's Ag Repair
8849 228th Street
Silver Lake, MN 55381
Phone: (320) 327-2198
DSL Cabinets
304 Main Street W
Silver Lake, MN 55381
Phone: (320) 327-2660
E & K Recreational Concepts
713 State Highway 7
Silver Lake, MN 55381
Phone: (320) 753-1181
Electronic Servicing
216 Grove Avenue N
Silver Lake, MN 55381
Phone: (320) 327-2742
First Community Bank
201 Main Street W
Silver Lake, MN 55381
Phone: (320) 327-3191
Gene's Towing
20656 County Road 2
Silver Lake, MN 55381
Phone: (320) 327-2506
George Kucera Pioneer Seeds
22829 Jet Avenue
Silver Lake, MN 55381
Phone: (320) 327-2441
Harlan's Auto Repair
211 N Lake Avenue
Silver Lake, MN 55381
Phone: (320) 327-2255
Jerabek's Market
401 Main Street W
Silver Lake, MN 55381
Phone: (320) 327-2885
JN Machining and Repair
20773 Kale Drive
Silver Lake, MN 55381
Phone: (320) 327-2813
Juncewski Trucking LLC
9263 Common Street
Silver Lake, MN 55381
Phone: (320) 327-2315
K & K Storage
512 Lake Avenue N
Silver Lake, MN 55381
Phone: (320) 327-0123
Kaz's
412 Main Street W
Silver Lake, MN 55381
Phone: (320) 327-2445
Ken Matthews Digging
20475 County Road 2
Silver Lake, MN 55381
Phone: (320) 327-2845
Lakes Gas Company
1101 State Highway 7 W
Silver Lake, MN 55381
Phone: (320) 327-2317
Larry Doerr Agency
117 Main Street W
Silver Lake, MN 55381
Phone: (320) 753-6000
---
---
Aerial Photo:
---
Topographic Map: [click map to enlarge, zoom in or zoom out]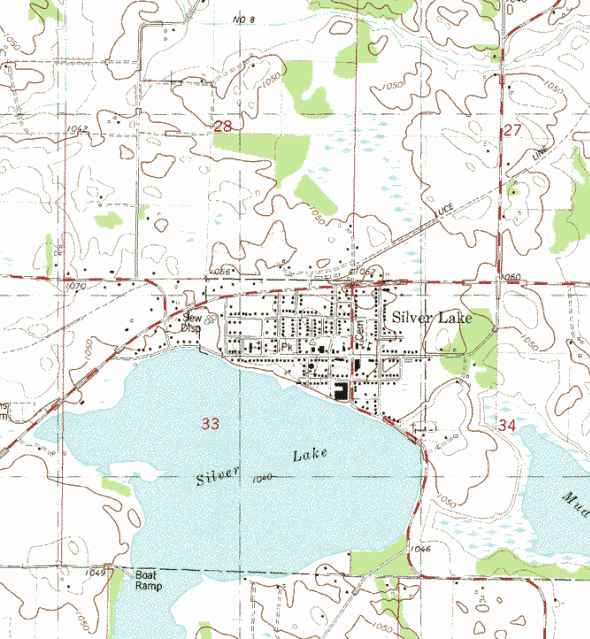 Topographic map is courtesy of the Minnesota DNR - click map to zoom or enlarge