Navigation
LakesnWoods.com
Home Page
Contact Us
Privacy
Minnesota History Shop

Visit The Minnesota History Shop
www.minnesotahistoryshop.com
Historic maps
Historic books
Historic framed art
Historic postcards
Clothing with historic images
And much more!!!


St. Augusta Guide:
Photo Gallery
Location
Geography
Demographics
History
Government
Post Office
News
Weather
Street Map
Events
Attractions
Recreation
Lakes
Health Care
Schools
Churches
Media
Motels
Resorts
Campgrounds
Businesses
Aerial Photo
Topographic Map
© 2004-2023
Lakeweb1 Internet Services
All Rights Reserved
DCMA, Defamation, Copyright and Trademark Infingement Policy
WANTED!
Do you have photos, historical accounts or other items pertaining to the St. Augusta area? Would you like to share this historical information with the world? LakesnWoods.com would like to publish your St. Augusta photos (current or historical) or historical accounts on this website. Original materials can be returned and your privacy will be respected.

St. Augusta Minnesota Community Guide
---
Location:
---
Population:
St. Augusta (city)
1970
1980
1990
2000
2010
2000-2010 Change
Actual
Percent
Population
1,584
2,169
2,657
3,065
3,317
+252
+8.22
Land Area (sq. mile)
37.30
38.27
37.79
37.64
37.64
0
0.00
Density (persons per sq. mile)
42.5
56.7
70.3
81.4
88.1
+6.72
+8.22
Housing Units
366
588
796
1,000
1,184
+184
+18.40
Households
--
557
785
987
1,154
+167
+16.92
Persons Per Household
--
3.89
3.38
3.11
2.87
-0.24
-7.71
---
Geography:
Saint Augusta is a city in Stearns County, Minnesota, directly south of the city of St. Cloud. Minnesota State Highway 15 and County 7 are two of the main routes in Saint Augusta. Interstate 94 and County 75 skirt the northeastern border of St. Augusta. According to the United States Census Bureau, the city has a total area of 29.81 square miles (77.21 km2); 29.66 square miles (76.82 km2) is land and 0.15 square miles (0.39 km2) is water. The city occupies the entirety of the original township.
From Wikipedia, the free encyclopedia.
---
Demographics:
As of the census of 2010, there were 3,317 people, 1,154 households, and 937 families residing in the city. The population density was 111.8 inhabitants per square mile (43.2/km2). There were 1,184 housing units at an average density of 39.9 per square mile (15.4/km2). The racial makeup of the city was 97.4% White, 0.5% African American, 0.1% Native American, 0.7% Asian, 0.3% from other races, and 0.9% from two or more races. Hispanic or Latino of any race were 0.6% of the population.
There were 1,154 households of which 39.9% had children under the age of 18 living with them, 71.9% were married couples living together, 4.6% had a female householder with no husband present, 4.7% had a male householder with no wife present, and 18.8% were non-families. 13.2% of all households were made up of individuals and 3.7% had someone living alone who was 65 years of age or older. The average household size was 2.86 and the average family size was 3.13.
The median age in the city was 36.6 years. 27.1% of residents were under the age of 18; 7% were between the ages of 18 and 24; 28.2% were from 25 to 44; 29.4% were from 45 to 64; and 8.3% were 65 years of age or older. The gender makeup of the city was 50.5% male and 49.5% female.
---
---
History:
ST. AUGUSTA Township, settled in 1854 and organized in 1859, was originally called Berlin and later Neenah, but in 1863 adopted the present name, which had been given by Father Pierz in 1856 to the first church here. The village of St. Augusta in section 7 was first platted in 1854 by Augusta Wilson, who also platted a section of St. Cloud, and was named for his daughter, Augusta, who had died shortly before. The village was approved for incorporation on May 19, 1857, but was not incorporated. It incorporated in 2000 under the name Ventura for Minnesota Governor Jesse Ventura, but changed by popular vote to St. Augusta in November 2000. It had a post office, 1857-1903, and a station of the Great Northern Railway.
Courtesy Minnesota Historical Society
---
Government:
St. Augusta City Hall
1914 250th Street
St. Augusta, MN 56301
Phone: (320) 654-0387
Fax: (320) 654-1686

Regular Business Hours:
Monday - Friday 8:00 am - 4:30 pm

City Council Meetings:
1st Tuesday of the month at 7:00 pm


Title
Term Ends
Name and Address
Phone
Mayor
12/31/2022
Mike Zenzen
2162 County Road 115
St. Augusta, MN 56301
(320) 492-0385
City Administrator
appointed
Bill McCabe
1914 250th Street
St Cloud, MN 56301
(320) 654-0387
Council Member
12/31/2022
Brent Thomas Genereux
1617 Forest Glen Circle
St. Augusta, MN 56301
(320) 339-8363
Council Member
12/31/2022
Justin Backes
6723 County Road 141
St. Augusta, MN 56301
(320) 224-9467
Council Member
12/31/2024
Mary Coleman
5754 County Road 136
St. Augusta, MN 56301
(320) 309-2594
Council Member
12/31/2024
Jeffrey J Schmitz
24068 69th Avenue
St. Augusta, MN 56301
(320) 291-1914
---
Post Office:
US Post Office
915 2nd Street N
St. Cloud, MN 56301-4167
Phone: (320) 251-8220
Toll Free: (800) ASK-USPS
Fax: (320) 251-3984

Regular Business Hours:
Week Days 8:30 am - 5:00 pm
Saturday 8:30 am - 11:00 am
---
---
Utilities:
---
Major Employers:
Employer
Products/Services
Employees

n/a
---
---
News:
---
Weather:
---
Map: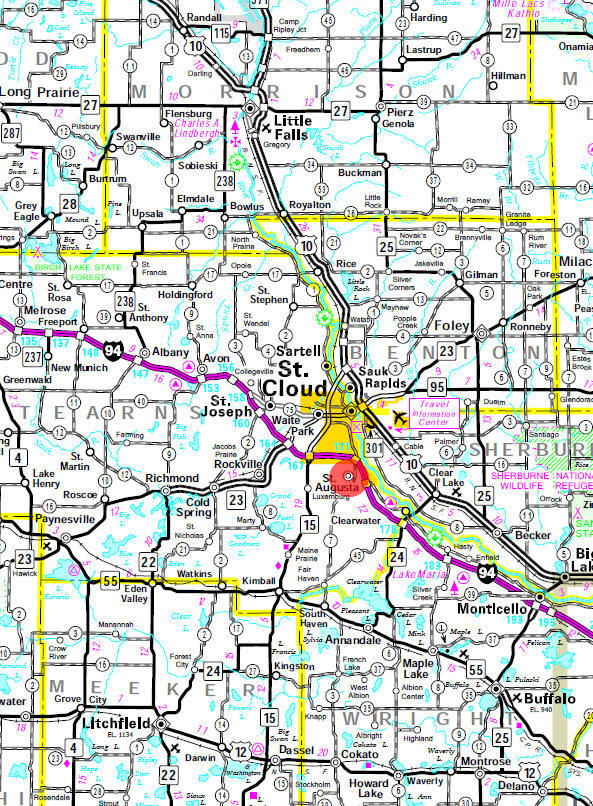 Minnesota State Highway Map of the St. Augusta Minnesota area
---
Events:
---
---
Attractions:
---
Recreation:
---
Lakes:
Lake Name
Size
(acres)
Lake info
Lake Map
Rec Map
Topo Map
---
Health Care:
---
Schools:
---
Churches:
---
Media:
Newspapers

Daily
St. Cloud Times
3000 7th Street N
PO Box 768
St. Cloud, MN 56302
Phone: (320) 255-8700
Fax: (320) 255-8775
Web: www.sctimes.com

Radio

660
WBHR-AM - "660 The Bear"
1010 2nd Street N
PO Box 366
Sauk Rapids, MN 56379
Phone: (320) 257-6403
Web: www.660wbhr.com
Power: Day: 10,000 watts Night: 500 watts
800
WVAL-AM - "Minnesota's Country Legend"
1010 2nd Street S
PO Box 366
Sauk Rapids, MN 56379
Phone: (320) 252-6200
Fax: (320) 252-9367
Web: www.800wval.com
Power: Day: 2,600 watts Night: 850 watts
1010
WMIN-AM - "Uptown 1010"
Sauk Rapids, MN

Web: www.wmin1010.com

Power: Day: 1,700 watts Night: 240 watts

1180
KYES-AM - "Relevant Radio"
PO Box 547
Sauk Rapids, MN 56379
Phone: (320) 257-9669
Toll Free: (877) 280-1188
Web: www.kyesradio.com
Power: Day: 50,000 watts Night: 5,000 watts
1240
WJON-AM - "Information Radio"
640 SE Lincoln Avenue
St. Cloud, MN 56304
Studio line: (320) 252-5852
Business line: (320) 251-4422
Web: www.wjon.com
Power: Day: 1,000 watts Night: 1,000 watts
1390
KXSS-AM - "The Fan"
1986 Julep Road
St. Cloud, MN 56301
Phone: (320) 251-4422
Fax: (320) 251-1855
Web: www.1390thefan.com
Power: Day: 2,500 watts Night: 1,000 watts
1450
KNSI-AM - "NewsTalk 1450"
619 St. Germain Street
St. Cloud MN 56301-3640
Phone: (320) 251-1450
Fax: (320) 251-8952
Web: www.1450knsi.com
Power: Day: watts Night: watts

KNSI has a variety of news and talk programming dealing with news, current events, politics, sports, and more. Its signature live and local show is Hot Talk which airs weekday mornings. KNSI also airs many syndicated talk show hosts such as Rush Limbaugh, Laura Ingraham, George Noory and Michael Savage.

88.1
KVSC-FM - "Your Sound Alternative"
720 Fourth Avenue S
27 Stewart Hall, SCSU
Saint Cloud, MN 56301-4498
Phone: (320) 308-5872
Fax: (320) 308-5337
Web: www.kvsc.org
Power: 16,500 watts
88.9
KNSR-FM - "MPR News"
PO Box 7011
Collegeville, MN 56321
Phone: (320) 363-7702
Fax: (320) 363-4948
Web: http://minnesota.publicradio.org/radio/stations/knsrksjr
Power: 100,000 watts
89.5
K208DV (translator)
KLRD-FM - "Air 1 Radio"
1425 N Market Blvd.
Sacramento, CA 95834
Phone: (503) 543-9700
Fax: (503) 543-9750
Web: www.air1.com
Power: 62 watts
90.1
KSJR-FM - "MPR Classical"
PO Box 7011
Collegeville, MN 56321
Phone: (320) 363-7702
Fax: (320) 363-4948
Web: http://minnesota.publicradio.org/radio/stations/knsrksjr
Power: 100,000 watts
91.5
KCFB-FM - "Minnesota Christian Broadcasters"
PO Box 409
Pequot Lakes, MN 56472
Phone: (320) 252-4214
Fax: (320) 252-2027
Web: www.ktig.org
Power: 15,000 watts
92.9
KKJM-FM - "Family Friendly"
1310 2nd Street N
PO Box 547
Sauk Rapids, MN 56379
Studio line: (320) 257-0929
Office Line: (320) 251-1780
Fax: (320) 257-1624
Web: www.spirit929.com
Power: 25,000 watts
94.9
KMXK-FM - "Mix 94.9"
640 SE Lincoln Avenue
St. Cloud, MN 56304
Studio line: (320) 251-KMXK (5695)
Office line: (320) 251-4422
Web: www.mix949.com
Power: 50,000 watts
96.7
KZRV-FM - "Modern Rock Revolution"
640 SE Lincoln Avenue
St. Cloud, MN 56304
Studio line: (320) 258-3REV (3738)
Office line: (320) 251-4422
Web: www.rev967.com
Power: 50,000 watts
98.1
WWJO-FM - "98 Country"
640 SE Lincoln Avenue
St. Cloud, MN 56304
Studio line: (320) 252-9897
Office line: (320) 251-4422
Web: www.98country.com
Power: 97,000 watts
98.9
KZPK-FM - "Wild Country 99"
619 W. St. Germain Street
St. Cloud, MN 56302
Office Line: (320) 251-1450
Fax: (320) 251-8952
Web: www.wildcountry99.com
Power: 47,000 watts
99.9
KCML-FM - "Lite Rock 99.9"
619 W. St. Germain Street
St. Cloud, MN 56301-3640
Studio Line: (320) 259-LITE
Office Line: (320) 251-1450
Fax: (320) 251-8952
Web: www.lite999.com
Power: 2,900 watts
101.7
WHMH-FM - "Rockin' 101"
1010 2nd Street North

Sauk Rapids, MN 56379
Request: (320) 252-6201
Toll Free: (866) 252-6201
Business Line: (320) 252-6200
Fax: (320) 252-9367
Web: www.rockin101.com
Power: 50,000 watts

103.7
KLZZ-FM - "The Loon"
640 SE Lincoln Avenue
St. Cloud, MN 56304
Studio line: (320) 257-1037
Office line: (320) 251-4422
Web: www.1037theloon.com
Power: 9,000 watts
104.7
KCLD-FM - "Today's Hit Music"
619 W St. Germain Street
St. Cloud, MN 56302
Studio Line: (320) 251-1047
Business Line: (320) 251-1450
Fax: (320)

251-8952


Web: www.1047kcld.com
Power: 100,000 watts

Television

2
4
WCCO-TV - CBS
90 S 11th Street
Minneapolis, MN 55403
Phone: (612) 339-4444
Toll Free: (800) 444-WCCO
Web: www.wcco.com
5
KSTP-TV - ABC
3415 University Avenue
St. Paul, MN 55114
Phone: (651) 646-5555
Fax: (651) 642-4409
Web: www.kstp.com
7
KCCO-TV - CBS
Simulcasts WCCO-TV
90 S 11th Street
Minneapolis, MN 55403
Phone: (612) 339-4444
Toll Free: (800) 444-WCCO
Web: www.wcco.com
9
KMSP-TV - Fox
11358 Viking Drive
Eden Prairie, MN 55347
Phone:

(952) 944-9999


Web: www.myfox9.com

11
KARE-TV - NBC
8811 Olson Memorial Highway
Minneapolis, MN 55427
Phone:

(763) 546-1111


Web: www.kare11.com

11.1 KARE-TV
11.2 KARE WX Now

13
WCMN- TV - A1( analog)
19
K19BG - TBN (analog)
Web: www.tbn.org

TBN is the world's largest religious network and America's most watched faith channel. TBN offers 24 hours of commercial-free inspirational programming that appeal to people in a wide variety of Protestant, Catholic and Messianic Jewish denominations.

23
WUCW-TV - CW
1640 Como Avenue
St. Paul, MN 55108
Phone: (651) 646-2300
Fax: (651) 646-1220
Web: www.thecwtc.com
29
WFTC-TV - My TV
11358 Viking Drive
Eden Prairie, MN 55347
Phone: (612) 379-2900
Web: www.my29tv.com
30
KTCJ-TV - GCN
Web: www.gcntv.org

GCN, the Global Christian Network, is a 501(c)3 non-profit organization. It was founded by a group of international visionaries who wanted to see the gospel broadcast around the world in the richness of diverse cultures, through the creation of innovative television programs. After joining in a covenant relationship, this group pooled their resources, and created a satellite network with an international flair unlike any other.

41
KPXM-TV - Ion
22601 176th Street NW
Big Lake, MN 55309
Phone: (763) 263-8666

41.1 Ion
41.2 qubo
41.3 ION Life
41.4 The Worship Network

45
KSTC-TV - Independent
3415 University Avenue
St. Paul, MN 55114
Phone: (651) 645-4500
Web: www.kstc45.com
---
Motels:
AmericInn Lodge & Suites‎
24707 County Road 75
Saint Augusta, MN
Phone: (320) 240-0567‎
Check for motel rates and availability on:
---
Resorts:
---
Campgrounds:
---
---
Businesses:
Ace Rail & Fence
22783 County Road 7
St. Augusta, MN 56301
Phone: (320) 240-0041
Alternative Garage Door Repair
2064 Rena Circle
St. Augusta, MN 56301
Phone: (320) 333-9407
American Bottling Company
1908 250th Street
St. Augusta, MN 56301
Phone: (320) 252-5335
American Legion Post 621
1894 247th Street
St. Augusta, MN 56301
Phone: (320) 252-6693
Augusta Auto Body & Repair
24695 County Road 7
St. Augusta, MN 56301
Phone: (320) 259-5460
Augusta Creek Orchard
24302 County Road 136
St. Augusta, MN 56301
Phone: (320) 252-4315
Augusta Motor Works
24792 County Road 7
St. Augusta, MN 56301
Phone: (320) 259-6113
Augusta Woodworking/Garage Door
24663 County Road 7
St. Augusta, MN 56301
Phone: (320) 255-1850
Automated Die & Machining Works
24253 County Road 7
St. Augusta, MN 56301
Phone: (320) 203-8430
Butkowski Digital Imaging
24562 County Road 75
St. Augusta, MN 56301
Phone: (320) 253-9493
City of St. Augusta
1914 250th Street
St. Augusta, MN 56301
Phone: (320) 654-0387
Club Almar
24617 County Road 7
St. Augusta, MN 56301
Phone: (320) 252-3571
Custom Stone Interiors
23707 65th Avenue
St. Augusta, MN 56301
Phone: (320) 251-1161
ETC Enterprises
24707 County Road 75
St. Augusta, MN 56301
Phone: (320) 240-0567
H&S Welding Heating & AC
7037 205th Street
St. Augusta, MN 56301
Phone: (320) 654-1522
Hayloft Bar & Grill
22779 State Highway 15
St. Augusta, MN 56301
Phone: (320) 251-9641
Heavenly Paws Pet Cremation
22925 County Road 7
St. Augusta, MN 56301
Phone: (320) 203-1912
J & S Excavating
22871 County Road 7
St. Augusta, MN 56301
Phone: (320) 255-0690
Joe Och Transport Inc.
6615 Gregory Park Road S
St. Augusta, MN 56301
Phone: (320) 253-5600
Kilian Truck Line
24368 County Road 7
St. Augusta, MN 56301
Phone: (320) 251-2420
Koshiol Construction
22838 73rd Avenue
St. Augusta, MN 56301
Phone: (320) 203-1798
Kris Engineering Inc.
1988 247th Street
St. Augusta, MN 56301
Phone: (320) 251-4558
Kurilla Graphics Inc.
24247 County Road 7
St. Augusta, MN 56301
Phone: (320) 253-5800
Locktite Storage
22037 State Highway 15
St. Augusta, MN 56301
Phone: (320) 252-6679
Lux Trucks
21984 State Highway 15
St. Augusta, MN 56301
Phone: (320) 310-1777
Luxemburg Feed Service Inc.
21967 State Highway 15
St. Augusta, MN 56301
Phone: (320) 252-1513
MPI Inc/Midwest Pipe Insulation
1852 247th Street
St. Augusta, MN 56301
Toll Free: (800) 798-1519
Midstate Home Inspections
St. Augusta, MN 56301
Phone: (320) 252-6556
Mudman Utilities, Inc.
6244 County Road 136
St. Augusta, MN 56301
Phone: (320) 980-2923
National Caseworks
24539 County Road 7
St. Augusta, MN 56301
Phone: (320) 229-5825
North Star Signs & Engraving Inc.
6610 Gregory Park Road S
St. Augusta, MN 56301
Phone: (320) 252-7871
Our Home Window & Siding Company
6601 County Road 47
St. Augusta, MN 56301
Phone: (320) 251-1266
PLM Striping
23035 Fallow Court
St. Augusta, MN 56301
Phone: (320) 293-9393
Pleasureland RV Center Inc.
25064 20th Avenue
St. Augusta, MN 56301
Phone: (320) 251-7588
Professional Galleries
24795 County Road 75
St. Augusta, MN 56301
Phone: n/a
Quarterton Productions Inc.
24562 County Road 75
St. Augusta, MN 56301
Phone: (320) 257-8787
Quiet Oaks Hospice House
St. Augusta, MN 56301
Phone: (320) 255-5433
Schill Trucking
23824 County Road 7
St. Augusta, MN 56301
Phone: (320) 252-4550
Schloeder Electric
6608 Gregory Park Road S
St. Augusta, MN 56301
Phone: (320) 240-6360
Schmidty's Luxemburg Texaco
6515 County Road 136
St. Augusta, MN 56301
Phone: (320) 253-9828
Select Sires Co-op
6601 Gregory Park Road S
St. Augusta, MN 56301
Phone: (320) 259-6680
St. Augusta Bank Office
24952 County Road 7
St. Augusta, MN 56301
Phone: (320) 251-6100
St. Augusta Mini-Serv
24876 County Road 7
St. Augusta, MN 56301
Phone: (320) 252-3040
Steve's Excavating Inc.
5051 250th Street
St. Augusta, MN 56301
Phone: (320) 255-0243
Tom Bautch Electric
4465 Farmdale Circle
St. Augusta, MN 56301
Phone: (320) 253-8788
Tom Gohman Construction
3201 244th Street
St. Augusta, MN 56301
Phone: (320) 251-9414
Totz Body Shop
3633 County Road 115
St. Augusta, MN 56301
Phone: (320) 251-4692
Transit Tec Inc.
3320 Southway Drive
St. Augusta, MN 56301
Phone: (320) 253-5940
Viking Beverages
6510 Galaxy Road
St. Augusta, MN 56301
Phone: (320) 656-0050
Voigt's Bus Service Inc.
24243 County Road 7
St. Augusta, MN 56301
Phone: (320) 252-1807
Weber Appraisal Services Inc.
5755 County Road 136
St. Augusta, MN 56301
Phone: (320) 253-5686
Weber's Barber Shop
6312 230th Street
St. Augusta, MN 56301
Phone: (320) 252-8392
Wheelco
24743 County Road 75
St. Augusta, MN 56301
Phone: (320) 251-4242
Wilderness Impressions Inc.
1996 247th Street
St. Augusta, MN 56301
Phone: (320) 251-6309
---
---
Aerial Photo:
---
Topographic Map: [click map to enlarge, zoom in or zoom out]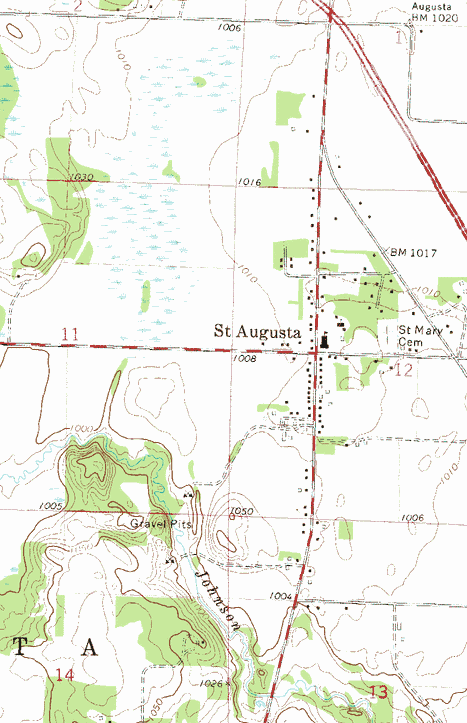 Topographic map is courtesy of the Minnesota DNR -
click map
to zoom or enlarge