Navigation
LakesnWoods.com
Home Page
Contact Us
Privacy
Minnesota History Shop

Visit The Minnesota History Shop
www.minnesotahistoryshop.com
Historic maps
Historic books
Historic framed art
Historic postcards
Clothing with historic images
And much more!!!


St. Paul Guide:
Photo Gallery
Location
Geography
Demographics
History
Government
Post Office
News
Weather
Street Map
Events
Attractions
Recreation
Lakes
Health Care
Schools
Churches
Media
Motels
Resorts
Campgrounds
Businesses
Aerial Photo
Topographic Map
© 2004-2023
Lakeweb1 Internet Services
All Rights Reserved
DCMA, Defamation, Copyright and Trademark Infingement Policy
WANTED!
Do you have photos, historical accounts or other items pertaining to the St. Paul area? Would you like to share this historical information with the world? LakesnWoods.com would like to publish your St. Paul photos (current or historical) or historical accounts on this website. Original materials can be returned and your privacy will be respected.

St. Paul, Minnesota Community Guide
---
Location:
Saint Paul, abbreviated St. Paul, is the capital and second-most populous city in the U.S. state of Minnesota. The city lies mostly on the north bank of the Mississippi River, downstream of the river's confluence with the Minnesota River, and adjoins Minneapolis, the state's largest city. Known as the "Twin Cities", these two cities form the core of Minneapolis-Saint Paul, the sixteenth largest metropolitan area in the United States, with about 3.5 million residents. The city's population at the 2000 census was 287,151. Saint Paul serves as the county seat of Ramsey County, the smallest and most densely populated county in Minnesota.
---
Population:
St. Paul (city)
1970
1980
1990
2000
2010
2000-2010 Change
Actual
Percent
Population
309,866
270,230
272,235
287,151
285,068
-2,083
-0.73
Land Area (sq. mile)
52.30
54.33
52.79
52.77
52.77
0
0.00
Density (persons per sq. mile)
5,924.8
4,973.9
5,156.9
5,441.7
5,402.1
-39.62
-0.73
Housing Units
107,715
110,902
117,583
115,713
120,795
+5,082
+4.39
Households
--
106,223
110,249
112,109
111,001
-1,108
-0.99
Persons Per Household
--
2.44
2.37
2.46
2.57
+0.11
+4.47
---
Geography:
Saint Paul history and the city's growth as a landing port are tied to water. The city's defining physical characteristic, the Mississippi and connecting Minnesota Rivers were carved into the region during the last ice age. Fed by receding glaciers and Lake Agassiz ten thousand years ago, torrents of water from a glacial river undercut the river valleys. The city is situated in east-central Minnesota.
The Mississippi River forms a municipal boundary on part of the city's west, southwest and southeast sides. Minneapolis, the state's largest city lies to the west; Falcon Heights, Lauderdale, Roseville, and Maplewood are north; Maplewood is also to the east; the cities of West Saint Paul and South Saint Paul are to the south; and Lilydale, Mendota and Mendota Heights lie across the river from the city to the south. The city's largest lakes are Pig's Eye Lake, in the river, Lake Phalen, and Lake Como. According to the United States Census Bureau, the city has a total area of 56.2 square miles (145.5 km≤). 52.8 square miles (136.7 km≤) of it is land and 3.4 square miles (8.8 km≤) of it (6.07%) is water.
From Wikipedia, the free encyclopedia.
---
Demographics:
As of the 2000 U.S. Census, there were 287,151 people, 112,109 households, and 60,999 families residing in the city. The racial makeup of the city was 67.0% White, 11.7% African American, 1.1% Native American, 12.4% Asian (mostly Hmong and Vietnamese), 0.07% Pacific Islander, 3.8% from other races, and 3.9% from two or more races. Hispanic or Latino of any race were 7.9% of the population.
There were 112,109 households, out of which 29.1% had children under the age of 18 living with them, 36.1% were married couples living together, 13.9% had a female householder with no husband present, and 45.6% were non-families. 35.9% of all households were made up of individuals and 9,4% had someone living alone who was 65 years of age or older. The average household size was 2.46 and the average family size was 3.32.
In the city the population was spread out with 27.1% under the age of 18, 12.5% from 18 to 24, 32.0% from 25 to 44, 18.0% from 45 to 64, and 10.3% who were 65 years of age or older. The median age was 31 years. For every 100 females there were 93.6 males. For every 100 females age 18 and over, there were 89.5 males.
The median income for a household in the city was $38,774, and the median income for a family was $48,925. Males had a median income of $35,111 versus $29,432 for females. The per capita income for the city was $20,216. About 11.7% of families and 15.6% of the population were living below the poverty line, including 23.2% of those under age 18 and 9.7% of those age 65 or over.
---
---
History:
ST. PAUL, the county seat and the capital of Minnesota, first settled by Pierre Parrant in 1838, received its name from a little Catholic chapel built in 1841 under the direction of Father Lucian Galtier, who in the preceding year had come to Mendota, near Fort Snelling. The history of the building and naming of the chapel, with the adoption of the name for the village and city, was written in part as follows by Galtier in 1864, at the request of Bishop Thomas L. Grace.
"In 1841, in the month of October, logs were prepared and a church erected, so poor that it would well remind one of the stable at Bethlehem. It was destined, however, to be the nucleus of a great city. On the 1st day of November, in the same year, I blessed the new basilica, and dedicated it to 'Saint Paul, the apostle of nations.' I expressed a wish, at the same time, that the settlement would be known by the same name, and my desire was obtained. I had, previously to this time, fixed my residence at Saint Peter's [Mendota], and as the name of PAUL is generally connected with that of PETER, and the gentiles being well represented in the new place in the persons of the Indians, I called it Saint Paul. The name 'Saint Paul,' applied to a town or city, seemed appropriate. The monosyllable is short, sounds well, and is understood by all denominations of Christians. . . . Thenceforth the place was known as 'Saint Paul Landing,' and, later on, as 'Saint Paul'" (History of the City of Saint Paul by Williams, 1876, pp. 111-12).
The post office was established in St. Croix County, Wisconsin Territory, on April 7, 1846; Jacob Wales Bass, born in Vermont in 1815, came to St. Paul in 1847 and was considered the first postmaster, although he served from 1849-53 at his hotel, the St. Paul House; he died in St. Paul in 1889.
St. Paul was organized as a village or town November 1, 1849, and was incorporated as a city March 4, 1854, then having an area of 2,560 acres, or 4 square miles. It received a new city charter March 6, 1868, when its area was 5.45 square miles, to which about 7 square miles were added February 29, 1872, and again 3 square miles March 6, 1873. West St. Paul, now Riverside, which had belonged to Dakota County, was annexed November 16, 1874, by proclamation of the popular vote ratifying the legislative act of March 5, 1874, whereby the total area of the city was increased to 20 square miles. Further large annexations, March 4, 1885, and February 8, 1887, adding the former McLean and Reserve Townships, extended St. Paul to its present area, 55.44 square miles, which is very nearly the same as the area of Minneapolis.
Prof. A. W. Williamson, in his list of geographic names in this state received from the Dakota, wrote: "Imnizha ska,--imnizha, ledge; ska, white; the Dakota name of St. Paul, given on account of the white sandstone cropping out in the bluffs." In the simplest words, this Dakota name means "White Rock."
As a familiar sobriquet, St. Paul is often called "the Saintly City"; Minneapolis similarly is "the Mill City" or "the Flour City"; and the two are very widely known as "the Twin Cities."
A few districts of St. Paul have been noted in the preceding list, namely Merriam Park, Riverview, and St. Anthony Park; and the railway stations of Hazel Park and Highwood, likewise before noted, also are in St. Paul. This city has numerous other residential or partially mercantile and manufacturing districts, which may properly be briefly mentioned here. Several districts designated as parks, however, are wholly or partly occupied by residences, this being the case with each of the districts called parks in the following list.
Dayton's Bluff, at the east side of the Mississippi in the southeast part of St. Paul, has a large residence district on the plateau extending backward from its top. The name commemorates Lyman Dayton, a former landowner there for whom a village and township in Hennepin County were named. On the edge of the southern and highest part of the bluff, in Mounds Park, is a series of seven large aboriginal mounds, 4 to 18 feet high, from which a magnificent prospect is obtained, overlooking the river and the central part of the city. Dayton was born in Southington, Conn., August 25, 1810, and died in St. Paul, October 20, 1865. He came to Minnesota in 1849, settling in this city, and invested largely in real estate; was the projector and president of the Lake Superior and Mississippi Railroad.
Arlington Hills and Phalen Park are northeastern districts, the second being named from Phalen Lake and Creek, for Edward Phelan (whose name was variously spelled), one of his successive land claims, in the earliest years of St. Paul, having been on this creek.
Como Park, the largest public park of the city, with adjoining residences, encloses Lake Como, named by Henry McKenty in 1856 for the widely famed Lake Como adjoining the south side of the Alps in Italy. He was born in Pennsylvania in 1821, settled in St. Paul at the age of 30 years, dealt largely in city lots and farmlands, and died in this city August 10, 1869.
Lexington Park is a western central district, named from Lexington, Mass., where the first battle of the Revolutionary War was fought, April 19, 1775.
Farther northwest and southwest, respectively, are the districts of Hamline and Macalester Park, having the Methodist Hamline University and the Presbyterian Macalester College, named in honor of Bishop Leonidas Lent Hamline (1797-1865) of Ohio, and Charles Macalester (1798-1873) of Philadelphia, a generous donor to this college.
In and near Groveland Park, a district at the west side of the city, bordering on the Mississippi, are three large Catholic institutions, St. Paul Seminary, University of St. Thomas, and College of St. Catherine.
St. Anthony Hill, often called simply the Hill District, comprises a large residential area on a broad plateau that was crossed by the earliest road leading from the central part of St. Paul to the Falls of St. Anthony and the city of this name, which in 1872 was united with Minneapolis.
At Seven Corners, southwest from the business center of St. Paul, streets radiate in seven directions, with buildings on the intervening corners of the city blocks.
Courtesy Minnesota Historical Society
---
Government:
St. Paul City Hall
15 Kellogg Boulevard.W
Saint Paul, MN 55102
Phone: (651) 266-8989
Fax: (651) 266-8574

Regular Business Hours:
Monday - Friday 7:30 am - 4:30 pm

City Council Meetings:
Wednesdays at 3:30 pm


Title
Term Ends
Name and Address
Phone
Mayor
12/31/2023
Melvin Carter
428 Aurora Avenue
Saint Paul, MN 5510
(651) 266-8510
Council Member - Ward 1
12/31/2023
Dai Thao
659 Blair Avenue
Saint Paul, MN 5510


(651) 266-8610
(612) 715-8806
Council Member - Ward 2
12/31/2023
Rebecca Noecker
14 Robie Street W
Saint Paul, MN 5510


(651) 266-8620
(651) 314-9311
Council Member - Ward 3
12/31/2023
Chris Tolbert
1257 Watson Avenue
Saint Paul, MN 5510


(651) 266-8630
(651) 269-4786
Council Member - Ward 4
12/31/2023
Mitra Jalali Nelson
765 N Hamden Avenue
Saint Paul, MN 5510


(651) 266-8640
(612) 817-2373
Council Member - Ward 5
12/31/2023
Amy Brendmoen
1045 Van Slyke
Saint Paul, MN 5510


(651) 266-8650
(651) 492-8488
Council Member - Ward 6
12/31/2023
Nelsie Yang
1283 Hazelwood Street
Saint Paul, MN 5510


(651) 266-8660
(763) 291-3738
Council Member - Ward 7
12/31/2023
Jane L. Prince
1004 Burns Avenue
Saint Paul, MN 5510


(651) 266-8670
(651) 308-4984
---
Post Office:
US Post Office
180 Kellogg Blvd. E
St. Paul, MN 55101-1438
Phone: (651) 293-6035
Toll Free: (800) ASK-USPS



Regular Business Hours:
Week Days 8:30 am - 5:00 pm
Saturday 9:30 am - 12:00 pm
Latest Collection at Post Office:
Week Days 8:00 pm
Saturday 8:00 pm
---
Utilities:
| | | |
| --- | --- | --- |
| Utility Type | Utility Name | Utility Phone |
| Electricity | Xcel Energy | (800) 642-6066 |
| Natural Gas | Xcel Energy | (800) 642-6066 |
| Wastewater | Metropolitan Council Environmental Svc | (651) 222-8423 |
| Water | St. Paul Water Utility | (651) 266-6350 |
| Telephone | CenturyLink Communications | (800) 603-6000 |
| Cable TV | Comcast | (651) 222-3333 |
---
Major Employers:
| | | |
| --- | --- | --- |
| Employer | Products/Services | Employees |
| State of Minnesota | Executive, Legislative, & Other Gen. Govt. Support | 13,671 |
| St Paul Public Schools | Elementary & Secondary Schools | 6,567 |
| Health East Care System/ St. Joesph's Hospital | General Medical & Surgical Hospitals | 5,080 |
| US Bank | Comm. Banking | 4,700 |
| Marsden Building Maintenance | Services to Buildings & Dwellings | 4,000 |
| Regions' Hospital | General Medical & Surgical Hospitals | 4,000 |
| Ramsey, County of | Executive, Legislative, & Other Gen. Govt. Support | 3,770 |
| St. Paul, City of | Executive, Legislative, & Other Gen. Govt. Support | 3,400 |
| United Hospital-Allini Health System | General Medical & Surgical Hospitals | 3,300 |
| US Post Office | Postal Service | 3,200 |
| 3M | Pulp, Paper & Paperboard Mills | 3,000 |
| St Paul Ramsey Med Ctr-Health Partners | General Medical & Surgical Hospitals | 3,000 |
| St Paul Companies Inc | Insurance Carriers | 2,650 |
| Minnesota Mutual Life Ins Co | Insurance Carriers | 2,400 |
| Ford Motor Co Assembly Plant | Motor Vehicle Manufacturing | 2,000 |
---
---
News:
---
Weather:
---
Map: City: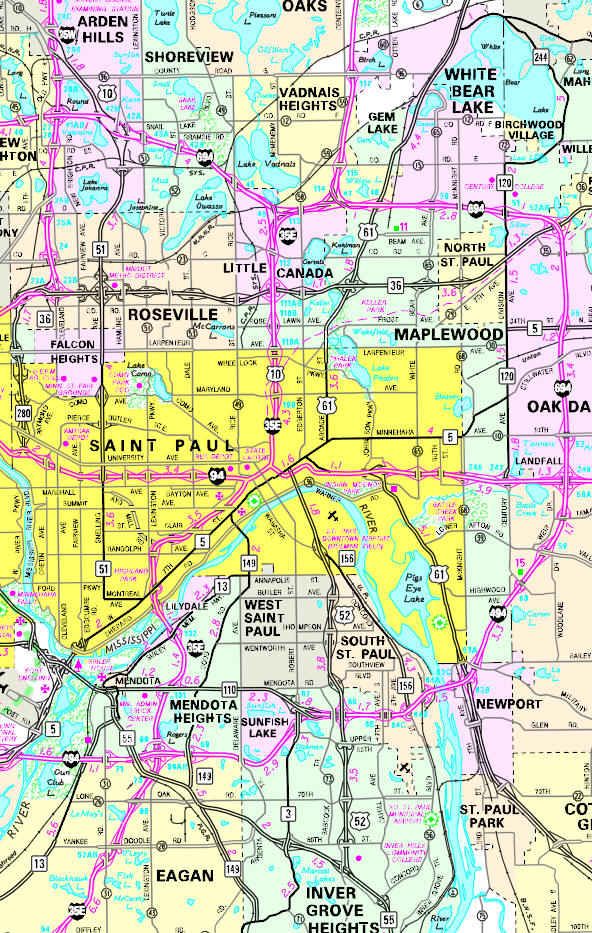 Minnesota State Highway Map of the St. Paul, Minnesota area
---
Events:
---
---
Attractions:
---
Recreation:
---
Lakes:
---
Health Care:
---
Schools:
---
Churches:
---
Media:
---
Motels:
Check for motel rates and availability on:
---
Resorts:
---
Campgrounds:
---
---
Businesses:

The St. Paul Business Directory is Coming Soon!

---
Aerial Photo: City:
---
Topographic Map: [click map to enlarge, zoom in or zoom out]