Navigation
LakesnWoods.com
Home Page
Contact Us
Privacy
Minnesota History Shop

Visit The Minnesota History Shop
www.minnesotahistoryshop.com
Historic maps
Historic books
Historic framed art
Historic postcards
Clothing with historic images
And much more!!!


Sunburg Guide:
Photo Gallery
Location
Geography
Demographics
History
Government
Post Office
News
Weather
Street Map
Events
Attractions
Recreation
Lakes
Health Care
Schools
Churches
Media
Motels
Resorts
Campgrounds
Businesses
Aerial Photo
Topographic Map
© 2004-2023
Lakeweb1 Internet Services
All Rights Reserved
DCMA, Defamation, Copyright and Trademark Infingement Policy
WANTED!
Do you have photos, historical accounts or other items pertaining to the Sunburg area? Would you like to share this historical information with the world? LakesnWoods.com would like to publish your Sunburg photos (current or historical) or historical accounts on this website. Original materials can be returned and your privacy will be respected.

Sunburg Minnesota Community Guide
---
Location:
Just inside the northwest corner of the county where County Road 104 and Highway 9 intersect and the prairie hills deposited by the last glacier begin, you'll find the village of Sunburg. With a population of 100, the community still makes a big impact. They've even become famous for Syttende Mai, an annual celebration honoring their Norwegian heritage. The Kultur Hus promotes the Nordic heritage by teaching folk arts, music, language, needlework and dancing. Do a little shopping while at the Kultur Hus and find some unique imports from Norway.
The community is home to Hope Lutheran Church and Sunburg Community Bible Church. There are also several smaller Lutheran congregations within a few miles of the city. Despite its small size, Sunburg offers several businesses, including Skindelien Hardware, a gas station, N & J's grocery store, Lake Region Bank and Dan's Diesel Service & Repair. Another great community asset is the town's baseball team, the Norway Lake-Sunburg Lakers. Games are typically played on Sundays at various locations, but home games for the Lakers are played at the ball park in town.
Courtesy Kandiyohi County Economic Development Commission
---
Population:
Sunburg (city)
1970
1980
1990
2000
2010
2000-2010 Change
Actual
Percent
Population
144
130
117
110
100
-10
-9.09
Land Area (sq. mile)
0.50
0.57
0.48
0.48
0.48
0
0.00
Density (persons per sq. mile)
288.00
228.07
243.75
227.90
208.33
-19.57
-9.09
Housing Units
57
58
55
55
57
+2
+3.64
Households
--
55
49
51
47
-4
-7.84
Persons Per Household
--
2.36
2.39
2.16
2.13
-0.03
-1.39
---
Geography:
Sunburg is a city in Kandiyohi County, Minnesota. Minnesota State Highways 9 and 104 are two of the main routes in the community. According to the United States Census Bureau, the city has a total area of 0.50 square miles (1.29 km²), of which, 0.47 square miles (1.22 km²) of it is land and 0.04 square miles (0.08 km²) of it (4.00%) is water. The elevation is 1,257 ft (383 m) above sea level.
From Wikipedia, the free encyclopedia.
---
Demographics:
At the 2010 census, there were 100 people, 47 households and 25 families residing in the city. The population density was 212.8 inhabitants per square mile (82.2 /km2). There were 57 housing units at an average density of 121.3 per square mile (46.8 /km2). The racial makeup of the city was 99.0% White and 1.0% from two or more races.
There were 47 households of which 25.5% had children under the age of 18 living with them, 42.6% were married couples living together, 2.1% had a female householder with no husband present, 8.5% had a male householder with no wife present, and 46.8% were non-families. 46.8% of all households were made up of individuals and 29.8% had someone living alone who was 65 years of age or older. The average household size was 2.13 and the average family size was 3.12.
The median age in the city was 43 years. 24% of residents were under the age of 18; 4% were between the ages of 18 and 24; 27% were from 25 to 44; 22% were from 45 to 64; and 23% were 65 years of age or older. The gender makeup of the city was 61.0% male and 39.0% female.
---
---
History:
SUNBURG, a city in Norway Lake Township, section 30, incorporated as a village September 8, 1951; the post office was established in 1871 as Sunburgh, changing to the present form in 1894; both versions of the name were suggested by John Sandvigen, a rural mail carrier, the first for a locality in Norway, the second for a strait between two lakes near postmaster Ole Eliason's home, sund meaning "strait" in Norwegian.
Courtesy Minnesota Historical Society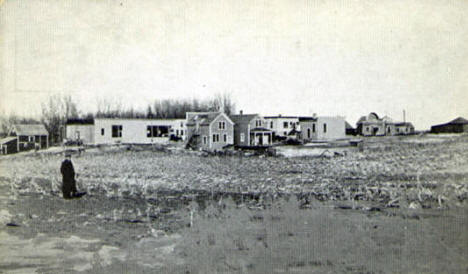 Business District, Sunburg Minnesota, 1910s
LakesnWoods.com Postcard and Postcard Image Collection - click to enlarge

Visit The Sunburg Photo Gallery for more recent and historic area photos
---
Government:
Sunburg City Hall
211 Isola Street
PO Box 84
Sunburg, MN 56289
Phone: (320) 366-3518
Fax: (320) 366-3891

Regular Business Hours:
Monday - Friday 8:00 am - 6:00 pm

City Council Meetings:
2nd Tuesday of the month at 7:00 pm


Title
Term Ends
Name and Address
Phone
Mayor
12/31/2022
Wayne Rudningen
402 Short Line Avenue
Sunburg, MN 56289
(320) 212-5886
City Clerk
appointed
Nancy Feldman
PO Box 84
Sunburg, MN 56289
(320) 366-3518
Council Member
12/31/2022
Micheal O'Leary
100 Gunnufson Street
Sunburg, MN 56289
(320) 212-3740
Council Member
12/31/2022
Milton Tollefson
111 Regina Street
Sunburg, MN 56289
(320) 366-3411
Council Member
12/31/2024
Jeanine Bowman
408 Short Line Avenue
Sunburg, MN 56289
(320) 366-3785
Council Member
12/31/2024
Scott Jorgenson
505 Central Avenue
Sunburg, MN 56289
(320) 366-3733
---
Post Office:
US Post Office
316 Central Avenue
Sunburg, MN 56289-5001
Phone: (320) 366-3553
Toll Free: (800) ASK-USPS

Regular Business Hours:
Week Days 7:30 am - 11:30 am
Saturday 8:00 am - 9:00 am
---
---
Utilities:
| | | |
| --- | --- | --- |
| Utility Type | Utility Name | Utility Phone |
| Electricity | Otter Tail Power | (320) 264-8056 |
| Natural Gas | n/a | n/a |
| Wastewater | n/a | n/a |
| Water | n/a | n/a |
| Telephone | TDS Telecom | (320) 354-7700 |
| Cable TV | n/a | n/a |
---
Major Employers:
Employer
Products/Services
Employees

n/a
---
---
News:
---
Weather:
---
Map:

Minnesota State Highway Map of the Sunburg Minnesota area
---
Events:
---
---
Attractions:
---
Recreation:
---
Lakes:
---
Health Care:
---
Schools:
---
Churches:
Hope Lutheran Church
107 Western Avenue N
Sunburg, MN 56289
Phone: (320) 366-3586

Pastor: Mike Carlson
Sunday Worship: n/a
Monson Lake Lutheran Church
1680 15th Street NE
Sunburg, MN 56289
Phone: (320) 366-3854


Sunburg Community Bible Church
521 Central Avenue
PO Box 102
Sunburg, MN 56289
Phone: (320) 366-3847

Pastor: Jeremy Lanctot
Sunday Worship: n/a
Sunberg Free Lutheran Church - AFLC
25840 133rd Street NW
Sunburg, MN 56289
Phone: (320) 366-3943

Pastor: Ron Knutson
Sunday Worship: 11:00 am
---
Media:
---
Motels:
Check for motel rates and availability on:
---
Resorts:
---
Campgrounds:
---
---
Businesses:
Aasen Construction
22090 95th Street NW
Sunburg, MN 56289
Phone: (320) 366-3501
Berge Construction Company
480 170th Avenue NE
Sunburg, MN 56289
Phone: (320) 366-3669
Brink's 104 Club
390 180th Avenue NE
Sunburg, MN 56289
Phone: (320) 366-3499
Central Minnesota Senior Care
403 Central Avenue
Sunburg, MN 56289
Phone: (320) 366-3934
Dan's Diesel Service and Repair
14250 135th Avenue NW
Sunburg, MN 56289
Phone: (320) 264-5852
Gjerde Farm
13801 140th Street NW
Sunburg, MN 56289
Phone: (320) 264-5732
Glacial Plains
121 Central Avenue
Sunburg, MN 56289
Phone: (320) 366-3456
Hamborg Freese Farm
9111 225th Avenue NW
Sunburg, MN 56289
Phone: (320) 366-3431
Jorgenson Auto Sales
225 Central Avenue
Sunburg, MN 56289
Phone: (320) 366-3559
Kultur Hus Inc.
211 Front Street
Sunburg, MN 56289
Phone: (320) 366-3966
Lake Region Bank
219 Front Street
Sunburg, MN 56289
Phone: (320) 366-3885
Lottman's Professional Paint
560 170th Avenue NE
Sunburg, MN 56289
Phone: (320) 366-3840
Minnesota Welding and Boiler Service
4642 240th Avenue NW
Sunburg, MN 56289
Phone: (320) 354-4431
Mr. B's Auto
12155 County Road 40 NW
Sunburg, MN 56289
Phone: (320) 366-3605
North Star Management
20993 53rd Street NW
Sunburg, MN 56289
Phone: (320) 796-3020
Quigley Farms
190 180th Avenue SE
Sunburg, MN 56289
Phone: (320) 366-3849
Skinelien Hardware
207 Front Street
Sunburg, MN 56289
Phone: (320) 366-3446
Sunburg Fire Department
211 Isola Street
Sunburg, MN 56289
Phone: (320) 366-3890
Sunburg Funeral Home
308 Central Avenue
Sunburg, MN 56289
Phone: (320) 366-3660
Sunburg Preschool
211 Isola Street
Sunburg, MN 56289
Phone: (320) 366-3503
Thonvold Excavating
11801 County Road 40 NW
Sunburg, MN 56289
Phone: (320) 366-3677
Torkelson's Lock Service
22546 62nd Street NW
Sunburg, MN 56289
Phone: (320) 235-3452
Touges Masonry
22361 53rd Street NW
Sunburg, MN 56289
Phone: (320) 354-4169
US Post Office
316 Central Avenue
Sunburg, MN 56289-5001
Phone: (320) 366-3553
Toll Free: (800) ASK-USPS

Regular Business Hours:
Week Days 7:30 am - 11:30 am
Saturday 8:00 am - 9:00 am

Virgil's Trucking Inc.
19167 Kandi Swift Road NW
Sunburg, MN 56289
Phone: (320) 366-3583
---
---
Aerial Photo:
---
Topographic Map: [click map to enlarge, zoom in or zoom out]
Topographic map is courtesy of the Minnesota DNR - click map to zoom or enlarge