Navigation
LakesnWoods.com
Home Page
Contact Us
Privacy
Minnesota History Shop

Visit The Minnesota History Shop
www.minnesotahistoryshop.com
Historic maps
Historic books
Historic framed art
Historic postcards
Clothing with historic images
And much more!!!


Waverly Guide:
Photo Gallery
Location
Geography
Demographics
History
Government
Post Office
News
Weather
Street Map
Events
Attractions
Recreation
Lakes
Health Care
Schools
Churches
Media
Motels
Resorts
Campgrounds
Businesses
Aerial Photo
Topographic Map
© 2004-2023
Lakeweb1 Internet Services
All Rights Reserved
DCMA, Defamation, Copyright and Trademark Infingement Policy
WANTED!
Do you have photos, historical accounts or other items pertaining to the Waverly area? Would you like to share this historical information with the world? LakesnWoods.com would like to publish your Waverly photos (current or historical) or historical accounts on this website. Original materials can be returned and your privacy will be respected.

Waverly Minnesota Community Guide
---
Location:
---
Population:
Waverly (city)
1970
1980
1990
2000
2010
2000-2010 Change
Actual
Percent
Population
573
470
600
732
1,357
+625
+85.38
Land Area (sq. mile)
0.40
0.71
0.72
0.83
0.83
0
0.00
Density (persons per sq. mile)
1,432.5
662.0
833.3
879.9
1634.9
+755.04
+85.86
Housing Units
158
170
295
332
603
+271
+81.63
Households
--
162
211
284
520
+236
+83.10
Persons Per Household
--
2.90
2.69
2.58
2.61
+0.03
+1.16
---
Geography:
Waverly is a city in Wright County, Minnesota. U.S. Route 12 serves as a main route in the community. According to the United States Census Bureau, the city has a total area of 2.55 square miles (6.60 km2); 1.69 square miles (4.38 km2) is land and 0.86 square miles (2.23 km2) is water. The elevation is 1,007 ft (307 m) above sea level.
From Wikipedia, the free encyclopedia.
---
Demographics:
As of the census of 2010, there were 1,357 people, 520 households, and 357 families residing in the city. The population density was 803.0 inhabitants per square mile (310.0/km2). There were 603 housing units at an average density of 356.8 per square mile (137.8/km2). The racial makeup of the city was 97.3% White, 0.5% African American, 0.4% Native American, 0.8% Asian, 0.1% from other races, and 1.0% from two or more races. Hispanic or Latino of any race were 1.3% of the population.
There were 520 households of which 37.1% had children under the age of 18 living with them, 56.2% were married couples living together, 7.1% had a female householder with no husband present, 5.4% had a male householder with no wife present, and 31.3% were non-families. 24.0% of all households were made up of individuals and 6.1% had someone living alone who was 65 years of age or older. The average household size was 2.53 and the average family size was 3.03.
The median age in the city was 31.6 years. 26.6% of residents were under the age of 18; 7.6% were between the ages of 18 and 24; 37.6% were from 25 to 44; 20.1% were from 45 to 64; and 8.2% were 65 years of age or older. The gender makeup of the city was 53.7% male and 46.3% female.
---
---
History:
The name of the original settlement was Waverly Mills, given its name after a community in Waverly, New York, the former home of one of the partners. It was constructed by a surveyor and his partners. They constructed a dam, a saw mill, and a grist mill in 1865 at the outlet of Little Waverly Lake. Waverly Mills managed to survive a rough start with a bank panic, financial crash, and subsequent grasshopper infestations. The saw and grist milling industry helped establish a store, post office, and a log church with a cemetery. The village of Waverly gained the Waverly Station in 1869 when the Saint Paul and Pacific Railroad was extended to that point in Wright County. A post office has been in operation at Waverly since 1869 as well. Waverly Mills began to be incorporated in 1881, although the process remained under township jurisdiction for approximately ten additional years, during which time complete severance from the township was achieved. The community's name was changed in 1899, this time to simply Waverly. The Waverly Village Hall, built in 1939, is listed on the National Register of Historic Places.
From Wikipedia, the free encyclopedia.
WAVERLY, a city in section 33 of Marysville, was founded in 1869, when the building of the St. Paul and Pacific Railroad reached this site, and it was incorporated as a village on March 8, 1881. Its name was received from the adjacent Big and Little Waverly Lakes and from an earlier Waverly village platted in 1856 at the outlet of the Little Waverly Lake. The name was originally given by the Colwell brothers, who with others were proprietors of that earlier townsite, for Waverly in Tioga County, N.Y., their former home, which derived it from Sir Walter Scott's Waverley novels, published in 1814-28. The post office began as Zellingen, 1863-69, and was changed to Waverly Mills, 1869-99; it was briefly called Waverly Station, December 12, 1871-January 14, 1872, and became Waverly in 1899.
Courtesy Minnesota Historical Society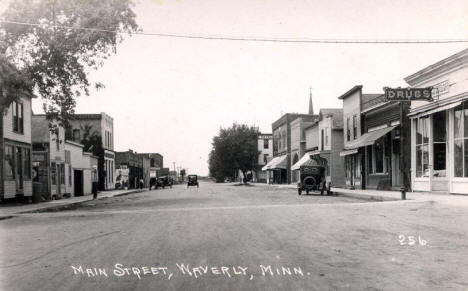 Main Street, Waverly Minnesota, 1920s
LakesnWoods.com Postcard and Postcard Image Collection - click to enlarge

Visit The Waverly Photo Gallery for more recent and historic area photos
---
Government:
Waverly City Hall
502 Atlantic Avenue
PO Box 189
Waverly, MN 55390
Phone: (763) 658-4217
Fax: (763) 658-6189

Regular Business Hours:
Monday - Thursday 8:00 am - 5:30 pm
Friday 8:00 am - 12:00 pm

City Council Meetings:
2nd Tuesday of the month at 7:00 pm


Title
Term Ends
Name and Address
Phone
Mayor
12/31/2022
Connie Holmes
105 Wilson Street
Waverly, MN 55390


(763) 658-1585
(763) 257-6770
appointed
Debbie Ryks
502 Atlantic Avenue
Waverly, MN 55390
(763) 658-4217
Council Member
12/31/2022
Adrian (Ben) Duske
408 Lake Avenue
Waverly, MN 55390
(763) 658-4583
Council Member
12/31/2022
Scott Jacobson
305 Waverland Lane
Waverly, MN 55390
(763) 742-9588
Council Member
12/31/2024
Josh Reed
216 Douglas Drive
Waverly, MN 55390
(612) 366-3463
Council Member
12/31/2024
Tom Borrell
865 Cologne Lane
Waverly, MN 55390
(763) 458-2722
---
Post Office:
US Post Office
304 5th Street N
Waverly, MN 55390-5034
Phone: (763) 658-4517
Toll Free: (800) ASK-USPS

Regular Business Hours:
Week Days 8:30 am - 11:30 am
12:30 pm - 4:15 pm
Saturday 9:00 am - 10:00 am
---
---
Utilities:
---
Major Employers:
Employer
Products/Services
Employees

n/a
---
---
News:
---
Weather:
---
Map: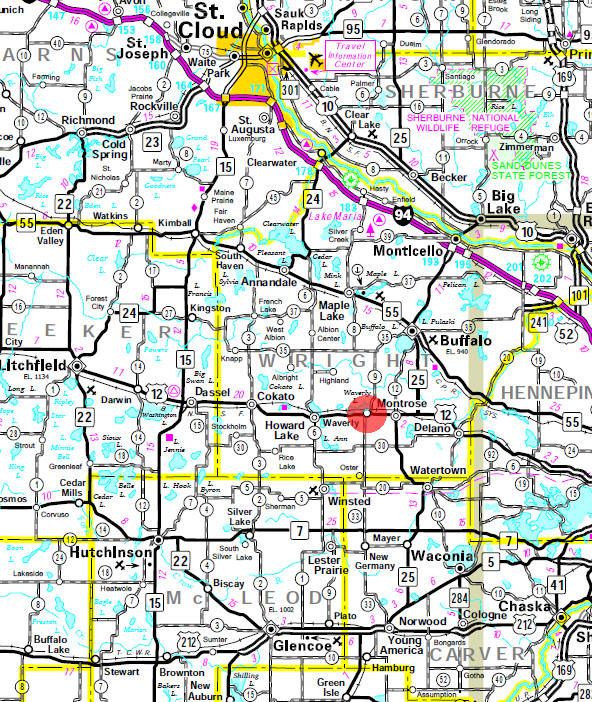 Minnesota State Highway Map of the Waverly Minnesota area
---
Events:
Waverly Daze

This Annual Event is held the week end after July 4th in American Legion Park on the edge of Big Waverly Lake. In 2019 the dates are July 12,13 and 14. The festival features family night with fireworks and a band on Friday; the fishing contest, softball, a beanbag tournament, and other family events including a band on Saturday, and; a parade throughout the downtown on Sunday. Food and beverages are available all weekend. Waverly's new royalty are crowned immediately after the close of the parade. The Lions, KC's Boosters, Chamber of Commerce and the Royalty Committee are all instrumental in organizing this fun for all event.


---
---
Attractions:
---
Recreation:
Legion Park
402 Park Drive
Waverly, MN 55390



The 14.7 acre Legion or "waterfront" Park is located on the shore of Big Waverly Lake just off County Highway 9. The park includes a swimming beach, two fishing docks, a swimming dock, and a boat launch. The park has a tennis court, a basketball court, two lighted volleyball courts, 6 horseshoe pits, and a lighted softball field with bleachers and an electronic scoreboard. There are swings, a merry-go-round, and plenty of new playground equipment for smaller children. Picnic benches (8 in the outside pavilion) and four grills, a new bandstand and restrooms make the Legion park an ideal place for family and group activities. A covered and closed pavilion with kitchen facilities is available for rent thru the City.




Railroad Park
Atlantic Avenue
Waverly, MN 55390



The 4.2 acre Railroad Park is located along the railway on Atlantic Avenue across from City Hall. The park includes the City's memorials to our Veterans as well as a memorial to the City's most famous citizen, Vice President Hubert H. Humphrey. The trees, benches and four picnic tables make this an ideal place for walking or relaxing. The Park is the location for Waverly's Annual Memorial Day Service.




---
Lakes:
Lake Name
Size
(acres)
Lake info
Lake Map
Rec Map
Topo Map
Carrigan
149
Little Waverly
338
School Section
39
Waverly
494
Yaeger
111
---
Health Care:
---
Schools:
---
Churches:
St. Mary's Catholic Church
607 Maple Street
PO Box 278
Waverly, MN 55390
Phone: (320) 658-4319

Pastor: Father Kenneth O'Hotto
Sunday Service: 8:00, 10:30 am


Living Waters Christian Fellowship
312 Pacific Avenue
Waverly, MN 55390
Phone: (320) 420-2226

Pastor: Joel Swedberg
Sunday Service: 9:00 am


Oster Evangelical Covenant Church
11912 Emerson Avenue SW
Waverly, MN 55390
Phone: (320) 955-1338

Pastor: Rev. Robert Ramphal
Sunday Service: 10:00 am


Swedesburg Church - ELCA
Wright County 9 and 25th Street SW
Waverly, MN 55390
Phone: (763) 221-2915

Pastor: none
Sunday Service: no regular services scheduled


---
Media:
Herald Journal
120 6th Street North
Winsted, MN 55395
Phone: (320) 485-2535


---
Motels:
Lakeshore Motel
5474 County Road 8 SW
Waverly, MN 55390
Phone: (763) 658-4371



This unique property has been a family-owed since 1971. We have enjoyed many family and neighborhood gatherings in the backyard, and would love to share this experience with you! It has many different options to choose from, including fishing, boating, swimming, or just relaxing. We truly believe you will love staying on Waverly Lake!




Check for motel rates and availability on:
---
Resorts:
---
Campgrounds:
---
---
Businesses:
Associated Veterinary Clinic
308 Pacific Avenue
Waverly, MN 55390
Phone: (763) 658-2106



The Associated Veterinary Clinic is a well-established, full-service, family owned veterinary hospital that has been serving Cokato, Waverly, and the surrounding communities for over 25 years. We offer comprehensive medical, surgical, and dental services at our two convenient clinic locations in Cokato and Waverly. Our veterinary hospitals are equipped with advanced diagnostic tools, modern pet surgical suites, and well-stocked pharmacies.




BLW Cleaning
413 Bremen Pass
Waverly, MN 55390
Phone: (763) 913-5324

BLW Cleaning is your one stop local cleaning service for the West Metro Suburb areas of Minnesota. Much is offered even with our most basic cleaning services! Get a free Residential or Commercial Estimate to see the full schedule offering.


Boman and Sons Construction
3582 Clementa Avenue SW
Waverly, MN 55390
Phone: (763) 658-4469


C & C Embroidery
1667 Greer Avenue SW
Waverly, MN 55390
Phone: (763) 658-4673


Citizens State Bank of Waverly
609 Pacific Avenue
Waverly, MN 55390
Phone: (763) 658-4417



We care about our customers. You are the reason we are here! We care about the community and we demonstrate our commitment with our actions and our resources. We care about our staff and we strive to be an excellent employer, setting high standards for service excellence and appreciating good work and dedicated service. We care about our shareholders, and we focus on creating shareholder value with quality assets and profitable operations.




Creations Salon
310 Pacific Avenue
Waverly, MN 55390
Phone: (763) 658-6175

Dawn Demarais, Jackie Twardy, Theresa Christensen and Kathy Breault Hair Care, Waxing & Nails too!


Derek Nikko Excavating Inc.
8778 Fillmore Avenue SW
Waverly, MN 55390
Phone: (763) 658-1503



Derek Nikko Excavating has been in business for over 20 years. Our focus is residential projects, as well as commercial. We have done many projects, ranging from small landscape projects to road building and development work. Our passion for excavating shows through in our attention to detail, by not cutting corners, and our willingness to do what it takes to get the job done right, every time.




Dier's Farm
5678 County Road 30 SW
Waverly, MN 55390
Phone: (320) 543-3016

The Diers Corporation consists of 250 milk cows with all young stock raised on site. The families farm about 900 acres with 650 of those owned. The families' dairy farm operation was homesteaded in 1874 by Gary Diers' great-grandfather. Gary is the fourth generation of the family to farm the land. Gary's son-in-law, Andy Thorson, started with the farm in 1995 and Andy's wife, Colette, joined in 1998. Andy and Colette have three daughters: Mikayla, Malorie and Victoria.


Dream Green Irrigation and Lawn Care
402 66th Street SW
Waverly, MN 55390
Phone: (763) 463-7818


DRM Doug Rippie Motorsports
412 Pacific Avenue
Waverly, MN 55390
Phone: (763) 658-6109



Doug Rippie Motorsports is a fully equipped tuner shop specializing in late model GM performance cars and trucks. DRM's service department does any job from an oil change to a full race car build. It offers professional installation of OEM and aftermarket parts.




Epple Exteriors Inc.
7873 Grover Avenue SW
Waverly, MN 55390
Phone: (320) 543-2511


Feed Stuff Bagging
4356 County Road 8 SW
Waverly, MN 55390
Phone: (763) 658-4875



Custom forage bagging rentals, sales, parts & repairs Craig is continuously trying to find new ways to make things a little easier for our customers. Like our Automatic Vents to release gas out of the bag without having to remember to open or close the vent; or our Turbo Auger to help with debridgeing and cut unload time in half.




Freedom Farm
11500 Ferman Avenue SW
Waverly, MN 55390
Phone: (952) 955-2505



Therapeutic Riding

utilizes the unique attributes of the horse to build confidence and self esteem, improve posture & coordination, strengthens weak muscles, improves balance and body awareness, all while giving riders a sense of accomplishment. Freedom Farm serves individuals with a variety of conditions such as cerebral palsy, autism, down syndrome, brain injury, speech & language disorders, stroke, and developmental delays




Gallus Embroidery and Designs
6559 Carrigan Lake Drive
Waverly, MN 55390
Phone: (612) 282-6882

Gallus Embroidery & Designs located in Waverly, MN is your place for any decorated apparel need. We specialize in screen printing, heat transfers, and embroidery on t-shirts, sweatshirts, hats, coats, bags, backpacks, and many other items. Give your business or team the personal touch to look it's best with Gallus Embroidery. Contact us today for more information on our services or to custom design your promotional products / team apparel needs.


Gallus Painting and Decorating
331 Atlantic Avenue
Waverly, MN 55390
Phone: (763) 658-4121



We are a commercial and residential painting contractor servicing the Minneapolis and St. Paul area. We specialize in commercial painting, residential painting, Sikens, Floor Finishing and Interiors Finishing. Gallus Painting is now working with over 18 custom home builders of various sizes and has enjoyed a high percentage of repeat customers. We have painted many homes in the luxury home tour, parade of homes, and three A.S.I.D. showcase homes.




Greg Pususta Wildlife Carvings
407 Maple Avenue
Waverly, MN 55390
Phone: (763) 244-0374



I started carving in 1978 with duck decoys, then songbirds and in 1999 started doing fish decoys. Self taught with the help of many other generous carvers.





Holiday Stationstores
801 Pacific Avenue
Waverly, MN 55390
Phone: (763) 658-4662



Holiday of Waverly is locally owned by Mid-County Coop Mid-County Coop features an Agronomy Department, Energy Department, Auto, Truck & Tire Center and the Holiday Stationstore in Cologne, MN. We are very proud to add Holiday of Waverly to our team!




J & T Motors
115 Pacific Avenue
Waverly, MN 55390
Phone: (763) 658-4501



Automotive diagnostics and repair on most makes and models. Tune ups, Brakes, engine and transmission repair, towing, tires. Anything to do with your car we can handle . We also specialize in selling used Chevrolet truck parts




J Desmarais Construction Inc.
3676 75th Street SW
Waverly, MN 55390
Phone: (612) 221-0780



Home building & remodeling professionals. General & sub contracting providing: home framing, window/door installations, decks, siding/roofing and trim




Karels Brothers and Sons
4372 County Road 30 SW
Waverly, MN 55390
Phone: (763) 658-4250



Karels Brothers & Sons is a locally owned and operated scrap metal recycler and processor. We recycle metal scrap of all types and of any quantity, and offer a wide variety of services to fit your specific needs. We have been serving our customers for over 25 years




Knights of Columbus Community Center
301 5th Street N
Waverly, MN 55390
Phone: (763) 658-4740

The Knights of Columbus is a Catholic, fraternal service organization, whose principles are charity, unity, fraternity and patriotism. The Knights hold many fundraising events throughout the year to support charitable giving. They sponsor a free-throw contest for area youth, Special Olympics, award scholarships, and support religious retirement. The Knights also help the after prom committee with a pancake breakfast, and contribute to the local Cub Scouts.


Kust Services Inc.
3944 Dempsey Avenue SW
Waverly, MN 55390
Phone: (612) 242-8307



We are the exteriors company you are looking for. We have countless satisfied customers throughout our 25 years in business. We have established a reputation for quality work and customer relations. You will find that we are interested in providing you with product and service you want at an affordable price. If you are looking for a company that has your peace of mind at heart, you have come to the right place. Give us a call and we would be happy to help you with your roofing needs. Free estimates and references available upon request.




Kutz Collision
202 4th Street N
Waverly, MN 55390
Phone: (763) 658-4200


Lakeshore Motel
5474 County Road 8 SW
Waverly, MN 55390
Phone: (763) 658-4371



This unique property has been a family-owed since 1971. We have enjoyed many family and neighborhood gatherings in the backyard, and would love to share this experience with you! It has many different options to choose from, including fishing, boating, swimming, or just relaxing. We truly believe you will love staying on Waverly Lake!




Lyons Electric
1223 Estes Avenue SW
Waverly, MN 55390
Phone: (320) 963-3779



Full service electrical contractor to residential, commercial and farm customers.




Marysville Town Hall
3733 Dempsey Avenue SW
Waverly, MN 55390
Phone: (763) 658-4064



Marysville Township is located in southern Wright County, in east central Minnesota. The Town Board meets the last Monday of each month at 7 pm.




Metro West Irrigation and Landscaping
7181 County Road 8 SW
Waverly, MN 55390
Phone: (763) 658-3016

Metro West Irrigation & Landscape is a full service irrigation and landscape contractor. We have been in the industry for almost 30 years.


Mike Reinert Drywall
1009 N Shore Drive
Waverly, MN 55390
Phone: (763) 658-4420


Mill City Auto Body West
6996 82nd Street SW
Waverly, MN 55390
Phone: (320) 543-1069



Our mission Is to give you a level of service that is not often found in our industry today. We understand that an accident is a traumatic life event. We strive to ease you through this difficult time. Every step, from quoting to customer service to our workmanship we strive to give your vehicle back in better condition than it was just prior your accident. With Mill City, you won't be disappointed.




MMH Plumbing Inc.
3060 62nd Street SW
Waverly, MN 55390
Phone: (763) 658-7019


Moy's Custom Paint and Collision
811 Pacific Avenue
Waverly, MN 55390
Phone: (763) 658-2277


Natural Balance Floral and Garden
6340 S 1st Street
Waverly, MN 55390
Phone: (763) 658-1415


New Beginnings at Waverly
109 N Shore Drive
Waverly, MN 55390
Phone: (763) 658-5800



The ground breaking level of personal care provided by New Beginnings Minnesota has led to recovery for thousands of Minnesotans who have suffered from alcoholism and/or drug addiction. Here, individualized treatment plans are developed by experienced, clinical professionals whose first order of business is an effective treatment program customized for each patient. We offer specialized counseling curriculums for men & women and our programs involve family members throughout the treatment and recovery process. Discharge recommendations are individually crafted to enable our patients' long-term recovery (continuing care, outpatient treatment, etc.).




New Directions Logistics
3633 25th Street SW
Waverly, MN 55390
Phone: (763) 658-6178



Here at New Directions Logistics, Inc we are a devoted freight shipping and logistics delivery company. We use world class commercial fleets of trucks ranging from LTL, Truckload, oversize equipment, Dry Van, Flatbed, Conestoga, Step deck, Pad-Wrap services, etc. We provide time sensitive and customer focused trucking logistics with services to ship small, mid, and large equipment, freight, and other items easily in a professional manner.




Norm's Highway 12 Auto Repair
809 Pacific Avenue
Waverly, MN 55390
Phone: (763) 658-6676


Ogle Trucking
241 Atlantic Avenue
Waverly, MN 55390
Phone: (763) 658-4318



We are located in 'Beautiful Downtown" Waverly, Minn. U.S.A. Specialized deliveries of liquid bulk water correction products




Outdoor Maintenance Solutions
6385 County Road 8 SW
Waverly, MN 55390
Phone: (612) 919-4231


Pro PDR Solutions Inc.
318 Pacific Avenue
Waverly, MN 55390
Phone: (612) 741-0930



Rich Barrett, owner of Pro PDR since 2017 is new to PDR (Paintless Dent Repair), but building on a strong tradition of innovative lights and tools for the professional PDR Technician. With 20+ years of Sales, Marketing and Engineering experience, Rich is focused on meeting our customer's needs and the needs of the PDR Industry. Started by Bill Hulett, Pro PDR (formerly Pro PDR Solutions) is an innovator in LED Lighting products and tools for PDR. The products and tools are designed for durability, light weight and convenience. All of our products are made to last for our PDR Techs.




Purell Tax Service Inc.
308 Pacific Avenue
Waverly, MN 55390
Phone: (763) 658-4255



Purcell Tax Service provides Income Tax Preparation, Accounting Services, and Payroll. We have been in preparing taxes for 22 years. Individuals, Farms, Business, Corporate, Payroll




Remark Financial and Insurance
310 Pacific Avenue
Waverly, MN 55390
Phone: (763) 658-4936



Remark Financial & Insurance helps individuals and families attain financial security. We offer financial and insurance services for personal and business clients. We understand the needs of each client are unique. Our commitment is to closely work with you in developing and managing a plan to help you accomplish your financial goals while protecting what is important to you.




Rufer's Apiaries Inc.
3499 75th Street SW
Waverly, MN 55390
Phone: (763) 658-4036



We offer pollination service, bulk bee sales, higyenc Queen sales, brood and splits to the commercial industry. Proud members of the Sue Bee honey co-op.




Snowplows Plus
809 Pacific Avenue
Waverly, MN 55390
Phone: (763) 682-5536



If you want the biggest variety and largest inventory of Western Plows, Boss Plows, SnowDogg Plows, SaltDogg Spreaders, and SnowEx Plows, SnowplowsPlus has you covered. At your fingertips you'll be able to view prices, important specifications including plow weights, compare the biggest brands and make a smart buying decision on your new snow plow or spreader.




Untiedt's Vegetable Farm Inc.
4750 25th Street SW
Waverly, MN 55390
Phone: (763) 658-4672



Located in Waverly, MN, we are focused on sustainably growing the highest quality fruits and vegetables. Supplying the Twin Cities metro area with all that a Minnesota growing season has to offer. You can find us at any of our roadside stands, easily recognized by the red and yellow gazebos and the words 'We Grow For You'!




Uptown Bar and Grill
203 5th Street N
Waverly, MN 55390
Phone: (763) 658-4838



What is now known as the Uptown Bar & Grill was once a privately owned liquor store in the early 1900's and The Municipal during the 1950's and 1960's. The building and business have changed hands several times over the last century, but the experience remains the same – friendly atmosphere, fair prices and the best burger you've ever tasted! Enjoy your visit, and come again!




US Post Office
304 5th Street N
Waverly, MN 55390-5034
Phone: (763) 658-4517
Toll Free: (800) ASK-USPS

Regular Business Hours:
Week Days 8:30 am - 11:30 am
12:30 pm - 4:15 pm
Saturday 9:00 am - 10:00 am

Waverly Cafe and Firehouse Pizza
805 Pacific Avenue
Waverly, MN 55390
Phone: (763) 658-6141



Voted "Best Hashbrowns in Minnesota". Nuff said.




Waverly City Hall
502 Atlantic Avenue
PO Box 189
Waverly, MN 55390
Phone: (763) 658-4217
Fax: (763) 658-6189

Regular Business Hours:
Monday - Thursday 8:00 am - 5:30 pm
Friday 8:00 am - 12:00 pm


Waverly Fire Department
521 Atlantic Avenue
Waverly, MN 55390
Phone: (763) 658-4737



Waverly's Volunteer Fire Department is comprised of 23 experienced, well-trained professionals with state of the art equipment. The scope of their responsibilities has expanded and now the Department answers several hundred calls each year. While the majority of calls are medical calls, fire calls are not unusual. The Department members also do storm watching, take carbon monoxide related calls, do water rescue, and respond to auto accidents, anhydrous ammonia calls or any other emergency that befalls you or your family.




Waverly Gun Club
4465 Desoto Avenue SW
Waverly, MN 55390
Phone: (763) 658-4644



Waverly Gun Club is a members-only range. Public gun club events include trapshooting on Thursday nights from 6:30 to 10:00 p.m., DNR Hunter Safety Training in February, hand gun league in May, Youth Trap League May through July, a Black Powder Shoot in August, (carbines, pistols, cannons, mortars, etc.), ladies only nights second Tuesdays of every month May through October and a Rifle Range Sight-in in October




Waverly Lock Company
5816 1st Street N
Waverly, MN 55390
Phone: (763) 658-4650


Waverly Municipal Liquor
702 Pacific Avenue
Waverly, MN 55390
Phone: (763) 658-4717



The City of Waverly is one of 226 cities in Minnesota to operate a Municipal Liquor Store. Waverly's Muni has both on sale and off sale operations. The OFF Sale offers delivery service.




What Next Art Studio
202 4th Street N
Waverly, MN 55390
Phone: (763) 658-4200



"May the Beauty of What You Love, Be What You Do"!




Woodland Dairy
3328 County Road 30 SW
Waverly, MN 55390
Phone: (763) 658-4877


---
---
Aerial Photo:
---
Topographic Map: [click map to enlarge, zoom in or zoom out]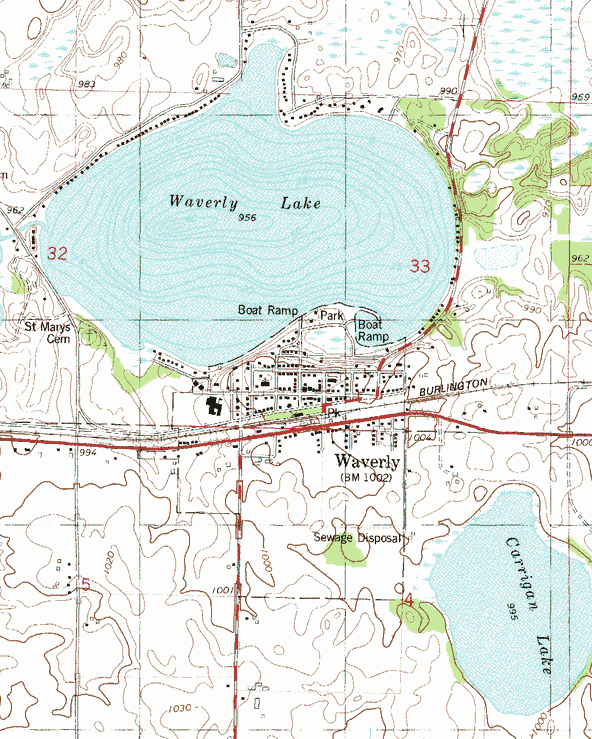 Topographic map is courtesy of the Minnesota DNR - click map to zoom or enlarge