Navigation
LakesnWoods.com
Home Page
Shopping
Coupons
Contact Us
Privacy
Minnesota Gift Guide

Iona Guide:
Photo Gallery
Location
Geography
Demographics
History
Government
Post Office
News
Weather
Street Map
Events
Attractions
Recreation
Lakes
Health Care
Schools
Churches
Media
Motels
Resorts
Campgrounds
Businesses
Aerial Photo
Topographic Map
© 2004-2019
Lakeweb1 Internet Services
All Rights Reserved
Defamation, Copyright and Trademark Infingement Policy
WANTED!
Do you have photos, historical accounts or other items pertaining to the Iona area? Would you like to share this historical information with the world? LakesnWoods.com would like to publish your Iona photos (current or historical) or historical accounts on this website. Original materials can be returned and your privacy will be respected.


(design available on over 100 different items!)

Iona Minnesota Community Guide
---
Location:
Iona is located in Southwest Minnesota in Murray County. It is six miles south of Slayton, Minnesota, the county seat, on Highway 267. Iona is within the boundaries of Iona Township, which was originally known as Anderson Township. The village of Iona was incorporated in 1896.

The history of Iona village and Iona township are linked inseparably with the name of Father Martin McDonnell. In 1878, he platted the village next to the Chicago, Milwaukee, and Southern Minnesota Railroad. The train would make regular stops at the Iona station, which was called Iona Lake.

In 1880, Father McDonnell established the Home of the Sacred Heart orphanage. It was formally opened in 1882 and was the only place of business in the newly organized village.

At one time, Iona had four congregations; there was a Catholic congregation, a Norwegian Lutheran congregation, a German Lutheran congregation and a Presbyterian congregation.

Iona had two school systems, the public school, District No. 49, and the parochial school, St. Columba. Both of these schools consolidated with Slayton Public District No.115 in 1965. Slayton Public and Chandler-Lake Wilson Public schools consolidated in 1992 and became Murray County Central District No. 2169.

The village of Iona was well represented by many fine baseball teams and won their share of honors. The Iona Lakers became well known and respected for many miles around. Today, the community of Iona has a population of 166.

Courtesy of Murray County
---
Population:
Iona (city)
1970
1980
1990
2000
2007
(est)
1990-2000 Change
Actual
Percent
Population
260
248
158
173
147
15
9.49
Land Area (sq. mile)
0.80
0.74
0.79
0.79
--
-0.00
-0.40
Density (persons per sq. mile)
325.00
335.14
200.00
219.86
--
19.86
9.93
Housing Units
96
94
70
91
--
21
30.00
Households
--
92
64
80
75
16
25.00
Persons Per Household
--
2.70
2.47
2.16
1.96
-0.31
-12.51
---
Geography:
Iona is a city in Murray County, Minnesota. According to the United States Census Bureau, the city has a total area of 0.8 square miles (2.0 km˛), all of it land. The elevation is 1,634 ft (498 m) above sea level.
From Wikipedia, the free encyclopedia.
---
Demographics:
As of the census of 2000, there were 173 people, 80 households, and 44 families residing in the city. The population density was 219.9 people per square mile (84.6/km˛). There were 91 housing units at an average density of 115.6/sq mi (44.5/km˛). The racial makeup of the city was 95.95% White, 1.16% Asian, 0.58% Pacific Islander, and 2.31% from two or more races. Hispanic or Latino of any race were 2.31% of the population.
There were 80 households out of which 18.8% had children under the age of 18 living with them, 47.5% were married couples living together, 5.0% had a female householder with no husband present, and 45.0% were non-families. 38.8% of all households were made up of individuals and 21.3% had someone living alone who was 65 years of age or older. The average household size was 2.16 and the average family size was 3.00.
In the city the population was spread out with 21.4% under the age of 18, 4.6% from 18 to 24, 24.9% from 25 to 44, 24.9% from 45 to 64, and 24.3% who were 65 years of age or older. The median age was 44 years. For every 100 females there were 78.4 males. For every 100 females age 18 and over, there were 86.3 males.
The median income for a household in the city was $25,625, and the median income for a family was $40,833. Males had a median income of $27,500 versus $19,500 for females. The per capita income for the city was $14,746. About 8.3% of families and 8.4% of the population were below the poverty line, including 13.5% of those under the age of eighteen and 13.2% of those sixty five or over.
---
History:
IONA Township, organized March 17, 1880, was named after its city in sections 8 and 9, platted in 1878 by Rev. Martin McDonnell, who here founded a Catholic industrial school for orphans. This is the name of a small island on the west coast of Scotland, celebrated for its ancient abbey, founded by St. Columba in the sixth century, and for a ruined cathedral, which was founded in the thirteenth century. The city of Iona was incorporated as a village on January 22, 1896; the post office began in 1880 with McDonnell as postmaster; it had a station of the Chicago, Milwaukee, St. Paul and Pacific Railroad.
Courtesy Minnesota Historical Society
---
Government:
Iona City Hall
Iona, MN 56141

Iona City Council meets the 1st Monday of the month at 7:30 pm at the Council Chambers, Iona City Hall.

Mayor
Marlene "Mert" Brown
450 Main Street
Iona, MN 56141
(507)

264-3322

Clerk/Treasurer
Rozalind Henry
PO Box 36
Iona, MN 56141
(507)

264-3366

Council Member

Esther "Mickey" Schmidt
310 Cotter Avenue


Iona, MN 56141
(507)

264-3880

Council Member
Peter Ford
311 Parnell Street
Iona, MN 56141
(507)

264-3360

Council Member
Ryan Fitzgerald
320 Cotter Street
Iona, MN 56141
(507)

264-3805

Council Member
Dannette Mahon
80 Grace Avenue
Iona, MN 56141
n/a
---
Post Office:
US Post Office
330 Grace Avenue
Iona, MN 56141-1067
Phone: (507) 264-3793
Toll Free: (800) ASK-USPS
Web: www.usps.com

Regular Business Hours:
Week Days 11:00 am - 3:00 pm
Saturday 10:00 am - 12:00 pm
Latest Collection at Post Office:
Week Days 5:00 pm
Saturday 5:00 pm
---
---
Utilities:
| | | |
| --- | --- | --- |
| Utility Type | Utility Name | Utility Phone |
| Electricity | n/a | n/a |
| Natural Gas | n/a | n/a |
| Wastewater | n/a | n/a |
| Water | n/a | n/a |
| Telephone | Frontier Communications | (800) 435-1504 |
| Cable TV | n/a | n/a |
---
Major Employers:
Employer
Products/Services
Employees
n/a
---
---
News:
---
Weather:
---
Map: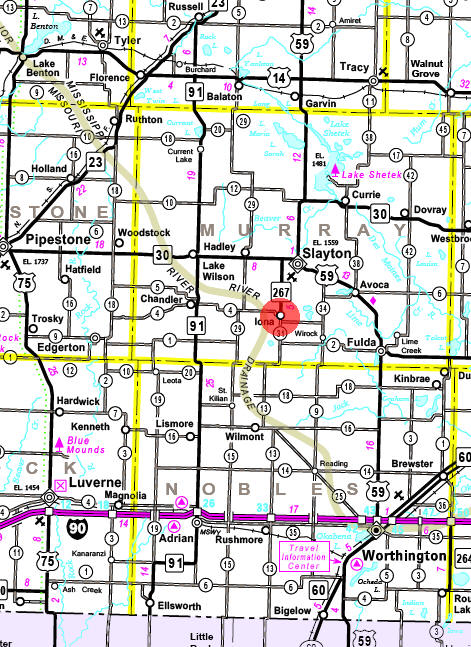 Minnesota State Highway Map of the Iona Minnesota area
---
Events:
---
---
Attractions:
---
Recreation:
---
Lakes:
---
Health Care:
---
Schools:
---
Churches:
---
Media:
---
Motels:
Check for motel rates and availability on:
---
Resorts:
---
Campgrounds:
---
Businesses:
Arnold Christiansen Farm
600 Parnell Street
Iona, MN 56141
Phone: (507) 264-3708
Beckmann Farms
22684 110th Street
Iona, MN 56141
Phone: (507) 926-5347
Bleyenberg Trucking
1031 11th Street
Iona, MN 56141
Phone: (507) 264-3865
Bruns Elevator Company
267 180th Avenue
Iona, MN 56141
Phone: (507) 425-2588
Colonial Acres
276 160th Avenue
Iona, MN 56141
Phone: (507) 264-3839
Cuperus Gaylen Farm
51 160th Avenue
Iona, MN 56141
Phone: (507) 264-3754
Dean Lanners Farm
235 140th Avenue
Iona, MN 56141
Phone: (507) 264-3863
Halbur Farms
1211 31st Street
Iona, MN 56141
Phone: (507) 264-3835
Hentges Builders
240 Parnell Street
Iona, MN 56141
Phone: (507) 264-3744
Iona City Offices
340 Parnell Street
Iona, MN 56141
Phone: (507) 264-3804
Kadupers
360 Parnell Street
Iona, MN 56141
Phone: (507) 264-3303
Kremer Oil
440 Parnell Street
Iona, MN 56141
Phone: (507) 264-3848
Mohman Floor Covering Installation
370 140th Avenue
Iona, MN 56141
Phone: (507) 264-3359
Riverland Ag Corporation
340 Ireland Avenue
Iona, MN 56141
Phone: (507) 264-3346
Ruppert Farm
PO Box 175
Iona, MN 56141
Phone: (507) 264-3355
Ruthton Farms
1420 31st Street
Iona, MN 56141
Phone: (507) 264-3701
Schettler Realty Inc.
11242 Jones Avenue
Iona, MN 56141
Phone: (507) 836-6695
Smith Farms
1178 11th Street
Iona, MN 56141
Phone: (507) 264-3771
Spartz and Sons Well Company
1081 41st Street
Iona, MN 56141
Phone: (507) 264-3376
US Post Office
330 Grace Avenue
Iona, MN 56141-1067
Phone: (507) 264-3793
Toll Free: (800) ASK-USPS
Web: www.usps.com
---
Aerial Photo:
---
Topographic Map: [click map to enlarge, zoom in or zoom out]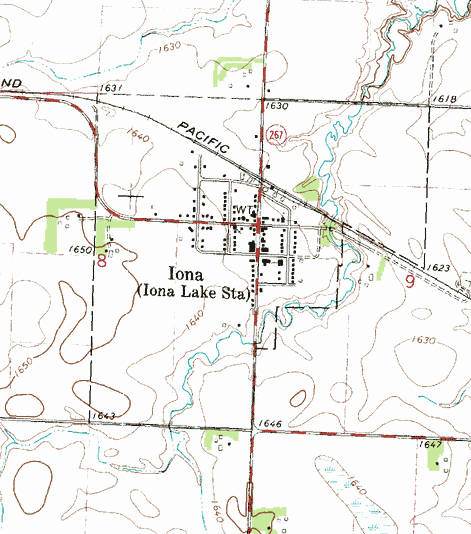 Topographic map is courtesy of the Minnesota DNR - click map to zoom or enlarge