Navigation
LakesnWoods.com
Home Page
Contact Us
Privacy
Minnesota History Shop

Visit The Minnesota History Shop
www.minnesotahistoryshop.com
Historic maps
Historic books
Historic framed art
Historic postcards
Clothing with historic images
And much more!!!


Amboy Guide:
Photo Gallery
Location
Geography
Demographics
History
Government
Post Office
News
Weather
Street Map
Events
Attractions
Recreation
Lakes
Health Care
Schools
Churches
Media
Motels
Resorts
Campgrounds
Businesses
Aerial Photo
Topographic Map
© 2004-2023
Lakeweb1 Internet Services
All Rights Reserved
DCMA, Defamation, Copyright and Trademark Infingement Policy
WANTED!
Do you have photos, historical accounts or other items pertaining to the Amboy area? Would you like to share this historical information with the world? LakesnWoods.com would like to publish your Amboy photos (current or historical) or historical accounts on this website. Original materials can be returned and your privacy will be respected.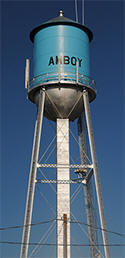 Amboy Minnesota Community Guide
---
Location:

Amboy may not be the largest city in Minnesota, but we make up for it in heart. Amboy is located on the junction of Highway 169 & 30, nineteen miles south of Mankato and fifteen miles north of Blue Earth. The Amboy community has plenty to offer and we continue to add more goods and service for your convenience. The city is continually evolving from its' roots in farming to a new generation of specialty business. As independent farms become fewer and cities continue to expand, more people have found Amboy to be a great city to call home. We welcome you to see what we have to offer. It may surprise you. Between community events, activities and business offerings, you will find more than you thought possible. We look forward to your visit.

Courtesy City of Amboy
---
Population:
Amboy (city)
1970
1980
1990
2000
2010
2000-2010 Change
Actual
Percent
Population
571
606
517
575
534
-41
-7.13
Land Area (sq. mile)
0.20
0.22
0.33
0.31
0.31
0.00
0.00
Density (persons per sq. mile)
2,855.0
2,754.6
1,566.7
1,838.9
1,722.6
-116.3
-6.32
Housing Units
239
277
258
268
260
-8
-2.99
Households
--
255
233
242
232
-10
-4.13
Persons Per Household
--
2.38
2.22
2.38
2.30
-0.08
-3.36
---
Geography:
According to the United States Census Bureau, the city has a total area of 0.31 square miles (0.80 km˛), all of it land. U.S. Route 169 and Minnesota State Highway 30 are two of the main routes in the community.
From Wikipedia, the free encyclopedia.
---
Demographics:
As of the census of 2010, there were 534 people, 232 households, and 157 families residing in the city. The population density was 1,722.6 inhabitants per square mile (665.1 /km2). There were 260 housing units at an average density of 838.7 per square mile (323.8 /km2). The racial makeup of the city was 96.8% White, 1.3% African American, 0.2% Native American, 0.4% Asian, 1.1% from other races, and 0.2% from two or more races. Hispanic or Latino of any race were 5.1% of the population.
There were 232 households of which 26.3% had children under the age of 18 living with them, 55.2% were married couples living together, 8.6% had a female householder with no husband present, 3.9% had a male householder with no wife present, and 32.3% were non-families. 28.9% of all households were made up of individuals and 11.6% had someone living alone who was 65 years of age or older. The average household size was 2.30 and the average family size was 2.78.
The median age in the city was 41.7 years. 21.2% of residents were under the age of 18; 9% were between the ages of 18 and 24; 23% were from 25 to 44; 28.4% were from 45 to 64; and 18.2% were 65 years of age or older. The gender makeup of the city was 50.7% male and 49.3% female.
---
---
History:
Shelby Township was organized in 1858, the year Minnesota achieved statehood. The township's main inducement to settlement was its rich prairie loam, rendered still more attractive by the availability of wood lots along the Blue Earth River. By 1860, Shelby Township was the most populous in Blue Earth County. In addition to its 315 residents, it also sustained a small but thriving village known as Shelbyville, located in Section 35, about two miles south of modern Amboy. In the early 1860s Shelbyville hosted the county fair. The town included a hotel, church, schoolhouse, mill, two stores, a blacksmith shop, a wagon shop, and a post office.
By 1875, Shelby Township was a relatively mature agricultural area, well known for grains and livestock. At that time, the township's population was 800, and it remained at approximately the same level for the next thirty years. Despite such overall stability, there were some significant population shifts within the township itself.
The main catalyst for change was the St. Paul and Sioux City Railway (later a part of the Omaha Road), which in 1879 built a north-south branch line through Blue Earth County. In several townships along the proposed route, residents offered the railroad financial incentives to locate a depot in their vicinity. For reasons that are not completely clear, the citizens of Shelbyville declined to do so. On September 2, 1879, they voted down a proposition to give the railroad a $10,000 grant. A week earlier, however, a group of farmers residing two miles north of Shelbyville had made the railroad an offer of their own.
The farmers' proposal, which was accepted, was to buy forty acres of land for the railroad, if the railroad would lay out town lots, build a depot, and build a grain elevator. The town, named Amboy, was laid out in October 1879. This triggered the death of Selbyville, which was deserted within three years, the buildings having been moved to other locations. Incorporating as a city in 1887, Amboy had more than 400 inhabitants by the turn of the century.
From Wikipedia, the free encyclopedia.
AMBOY, the railway village of Shelby Township, in section 23, was platted October 31, 1879, laid out on land formerly owned by George Quiggle, and incorporated on June 15, 1887. It was named by Robert Richardson, its first postmaster and merchant, for the town of his former home in Illinois; the name is an Indian word meaning "hollow inside" or "like a bowl." The village had a station of the Chicago, St. Paul, Minneapolis and Omaha Railway, grist, feed and flour mills, five elevators, a creamery, and a sorghum factory. The community exported grain, flax, livestock, and produce.
Courtesy Minnesota Historical Society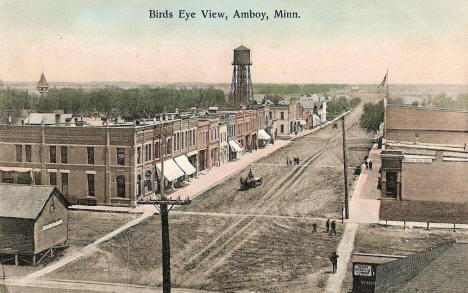 Birds eye view, Amboy Minnesota, 1908
LakesnWoods.com Postcard and Postcard Image Collection - click to enlarge
Visit The Amboy Photo Gallery for more recent and historic area photos

---
Government:
Amboy City Hall
244 E Maine Street
PO Box 250
Amboy, MN 56010-0250
Phone: (507) 674-3018
Fax: (507) 674-3931

Regular Business Hours:
Monday 8:00 am - 4:30 pm
Tuesday - Thursday 8:00 am - 4:00 pm
Friday 8:00 am - 12:00 pm

City Council Meetings:
1st Monday of the month at 7:00 pm


Title
Term Ends
Name and Address
Phone
Mayor
12/31/2020
David L. Witucki
220 Pleasant Street E
Amboy, MN 56010
(507) 380-4735
City Administrator
appointed
Patty Smith
PO Box 250
Amboy, MN 56010
(507) 674-3018
Council Member
12/31/2022
Thomas Boeck
300 Maine Street
Amboy, MN 56010
(507) 674-3616
Council Member
12/31/2022
Radley Sorenson
341 E Maine Street
Amboy, MN 56010
(507) 674-3937
Council Member
12/31/2024
Linda Busse
212 South Street
Amboy, MN 56010
(507) 381-7385
Council Member
12/31/2024
Karl C. (KC) Reuter
141 Maine Street W
Amboy, MN 56010
(507) 674-3401
---
Post Office:
US Post Office
208 E Maine Street
Amboy, MN 56010-9730
Phone: (507) 674-3042
Toll Free: (800) ASK-USPS

Regular Business Hours:
Week Days 8:30 am - 12:30 pm
1:45 pm - 3:15 pm
Saturday Closed
---
Utilities:
---
Major Employers:
Employer
Products/Services
Employees

n/a
---
---
News:
---
Weather:
---
Map: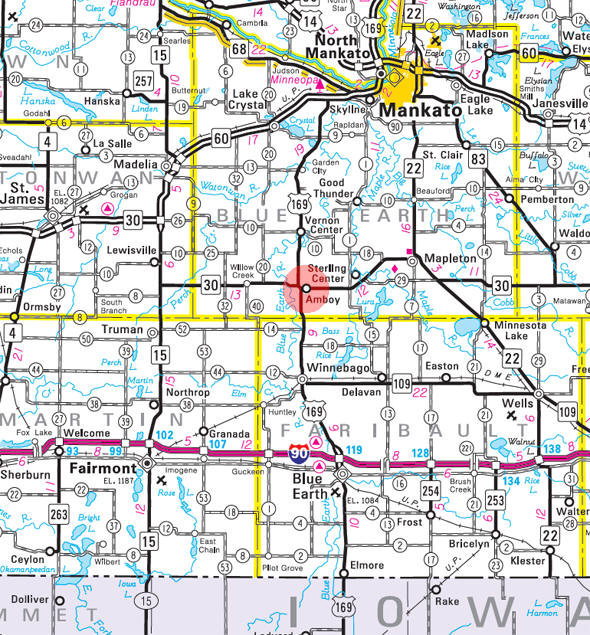 Minnesota State Highway Map of the Amboy Minnesota area
---
Events:
Amboy Arts 'n More Festival

1st Weekend in September



This festival is a project of the Amboy Community Club whose mission is to provide social, cultural, and environmental contributions to the Amboy area. Each year our organization puts on a festival called the "Arts 'n More Festival" whose purpose is to stimulate the practice and appreciation of a wide variety of arts and music in our local community of Amboy, Minnesota. This year the festival will focus on the art of dance.
---
---
Attractions:
---
Recreation:
---
Lakes:
Lake Name
Size
(acres)
Lake info
Lake Map
Rec Map
Topo Map
none in the immediate area
---
Health Care:
---
Schools:
---
Churches:
First Presbyterian Church
240 NE North Street
PO Box 247
Amboy, Minnesota 56010
Phone: (507) 674-3895

Pastor: Rev. Mike Goodwin
Sunday Worship: 9:30 am

Jackson Lake Lutheran Church - ELCA
131 4th Avenue S
PO Box 217
Amboy, MN 56010
Phone: (507) 674-3677

Pastor: Todd R Substad
Sunday Worship: 10:15 am

Methodist Church
Amboy, MN 56010
Phone: (507) 549-3162

Pastor: Rev. Darren Flinck
Sunday Worship: 10;30 am

St. Paul Lutheran Church
241 South Street E
Amboy, MN 56010
Phone: (507) 674-3916

Pastor: n/a
Sunday Worship: 9:00 am
---
Media:
---
Motels:
Check for motel rates and availability on:
---
Resorts:
---
Campgrounds:
---
---
Businesses:
A G Distributing of Amboy
11219 US Highway 169
Amboy, MN 56010
Phone: (507) 674-3633
A Walk Back In Time Bed & Breakfast
200 W Maine Street
PO Box 183
Amboy, MN 56010
Phone: (507) 674-3756

Home decorated with primitive antiques! With in walking distance of the Amboy Cottage Cafe!

Acorn Studio
132 E Maine Street
PO Box 453
Amboy, MN 56010
Phone: (507) 674-3123
Web: www.acornstudio.net

Welcome to Acorn Studio-where we prepare and hand spin natural fibers from the animals we raise at Oak Knoll

Amboy Auto Body
122 W Maine Street
Amboy, MN 56010
Phone: (507) 674-3700
Amboy Bus Service Inc
301 2nd Avenue S
Amboy, MN 56010
Phone: (507) 674-3177
Amboy Cottage Cafe
100 E Maine Street
PO Box 394
Amboy, MN 56010
Phone: (507) 674-3123
Web: www.amboycottagecafe.com

Rural Minnesota is full of stories about people preparing and enjoying wonderful food together. Here in the Amboy Cottage Cafe, we cook from scratch using wholesome ingredients. Local meats, dairy and fresh produce are used when possible. We avoid hydrogenated fats, we don't own a deep fryer and use real canola, olive oil and organic butter. Whole grains, fruit and vegetables fill the menu. To Your Health, Enjoy!

Amboy Electric
11198 503rd Lane
Amboy, MN 56010
Phone: (507) 674-3016
Amboy Express
52482 115th Lane
Amboy, MN 56010
Phone: (507)327-6669
Amboy Grain Inc
11221 US Highway 169
Amboy, MN 56010
Phone: (507) 674-3001
Amboy Laundromat
116 E Maine Street
PO Box 171
Amboy, MN 56010
Phone: (507) 674-3135
Amboy Snowbirds
224 E Maine Street
Amboy, MN 56010
Phone: n/a
Beadell Agency Inc
203 E Maine Street
Amboy, MN 56010
Phone: (507) 674-3355
Boesch Insurance
145 E Maine Street
PO Box 337
Amboy, MN 56010
Phone: (507) 674-3142

We have been serving the Amboy Area since 1928 and offer auto, home, farm property, life, and health insurance, annuities, income tax preparation, payroll accounting and general bookkeeping

Bottoms Up Bar & Grill
236 E Maine Street
PO Box 132
Amboy, MN 56010
Phone: (507) 674-9790
C&M Equipment
PO Box 309
Jct 169 and Highway 30
Amboy, MN 56010
Phone: (507) 674-3152
Carol's Original Works (COWS)
246 E Maine Street
Amboy, MN 56010
Web: www.cmherden.com



Carol's Original WorkS Largest producer of cattle figurines, sculpture, art, and awards. Specializing in Livestock art, sculpture, awards of all kinds. The company COWS is owned and operated by me, artist, CM Herden. I am a self taught, and self published artist, and this site is one way you can view and purchase my work. Art available in the form of Sculptures, paintings and drawings.

Casey's
617 W Maine Street
Amboy, MN 56010
Phone: (507) 674-3215
Collision & Classics
501 W Maine Street
Amboy, MN 56010
Phone: (507) 674-3785
Community Bank and Insurance
203 E Maine Street
PO Box 368
Amboy, MN 56010
Phone: (507) 674-3300
Web: www.cbfg.net

Community Bank has a long history of serving the communities that we call home. We maintain a strong tradition of customer service excellence while providing each customer with the personal attention they deserve. We have locations in Mankato, Vernon Center and Amboy. We loan money to build local businesses and homes for our neighbors. Whether you're opening your first savings account, approaching retirement, or starting a new business, our philosophy is the same; to serve the needs of the communities we call home. We are prepared to assist you in almost any situation.

D & K Tire Service
130 2nd Avenue S
PO Box 95
Amboy, MN 56010
Phone: (507) 674-3149
Web: www.dktireautorepair.com



Get full service auto maintenance and repairs from D & K Tire Service. Trust our ASE-certified technicians for tire and brake services.

Dave's Barber Shop
118 E Maine Street
PO Box 404
Amboy, MN 56010
Phone: (507) 674-3798
Dennis Sonnabend Farm
10634 505th Avenue
Amboy, MN 56010
Phone: (507) 674-3415
Digital Graffiti
PO Box 82
Amboy, MN 56010
Phone: (507) 340-3962
Dobie Eisenmenger Farms
12006 534th Avenue
Amboy, MN 56010
Phone: (507) 674-3925
Eagle Nutrition
109 E Maine Street
PO Box 396
Amboy, MN 56010
Phone: (507) 674-3954
EJK Engineering
12711 550th Avenue
Amboy, MN 56010
Phone: (507) 278-4993
Emil's Service
140 2nd Avenue S
PO Box 237
Amboy, MN 56010
Phone: (507) 674-3457
First Investments-Crop Ins
11314 513th Avenue
Amboy, MN 56010
Phone: (507) 674-3918
Frame It Gallery
112 E Maine Street
PO Box 115
Amboy, MN 56010
Phone: (507) 674-3456
Fred's Micro Inc
11144 US Highway 169
Amboy, MN 56010
Phone: (507) 674-3068
Web: www.fredsmicro.com

A family-owned and operated company. We manufacture, install & support computer related hardware & software.We also house a printshop for all of your printing needs..

Frundt & Johnson Ltd
204 E Maine Street
Amboy, MN 56010
Phone: (507) 674-3312
Graf's Home Furnishings
124 E Maine Street
Amboy, MN 56010
PO Box 122
Phone: (507) 674-3385
Web: www.homefurnishingsmankato.com



Graf's Home Furnishings of Amboy, MN is your partner in creating a warm and welcoming home. Stop by and check out our showroom today. Many of our products are made in the US!

Granberg Drainage
12148 US Highway 169
Amboy, MN 56010
Phone: (507) 674-3255
Grover Grain & Seed


11522 550th Avenue


Amboy MN 56010
Phone: (507) 674-3660
Web:

www.grovergrainseed.com





Grover Grain & Seed offers Pioneer brand products, Precision planting, and soybean seed treatment to our neighbors, family, and friends. We have long-time experience with all of these products, and are convinced they will also help YOU optimize yield potential and ultimately profits.

Irvine Sand & Gravel
54803 121st Street
Amboy, MN 56010
Phone: (507) 674-3264
Kelso & Shelby Farmers Mutual
204 E Maine Street
Amboy, MN 56010
Phone: (507) 674-3494
Web: www.kelsoandshelby.com



For over 130 years, local farmers and homeowners have trusted their property insurance needs to Kelso & Shelby Farmers Mutual Insurance Company. Based in Amboy, Minnesota, we understand the potential hazards you face as a farm and home owner in Southern Minnesota. We are proud of being rooted right in the community where you work, play, and grow.

Kevin's Repair
101 South Street E
PO Box 34
Amboy, MN 56010
Phone: (507) 674-3856
Web: www.kevinsrepair.com

Not only do we service all farm equipment, we offer a full line of Snapper mowers, Tanaka trimmers and chain saws and parts needed for replacement or repair. Delivery and pickup is also part of our customer service. Kevin's Repair has been the top Snapper dealership for the last 5 years across southern Minnesota

Korstad Law Office
136 E Maine Street
PO Box 400
Amboy, MN 56010
Phone: (507) 674-3434
Web: www.korstadlaw.com



Have you been denied disability benefits? If you live in the southern half of Minnesota, I can help. My practice is focused solely on Social Security disability/SSI appeals.

Linda's Place
236 E Maine Street
PO Box 132
Amboy, MN 56010
Phone: (507) 674-9790



Linda's Place opened in Amboy, MN on June 3rd 2011. Stop in and see the changes that have been made. There is a whole new menu and we are open for breakfast, lunch and dinner Monday thru Saturday!

Lone Oak Vineyard
PO Box 211
Amboy, MN 56010
Phone: (507) 674-3862
Web: www.loneoakvineyard.com

The Lone Oak Vineyard was established in April of 2009. The Curry family of Amboy, Minnesota started the vineyard because of their love for Minnesota agriculture, wine and good ol' fashion adventure. Lone Oak Vineyard is currently growing Marquette, Somerset Seedless, Bluebell, Frontenac and Petite Pearl grape varieties.

Luke's Electric
13245 550th Avenue
Amboy, MN 56010
Phone: (507) 327-4594
Malchow Insurance
49494 State Highway 30
Amboy, MN 56010
Phone: (507) 674-3043
Mankato Fire & Safety
105 E Maine Street
Amboy, MN 56010
Phone: (507) 674-3747
Marketing Link Insurance
55017 105th Street
PO Box 430
Amboy, MN 56010
Phone: (507) 674-3802
Web: www.marketinglinkins.com

We are a full line agency representing Travelers, AIG, Hartford, Kemper, Drive, Progressive, State Auto, Safeco, Blue Cross, 4 truck companies and 20 plus additional companies. We write home, auto, crop, commercial, health and long haul trucks. Also offer income tax service with e-filing.

Marv's Dead End Repair
PO Box 291
Amboy, MN 56010
Phone: (507) 674-3727
Minnesota Pork
11347 518th Avenue
Amboy, MN 56010
Phone: (507) 674-3920
Mirror Image Salon
118 E Maine Street
Amboy, MN 56010
Phone: (507) 674-3333
Misfit Acres
12480 550th Avenue
Amboy, MN 56010
Phone: (507) 317-4927
Web: www.misfitacres.com



Misfit Acres is a 501c3 sanctuary and rescue which provides a permanent home where formerly "unlucky" horses can live out their remaining years safe from abuse and neglect.

Palmer Bus Service
PO Box 266
Amboy, MN 56010
Phone: (507) 674-3177
Pfeffer Tree Service
55174 121st Street
Amboy, MN 56010
Phone: (507) 317-0595
Web: www.pfeffertree.com



Pfeffer Tree is a commercial and residential tree service provider proudly serving the Southern Minnesota Area. We are insured for your protection.

Que Serra Retreats
PO Box 482
Amboy, MN 56010
Phone: (612) 990-5284
Web: www.queserra.com

This home originally built in 1895 features sleeping accommodations for eight guests, two bathrooms, furnished kitchen, and a 25' x 35' multi purpose room which can be used as a crafting work center or party room. The Retreat Center is available for weekend and extended weekend rentals. Play croquet on the lawn, sip lemonade on the deck, take a walk in the city park one block away. Visit the Amboy Cottage Cafe, Sweet Cicely's Gift Shop, the Acorn Studio featuring local artists or Villager Antiques 2 blocks from the retreat center.

R & C Storage
PO Box 237
Amboy, MN 56010
Phone: (507) 674-3721
Reuter Company
122 W Maine Street
Amboy, MN 56010
Phone: (507) 674-3700
Richard's Construction
141 Pearl Street W
PO Box 237
Amboy, MN 56010
Phone: (507) 674-3721

We build all types of grain tanks, large or small, we build them all !! We are a Behlen Building dealer and also erect the steel buildings after they are sold.

Schoneck Trucking
501 4th Avenue S
Amboy, MN 56010
Phone: (507) 674-3580
Shady Oaks Storage
52482 115th Lane
Amboy, MN 56010
Phone: (507) 674-3510
Shelby Farmers Mutual Insurance
PO Box 307
Amboy, MN 56010
Phone: (507) 674-3494
Shelby Farrowing
50872 111th Street
Amboy, MN 56010
Phone: (507) 674-3107
South Central Minnesota Excavating
11028 US Highway 169
Amboy, MN 56010
Phone: (507) 381-8084
Web: www.southcentralmnexcavating.com



Being a family-owned and operated excavating contractor business in Amboy, MN, weâ??re able to offer you that personal touch you'??ve been looking for. Our goal is to make all of our customers happy.

Stevens Seed Farm
52482 115th Lane
Amboy, MN 56010
Phone: (507) 674-3535
Sweet Cicely
144 E Maine Street
Amboy, MN 56010
Phone: (507) 674-3757
Web: www.thesweetcicelyblog.blogspot.com

A full line gift and specialty store offering the latest gift wares on the market as well as health and natural healing products such as vitamins, herbs, herbal extracts and much more.

Syngenta Seeds
11307 US Highway 169
Amboy, MN 56010
Phone: (507) 674-3320
Web: www.syngenta.com

Syngenta is a world-leading agribusiness committed to sustainable agriculture through innovative research and technology. The company is a leader in crop protection, and ranks third in the high-value commercial seeds market.

Tom's Hardware
141 E Maine Street
PO Box 367
Amboy, MN 56010
Phone: (507) 674-3824
Web: www.tomsdibhardware.doitbest.com

Our store was established in 1934 and has been in continuous operation at this location every day. We pride ourselves on fast customer service and a knowledgeable staff. Get it, get help, get it done! We stock items you can't find in the Big Box stores. There are over 70,000 items available through Tom's Hardware of Amboy, and Do it Best.

Trail Side Sports of Amboy
217 E Maine Street
PO Box 434
Amboy, MN 56010
Phone: (507) 674-3667
Web: www.trailsidesports.net

Arctic Cat snowmobiles sales and service. We carry new and used Arctic Cat snowmobiles, also Arctic Cat clothing and accessories. Our dealership has a solid reputation of providing excellent service, support and satisfaction. We pride ourselves on giving our customers the best service available and offering the best parts and accessories for their snowmobiling needs.

Urban Construction
323 W Pearl Street
Amboy, Minnesota
Phone: (507) 674-3944
Urban Oil Inc
120 W Maine Street
PO Box 174
Amboy, MN 56010
Phone: (507) 674-3101

Serving Amboy, Vernon Center and Winnebago and the surrounding area with deliveries of home & farm use fuels. Gas pumps in Amboy, Vernon Center & Winnebago. .Auto mechanic available in Amboy

US Bank
156 E Maine Street
PO Box 427
Amboy, MN 56010
Phone: (507) 674-3210
Web: www.usbank.com

US Bank (chartered in 1934 as Security National Bank of Amboy) has evolved from Security Bank to American Bank the First Bank to US Bank. It is a full service bank which strives to do the very best for its customers.

US Post Office
208 E Maine Street
Amboy, MN 56010-9730
Phone: (507) 674-3042
Toll Free: (800) ASK-USPS
Web: www.usps.com
Villager Antiques
125 E Maine Street
PO Box 103
Amboy, MN 56010
Phone: (507) 674-3024
Wakefield Pork Inc
10876 513th Avenue
Amboy, MN 56010
Phone: (507) 674-3921
Web: www.wakefieldpork.com



Wakefield Pork is a leader in the pork industry, ranked nationally as one of the top 25 largest production companies by Successful Farming magazine. Our progressive and forward-focused management philosophy has brought Wakefield continual growth since its beginning in 1991.

WFS Cooperative
505 E Maine Street
Amboy, MN 56010
Phone: (507) 674-3575
Web: www.wfsag.com

WFS has been serving their member-owners in the Amboy community since 2000. WFS is a diversified farm service cooperative offering grain marketing opportunities, agronomy products and services, sales and delivery of petroleum products, animal feed and nutrition products and services, and financing for crop inputs, and livestock facilities, which also includes crop insurance. The Amboy location specifically handles the application of liquid fertilizer and farm chemicals, as well as seed and bagged feed products.

Willow Creek Restoration and Renovation
50411 127th Street
Amboy, MN 56010
Phone: (507) 549-3898
Zarn Airport - 2MY2
49770 121st Street
Amboy, MN 56010
Phone: (507) 674-3297
---
---
Aerial Photo:
---
Topographic Map: [click map to enlarge, zoom in or zoom out]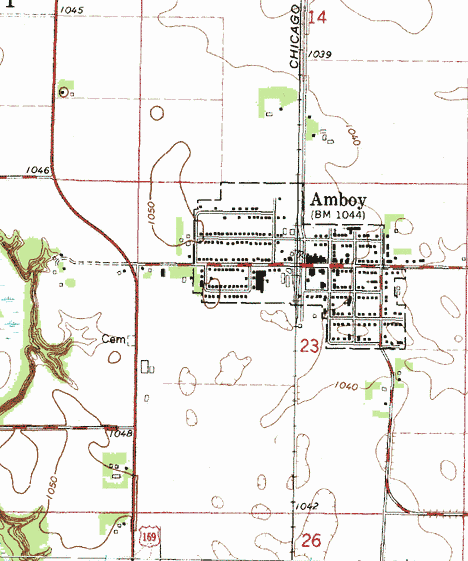 Topographic map is courtesy of the Minnesota DNR - click map to zoom or enlarge