Navigation
LakesnWoods.com
Home Page
Contact Us
Privacy
Minnesota History Shop

Visit The Minnesota History Shop
www.minnesotahistoryshop.com
Historic maps
Historic books
Historic framed art
Historic postcards
Clothing with historic images
And much more!!!


Carver Guide:
Photo Gallery
Location
Geography
Demographics
History
Government
Post Office
News
Weather
Street Map
Events
Attractions
Recreation
Lakes
Health Care
Schools
Churches
Media
Motels
Resorts
Campgrounds
Businesses
Aerial Photo
Topographic Map
© 2004-2023
Lakeweb1 Internet Services
All Rights Reserved
DCMA, Defamation, Copyright and Trademark Infingement Policy
WANTED!
Do you have photos, historical accounts or other items pertaining to the Carver area? Would you like to share this historical information with the world? LakesnWoods.com would like to publish your Carver photos (current or historical) or historical accounts on this website. Original materials can be returned and your privacy will be respected.

Carver Minnesota Community Guide
---
Location:
---
Population:
Carver (city)
1970
1980
1990
2000
2010
2000-2010 Change
Actual
Percent
Population
669
642
744
1,266
3,724
+2,458
+194.15
Land Area (sq. mile)
3.70
4.01
3.85
3.85
4.00
+0.15
+3.90
Density (persons per sq. mile)
180.81
160.10
193.25
328.62
931.00
+602.38
+183.31
Housing Units
186
220
270
467
1,236
+769
+164.67
Households
--
218
262
458
1,182
+724
+158.08
Persons Per Household
--
2.94
2.84
2.76
3.15
+0.41
+14.86
---
Geography:
Carver is a city in Carver County, Minnesota. U.S. Highway 212 serves as a main route for the community. According to the United States Census Bureau, the city has a total area of 4.18 square miles (10.83 km2), of which, 4.00 square miles (10.36 km2) is land and 0.18 square miles (0.47 km2) is water. The elevation is 732 ft (223 m).
From Wikipedia, the free encyclopedia.
---
Demographics:
As of the census of 2010, there were 3,724 people, 1,182 households, and 984 families residing in the city. The population density was 931.0 inhabitants per square mile (359.5/km2). There were 1,236 housing units at an average density of 309.0 per square mile (119.3/km2). The racial makeup of the city was 89.8% White, 1.0% African American, 0.2% Native American, 6.3% Asian, 0.4% from other races, and 2.3% from two or more races. Hispanic or Latino of any race were 2.0% of the population.
There were 1,182 households of which 55.8% had children under the age of 18 living with them, 72.9% were married couples living together, 5.4% had a female householder with no husband present, 4.9% had a male householder with no wife present, and 16.8% were non-families. 11.8% of all households were made up of individuals and 1.2% had someone living alone who was 65 years of age or older. The average household size was 3.15 and the average family size was 3.46.
The median age in the city was 31.7 years. 36.1% of residents were under the age of 18; 5.3% were between the ages of 18 and 24; 36.1% were from 25 to 44; 19.1% were from 45 to 64; and 3.5% were 65 years of age or older. The gender makeup of the city was 50.5% male and 49.5% female.
---
---
History:
CARVER, a very small fractional township bordering on the Minnesota River, was named, like this county, in honor of Jonathan Carver. The first settlers came in 1851-52, and the township was organized May 11, 1858. Carver Creek, named by Capt. Carver for himself, the outlet of Clearwater or Waconia Lake and numerous other lakes of smaller size, here joins the Minnesota River. On Joseph N. Nicollet's map it is "Odowan R.," which is the Dakota word for a song or hymn. The city of Carver, located at the intersection of several railroads, was platted in February 1857 and was incorporated February 17, 1877, comprising all the township. Carver Creek supplied power for an early flour mill; the village also had a wool carding mill, a grist mill, and a feed mill; its post office was established in 1856. In the 1930s a large dance pavilion was built, financed by stock sales; about 1969 an organization called Carver-on-the-Mississippi, Inc., began restoring homes and buildings.
Courtesy Minnesota Historical Society
More Carver History Carver Historic District Walking Tour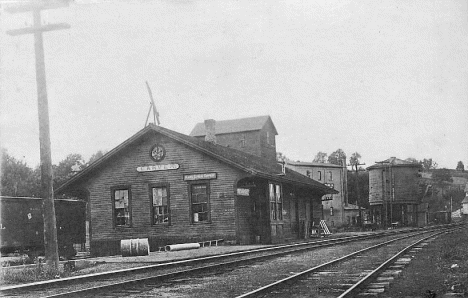 Railroad Depot, Carver Minnesota, 1910s
LakesnWoods.com Postcard and Postcard Image Collection- click image to enlarge

Visit The Carver Photo Gallery for more recent and historic area photos
---
Government:
Carver City Hall
316 Broadway
Carver, MN 55315
Phone: (952) 448-5353

Regular Business Hours:
Monday - Friday 8:00 am - 4:30 pm

City Council Meetings:
1st and 3rd Monday of the month at 7:00 pm


Title
Term Ends
Name and Address
Phone
Mayor
12/31/2022
Courtney Johnson
413 High Street
Carver, MN 55315
(612) 702-7703
City Manager
appointed
Brent Mareck
316 Broadway
Carver, MN 55315
(952) 448-8737
Council Member
12/31/2022
Laurie Sayre
1005 Sunny Ridge Drive
Carver, MN 55315
(952) 270-2523
Council Member
12/31/2022
Glen Henry
320 6th Street W
Carver, MN 55315
(952) 361-9834
Council Member
12/31/2024
Joy McKnight
204 Carver Creek Place
Carver, MN 55315
(952) 484-5284
Council Member
12/31/2024
Kristy Mock
112 3rd Street E
Carver, MN 55315
(952) 500-3972
---
Post Office:
US Post Office
317 Broadway
Carver, MN 55315-2103
Phone: (952) 448-6363
Toll Free: (800) ASK-USPS

Regular Business Hours:
Week Days 8:30 am - 12:00 pm
1:30 pm - 4:00 pm
Saturday 8:30 am - 9:30 am
---
---
Utilities:
---
Major Employers:
Employer
Products/Services
Employees
n/a
---
---
News:
---
Weather:
---
Map: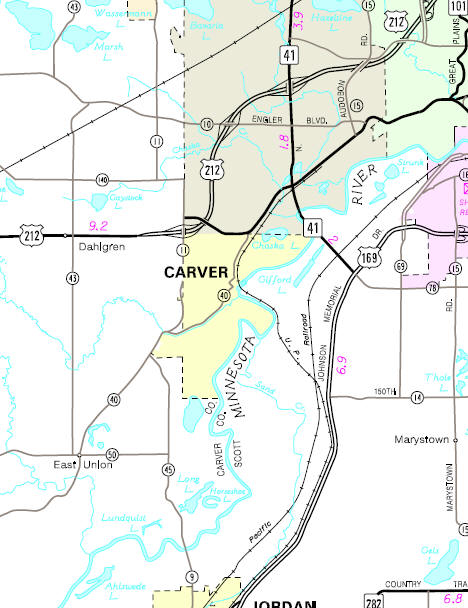 Minnesota State Highway Map of the Carver Minnesota area
---
Events:
---
---
Attractions:
---
Recreation:
Minnesota Valley National Wildlife Refuge
15850 Rapids Lake Road
Carver, MN 55315
Phone: (952) 368-7096

Minnesota Valley National Wildlife Refuge has two visitor and education centers, access areas to more than 14,000 acres of land dedicated to wildlife and wildlife-dependent recreation. To get a glimpse of the multiple habitats within the refuge, visit either center or any of the refuge units. Hours of operation vary seasonally.


---
Lakes:
Lake Name
Size
(acres)
Lake info
Lake Map
Rec Map
Topo Map
none
---
Health Care:
---
Schools:
---
Churches:
East Union Lutheran Church
15180 County Road 40
Carver, MN 55315
Phone: (952) 448-3450

Pastor: Sarah Bunge
Sunday Service: 9:00 am


St. Nicholas Catholic Church
412 4th Street W
Carver, MN 55315
Phone: (952) 448-2345

Pastor: Rev. Bill Deziel
Sunday Service: 9:15 am


Trinity Lutheran Church - LCMS
417 Oak Street
Carver, MN 55315
Phone: (952) 448-3628

Pastor: David Jander
Sunday Service: 10:00 am (9:00 am June - August)


---
Media:
Carver Current
Carver, MN 55315

Online and weekly email newsletter


Villager Tower
Carver, MN 55315
Phone: (952) 448-5126

Monthly newsletter devoted local Carver news


---
Motels:
Check for motel rates and availability on:
---
Resorts:
---
Campgrounds:
---
---
Businesses:
A-1 Stripes
8175 County Road 50
Carver, MN 55315
Phone: (952) 466-2608


Aerial Company Beauty Salon
15820 Lundstead Road
Carver, MN 55315
Phone: (952) 448-9435


Auto Inspirations
1223 Vernon Drive
Carver, MN 55315
Phone: (952) 486-8222



Auto Inspirations is a company founded out of our love of automobiles to provide fun or inspiring products as well as some of the industries best products for the home, office or garage. Swisstrax Modular Flooring, PitStop Furniture, C3 Coolers and Graphic Image Flooring Mats are just the start of both utilitarian and fun products.




Barbara Swanson Realty
212 Broadway
PO Box 290
Carver, MN 55315
Phone: (952) 448-4580



Barb has been a lifelong resident of Carver County and has been active in the Financial Industry as an owner of an Independent Insurance Agency and Real Estate Broker since 1988. Helping families find homes where their dreams can come alive has become an important and very interesting part of her life and business activity, Being an avid historian, she lives in a historic home with her husband Darrel and has raised three children within it's beauty and comfortable walls. She has been a charter member of Carver-on-the Minnesota, inc., a group dedicated to preserving the history and heritage of one of the oldest cities in the State of Minn nestled on the banks of the Minnesota River.




Barclay Floor Covering
118 Carver Creek Circle
Carver, MN 55315
Phone: (952) 448-7306

We do all pre finished hardwood floors, all tile, all vinyl flooring, and commercial carpet around the metro area


Bluff Creek Apartments
1800 County Road 40
Carver, MN 55315
Phone: (952) 368-3308



Bluff Creek Apartments is located at 1800 Main St Carver, MN and is managed by Carver County HRA, a reputable property management company with verified listings on RENTCafe. Bluff Creek Apartments offers 1 to 2 bedroom apartments ranging in size from 875 to 1025 sq.ft. Amenities include BBQ/Picnic Area, Controlled Access/Gated, Dishwasher, Garage, Large Closets and more.




Boylan Group
1310 Lylewood Parkway
Carver, MN 55315
Phone: (952) 445-7854


Carver Automotive
220 3rd Street E
Carver, MN 55315
Phone: (952) 448-2075


Carver City Hall
801 Jonathan Carver Parkway
PO Box 147
Carver, MN 55315
Phone: (952) 448-5353

Regular Business Hours:
Monday - Friday 8:00 am - 4:30 pm

City Council Meetings:
1st and 3rd Monday of the month at 7:00 pm


Carver Crossing Apartments
1593 Hartwell Drive
Carver, MN 55315
Phone: (952) 361-8770



Rent is high throughout the Twin Cities. Carver Crossing is an exception to this rule. This is because of an affordable housing program that Carver Crossing participates in. With this program household incomes are limited, there are also rules regarding student status.




Carver Dental
4725 Dahlgren Road
Carver, MN 55315
Phone: (952) 960-9060



At Carver Dental we strive to be your dental home. The ability to treat the youngest patients and those approaching triple digits is challenging but also extremely rewarding; which is why we strive to form personal relationships that will last decades. We opened our doors on June 26th 2017 and have been proudly serving Carver, Chaska, Cologne, Jordan, and Belle Plaine ever since.




Carver Fire Department
801 County Road 147
Carver, MN 55315
Phone: (952) 448-2290



The Carver Fire Department provides service to the City of Carver, Dahlgren Township, and San Francisco Township. There is one Fire Station on Jonathan Carver Parkway and averages about 110 calls per year.




Carver Flowers
109 3rd Street E
Carver, MN 55315
Phone: (952) 448-0078



Since January, 2009, Carver Flowers (renamed in 2014) has become a full-time, full-service floral studio located inside our 145-year old historic building in downtown Carver. In our retail space you'll find loose flowers and arrangements in the cooler, flowering and green plants in the flower cart, silk floral wreaths on the walls, greeting cards on the rack, candles in the cupboards and other unique vintage/cottage home decor and gift items on display.




Carver Hair Salon
221 Broadway
Carver, MN 55315
Phone: (952) 361-6780


Carver Insurance Group
212 Broadway
Carver, MN 55315
Phone: (952) 448-4580



Carver Insurance Group is a leading insurance agency operating in the state of Minnesota. At Carver Insurance Group, we offer many different insurance products, including niche products like Farm, Flood and classic car insurance. If you own something that you want to have insured, whatever it is, we can help. These are the types of insurance policies that we at Carver Insurance Group write in Minnesota.




Carver Junk Company
206 N Chestnut Street
Carver, MN 55315
Phone: (612) 615-0071



Our Chaska Store is open every Thursday – Sunday, and sells a unique variety of professionally-refinished furniture and handmade decor & accessories.




Carver Liquor
309 Broadway
Carver, MN 55315
Phone: (952) 448-9862



Liquor store located in beautiful Carver, Minnesota in the Historical City District. We have an assortment of beer, wine, and tobacco for all needs.




Carver Public Works
801 County Road 147
Carver, MN 55315
Phone: (952) 448-2290


Carver Tax Service
221 Broadway
Carver, MN 55315
Phone: (952) 368-6059



I provide the Carver, MN area with a complete range of tax services. My highly-trained professionals have been hand-picked from among the best in the industry. I am trained to provide you with the solutions you need as well as the quality you deserve.




Casey's General Store
300 County Road 40
Carver, MN 55315
Phone: (952) 448-6163



Through the years, Casey's success has been attributed to our clean stores and friendly employees who pride themselves in customer service. Casey's customers have come to know us for our helpful employees, clean stores and wide selection of freshly prepared food items.




Doghouse Bar
313 Broadway
Carver, MN 55315
Phone: (952) 368-4800



A small town bar where everyone feels comfortable and welcome!




Don Wherley Masonry Inc.
441 Diedrich Drive
Carver, MN 55315
Phone: (952) 448-7037



Don Wherley Masonry is a full service concrete company including exposed aggregate, driveways, steps, sidewalks, colored concrete, aprons, foundations, patios, blockwork, stoops and also bobcat work.




Elmgren Sales
1110 Lorraine Court
Carver, MN 55315
Phone: (952) 448-1818


Encore Heating and Air
15625 Halsey Avenue
Carver, MN 55315
Phone: (952) 529-5409



Encore Heating and Air Conditioning provides world class service with highly trained and professional technicians. We have been servicing HVAC, furnace, and boiler systems in both residential and commercial environments for over 10 years. We also offer first class 24/7 emergency services.




Essig's Tree and Landscape
16040 Hayes Avenue
Carver, MN 55315
Phone: (952) 448-2472



Essig's Tree & Landscape Inc. has been providing creative & functional landscaping since 1986. Let us make your property beautiful and create an outdoor living space to enjoy for years to come.




Expressive Color LLC
1550 Sumac Circle
Carver, MN 55315
Phone: (612) 849-4172



Trying to grow your business and build brand awareness? Vehicle wraps are great way to effectively generate thousands of customer impressions daily. Whether you're hauling, delivering or driving, truck, van and trailer wraps are an effective way to make your business more visible.




Fleet Farm
1935 Levi Griffin Road
Carver, MN 55315
Phone: (952) 361-0986

Save Time and Money and Buy Online, Pick Up In store. Shop Our Low Prices Today! Shop Our Weekly Deals. Gear Up for Hunting. 50+ years in Midwest. Low prices. Stores Located Near You. Top brands. In Store Pickup. Free store pick up. Seasonal Decor. Serving WI, MN, IA, ND.


Gardeneer Landscape
10123 Halsey Avenue
Carver, MN 55315
Phone: (952) 361-5502



Gardeneer, Inc, established in 1971, is a Full Service Residential and Commercial Landscape Company. We specialize in residential site development, commercial landscape construction, and landscape grounds maintenance. Our experienced landscape professionals will work with you to create, construct, enhance, and even maintain your outdoor environment. Our goal is to deliver an outstanding finished product, within your budget, and on your schedule.




Graphic Image Flooring
1223 Vernon Drive
Carver, MN 55315
Phone: (952) 314-9369



We provide G-Floor custom vinyl floor and Swisstrax modular flooring throughout North America. We turn boring floors into conversation pieces. We proudly serve the Event & Trade Shows, Retail, Residential & Commercial markets.




Harvey's Bar
220 Broadway
Carver, MN 55315
Phone: (952) 448-2289



Welcome to Harvey's Bar & Grill! New Hours: Bar and Restaurant will not open till 11am Monday-Friday. Located in historic Carver, MN, Harvey's was established in 1937.




Integrated Body Therapy
6265 Forest Glen Lane
Carver, MN 55315
Phone: (952) 448-7760


Jellison's Best Blacktop
7625 County Road 50
Carver, MN 55315
Phone: (952) 361-4330



Founded in 1947 by Dale Griepp's father, Best Blacktop has been a Griepp family operated business up until 2008. The Jellison family continues the tradition of focus, strong integrity and a passionate crew.




Jet Black
627 Carver Bluffs Parkway
Carver, MN 55315
Phone: (952) 448-9959



Jet-Black is the national leader in asphalt (black-top) sealcoating and repair. All Jet-Black locations are locally owned and operated by a member of your community. Services include seal coating, crack repair, joint repair, power cleaning, oil treatment, sunken asphalt repair, apron repairs, saw cut repairs, line striping, infrared repair, and more asphalt maintenance services. Residential sealcoating (driveway sealing) and black-top maintenance, as well as commercial (parking lot, roads, townhomes, etc.) sealcoating and asphalt repair are provided by your local Jet Black dealer.




Joe's Trailer Service Inc.
17185 Koepp Drive
Carver, MN 55315
Phone: (952) 873-6718


Ken Worm Construction Service LLC
17930 Kelly Lake Road
Carver, MN 55315
Phone: (952) 873-6736



Ken Worm Construction has been serving the twin cities southwest metro area for over 15 years. We pride ourselves on quality workmanship, as well as total customer satisfaction. We specialize in the design and construction of decks & porches, homes & additions, as well as garages. We also offer services for door & window replacement, remodeling, basement finishing, concrete and roofing.




Land Design Associates, Inc.
124 Carver Creek Circle
Carver, MN 55315
Phone: (952) 448-9879



Land Design is a full service landscape design/build practice. We work with customers in Minneapolis and its suburbs to create inviting and usable outdoor living environments. Our Twin Cities landscaping services covers all types of landscape design and construction projects, including Backyard and Frontyard landscape design, Paver Driveways, Patios, Decks, Pathways, Retaining Walls, Ponds, Drainage corrections and more.




Lee's Garage Door Service
437 Diedrich Drive
Carver, MN 55315
Phone: (952) 448-1798


Lisa's Place
205 Broadway
Carver, MN 55315
Phone: (952) 448-7622


Mammut USA
420 Oak Street
Carver, MN 55315
Phone: (952) 448-1935


Master Sprinkler Systems
790 Riesgraf Road
Carver, MN 55315
Phone: (952) 479-7551



Master Sprinkler Systems Is a family owned and operated company since 1996. Call today to see how we can help with your sprinkler and lawn care needs.




Michael Drew Entertainment Inc.
429 Diedrich Drive
Carver, MN 55315
Phone: (952) 448-4449


Michel Masonry Construction
5475 Carmel Lane
Carver, MN 55315
Phone: (952) 361-0560


Minnesota Topsoil
17455 Kelly Lake Road
Carver, MN 55315
Phone: (952) 217-8143

Minnesota Topsoil creates nutrient-rich organic fertilizers that are used for gardening, farming, landscaping, and more. We recycle organic's such as yard waste, woody vegatative materials and manure from residential, commercial, and municipal customers. Those materials are processed and crafted into custom soil blends that are available for retail and wholesale.


Minnesota Valley Concrete LLC
15930 Carver Highlands Drive
Carver, MN 55315
Phone: (612) 221-2181



We are a Minneapolis / St. Paul based concrete company, serving the greater Twin Cities metro area. Our focus is on providing a lasting name in the custom designed, colored decorative stamped concrete industry. Minnesota Valley Concrete is the Twin Cities #1 choice for decorative stamped concrete. We are a full service concrete and masonry concrete company with the means of providing and building anything you have seen or imagined. Projects small or large are always a welcome addition to our fine collection of projects. We are experienced in providing design consultations for modern, rustic, contemporary, and craftsman residences. We are known for being budget conscious, design oriented, knowledgeable and experienced. Light commercial work & residental areas of service available.




Minnesota Valley National Wildlife Refuge
15850 Rapids Lake Road
Carver, MN 55315
Phone: (952) 368-7096

Minnesota Valley National Wildlife Refuge has two visitor and education centers, access areas to more than 14,000 acres of land dedicated to wildlife and wildlife-dependent recreation. To get a glimpse of the multiple habitats within the refuge, visit either center or any of the refuge units. Hours of operation vary seasonally.


Mosquito Squad
15645 Green Meadow Circle
Carver, MN 55315
Phone: (952) 260-3998



Mosquito Squad of South Metro Minnesota is ready to eliminate all types of mosquitoes and ticks to keep you and your family safe. Our team of licensed and professional technicians offer mosquito control, tick control, and general elimination of all biting bugs in Eagan and Burnsville. With our treatment services, homeowners can enjoy their yards without the nuisance of bloodsucking bugs or the risk of disease.




My Taxi Carver
116 Main Street E
Carver, MN 55315
Phone: (952) 994-7938



For a reliable transportation to the Airport or other location. Minnesota Licensed and Commercially Insured (copy supplied upon request). Serving Carver, Chaska, Chanhassen, Cologne, Victoria and Waconia. Limited service in Norwood Young America




NHA Heating and Air Conditioning
13980 Kristin Lane
Carver, MN 55315
Phone: (952) 448-5343


Party Crashers Photography
200 3rd Street E
Carver, MN 55315
Phone: (952) 368-1941



Family and senior photography in Carver, serving Carver, Chaska, Chanhassen, Eden Prairie and the surrounding areas.




Promotion Graphics
15781 County Road 40
Carver, MN 55315
Phone: (952) 368-3052



PROmotion Graphics provides custom signage and vehicle graphics that enhance the professional image of small to medium size businesses and government entities.




R G Modeen Inc.
6500 Nathan Road
Carver, MN 55315
Phone: (952) 361-6070


Renewable Energy Development LLC
201 Butternut Circle
Carver, MN 55315
Phone: (952) 463-8661



A sales, assessment and systems support company for renewable energy in the geothermal, solar and wind energy for farmers, homeowners, business owners and manufacturers in the Midwest.




Rescom Electric Inc.
760 Main Street W
Carver, MN 55315
Phone: (952) 448-5923


River Valley Ranch Inc.
16480 Jonathan Carver Parkway
Carver, MN 55315
Phone: (952) 361-3361



Trail Rides, Group Trail Rides, Pasture Boarding and Horseback Riding Lessons situated in the Picturesque Minnesota River Valley. We have the right horse for you!




Robbs Electric Inc.
505 Broadway
Carver, MN 55315
Phone: (952) 448-4030



Providing complete electrical services to the Twin Cities metro area. Robb's Electric, Inc. has been satisfying customers since 1964 with projects of all sizes. With over 50 years of service in residential, commercial, and industrial areas, we have the experience needed to help get the job done right the first time!!!




Ryan Homes
201 Carver Creek Place
Carver, MN 55315
Phone: (952) 368-4415



Ryan Homes, Inc. is the company you need for a successful custom home, remodel, addition, or restoration project. From beginning to end, we provide the needed expertise for your project.




Sparkleen Services
16800 Halsey Avenue
Carver, MN 55315
Phone: (952) 361-0842



We're a 100% hot water mobile/on-site power washing company. We proudly serve the Western Suburbs and the entire Metro area. You'll always come first when you choose us. From your patios and driveways to your decks and sidewalks, we offer you an affordable power washing service that is second to none.




Steve's Heavy Equipment and Diesel
15830 Carver Highlands Drive
Carver, MN 55315
Phone: (952) 448-2429


Sufka Plumbing and Water Conditioning
15680 Maria Lake Road
Carver, MN 55315
Phone: (952) 473-9228



Sufka Plumbing has been supporting customers for over 25 years!




Theis Construction Company
6270 Forest Glen Lane
Carver, MN 55315
Phone: (952) 448-5887


Twin Cities Rose Club
9075 County Road 52
Carver, MN 55315
Phone: (763) 425-5982



The Twin Cities Rose Club (TCRC) is a nonprofit organization and an affiliate member of the American Rose Society. Devoted to the promotion of our national flower, the rose, we accomplish our mission through educational programs, informative meetings and an annual rose show which is free of charge and open to the public. We hold an annual sale of roses and companion plants at great discounts and sell rose related products (like cocoa bean hull mulch) to rose growers once a year in April to supplement our low membership dues.




Wayne Dauwalter Plumbing
15525 Green Meadow Circle
Carver, MN 55315
Phone: (952) 448-4763


Westco Recognition Advertising
119 Carver Creek Circle
Carver, MN 55315
Phone: (952) 556-5500


WKP LLC
104 6th Street W
Carver, MN 55315
Phone: (952) 448-6000


Woodside Quality Solutions
623 Carver Bluffs Parkway
Carver, MN 55315
Phone: (952) 361-5518


Youth Enrichment League
343 Bluff Road
Carver, MN 55315
Phone: (952) 361-6882


---
---
Aerial Photo:
---
Topographic Map: [click map to enlarge, zoom in or zoom out]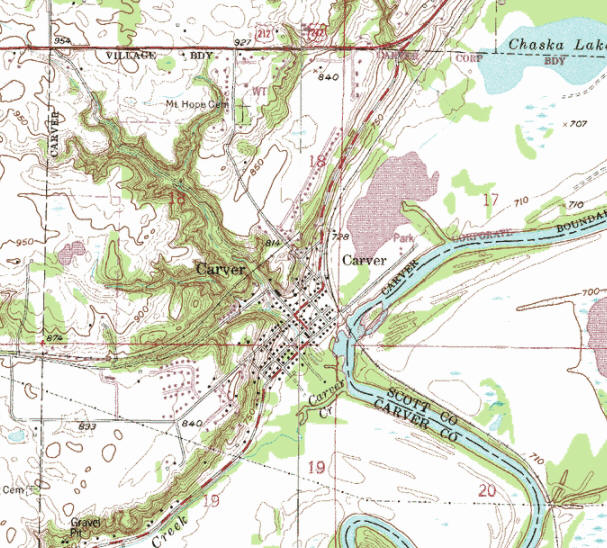 Topographic map is courtesy of the Minnesota DNR - click map to zoom or enlarge