Navigation
LakesnWoods.com
Home Page
Contact Us
Privacy
Minnesota History Shop

Visit The Minnesota History Shop
www.minnesotahistoryshop.com
Historic maps
Historic books
Historic framed art
Historic postcards
Clothing with historic images
And much more!!!


Emily Guide:
Photo Gallery
Location
Geography
Demographics
History
Government
Post Office
News
Weather
Street Map
Events
Attractions
Recreation
Lakes
Health Care
Schools
Churches
Media
Motels
Resorts
Campgrounds
Businesses
Aerial Photo
Topographic Map
Nearby Communities
Crosby
Crosslake
Fifty Lakes
Manhattan Beach
Outing
© 2004-2023
Lakeweb1 Internet Services
All Rights Reserved
DCMA, Defamation, Copyright and Trademark Infingement Policy
WANTED!
Do you have photos, historical accounts or other items pertaining to the Emily area? Would you like to share this historical information with the world? LakesnWoods.com would like to publish your Emily photos (current or historical) or historical accounts on this website. Original materials can be returned and your privacy will be respected.


(design available on over 100 different items!)

Emily Minnesota Community Guide
---
Location:
---
Population:
Emily (city)
1970
1980
1990
2000
2010
2000-2010 Change
Actual
Percent
Population
386
588
613
847
813
-34
-4.01
Land Area (sq. mile)
29.60
32.77
0.00
30.00
30.00
0
0.00
Density (persons per sq. mile)
13.04
17.94
--
28.24
27.10
-1.14
-4.04
Housing Units
425
678
757
876
1,055
+179
+20.43
Households
--
238
256
368
368
0
0.00
Persons Per Household
--
2.47
2.39
2.30
2.21
-0.09
-3.91
---
Geography:
Emily is a city in Crow Wing County, Minnesota. According to the United States Census Bureau, the town has a total area of 36.08 square miles (93.45 km2), of which, 30.00 square miles (77.70 km2) of it is land and 6.08 square miles (15.75 km2) of it is water. Minnesota State Highway 6 serves as a main route in the community. The elevation is 1,293 ft (394 m) above sea level.
From Wikipedia, the free encyclopedia.
---
Demographics:
As of the census of 2010, there were 813 people, 368 households, and 237 families residing in the city. The population density was 27.1 inhabitants per square mile (10.5/km2). There were 1,055 housing units at an average density of 35.2 per square mile (13.6/km2). The racial makeup of the city was 97.4% White, 0.2% African American, 0.2% Native American, 0.1% from other races, and 2.0% from two or more races. Hispanic or Latino of any race were 0.9% of the population.
There were 368 households of which 18.5% had children under the age of 18 living with them, 54.6% were married couples living together, 4.9% had a female householder with no husband present, 4.9% had a male householder with no wife present, and 35.6% were non-families. 31.0% of all households were made up of individuals and 14.9% had someone living alone who was 65 years of age or older. The average household size was 2.21 and the average family size was 2.73.
The median age in the city was 52.8 years. 18.3% of residents were under the age of 18; 5% were between the ages of 18 and 24; 15.4% were from 25 to 44; 31.2% were from 45 to 64; and 30.1% were 65 years of age or older. The gender makeup of the city was 50.4% male and 49.6% female.
---
---
History:
EMILY Township was named from Emily Lake, one of its group of four lakes having feminine names, Anna, Emily, Mary, and Ruth, but whether they were of one family, or what was the surname of any of them, has not been ascertained. Probably they were the daughters or wives of early lumbermen. The city of Emily, section 34, on the west shore of Lake Emily, was platted on November 22, 1905, by John and Amelia Lambert and incorporated on March 7, 1957; its post office began in 1900.
Courtesy Minnesota Historical Society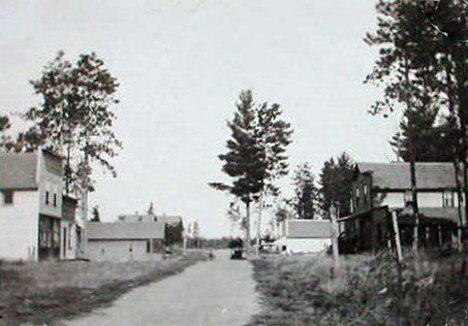 Street scene, Emily Minnesota, 1920s?
LakesnWoods.com Postcard and Postcard Image Collection
Visit The Emily Photo Gallery for more recent and historic area photos
---
Government:
Emily City Hall
39811 State Highway 6
PO Box 68
Emily, MN 56447
Phone: (218) 763-2480
Fax: (218) 763-2481

Regular Business Hours:
Monday, Tuesday, Wednesday 8:00 am - 4:30 pm Thursday, Friday 8:00 am - 12:00 pm

City Council Meetings:
2nd Tuesday of the month at 6:00 pm

Title
Term Ends
Name and Address
Phone
Mayor
12/31/2022
Tracy Jones
40476 Pinewood Drive
Emily, MN 56447
(218) 851-5866
Clerk - Treasurer
appointed
Cari Johnson
39811 State Highway 6
Emily, MN 56447
(218) 763-2480
Council Member
12/31/2022
Bryce Butcher
40519 State Highway 6
Emily, MN 56447


(612) 877-1545
(218) 763-3048
Council Member
12/31/2022
Wesley Friesner
40202 Bloomquist Drive
Emily, MN 56447


(218) 866-2553
(218) 546-3780
Council Member
12/31/2024
Mary Eppen
39870 Lake Street
Emily, MN 56447
(651) 210-1047
Council Member
12/31/2024
Gerhart "Gary" Hanson
42586 State Highway 6
Emily, MN 56447


(218) 763-3360
---
Post Office:
US Post Office
20984 County Road 1
Emily, MN 56447-4045
Phone: (218) 763-2124
Toll Free: (800) ASK USPS

Regular Business Hours:
Week Days 8:00 am - 2:00 pm
Saturday 9:00 am - 10:00 am
---
Utilities:
---
Major Employers:
Employer
Products/Services
Employees
n/a
---
---
News:
---
Weather:
---
Map: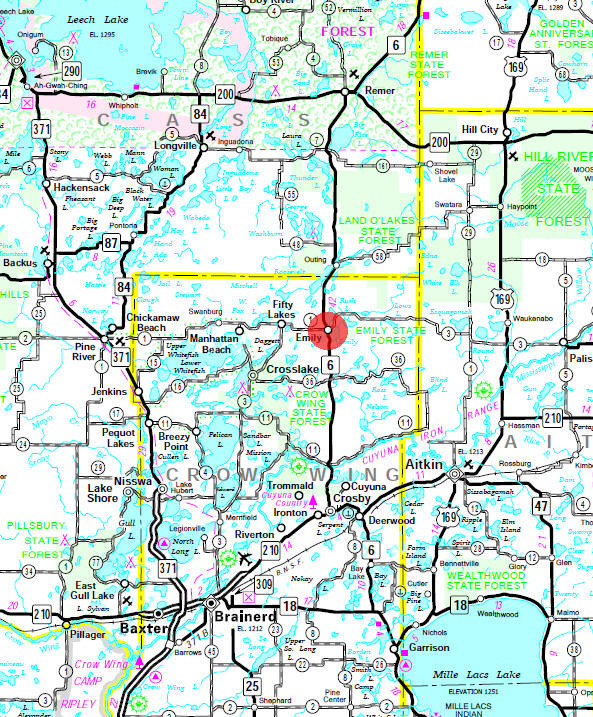 Minnesota State Highway Map of the Emily Minnesota area
---
Events:
---
---
Attractions:
Emily Chamber Of Commerce
Emily, MN 56447
Phone: (218) 763-3453
---
Recreation:
Emily Greens Golf Course
39966 Refuge Road
Emily, MN 56447
Phone: (218) 763-2169
Web: www.emilygreens.com

Emily Greens is a fun and affordable 18 hole golf course carved through the northwoods in the vacation lakes area of Minnesota. Whether you spend $20 or $100 for a round of golf, you expect to have fun and be treated as a valued customer. We believe we are the "Best in Class" of affordable golf and strive to make your golfing experience one to remember.
---
Lakes:
Lake Name
Size
(acres)
Lake info
Lake Map
Rec Map
Topo Map
Anna
122
Blue
176
Buchite
36
Butterfield
142
Dahler
264
Duck
n/a
n/a
n/a
Eagle
358
Emily
721
Island
240
Lawrence
224
Mary
380
Minnie
n/a
n/a
Mitchell
429
Papoose
81
Pickerel
90
Pughole
48
Roger
219
Roosevelt
1510
Ruth
588
Smoky Hollow
114
Trout
114
---
Health Care:
---
Schools:
---
Churches:
Cornerstone Christian Church
41536 Birchwood Drive
Emily, MN 56447
Phone: (218) 763-2939

Pastor: Earl Ready
Sunday Worship: 10:00 am

Emily United Methodist Church
39994 White Pine Street
Emily, MN 56447
Phone: (218) 763-2122

Pastor: Rev. Judith Clark
Sunday Worship: 8:45 am
Sunday School: 9:15 am

Emily Wesleyan Church
40141 State Highway 6
Emily, MN 56447
Phone: (218) 763-4673
Web: www.emilywesleyan.com

Pastor: Jeff Drake
Sunday Worship: 9:00 am
Sunday School: 10:30 am

St. Emily's Catholic Church
39922 Lake Street
PO Box 252
Emily, MN 56447
Phone: (218) 763-2510
Web: www.ihccrosslake.org/st-emilys-church

Pastor: Rev. Ryan Moravitz
Saturday Mass: 4:00 pm
Sunday Mass: 10:30 am
---
Media:
---
Motels:
Y Knot Ranch Motel
40056 State Highway 6
Emily, MN 56447
Phone: (218) 763-5668
---
Resorts:
Frank's Resort
40301 Pinewood Drive
Emily, MN 56447
Phone: (218) 763-2246
Web: www.emilymn.com/business
/franksresort.htm

A small family resort with 6 cabins. Each cabin rental includes a 14 foot fishing boot, color cable TV, VCR, air conditioning and more.

Fun At The Lake Resort
40552 Mary Lake Road
Emily, MN 56447
Phone: (218) 763-5253
Lake Emily Resort & Campground
21345 Dam Road
Emily, MN 56447
Phone: (218) 763-2933
Web: www.lakeemilyresort.com

Lake Emily Resort owners Tami and Eric Froidcoeur welcome you to this cozy spot in the woods of north central Minnesota. This family-owned resort and campground situated on 7 wooded acres provides guests with easy access to a rich array of outdoor activities, including hiking, fishing, swimming, biking, waterskiing, volleyball, horseback-riding, ATV trails, or even just lounging on the beach! Need advice on how to spend a lazy day relaxing in the great outdoors? Just ask Tami and Eric! Stop by our onsite Camp Store and Office and choose from a variety of complimentary board games and VCR tapes (we'll even loan you a VCR/TV!). Drop in during a weekend morning and tell us your latest fishing story while you enjoy a complimentary cup of fresh-brewed coffee and a donut.

Ruth Lake Resort
40730 S Bay Drive
Emily, MN 56447
Phone: (218) 763-2296
Web: www.ruthlakeresort.com

Come visit beautiful central Minnesota and enjoy our crystal, clear lakes. We are located just north of Brainerd, Minnesota. Our resort has seven fully modern cabins with the comforts you need. We are surrounded by mature pines and shade trees where you can enjoy the seasons.

Tom's Resort
39453 State Highway 6
PO Box 192
Emily, MN 56447
Phone: (218) 763-2355
Web: http://www.emilymn.com/
business/tomsresort.htm

We are fishing resort located on Dahler Lake, which is a quiet, small lake. Our fishing boats are across the road on Lake Emily--a noted crappie lake which also has bass, northerns, walleyes and sunfish. Lakes Emily and Mary are connected by a channel. Mary is another good fishing lake. Fish three lakes without leaving our resort!!!!
---
Campgrounds:
Lake Emily Resort & Campground
21345 Dam Road
Emily, MN 56447
Phone: (218) 763-2933
Little Pine RV Park
S Highway 6
Emily, MN 56447
Phone: (218) 763-2942
---
---
Businesses:
Beaman Woodworking
42922 Blue Lane W
Emily, MN 56447
Phone: (218) 763-3210
Bear Paw Books
PO Box 243
Emily, MN 56447
Phone: (218) 763-3776
Web: www.bearpawbooks.com
Billottee Quilts
21368 Norway Pine Lane
Emily, MN 56447
Phone: (218) 763-3485
Bungalow Sportsman Bar & Supper Club
39982 Park Avenue
Emily, MN 56447
Phone: (218) 763-2199
Carlton Construction
22406 County Road 1
Emily, MN 56447
Phone: (218) 839-6059
Crow Wing Power Company
Emily, MN 56447
Phone: (218) 829-2827
Web: www.cwpower.com

Crow Wing Power is an electric cooperative, serving 37,000 members in a three county area in rural Cass, Crow Wing and Morrison Counties in north central Minnesota. To view a map of our service territory, see below. Cooperative control is beneficial to members allowing us to offer low electric rates and to return any money over and above our operating expenses to our membership.

Custom Rods By Lars
21175 County Road 1
Emily, MN 56447
Phone: (218) 763-3760
D C Berg Antiques and Collectibles
39970 State Highway 6
Emily, MN 56447
Phone: (218) 763-4080

Located on Hwy 6 in Emily. Hours: Thurs-Sat 10:00-5:00 Sun 12:00-3:00 Find us on Ebay: d.c.berg

D W Sales Co Auto Salvage
38560 Highway 6 S
PO Box 175
Emily, MN 56447
Phone: (218) 763-2501
Dale's Prop Shop
40084 Highway 6
Emily, MN 56447
Phone: (218) 763-3383
Diner's Broasted Chicken
39895 State Highway 6
Emily, MN 56447
Phone: (218) 763-3555
Duke's Cafe
40124 State Highway 6
Emily, MN 56447
Phone: (218) 763-6279
Emily Ace Hardware
39959 State Highway 6
PO Box 37
Emily, MN 56447
Phone: (218) 763-2691
Web: www.acehardware.com
Emily Builders
40765 Hideaway Lane
Emily, MN 56447
Phone: (218) 763-2381
Emily Building Lumber and Supply
18505 County Road 1
Emily, MN 56447
Phone: (218) 763-4605.
Emily Chamber Of Commerce
Emily, MN 56447
Phone: (218) 763-3453
Web: www.emilymn.com
Emily City Offices
21236 2nd Street
Emily, MN 56447
Phone: (218) 763-2480
Emily City Community Hall
PO Box 68
Emily, MN 56447
Phone: (218) 763-3750
Emily Cooperative Telephone Company
40040 State Highway 6
PO Box 100
Emily, MN 56447
Phone: (218) 763-3000
Web: www.emily.net

Emily Cooperative Telephone Company has been providing cutting-edge services for more than 30 years. Telephone, Custom Calling Features, Long Distance and now Internet and DIGITAL Cable Television, all with the same friendly, LOCAL support you've come to expect. We're part of the community... providing connections to the world

Emily Fire Department
PO Box 68
Emily, MN 56447
Phone: (218) 763-0911
Emily Greens Golf Course
39966 Refuge Road
Emily, MN 56447
Phone: (218) 763-2169
Web: www.emilygreens.com

Emily Greens is a fun and affordable 18 hole golf course carved through the northwoods in the vacation lakes area of Minnesota. Whether you spend $20 or $100 for a round of golf, you expect to have fun and be treated as a valued customer. We believe we are the "Best in Class" of affordable golf and strive to make your golfing experience one to remember.

Emily Masonry
21759 County Road 1 E
Emily, MN 56447
Phone: (218) 763-2744
Emily Meats
39990 State Highway 6
Emily, MN 56447
Phone: (218) 763-6328
Emily Plumbing
20979 Mill Road
PO Box 214
Emily, MN 56447
Phone: (218) 763-3448
Emily Police Department
39954 Lake Street
Emily, MN 56447
Phone: (218) 763-1100

The Emily Police Department was formed in May of 2004. It serves the citizens of Emily, 36 square miles in north east Crow Wing County Minnesota. The adjacent 36 square mile Township of Little Pine also contracts for coverage. The Department provides part time coverage. The remaining coverage is provided by the Crow Wing County Sheriff's Office.

Emily Sand & Gravel
40519 State Highway 6
Emily, MN 56447
Phone: (218) 763-3048
Emily Towing and Repair
43958 State Highway 6
Emily, MN 56447
Phone: (218) 763-3995
Emily Wash
20774 County Road 1
Emily, MN 56447
Phone: (218) 763-4202
Fletcher's Well Drilling
Highway 6 S
Emily, MN 56447
Phone: (218) 763-2423
Frank's Resort
40301 Pinewood Drive
Emily, MN 56447
Phone: (218) 763-2246
Genz Construction
40587 State Highway 6
Emily, MN 56447
Phone: (218) 763-4200
Get R Done Sewer Service
42435 State Highway 6
Emily, MN 56447
Phone: (218) 763-2249
Green Roof Store
21436 County Road 36
Emily, MN 56447
Phone: (218) 763-2141
Granny's Bar and Grill
44025 State Highway 6
Emily, MN 56447
Phone: (218) 763-4402
Greg's Body and Paint
22481 County Road 1
Emily, MN 56447
Phone: (218) 763-4930
Holiday Stationstore
21004 County Road 1
Emily, MN 56447
Phone: (218) 763-4411
Web: www.holidaystationstores.com

With over 400 locations in 10 states, Holiday is a leader in the convenience store industry. We are committed to providing high quality fuel along with an extensive product selection, great value, and friendly, helpful service. Satisfying your needs everyday, wherever you're going.

Jerry's Hardwood Floors
PO Box 13
Emily, MN 56447
Phone: (218) 763-3194
Jim's Masonry
20663 Clearwater Drive
Emily, MN 56447
Phone: (218) 763-2792
Johnson Plumbing and Heating
40300 S Bay Drive
Emily, MN 56447
Phone: (218) 763-4011
Kathy's Kut & Kurl
20934 County Road 1
Emily, MN 56447
Phone: (218) 763-2536
Lake Country Foods & Gas
40327 Highway 6 N
PO Box 246
Emily, MN 56447
Phone: (218) 763-7700

Lake Country Properties
39948 State Highway 6
PO Box 249
Emily, MN 56447
Phone: (218) 763-3800
Toll Free: (888) 746-7363
Web: www.mnlakecountry.com

Interested in Northern Minnesota Real Estate? If you are looking for Minnesota lakeshore, property, cabins or non-lake shore real estate, the agents at our office can assist you! Lake Country Properties is a coalition of the most experienced and successful Realtors in the Emily/Outing area. We formed one company, with two offices to share our experience, ideas and assets. The familiar Realtors who have been selling real estate in these locations since 1988 are now able to serve you even better
Lake Emily Resort & Campground
21345 Dam Road
Emily, MN 56447
Phone: (218) 763-2933
Web: www.lakeemilyresort.com

Lake Emily Resort owners Tami and Eric Froidcoeur welcome you to this cozy spot in the woods of north central Minnesota. This family-owned resort and campground situated on 7 wooded acres provides guests with easy access to a rich array of outdoor activities, including hiking, fishing, swimming, biking, waterskiing, volleyball, horseback-riding, ATV trails, or even just lounging on the beach! Need advice on how to spend a lazy day relaxing in the great outdoors? Just ask Tami and Eric! Stop by our onsite Camp Store and Office and choose from a variety of complimentary board games and VCR tapes (we'll even loan you a VCR/TV!). Drop in during a weekend morning and tell us your latest fishing story while you enjoy a complimentary cup of fresh-brewed coffee and a donut.

Lambert Water Wells Inc
36927 State Highway 6
PO Box 201
Emily, MN 56447
Phone: (218) 763-2934
Web: www.lambertwaterwells.com

Lambert Water Wells Inc located in Emily, MN is providing well drilled and services by owner Loren and Jason Lambert. Established in 1974, we have been providing professional and reliable residential, lake cabin, and industrial wells.

Little Pine RV Park
39396 State Highway 6
Emily, MN 56447
Phone: (218) 763-2942
Log Cabin Bar
PO Box 26
Emily, MN 56447
Phone: (218) 763-2591
Maki Tax & Accounting
39909 State Highway 6
PO Box 281
Emily, MN 56447
Phone: (218) 763-0897
McCulloch & Associates General Builders
Emily, MN 56447
Phone: (218) 763-2773
Minnesota Backwoods Bulletin
PO Box 112
Emily, MN 56447
Phone: (218) 763-1975
Web: www.minnesotabackwoodsbulletin.net

Our Mission is to support individually owned and operated small businesses that serve Minnesota's rural communities and to connect people with their products and services. With an emphasis on natural and healthful living.

Modified Tool Inc
21310 County Road 36
Emily, MN 56447
Phone: (218) 763-6030
North Central Transfer Inc
21469 Tower Road
Emily, MN 56447
Phone: (218) 763-3228
North Shore Log Company
PO Box 308
Emily, MN 56447
Phone: (218) 763-4460
Web: www.logmantles.com

Log Fireplace Mantles - The Finest in the World! Building the finest log fireplace mantels in the world...that is our sole focus - nothing else. This dedication results in unparalleled quality from peerless craftmanship. You get the most beautiful fireplace mantle imaginable at a great price.

Northern Hair Company
40056 State Highway 6
Emily, MN 56447
Phone: (218) 763-4050
Olson's Mercantile
21436 County Road 36
Emily, MN 56447
Phone: (218) 763-4353
Otho Property Maintenance Service
20621 Clearwater Drive
Emily, MN 56447
Phone: (218) 763-4357
Pallet Minnesota
40138 Sawmill Road
Emily, MN 56447
Phone: (218) 763-3353
Pine River State Bank
40099 State Highway 6
PO Box 97
Emily, MN 56447
Phone: (218) 763-2666
Web: www.pineriverstatebank.com

Pine River State Bank, your community banking partner since 1918 with branches in Pillager, Emily, Breezy Point, and Nowthen.

Poke About New and Used Variety
36910 State Highway 6
Emily, MN 56447
Phone: (218) 763-2588
Quality Fabricating
39704 Broadway Avenue
Emily, MN 56447
Phone: (218) 763-2726
Reddings Sports & Spirits
20996 County Road 1
Emily, MN 56447
Phone: (218) 763-2191
Web: www.beerbaitboozeandbullets.com

Redding's Sports and Spirits offers both sporting goods and liquor to customers in Emily, MN and the surrounding areas. Whether you're looking for beer or live bait, we're the people for you! Come by to pick up some ammo and some beers to enjoy after the hunt.

Rustic River Trading Company
39910 State Highway 6 S
Emily, MN 56447
Phone: (218) 763-5144
Ruth Lake Resort
40730 S Bay Drive
Emily, MN 56447
Phone: (218) 763-2296
Selisker Appraisal Service
39586 W Trout Avenue
Emily, MN 56447
Phone: (218) 763-1814
Sweets N' Such
40246 S Bay Drive
Emily, MN 56447
Phone: (218) 763-3189

Sweets N' Such, the largest Ice Cream and Gift Shop in Emily, stocks thousands of items including: Clothing Collectables
Candles Greeting Cards Prints Gourmet Foods Picture Frames Bath Products
Lace and Linen Souvenirs Silk Floral Fudge Ice Cream Candy

Tek-Car Metals
43329 State Highway 6
Emily, MN 56447
Phone: (218) 763-2220
Web: www.tek-car.com

Quality and Service. Precision and Punctuality… We are YOUR steel service center! QUALITY and SERVICE TEK-CAR Metal, LLC meets and exceeds customer expectations Focus on customer needs Customer driven company PRECISION Competitive and dependable pricing Superior high quality processing PUNCTUALITY In-house delivery with our own trucks Short turn arounds Short runs We also stock Cold Rolled, Hot Roll Pickled & Oiled, Galvaneal and Galvanized sheets and coils.

Tom's Resort
39453 State Highway 6
Emily, MN 56447
Phone: (218) 763-2355
Unity Bank
20948 County Road 1
Emily, MN 56447
Phone: (218) 763-2555
Web: www.unitybanking.com

Unity Bank, with offices in Crosby, Emily, Genola and Outing, is a $52 million dollar asset community bank. We serve a variety of customers and their needs in the Crosby, Ironton, Deerwood, Emily, Outing, Remer, Cuyuna, Trommald, Crosslake, Genola, Pierz, Brainerd and Baxter areas. In recent years an emphasis has been for large bank mergers and less personalized banking services. Unity Bank is committed to providing fast, efficient one on one personalized service to each and every one of our valued customers.

US Post Office
20984 County Road 1
Emily, MN 56447-4045
Phone: (218) 763-2124
Toll Free: (800) ASK USPS
Web: www.usps.com
Wolfhound Bar
21427 County Road 36
Emily, MN 56447
Phone: (218) 763-9653
Web: www.wolfhoundbar.com

BEER! DARTS! MUSIC! PIZZA! GOLF! POOL! BURGERS! BEER!

Y Knot Ranch Motel
40056 State Highway 6
Emily, MN 56447
Phone: (218) 763-5668
---
---
Aerial Photo:
---
Topographic Map: [click map to enlarge, zoom in or zoom out]