Navigation
LakesnWoods.com
Home Page
Contact Us
Privacy
Minnesota History Shop

Visit The Minnesota History Shop
www.minnesotahistoryshop.com
Historic maps
Historic books
Historic framed art
Historic postcards
Clothing with historic images
And much more!!!

Middle River Guide:
Photo Gallery
Location
Geography
Demographics
History
Government
Post Office
News
Weather
Street Map
Events
Attractions
Recreation
Lakes
Health Care
Schools
Churches
Media
Motels
Resorts
Campgrounds
Businesses
Aerial Photo
Topographic Map
Nearby Communities:
Badger
Goodridge
Greenbush
Grygla
Holt
Karlstad
Lake Bronson
Newfolden
Roseau
Strandquist
Strathcona
Thief River Falls
Warren
© 2004-2023
Lakeweb1 Internet Services
All Rights Reserved
DCMA, Defamation, Copyright and Trademark Infingement Policy
WANTED!
Do you have photos, historical accounts or other items pertaining to the Middle River area? Would you like to share this historical information with the world? LakesnWoods.com would like to publish your Middle River photos (current or historical) or historical accounts on this website. Original materials can be returned and your privacy will be respected.

Middle River Minnesota Community Guide
---
Location:
Located between Agassiz National Wildlife Refuge (filled with deer, moose, ducks, geese and birds of many varieties) and Thief Lake Wildlife Management Area (55 thousand acres with a 7100 acre lake for hunting, trapping and viewing migratory birds) Middle River is rich in hunting opportunities for deer, geese & other game.

Stroll the peaceful streets ~~ Visit the Garden Café, The American Legion, The Wheel Bar, the Cenex Coop Convenience Store, Middle River Clip and Tan, First Lutheran Church, St. Joseph's Catholic Church or Young's General Store - a must-see 100 year old, third generation store that stocks everything from fabric to groceries to hardware to clothing. At Young's, you will find treasures you didn't know existed. Like their motto claims……"If we don't have it, you don't need it!"
Courtesy City of Middle River
---
Population:
Middle River (city)
1970
1980
1990
2000
2010
2000-2010 Change
Actual
Percent
Population
369
349
285
319
303
-16
-5.02
Land Area (sq. mile)
0.50
0.53
0.50
0.50
0.48
-0.02
-4.00
Density (persons per sq. mile)
738.0
658.5
570.0
639.9
631.3
-8.6
-1.34
Housing Units
143
149
149
161
161
0
0.00
Households
--
136
134
152
148
-3
-1.97
Persons Per Household
--
2.38
2.12
2.10
2.05
-0.05
-2.38
---
Geography:
Middle River is a city in Marshall County, Minnesota, along the Middle River, from which the city took its name. State Highway 32 serves as the major arterial in the community.According to the United States Census Bureau, the city has a total area of 0.48 square miles (1.24 km2), all of it land. The elevation is 1,142 ft (348 m) above sea level.
From Wikipedia, the free encyclopedia.
---
Demographics:
As of the census of 2010, there were 303 people, 148 households, and 77 families residing in the city. The population density was 631.3 inhabitants per square mile (243.7/km2). There were 161 housing units at an average density of 335.4 per square mile (129.5/km2). The racial makeup of the city was 96.7% White, 1.0% African American, 1.3% Native American, 0.3% Asian, and 0.7% from two or more races. Hispanic or Latino of any race were 1.0% of the population.
There were 148 households of which 20.9% had children under the age of 18 living with them, 37.8% were married couples living together, 9.5% had a female householder with no husband present, 4.7% had a male householder with no wife present, and 48.0% were non-families. 41.2% of all households were made up of individuals and 25% had someone living alone who was 65 years of age or older. The average household size was 2.05 and the average family size was 2.82.
The median age in the city was 44.9 years. 21.5% of residents were under the age of 18; 4.8% were between the ages of 18 and 24; 23.7% were from 25 to 44; 29.4% were from 45 to 64; and 20.5% were 65 years of age or older. The gender makeup of the city was 47.9% male and 52.1% female.
---
---
History:
MIDDLE RIVER, a city in section 11, Spruce Valley Township, on the Middle River, was incorporated as a village on July 23, 1904. The post office, in section 7 of Cedar Township, was named Breese, 1890-1904, and transferred to Middle River in 1904. The Great Northern Railway station was first named Breese and also changed in 1904 to Middle River.
Courtesy Minnesota Historical Society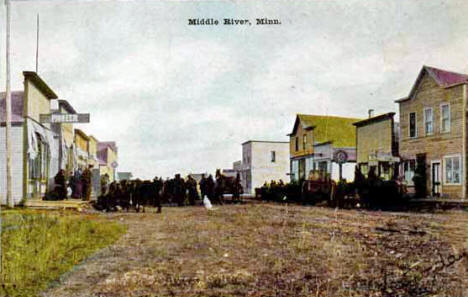 Street scene, Middle River Minnesota, 1910
LakesnWoods.com Postcard and Postcard Image Collection- click image to enlarge

Visit The Middle River Photo Gallery for more recent and historic area photos
---
Government:
Middle River City Hall
250 Hill Avenue
PO Box 57
Middle River, MN 56737
Phone: (218) 222-3608



Title
Term Ends
Name and Address
Phone

Mayor
12/31/2022
Thomas Super
330 Hill Avenue - PO Box 57
Middle River, MN 56737
(218) 222-3767

Clerk/Treasurer
appointed
Lyzette Olson
250 Hill Avenue - PO Box 57
Middle River MN 56737
(218) 686-9138

Council Member
12/31/2022
Joshua Veselka
555 2nd Street
Middle River, MN 56737
(218) 686-4265

Council Member
12/31/2022
Debra Ness
615 2nd Street
Middle River, MN 56737
(218) 222-4095

Council Member
12/31/2024
Brian Kleinwachter
170 5th Street N
Middle River, MN 56737
(701) 799-7827

Council Member
12/31/2024
John Scheff Sr
610 N 3rd Street - PO Box 13
Middle River, MN 56737
(218) 222-3405
---
Post Office:
US Post Office
208 Hill Avenue S
Middle River, MN 56737-9998
Phone: (218) 222-3700
Toll Free: (800) ASK-USPS

Regular Business Hours:
Week Days 8:00 am - 12:00 pm
12:30 pm - 2:30 pm
Saturday 9:00 am - 9:45 am
---
---
Utilities:
---
Major Employers:
Employer
Products/Services
Employees
n/a
---
---
News:
---
Weather:
---
Map: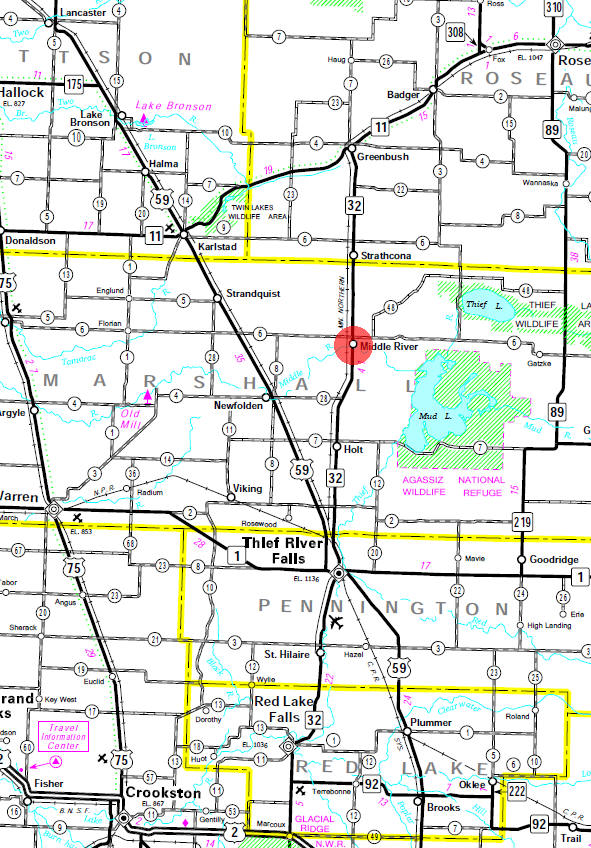 Minnesota State Highway Map of the Middle River Minnesota area
---
Events:
Goose Fest

1st weekend in October
---
---
Attractions:
---
Recreation:
---
Lakes:
---
Health Care:
---
Schools:
---
Churches:
First Lutheran Church
210 Park Avenue N
Middle River, MN 56737
Phone: (218) 222-3622
Our Saviors Lutheran Church
Middle River, MN 56737
Phone: (218) 222-3711
St. Joseph's Catholic Church
Middle River, MN 56737
Phone: (218) 222-3422
---
Media:
---
Motels:
Check for motel rates and availability on:
---
Resorts:
---
Campgrounds:
---
---
Businesses:
American Legion
245 2nd Street N
Middle River, MN 56737
Phone: (218) 222-3538
Beito Repair
43381 County Road 48
Middle River, MN 56737
Phone: (218) 222-3782
Border State Bank
150 Hill Avenue S
Middle River, MN 56737
Phone: (218) 222-3511
Bunk House
22940 290th Street NE
Middle River, MN 56737
Phone: (218) 449-2003
Collins Funeral Homes Inc
160 Park Avenue N
Middle River, MN 56737
Phone: (218) 222-3510
Cooperative Oil Association
120 2nd Street N
Middle River, MN 56737
Phone: (218) 222-3311
Davidson Construction
Main Street
Middle River, MN 56737
Phone: (218) 222-3365
Executive Mortgage
110 2nd Street N
Middle River, MN 56737
Phone: (218) 222-3414
Farmers Co-Op Grain & Seed
McKenzie Ave & Highway 32
Middle River, MN 56737
Phone: (218) 222-3519
Five Star Propane
2nd St & Hill Avenue
Middle River, MN 56737
Phone: (218) 436-2549
Five Star Service
345 2nd Street S
Middle River, MN 56737
Phone: (218) 222-3456
Garden Cafe
130 Hill Avenue S
Middle River, MN 56737
Phone: (218) 222-3763
Gentry Tax
PO Box 210
Middle River, MN 56737
Phone: (218) 222-3701
Goto NC Programming Inc
28587 440th Street NE
Middle River, MN 56737
Phone: (651) 255-0220
Grand Central Graphics
655 2nd Street N
Middle River, MN 56737
Phone: (218) 222-3501
Honker Flats Greenhouse
45313 240th Avenue NE
Middle River, MN 56737
Phone: (218) 222-3484
Web: www.honkerflats.com
Jesme Mosher Fletty Farm
21595 450th Street NE
Middle River, MN 56737
Phone: (218) 222-4841
Lock & Load Hunting Club
19182 340th Street NE
Middle River, MN 56737
Phone: (218) 222-3714
Middle River Clip & Tan
445 1st Street S
Middle River, MN 56737
Phone: (218) 222-3413
Middle River Fire Hall
PO Box 56
Middle River, MN 56737
Phone: (218) 222-3607
Middle River Insurance
110 McKenzie Avenue S
Middle River, MN 56737
Phone: (218) 222-4300
Middle River Tax Service
150 Hill Avenue S
Middle River, MN 56737
Phone: (218) 222-3718
Middle River-Thief Lake LAH
PO Box 94
Middle River, MN 56737
Phone: (218) 222-4466
Minnesota Natural Resources
42280 240th Avenue NE
Middle River, MN 56737
Phone: (218) 222-3747
Natural Way Mills Trust
24509 390th Street NE
Middle River, MN 56737
Phone: (218) 222-3677
Nelson Ink Promotional Products
330 2nd Street N
Middle River, MN 56737
Phone: (218) 222-3831
Nelson Sanitation
PO Box 100
Middle River, MN 56737
Phone: (218) 222-3528
Ness Livestock & Trucking
PO Box 143
Middle River, MN 56737
Phone: (218) 222-3337
North Country Service
39389 240th Avenue NE
Middle River, MN 56737
Phone: (218) 222-3333
River Auto Parts & Service
12344 370th Street
Middle River, MN 56737
Phone: (218) 222-3043
Royal Manor Apartments
Middle River, MN 56737
Phone: (218) 637-2431
Schenkey Inc
14827 390th Street NE
Middle River, MN 56737
Phone: (218) 222-3539
Spruce Valley Community Center
250 Hill Avenue
Middle River, MN 56737
Phone: (218) 222-3608
Spruce Valley Corporation
39469 130th Avenue NE
Middle River, MN 56737
Phone: (218) 222-3486
TR Jobbing
110 McKenzie Avenue S
Middle River, MN 56737
Phone: (218) 222-4444
Web: www.trjobbingoutlet.com
US Department of Interior
22996 290th Street NE
Middle River, MN 56737
Phone: (218) 449-4115
US Post Office
208 Hill Avenue S
Middle River, MN 56737
Phone: (218) 222-3700
Wheel Bar & Grill
Highway 32 & Hill Avenue
Middle River, MN 56737
Phone: (218) 222-3512
Young's General Store
155 Hill Avenue S
Middle River, MN 56737
Phone: (218) 222-3513
---
---
Aerial Photo:
---
Topographic Map: [click map to enlarge, zoom in or zoom out]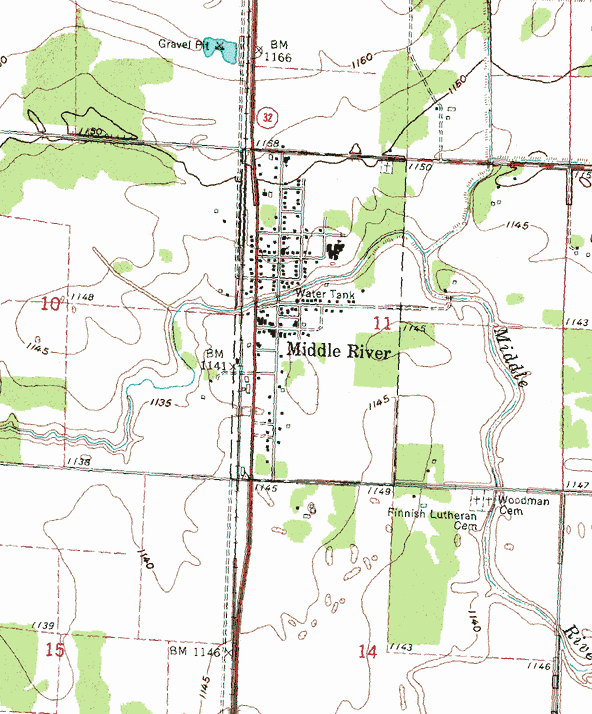 Topographic map is courtesy of the Minnesota DNR - click map to zoom or enlarge