Navigation
LakesnWoods.com
Home Page
Contact Us
Privacy
Minnesota History Shop

Visit The Minnesota History Shop
www.minnesotahistoryshop.com
Historic maps
Historic books
Historic framed art
Historic postcards
Clothing with historic images
And much more!!!


Ormsby Guide:
Photo Gallery
Location
Geography
Demographics
History
Government
Post Office
News
Weather
Street Map
Events
Attractions
Recreation
Lakes
Health Care
Schools
Churches
Media
Motels
Resorts
Campgrounds
Businesses
Aerial Photo
Topographic Map
© 2004-2023
Lakeweb1 Internet Services
All Rights Reserved
DCMA, Defamation, Copyright and Trademark Infingement Policy
WANTED!
Do you have photos, historical accounts or other items pertaining to the Ormsby area? Would you like to share this historical information with the world? LakesnWoods.com would like to publish your Ormsby photos (current or historical) or historical accounts on this website. Original materials can be returned and your privacy will be respected.


(design available on over 100 different items!)

Ormsby Minnesota Community Guide
---
Location:
Nestled in the heart of southwestern Minnesota Ormsby is a small family orientated community with a population of 131. We are located 45 miles southwest of Mankato, 25 miles northwest of Faimont. Located on the Watonwan and Martin county boarder having access to Butterfield-Odin, St James, and Martin County West school districts. Ormsby is a bedroom community made up of familys who have a short commute to work at places like Jackson, Fairmont, St James, Windom, Butterfield, Truman, and Mt Lake.
Courtesy City of Ormsby
---
Population:
Ormsby (city)
1970
1980
1990
2000
2010
2000-2010 Change
Actual
Percent
Population
199
181
159
154
131
-23
-14.94
Land Area (sq. mile)
0.40
0.39
0.36
0.36
0.36
0
0.00
Density (persons per sq. mile)
497.5
464.1
441.7
427.8
363.9
-63.91
-14.94
Housing Units
68
78
70
68
68
0
0.00
Households
--
71
68
65
65
0
0.00
Persons Per Household
--
2.55
2.34
2.37
2.02
-0.35
-14.77
---
Geography:
Ormsby is a city in Martin and Watonwan counties in the state of Minnesota. The community is located between St. James and Sherburn on Minnesota State Highway 4. According to the United States Census Bureau, the city has a total area of 0.35 square miles (0.91 km≤), all land. The elevation is 1,204 ft (367 m) above sea level.
From Wikipedia, the free encyclopedia.
---
Demographics:
As of the census of 2010, there were 131 people, 65 households, and 41 families residing in the city. The population density was 374.3 inhabitants per square mile (144.5 /km2). There were 68 housing units at an average density of 194.3 per square mile (75.0 /km2). The racial makeup of the city was 91.6% White, 7.6% Native American, and 0.8% from two or more races. Hispanic or Latino of any race were 1.5% of the population.
There were 65 households of which 13.8% had children under the age of 18 living with them, 53.8% were married couples living together, 3.1% had a female householder with no husband present, 6.2% had a male householder with no wife present, and 36.9% were non-families. 33.8% of all households were made up of individuals and 20% had someone living alone who was 65 years of age or older. The average household size was 2.02 and the average family size was 2.51.
The median age in the city was 52.3 years. 14.5% of residents were under the age of 18; 7.7% were between the ages of 18 and 24; 15.2% were from 25 to 44; 36.7% were from 45 to 64; and 26% were 65 years of age or older. The gender makeup of the city was 48.1% male and 51.9% female.
---
---
History:
The City of Ormsby was plotted out by the New Ulm Townsite Company on October 14th, 1899 in an out stubble field, next to where the Milwaukee and St. Louis Railroad was to be laid. An auction was held 10 days later on October 24th to dispose of the lots. The auction was held at 10:00 am rain or shine and terms of the sale included 50% cash balance, 3 or 4 months 6% interest. The agent for the lot company painted a bright and prosperous picture for the town that would surely reach a population of 2,000 within 2 years.
How did this promising town come up with the name of "Ormsby" for itself ? The name came from a man by the name of Edwin Samuel (E.S.) Ormsby. Mr Ormsby was quite a business man from Emmetsburg Iowa, where he founded Burnham, Ormsby and Company, which was the first bank in Emmetsburg and also was instrumental in organizing the Methodist Episcopal Church there. He loved to seek out new business ventures and saw potential in the railroad. When the railroad took too long to reach Emmetsburg, Mr Ormsby founded his own railroad, the Des Moines. He served as president until it was discontinued. But his railroad dream didn't die, he soon heard of a plan to link Fort Dodge in Iowa and Fort Ridgely in Minnesota by rail running through Humbolte, Palo Alto, and Emmet counties in Iowa and Martin county in Minnesota. Mr Ormsby along with his bank backed this venture and made sure this happend. The railroad crossed Martin and Watonwan County in 1899 and Brought E.S. Ormsby along with it.
It's doubtful that Mr Ormsby ever owned a residence in Ormsby but he did have a business connection to the town. On July 2nd, 1902, he organized and started the Farmers State Bank and served as president until he sold his interest in the Bank to A.B. Brown of Esterville Iowa on January 18, 1907. It was because of E.S. Ormsby's dedication to this small thriving town that it was given his name.
The Ormsby Fire Department is as old as Ormsby is. Not long after the village was founded the residents banded together for fire protection. The first equipment was hand pumpers, which were used in most small towns back then. In the earlier days the only source of water for fighting fires was a hand pump on a well at the fire hall and five wooden cisterns located at various spots around the village. The first records that are available are from 1927. There were two companies in those days each with a hand drawn pumper. In each company
four men were to draw the machine, four men to carry water, one man to take care of acid, one man to take care of soda, two men to man the ladders, and one man each for the axe and for the bar.
In 1938, the village put in it's main well, which was 312 feet deep and had an 8 inch tube. The new pump had a capacity of 60 gallons per minute pumping into a 13,000 gallon supply tank house in the fire hall. In 1950, the Ormsby Fire Department became a community organization with the purchase of a Model A Ford fire truck, fire calls in the country could now be answered. In 1955, the village installed the auxiliary well and launched a fundraiser drive for a new truck. They bought the new truck and enlarged the fire hall to house both trucks.
In October of 1967, a Dodge 500 Chassis Truck was ordered. In September 1977, the fire department bought a drop tank and one year later they bought a 1974 Chevrolet 30 Series High Cube Van. The fire department further expanded in 1986 by purchasing a 1976 tanker and in January 1993, a 1991 Kodiak Truck was bought to be used by the EMS Department.
The fire department started their first annual hog roast in August of 1985 and the first annual chicken fry in April 1986. These events were set up to upgrade, maintain, and purchase equipment needed by the fire department.
Courtesy City of Ormsby
ORMSBY, a city in Galena and Long Lake Townships with Watonwan County, was incorporated as a village on September 5, 1902; the main street is on the county line, dividing the community between the two counties. It was named for E. S. Ormsby, formerly of Emmetsburg, Iowa, who owned the bank.
Courtesy Minnesota Historical Society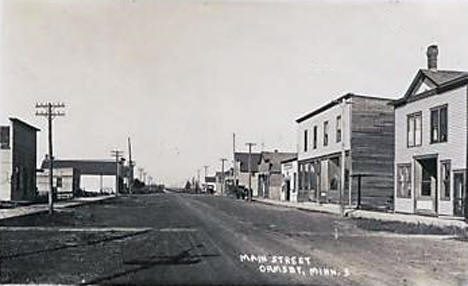 Main Street, Ormsby, Minnesota, 1915


LakesnWoods.com Postcard and Postcard Image Collection



Visit The Ormsby Photo Gallery for more recent and historic area photos
---
Government:
Ormsby City Hall
PO Box 507
Ormsby, MN 56162
Phone: (507) 736-2152

Regular Business Hours:
unknown

City Council Meetings:
1st Monday of the month at 7:00 pm


Title
Term Ends
Name and Address
Phone
Mayor
12/31/2022
Charles A. Waterbury
810 County Road 8
Ormsby, MN 56162
(507) 317-9356
Clerk/Treasurer
appointed
Lindsey Kuehl
PO Box 507
Ormsby, MN 56162
(507) 736-2152
(507) 736-4023
Council Member
12/31/2022
Angela Mohlenbrock
1026 Highway 4 Service Road
Ormsby, MN 56162
(507) 621-0664
Council Member
12/31/2022
Dawn Hanson
800 County Road 8
Ormsby, MN 56162
(507) 822-0218
Council Member
12/31/2024
Justin Hansen
409 1st Street
Ormsby, MN 56162
(507) 236-6368
Council Member
12/31/2024
Mary Portillo
404 1st Street
Ormsby, MN 56162
(507) 230-0294
---
Post Office:
US Post Office
506 Main Street
Ormsby, MN 56162-2000
Phone: (507) 736-4981
Toll Free: (800) ASK-USPS

Regular Business Hours:
Week Days 10:30 am - 2:30 pm
Saturday 11:00 am - 12:15 pm




---
---
Utilities:
---
Major Employers:
Employer
Products/Services
Employees

n/a
---
---
News:
---
Weather:
---
Map: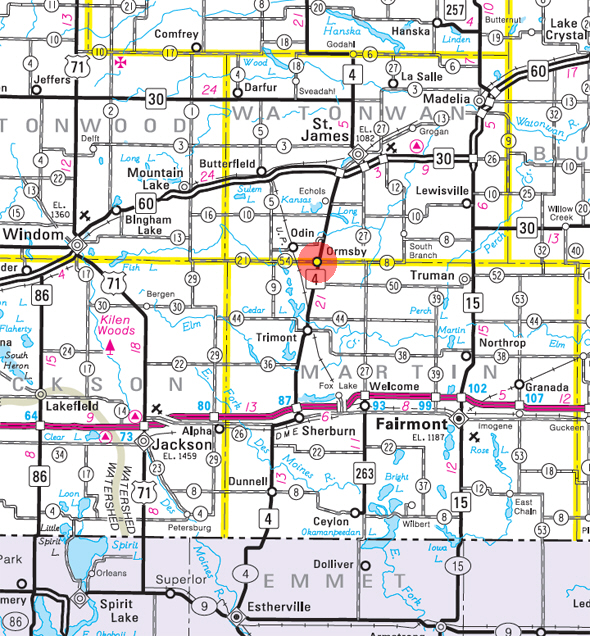 Minnesota State Highway Map of the Ormsby Minnesota area
---
Events:
---
Attractions:
---
Recreation:
---
Lakes:
Lake Name
Size
(acres)
Lake info
Lake Map
Rec Map
Topo Map
---
Health Care:
---
Schools:
---
Churches:
Grace Lutheran Church - LCMS
207 Broadway Avenue
Ormsby, MN 56162
Phone: n/a

Pastor:
Sunday Worship:

Immanuel Lutheran Church - LCMS
2325 120th Avenue
Ormsby, MN 56162
Phone: (507) 639-3051

Pastor: Rev. John Meyer
Sunday Worship:
10:45 am (Sept - May)
10:00 am (June - Aug)
---
Media:
---
Motels:
Check for motel rates and availability on:
---
Resorts:
---
Campgrounds:
---
---
Businesses:
Bailey's Restaurant and Bar
510 Main Street
Ormsby, MN 56162
Phone: (507) 736-8203
Bakken Repair and Sales
300 2nd Avenue
Ormsby, MN 56162
Phone: (507) 236-6964
Web: www.bakkenrepair.com



Bakken Repair has been in service for several years. We specialize in small engine repair. Lawn mower and lawn care equipment sales and support. We carry a broad range of mowers from commercial grade to the general residential grade products. Please contact us to discuss a new mower or what we can do to repair your current one.

Brinco Inc.
620 3rd Street
Ormsby, MN 56162
Phone: (507) 736-2122
Darryl's Body Shop
113 1st Avenue
Ormsby, MN 56162
Phone: (507) 736-4131
Joseph Hager Trucking
131 1st Avenue
Ormsby, MN 56162
Phone: (507) 736-2521
Knights Lounge
1002 Highway 4 Service Rd S
Ormsby, MN 56162
Phone: (507) 736-9000
Lutmer Construction
125 1st Avenue
Ormsby, MN 56162
Phone: (507) 736-4967
North Country Seed, Inc.
501 Main Street
Ormsby, MN 56162
Phone: (507) 736-2004
Web: www.northcountryseed.com
North Star Scale, Inc.
1006 230th Street
Ormsby, MN 56162
Phone: (507) 639-6647
Web: www.northstarscale.com



North Star Scale Inc. is the name you can trust in providing scales and services to Minnesota, Iowa, and South Dakota. We have been providing quality products at reasonable prices, and the best services. Let us put our experience and expertise to help you with all your truck scale needs.

Ormsby Insurance Service
505 Main Street
Ormsby, MN 56162
Phone: (507) 736-4100
Ormsby Repair & Machine
511 Main Street
Ormsby, MN 56162
Phone: (507) 736-2971
Ormsby State Bank
513 Main Street
Ormsby, MN 56162
Phone: (507) 736-2941
Web: www.ormsbystatebank.com
Rabbe Grain Company
502 Main Street
Ormsby, MN 56162
Phone: (507) 736-2004
Web: www.rabbegrain.com
US Post Office
506 Main Street
Ormsby, MN 56162-2000
Phone: (507) 736-4981
Toll Free: (800) ASK-USPS
Web: www.usps.com
---
---
Aerial Photo:
---
Topographic Map: [click map to enlarge, zoom in or zoom out]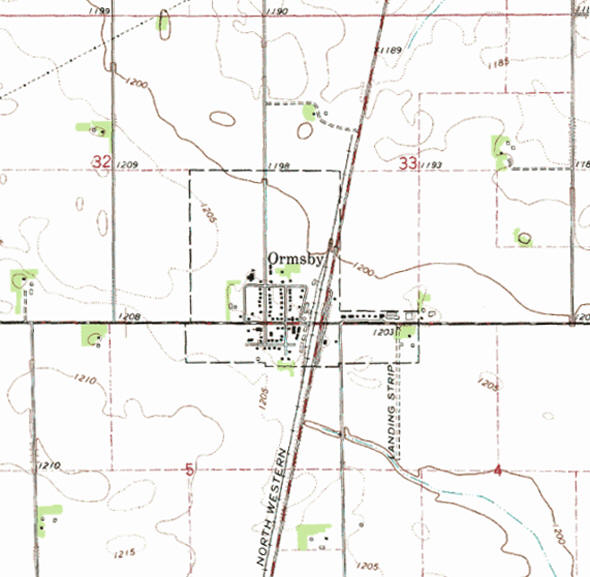 Topographic map is courtesy of the Minnesota DNR - click map to zoom or enlarge