From Wikipedia, the free encyclopedia.
---
Demographics:
As of the census of 2010, there were 944 people, 417 households, and 199 families residing in the city. The population density was 813.8 inhabitants per square mile (314.2/km2). There were 457 housing units at an average density of 394.0 per square mile (152.1/km2). The racial makeup of the city was 96.5% White, 0.1% African American, 1.2% Native American, 0.4% Asian, 0.1% from other races, and 1.7% from two or more races. Hispanic or Latino of any race were 1.5% of the population.
There were 417 households of which 29.3% had children under the age of 18 living with them, 27.8% were married couples living together, 14.6% had a female householder with no husband present, 5.3% had a male householder with no wife present, and 52.3% were non-families. 47.7% of all households were made up of individuals and 27.6% had someone living alone who was 65 years of age or older. The average household size was 2.06 and the average family size was 2.87.
The median age in the city was 43.7 years. 23.9% of residents were under the age of 18; 6.3% were between the ages of 18 and 24; 20.7% were from 25 to 44; 21.6% were from 45 to 64; and 27.3% were 65 years of age or older. The gender makeup of the city was 44.1% male and 55.9% female.
---
Utilities:
---
Major Employers:
---
---
News:
---
Weather:
---
Map: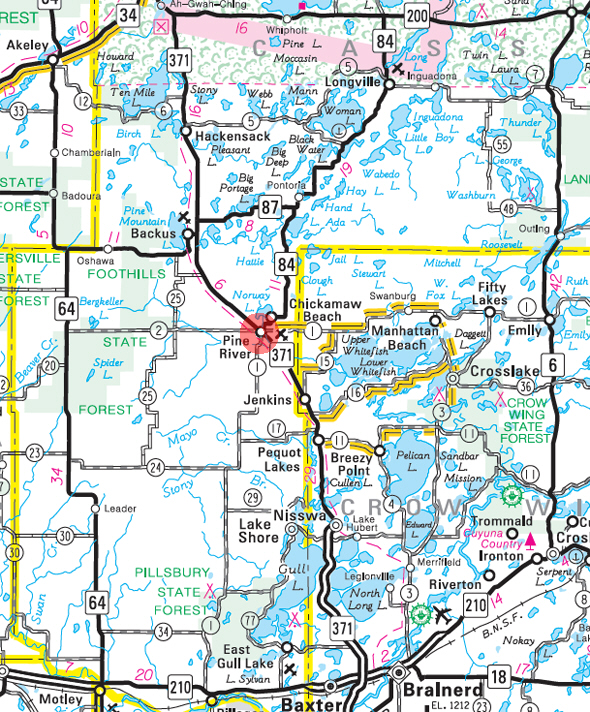 Minnesota State Highway Map of the Pine River Minnesota area
---
Events:
Cass County Fair



Last weekend in June. The Cass County Fair is an annual event held at the Cass County Fairgrounds in Pine River and is a sanctioned 4-H entry fair. It features a full array of activities and midway, Commercial displays, a kid's mini-farm and much more! It is a free fair with free general admission and free parking!




Pine River Summerfest



Last weekend in July. Pine River Summerfest is a entire community festival with many civic groups and organizations taking part. Included are arts/crafts displays, parade on Saturday, duck races, softball tournament, Legion steak fry, sidewalk sales, flea market and more! Including a classic Car and Tractor show and Rhubarb Fest!




Lakes Bluegrass Festival

Third weekend in July. Now in our 14th year, the Lakes Bluegrass Festival consistently receives rave reviews. This is a family-friendly event so bring the kids and come for a day, an evening or camp all weekend. Located in the beautiful Brainerd Lakes Area in Pine River, MN, this festival features the best in national touring and Minnesota bluegrass bands, along with professional Emcees, a top-notch sound system, a beautiful stage and a big tent for shade and rain protection (bring your lawn chairs). There are over 40 professional bluegrass shows in all over the 4-day weekend. Plus, learn to play or brush up your skills at one of our FREE bluegrass workshops on banjo, fiddle, mandolin, guitar, bass, dobro, harmony singing and jamming.

Pine River Community/Merchant's Garage Sale



The Pine River Community/Merchant's Garage Sale will take place on the first weekend of August. Garage sales will be held throughout the community on both days as well as merchant sidewalk sales. A listing of garage sale locations will be available at the Chamber Information Center. Event also includes "Pie On Park Avenue" fundraiser on Friday only!




Arts Off 84 Art Crawl



Labor Day weekend. Arts Off 84 Art Crawl features over 80 juried artists along and adjacent to State Highway 84 from Pine River to Longville. You'll find paintings, photography, pottery, wood carvings, jewelry, wool art and much more!




---
Attractions:
Paul Bunyan Scenic Byway

The Paul Bunyan Scenic Byway is a 54-mile driving route made up entirely of county roads, that take travelers through 14 jurisdictions and two counties (Crow Wing and Cass); with hiking and walking trails, recreational parks and lakes, wildlife management areas, and historical artifacts. The route has a non-profit organization, the Paul Bunyan Scenic Byway Association, that manages the projects, programs and events along the route.


---
Recreation:
Paul Bunyan Trail



The Paul Bunyan Trail is the longest MN Bike trail at 120-miles and it connects the Heartland Trail, the Blue Ox Trail and the Cuyuna State Trail. The portion of the Minnesota bike trail from Guthrie south through Laporte toward Walker is now paved and the segment from Brainerd/Baxter south to Crow Wing State Park was paved in July 2014–providing the final paved link. With the paving of these segments, the Paul Bunyan Trail now yields 120 miles of continuously paved MN bike trails from Crow Wing State Park just south of Brainerd MN to Lake Bemidji State Park in Bemidji Minnesota!




---
Lakes:
Lake Name
Size
(acres)
Lake info
Lake Map
Rec Map
Topo Map
Ada
963
Boot
53
Clam
55
Clough
n/a
Hattie
484
Horseshoe
85
Jail
170
Lizzie
370
Norway
524
Swede
n/a
Whitefish
7,370
---
Health Care:
---
Schools:
---
Churches:
Faith Assembly of God Church
600 First Street N
PO Box 244
Pine River, MN 56474
Phone: (218) 587-2109

Pastor: Tim Walker
Sunday Worship: 10:30 am

Temporarily meeting at the Life Center at 306 Barclay Avenue in Pine River due to a fire at the church.

Faith Lutheran Church - ELCA
10973 County Road 1
Pine River, MN 56474
Phone: (218) 543-4878

Pastor: Lee Yarger
Sunday Service: 9:30 am

First Lutheran Church - ELCA
309 2nd Street N
PO Box 21
Pine River, MN 56474
Phone: (218) 587-2316

Pastor: Jacob Burkman
Sunday Service: 9:00 am

Maple Hill Lutheran Church - ELCA
3986 44th Street SW
Pine River, MN 56474
Phone: (218) 587-2093

Pastor: Rev. Dr. David N. Stevens
Sunday Worship: 11:00 am

Our Lady of Lourdes Catholic Church
203 N 2nd Street
Pine River, MN 56474
Phone: (218) 587-4203

Pastor: Rev. Michael Patullo
Sunday Mass: 10:30 am

Pine River Baptist Church
380 Park Avenue W
PO Box 175
Pine River, MN 56474
Phone: (218) 587-2684

Pastor: Phillip Ramsdell
Sunday Service: 11:00 am

Pine River United Methodist Church
348 Barclay Avenue
PO Box 110
Pine River, MN 56474
Phone: (218) 587-4091

Pastor: Loren Grage
Sunday Service: 10:00 am

Riverview Church
310 Norway Avenue
PO Box 195
Pine River, MN 56474
Phone: (218) 587-2021

Pastor: Tristan Borland
Sunday Service: 9:00 am

Whitefish Community Church
6876 County Road 1
Pine River, MN 56474
Phone: (218) 543-6779

Pastor: n/a
Sunday Service: 10:00 am
---
Media:
Pine River Journal & Piper
215 Norway Avenue
Pine River, MN 56474
Phone: (218) 587-2360

The Pine River Journal is a weekly newspaper covering Pine River, Backus, Jenkins, Hackensack and the surrounding area. The Journal was first published in 1935 and has a paid circulation of 1,725.
---
Motels:
Cedarwood Motel
400 1st Street S
Pine River, MN 56474
Phone: (218) 587-2208
Toll Free: (888) 390-2208

10 Rooms Including 2 Kitchenettes & one two bedroom apartment

Rodeway Inn
2684 State Highway 371 SW
Pine River, MN 56474
Phone: (218) 587-4499

30 Spacious Rooms, Complimentary Continental Breakfast, Free Wireless Internet, In Room Coffee Maker, Cable TV/HBO/Cinemax, Guest Laundry and Vending, Lighted Parking, Cold Weather Hook-ups, Handicap Accessible, Pets Welcome, Adjacent to Paul Bunyan Trail, Fitness Center and Spa/Sauna Available On Site
---
Resorts:
Cousin's Cabins on Horseshoe Lake
1364 Larrup Trail
Pine River, MN 56474
Phone: (218) 947-3006



Cousin's Cabins on Horseshoe Lake (formerly a part of Birch Lane Resort) Our housekeeping cabins make your vacation a welcome respite! Escape to our cabins for a beautiful beach, fitness center, fire pit, beautiful scenery and wildlife.

Heath's Resort
37186 Heath Drive
Pine River, MN 56474
Phone: (218) 587-2286

All our cabins are ultra-modern with full kitchens/microwaves, color TVs, carpeted, finished in knotty pine with decks/patios and grills. We've got a resort-wide Culligan water purifying system, beach chaise loungers, drink tables and colorful umbrellas!

Kilworry Resort
38545 Kilworry Drive
Pine River, MN 56474
Phone: (218) 543-4587

Families, fishermen, and hunters welcome. Enjoy our protected boat harbor with a boat launch on property. Resort also offers basketball and volleyball courts.
---
Campgrounds:
Chlebecek's Riverview Campground
3040 16th Avenue SW
Pine River, MN 56474
Phone: (218) 587-4112

24 total RV sites, can accommodate RVs up to 42 ft., 30/50 amp service, pull-throughs, showers, dump station, New Laundry for 2007, rec hall, playground, horseshoes, volleyball, canoe rentals, near golf courses, across from Paul Bunyun trail, reunions/groups welcome. Located 2 miles from Pine River and 4 miles from Jenkins.
---
---
Businesses:
Abe's Plumbing and Heating
2345 29th Avenue SW
Pine River, MN 56474
Phone: (218) 838-6133



Your leaks and clogs don't stand a chance against 17 years of plumbing experience Whether you need to unclog a drain or stop water from spraying everywhere, let Abe's Plumbing & Heating do for you what they've been doing for others since 1996.




Aegis Therapies
518 Jefferson Avenue
Pine River, MN 56474
Phone: (218) 587-2371

Our suite of comprehensive programs and services help meet the unique needs of patients with a variety of conditions. Comprehensive therapy and wellness services help keep patients healthy and physically active so that they can maximize their functional ability.


Al's Air Conditioning and Heating
2709 County Road 1 SW
Pine River, MN 56474
Phone: (218) 821-2814


All Care Service LLC
1079 State Highway 84 NW
Pine River, MN 56474
Phone: (218) 947-4518



Sales, service, and seasonal installation and removal of waterfront equipment including docks, boat lifts, swim rafts and water toys. Storage of boats, trailers, RVs, and more, indoors or out. Lawn service, tree trimming, snow plowing, cabin checks. With high quality products from ShoreMaster, DH Docks and more. Our experience lets you worry about what matters, Having Fun with your Family!




Amarilla House
530 Snell Avenue
Pine River, MN 56474
Phone: (218) 587-4478



This is a home that provides a bedroom and meals to five or more adults. Residents have a private or shared bedroom and a private or shared bathroom. They share common areas for dining and other activities. Staff may provide assistance with tasks like laundry. This site is registered with the Minnesota Department of Health as a Boarding and Lodging with Special Services establishment (residence).




American Legion Post 813
400 Front Street S
PO Box 264
Pine River, MN 56474
Phone: (218) 587-9151
Associates In Eye Care
424 Barclay Avenue
Pine River, MN 56474
Phone: (218) 587-2021



Associates In Eyecare has been providing quality eye care services for over 25 years in Baxter, MN and the beautiful Brainerd Lakes area. We have committed opticians ensuring the best complete eye health and clearest vision of our patients. Offering a large selection of eyewear in a relaxing environment, we're confident you'll enjoy picking out your next pair of glasses.




Auto Value
300 Front Street N
Pine River, MN 56474
Phone: (218) 587-2476



Auto Value parts stores located in Minnesota, Wisconsin, North Dakota, South Dakota, Montana and Michigan are affiliated with and supported by Automotive Parts Headquarters Inc. (APH). APH is a third generation family-owned aftermarket auto parts distributor based in St. Cloud, Minnesota.





Barnum's Auto Parts - NAPA
112 Front Street N
Pine River, MN 56474
Phone: (218) 587-2900



Your local NAPA stocks auto parts, tools and equipment and many other items for heavy duty trucks, marine, and farming equipment. Stop in today

.

Full Line of Automotive parts and accessories! Open Monday through Saturday!




Bites Bar and Grill
2793 State Highway 371 SW
Pine River, MN 56474
Phone: (218) 587-2564



Bites Grill & Bar is located on the beautiful trail of Paul Bunyan right out front of Bites parking lot and game patio. Bites is not hard to miss as it's built out of logs and the Paul Bunyan trail passes right in front of big picture windows. Bites features slow roasted meats and creative concoctions served to you as just a few bites, sharable plates, crafted sandwiches, salads, pastas or full dinners.




Bjerga Feed Store
321 County Road 1 W
Pine River, MN 56474
Phone: (218) 587-2887



Bjerga Feed Store's in Motley, Little Falls, Brainerd, and Pine River carries a complete line of feed, seed, and fertilizer.




Blind Lake Cattle Company
1651 8th Street NE
Pine River, MN 56474
Phone: (218) 587-2046



We are a family owned and operated cattle ranch located in central Minnesota.




Boog Plumbing and Water Softening
2014 Hassman Hill Road SW
Pine River, MN 56474
Phone: (218) 831-4787



Steve Boog, Owner Master Plumber PM 060892 Licensed & Bonded Service, New, Remodel, Residential, Commercial A "Water Right" Dealer




Brookside Assisted Living Home
2729 State Highway 371 SW
Pine River, MN 56474
Phone: (218) 587-3304



Hello, and welcome to a beautiful nursing home alternative in Pine River! You can stay close to family and friends, your doctors, your church, and all of the other things that make this community feel like home to you. At Brookside, our residents receive high-quality care in a home-like setting, provided by 24-hour staff that truly care. We enjoy those lingering conversations around the dinner table as much as residents do!




Camp Foley
9303 Father Foley Drive
Pine River, MN 56474
Phone: (218) 543-6161
Web: www.campfoley.com

Camp Foley is one of the finest summer camps in Minnesota. As a coed children's camp for ages 8 to 16, we offer a spectacular summer experience! We would welcome the chance to visit with you personally so don't hesitate to call if you have any questions.

Carroll's Wild Rice
1411 24th Street SW
Pine River, MN 56474
Phone: (218) 587-2336


Cass Company Insurance
103 Mill Street
Pine River, MN 56474
Phone: (218) 587-2374



Serving all your insurance needs, for both seasonal and year around residents. Auto - Home - Health - Life.

Cedarwood Motel
400 1st Street S
Pine River, MN 56474
Phone: (218) 587-2208
Toll Free: (888) 390-2208

10 Rooms Including 2 Kitchenettes & one two bedroom apartment

Cenex - Station 371
112 Front Street S
Pine River, MN 56474
Phone: (218) 587-4700



Full line of bait and tackle in Pine River! Always fresh! Fishing and hunting license sales too! Check out our new coffee shop & food section! ATM Available! Get your burning permits here!





Charlotte's O'Hair Beauty Shop
206 Barclay Avenue
Pine River, MN 56474
Phone: (218) 587-4145


Christensen Wood Products
706 Front Street
Pine River, MN 56474
Phone: (218) 587-3202



We are located in a small town off of State Hwy 371 in North-Central Minnesota. We have a wide variety of products ranging from bedding for animals & landscaping mulch, to green, dried, and planed lumber. If you are looking for something specific please give us a call and we will do our best to help you find what you are looking for.




Christiansen's Northwoods Powder Coating
1795 State Highway 84 SW
Pine River, MN 56474
Phone: (218) 851-0347


Classic Renovations
944 State Highway 84 SW
Pine River, MN 56474
Phone: (218) 587-4933


Community Bowling Center
330 Barclay Avenue
Pine River, MN 56474
Phone: (218) 587-3100



Family friendly bowling alley for people of all ages! Delicious homemade pizzas, calzones,hoagies,appetizers, on sale liquor/beer, dine in and a game room.




Complete Chimney Care
993 28th Avenue SW
Pine River, MN 56474
Phone: (218) 587-2215



Our primary objective is to make your chimney and clothes dryer vent systems cleaner, safer and more energy-efficient. You will receive the highest level of service available--courteous, reliable, competent, and knowledgeable. We offer professional residential and commercial chimney care and dryer-vent services at fair and competitive prices.




Countrywide Doc Vet Clinic
5508 County Road 1
Pine River, MN 56474
Phone: (218) 587-4196

Small Animal Medicine and Surgery Dr. Kyle Adkins, DVM Offering complete medicinal and surgical services for small animals in Pine River area. Our compassionate and experienced veterinarian Kyle Adkins, D.V.M. is trained in caring for small canines, felines, exotic and domestic birds as well as pocket pets.


Countrywide Tax Service LLC
4033 12th Avenue SW
Pine River, MN 56474
Phone: (218) 568-9880

Accounting Bookkeeping, Financial Statements, Payroll Tax Preparation Established in 2007. We have 3 tax preparers with a combined experience of Fifty plus years. Brittany is our Bookkeeping and Payroll specialist. She has been with us since 2009. She also prepares tax returns. We also have Linda who is a tax preparer as well. She has been with us since 2008. She also knows Bookkeeping and Payroll. Lastly, we have Steve, who is a consultant for our company.


Cousin's Cabins on Horseshoe Lake
1364 Larrup Trail
Pine River, MN 56474
Phone: (218) 947-3006



Cousin's Cabins on Horseshoe Lake (formerly a part of Birch Lane Resort) Our housekeeping cabins make your vacation a welcome respite! Escape to our cabins for a beautiful beach, fitness center, fire pit, beautiful scenery and wildlife.

Cozy Cottage Cafe
300 Barclay Avenue
Pine River, MN 56474
Phone: (218) 587-2588

We serve breakfast all day, affordable prices, great food and environment. Monday, Thursday and Saturday we serve biscuits and gravy. Wednesday and Sunday are Creamed Chip Beef on toast.



D & N Landworks
1491 State Highway 84 SW
Pine River, MN 56474
Phone: (218) 587-4302



From excavating and landscaping to sand and gravel services, rely on our skilled professionals for top-quality property improvement services. We have been in business for 15 years. You can hire us for lot clearing and lake shore restoration services as well. In addition, we offer a GUARANTEE on our work!




D & S Painting
2345 29th Avenue SW
Pine River, MN 56474
Phone: (218) 587-3483


Dabill Mill
1051 County Road 1 E
Pine River, MN 56474
Phone: (218) 587-2825



We welcome you to stop in and view our products! We sell interior pine 1 x 6 tongue and groove and exterior 2 x 8 log siding. Locally owned and doing business at the same location since 1989. We have a book of customer ideas and before & afters




Dabill Welding
5059 24th Street SW
Pine River, MN 56474
Phone: (218) 587-5180


Dairy Queen
306 Front Street S
PO Box 283
Pine River, MN 56474
Phone: (218) 587-4762



The Dairy Queen system offers a variety of treats and products including burgers, chicken strips, chicken sandwiches, artisan sandwiches and the famous DQ soft-serve that is part of a variety of unique treats only found at Dairy Queen restaurants.




Darrell's Repair
2998 24th Street SW
Pine River, MN 56474
Phone: (218) 587-2637



Best Automotive Shop in Pine River! Fix Right Priced Right! Most reliable person around!!! We also fill propane tanks. Also, offer Permit To Carry classes also... Check us out.. Call today and make appointment. 218-587-2637! Our hours are Monday -Friday 8:30am-5:30pm.




Diversified Dental Service
2626 24th Avenue SW
Pine River, MN 56474
Phone: (218) 587-4794


Dock Guys Dock and Lift Service
3039 16th Avenue SW
Pine River, MN 56474
Phone: (218) 568-3625



Dock Guys LLC is located in Jenkins, Minnesota and has been installing, maintaining and repairing docks in the Brainerd Lakes Area for over 5 years. Cory Schrupp started the business in 2009 after being in the Dock and Lift Service on and off for years. His first dock job was for Carl Bradow, (Bradow Dock) tearing apart sections when he was about 14 and he has been in love with the business since.




Dollar General
100 County Road 1 W
Pine River, MN 56474
Phone: (218) 587-2861



We strive to make shopping hassle-free and affordable with more than 15,000 convenient, easy-to-shop stores in 44 states. Our stores deliver everyday low prices on items including food, snacks, health and beauty aids, cleaning supplies, family apparel, housewares, seasonal items, paper products and much more from America's most-trusted brands and products




Double A Automotive
1361 State Highway 84 SW
Pine River, MN 56474
Phone: (218) 587-2558



At Double A Automotive LLC, our philosophy is simple: we never promise more than we can deliver, and we always give the customer more than they expect. The people of Pine River know customer service is not enough. And we do, too; that's why we strive for customer loyalty—every day. If you are in the area, stop by and see the latest we have to offer in tires and tire technology. With names like Bridgestone and Firestone in stock or just a phone call away, we know you'll find what you need.




Down to Earth Wood
1279 Roosevelt Avenue
Pine River, MN 56474
Phone: (218) 587-3696



Down To Earth Wood handcrafts all of the furniture we sell. Our showroom and workshop are located in Pine River, MN. You get real wood and real choices. Many of our items are available with the TrueNorth Woods brand and FSC certification. Please ask for details. We use only hardwoods such as cherry, hickory, maple, red oak and quarter sawn white oak.




Dupont Dirt Works
2263 State Highway 84 SW
Pine River, MN 56474
Phone: (218) 587-4552


Eckner House Moving
5434 24th Street SW
Pine River, MN 56474
Phone: (218) 587-4861


Elsner Well Drilling Inc
Pine River, MN 56474
Phone: (218) 587-3355



We have been in business for over 32 years and are three generations strong. Our phones are answered 24 hours a day, 7 days a week, 365 days a year. With year-round drilling and complete well systems, we are capable of handling each and every job that comes our way with the confidence, professionalism and trained technicians the customer should expect.




Essentia Health St. Joseph's Pine River Clinic
415 Barclay Avenue
Pine River, MN 56474
Phone: (218) 587-4416

Area residents and vacationers alike are always welcome here. You'll find us by the river off the main drag. St. Joseph's-Pine River Clinic is an outpatient department of Essentia Health-St. Joseph's Medical Center. As one of Essentia Health's Catholic facilities, we strive to provide holistic healing for all human life.

Family Dollar Store
100 Front Street
Pine River, MN 56474
Phone: (218) 963-5409



Your neighborhood Family Dollar store has low prices on a wide assortment of items, including cleaning supplies, discount groceries, and seasonal items and toys. You'll also find great deals on kitchen essentials, laundry supplies, and food and beverages, including the basics like milk, eggs, and bread.




Four Seasons Resort
5367 County Road 56
Pine River, MN 56474
Phone: (218) 587-2227


G & S Plants & Crafts
240 Barclay Avenue
PO Box 146
Pine River, MN 56474
Phone: (218) 587-2802



G & S Plants has been in business for several years serving the Pine River and surrounding communities. Send flowers for any occasion locally or we can assist you in sending to other cities, states and even out of the country. We offer a large selection of fresh flowers, plants and gift items.





Gardiner's Hardware
203 Barclay Avenue
PO Box 7
Pine River, MN 56474
Phone: (218) 587-2585



Keys made, glass cut, paint mixed! We also fix windows and screens! Be sure to check out all our great furniture and appliances upstairs and our toy department downstairs! Get it all at your local Hardware Hank store, Gardiner's Furniture & Hardware in Pine River!




Gilchrist Realty
115 Front Street
Pine River, MN 56474
Phone: (218) 587-4466
Toll Free: (800) 405-9088

Gilchrist Realty specializes in Lakeshore and Recreational Real Estate in Pine River, Backus and surrounding area in Minnesota. Our friendly agents are ready to provide you with that special real estate property next to the lake or a river. We also have Country Homes, Hobby Farms, Rural Lots and Commercial real estate available.

Good Samaritan Society - Riverside Assisted Living
2175 White Pine Point Road SW
Pine River, MN 56474
Phone: (218) 587-4333



Assisted living communities are licensed healthcare providers that offer residents housing, personal assistance, supportive services, and custom healthcare plans. Residents live in apartments or residential units and don't require around-the-clock nursing supervision. Staff members are accessible 24 hours a day.




Good Samaritan Society
518 Jefferson Avenue
Pine River, MN 56474
Phone: (218) 587-4423



At Good Samaritan Society – Pine River, we are committed to creating a home for our residents that is much like their own — a welcoming and loving place. We are honored to provide exceptional care and services to seniors and others in need in our community.




Halvorson Wood Products
199 College Street
Pine River, MN 56474
Phone: (218) 587-2065



We are proud to offer a family of products; patented and produced in the U.S. These machines offer one man, in cab safety processing. They are easily set up; have simple controls and can process wood right into a truck or trailer. Our processors minimize the overhead and equipment cost you spend in every project. Save valuable work hours spent on cutting and splitting wood with the HWP-140B and HWP-120 Skid Steer Firewood Processor of Halverson Wood Products! Priced with the homeowners and farmers in mind.




Hanneken Insurance
245 Barclay Avenue E
Pine River, MN 56474
Phone: (218) 587-2292
Toll Free: (800) 637-0770

Hanneken Insurance Agency has been serving families and businesses in Central Minnesota for over 30 years. Over the course of our time in business, we have developed a core belief: Our core belief is that if we focus on our client's needs first and foremost - our clients, the companies we represent, and our agency will benefit from the relationship. Over the years, we have developed the Hanneken Promise.


Happy Dancing Turtle
2331 Dancing Wind Road SW
Pine River, MN 56474
Phone: (218) 587-2303

At Happy Dancing Turtle, S.O.I.L.s is what we do. It means the practice and promotion of Sustainability; Outreach to our Minnesota community; the Innovation to develop meaningful programs and spur local entrepreneurship; Learning/Sharing by offering workshops, conferences, and classes; and providing Leadership and fostering champions in our communities.


Harriet Club
10 State Highway 84 SW
Pine River, MN 56474
Phone: (218) 587-4550


HD Vest Financial Services
205 2nd Street S
Pine River, MN 56474
Phone: (218) 587-4477



Financial planning for the future!




Health First Chiropractic
2594 Tilden Trail SW
Pine River, MN 56474
Phone: (218) 587-4681

While some doctors focus only on pain, we go beyond. We look beyond the pain and seek to find the root cause of your pain. While some doctors do a very brief examination and treat you for what they "think" is wrong, we treat you differently. We prideourselves on being thorough. We perform a complete and thorough chiropractic, orthopedic, physical, and neurological examination. We combine these findings with the results of omegareplica.info your x-ray examination to determine what is actually wrong with you, and how we can help; not only to get you out of pain, but also to help you achieve optimal health.


Heartland Apartments
445 Snell Avenue
Pine River, MN 56474
Phone: (218) 587-2840



Our 1 & 2 bedroom apartment community is located in Pine River, MN and is conveniently located close to the business district, shopping, restaurants and the area nursing home. We are proud of the open airy design of our building...each apartment opens to a central atrium area. We are confident that you will enjoy our congregate dining room as well as the recreation dining site. Rent is calculated based on HUD Income Limits with a preference for senior and disabled individuals.




Heartland Real Estate
206 Front Street S
PO Box 152
Pine River, MN 56474
Phone: (218) 587-4424

Specializing in lakeshore properties, Residential homes, lots and land. We can assist you with all your Real Estate needs.


Heath's Resort
37186 Heath Drive
Pine River, MN 56474
Phone: (218) 587-2286

All our cabins are ultra-modern with full kitchens/microwaves, color TVs, carpeted, finished in knotty pine with decks/patios and grills. We've got a resort-wide Culligan water purifying system, beach chaise loungers, drink tables and colorful umbrellas!

Heino Joe Construction
2308 Norse Lane SW
Pine River, MN 56474
Phone: (218) 587-4140


Hendricks Law Firm
327 Barclay Avenue
Pine River, MN 56474
Phone: (218) 587-4060


Henry's Woodworking
944 24th Avenue SW
PO Box 414
Pine River, MN 56474
Phone: (218) 587-4899



Our mission statement "If it is made of wood we can build it". Please view our video and hear our story. Rough Sawn/Reclaimed wood has become very popular. Many of our categories have rough sawn/reclaimed pieces in them. Photos are of pieces we have made. They are for reference so you can see what we can do. We can help you design your own unique piece.




Heritage Group North Inc.
102 Barclay Avenue
PO Box 266
Pine River, MN 56474
Phone: (218) 587-4357



PIne River's historical organization charged with the care and keeping of the historic Pine River Railroad Depot and the Mesabi-Duluth red caboose. The depot is a actual Northern Pacific building as it appeared in 1913. The building is on the National Register of Historic Places. New members always welcome! Check out our website listed here for details!




Holiday Stationstore
300 Front Street
PO Box 26
Pine River, MN 56474
Phone: (218) 587-2821

Open 24 Hours A Day 7 Days A Week. Specializing in Pizzas made fresh everyday! ATM Available 24 Hours

Hunt Utilities Group LLC
2402 24th Street SW
Pine River, MN 56474
Phone: (218) 562-6200

Hunt Utilities Group, LLC (HUG) is a for profit organization started by eco-minded philanthropic entrepreneurs (okay, just a couple of nuts) for the purpose of exploring and developing systems that support ecological living.

In The Pines Storage
2642 Tilden Trail
PO Box 333
Pine River, MN 56474
Phone: (218) 587-4827


Integrity Instruments Inc
2642 20th Avenue SW
PO Box 451
Pine River, MN 56474
Phone: (218) 587-3175

Integrity Instruments is the world leader in RS-485 communications technology with nearly 2500 loyal customers in 69 countries worldwide. Currently we have over 125 different product offerings with distributors across the globe. Our name says it all - Integrity. We stand behind our products with a Lifetime Warranty that our competitors can't touch.


Iron Hills North Gun & Pawn
324 Barclay Avenue
PO Box 620
Pine River, MN 56474
Phone: (218) 587-3373

Buy quality guns and other merchandise from Iron Hills North Gun & Pawn in Pine River, MN. Come by and see our available items.



Jim's Barber Shop
212 Barclay Avenue
Pine River, MN 56474
Phone: (218) 587-4984


Joe Johnson's Septic Service
37481 County Road 15
Pine River, MN 56474
Phone: (218) 587-4817

From line jetting and thawing to pump and float repairs, contact Joe Johnson's Septic Service, formerly called Dunbar's Crosslake Septic, for all your septic pumping service needs. We are certified by the Minnesota Pollution Control Agency. Trust our professionals to get your job done right, no matter how big or small it is. Call us today if you need 24/7 emergency services.


Joe's Heating & Air
1554 44th Street SW
Pine River, MN 56474
Phone: (218) 568-5593



We are a family owned and operated business. Thank you for supporting small business owners in the Lakes Area.




Joe's Painting
4995 Red Rambler Drive
Pine River, MN 56474
Phone: (218) 821-3632


Johanna's Homestead
4689 24th Street SW
Pine River, MN 56474
Phone: (218) 587-4285


Johnson Architecture Studio
38376 County Road 15
Pine River, MN 56474
Phone: (218) 587-5190


K & K Building Supply Inc
925 County Road 1 E
Pine River, MN 56474
Phone: (218) 587-2482



A full line of lumber, paint, hardware and all your building needs! Check with us for a list of area paint and roofing contractors!




Keja Tree Company
1061 State Highway 84 NW
Pine River, MN 56474
Phone: (218) 947-3426


Kiddi Korner Day Care
2745 20th Avenue SW
Pine River, MN 56474
Phone: (218) 587-3400



Kiddie Korner Day Care loves kids and invites your inquiries as to spaces available! Just one mile south of Pine River.




Kilworry Resort
38545 Kilworry Drive
Pine River, MN 56474
Phone: (218) 543-4587



On north shore of Upper Whitefish lake. 16 modern cabins, 10 log cabins w/decks or screened porches. Secluded area, protected boat harbor, boat or dock space. Motors, gas, bait, vball, bball, playground & swimming beach. Golf, restaurants & horseback riding nearby.




Kimber Creek Ford
2654 State Highway 371 SW
Pine River, MN 56474
Phone: (218) 587-4419

When you need a Ford, come up to the cabin and let Kimber Creek Ford show you everything that Ford has to offer in Pine River. We are not your typical dealership by any stretch of the imagination. Take one look at your log cabin or come inside to experience our local atmosphere, and you will be able to tell that we are different. Buying a vehicle does not have to be some sterile and cold process. Come into our warm cabin and let us help you get into the Ford truck or vehicle that you have been looking for.

Kitchigami Regional Library
212 Park Avenue
PO Box 14
Pine River, MN 56474
Phone: (218) 335-8865



Kitchigami Regional Library System provides quality library services and resources, responding to the diverse needs of individuals and communities.




Kline Funeral Home
3042 State Highway 371 SW
PO Box 511
Pine River, MN 56474
Phone: (218) 587-2067

Kline Funeral Home of Pine River and Pequot Lakes offers traditional and cremation services. We take pride in offering the highest level of service at a reasonable price. Our onsite crematory enables us to offer many different options for the families we serve.

Lake View Tree Company LLC
5036 40th Street SW
Pine River, MN 56474
Phone: (218) 587-4638



LakeView Tree Company specializes in tree removal, tree trimming, stump grinding, lot clearing and other tree related services.




Lakes Area Pharmacy
417 Barclay Avenue
Pine River, MN 56474
Phone: (218) 587-3222



We are a small town pharmacy that sells pharmaceutical drugs, home decor gifts, and extra medical necessities for any age.




Lakes Area Roofing and Construction
4212 24th Street SW
Pine River, MN 56474
Phone: (218) 443-2310



Here at Lakes Area we take pride In quality over quantity. We are your local custom home roofing specialists.there is no job to big nor to small, we treat every roof as it was are own! Give us a call we would love the opportunity to earn your business!




Land of the Loons II
2836 24th Street SW
Pine River, MN 56474
Phone: (218) 587-4231


Life House Coffee
306 Barclay Avenue
Pine River, MN 56474
Phone: (218) 587-3332



Come join us for a cup of coffee and hang out. We encourage laughter, conversation, prayer, Bible study and of course coffee drinking. #comecheckusout




Long Pine Store
1239 State Highway 84 NW
Pine River, MN 56474
Phone: (218) 947-4063



The Long Pine Store was founded by Pat and Maggie Smith,(brother and sister) in the early 1900's. People say Maggie still haunts the store.




Master Care Automotive
2628 State Highway 371 N
Pine River, MN 56474
Phone: (218) 587-2232



Master Care Automotive is a proud member of the Auto Value certified service center network. Our 3,500 certified repair facilities stretch throughout the United States and Canada.




Maxadyne Air Tec Turbines
2626 24th Avenue SW
Pine River, MN 56474
Phone: (218) 851-4441



Diversified DenTool manufactures a complete line of Maxadyne AirTec dental handpiece turbines. We have a dental turbine for your Kavo, Star, Midwest, NSK, W&H, Bien Air, Dentex, Micro Motors, Impact Air or Lares handpiece at a fraction of the cost of an OEM turbine.




Miller Auto Body
319 County Road 1 W
Pine River, MN 56474
Phone: (218) 587-4044


Minnesota Landscaping and Habitat
2458 40th Avenue SW
Pine River, MN 56474
Phone: (218) 587-2805

When it comes to quality landscaping, excavation, and hardscaping services for your residential property, Minnesota Landscaping and Habitat has the experience to deliver the outstanding results you want at reasonable rates. We provide homeowners with full landscaping design and installation services. We can transform any property into a lush, green wonderland. Contact our landscaping professionals today for an estimate!


Neumann's Landscaping
4146 52nd Avenue SW
Pine River, MN 56474
Phone: (218) 587-2473


North Fork Boulders & Excavating
5253 55th Avenue SW
Pine River, MN 56474
Phone: (218) 587-3383

Established in 2002, North Fork Boulders & Excavating provides the lakes region luxurious outdoor living areas. The father and son team of Phil and Eric Swenson offer residential and commercial excavating and landscape design services with a focus on making sure your yard or space not only meets but exceeds your expectations. From initial site planning through installation, our team can take your project from start to finish. North Fork Boulders and Excavating is experienced in a variety of services including demolition, excavating, septic system installation, concrete, materials and landscaping. We even maintain local townships too!



North Ward Homes
5122 Driftwood Lane
Pine River, MN 56474
Phone: (218) 568-6600

Our mission at North Ward Homes is to care for the lakes and wooded areas that we live in, from the homes, cabins and retreats we build to the ways in which we give back to our community. At North Ward Homes we strive to set an example for leadership, responsibility, quality and customer service, not just during the construction period but for years to come.

Northern Carpet Outlet
2189 State Highway 84 SW
Pine River, MN 56474
Phone: (218) 587-3050



"Serving the Lakes Area Since 1977!" Steve Norman, Owner Right on Barclay Avenue (main street) Downtown Pine River Choose from hundreds of colors and patterns in every style of carpeting or flooring. We have approved installers available.




Northern Lakes Building and Renovation
1738 State Highway 84 SW
Pine River, MN 56474
Phone: (218) 587-5647


Northern Pines Garden Center
244 Barclay Avenue
Pine River, MN 56474
Phone: (218) 587-2091


Northern Sales and Manufacturing
2620 State Highway 371 SW
Pine River, MN 56474
Phone: (218) 587-5400



Manufacture of Ice Castle Fish Houses and utility buildings. Located alongside of Hwy. 371, just a mile south of Pine River.




Norway Brook Apartments
312 1st Street S
Pine River, MN 56474
Phone: (218) 587-4929



Our one bedroom apartment community is located in Pine River, MN and is conveniently nestled along the banks of the winding Pine River river. We offer a scenic natural setting with spacious grounds. Easy walking distance to Pine River's business district. We are also close to shopping and restaurants. Rent is calculated based on HUD Income Limits with a preference for near senior, senior and disabled individuals.




O'Dell Masonry
4548 24th Street SW
Pine River, MN 56474
Phone: (218) 587-2347


Paul's Large Garage
1970 27th Street SW
Pine River, MN 56474
Phone: (218) 587-2290



Pine Peaks Retreat and Event Center
39957 Swanburg Road
Pine River, MN 56474
Phone: (612) 986-6800



Pine Peaks Retreat and Event Center near Crosslake, Minnesota, is your complete four-season celebration destination. This serene wilderness sanctuary is removed from outside distractions and dedicated to the pleasurable activities for which it was so aptly designed. Make Pine Peaks Retreat and Event Center the place for your special occasion.




Pine River Airport
2210 State Highway 84 SW
Pine River, MN 56474
Phone: (218) 587-2793



Pine River American Legion Post 813
400 Front Street S
PO Box 264
Pine River, MN 56474
Phone: (218) 587-9151
Pine River Area DAC
2865 24th Street SW
Pine River, MN 56474
Phone: (218) 587-2688


Pine River Bakery
215 Barclay Avenue
PO Box 735
Pine River, MN 56474
Phone: (218) 587-2545



Pine River Bakery is located in Pine River, Minnesota. In the heart of downtown. The bakery has been around for over 60 years. During the course of the 60 years it has had several owners/bakers. John and Julie Sigafus are the current owners/bakers having purchased the bakery July of 2014. Julie comes with over 38 years of baking/management experience, having worked in retail grocery stores as a Deli/bakery manager. John has 35 years of management experience as well.




Pine River Carpet
309 Barclay Avenue
PO Box 6
Pine River, MN 56474
Phone: (218) 587-4154

Pine River Carpet & Flooring has been servicing the entire Cass & Crow Wing Counties area for over 31 years! We offer quality products and honest, dependable craftsmanship. You will always find Pine River Carpet & Flooring prompt and courteous.

Pine River Chamber of Commerce
102 Barclay Avenue W
PO Box 131
Pine River, MN 56474
Phone: (218) 587-4000

Visitors will find many essential services needed for a great North Country vacation! Recreational opportunities abound, both indoor and outdoor, such as boating, fishing, hiking, biking, camping, horseback riding, bowling, movie theaters and much more. The Pine River area boasts over 400 lakes within thirty miles. Vast tracts of county, state and federal land nearby provide great opportunities for outdoor enthusiasts. The Pine River, which flows through the city, is a state designated canoe route.

Pine River City Hall
200 Front Street N
PO Box 87
Pine River, MN 56474
Phone: (218) 587-2440
Fax: (218) 587-2168


Community Bowling Center
330 Barclay Avenue
Pine River, MN 56474
Phone: (218) 587-3100



Family friendly bowling alley for people of all ages! Delicious homemade pizzas, calzones,hoagies,appetizers, on sale liquor/beer, dine in and a game room.




Pine River Electric
2181 State Highway 84 SW
Pine River, MN 56474
Phone: (218) 587-2641

Pine River Electric, Inc. has been providing the Pine River, Nisswa & Brainered, MN areas with reliable electrical services for 35 years. We handle everything from lighting installation and electrical repair to commercial electrical repairs and

new construction electrical installations




Pine River Family Market
500 Front Street S
Pine River, MN 56474
Phone: (218) 587-3933

Locally owned and operated, we are proud to offer you the finest in freshness, selection, and name-brand products. In addition to offering a wide array of departments from fresh meat and produce to a delicious bakery and deli, we also have a gas station and convenience store on site!


Pine River Fire Department
200 Front Street
Pine River, MN 56474
Phone: (218) 587-2131



The department is staffed by twenty-two volunteer firefighters with a minimum training level of Firefighter I Certification. In addition, the Pine River Fire Department provides Mutual Aid Fire Services to the following neighboring Fire Departments: Backus Fire Department, Crosslake Fire Department, Emily Fire Department, Fifty Lakes Fire Department, Ideal Fire Department and Pequot Lakes Fire Department, as well as twenty-four other departments in the Cuyuna Range mutual aid district.




Pine River Group Home
103 5th Street
PO Box 96
Pine River, MN 56474
Phone: (218) 587-4888



Pine River Group Home, Inc. is a nonprofit service agency dedicated to providing high quality person-centered residential and community-based services for individuals who have developmental disabilities and other disabilities.




Pine River Insurance
229 Barclay Avenue
Pine River, MN 56474
Phone: (218) 587-4777

Pine River Insurance is your source for home, auto, life & business insurance.


Pine River Mini Storage
2876 28th Avenue SW
Pine River, MN 56474
Phone: (218) 587-3396



115 rental storage units are now available! We have a variety of sizes for the units and would be happy to explain the cost and sizes when you call.




Pine River Police Department
200 Front Street
Pine River, MN 56474
Phone: (218) 587-3333


Pine River Public Library
212 Park Avenue
PO Box 14
Pine River, MN 56474
Phone: (218) 335-8865



Kitchigami Regional Library System provides quality library services and resources, responding to the diverse needs of individuals and communities.




Pine River Riding Stable
2301 40th Street SW
Pine River, MN 56474
Phone: (218) 587-5807

Howdy, so ya like horses huh, what better place to ride than a peaceful 240 acre, family owned stable. We have beautiful, well-trained horses and ponies for everyone. Actually we own about 130 horses all together.

Pine River State Bank
103 Mill Street
Pine River, MN 56474
Phone: (218) 587-4463
Toll Free: (888) 870-4464
Fax: (218) 587-4278

The Pine River State Bank has five locations in Pine River, Emily, Breezy Point, Pillager, and Nowthen. Our motto is "Your Community Partner." Our primary purpose is to help the communities we serve and the people who live and vacation in the area.


Pine River-Backus Family Center
245 Barclay Avenue
PO Box 1
Pine River, MN 56474
Phone: (218) 587-4292

The Family Center is a collaborative effort that strive provide local children and their families with the support they need to function as strong, healthy family units. Our evolving vision for the future is; All families have what they need to reach their full potential and contribute to their community.

Plumbing Etc Inc
1119 County 1 E
PO Box 109
Pine River, MN 56474
Phone: (218) 587-4965



As a family-owned and operated business with over 40 years of experience, you can count on Plumbing Etc. for top-of-the-line plumbing services. As a master plumber, you can always count on Steve Johnson and his staff to get the job done correctly. If we happen to miss your call, rest easy as we will call you back the very same day. Call today for a FREE estimate.




Property Shop Realty
1359 Smith Drive NW
Pine River, MN 56474
Phone: (218) 947-3500


Prososki All Care Service LLC
1079 State Highway 84 NW
Pine River, MN 56474
Phone: (218) 947-4518



Sales, service, and seasonal installation and removal of waterfront equipment including docks, boat lifts, swim rafts and water toys. Storage of boats, trailers, RVs, and more, indoors or out. Lawn service, tree trimming, snow plowing, cabin checks. With high quality products from ShoreMaster, DH Docks and more. Our experience lets you worry about what matters, Having Fun with your Family!




Raymond Schrupp Excavating
3003 36th Street SW
Pine River, MN 56474
Phone: (218) 587-4038

We provide many services such as residential and commercial new construction site prep, demolition, road and driveway construction, basements, septic system design and installation, stump/brush removal, and delivery of sand, fill, class 5 gravel, rock, black dirt and more. We take great pride in our knowledge, skill and professionalism.

Reichenbach Locksmithing
2069 Fred Acres Drive SW
Pine River, MN 56474
Phone: (218) 587-4931



Residential & commercial locksmith services.




Riverview Campground
3040 16th Avenue SW
Pine River, MN 56474
Phone: (218) 587-4112

24 total RV sites, can accommodate RVs up to 42 ft., 30/50 amp service, pull-throughs, showers, dump station, New Laundry for 2007, rec hall, playground, horseshoes, volleyball, canoe rentals, near golf courses, across from Paul Bunyun trail, reunions/groups welcome. Located 2 miles from Pine River and 4 miles from Jenkins.

Riverside Senior Apartments
2189 White Pine Point Road SW
Pine River, MN 56474
Phone: (218) 587-4433


Rodeway Inn
2684 State Highway 371 SW
Pine River, MN 56474
Phone: (218) 587-4499

30 Spacious Rooms, Complimentary Continental Breakfast, Free Wireless Internet, In Room Coffee Maker, Cable TV/HBO/Cinemax, Guest Laundry and Vending, Lighted Parking, Cold Weather Hook-ups, Handicap Accessible, Pets Welcome, Adjacent to Paul Bunyan Trail, Fitness Center and Spa/Sauna Available On Site

Rubitschung Plumbing and Heating
616 State Highway 84 SW
Pine River, MN 56474
Phone: (218) 587-4331


Schott Construction
2017 White Pine Point Trail SW
Pine River, MN 56474
Phone: (218) 587-2325


Schrupp Excavating
3003 36th Street SW
Pine River, MN 56474
Phone: (218) 587-4038

We provide many services such as residential and commercial new construction site prep, demolition, road and driveway construction, basements, septic system design and installation, stump/brush removal, and delivery of sand, fill, class 5 gravel, rock, black dirt and more. We take great pride in our knowledge, skill and professionalism.

Spike's Barber Shop
556 Front Street S
PO Box 427
Pine River, MN 56474
Phone: (218) 587-4588


Stromberg's Chicks & Gamebirds
100 York Street
Pine River, MN 56474
Phone: (218) 587-2222

We are proud to offer the largest selection of books, supplies and equipment for the breeding, rearing and management of poultry and small animals available in North America. Our hatcheries offer over 200 breeds and varieties of birds as eggs, chicks or adults.

Sunshine Gardens
1286 Shadywood Shores Drive
Pine River, MN 56474
Phone: (218) 947-3154

Largest Nursery in Cass County! Our nursery features over 400 varieties of Annuals, Perennials, Trees, Shrubs plus 145 genus of Native plants. Many of the Native plants have been grown from locally gathered seed or cuttings.

Sweet Cars
112 Front Street N
Pine River, MN 56474
Phone: (218) 587-5050



I pride myself on listening to the needs of my customers. Everything I do is designed to make your car buying experience as easy and enjoyable as possible. Competitive pricing, knowledge, and superior customer service all add up to create a simple and painless way to purchase a vehicle. I have 35 plus years of automotive experience; I will find you what you want, at a price you can afford.




Swenson Aggregate Construction LLC
1832 34th Street SW
Pine River, MN 56474
Phone: (218) 587-2043


Ted N Lundrigan Law Offices
203 Park Avenue
Pine River, MN 56474
Phone: (218) 587-2350
Fax: (218) 587-4242
Thrifty Living
224 Barclay Avenue
Pine River, MN 56474
Phone: (218) 587-3451



Community working together for the greater good of all! Recycle your usable clothing, household and anything else that still is usable back into your community. Full thrift and consignment store featuring clothing, jewelry, antiques, flea market items and much, much more! Check out our bead and rock selection too!




Tradesmen Closeout City
212 State Highway 371 N
Pine River, MN 56474
Phone: (218) 587-3277



We are the Tradesmen and Closeout City. We are a Pawn Shop / Overstock / Gently used merchandise store. We buy, pawn,and trade merchandise.




Trout Lake Camps
10173 Trout Lake Drive
Pine River, MN 56474
Phone: (218) 543-4565

Tucked away on the shores of the Whitefish chain of lakes in north central Minnesota, Trout Lake Camps features summer youth camps for kids of all ages, family camps, spring and fall retreats, and rental retreat facilities. Trout Lake Camps is a place away from everyday life where youth and adults can meet God.

Trussworthy Components
1339 Roosevelt Avenue
PO Box 398
Pine River, MN 56474
Phone: (218) 587-8787


Ultimate Liquors
200 Front Street
PO Box 482
Pine River, MN 56474
Phone: (218) 587-3166



Welcome to Ultimate Liquors Inc.. Since 1999, our exquisite store located in Pine River, MN has had a broad selection of spirits, beer and wine. Our staff is knowledgeable in many selections of spirits, beer and wine. If you are looking for competitive prices with a superior customer service experience, then look no further. Ultimate Liquors Inc. has been building a reputable business with local customers and out-of-towners for many years; people love us and we would love to show you why.




US Bank
212 Front Street
Pine River, MN 56474
Phone: (218) 587-2772



Staying connected with your local branch is easier than ever. Enjoy a host of U.S. Bank products and services right here, including savings and checking accounts, auto loans, mortgage and refinancing, business banking, investment management, credit cards and more.

US Post Office
330 Barclay Avenue W
Pine River, MN 56474-5500
Phone: (218) 587-4793
Toll Free: (800) ASK USPS

Regular Business Hours:
Week Days 8:30 am - 4:00 pm
Saturday 8:30 am - 10:30 am

Whitefish Marine Service & Storage
11572 County Road 1
Pine River, MN 56474
Phone: (218) 543-5215



Boating is a great hobby but finding a place to keep your boat once the season draws to a close can be problematic. Worry no more with convenient storage that can always accommodate you, no matter what kind of boat you own.




Wippler Precast
1943 27th Street SW
Pine River, MN 56474
Phone: (218) 587-5209
Toll Free: (877) 260-8598


Witt's Handyman Service
3186 State Highway 371 SW
Pine River, MN 56474
Phone: (218) 587-4640


---
---
Aerial Photo:
---
Topographic Map:
[click map to enlarge, zoom in or zoom out]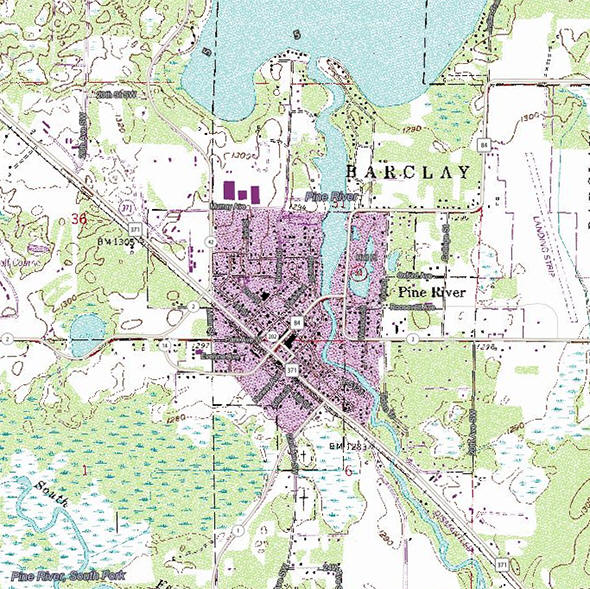 Topographic map is courtesy of the Minnesota DNR -
click map
to zoom or enlarge
---