Navigation
LakesnWoods.com
Home Page
Contact Us
Privacy
Minnesota History Shop
Visit The Minnesota History Shop
www.minnesotahistoryshop.com
Historic maps
Historic books
Historic framed art
Historic postcards
Clothing with historic images
And much more!!!

Alexandria Guide:
Photo Gallery
Location
Geography
Demographics
History
Government
Post Office
News
Weather
Street Map
Events
Attractions
Recreation
Lakes
Health Care
Schools
Churches
Media
Motels
Resorts
Campgrounds
Businesses
Aerial Photo
Topographic Map
Nearby Communities:
Brandon
Carlos
Evansville
Forada
Garfield
Glenwood
Kensington
Lowry
Miltona
Osakis
Parkers Prairie
Sauk Centre
Villard
West Union
© 2004-2023
Lakeweb1 Internet Services
All Rights Reserved
DCMA, Defamation, Copyright and Trademark Infingement Policy
WANTED!
Do you have photos, historical accounts or other items pertaining to the Alexandria area? Would you like to share this historical information with the world? LakesnWoods.com would like to publish your Alexandria photos (current or historical) or historical accounts on this website. Original materials can be returned and your privacy will be respected.

Alexandria Minnesota Gallery
1875 - 1920 | 1921 - 2000 | 2001 - Present
---
---
---
---
---
---
---
---
---
---
---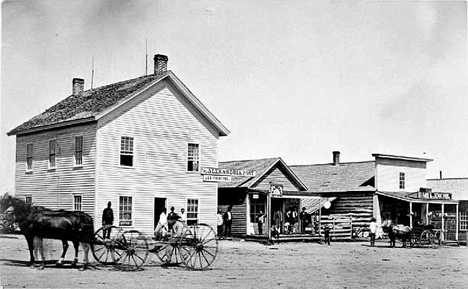 First Courthouse of Douglas County, Post Office and Sims and Jenkins Store, Alexandria Minnesota, 1876
Courtesy Minnesota Historical Society - click to enlarge or purchase
---
---
---
---
---
---
---
---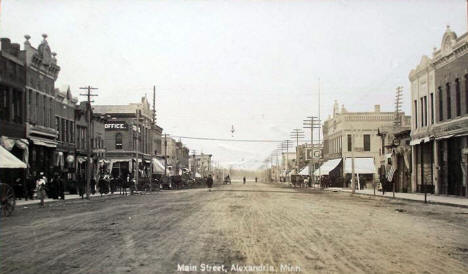 Main Street, Alexandria Minnesota, 1900s
LakesnWoods.com Postcard and Postcard Image Collection - click to enlarge
---
---
Alexandria (Images of America)
Alexandria is situated near the center of Douglas County, surrounded by a chain of beautiful lakes. These lakes brought pioneer settlers to the area as early as 1858, when Minnesota achieved statehood and the town was established. The lakes remain a key factor that continue to draw residents and visitors. The images in Postcard History Series: Alexandria tell the community's story, recalling fond memories of the businesses, churches, homes, schools, and recreational opportunities that form the generous and caring nature of the welcoming community that is Alexandria.
Buy This Book Now
---
---
---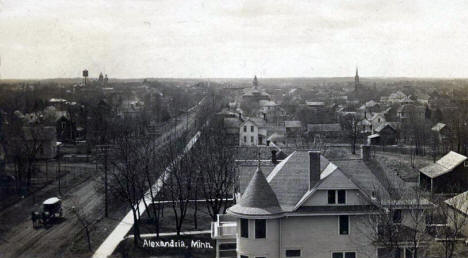 General view of Alexandria Minnesota, 1907
LakesnWoods.com Postcard and Postcard Image Collection - click to enlarge
---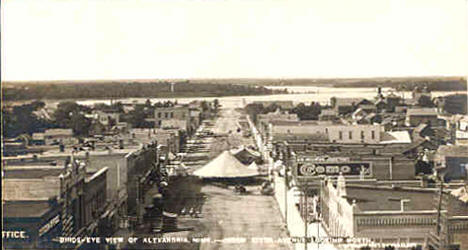 Carnival, Alexandria Minnesota, 1907
LakesnWoods.com Postcard and Postcard Image Collection
---
---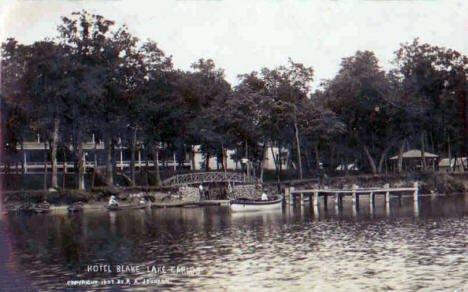 Hotel Blake, Lake Carlos, Alexandria Minnesota, 1907
LakesnWoods.com Postcard and Postcard Image Collection - click to enlarge
---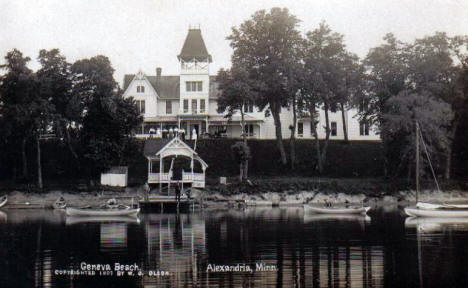 Geneva Beach, Alexandria Minnesota, 1907
LakesnWoods.com Postcard and Postcard Image Collection - click to enlarge
---
---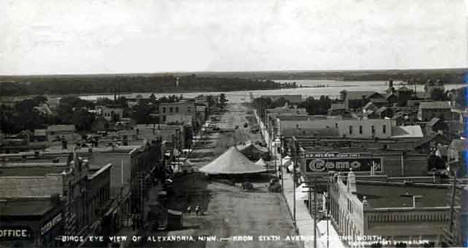 Birds-eye view of Alexandria from Sixth Avenue looking north during carnival, 1907
Courtesy Minnesota Historical Society - click to enlarge or purchase
---
---
---
---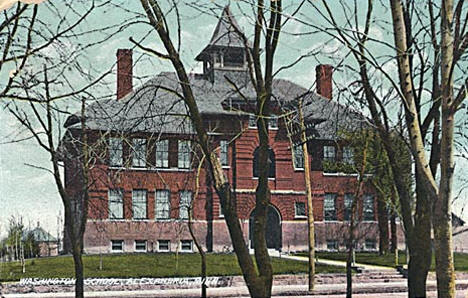 Washington School, Alexandria Minnesota, 1909
LakesnWoods.com Postcard and Postcard Image Collection
---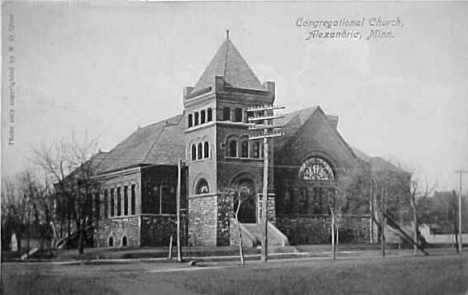 Congregational Church, Alexandria Minnesota, 1909
LakesnWoods.com Postcard and Postcard Image Collection - click to enlarge
---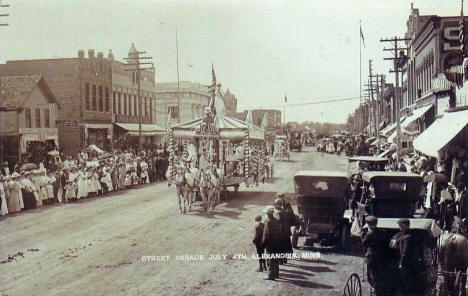 4th of July Parade, Alexandria Minnesota, 1909
LakesnWoods.com Postcard and Postcard Image Collection - click to enlarge
---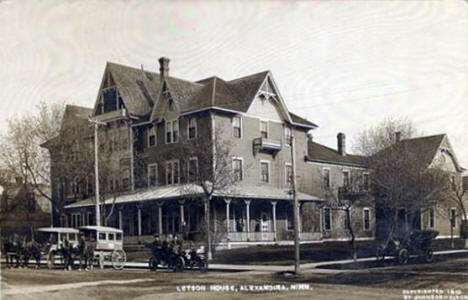 Letson House, Alexandria Minnesota, 1910
LakesnWoods.com Postcard and Postcard Image Collection - click to enlarge
---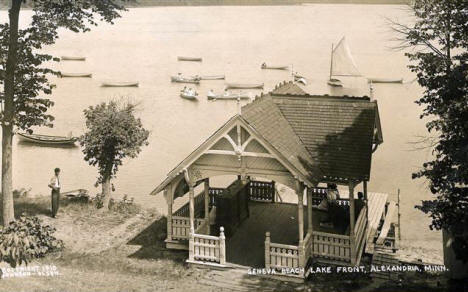 Geneva Beach Lake Front, Alexandria Minnesota, 1910
LakesnWoods.com Postcard and Postcard Image Collection - click to enlarge
---
---
---
---
---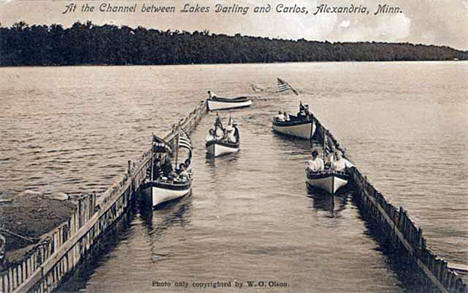 Boats in the channel between Lakes Darling and Carlos, near Alexandria, 1910
Courtesy Minnesota Historical Society - click to enlarge or purchase
---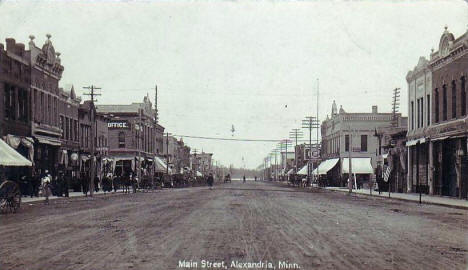 Main Street, Alexandria Minnesota, 1910
LakesnWoods.com Postcard and Postcard Image Collection - click to enlarge
---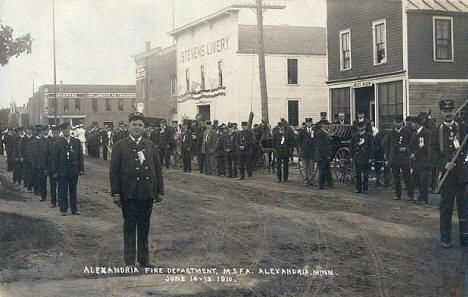 Alexandria Fire Department, Alexandria Minnesota, 1910
LakesnWoods.com Postcard and Postcard Image Collection - click to enlarge
---
---
---
---
---
Alexandria (Postcard History Series)
Alexandria is situated near the center of Douglas County, surrounded by a chain of beautiful lakes. These lakes brought pioneer settlers to the area as early as 1858, when Minnesota achieved statehood and the town was established. The lakes remain a key factor that continue to draw residents and visitors. The images in Postcard History Series: Alexandria tell the community's story, recalling fond memories of the businesses, churches, homes, schools, and recreational opportunities that form the generous and caring nature of the welcoming community that is Alexandria.
Buy This Book Now
---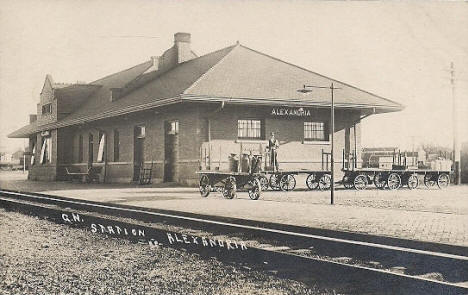 Great Northern Depot, Alexandria Minnesota, 1910s
LakesnWoods.com Postcard and Postcard Image Collection - click to enlarge
---
---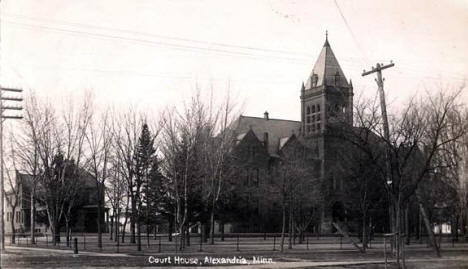 Courthouse in Alexandria Minnesota, 1911
LakesnWoods.com Postcard and Postcard Image Collection - click to enlarge
---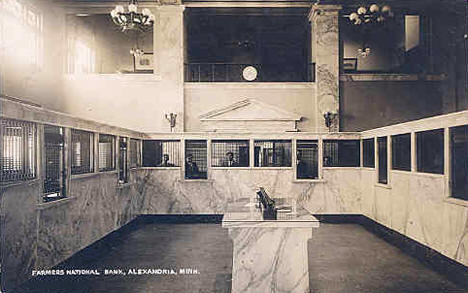 Interior, Farmers National Bank, Alexandria Minnesota, 1914
LakesnWoods.com Postcard and Postcard Image Collection
---
---
---
---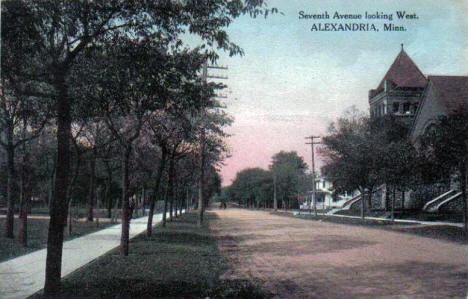 Seventh Avenue looking west, Alexandria Minnesota, 1916
LakesnWoods.com Postcard and Postcard Image Collection - click to enlarge
---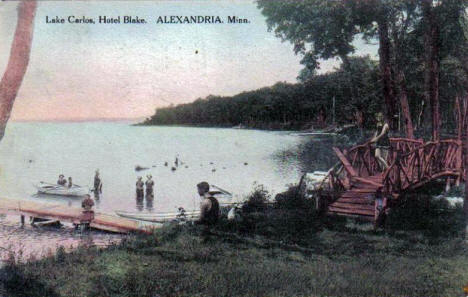 Hotel Blake on Lake Carlos, Alexandria Minnesota, 1916
LakesnWoods.com Postcard and Postcard Image Collection - click to enlarge
---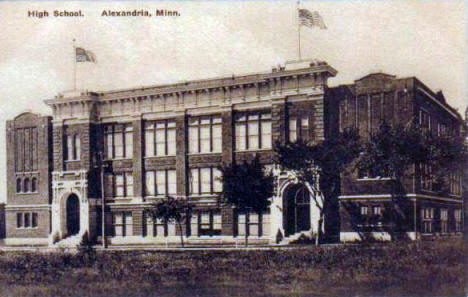 High School, Alexandria Minnesota, 1916?
LakesnWoods.com Postcard and Postcard Image Collection - click to enlarge
---
---
---