Navigation
LakesnWoods.com
Home Page
Contact Us
Privacy
Minnesota History Shop

Visit The Minnesota History Shop
www.minnesotahistoryshop.com
Historic maps
Historic books
Historic framed art
Historic postcards
Clothing with historic images
And much more!!!


Ironton Guide:
Photo Gallery
Location
Geography
Demographics
History
Government
Post Office
News
Weather
Street Map
Events
Attractions
Recreation
Lakes
Health Care
Schools
Churches
Media
Motels
Resorts
Campgrounds
Businesses
Aerial Photo
Topographic Map
Nearby Communities:
Aitkin
Bay Lake
Brainerd
Crosby
Crosslake
Cuyuna
Deerwood
Emily
Garrison
Nisswa
Riverton
Trommald
© 2004-2023
Lakeweb1 Internet Services
All Rights Reserved
DCMA, Defamation, Copyright and Trademark Infingement Policy
WANTED!
Do you have photos, historical accounts or other items pertaining to the Ironton area? Would you like to share this historical information with the world? LakesnWoods.com would like to publish your Ironton photos (current or historical) or historical accounts on this website. Original materials can be returned and your privacy will be respected.


(design available on over 100 different items!)


(design available on over 100 different items!)

Ironton Minnesota Community Guide
---
Location:
---
Population:
Ironton (city)
1970
1980
1990
2000
2010
2000-2010 Change
Actual
Percent
Population
562
537
553
498
572
+74
+14.86
Land Area (sq. mile)
2.20
1.73
1.52
1.49
1.49
0
0.00
Density (persons per sq. mile)
255.45
310.40
363.82
333.19
386.50
+53.31
+14.86
Housing Units
228
239
268
263
299
+36
+13.69
Households
--
219
239
231
261
+30
+12.99
Persons Per Household
--
2.45
2.31
2.16
2.19
+0.03
+1.39
---
Geography:
Ironton is a city in Crow Wing County, Minnesota, located on the Cuyuna iron range, from which its name is derived. It is immediately adjacent to its twin city of Crosby, Minnesota. Minnesota State Highway 210 serves as a main route in the community. According to the United States Census Bureau, the city has a total area of 2.00 square miles (5.18 km2), of which 1.48 square miles (3.83 km2) is land and 0.52 square miles (1.35 km2) is water. The elevation is 1,260 ft (384 m) above sea level.
From Wikipedia, the free encyclopedia.
---
Demographics:
As of the census of 2010, there were 572 people, 261 households, and 135 families residing in the city. The population density was 386.5 inhabitants per square mile (149.2/km2). There were 299 housing units at an average density of 202.0 per square mile (78.0/km2). The racial makeup of the city was 95.8% White, 1.0% Native American, 0.3% Asian, 0.2% Pacific Islander, 0.3% from other races, and 2.3% from two or more races. Hispanic or Latino of any race were 1.2% of the population.
There were 261 households of which 28.4% had children under the age of 18 living with them, 32.6% were married couples living together, 11.9% had a female householder with no husband present, 7.3% had a male householder with no wife present, and 48.3% were non-families. 41.0% of all households were made up of individuals and 19.2% had someone living alone who was 65 years of age or older. The average household size was 2.19 and the average family size was 3.00.
The median age in the city was 36.7 years. 27.8% of residents were under the age of 18; 6.8% were between the ages of 18 and 24; 22.7% were from 25 to 44; 25.3% were from 45 to 64; and 17.3% were 65 years of age or older. The gender makeup of the city was 47.7% male and 52.3% female.
---
---
History:
IRONTON, a city in Irondale (Klondike) Township, sections 9-11, platted on September 6, 1910, by Agnes Lamb and Carrie and John Hill, incorporated on June 5, 1911, and separated from the township on March 22, 1912. The post office was established in 1910; it had a Northern Pacific Railroad station.
Courtesy Minnesota Historical Society
---
Government:
Ironton City Hall
309 3rd Street
PO Box 97
Ironton, MN 56455
Phone: (218) 546-5625
Fax: (218) 546-5044

Regular Business Hours:
Monday - Friday 7:00 am -

City Council Meetings:
1st and 3rd Wednesday of the month at 6:00 pm

Title
Term Ends
Name and Address
Phone
Mayor
12/31/2022
Stephen Herzenach
601 Mattson Avenue
Ironton, MN 56455
(218) 838-2045
(218) 545-1712
Clerk/Treasurer
appointed
Darla Johns
309 3rd Street
Ironton, MN 56455
(218) 546-5625
Council Member
12/31/2022
Jeremy French
610 Mattson Avenue
Ironton, MN 56455
(218) 330-4987
Council Member
12/31/2022
Rose Stromberg
405 6th Avenue
Ironton, MN 56455
(218) 270-0047
Council Member
12/31/2024
Jessica Dwyer
404 - 5th AvenuePO Box 125
Ironton, MN 56455
(218) 232-0205
Council Member
12/31/2024
Eric Heglund
100 Viola Avenue
Ironton, MN 56455
(218) 821-1393
---
Post Office:
US Post Office
115 4th Street
Ironton, MN 56455-2180
Phone: (218) 546-5467


Toll Free:

(800) ASK-USPS

Regular Business Hours:
Week Days 7:30 am - 1:30 pm
Saturday 8:30 am - 9:30 am
---
---
Utilities:
---
Major Employers:
Employer
Products/Services
Employees
n/a
---
---
News:
---
Weather:
---
Map: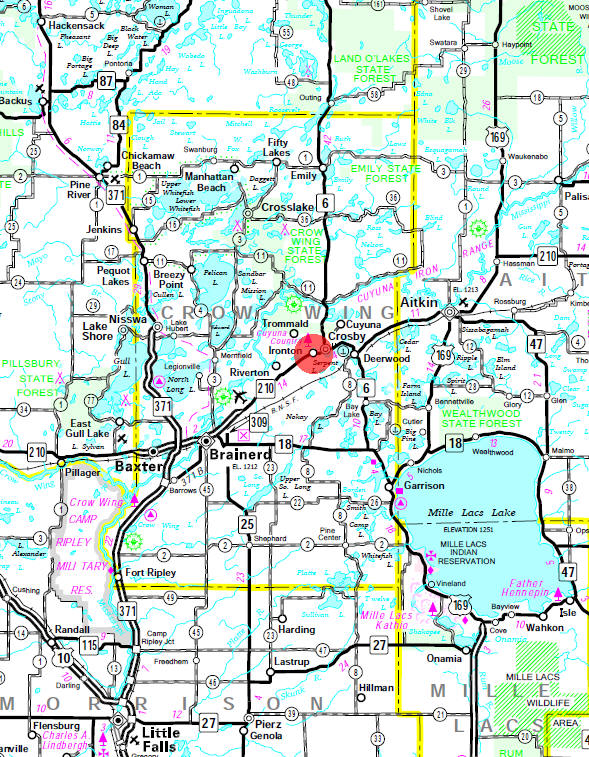 Minnesota State Highway Map of the Ironton Minnesota area
---
Events:
---
---
Attractions:
---
Recreation:
---
Lakes:
Lake Name
Size
(acres)
Location
Lake info
Lake Map
Rec Map
Topo Map
---
Health Care:
---
Schools:
---
Churches:
---
Media:
---
Motels:
---
Resorts:
---
Campgrounds:
---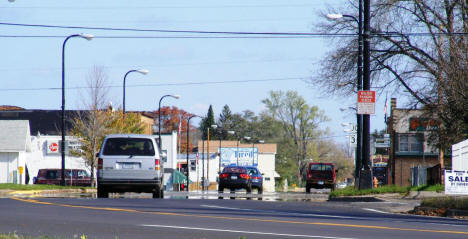 View of Downtown Ironton Minnesota, 2007
LakesnWoods.com photo - click to enlarge

For more Ironton photos, visit the Ironton Photo Gallery

---
---
Businesses:
A Plus Electronics
313 6th Street SW
Ironton, MN 56455
Phone: (218) 546-7730
Al Dobson Hardwood Floors
Ironton, MN 56455
Phone: (218) 546-6343
American Legion Post 443
232 4th Street
Ironton, MN 56455
Phone: (218) 546-5975
Anderson's Taxidermy
18785 Tower Road
Ironton, MN 56455
Phone: (218) 546-8186
Bickford Welding
801 4th Street
Ironton, MN 56455
Phone: (218) 546-5612
Bill Davis Engineering LLC
19165 County Road 12
Ironton, MN 56455
Phone: (218) 546-7290
Cap Trico Oil & Propane Co-Op
808 4th Street
Ironton, MN 56455
Phone: (218) 546-6227
Care Veterinary Clinic
122 4th Street
Ironton, MN 56455
Phone: (218) 546-7760
Central Lakes Machining
17967 County Road 12
Ironton, MN 56455
Phone: (218) 546-6177
CFF Machining
800 4th Street
Ironton, MN 56455
Phone: (218) 545-1420
Chamber Of Commerce
221 4th Street
Ironton, MN 56455
Phone: (218) 546-8131
Chris Kreger Enterprises
16714 State Highway 210
Ironton, MN 56455
Phone: (218) 546-6068
Crafters Unlimited
Ironton, MN 56455
Crosby Ironton Floral
113 4th Street
Ironton, MN 56455
Phone: (218) 546-7330
Cuyuna Country Heritage Preservation Society
Unity Bank of Crosby Building
PO Box 68
Ironton, MN 56455
Phone: (218) 545-1166
Web: www.cuyunaheritage.org
Cuyuna Range Alano Society
Ironton, MN 56455
Fasttrack Graphix
300 Curtis Avenue
Ironton, MN 56455
Phone: (218) 546-7777
Foam On The Range
County Road 102
Ironton, MN 56455
Phone: (218) 546-6009
French's Automotive
300 Curtis Avenue
Ironton, MN 56455
Phone: (218) 546-7777
Fuller Chiropractic Clinic
330 Curtis Avenue
Ironton, MN 56455
Phone: (218) 546-5188
Gary's Sports Bar & Grill
240 Curtis Avenue
Ironton, MN 56455
Phone: (218) 546-8134
Greenrange Renewable Energy
807 4th Street
Ironton, MN 56455
Phone: (218) 545-2186
Hatch Logging
18005 N Nelson Road
Ironton, MN 56455
Phone: (218) 546-7073
Heartland Performing Arts Center
328 Curtis Avenue
Ironton, MN 56455
Phone: (218) 546-6614
Iron Range Auto Body
Curtis Ave & 2nd Street
Ironton, MN 56455
Phone: (218) 546-6991
Ironton City Clerk
309 3rd Street
Ironton, MN 56455
Phone: (218) 546-5625
Ironton Fire Hall
309 3rd Street
Ironton, MN 56455
Phone: (218) 545-3473
Ironton Terrace Apartments
500 8th Avenue
Ironton, MN 56455
Phone: (218) 546-6886
J W Tire & Recycling Co
16632 State Highway 210
Ironton, MN 56455
Phone: (218) 546-5344
Kevin's Auto Repair
803 4th Street
Ironton, MN 56455
Phone: (218) 546-8095
Larry's Aluminum Recycling
609 4th Street
Ironton, MN 56455
Phone: (218) 546-7350
Louie's Bucket of Bones
101 4th Street
Ironton, MN 56455
Phone: (218) 545-3232
Lucy's Lake Country Kennels
21662 County Road 128
Ironton, MN 56455
Phone: (218) 546-8488
Main Street Hair Design
120 4th Street
Ironton, MN 56455
Phone: (218) 546-8121
McKenney's Pub
240 Curtis Avenue
Ironton, MN 56455
Phone: (218) 546-8134
Mirada Research & Mfg
809 4th Street
Ironton, MN 56455
Phone: (218) 546-6061
Natural Resources Dept
307 3rd Street
Ironton, MN 56455
Phone: (218) 546-5926
Northern Mini-Storage
805 4th Street
Ironton, MN 56455
Phone: (218) 534-4848
Pat's Dance Studio
328 Curtis Avenue
Ironton, MN 56455
Phone: (218) 546-6614
Perpich, Paul DDS
338 Curtis Street
Ironton, MN 56455
Phone: (218) 546-5809
Petschl's Floor Covering
PO Box 624
Ironton, MN 56455
Phone: (218) 546-8240
Robinson's Plumbing & Heating
17397 State Highway 210
Ironton, MN 56455
Phone: (218) 546-5297
Scott Small Engine Repair
17610 State Highway 210
Ironton, MN 56455
Phone: (218) 546-2715
Sharp Heating & Cooling
21275 Lake Road
Ironton, MN 56455
Phone: (218) 546-5783
Tanning Plus
109 4th Street
Ironton, MN 56455
Phone: (218) 546-7011
Timbers Diner
200 4th Street
Ironton, MN 56455
Phone: (218) 546-6420
Town Tavern
224 4th Street
Ironton, MN 56455
Phone: (218) 546-5997
Treetop Video
607 8th Avenue
Ironton, MN 56455
Phone: (218) 546-6573
US Post Office
115 4th Street
Ironton, MN 56455-2180
Phone: (218) 546-5467


Toll Free:

(800) ASK-USPS
Web: www.usps.com
Waboos Enterprises
212 Viola Avenue
Ironton, MN 56455
Phone: (218) 545-2180
Wells Fargo Bank
221 4th Street
Ironton, MN 56455
Phone: (218) 546-8323
Web: www.wellsfargo.com
---
---
Aerial Photo:
---
Topographic Map: [click map to enlarge, zoom in or zoom out]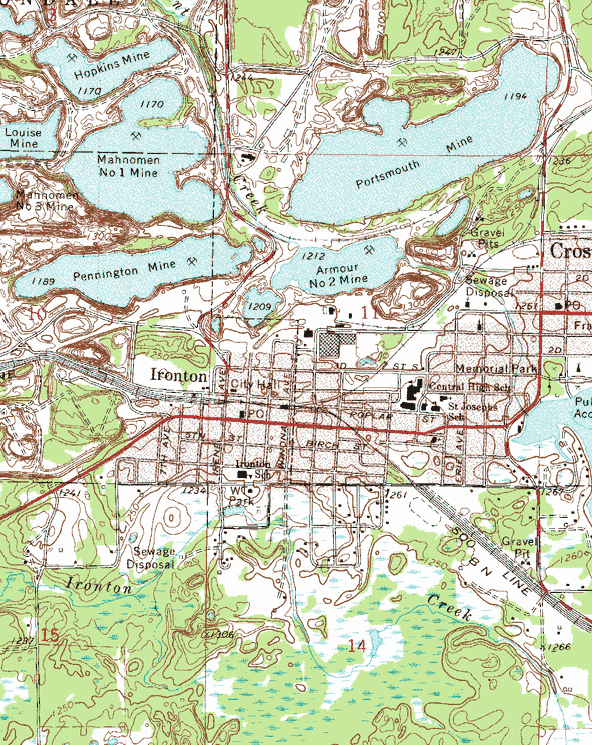 Topographic map is courtesy of the Minnesota DNR - click map to zoom or enlarge