Navigation
LakesnWoods.com
Home Page
Contact Us
Privacy
Minnesota History Shop

Visit The Minnesota History Shop
www.minnesotahistoryshop.com
Historic maps
Historic books
Historic framed art
Historic postcards
Clothing with historic images
And much more!!!


Chatfield Guide:
Photo Gallery
Location
Geography
Demographics
History
Government
Post Office
News
Weather
Street Map
Events
Attractions
Recreation
Lakes
Health Care
Schools
Churches
Media
Motels
Resorts
Campgrounds
Businesses
Aerial Photo
Topographic Map
Nearby Communities:
Dover
Eyota
Fountain
Lanesboro
Peterson
Preston
Rochester
Rushford
St. Charles
Spring Valley
Stewartville
Whalan
Wykoff
© 2004-2023
Lakeweb1 Internet Services
All Rights Reserved
DCMA, Defamation, Copyright and Trademark Infingement Policy
WANTED!
Do you have photos, historical accounts or other items pertaining to the Chatfield area? Would you like to share this historical information with the world? LakesnWoods.com would like to publish your Chatfield photos (current or historical) or historical accounts on this website. Original materials can be returned and your privacy will be respected.


(design available on over 100 different items!)

Chatfield Minnesota Community Guide
---
Location:
Chatfield is located in a valley where the Mill Creek and the north branch of the Root River meet. Chatfield straddles the Olmsted and Fillmore County line. Chatfield is only twenty miles from the Mayo Clinic and Rochester International Airport. This historic community is home to two manufacturers and a variety of retail and service businesses, seven churches and an excellent education system. Chatfield is a full service community.

Courtesy City of Chatfield
---
Population:
Chatfield (city)
1970
1980
1990
2000
2010
2000-2010 Change
Actual
Percent
Population
1,885
2,055
2,226
2,374
2,779
+405
+17.06
Land Area (sq. mile)
1.70
1.93
1.86
2.00
2.00
0
0.00
Density (persons per sq. mile)
1108.8
1064.8
1196.8
1187.0
1389.5
+202.5
+17.06
Housing Units
655
791
876
959
1,174
+215
+22.42
Households
--
760
846
930
1,092
+162
+17.42
Persons Per Household
--
2.70
2.63
2.55
2.55
0
0.00
---
Geography:
Chatfield is a city in Fillmore and Olmsted counties in the U.S. state of Minnesota. The city's area is split almost equally between the two counties. U.S. Route 52 and Minnesota State Highway 30 are two of the main routes in the city. According to the United States Census Bureau, the city has a total area of 2.64 square miles (6.84 km²), all of it land. It is also the home of the only stop light in Fillmore County, at the intersection of 3rd Street (Fillmore County Road 2) and Main Street. The elevation is 1,010 ft (308 m),
From Wikipedia, the free encyclopedia.
---
Demographics:
As of the census of 2010, there were 2,779 people, 1,092 households, and 741 families residing in the city. The population density was 1,052.7 inhabitants per square mile (406.4/km2). There were 1,174 housing units at an average density of 444.7 per square mile (171.7/km2). The racial makeup of the city was 72.1% White, 27.5% Native American, 0.3% Asian, 0.4% from other races, and 1.0% from two or more races. Hispanic or Latino of any race were 1.7% of the population.
There were 1,092 households of which 38.6% had children under the age of 18 living with them, 52.9% were married couples living together, 11.1% had a female householder with no husband present, 3.8% had a male householder with no wife present, and 32.1% were non-families. 26.9% of all households were made up of individuals and 14.1% had someone living alone who was 65 years of age or older. The average household size was 2.48 and the average family size was 3.03.
The median age in the city was 36.9 years. 28.6% of residents were under the age of 18; 5.7% were between the ages of 18 and 24; 26.6% were from 25 to 44; 22% were from 45 to 64; and 16.9% were 65 years of age or older. The gender makeup of the city was 46.7% male and 53.3% female.
---
---
History:
CHATFIELD Township, settled in 1853, organized in 1858, was named in honor of Judge Andrew Gould Chatfield, who presided at the first court held at Winona, June 27, 1853. He was born in Butternuts, Otsego County, N.Y., January 27, 1810, and died in Belle Plaine, Minn., October 3, 1875. He was an associate justice of the supreme court of Minnesota Territory, 1853-57; was one of the founders of the town of Belle Plaine and practiced law there, 1857-71; was judge of the Eighth judicial district, 1871-75. The village of Chatfield, platted in the spring of 1854 and incorporated in 1857, was the first county seat for two years but was succeeded in 1855 by Carimona and by Preston since 1856. This village was incorporated as a city by the legislature, February 19, 1887. Its post office began in 1854.
Courtesy Minnesota Historical Society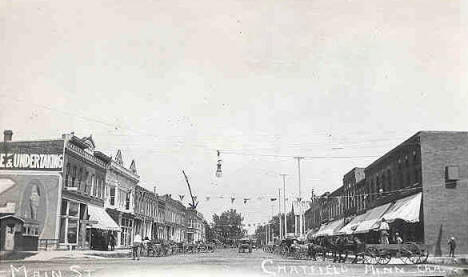 Main Street, Chatfield Minnesota, 1900s
LakesnWoods.com Postcard and Postcard Image Collection - click to enlarge

Visit The Chatfield Photo Gallery for more current and historic area photos

---
Government:
Chatfield City Hall
21 Second Street SE
Chatfield, MN 55923
Phone: (507) 867-3810

Regular Business Hours:
Monday - Friday 8:00 am - 4:30 pm

City Council Meetings:
2nd and 4th Monday of the month at 7:00 pm
Title
Term Ends
Name and Address
Phone
Mayor
12/31/2022
Russell Smith
701 James Street NE
Chatfield, MN 55923
(507) 867-1500
(507) 319-4164
(507) 867-4711
Clerk
appointed
Joel Young
21 Second Street SE
Chatfield, MN 55923
(507) 867-3810
Council Member
12/31/2022
Paul Novotny
930 Winona Street
Chatfield, MN 55923
(507) 867-1535
(507) 867-3549
Council Member
12/31/2022
Mike Urban
420 Bench Street
Chatfield, MN 55923
(507) 867-1536
(507) 867-2990
Council Member
12/31/2024
John McBroom .....
230 Mill Creek
Chatfield, MN 55923
(507) 867-1534
(507) 319-2799
Council Member
12/31/2024
Pamela Bluhm
220 Main Street S
Chatfield, MN 55923
(507) 867-1532
(507) 867-3870
Council Member
12/31/2024
Joshua Broadwater
530 Hawkeye Street
Chatfield, MN 55923
(507) 867-1533
(507) 272-8664
---
Post Office:
US Post Office
245 Main Street N
Chatfield, MN 55923-1170
Phone: (507) 867-3400
Toll Free: (800) ASK-USPS

Regular Business Hours:
Week Days 8:30 am - 12:00 pm
12:30 pm - 3:45 pm
Saturday 8:30 am - 10:00 am
---
---
Utilities:
---
Major Employers:
---
---
News:
---
Weather:
---
Map: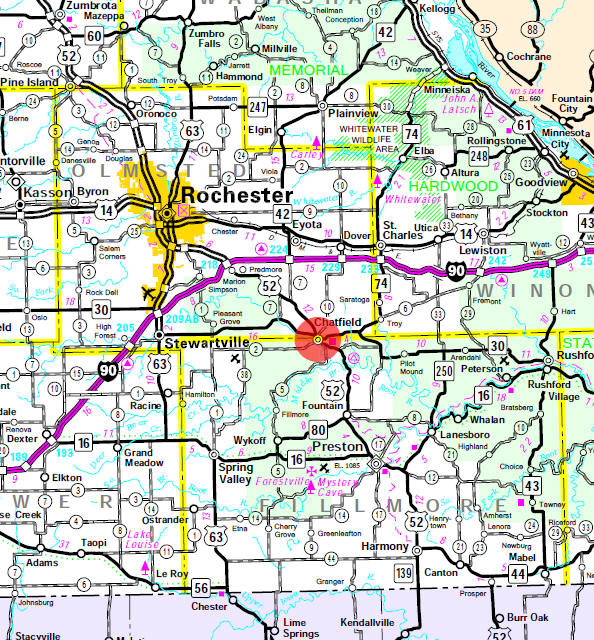 Minnesota State Highway Map of the Chatfield Minnesota area
Official City of Chatfield Street Map [PDF]
---
Events:
Western Days



Chatfield will celebrate their 51st Chatfield Western Days celebration August 9 - 12, 2018. We are confident that this year's celebration will continue our strong tradition of being the grandest community celebration around! We anticipate more people, more excitement, and more fun during the celebration. The traditional Saturday grand parade will be on Saturday, Aug. 11, at 1 p.m. This parade will include all the crowd's favorites, kid pleasers, bands and horses.
---
Attractions:
Chatfield Center for the Arts
405 Main Street S
Chatfield, MN 55923
Phone: (507) 884-7676
Web: www.chatfieldarts.org



In 2010, the City of Chatfield made a decision to embrace forward thinking and put arts, culture and historical preservation at the heart of community vibrancy as construction on a new elementary school began. The district donated the old school, built in 1916, along with the 1936 Potter Auditorium to the city of Chatfield. Through a courageous public/private partnership, the facility and its programs are now generating a cultural and economic impact in the region as the Chatfield Center for the Arts. The fully renovated, 658-seat Potter Auditorium hosts live music concerts, educational lectures, and theater productions in collaboration with the local high school and Wits' End Community Theatre.

Chatfield Historical Museum
Thurber Community Center Lower Level
21 Second Street SE
Chatfield, MN 55923
Phone: (507) 867-9094
St. Caharles Museum of Bowhunting
Pope and Young Club
273 Mill Creek Road
Chatfield, MN 55923
Phone: (507) 867-4144
Web: www.pope-young.org



Located right here in Chatfield, just minutes off of Interstate 90, lies the singular, crowning testimony to North America's rich bowhunting heritage. The museum is open tot he public and admission is free. Here you will see the largest collection of bowhunting related artifacts and memorabilia anywhere in the world. You will also see impressive wildlife displays, showcasing every big-game animal in North America.
---
Recreation:
Chatfield ATV Trail



Located in southeastern Minnesota, this 19-mile trail was developed by a group of neighbors with a passion for ATVs. The trail is entirely on private land and leads riders through backdrops of field, forest, pasture and woods. Please respect the private landowners and stay on the marked trails. The trail is provided by the City of Chatfield and maintained by the Chatfield ATV Trails Club.

Chosen Valley Golf Club
1801 Highway 52 S
Chatfield, MN 55923
Phone: (507) 867-4305



The Chosen Valley Country Club is a very well maintained 9 hole golf course will very plush green. In traveling to other nearby golf courses, I believe this is one of if not these best 9 hole courses in Southeast Minnesota.
---
Lakes:
Lake Name
Size
(acres)
Lake info
Lake Map
Rec Map
Topo Map

none in the immediate area
---
Health Care:
---
Schools:
Chatfield Public Schools
Independent School District #227
205 Union Street NE
Chatfield, MN 55923
Phone: (507) 867-4210
Web: chatfield.k12.mn.us

Grades: PK-12
Students: 862
Chatfield Junior & Senior High
205 Union Street NE
Chatfield, MN 55923
Phone: (507) 867-4210

Grades: 7-12
Students: 399
Chatfield Elementary School
11555 Hillside Drive SE
Chatfield, MN 55923
Phone: (507) 867-4521

Grades: PK-6
Students: 463
---
Churches:
---
Media:
---
Bed & Breakfasts:
Oakenwald Terrace Bed & Breakfast
218 Winona Street SE
Chatfield, MN 55923
Phone: (507) 867-3806
Web: www.oakenwaldterrace.com



Oakenwald Terrace, built in 1897 and proudly listed on the National Register of Historic Places, is one of the grandest homes in South Eastern Minnesota. You will drive away from your stay marveling at the architecture, the historical content and the collectables displayed everywhere in this amazing home. One stay will not be enough; we guarantee that after your return visit you will wonder how you had missed so much during your first stay.
---
Motels:
Check for motel rates and availability on:
---
Resorts:
---
Campgrounds:
---
---
Businesses:
AAA Fence Company of Rochester
121 1/2 Winona Street NE
Chatfield, MN 55923
Phone: (507) 289-4963
Web: www.aaa-fence-co.com



Throughout his years of working in the fencing industry, Eric has discovered the most successful fencing projects are a team effort between himself and his customers. His customers are the experts on what functions they need out of their fence, and he can knowledgeably provide options and solutions to ensure those needs are met and exceeded.

Adourn
218 Main Street S
Chatfield, MN 55923
Phone: (507) 251-4202



A boutique offering repurposed furniture + vintage goods + home accessories + handmade + gifts

Anderson, Alan C CPA
123 Main Street S
Chatfield, MN 55923
Phone: (507) 867-3700
Arndt Chiropractic
206 Main Street S
Chatfield, MN 55923
Phone: (507) 867-3120



Arndt Chiropractic inspires families towards optimal health through natural chiropractic care. We are excited to provide chiropractic, acupuncture, and nutritional services to the communities in southeastern minnesota.

Aslan Data Service Inc
9377 130th Avenue SE
Chatfield, MN 55923
Phone: (507) 867-0063
Bailiwick Gifts and Antiques
204 Main Street S
Chatfield, MN 55923
Phone: (507) 867-3076
Bernard Bus Service Inc
103 Division Street NW
Chatfield, MN 55923
Phone: (507) 867-3410
Web: www.bernardbusservice.com



Bernard Bus and MotorCoach of Minnesota and Wisconsin. Our bus and charter service provides motorcoach's from Rochester, Minnesota and Eau Claire Wisconsin. Motor coach's serve the Twin Cities areas of Minneapolis, St Paul, Burnsville, Northfield, Rochester, Austin, Albert LEA plus the Chippewa Valley, including Eau Claire Wisconsin (formely Chippewa Trails).

Brookins Construction
10541 86th Avenue SE
Chatfield, MN 55923
Phone: (507) 867-4754
Burnap Farm
8601 N Branch Road SE
Chatfield, MN 55923
Phone: (507) 867-3648
C J Construction
7903 County Road 137 SE
Chatfield, MN 55923
Phone: (507) 358-3913
Cabin Coffee Company
391 Main Street N
Chatfield, MN 55923
Phone: (507) 867-1486
Web: www.cabincoffeecompany.com



Cabin Coffee Company is committed to our mission: "Creating and sustaining a warm and inviting environment while providing the highest quality products and service" We are dedicated to creating a warm and inviting environment for both customers and our team members. We value every team members' individuality and personality, and believe that empowering our team members will ensure the best service for every customer.

Chatfield Ambulance Service
21 2nd Street SE
Chatfield, MN 55923
Phone: (507) 867-4446
Chatfield Body Shop
104 Main Street S
Chatfield, MN 55923
Phone: (507) 867-3063



The Chatfield Body Shop is an auto repair business; also offering light mechanical work & tires. ***They offer free pick up and delivery of your vehicle.

Chatfield City Offices
21 Second Street SE
Chatfield, MN 55923
Phone: (507) 867-3810
Web: www.ci.chatfield.mn.us
Chatfield Center for the Arts
405 Main Street S
Chatfield, MN 55923
Phone: (507) 884-7676
Web: www.chatfieldarts.org



In 2010, the City of Chatfield made a decision to embrace forward thinking and put arts, culture and historical preservation at the heart of community vibrancy as construction on a new elementary school began. The district donated the old school, built in 1916, along with the 1936 Potter Auditorium to the city of Chatfield. Through a courageous public/private partnership, the facility and its programs are now generating a cultural and economic impact in the region as the Chatfield Center for the Arts. The fully renovated, 658-seat Potter Auditorium hosts live music concerts, educational lectures, and theater productions in collaboration with the local high school and Wits' End Community Theatre.

Chatfield Clinic
207 Twiford Street SW
Chatfield, MN 55923
Phone: (507) 867-4925
Web: www.olmmed.org
Chatfield News
220 S. Main Street
Chatfield, MN 55923
Phone: (507) 867-3870
Web: www.thechatfieldnews.com
Chatfield Parts House
103 1/2 Division Street NW
Chatfield, MN 55923
Phone: (507) 867-4200
Web: www.napaonline.com



Your local NAPA stocks auto parts, tools and equipment and many other items for heavy duty trucks, marine, and farming equipment. Stop in today.

Chatfield Police Department
21 2nd Street SE
Chatfield, MN 55923
Phone: (507) 867-3331
Chatfield Public Library
314 Main Street S
Chatfield, MN 55923
Phone: (507) 867-3480
Web: www.chatfieldpubliclibrary.org
Chatfield Swimming Pool
229 Union Street NE
Chatfield, MN 55923
Phone: (507) 867-3509
Chatfield Trucking Inc
1225 Highway 52 S
Chatfield, MN 55923
Phone: (507) 867-3000
Chosen Valley Apartments
428 Jensen Lane SE
Chatfield, MN 55923
Phone: (507) 867-4220
Web: www.chosenvalleyseniorliving.com



Chosen Valley Apartments opened in 1990 with 15 independent living units for seniors in the Chatfield area. All apartments are located on the ground level, including 13 one bedroom, 2 two bedroom, and one apartment that is of handicap design.

Chosen Valley Canoe Accessories
225 Winona Street NE
Chatfield, MN 55923
Phone: (507) 867-3961
Web: www.gear4portaging.com



CVCA designs and manufactures products to make getting from lake to lake with your canoe an easier and less painful experience. If you've ever been to the Boundary Waters Canoe Area Wilderness, chances are you've seen our products. You'll find them on the canoes of the best outfitters (like Voyageur Outfitters , Seagull Outfitters, Wilderness Outfitters, Williams & Hall, and Spirit of the Wilderness to name a few...) and as original equipment on Wenonah and Bell canoes.

Chosen Valley Care Center
1102 Liberty Street SE
Chatfield, MN 55923
Phone: (507) 867-4220
Web: www.chosenvalleyseniorliving.com



Working as a team, our goal is to increase companionship, spontaneity, and freedom of resident choice. By integrating the talents and ideas of our valued residents and their families, friends, volunteers, community and staff, we resist the institutional and seek to create a home where residents continue to live, grow and enjoy life.

Chosen Valley Golf Club
1801 US Highway 52 S
Chatfield, MN 55923
Phone: (507) 867-4305



The Chosen Valley Country Club is a very well maintained 9 hole golf course will very plush green. In traveling to other nearby golf courses, I believe this is one of if not these best 9 hole courses in Southeast Minnesota.

Chosen Valley Insurance Service
20 2nd Street SE
Chatfield, MN 55923
Phone: (507) 867-4935
Chosen Valley Veterinary Clinic
115 Main Street S
Chatfield, MN 55923
Phone: (507) 867-3610



Mixed animal clinic with veterinarians specializing in a variety species such as small animal, equine, dairy and beef.

Computer Danamics
431 Main Street N
Chatfield, MN 55923
Phone: (507) 867-4996
Web: www.computerdan.com



COMPUTER DANAMICS has been a locally owned and operated business since 1987. We provide a full suite of computer related services to ensure that you have the best experience with your computer systems possible. With an unbeatable attention to detail, we truly care about our clients and strive to offer a great value at a low price.

Conway Arabians
18080 County 2
Chatfield, MN 55923
Phone: (507) 867-0060
Web: www.conwayarabians.com



"We have a clear vision of what our Arabian horses should be. Strong, sound athletes that are beautiful to behold and a pleasure to be around. Merely being pretty is not enough; the horses of Conway Arabians are doing horses, bred to have the conformation and temperament to perform in the show-ring or on the trail."

Corner Cuts
226 Main Street S
Chatfield, MN 55923
Phone: (507) 867-0076



A fun little Salon Located on Main street in Chatfield Minnesota! (On the corner by the stoplights) A dream created by Sarah Iverson.

County Line Bootleg Wine & Liquor
251 Main Street N
Chatfield, MN 55923
Phone: (507) 867-1640
Web: www.countylinebootlegliquor.com


Cramer Welding Mfg Steel
270 Main Street NW
Chatfield, MN 55923
Phone: (507) 867-3124
Curry's Custom Cut Gutters
204 6th Street SW
Chatfield, MN 55923
Phone: (507) 281-0088
Web: www.currysgutter.com



Curry's Custom Cut Gutter has a strong reputation of excellence, setting standards in the rain gutter industry. In an effort to provide convenient and easy access to all to quality gutter products, clients can reach our friendly customer service within our business hours. Our friendly customer service ensures that clients never miss an opportunity for installation, repair, or getting answers to their questions.

Cy Guys Auto Repair
105 Main Street S
Chatfield, MN 55923
Phone: (507) 867-4320
Danielson Sand & Gravel
30159 Huckster Drive
Chatfield, MN 55923
Phone: (507) 467-3749
Darling International
31252 Lumpy Road
Chatfield, MN 55923
Phone: (507) 867-4640
Dave's Barbershop
225 Main Street S
Chatfield, MN 55923
Phone: (507) 867-3856
Distinctive Lawn & Landscape
26208 300th Street
Chatfield, MN 55923
Phone: (507) 867-3935
Web: www.distinctive-landscape.com



Distinctive Lawn & Landscape, Inc. is owned by Steve and Stephanie Daniels. We started our company in 1999 and are proud to have served Rochester and the surrounding area for 16 years. Our list of services ranges from lawn care and maintenance to landscape design and installation and snow removal.

Donn's Leather Works
8402 Highway 30 SE
Chatfield, MN 55923
Phone: (507) 867-4868


Early Childhood & Family Learning
1210 US Highway 52 S
Chatfield, MN 55923
Phone: (507) 867-1495
Edward Jones - Maggie Schoepski
118 Main Street N
Chatfield, MN 55923
Phone: (507) 867-1460
Web: www.edwardjones.com



I provide my clients with exceptional service and quality financial advice that will allow them to fulfill their goals, hopes and dreams. My father taught me at a young age to save for tomorrow today. I strive to build long-term relationships with my clients that instill trust and peace of mind. I believe people need to be listened to and treated with respect. My clients have choices and I am committed to guiding them through a process of understanding these choices.

Elder Chiropractic Office
119 Main Street S
Chatfield, MN 55923
Phone: (507) 867-3558
Elder Financial Services
13 3rd Street SE # 1
Chatfield, MN 55923
Phone: (507) 867-3723
Web: www.elderfinancialservices.com
Essence Property
348 Hilltop Drive
Chatfield, MN 55923
Phone: (507) 867-3678
Essig Agency
121 Main Street S
Chatfield, MN 55923
Phone: (507) 867-3188
Web: www.essigagency.com



Since 1976, Essig Agency, Inc. has delivered quality insurance solutions to individuals in Minnesota, specializing in Personal and Commercial insurance coverage. Our team of experienced insurance professionals is committed to helping you find a policy that fits your needs. We focus on providing personalized attention and quality customer service to create an experience that's difficult to find in today's market.

EZ Fabricating Inc
202 St. Albans Place
Chatfield, MN 55923
Phone: (507) 867-1635
Web: www.ezfab.net



Let EZ Fabricating, Inc., do your projects start to finish for you. We can engineer it, fabricate it, put a finish on it and ship it to you in a timely, cost effective manner.

F & F Distributing Co
1006 Suden Circle NE
Chatfield, MN 55923
Phone: (507) 867-3724
F & M Community Bank
229 Main Street N
Chatfield, MN 55923
Phone: (507) 867-1605
Web: www.fmcommunity.com



F & M Community Bank is a full-service, community-oriented bank in operation since 1911. For over 100 years we've been proud to fulfill the banking needs of local citizens and business on a more personal, individualized level. Not only are our employees your bank teller or your lending specialist; they're your neighbors and friends.

Factree Tutoring Service
629 Main Street S
Chatfield, MN 55923
Phone: (507) 867-4995
Ferrellgas
102 Division Street NW
Chatfield, MN 55923
Phone: (507) 867-3018
Web: www.ferrellgas.com



We're more than just a propane supplier. We're part of tight-knit communities across America and thousands of people's lives. Not only through the jobs we provide, our local involvement, and personal interactions, but also when families cook breakfast together, when a business opens for the day, and when fleet vehicles get started using the fuel we provide.

Ferrier Farms
44 Library Lane SW
Chatfield, MN 55923
Phone: (507) 867-3011
Friedrich Excavating
10742 US Highway 52 SE
Chatfield, MN 55923
Phone: (507) 867-0010
Funk Trucking
933 Main Street NW
Chatfield, MN 55923
Phone: (507) 867-3286
Web: www.funktrucking.com
G P Truck Painting
928 Main Street NE
Chatfield, MN 55923
Phone: (507) 867-4299
Gartner Truck & Trailer
13777 Highway 52 SE
Chatfield, MN 55923
Phone: (507) 867-3020
GGG Inc
14070 Highway 52 SE
Chatfield, MN 55923
Phone: (507) 867-1666
Web: www.ggg.to



G-Cubed has been founded upon the belief of attentive and responsive customer service, strong project management, and a conscious effort to control cost for our clients. The quality of our professionals, our focus on understanding and responding to our clients' needs, and our application of good business management practices have resulted in most new projects originating from our existing customer base.

Greenway Co-Op Convenience Store
404 Main Street S
Chatfield, MN 55923
Phone: (507) 867-3614
Griffin Construction Company
236 Fillmore Street NE
Chatfield, MN 55923
Phone: (507) 867-4648
H&H Construction LLC
430 Grove Street NE
Chatfield, MN 55923
Phone: (507) 951-1722
Web: www.handhcompany.com



Custom residential design/build, remodeling, basement finishing, decks, pourches, and more is what we do for home owners in Rochester and the SE Minnesota region.

H & R Block
210 Main Street S
Chatfield, MN 55923
Phone: (507) 867-0004
Web: www.hrblock.com



When it comes to tax preparation services, the H&R Block tax professionals located at 210 Main St S in Chatfield, MN are here to meet all your tax needs. Need help filing taxes, including your federal tax return and state tax return? We're here to help. Looking to find every last available tax deduction to minimize your taxes and maximize your tax return? We're experts at it.

Hammell Equipment Inc
713 Main Street NW
Chatfield, MN 55923
Phone: (507) 867-4910
Web: www.hammellequipment.com



Since 1976, Hammell Equipment Inc. has been a dealer for farm equipment meeting the needs of their customers in southeastern Minnesota. Hammell Equipment is proud to provide high quality services for farm equipment at four locations in southeastern Minnesota USA.

Hangman Blinds
201 Main Street S
Chatfield, MN 55923
Phone: (507) 696-0902
Web: www.hangmanblinds.com



We specialize in the sale and installation of blinds and drapes. We offer a variety of custom blinds and drapes from some of the biggest brands. Styles include honeycomb, shutters, shades, draperies, sheers, traditional blinds and more. We also offer different services like our blind cleaning solutions. When it comes to residential and commercial blinds and drapes you can depend on The Hangman to provide professional service and dependable products.

Hillside Nursery
12348 Spring Road SE
Chatfield, MN 55923
Phone: (507) 867-3643



Hillside Nursery began with a dream in 1998 and now through the years of growth has become an inspiration Gerry and Sandy wish to share with all. Their unique style and surroundings are truly a joy to see and when you arrive at the picturesque garden center you'll find great thrills and a totally amazing atmosphere filled with fun and unexpected treasures. We also should add it's a once in a life time experience that you'll want to enjoy again and again.

Hong Kong Restaurant
219 Main Street S
Chatfield, MN 55923
Phone: (507) 867-3266



You can expect to find an extensive menu at Hong Kong restaurant including appetizers, soup, fried rice, chow mein, lo mein, mai fun, egg foo young, sweet and sour, seafood and so much more. Favorites such as happy family, Mongolian beef, shrimp with lobster sauce, General Tso's chicken, kung po chicken, egg drop soup and many more can be found on the menu which includes three full pages of choices. There is also a health food section on the menu, which includes all steam served food with white rice and sauce on the side, as well as house specials and lunch specials served with veggie fried rice.

INH Property Management
249 Millpond Drive
Chatfield, MN 55923
Phone: (507) 867-3678
J J Distributing
21 Grove Street NE
Chatfield, MN 55923
Phone: (507) 272-0661
Jac's Bar and Grill
129 Main Street S
Chatfield, MN 55923
Phone: (507) 867-3939
Web: www.jacsbargrill.com



Good eats! Good drinks! Good company! All around great place to eat, with a down home atmosphere and friendly service. We have a little of something for everyone! Great pizza, burgers, wings, and beer! Stop in and experience it all!

Jackie's Health & Fitness Center
214 Main Street S
Chatfield, MN 55923
Phone: (507) 867-3744
Janet Lawler Cruise & Travel
622 Main Street S
Chatfield, MN 55923
Phone: (507) 867-3482
Jim Fallon Construction
523 Fillmore Street SE
Chatfield, MN 55923
Phone: (507) 291-1075
Web: www.jimfallonconstruction.com



Thank you for taking the time to consider the services offered by Jim Fallon Construction. We are growing every day in order to acomadate all your asphalt maintenance needs. We are happy to offer the following services at this time. Lot Layouts Restriping Lot Signage Sweeping Power Washing Sealcoating Crack Filling Patching

Jim's Accounting & Tax
210 Main Street S
Chatfield, MN 55923
Phone: (507) 867-3363
JW's Silver Grille
207 Main Street S
Chatfield, MN 55923
Phone: (507) 867-2941
Web: www.jwsilvergrille.com



We are a family owned and operated busines and live in the community. We have been open since early 2009 and we continue to add new things to the menu.

Klingsporn Accounting-Tax Service
16 2nd Street SE
Chatfield, MN 55923
Phone: (507) 867-4601
Kwik Trip
118 Main Street N
Chatfield, MN 55923
Phone: (507) 867-3415
Web: www.kwiktrip.com/locations/details/608



Every day of the year, over 18,000 associates in the Kwik Trip™ family work together to make and deliver the freshest food, produce and fuel safely to our stores. We inspect, test and sample every delivery to be sure it's only the best. We operate our own bakery, dairy and kitchens to make sure everything we sell is as big on fresh as it is low on price.

Lakewood Apartments
420 Bench Street SW
Chatfield, MN 55923
Phone: (507) 867-4791
Web: www.paramark.us



Lakewood Apartments offer 1 bedroom senior housing in Chatfield, MN. The apartments are conveniently located near churches and are one half of a block from shopping. Lakewood is nestled into a quiet residential neighborhood just blocks from downtown. The building is secure and comes complete with community room for gatherings and birthday parties, an elevator, laundry room, most utilities paid for, and plenty of scheduled social activities. Rent at this property is based on income.

Laurie's Little Sprouts Daycare
202 Burr Oak Avenue NE
Chatfield, MN 55923
Phone: (507) 867-3957
Learn & Play Daycare Center Inc
236 Mill Creek Road NW
Chatfield, MN 55923
Phone: (507) 867-0070
M & M Inc Painting
15073 County Road 2
Chatfield, MN 55923
Phone: (507) 421-6466
Manahan Machine Shop
7051 100th Avenue SE
Chatfield, MN 55923
Phone: (507) 282-5766
Web: www.manahanmachineshop.com



Located in Chatfield, MN, and serving Rochester, MN, and surrounding areas, Manahan Machine Shop has been helping keep the equipment our local farms and businesses utilize up and running. Not only do we offer mobile welding for our more rural clients in and around Rochester who may not be able to bring their broken equipment to the shop, but we also stock and sell PTO parts, raw steel and more in order to best serve our clients.

Massage on Main
15 3rd Street SE
Chatfield, MN 55923
Phone: (507) 951-8686
Web: www.chatfieldmassage.com



Welcome to Massage on Main by Crystal! We understand daily life can be chaotic. We invite you to take a short vacation to enhance your body, mind, and spirit. Our professional massage therapists will customize your massage session to meet your special needs. Our goal is to renew, rejuvenate, and revive your body and assist in the natural healing process with the art of massage and bodywork. Massage on Main by Crystal recently relocated to the lower level of Studio 223 East. Massage on Main by Crystal is open to the public.

Metal Treasures
10720 84th Street SE
Chatfield, MN 55923
Phone: (507) 867-3471
Midwest Dental
431 Main Street N # B
Chatfield, MN 55923
Phone: (507) 867-3550
Web: www.midwest-dental.com



It is our pleasure to partner with you in your dental care. Whether you are a new patient or already part of our family, Midwest Dental Chatfield offers a wide range of general dental services, cosmetic dentistry and restorative dentistry for adults and children. We accept most insurance. If you have any questions, please give us a call.

Mill Pond Townhomes
348 Hilltop Drive
Chatfield, MN 55923
Phone: (507) 775-2821
Web: www.millpondtownhomeliving.com



You will love the vast array of apartment amenities available at Mill Pond Townhomes: Washer/Dryer Hookups, Attached Garages with Opener, Pantry, Storage Space, Private Patio, Private Entry, Close to Everything, Playgound, 24/7 Laundry Rooms, 24/7 Emergency Maintenance, Snow Removal, Professional Lawn Care, Sewer, Water, Trash, & Recycling Included. Mill Pond Townhomes is an income restricted property.

MSX Magnum Sports
1225 US Highway 52 S
Chatfield, MN 55923
Phone: (507) 867-4399
Web: www.magnumsports.com



Magnum Sports is the preferred Whitetail Proshop. We are an authorized dealer for Hoyt, Ross, Bowtech, Liberty, Realtree, Mossy Oak, Remington, and many more! Our Professional and knowledgeable staff will be able to assist you with any questions that you may have about hunting, fishing, motorsports, racing, and equipment. Magnum Sports is the first and last stop for all sportsmen. Gear up with our finest products and come back to have us post your picture in the Kill Zone.

NAPA Auto Parts
103 1/2 Division Street NW
Chatfield, MN 55923
Phone: (507) 867-4200
Web: www.napaonline.com



Your local NAPA stocks auto parts, tools and equipment and many other items for heavy duty trucks, marine, and farming equipment. Stop in today.

Novotny Law Office
1125 US Highway 52 S
Chatfield, MN 55923
Phone: (507) 867-4080
Web: www.novotnylawoffice.com



Lee Novotny is an experienced attorney working day in and day out on helping people with all their legal needs. Find out how our services can help you.

Nu Yu Beauty Shoppe
603 Twiford Street SW
Chatfield, MN 55923
Phone: (507) 867-3504
Oakenwald Terrace Bed & Breakfast
218 Winona Street SE
Chatfield, MN 55923
Phone: (507) 867-3806
Web: www.oakenwaldterrace.com



Oakenwald Terrace, built in 1897 and proudly listed on the National Register of Historic Places, is one of the grandest homes in South Eastern Minnesota. You will drive away from your stay marveling at the architecture, the historical content and the collectables displayed everywhere in this amazing home. One stay will not be enough; we guarantee that after your return visit you will wonder how you had missed so much during your first stay.

OC Exteriors
11509 US Highway 52 SE
Chatfield, MN 55923
Phone: (507) 867-1405
Web: www.ocexteriors.com



OC Exteriors is the only company you need to call for all your home exterior repair and improvement needs! From siding to roofs and even storm damage repair, we do it all. Making sure your roof is sound and secure is incredibly important, yet many homeowners neglect their roofs. Like everything in your home, it requires maintenance. With over 20 years of experience you can rest assured that you are getting a knowledgeable contractor that will listen to your needs, work within your budget and give you the end results you are looking for!

Olmsted Medical Center - Chatfield Clinic
207 Twiford Street SW
Chatfield, MN 55923
Phone: (507) 867-4925
Web: www.olmmed.org
Patten, Mary CPA
123 Main Street S
Chatfield, MN 55923
Phone: (507) 867-3700
Philips Publishing Inc.
220 Main Street S
Chatfield, MN 55923
Phone: (507) 867-3870
Pope & Young Club
273 Mill Creek Road NW
Chatfield, MN 55923
Phone: (507) 867-4144
Web: www.pope-young.org



The Pope and Young Club is one of North America's leading bowhunting and conservation organizations. If you are a fair chase, ethical bowhunter and you care about preserving the culture of bowhunting - you should be a member of the Pope & Young Club.

R Four Meats
24 2nd Street SW
Chatfield, MN 55923
Phone: (507) 867-4180



Mission Statement: To provide Quality Meats at a fair price Our Customers are first We Pledge small town service with a smile We Value your Business!!

Rick Bell State Farm Insurance
216 Main Street S
Chatfield, MN 55923
Phone: (507) 867-3630
Riley Funeral Home
800 Main Street S
Chatfield, MN 55923
Phone: (507) 867-4310
Web: www.rileyfuneralhomes.com



Riley Funeral Homes provide individualized funeral services designed to meet the needs of each family. The staff of Rue Riley & Daren Preszler are available to assist you in making funeral service & cremation arrangements. By providing meaningful service options, the funeral directors at Riley Funeral Homes will guide you through the aspects of the funeral service. We have locations in Chatfield and Lanesboro, Minnesota to assist you during your time of loss. We are family owned and operated and we will be with you to assist you and family members.

Root River State Bank
18 3rd Street SE
Chatfield, MN 55923
Phone: (507) 867-4120
Web: www.rrsbchatfield.com



We have been providing the finest in personalized banking service to southeastern Minnesota since 1856, and are recognized as being the oldest bank in our state, and a leader in community banking. We are proud to be located in Chatfield, a community of 2,855 people, in the heart of the "Chosen Valley". Our 10 employees have over 240 years of combined experience and are excited to share their progressive financial expertise with you, via our website, or in person.

Rowland Well Co Inc
909 Main Street S
Chatfield, MN 55923
Phone: (507) 867-4355
Web: www.wellsrochester.com



While many people may not understand the necessity of a quality water system on their property, the reliable experts at Rowland Well Co. definitely do! The highly experienced courteous professionals at Rowland Well Co. are "at your service" to assist you with any problems or questions you may have concerning WATER.

Roy's Barber Shop
123 Main Street S # 2
Chatfield, MN 55923
Phone: (507) 867-4444
Ruskell Outdoor Service
10045 170th Avenue SE
Chatfield, MN 55923
Phone: (507) 867-3988
S & K Custom Furniture
1634 Industrial Drive
Chatfield, MN 55923
Phone: (507) 867-4300
Web: www.skcustomfurniture.com



S & K Custom Furniture is your go-to source for made-to-order furniture and upholstery. We do what no one else can at a great price. Improve the look and feel of furniture you love!

Salisbury Electric Inc
32337 Juniper Road
Chatfield, MN 55923
Phone: (507) 867-9145
Schott's Hardwood Floors Inc
10286 Highway 30 SE
Chatfield, MN 55923
Phone: (507) 867-0081
Web: www.schottshardwoodfloors.com



Schott's Hardwood Floors, Inc. prides itself in quality workmanship Trained professional staff to complete every flooring project for your various flooring needs. Our courteous staff strives for job site cleanliness, and customer satisfaction.

SE Electric Inc.
213 Fillmore Street SE
Chatfield, MN 55923
Phone: (507) 459-3106
Select Communications - Verizon
20 Main Street S
Chatfield, MN 55923
Phone: (507) 867-0000
Web: www.selectcommunicationsinc.com



We know wireless. As a Verizon Wireless Master Agent, we put our extensive experience to work for you.

Shari's Sports Saloon and Lanes
118 Main Street S
Chatfield, MN 55923
Phone: (507) 867-0089
Shear Class Hair Design
257 Main Street N
Chatfield, MN 55923
Phone: (507) 867-1674
Sign Factory Inc.
107 1st Street SW
Chatfield, MN 55923
Phone: (800) 476-4804
Web: www.signfactory.com



We pride ourselves on quality lettering, signs, and promotional products. We take pride in our products, because not only do we sell them around the world, but we sell them to our neighbors, and our friends. We do not often have the opportunity to look into our world-wide customers eyes, but if presented the opportunity we want our customers to feel we've given them a high quality at a fair price.

Smaes
29220 Karst Road
Chatfield, MN 55923
Phone: (507) 867-9044
Southeast Mechanical
25 3rd Street SW
Chatfield, MN 55923
Phone: (507) 867-1604



HVAC, Commercial Refrigeration, Food Service Equipment

State Farm Insurance
216 Main Street S
Chatfield, MN 55923
Phone: (507) 867-3630
Web: www.statefarm.com
Steve's Auto and Performance
105 State Highway 30 W
Chatfield, MN 55923
Phone: (507) 867-1448
Web: www.stevesautoandperformance.com



Steve's Auto Care & Performance Center has been providing quality car care in Chatfield, MN, since 2011. Our shop employs honest ASE-certified technicians and mechanics, and we use the latest technology and equipment for our repairs. Because we are a certified NAPA AutoCare Center, we are able to provide the benefits of an established national company while offering the personal touch of a local business.

Strongwell Chatfield Division
1610 Highway 52 S
Chatfield, MN 55923
Phone: (507) 867-3479
Web: www.strongwell.com



Since 1956, Strongwell has been manufacturing high quality fiber reinforced polymer (FRP) products using "the continuous automatic process" (today known as "pultrusion"). Today, with three manufacturing locations, 65+ pultrusion machines and more than 645,000 square feet of manufacturing space, Strongwell is recognized as the world's leading and largest pultruder of FRP.

Subway
435 Main Street N
Chatfield, MN 55923
Phone: (507) 867-4505



Founded on Fresh Subway. Local Submarine Sandwich shop. Serving Fresh and Healthy ingredients.

Sunshine Foods
237 Main Street N
Chatfield, MN 55923
Phone: (507) 867-4272
Web: chatfield.sunshinefoodstores.com



Sunshine Foods is locally-owned and locally-involved! We believe in community involvement and supporting one another. Call us and ask about our Booster-Club Discounts, Script-Card Discount, and other fundraising ideas. We are your local community connection for high quality foods, friendly service and great prices.

Sutherland Fence Company
11503 Mill Creek
Chatfield, MN 55923
Phone: (507) 281-8155
Web: www.sutherlandfencerochester.com



Sutherland Fence has been offering quality residential and commercial fences to the Rochester, MN area for over 35 years. Our family owned and operated company specializes in various types of fences from ornamental to security fencing.

Threads Custom Apparel
203 Main Street S
Chatfield, MN 55923
Phone: (507) 867-0111
Web: www.threadscustomapparel.com



Threads Custom Apparel provides high quality custom apparel that will make you stand out from the crowd. Custom clothing that catches the eye with your personalized logo or design. Perfect for corporate events, family occasions. fundraisers, sports teams and so much more. Allow us to work with you to determine the perfect apparel solution. Get custom apparel that looks great at an affordable price. We guarantee all of our work and are determined to maintaining 100% customer satisfaction.

Tuohy Construction Custom Homes
203 Cliff Street NE
Chatfield, MN 55923
Phone: (507) 867-3619
Tuohy Furniture Corporation
42 Saint Albans Place
Chatfield, MN 55923
Phone: (507) 867-4280
Web: www.tuohyfurniture.com

An international design and manufacturing company,
committed to bringing elegant and productive solutions
to workplace environments.

US Post Office
245 Main Street N
Chatfield, MN 55923-1170
Phone: (507) 867-3400
Toll Free: (800) ASK-USPS
Web: www.usps.com
Valley Hair and Nails
15 2nd Street SE
Chatfield, MN 55923
Phone: (507) 867-3066
Valley Systems
1200 Main Street NE
Chatfield, MN 55923
Phone: (507) 867-9009
Veterans of Foreign Wars
9 2nd Street SW
Chatfield, MN 55923
Phone: (507) 867-3144
Weber & Judd Pharmacy
237 Main Street N
Chatfield, MN 55923
Phone: (507) 867-4425
Web: www.weberjudd.com

Weber & Judd Pharmacy serving the Rochester, Minnesota community since 1862. Rochester is renowned worldwide for its cutting edge medical care; Weber & Judd Pharmacy contributes to the health care industry with professional, accurate, courteous, friendly pharmaceutical care. Weber & Judd provides medication and services from several retail pharmacy locations in south eastern Minnesota.

Wit Boys Inc.
5 Main Street N
Chatfield, MN 55923
Phone: (507) 867-2957
Web: www.witboyzinc.com



At Wit Boyz Inc., we are your one stop and local business to go to for Used Auto Dealer, Truck and Trailer Service & Repair, Truck Sales and Builds!

Yennie Martial Arts
215 Main Street S
Chatfield, MN 55923
Phone: (507) 951-5223
Web: www.yenniemartialarts.com
---
---
Aerial Photo:
---
Topographic Map: [click map to enlarge, zoom in or zoom out]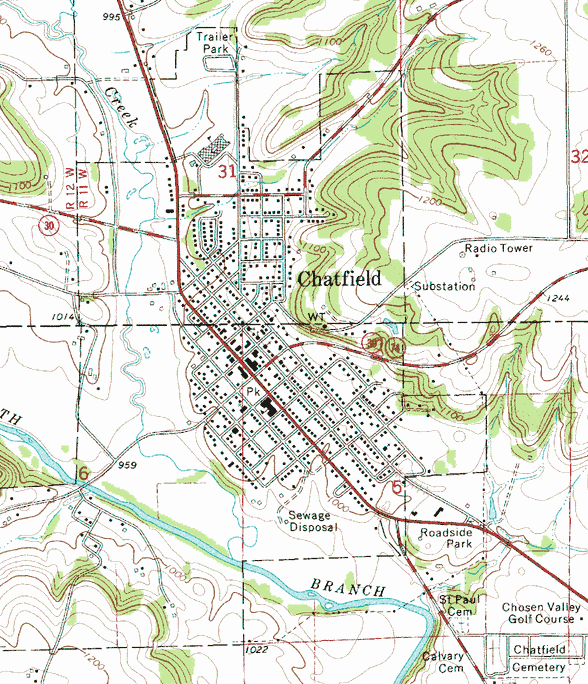 Topographic map is courtesy of the Minnesota DNR - click map to zoom or enlarge