Navigation
LakesnWoods.com
Home Page
Contact Us
Privacy
Minnesota History Shop

Visit The Minnesota History Shop
www.minnesotahistoryshop.com
Historic maps
Historic books
Historic framed art
Historic postcards
Clothing with historic images
And much more!!!

Faribault Guide:
Photo Gallery
Location
Geography
Demographics
History
Government
Post Office
News
Weather
Street Map
Events
Attractions
Recreation
Lakes
Health Care
Schools
Churches
Media
Motels
Resorts
Campgrounds
Businesses
Aerial Photo
Topographic Map
Nearby Communities:
Dennison
Dundas
Kenyon
Kilkenny
Lonsdale
Medford
Montgomery
Morristown
Nerstrand
Northfield
Owatonna
Waseca
Waterville
© 2004-2023
Lakeweb1 Internet Services
All Rights Reserved
DCMA, Defamation, Copyright and Trademark Infingement Policy
WANTED!
Do you have photos, historical accounts or other items pertaining to the Faribault area? Would you like to share this historical information with the world? LakesnWoods.com would like to publish your Faribault photos (current or historical) or historical accounts on this website. Original materials can be returned and your privacy will be respected.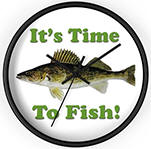 (design available on over 100 different items!)

Faribault Minnesota Community Guide
---
Location:
---
Population:
Faribault (city)
1970
1980
1990
2000
2010
2000-2010 Change
Actual
Percent
Population
16,595
16,241
17,085
20,818
23,352
+2,534
+12.17
Land Area (sq. mile)
8.90
10.19
11.57
12.66
12.66
0
0.00
Density (persons per sq. mile)
1,864.61
1,593.82
1,476.66
1,644.79
1,844.55
+199.76
+12.15
Housing Units
4,983
6,188
6,618
7,668
8,946
+1,278
+16.67
Households
--
5,836
6,392
7,472
8,317
+845
+11.31
Persons Per Household
--
2.56
2.49
2.53
2.81
+0.28
+11.07
---
Geography:
Faribault is a city in Rice County, Minnesota. It is the county seat of Rice County. Faribault is situated at the confluence of the Cannon and Straight Rivers in southern Minnesota. Interstate 35 and Minnesota State Highways 3, 21, and 60 are four of the main routes in the community. According to the United States Census Bureau, the city has a total area of 15.67 square miles (40.59 km2); 15.32 square miles (39.68 km2) is land and 0.35 square miles (0.91 km2) is water. The elevation is 994 ft (303 m).
From Wikipedia, the free encyclopedia.
---
Demographics:
---
---
---
History:
FARIBAULT, a city in Cannon City Township and the county seat, platted in February 1855, organized as a township of small area May 11, 1858, and incorporated as a city February 29, 1872, was named in honor of Alexander Faribault, the eldest son of Jean Baptiste Faribault, who is commemorated by the county of this name. Alexander was born at Prairie du Chien, Wis., June 22, 1806, and died in this city that he had founded, November 28, 1882. He came to the Cannon River as a trader among the Indians in 1826, and during the next eight years he established trading posts on the sites of Waterville in Le Sueur County and Morristown in this county and also at a large Dakota village on the northwest shore of Cannon Lake. In 1834-35 he persuaded these Dakota to remove their village to the site of Faribault. Faribault served as first postmaster when the post office was established in 1853 and built the first frame house, which is on the National Register of Historic Places. A sawmill was built in 1854 and a gristmill in 1855. The city became the county seat in 1855. Shattuck, a military-style school for boys, was established in 1866, St. Mary's School for Girls in Bishop Henry B. Whipple's home in 1866, Seabury Divinity School in 1858, the institution for deaf, dumb, and blind in 1863, and the institution for the feebleminded in 1879.
Courtesy Minnesota Historical Society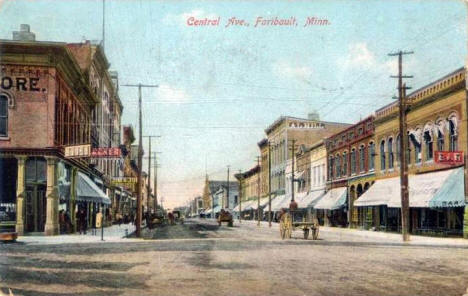 Central Avenue, Faribault Minnesota, 1909
LakesnWoods.com Postcard and Postcard Image Collection - click to enlarge

Visit The Faribault Photo Gallery for more recent and historic area photos

---
Government:
Faribault City Hall
208 1st Avenue NW
Faribault, MN 55021
Phone: (507) 334-2222
Fax: (507) 333-0399

Regular Business Hours:
Monday - Friday 8:00 am - 5:00 pm

City Council Meetings:
2nd and 4th Tuesday of the month at 6:00 pm


Title
Term Ends
Name and Address
Phone
Mayor
12/31/2024
Kevin F. Voracek
630 4th Street SW
Faribault, MN 55021


(507) 384-0567
(507) 332-4024
City Administrator
appointed
Tim Murray
208 1st Avenue NW
Faribault, MN 55021
(507) 334-2222
Council Member
12/31/2022
Peter van Sluis
532 2nd Street NW
Faribault, MN 55021
(507) 412-9168
Council Member
12/31/2022
Thomas J Spooner
133 Erblang Avenue
Faribault, MN 55021
(507) 323-4903
Council Member
12/31/2022
Janna Viscomi
1009 E Division Street
Faribault, MN 55021
(507) 210-8129
(507) 334-5603
Council Member
12/31/2024
Jonathan Wood
1806 Birchwood Court
Faribault, MN 55021


(507) 597-9159
(612) 597-9159
Council Member
12/31/2024
Sara Caron
935 2nd Street SW
Faribault, MN 55021


(320) 333-4607
Council Member
12/31/2024
Royal Ross
605 NW 3rd Street
Faribault, MN 55021
(507) 456-2932
---
Post Office:
US Post Office
28 3rd Street NE
Faribault, MN 55021-5205
Phone: (507) 334-5075
Toll Free: (800) ASK-USPS
Fax: (507) 334-7998

Regular Business Hours:
Week Days 8:45 am - 5:00 pm
Saturday 9:00 am - 12:00 pm
---
---
Utilities:
---
Major Employers:
Faribault Woolen Mill: Loomed in the Land of Lakes
Established in 1865 by Carl Klemer, the Faribault Woolen Mill is an authentic example of American craftsmanship. In 150 years of business, the company's success has relied on stewardship from the Klemer, Johnson and Mooty families, as well as veteran employees. Despite a devastating fire and even a closing, today it is the oldest manufacturer in Minnesota and one of the country's last mills producing textiles from raw wool. Its blankets provided warmth to hundreds of thousands of American troops in both world wars, and the mill continues that tradition of military support today. Discover the history and heritage woven into this iconic American brand revered around the world.
Buy This Book Now!
---
News:
---
Weather:
---
Map:
Area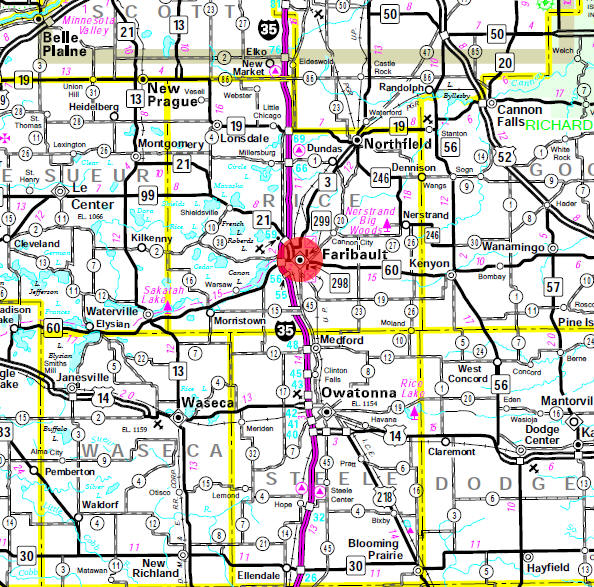 Minnesota State Highway Map of the Faribault Minnesota area
---
Events:
---
---
---
Attractions:
---
Recreation:
---
Lakes:
---
Health Care:
---
Schools:
---
Churches:
---
PERFECT GIFTS! These designs available on over 100 different items - Men's Clothing - Hats - Tote Bags - Women's Clothing - Mugs - Buttons - Children's Clothing - Clocks - Stickers - and more!
Faribault Minnesnowta Merchandise
Faribault US Flag Merchandise
I Love Faribault Merchandise
This great design is available
on over 100 different items!
This great design is available
on over 100 different items!
'I Love' Merchandise also available for dozens of other cities in Minnesota!
---
Media:
---
Motels:
Check for motel rates and availability on:
---
Resorts:
---
Campgrounds:
---
---
Businesses:
---
---
Aerial Photo: Area
---
Topographic Map: [click map to enlarge, zoom in or zoom out]